Will Travel For Food: Where To Grab Donuts In Maryland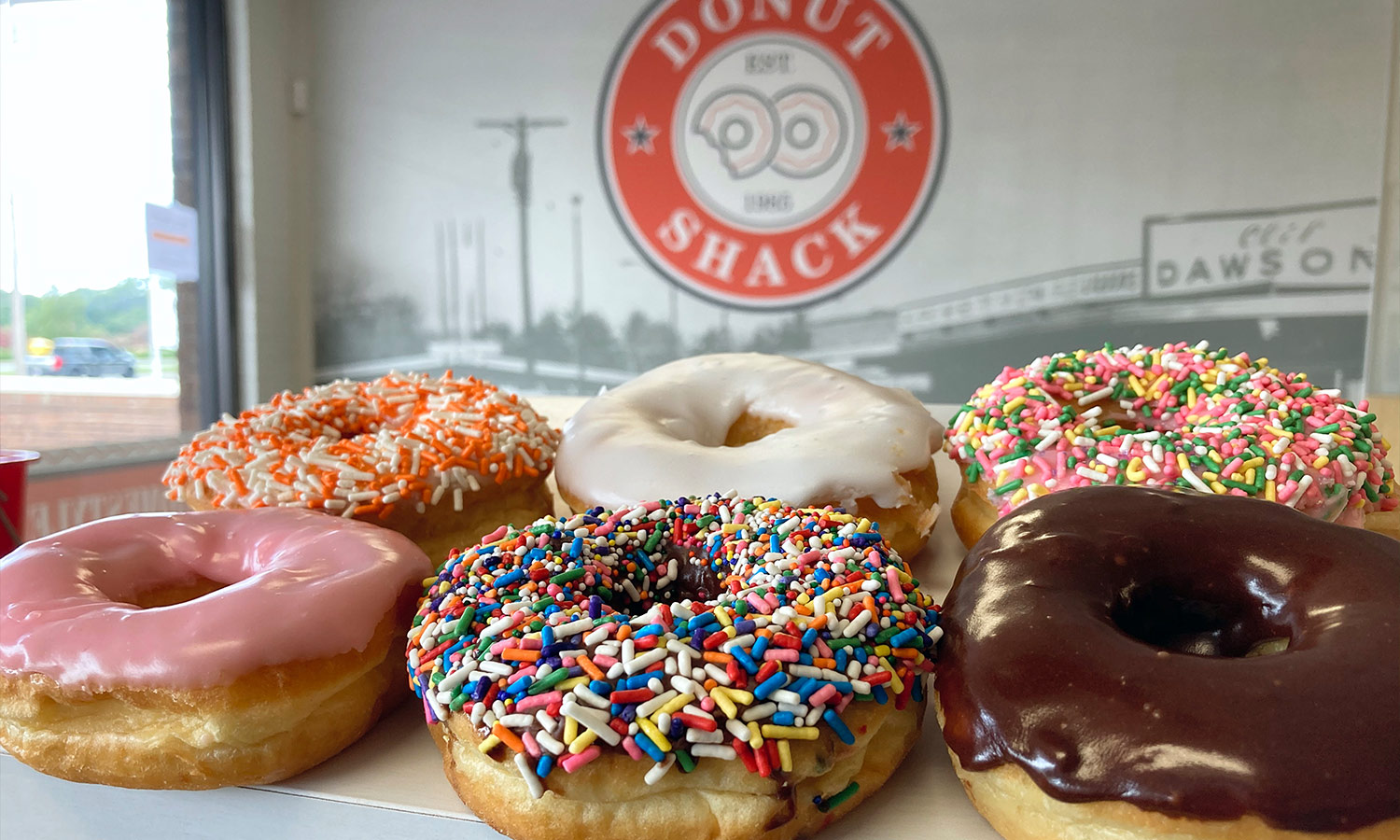 Thanks to an obsession my youngest son developed some time during his third year of life, donuts are a big deal in my house. They have become the go-to dessert option when splurging is on the menu, and they're known to make an appearance at every family celebratory event. In fact, we don't even do birthday cakes anymore — we do donut cakes now!
We're fortunate to have a couple of unique options nearby to make donut eating more of an adventure for our family. From vegan ingredients to unique toppings, donuts of today are a little more exciting than the ones I recall growing up with.
Maryland is full of shops that prove donuts are more than a little fried dough with a hole through the middle, and while I haven't had the pleasure of enjoying them all myself (don't think I'm not trying though), here are a few that are on my "to-taste" list. And if you plan it just right, you could string these donut destinations together for a sugar-fueled, multi-day, fried dough feast. Consider it the unofficial Maryland donut trail!
Deep Creek Donuts: Garrett County
If you start way up at the most northwestern corner of the state, you'll find yourself in Garrett County, home to Deep Creek Lake and Deep Creek Donuts.
Deep Creek Donuts is like the Yogi-Castle of donuts. Guests are provided a vanilla cake donut base and pick their own coating and toppings. They have over 20 different choices, such as classic glaze or cinnamon sugar coating and toppings that include Fruity Pebbles, coconut, and bacon.
Not just tasty, but tons of fun.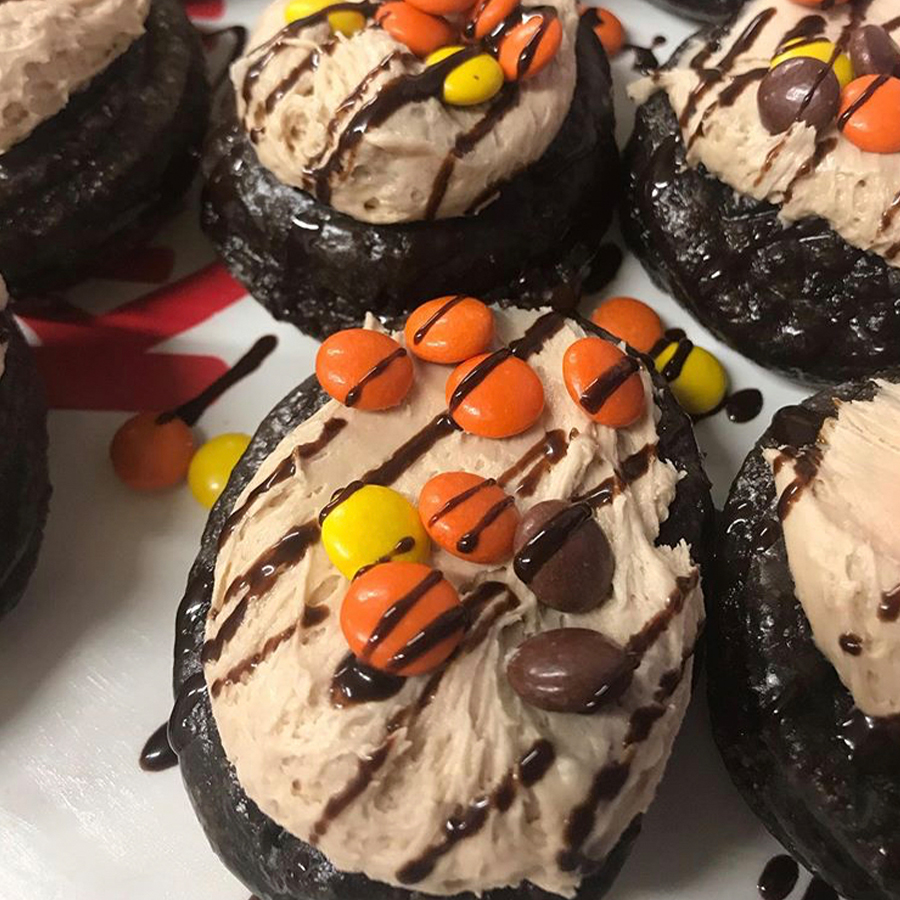 Krumpe's Do-Nuts: Washington County
This family-owned, Hagerstown donut destination has been sweetening the days of Washington County residents for generations. Krumpe's line-up includes over 15 different varieties of donuts (eclairs or cinnamon twists, anyone?), and they often launch donuts of the month and special edition flavors to add a little excitement to their daily menu. (Follow them on Instagram for donut updates!) Their fall special, caramel apple, and the Bro-Nut – their peanut-filled brownie/donut – are two great examples.
Added awesome: their unusual late-night hours (7p – 2a) make this the perfect destination for when those midnight snack cravings start to hit.  
Glory Doughnuts: Frederick
This female, queer-owned shop is a hometown favorite for my family. The treats at Glory Doughnuts are handmade, organic, vegan, and utterly amazing. (Trust me, you'd never guess they're vegan.) With their unique flavors and special edition donuts, Glory is also our go-to for special occasions.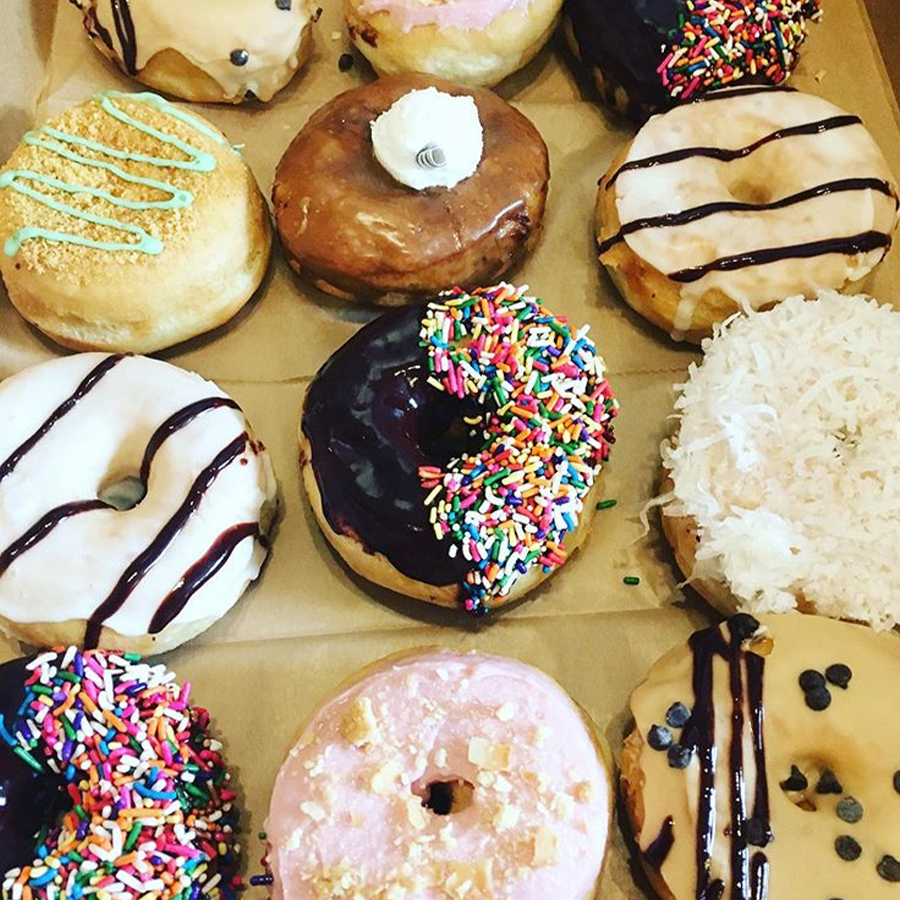 Make sure you visit Glory hungry, because not only do they make spectacular old fashion donuts, they also serve breakfast until 2 p.m. (did someone say stuffed French toast?!) along with other comfort food. Pro tip: if the root beer floats are on the menu when you visit, be sure to include them in your order! 
Follow Glory on Instagram for updates on donut flavors and estimates of when they'll sell out of dough.
Diablo Doughnuts: Baltimore City
My diet is convinced that Diablo Douhgnuts are as evil as they sound, and if you take a peek at their Instagram feed, you'd likely agree with me.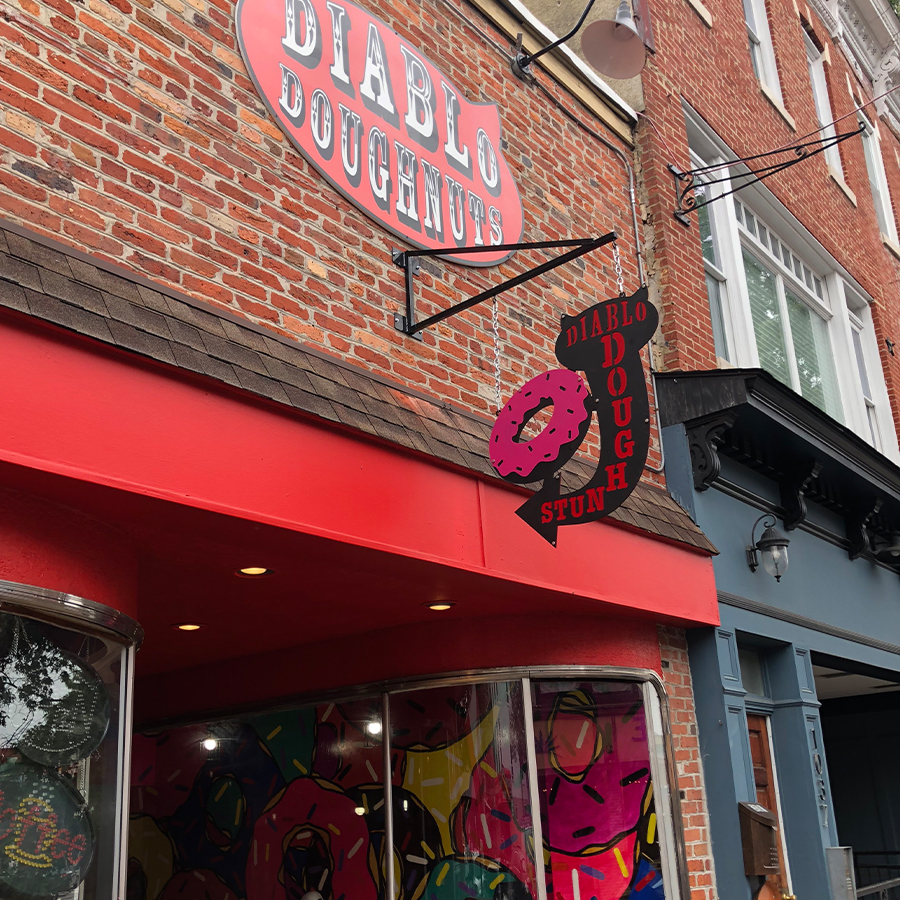 My waistline aside, I am 100% willing to calorie hoard for an opportunity to enjoy one of their Unicorn Farts —a vanilla glazed donut covered in Fruity Pebbles — or a Panty Dropper (because bacon).
Donut Shack: Anne Arundel County
Donut Shack is something of an institution in the Severna Park area with a long donut-related history dating back to the 70s. Though ownership has changed hands a few times, the newest owners are committed to keeping the awesome parts of the venue – including the delicious confections – intact as much as possible.
Check out Donut Shack on Instagram to see what they're offering for the donut of the week. They've had some pretty interesting flavors, such as the "kitchen sink" donut topped with Oreos. chocolate chip cookies, pretzels, M&Ms, and caramel drizzle.
Donut King: Montgomery County
Located in Kensington, Donut King is another community staple that has been serving up their delicious eats for many years. They have a full menu for breakfast and lunch, and, when it comes to baked goods, Donut King seems to be the king of more than just donuts. Other treats on the menu include scones, bagels and croissants, cakes, and macarons, which means even if you're not a donut lover, you'll be able to find something tasty to enjoy (while the rest of us judge your choices because WHO DOESN'T LOVE DONUTS?).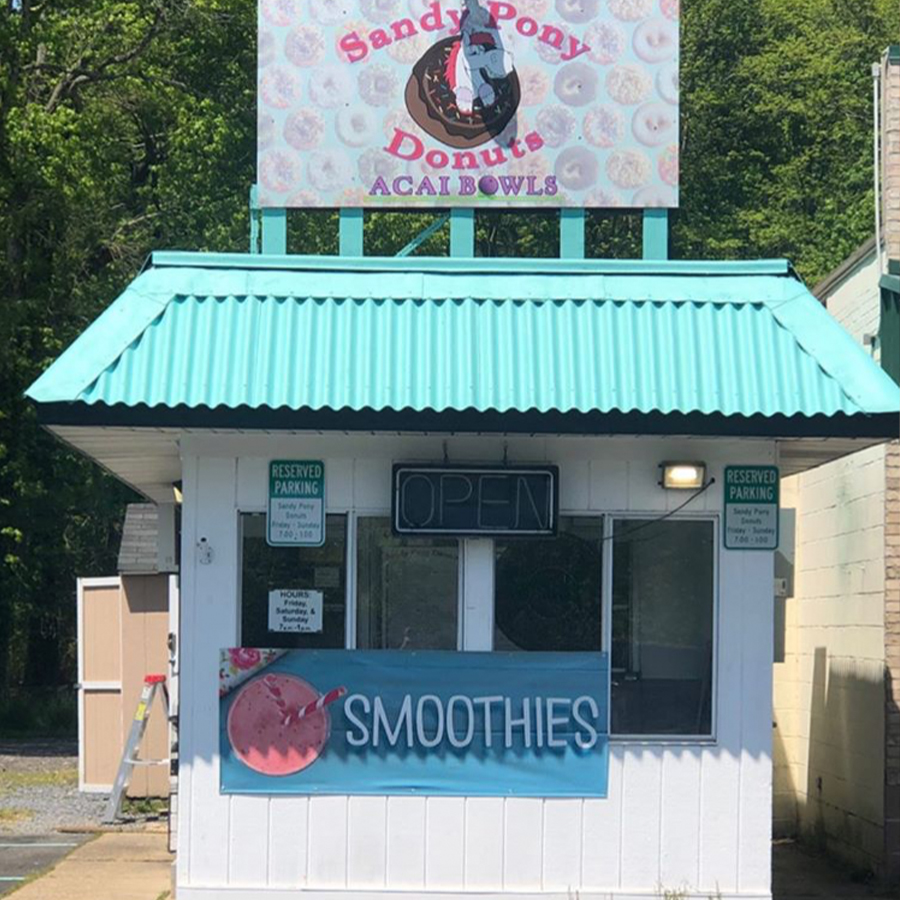 Sandy Pony Donuts: Anne Arundel County
We were introduced to Sandy Pony Donuts via their original food truck location in Chincoteague, Virginia. They have 24 unique flavor combinations, and you can ask for custom creations too. The line every morning of our vacation was at least ten deep, but I have two words for you: worth it.
After experiencing them ourselves during our first morning there, we were motivated to wake up earlier to make time for them every day for the rest of our trip. Thankfully, Sandy Pony Donuts are also available in our home state! Head to their locations in Annapolis or Deale and see what all the fuss is about! (The Deale location even has it's own hashtag — #dealenuthut!)
Bay Country Bakery: Eastern Shore
Headed to beach country? Donuts are the perfect way to start your vacation. Bay Country Bakery bakes all of their goods fresh each day, including the 25 varieties of donuts they offer (note: they don't offer all 25 daily; some rotate). Those with hearty appetites will meet their match with Bay County's meganut — massively oversized versions of the regular donut. FYI, these are meant for sharing. But hey, you only live once!
Want more sweet eats? Check out Maryland's Ice Cream Trail!
---
Lead Photo: Donut Shack
Amanda Rodriguez has been telling stories about mom life since 2001. To make it official, she launched her parenting blog,
DudeMom.com
, in 2008 and has been entertaining parents with her unsolicited, but strangely useful advice ever since. On December 31, 2019, her first parenting book,
50 Things to Do in Baby's First Year
was published. It has been well received by both new moms and those who accidentally stumbled across it desperate to break up the monotony of quarantine. When not writing about life with kids, she can be found actively parenting three of them from her home in Frederick, Maryland where she's raising them with the help of her husband and two insanely bossy dogs. Amanda also does digital marketing for small businesses and the Frederick County Chamber of Commerce.