The Greyhound Bookstore: A Destination for Bibliophiles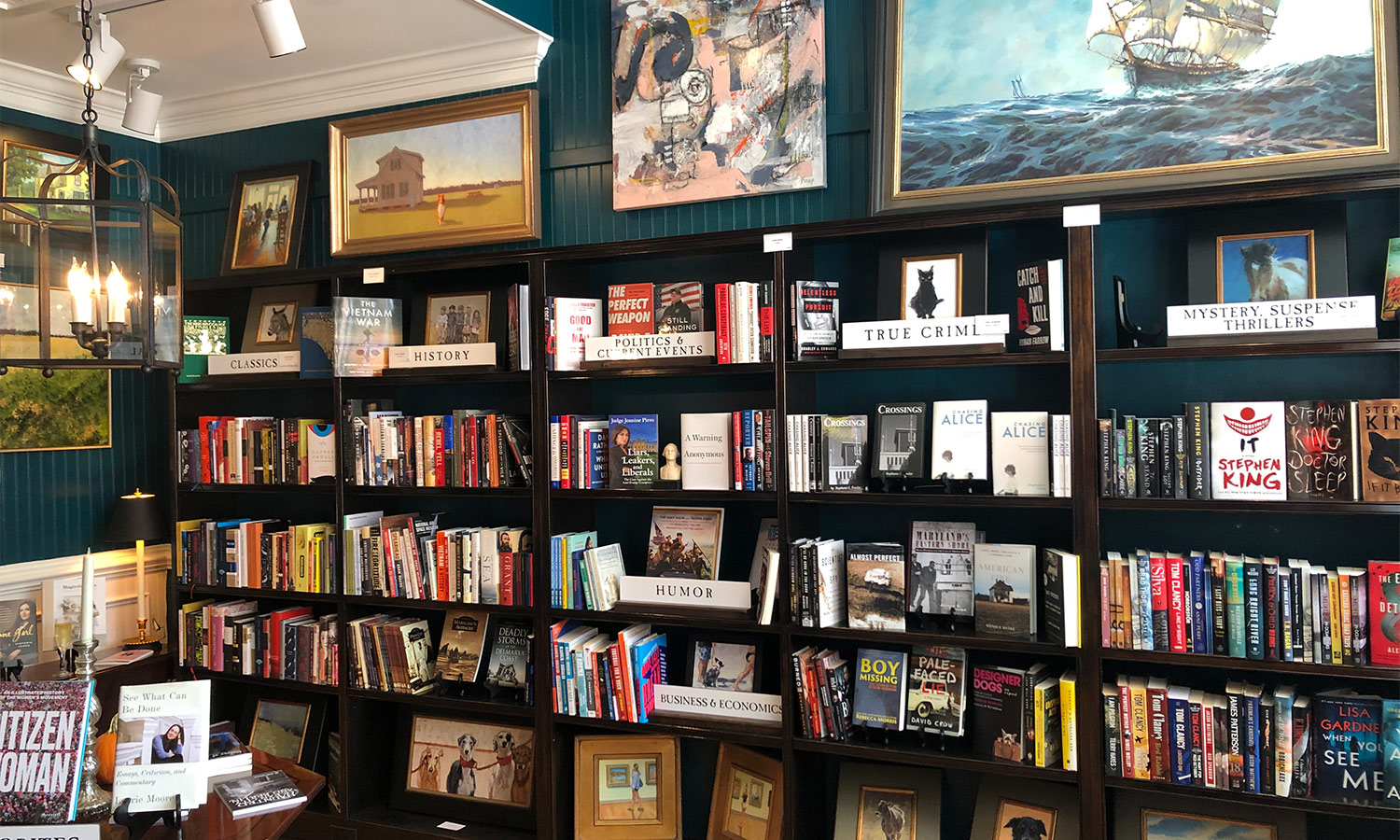 A great bookstore is not a place where you can find everything. It's a place where you can lose yourself. The Greyhound in Berlin, Maryland, is just such a bookstore. 
Conveniently located on Main Street in the heart of this charming Eastern Shore town, The Greyhound is the inspiration of the canine-loving couple who own it, Maury and Susan Ayres Wimbrow. The Wimbrows are as serious about breeds as they are about reads: they list their greyhounds, Oliver and Penelope, as "staff" on the store's website. (Oliver recently passed away.)
The Wimbrows opened the shop in 2018 in the historic Ayres building, one of nearly four dozen structures in Berlin's business quadrangle collectively certified in 1980 by the U.S. Interior Department as part of the National Historic Registry. Anchored by the famed Atlantic Hotel, many of the downtown commercial buildings doubled as shooting locations for the 1999 Julia Roberts/Richard Gere rom-com "Runaway Bride," Berlin's enduring source of local pride.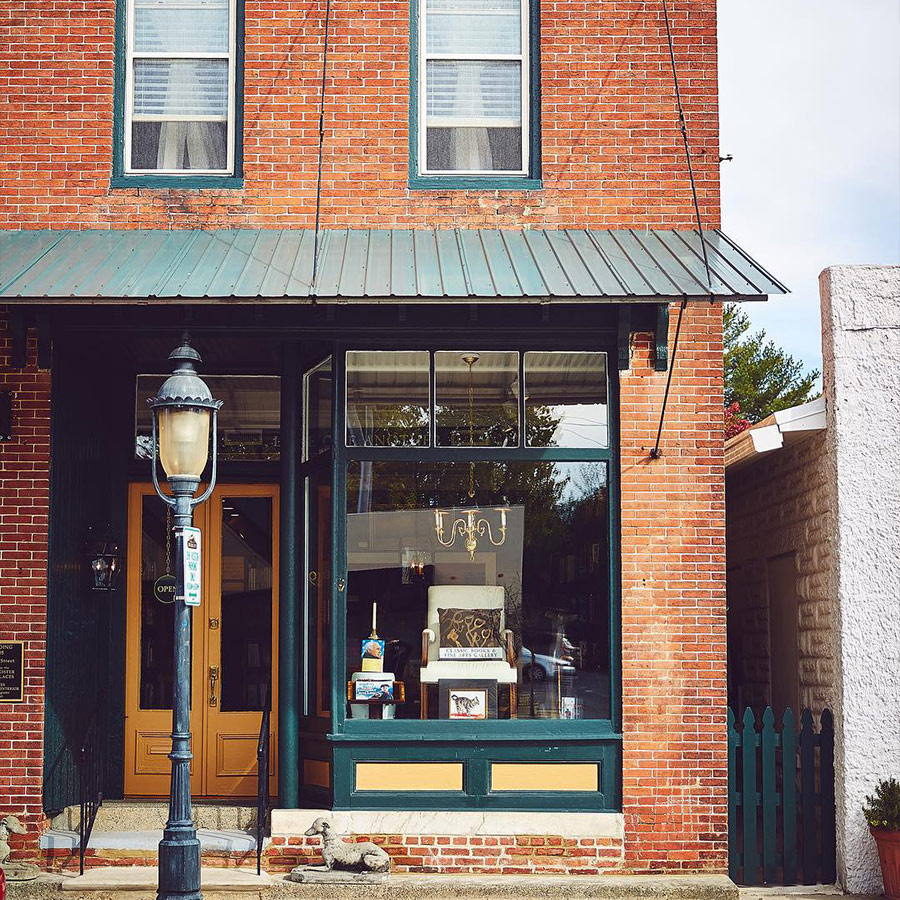 For decades, Wimbrow ran a funeral home 10 miles north across the state line in Selbyville, Delaware. A divorce, remarriage, and a longing to reconnect to her local roots brought Wimbrow back to Berlin. Her experiences as a funeral director, coupled with an exploration of her mother's tragic murder, served as dual inspirations for her newly-published memoir, Death is My Life. 
During breaks from writing the book, she and husband Maury often packed up their dogs and took day trips around the Shore. One day, it dawned on Susan what all the other towns had but hers lacked. "Why doesn't Berlin have its own indie bookstore?" she mused. The couple promptly set out to rectify the situation.
That the building which houses The Greyhound shares Susan's maiden name is no coincidence. The Ayres building has been in her family since its construction in 1895. When a previous tenant folded up shop a few years ago, Susan and Maury decided that, rather than find a new vendor, they would convert the building's first floor into The Greyhound. "It's easier to run a business when you're your own landlord," she says.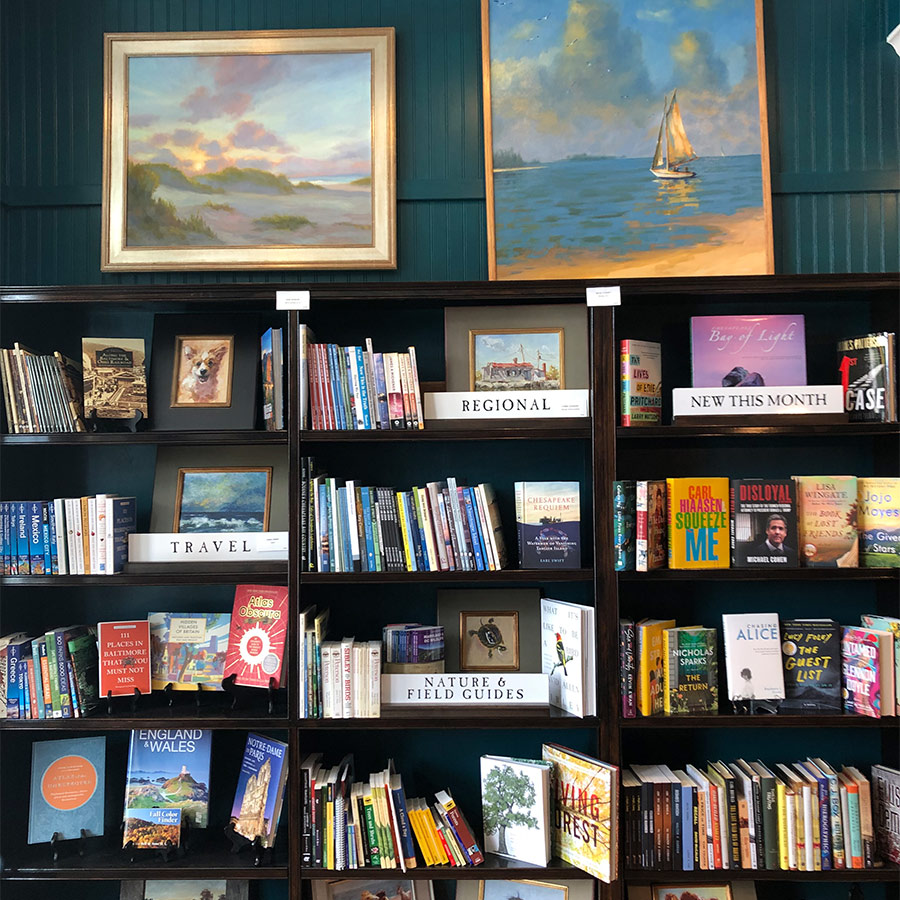 The Greyhound is small, just three rooms. But Susan and Maury utilize almost every inch. In addition to stocked shelves, much of the wall space is covered with art from four local painters: Pete Cosby, Lynne Lockhart, Kirk McBride, and Linda Perry. The Wimbrows take special pride in promoting local authors and artists.
Indeed, if you hang around long enough you might bump into one of each, as I did one Saturday in September.
A native of nearby Salisbury and a graduate of Washington College in Chestertown, Stephanie L. Fowler's Eastern Shore roots run deep. This month she published her second book of local non-fiction, Chasing Alice. The book re-examines the 2011 disappearance and murder of Alice Davis, Fowler's senior-year English teacher at Salisbury's Parkside High School.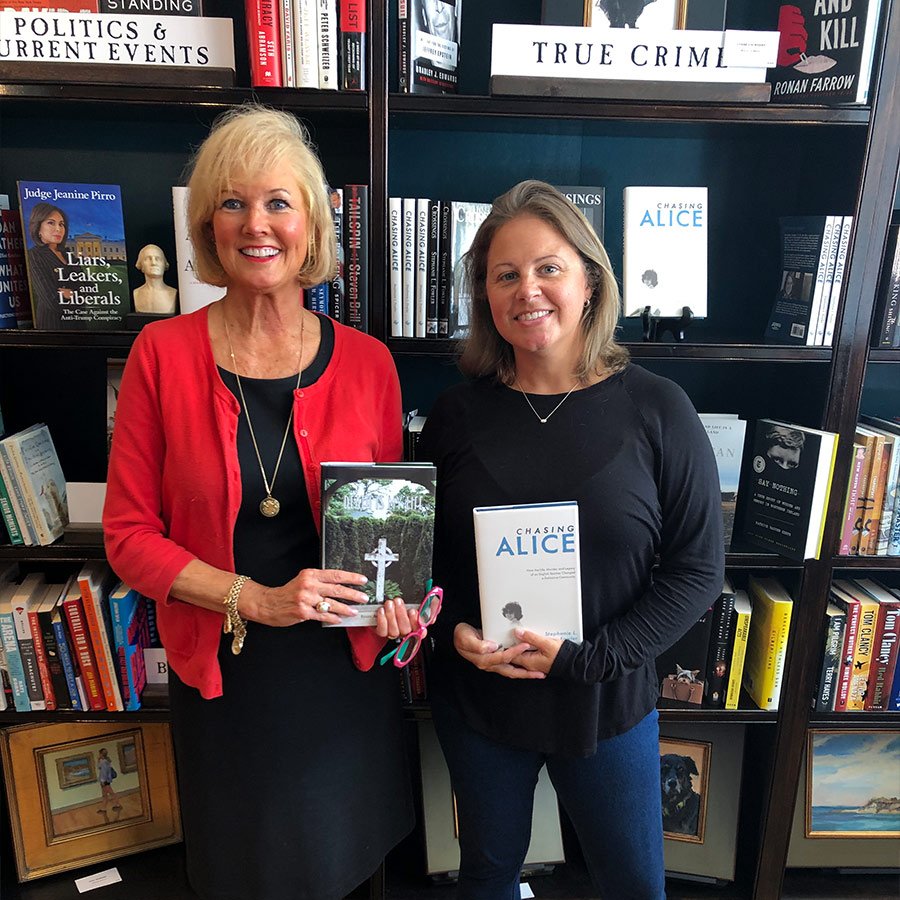 Fowler was struggling to find her voice and herself in high school. Davis served as the mentor who guided and encouraged Fowler's writing career, which by her college days included winning the 2001 Sophie Kerr Prize, a national award recognizing outstanding undergraduate writing. Fowler turned those early stories into her first book.
Fowler's literary and personal lives changed forever the day her sister called to tell her Davis had gone missing and was later found dead. Fowler was devastated, but also motivated. She pored through court records, news accounts, and interviewed people close to the case. Her search to understand her mentor's murder—which police concluded Davis' husband, who took his own life a few days later, committed—turned into a six-year journey to commemorate Alice Davis' life. "She meant so much to me growing up and as a writer," says Fowler. "She pushed me."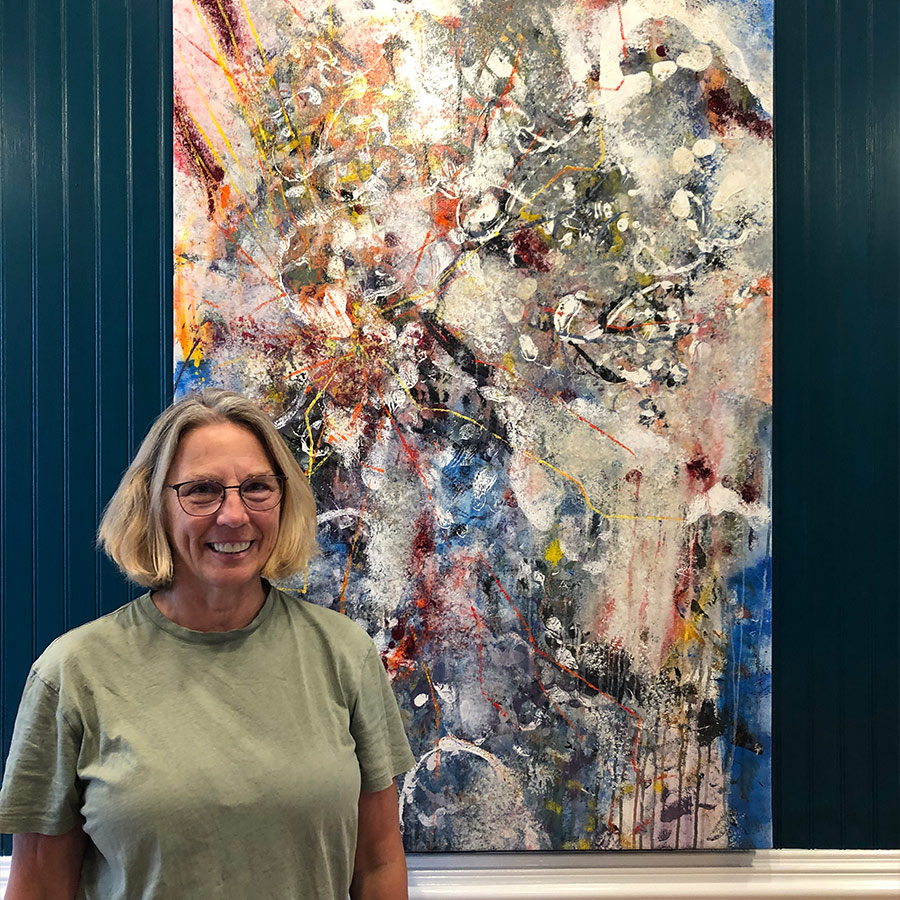 Not long after Fowler stopped by The Greyhound to leave some copies of her new book, artist Linda Perry and her brother popped in unannounced. Perry is a Maryland Institute College of Art (MICA) graduate who also studied at the Art Institute in Pittsburgh and with Florence, Italy, commercial artist Mario Lovergine. She uses a variety of instruments including utensils, rags, and brushes to create her oil-and-acrylic works. Perry donates a portion of her sales to the local animal rescue.
Perry's sister-in-law Lynne Lockhart is another of the painters The Greyhound features. Like Fowler, these talented women artists all share a set of connections—to Berlin, the Shore, each other, and to this quaint little bookstore.
While You're in the Area:
You can park for free along Main Street as well as in six different lots located throughout downtown Berlin. Main Street is chock full of shops. Once you've loaded up on books, take a stroll through the memorabilia at Town Center Antiques, a great, multi-vendor shop. Head to Blacksmith on Pitts Street (a short walk from The Greyhound) for your next meal or for a round of craft cocktails. The hip tavern features an eclectic farm-to-table menu and an outdoor patio. Try the shrimp-and-grits appetizer swimming in crumbled bacon and bourbon cream sauce. 
The place to stay in Berlin is The Atlantic Hotel. Opened in 1895 as a coastal resort for travelers, the hotel served as backdrop for the 1999 Julia Roberts rom-com "The Runaway Bride." Situated in the heart of town, its bar and restaurant are a magnet for visitors.
Need to bust out of Berlin for some sun or see the wild ponies? Head a short 20 minutes east to Assateague Island, run by the National Park Service. (Don't get too close to the ponies—NPS regulations require it, and besides, they've been known to bite.) 
Additional Tips and Notes
Either in person or online, the Berlin Welcome Center on 14 South Main Streethas all the info visitors need about downtown attractions and vendors, plus a comprehensive calendar. The annual June bathtub races is the town's signature event.
---
Lead Photo: Thomas Schaller
Tom Schaller is a political science professor at UMBC and freelance writer. He has travelled to more than 40 countries on all six inhabited continents. He can be reached at schaller67@gmail.com.