Encounter Treasures Untold at the Mermaid Museum in Berlin, MD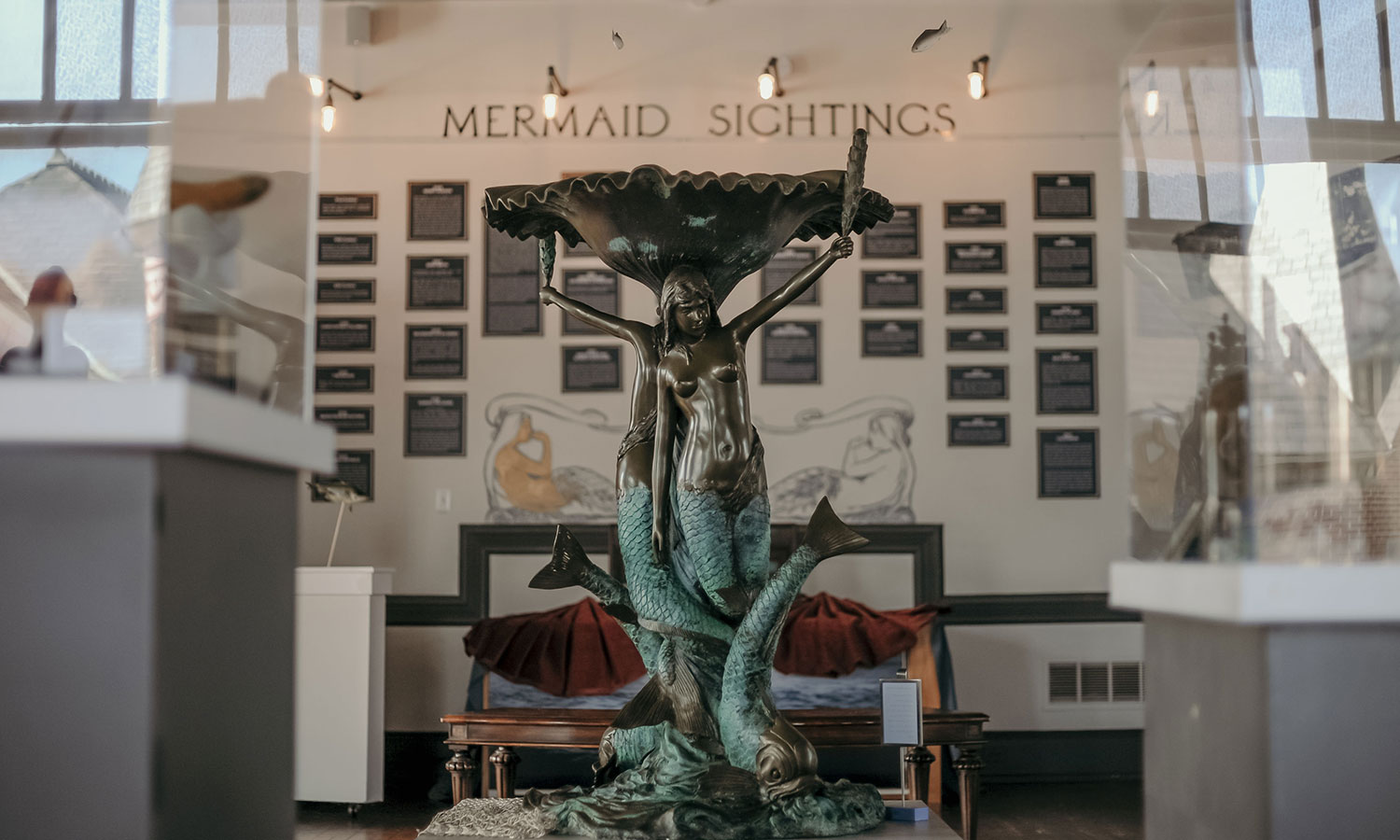 I've made the journey across the Bay Bridge many times — for summer vacations, day trips in early fall, and most recently, for a delicious diversion of Bloody Marys in the dead of winter.
But this is the first time I stopped short of the popular Ocean City hub to check out one of the Eastern Shore's charming small towns. Famous for being the filming location of Runaway Bride and once named "America's Coolest Small Town" (among numerous other accolades over the years), historic Berlin is now home to the world's first mermaid museum. 
Yes, that's right (though, funnily enough, another one opened in Washington just two days later)!
The Maryland collection, which opened at 4 Jefferson Street on March 27, is part history, part lore, and part treasure trove of oddities, such as the mermaid-shaped Cheeto, "the museum's most prized artifact."
Fresh off our visit to Ocean City in February, I knew I needed to grab my friend Maren again so we could head back to the Eastern Shore and give this museum a trip of its very own. 
Straight down US-50 E, and just off Main Street, the museum is located upstairs in the former Odd Fellows building, a meeting space for a fraternal organization (though it eventually included women) known as "odd" back in the 1600s for helping the less fortunate.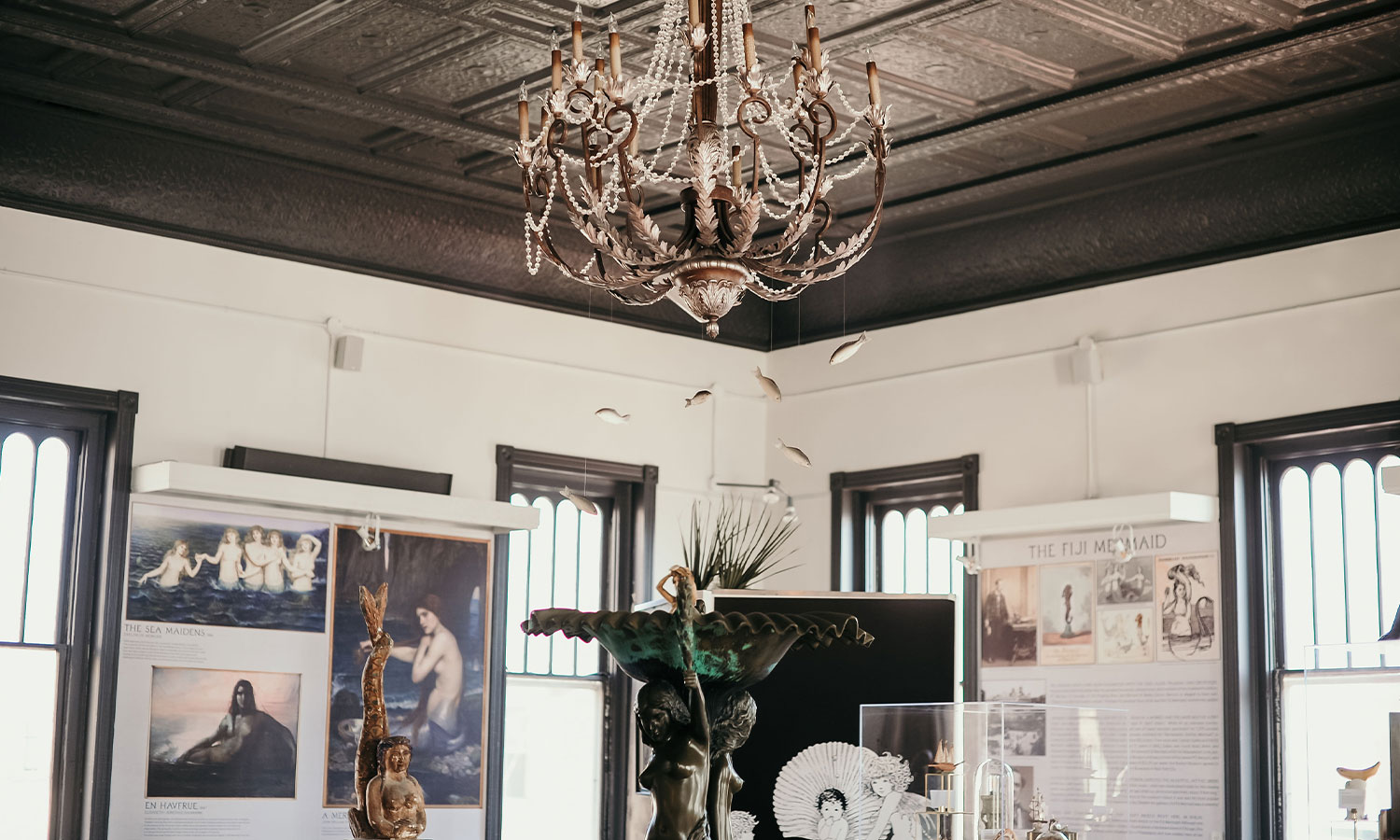 Museum owner Alyssa Maloof, who also works as a local photographer, grew up near Salisbury and moved to Berlin in 2018. She transformed her studio space last July, hoping to draw in more visitors to the town. 
Always inspired by feminine art and the ocean, Maloof thought it would be a great way to re-feminize the space, and even took care to seek out artwork by female painters in the 1800s who did not have as much access to or acceptance in painting their mermaid nudes at the time. 
Upon entering The Mermaid Museum, you are either greeted with ethereal music or gentle piano with ocean waves. It really put us in the frame of mind to discover all things mermaid.
As an artist, Maloof was known for making "femme-boxes", a kind of shadow box in a glass case, and "the museum was kind of fun to design in that way," she said. You'll note her style everywhere, from big pieces, wall hangings, and even peepholes hidden in the display cases.
There are a number of interactive elements as well, such as a bathtub where you can take your photo with a mermaid tail and a drawing wall for children.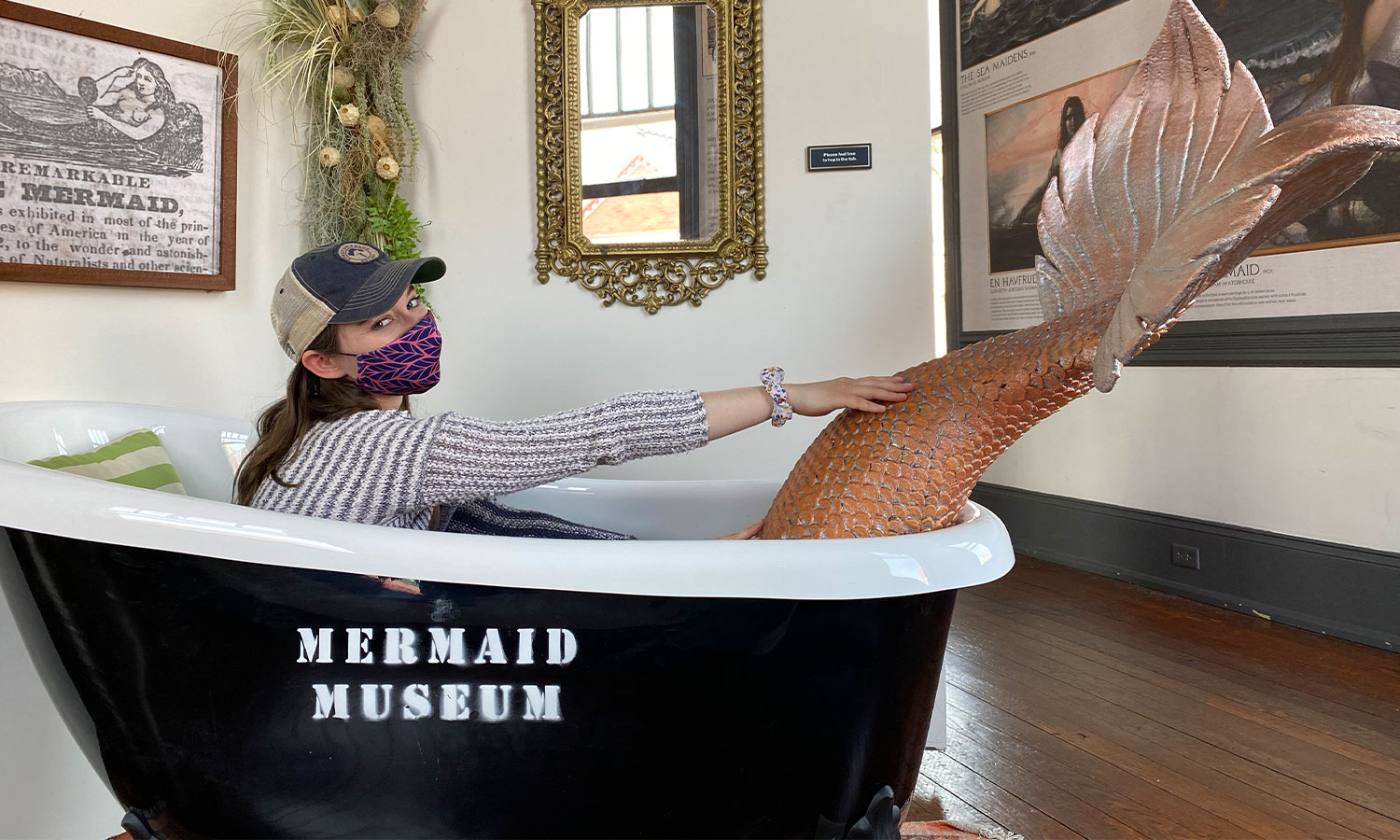 Her collection toes the line between serious and humorous, fact and fiction, with plenty of tongue-in-cheek memorabilia and references to pop culture, such as the 1984 movie Splash, in which Tom Hanks romances a mermaid in New York City, and The Little Mermaid's "Dinglehopper." 
One of the reasons Maloof chose to focus on mermaids for her exhibit was so she could play with the idea of truth — as with a pair of old shoes that could have belonged to a mermaid, mermaid scales and skin, and mermaid crafts and pets.
But there is also quite a bit of real history to be observed here.
One of the most interesting anecdotes: Weeki Wachee, a city near Tampa created in 1966 to promote the first mermaid show and theatre. In a museum video reel, you can see the underwater acrobats descend the 400-foot depth into the deepest naturally-formed spring in the U.S., stopping to drink from an air hose, eat a banana, or drink a soda.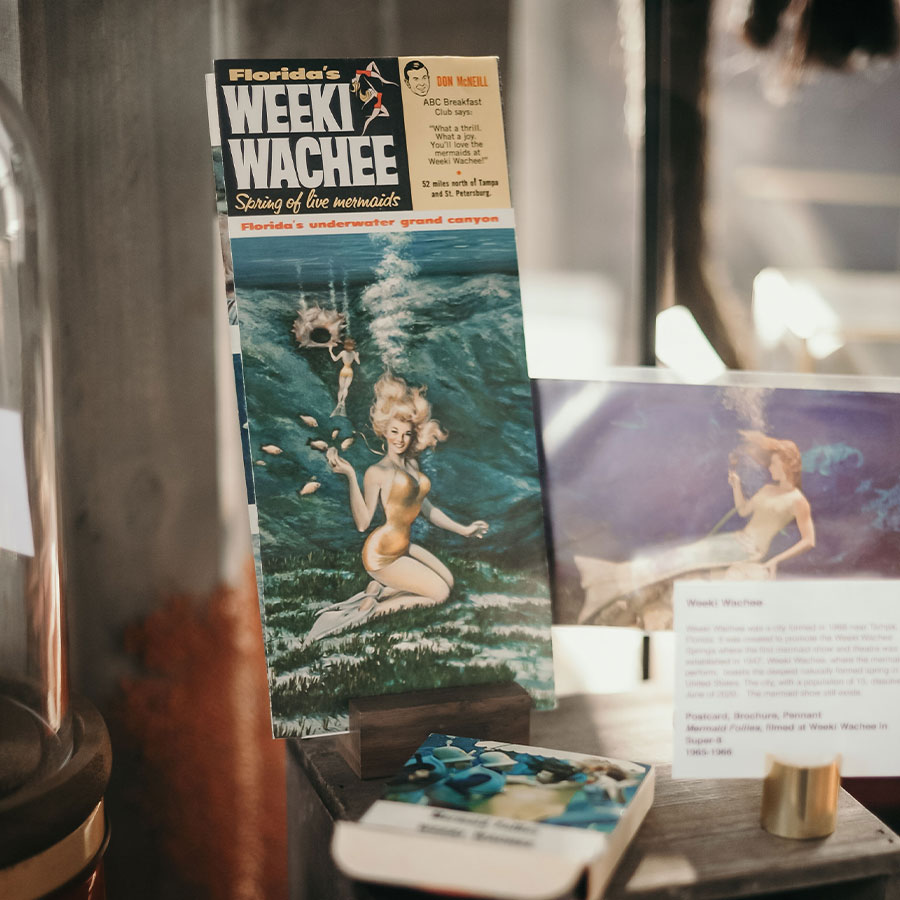 The city of 15 people dissolved in 2020, but the show has been going strong since 1947. This might have been my favorite part of the museum. I'd like to check out that show someday.
You can also see the duality of mermaids present in their impact on culture over the years. Votive paintings from Mexico depict some fearful encounters with mermaids, while elsewhere fishermen used Japanese-crafted mermaids as a "spirit charm" on their ships. 
The latter type became popular as one American sailor's "Fiji mermaid," a grotesque portrayal later on display with one of P.T. Barnum's collections.
Perhaps the most fascinating exhibit is the wall of mermaid sightings that range from the first century to as recent as 2017, when police found a "self-declared" mermaid wandering around Fresno with webbed toes on both feet.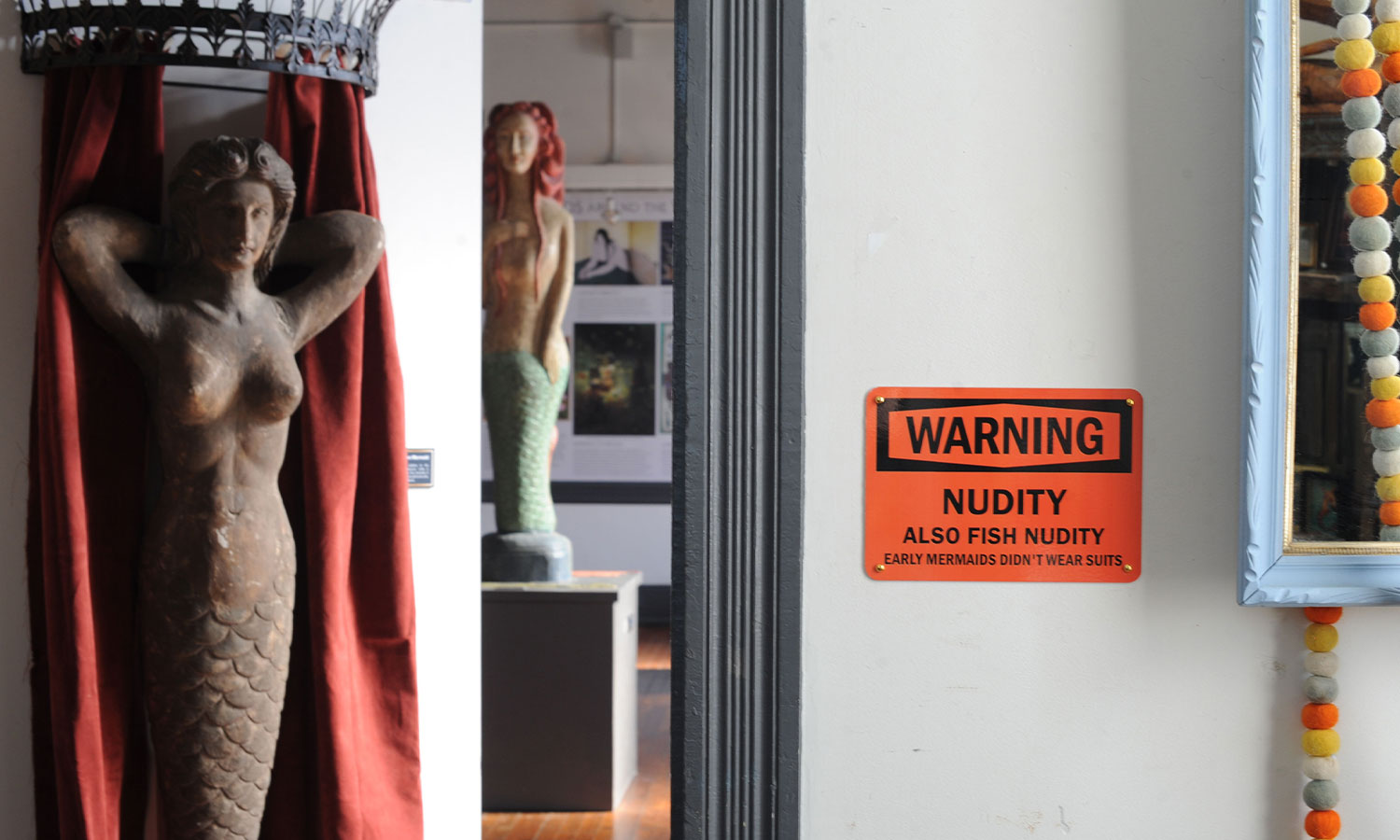 Whether you are interested in the myths, legends, or reality, there's something to be found here for all, along with plenty of trinkets to stimulate the imagination. We almost forgot about the peepholes, so it became a fun little scavenger hunt to find them all on our way out.
I'd gladly come back for the dozens of mermaid sightings alone, which range from mysterious to laughable (washed up mermaid bodies from Pirates of the Caribbean anyone?).
The Mermaid Museum is open on weekends from 11 a.m. to 5 p.m. in May, and daily from 11 a.m. to 5 p.m. from June to October. Admission is $11.
After a good hour in the museum, we made the most of our day trip and explored Main Street in Berlin, which is also about 10 minutes from the famous ponies on Assateague Island.
On Main Street, we stopped by several boutiques, an oddities shop, a tea shop, and The Greyhound bookstore, where we saw owner Susan Ayres Wimbrow offer treats to a dog named Lucy Longbottom.
She asked us if we were foodies and ushered us out the back to Blacksmith Restaurant, where I took advantage of our Eastern Shore location to enjoy a soft shell crab BLT done right and try an inventive martini distilled using green hydro-thermal power.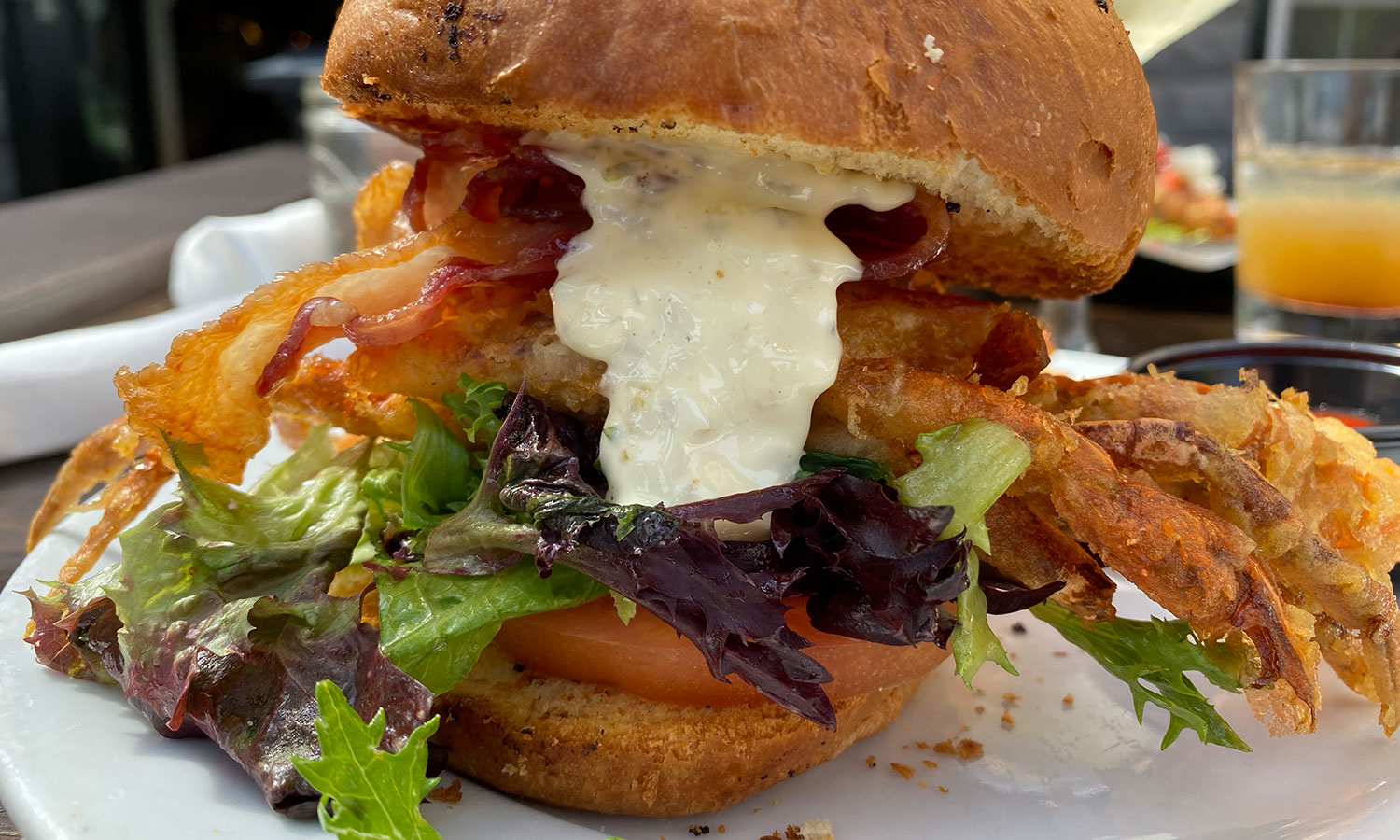 Across the street, we went to Baked Dessert Cafe and Gallery for a few treats and Berlin's official dessert, the peach dumpling (it's true, they have the paperwork!) and whiskey brickle ice cream at Island Creamery.
The 2½-hour drive back to Catonsville was made shorter by a couple of detours. 
We decided to add to our "little Europe" tour (having just been in Berlin) and check out Vienna, a historic town along the Nanticoke River with a population of under 300 in 2019. There wasn't much to see, but we drove to the riverwalk, read about the watershed, and walked along a row of historic homes. 
Finally, we grabbed dinner at Snappers Waterfront Cafe in Cambridge, watching the sunset from the back deck over some tacos, scallops, and margaritas. 
At the end of the day, our trip to the museum turned into a road trip of its own.
---
Lead Photo: Alyssa Maloof Photography
A Baltimore-bred journalist who takes great pride in her Old Bay, Natty Boh and that one football team, Lindsay C. VanAsdalan has always loved experiencing life through food, music and culture. And road trips have been a big part of that — so much so she made an entire magazine devoted to road trips for her senior project in college. When not writing, you can find her out at a concert (in safer times), trying the best new burger in town or snuggling cats.