Ladew Topiary Gardens: The Real 'Secret Garden' of Harford County, MD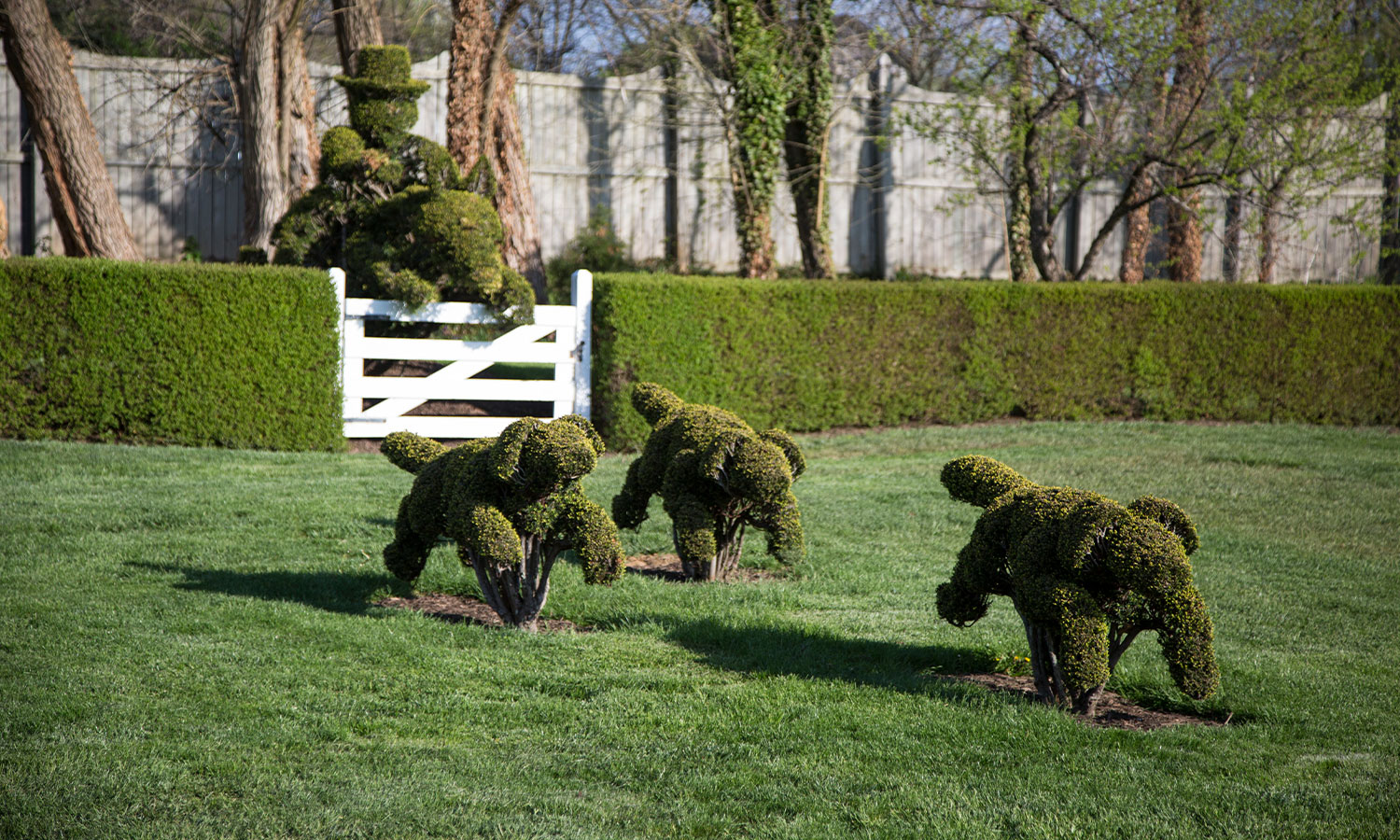 Imagine you are driving along busy Jarrettsville Pike among the verdant scenery of Harford County's horse country, just 20 miles north of Baltimore, enjoying the warm breeze from your window and the music from your speakers. You may pass a stretch of tall wooden fence on your lovely country drive, unaware that its generic facade conceals the wonderful and whimsical Ladew Topiary Gardens. Ladew Gardens is on the National Register of Historic Places and was voted one of the top five gardens in North America.
As a child, one of my favorite books was The Secret Garden, in which a forgotten walled garden is rediscovered and brought back to life by a trio of children. It is one of those books you become completely absorbed in, and I remember feeling the mystery and delight of opening a hidden and locked door to step into a lost world.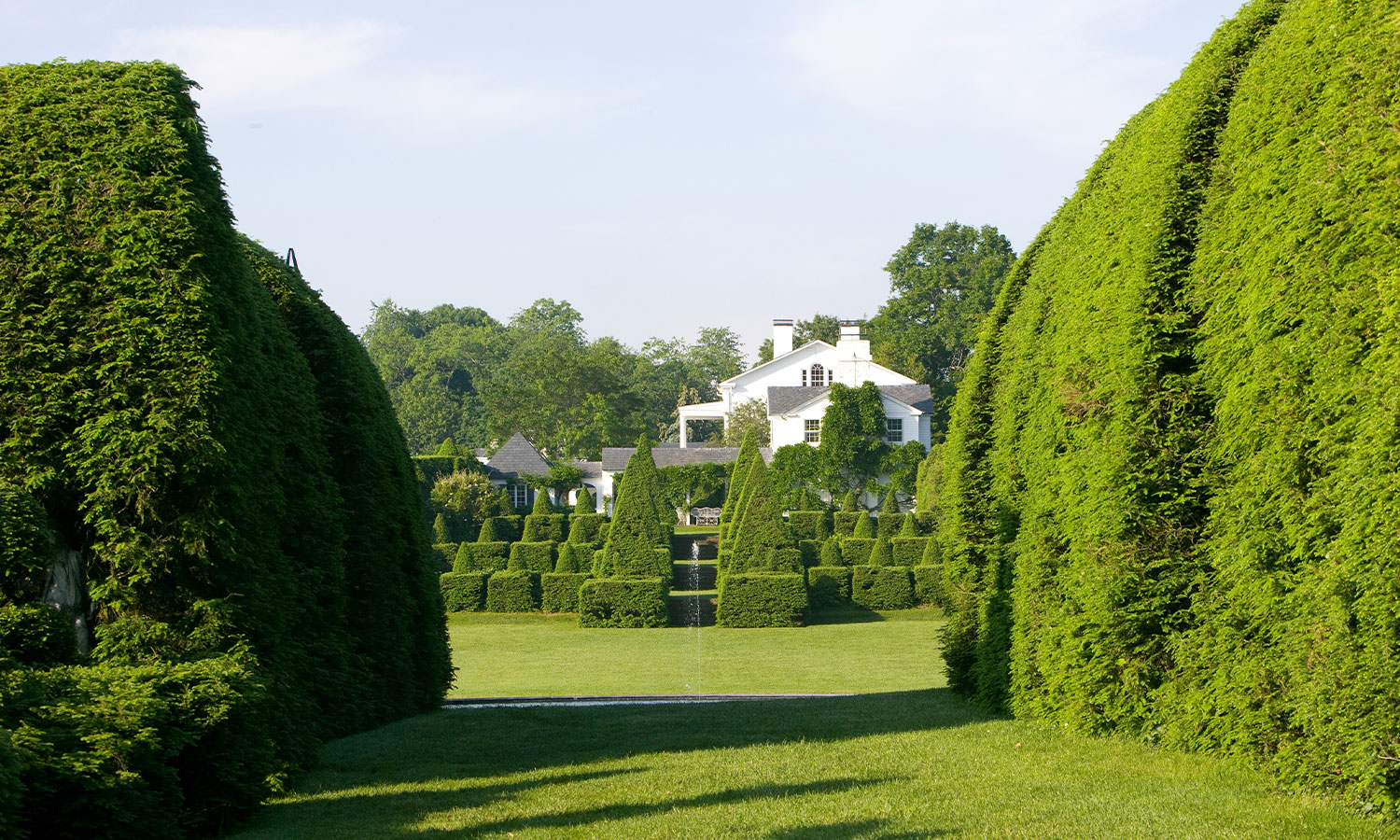 The Secret Garden Unlocked
Ladew Gardens does not use a lock and key for any of its 22-acre grounds but its design into 15 garden "rooms" gives you the experience of discovery, surprise, and delight just like The Secret Garden. The themed gardens focus on colors, shapes, plants, and purposes, such as the Yellow Garden, Keyhole Garden, Rose Garden, and Croquet Court.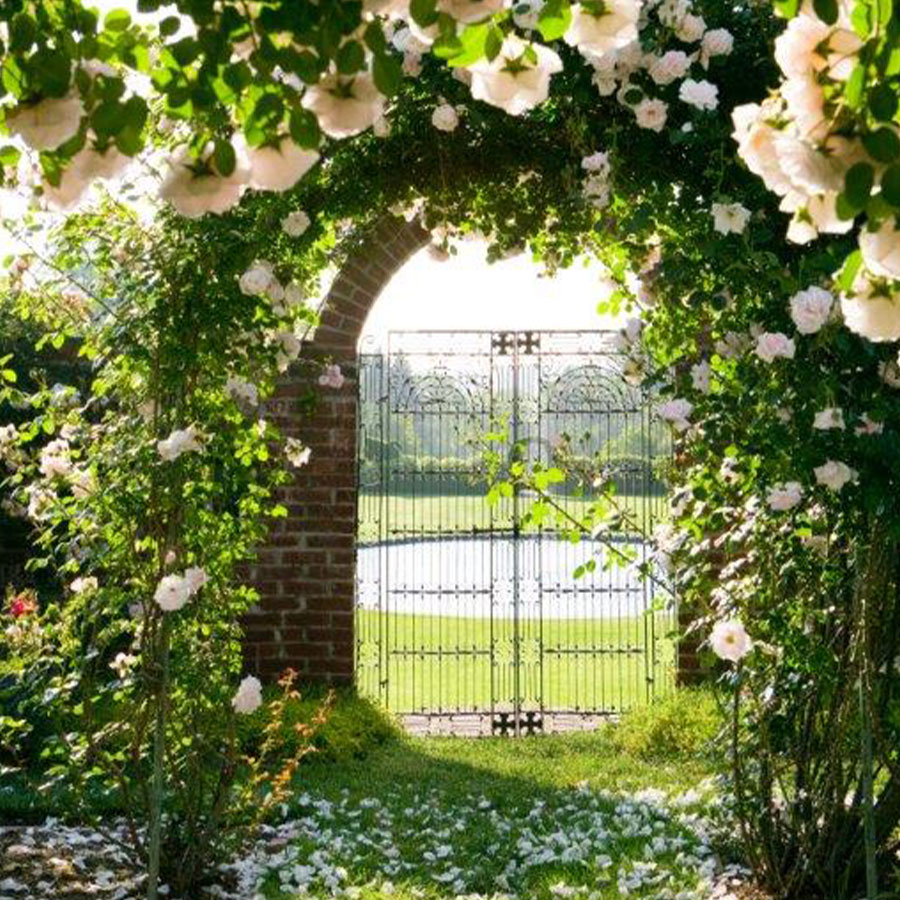 And each of the over 100 topiary creations will fill you with a sense of playful creativity and joy, beginning with the incredible Hunt Scene, depicting two horses and riders, one jumping a fence, to follow five hounds pursuing a fox.
The gardens were started in the 1930s by Harvey Ladew, inspired by his travels in England and Italy, and like the Hunt Scene, include nods to his enjoyment of horses, the hunt, and dogs. As you explore the grounds, scan the displayed QR codes to learn more about noteworthy plants or history. The tours are multilingual, synced with your phone's language setting, and are currently available in English, Spanish, French, German, Mandarin, Russian, and Arabic.
The Magic of Ladew
I love Ladew and brought my husband and daughters to enjoy the magic with me on a recent spring morning. Guided by a garden map from the admissions office, we worked our way clockwise around the property, going from room to room and feature to feature.
My family's expressions of surprise and excitement magnified my own enjoyment. As we would step into a new garden room, they would notice the clever details, thoughtful seating options, and playful water features. The blooming spring bulbs at our feet and expressive clouds above framed our family fun.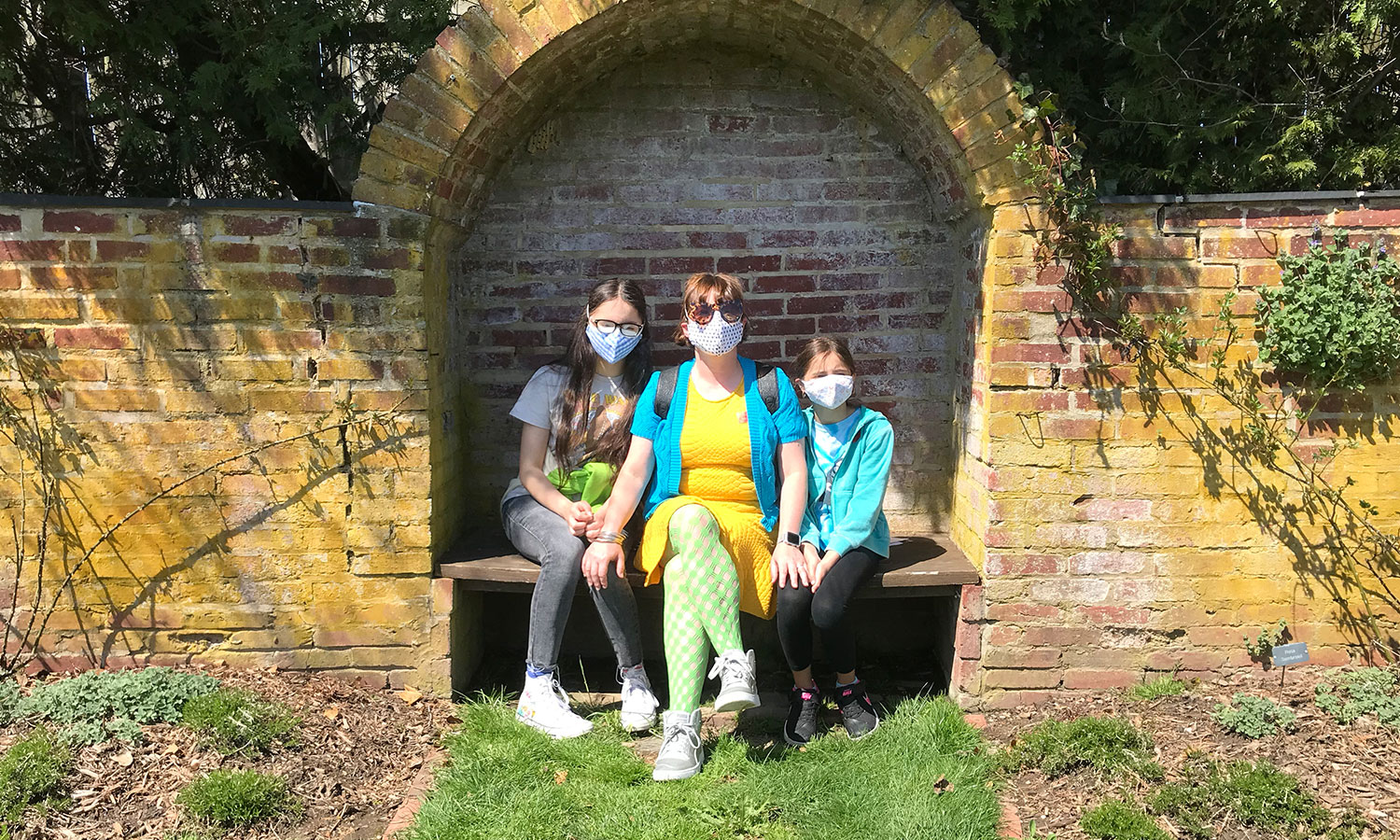 Some formal gardens may feel stuffy or artificial, but not Ladew — they are a burst of joyful creativity. And like The Secret Garden, Ladew's gardens encourage us to slow down and to notice the beauty and wonder of small growing things and nature.
Some outstanding features include a playful Chinese junk topiary and koi pond full of friendly fish, overlooked by a grand topiary Buddha. We also were delighted by the Tivoli Tea House — an old ticket booth from an English theater turned into a pink entertaining space for Harvey Ladew. Note the gilt frame hanging on the wall that borders a window, highlighting the beauty of the landscape outdoors rather than an artist's creation. A framed portrait on another wall conceals a built-in bar for refreshments, featuring Mr. Ladew's trademark pink elephant glassware.
The highlight of any visit to Ladew is The Great Bowl, an expanse of verdant lawn and a central pool surrounded by immense topiary hedges sculpted with cutout windows, an expansive drapery swag, pyramids, and swans.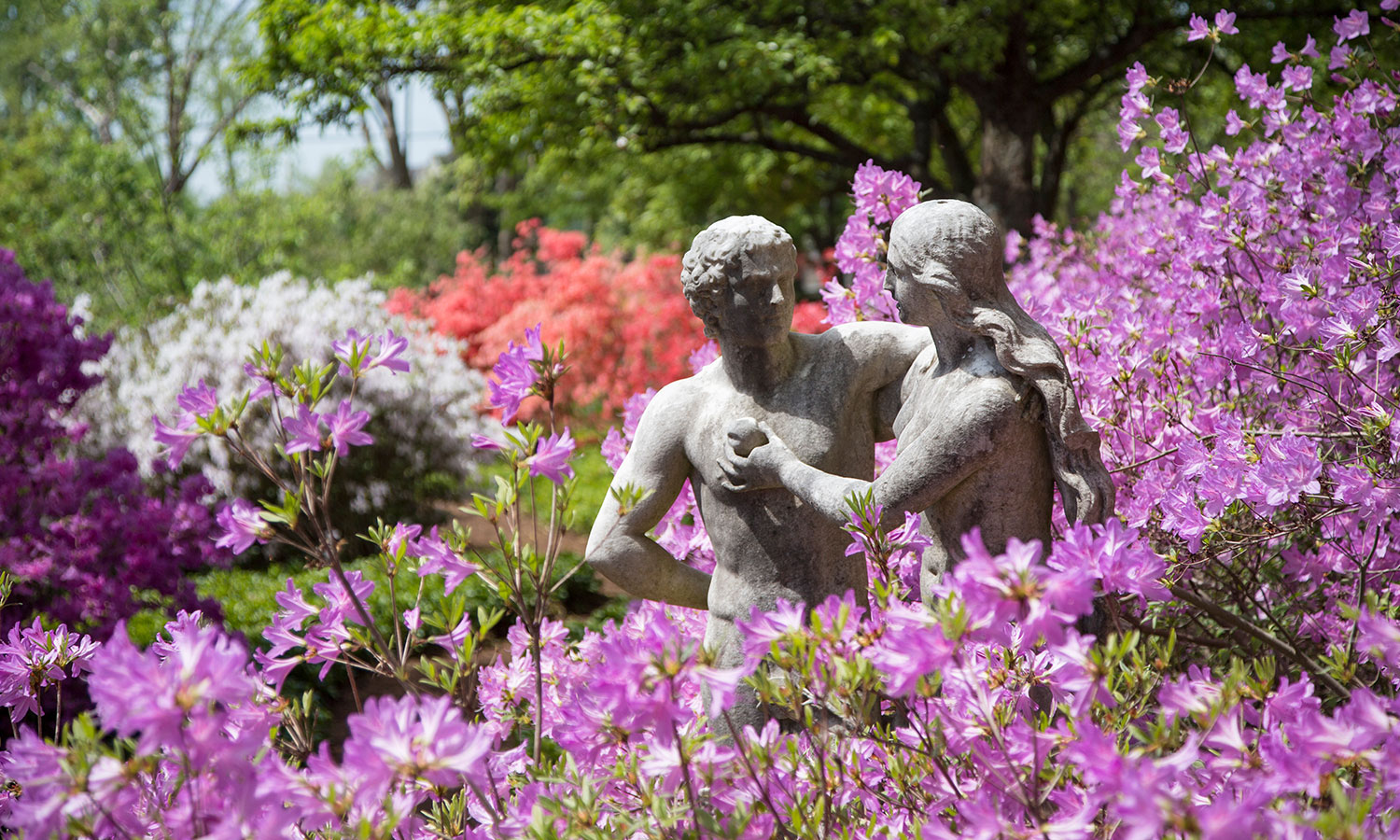 Even the artwork on display has a sense of humor: a statuary Adam accepts the offered apple from Eve while concealing 2 apples behind his own back. For a change of pace, the newest area of Ladew's grounds is minimally manicured—a mile-long Nature Walk that showcases the natural habitat and beauty of this area, including a butterfly house. 
The Manor House and Barn Gallery
Though the exuberant gardens are the star of the show, Harvey Ladew's manor house has its own elegance and charm. What had been a simple and rustic farmhouse was expanded and developed with his creative vision and guidance. His sense of humor and personality continues indoors with extensive antique collections, equestrian art, and clever details.
Take special note of the oval library room —rated one of the most beautiful rooms in the United States — and its secret door. If an unwanted guest would turn up, Ladew used this secret door to escape to his garden, and his housekeeper could truthfully say that he had just stepped out. When house tours are offered, join a guide, step into his personal world, and let your imagination go wild. What must it have been like to awake each morning with towering topiary outside every window?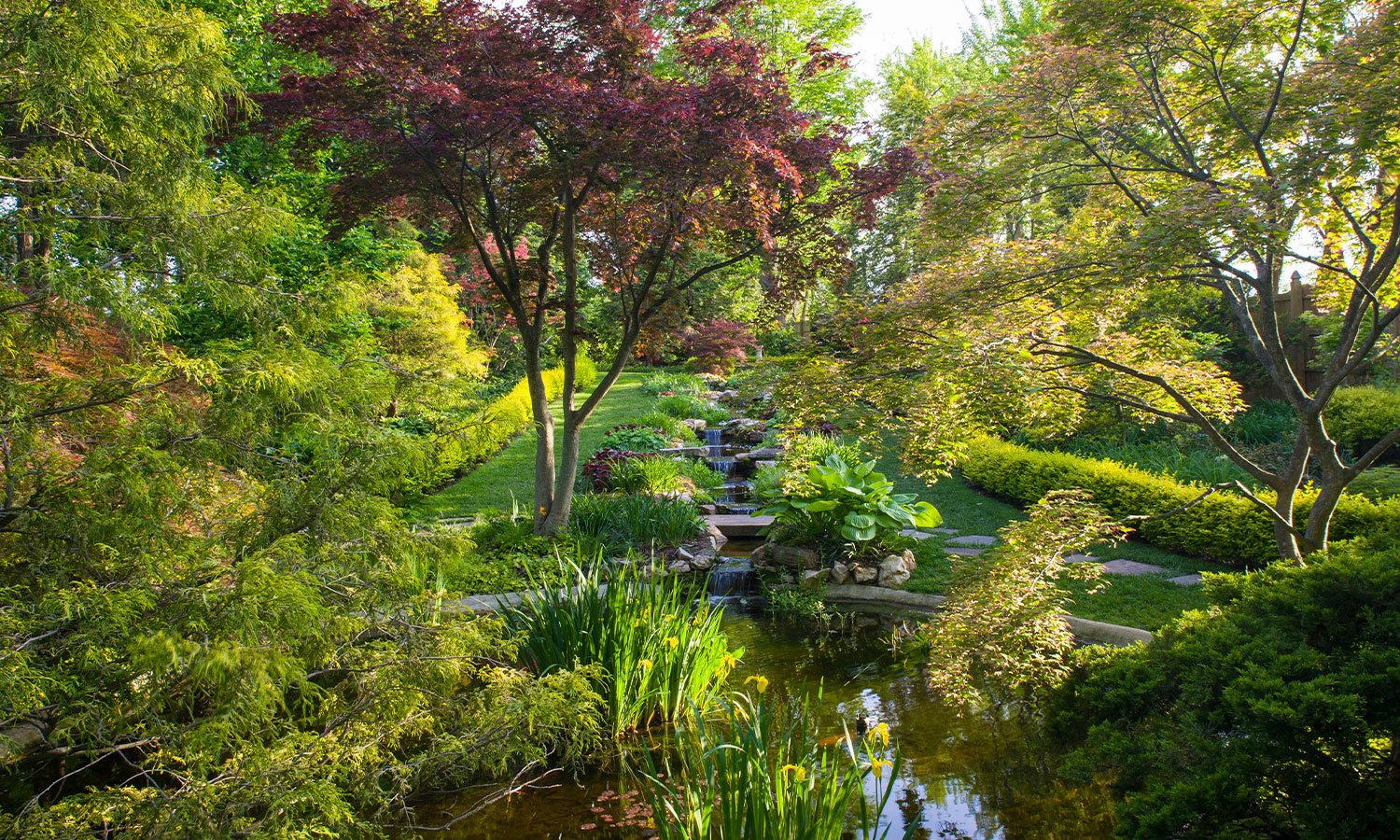 Just down the hill from the house is the barn that once housed his horses, its lower level now home to the cafe, and the upper level converted to a learning space and gallery showcasing Mr. Ladew's art and visiting exhibitions.
Visiting the Gardens
Please check Ladew's website for more details and guidance to make the most of your visit. Accessibility varies depending on the area of the gardens or house you are visiting. Take a detour to Ladew's botanically-themed gift shop for garden-inspired home decor, toys, and gifts. Their cafe is currently closed but snacks are available in the gift shop. You can also place a food order in advance to pick up at the admissions window, or you can pack a picnic.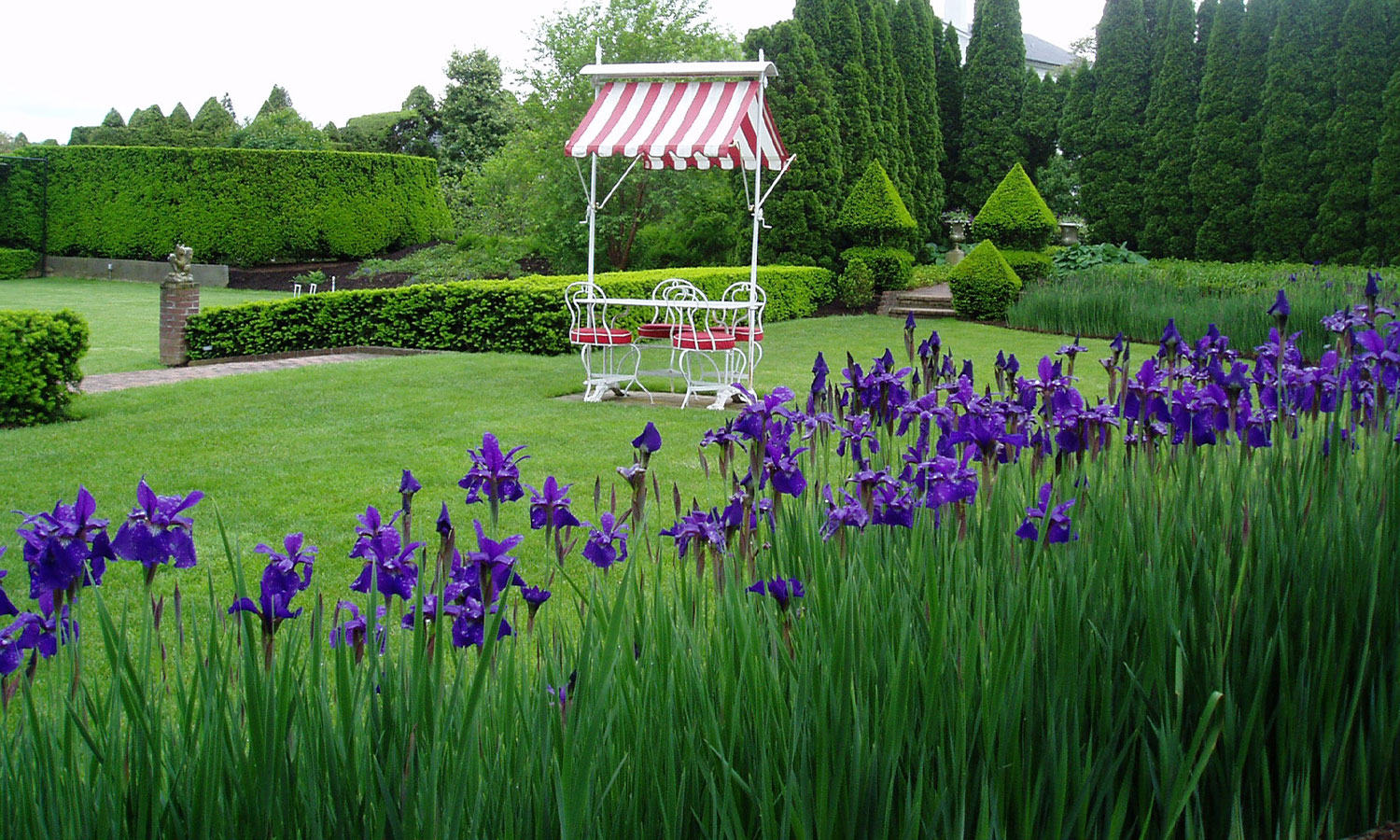 In addition to welcoming the public to explore its grounds, the Gardens host various festivals, workshops, and classes for adults, families, and children. 
A Secret to Be Shared
The spirit of Ladew Topiary Gardens echoes The Secret Garden, "Sometimes since I've been in the garden I've looked up through the trees at the sky and I have had a strange feeling of being happy as if something was pushing and drawing in my chest and making me breathe fast. Magic is always pushing and drawing and making things out of nothing. Everything is made out of magic, leaves and trees, flowers and birds, badgers and foxes and squirrels and people. So it must be all around us. In this garden – in all the places."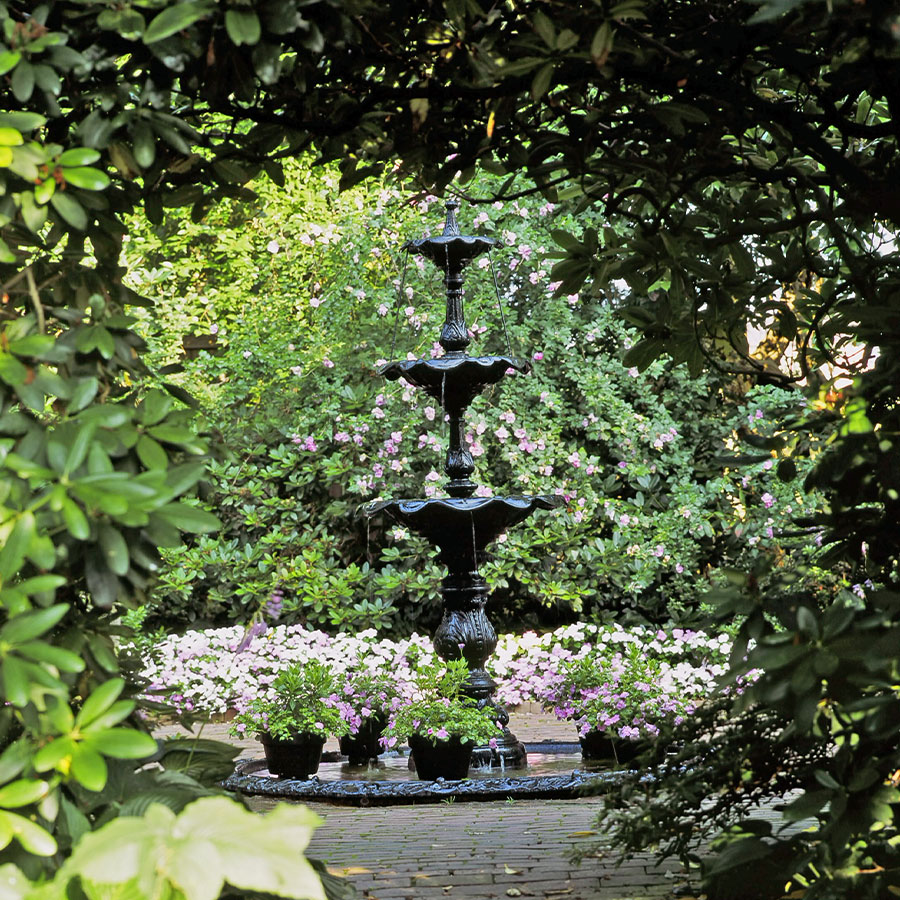 As my family piled into the car, we shared our highlights of the day; our youngest daughter loved the action of the Hunt Scene, our oldest daughter was drawn to the dappled shade and musical fountain of the Victorian Garden, and my husband appreciated the grandeur of the Great Bowl's sculpted hedge. My favorite? I savored sharing this not-so-secret garden with my family, and pointed the car for home with a glad heart, attuned to the special magic and beauty found in a garden. 
---
Lead Photo: The Hunt Scene topiary creations. Photo Credit: Helen Norman
Christine Rai is a funky professor, writer, and artist who lives in Montgomery County with her family. She loves discovering fab flavors, exploring cool places, and savoring learning. Follow her adventures at www.christinerai.com.