Where to Sink Your Teeth Into These 5 Classic Maryland Foods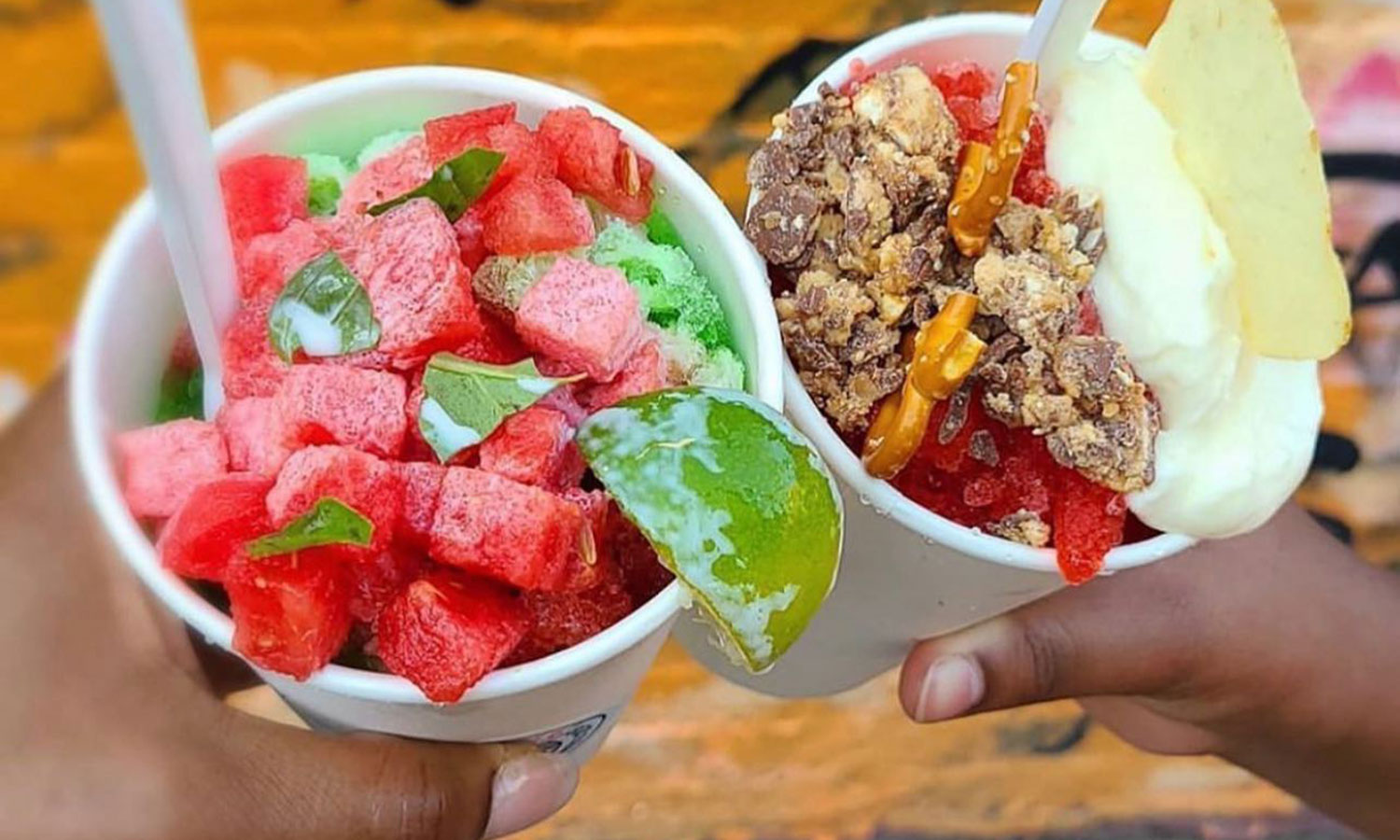 Historic preservation isn't just about preserving buildings, structures, and sites—it's about safeguarding our intangible heritage—music, dress, oral traditions, crafts, festivals, and, of course, cuisines. From spicy to sweet, Maryland food has it all! Our diverse culinary history reaches far beyond just steamed crabs and crabcakes. Let's sink our teeth into the history of classic Maryland foods and where you can experience them for yourself.

Maryland fried chicken
A take on the classic Southern dish, Maryland fried chicken (also known as Maryland Chicken or Chicken a la Maryland) involves covering the chicken in a pot while it fries, then pouring gravy on top. Still, there is no single way to make the dish—each iteration has a unique flavor!
Maryland Fried Chicken was recorded in recipe form as far back as 1886 but is likely much older. It became well-known across the United States when the recipe was published in chef Auguste Escoffier's cookbook Ma Cuisine in 1934. Many recorded recipes use Old Bay Seasoning to give it that extra only-in-Maryland flavor.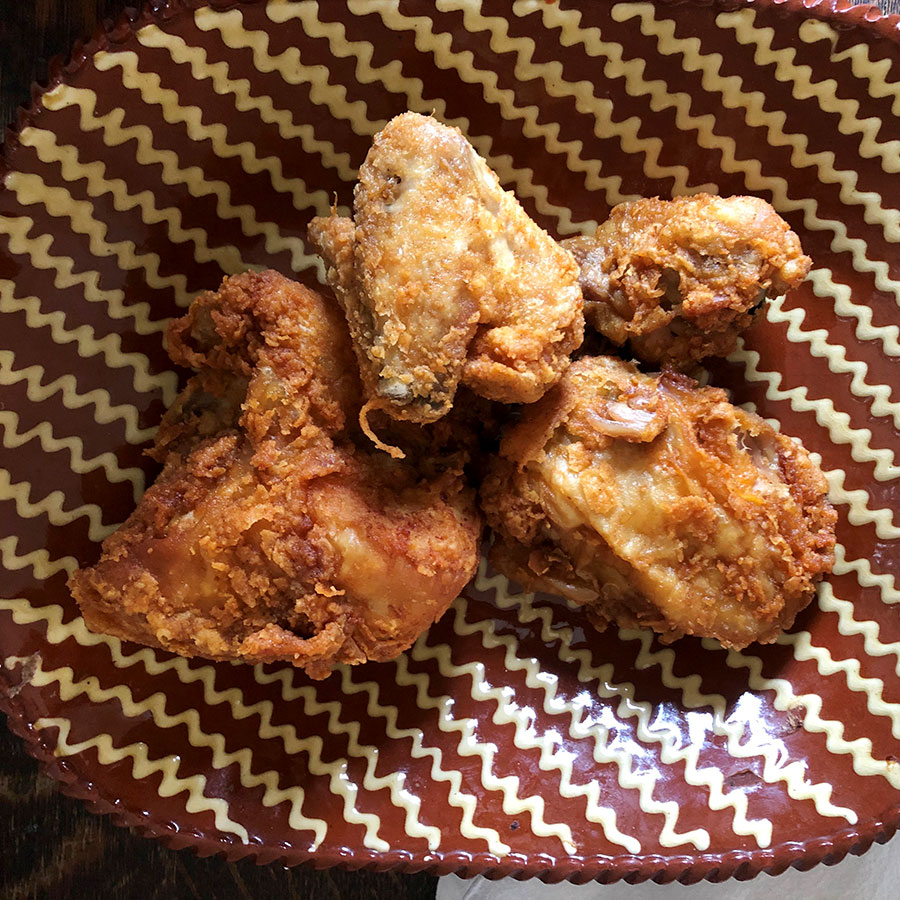 Where to taste it: Personally, as a resident of Frederick County, I'm partial to two local fry joints: Watson's Carryout in Jefferson and Trout's Market in Woodsboro. These two small, locally run carryout markets serve up heaping boxes of the classic dish every day. 
Fish Pepper
Fish Pepper is a small, striped pepper with green and white leaves and stripes that go from white and green to red and brown when ripe. Historically grown by enslaved Africans in the Chesapeake region, the Fish Pepper was forgotten for nearly a century, absent from Maryland recipe books, and impossible to find growing in the ground. The pepper was rediscovered by farmer William Woys Weaver, whose grandfather was an avid beekeeper. The African American painter Horace Pippin approached Weaver's grandfather seeking bee stings to cure an old arthritic war injury. In exchange, Pippin offered Fish Pepper seeds. After his grandfather passed, Weaver discovered the seeds at the bottom of a freezer. He decided to plant them and posted on the website Seed Savers Exchange, where he quickly realized how rare they were. After Weaver's discovery, the pepper made its way back into gardens and onto menus throughout the state.
Where to taste it: Those hoping to taste this piece of Maryland history can enjoy it in meals at Woodberry Kitchen in Baltimore or straight from the bottle in the restaurant's famous Snake Oil hot sauce. Or, you can buy Fish Peppers straight from Baywater Farms in Salisbury. 
The Baltimore Coddie
The Baltimore Coddie, a Maryland favorite with unknown origins, was ubiquitous in the 1950s and 60s. Made with a mixture of salt cod, potatoes, milk, and crackers and served with mustard between two saltines, this tasty snack sold for 5 cents a pop at delis and malt shops throughout the city.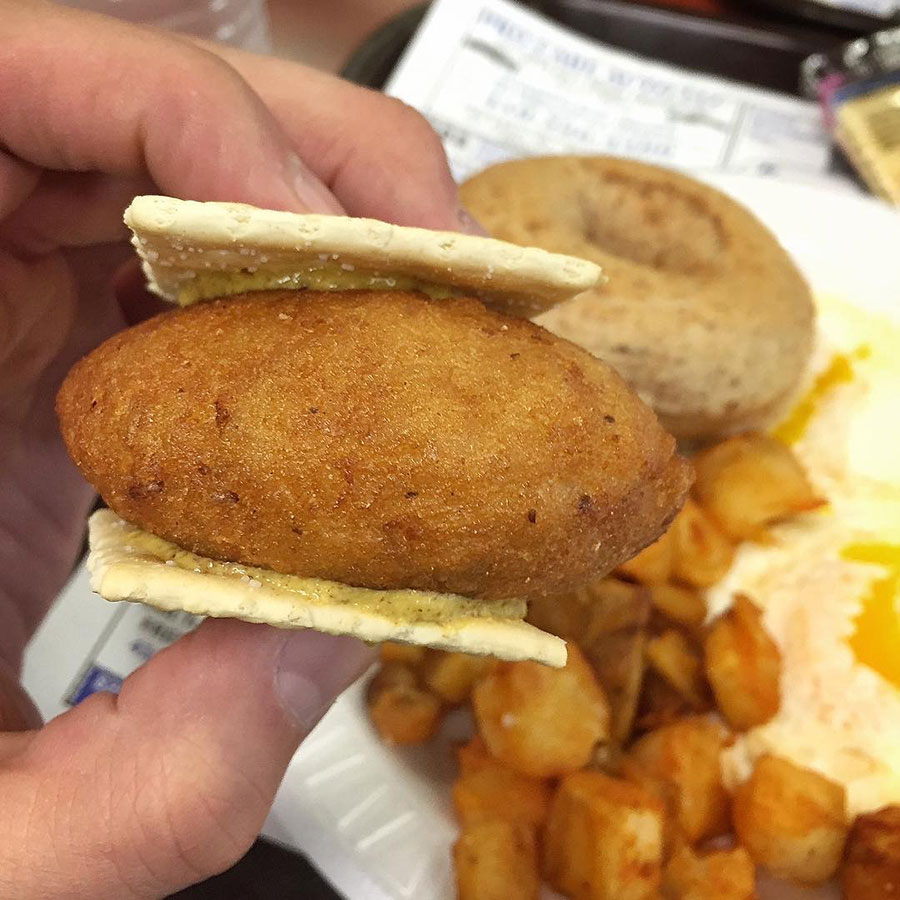 Several groups in Charm City have claimed to have created the Baltimore favorite. The family of Leonard Cohen, a Russian Jewish immigrant to Baltimore, asserts that Leonard's wife, Fannie, came up with the recipe, and Leonard was the first to mass-market the coddie in the early 1900s. According to their granddaughter, Elaine Cohen Alpert, the couple was running a stall in the Bel Air Market, but they weren't making ends meet. Leonard hoped to sell non-kosher crabcakes to make more money, but Fannie "wouldn't have it," so she devised the coddie instead. It became popular enough for Leonard to buy a truck to ship them throughout Baltimore. 
Where to taste it: You can order a classic coddie at Mama's on the Half Shell, Attman's Deli, Lenny's Deli, or Faidley's Seafood in Lexington Market, to name just a few of the many Baltimore restaurants and grocery stores still serving this unique delicacy. 
Snowballs
As legends go, Baltimoreans have been enjoyed shaved ice since the 1800s. Trucks shipping ice to the south would pass through Baltimore, and kids would chase them, asking for shavings. When they brought the ice shavings home, their mothers would make flavored syrups, such as the Baltimore favorite, egg custard, made out of eggs, vanilla, and sugar. Some businesses caught on, too, and snowballs were sold as intermission treats at theatres in the summertime as the perfect way to cool down in hot venues that didn't have air conditioning. 
Where to taste it: Walther Gardens in Northeast Baltimore is Maryland's (and possibly the country's) oldest documented snowball stand! Check out a few other options here.
I can't get enough of this treat and bought my ice shaver—but I'm not currently open for paying customers (yet!).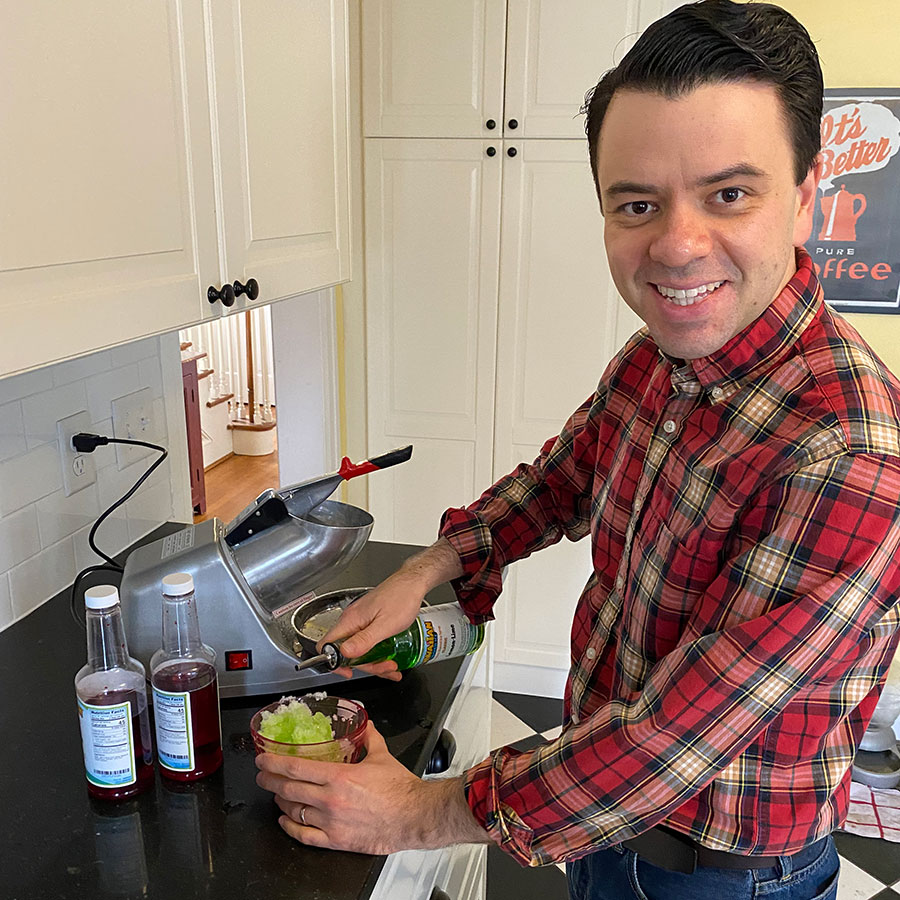 White Potato Pie
The origins of the White Potato Pie are murky, with some recipes noting that it was a poor man's dessert, created by those who could not afford high-class ingredients. Joyce White, a culinary historian, suspects this pie has its origins in Maryland's agricultural history. Tobacco was the dominant crop in the region, but growing the plant in the same plot of land year after year depletes the nutrients in the soil, so proper crop rotation was key. In the years when the potato crop was abundant, Marylanders looked for ways to ensure it didn't go to waste, and thus, the white potato pie was born.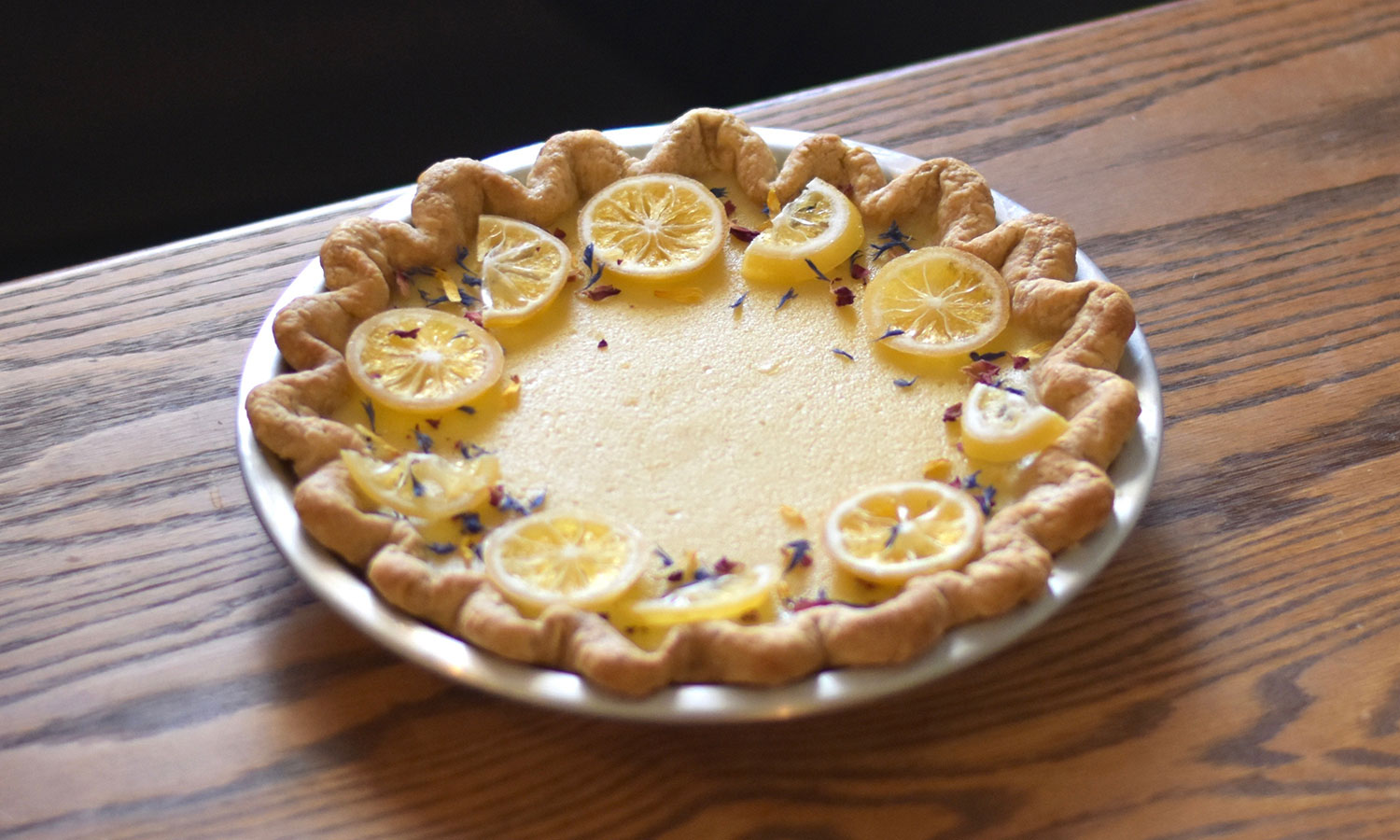 The dish dates to at least the seventeenth century and is made of mashed white potatoes, eggs, milk/cream, sugar, and flavorings such as lemon and nutmeg. 
Where to taste it: You'll have to make this classic Maryland food yourself! Try this recipe from Kara Mae Harris of the Maryland food blog Old Line Plate.
---
Lead Photo: @deidre_baltimore
Snowballs at Quality Snowballs in Baltimore, MD.
Nicholas Redding has served as the President & CEO of Preservation Maryland since 2014. Prior to his arrival at Preservation Maryland, he served in leadership positions at several heritage and preservation organizations, including Deputy Director for Advocacy at the American Battlefield Trust in Washington, DC. Prior to the Trust, he served as a Park Ranger at Gettysburg National Military Park and the Chesapeake and Ohio Canal National Historical Park. He is a graduate of West Virginia's Shepherd University and lives outside of Frederick, Maryland with his wife, daughter, and two beagles.