Snowballs — Baltimore's Chilly and Sweet Summertime Treat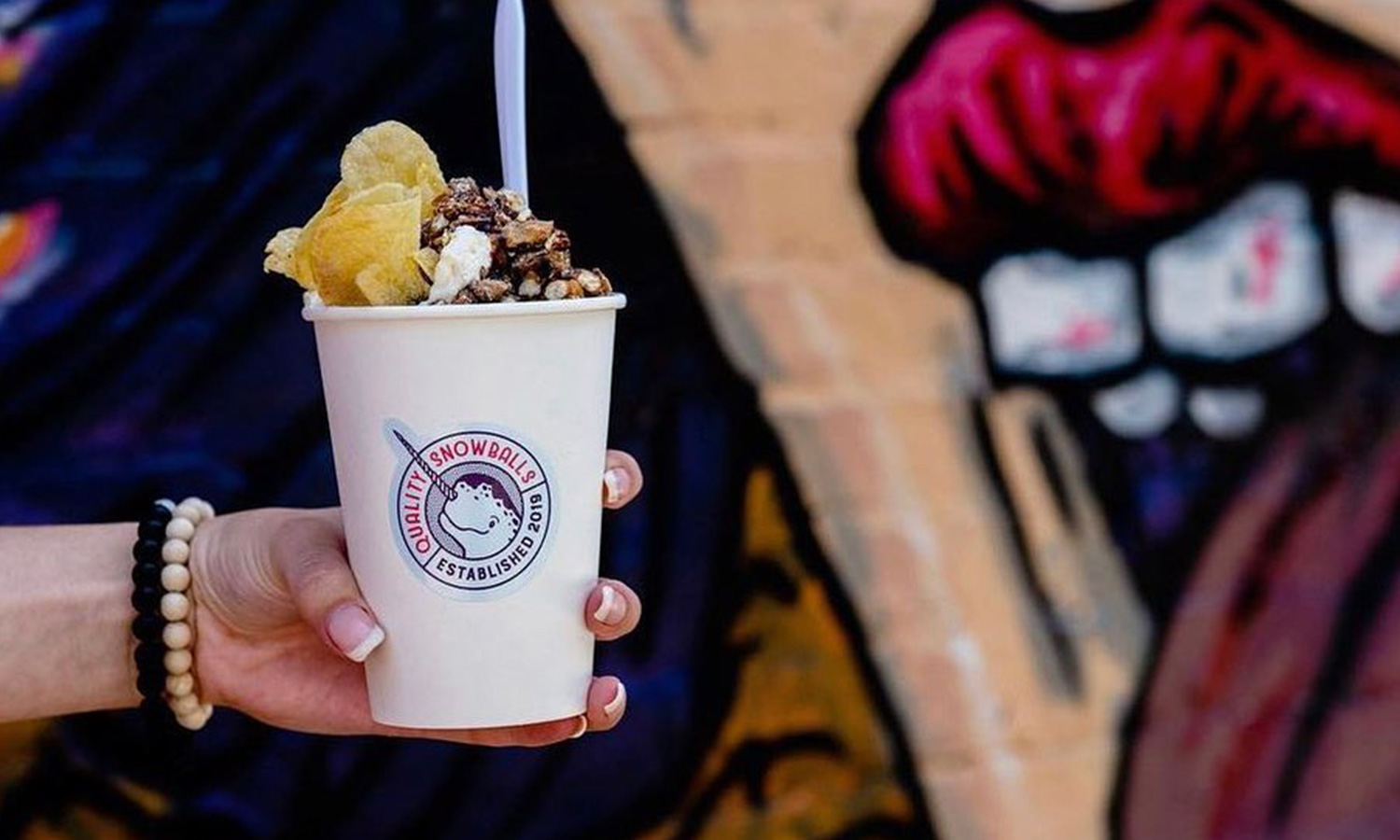 I've lived in the Baltimore area for over four years and have a confession to make… I've never had a true snowball before this summer. I've had snow cones before, and Rita's Italian Ice, but I didn't know I was missing out on a whole different category of icy delight. Snowballs are made from finely shaved iced (versus crushed), and you don't have to stab at a snowball with your spoon to break it up.
Luckily for me, my boyfriend is a Baltimore native and knew exactly where to go to give me the full snowball experience. First, we checked out Elizabeth's and Zyggie's Shaved Ice Snowballs in Parkville, MD. It's a tiny stand in the corner of a shopping center parking lot, but don't let its size or location fool you.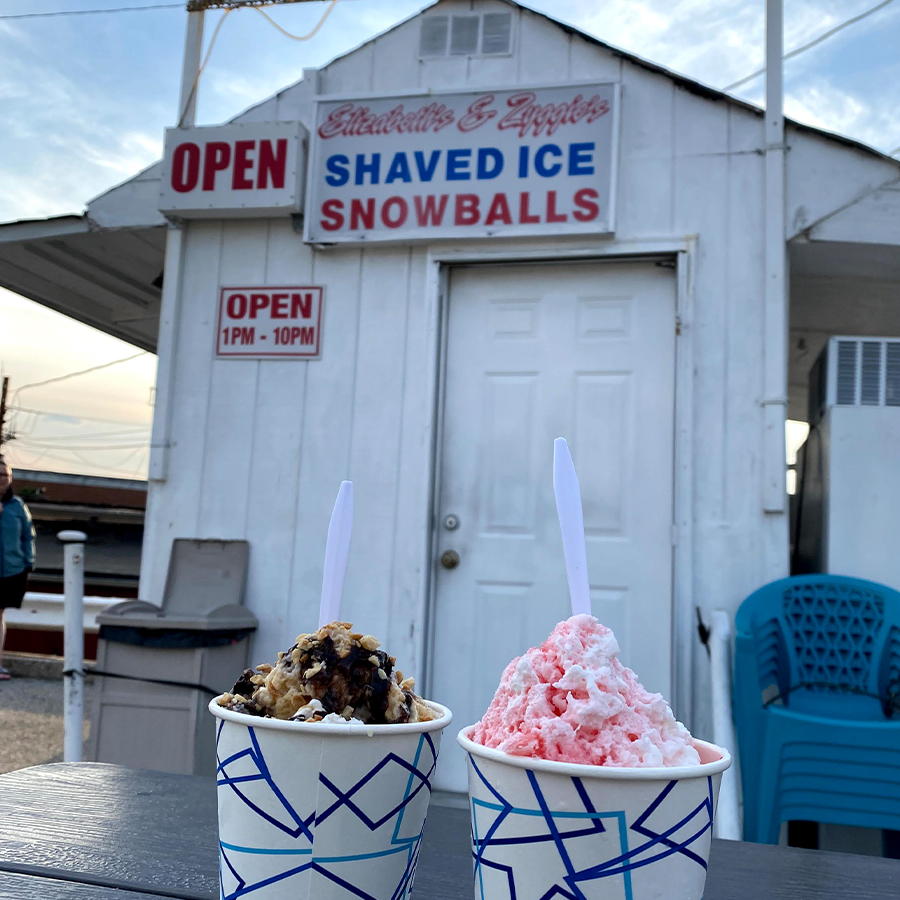 This stand takes their snowballs very seriously. There are over 140 flavors, which for a Libra like me who isn't great at decisions, it made standing in line productive while I debated what flavor to choose. The candy bar flavors intrigued me — how do you make ice taste like a candy bar? I had to find out.
I ordered a Snickers (my favorite candy bar) and my boyfriend ordered Watermelon Cream. They evidently have a cream flavor that they combine with other flavors to make the ice taste like a creamy chocolate candy bar. I watched as an employee carefully crafted layer upon layer to make sure the flavor was consistent to the last bite. He did three complete turns of shaved ice layered with syrup and toppings. (My toppings included caramel sauce and chopped nuts.) The ice was shaved so small that it almost seemed like eating ice cream. I was really impressed with how much my snowball reminded me of my favorite candy bar. It blew my mind that I was actually eating ice!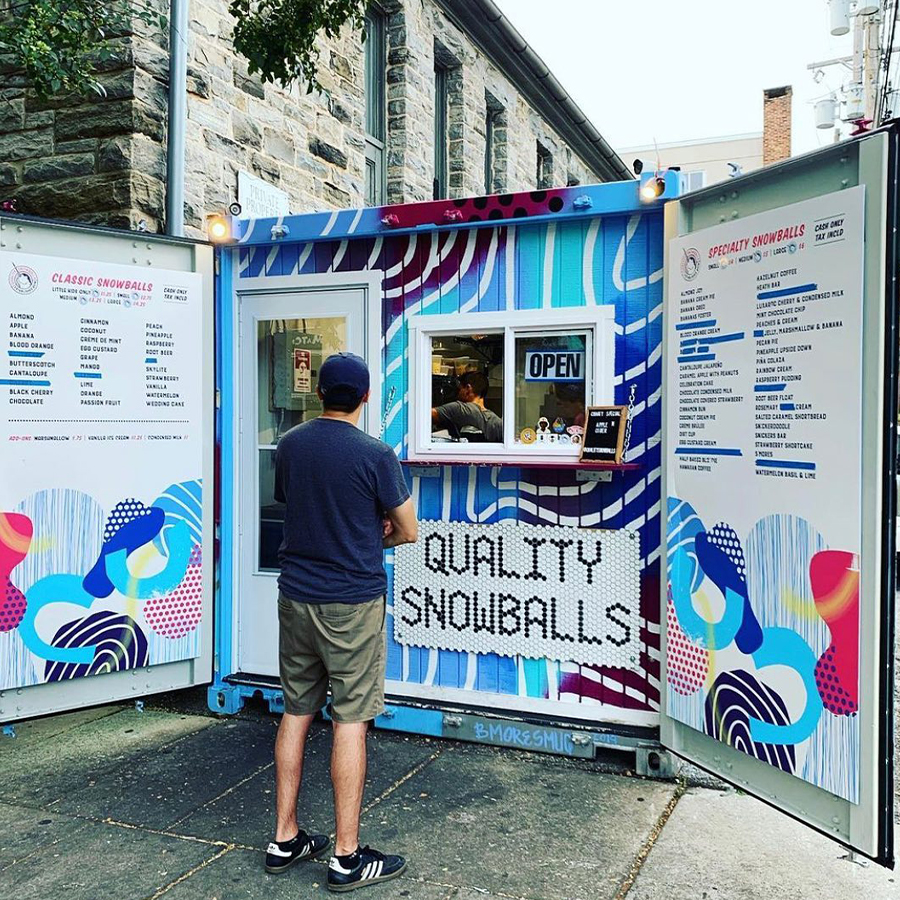 We also checked out Quality Snowballs, a seasonal pop-up in the Hampden area of Baltimore. They literally put a shipping container in an alley and opened a snowball shop.
There were so many great flavor combinations including Watermelon Basil, Lemon Blueberry Cheesecake, and Mango Chile. They also do layer upon layer of ice, syrup, and toppings.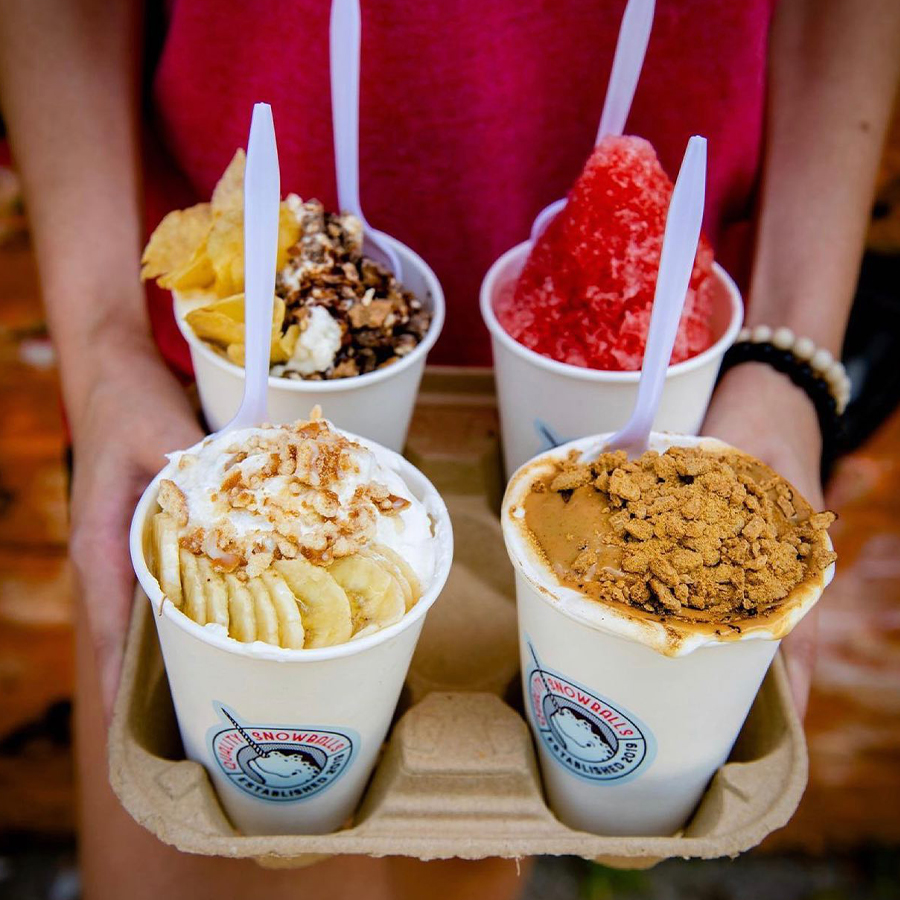 I ordered the Blood Orange Snowball with toasted marshmallow (which brought back memories of eating s'mores by a campfire), and my boyfriend ordered the Coconut Cream Pie. Both were delicious in their own ways, but the Coconut Cream Pie was my favorite — it's a good thing my boyfriend doesn't mind sharing!
The snowballs are picturesque in their own right, but the mural on the wall next to Quality Snowballs makes a fantastic spot for a photo-op.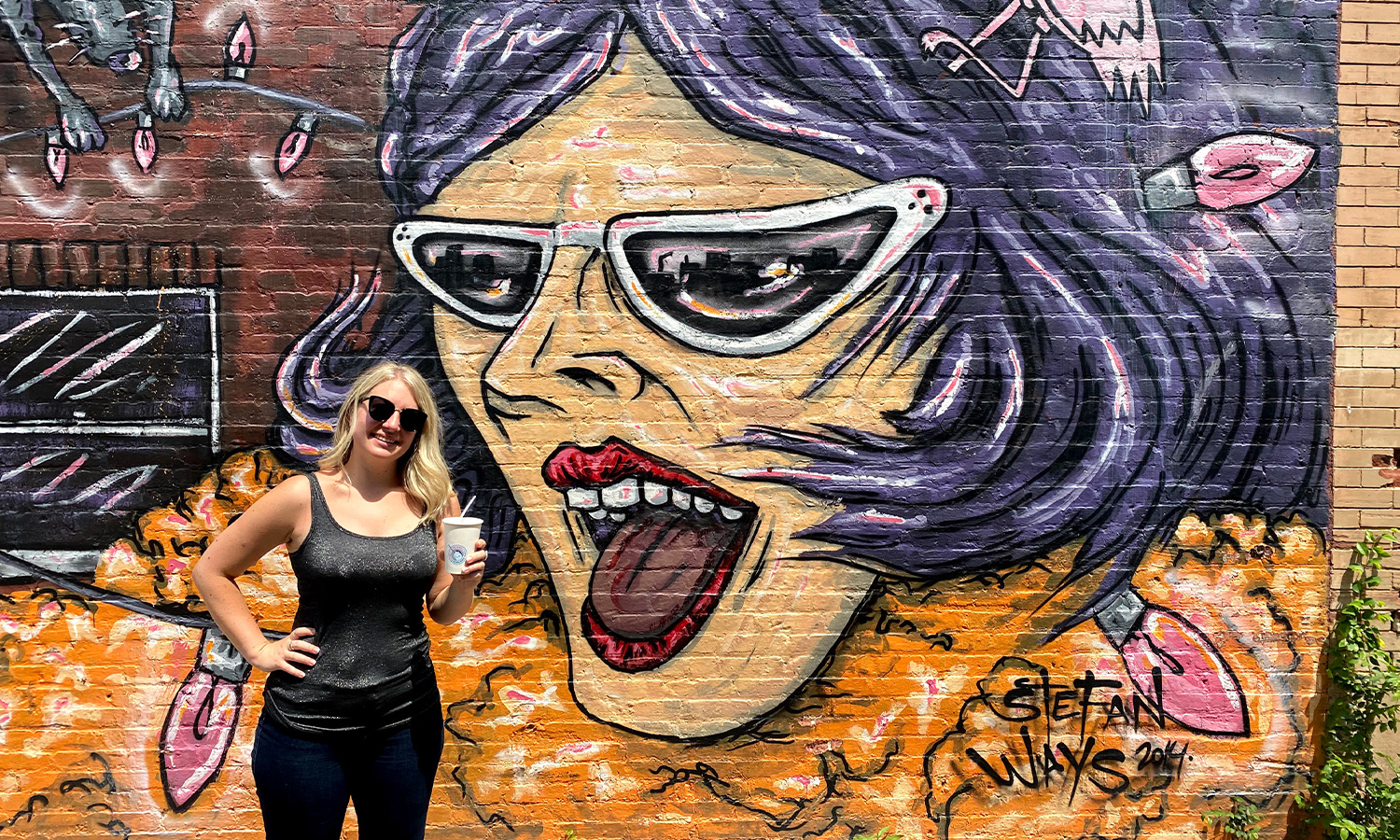 There are tons of other snowball spots around Baltimore. I've added a few to my must-visit list:
You might be surprised to know that snowballs in Baltimore have been a thing since the 1800s. The concept started with kids wanting to cool off and asking for ice shavings from huge ice block shipments. Other ingredients were eventually added to help give it some additional flavor, with egg custard being an original version. You can still get a traditional egg custard snowball today at most stands.
If you're looking to cool off on a summer day after a nice outdoor adventure, a snowball is the perfect treat. I've taken my son for a few snowballs already this summer.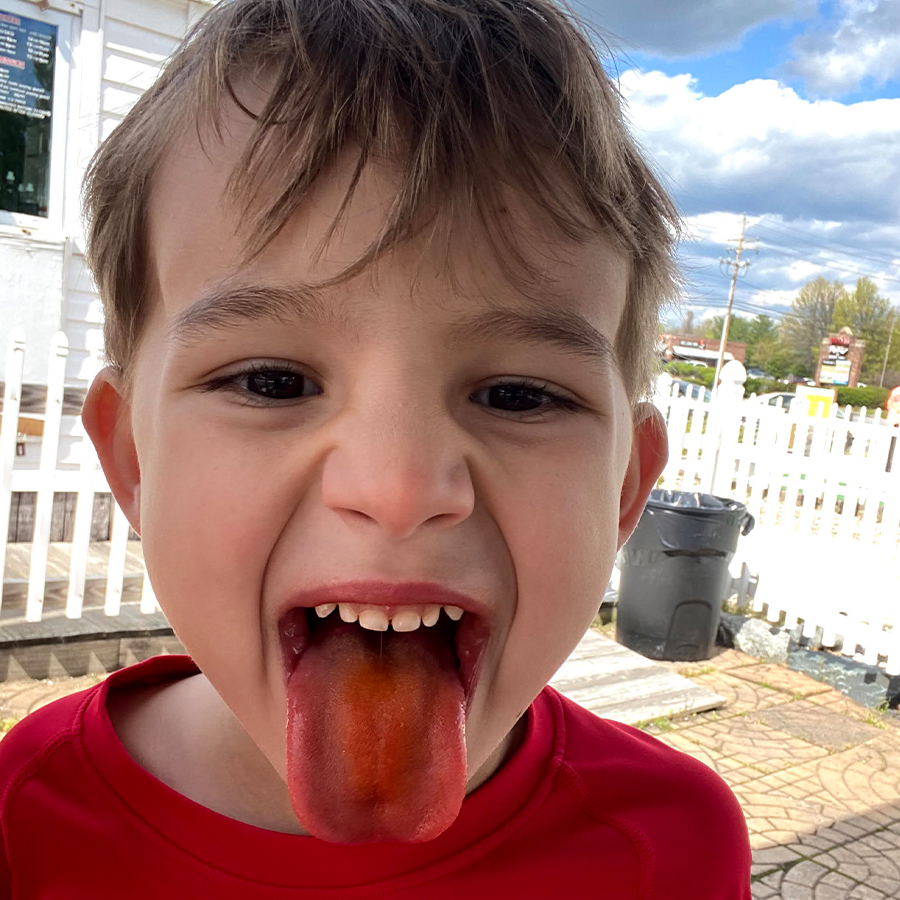 His favorite part? Seeing pictures of his tongue after gobbling up the colored ice.
---
Lead Photo: Quality Snowball
Lindsay grew up in Frederick County and now resides in Baltimore County with her son Wyatt. She has a passion for food and beverages, and loves trying new places and experiences. Follow her on Instagram at @hungryfortidbits