Will Drive For Chocolate: Three Sweet Stops

When the winter blahs began to sink in after the holidays, I knew it was time to take to the road and offer my daughters some fun outside the four walls of our home. What better way to chase away the blues than through chocolate? The three of us bundled up and hopped in our van for a few mini road trips, seeking out some of Maryland's sweetest chocolates within an hour of our home.  
Our day started in Kentlands, where the streets were bustling with people browsing the farmer's market. As I parked, I wondered how many realized they were passing what National Geographic deemed one of the world's top ten chocolate shops. 
SPAGnVOLA (pronounced SPANG-vola) was established in 2009 by a couple who specialize in farm to table chocolate, owning a sustainable cocoa farm in the Dominican Republic. Their business is an expression of their roots — their master chocolatier was raised on the farm and they nurture their cocoa trees to express the terroir of the land.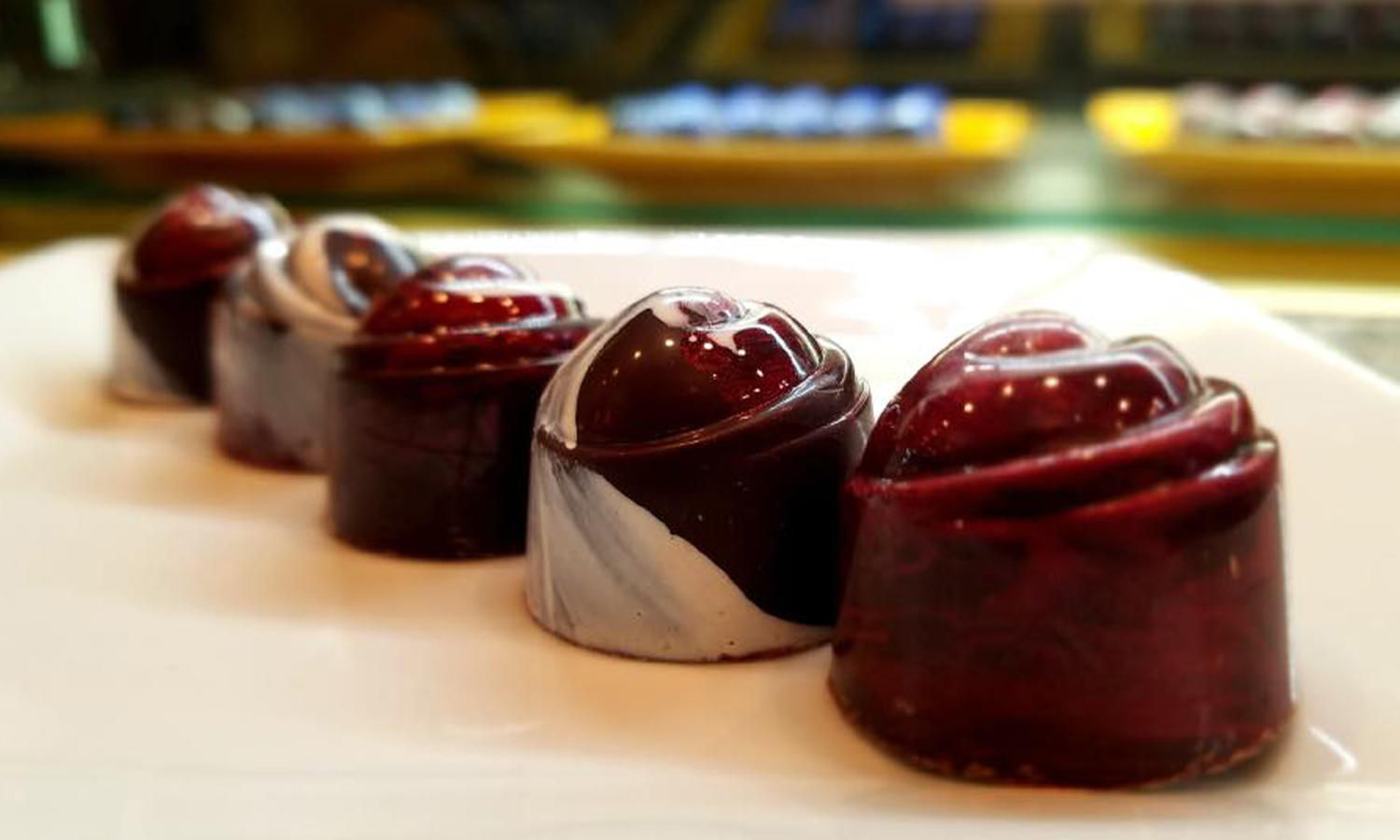 SPAGnVOLA carries gift boxes, bars, spiced hot chocolate, bonbons, truffles, and more, available in store and online. There is plenty of free street parking, nearby parking lots, and curbside seating if indoors is not an option.
It was tough to choose which beautiful chocolates from their warmly lit shop we wanted to try. Since it was a chilly day, we drove to a nearby historic church to have a minivan chocolate tasting. My youngest enjoyed salted caramel, blackberry, and white peach bonbons and my oldest savored cherry, coconut caramel, and passionfruit bonbons. I appreciated my jasmine rose, rosemary olive oil, and lavender honey truffles.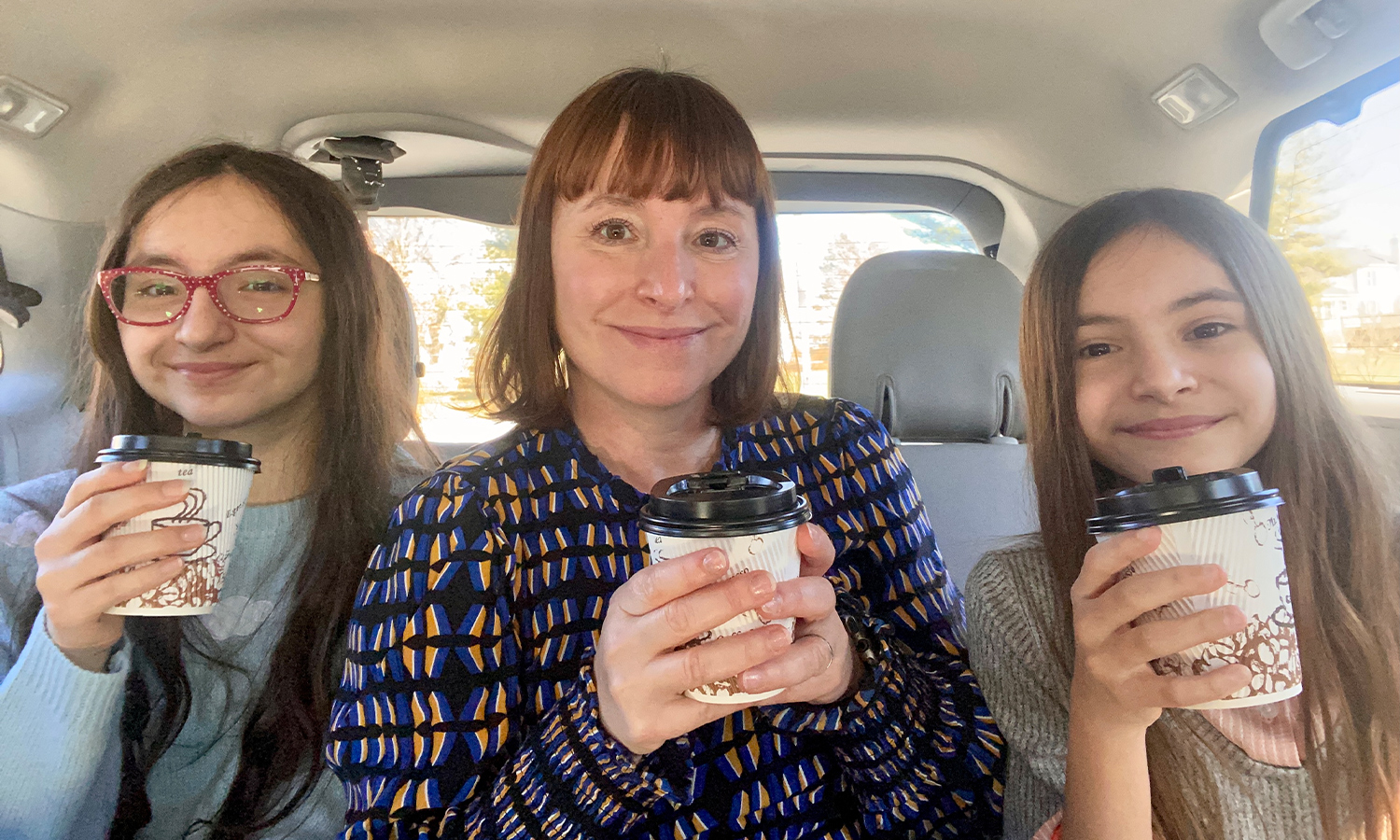 We sat in our van, sipping our spiced hot chocolates, tasting and sharing while enjoying a Sirius XM indie rock channel. 
Next we headed to Baltimore, zipping along 695 and 95 up to Belvedere Square.
Pure Chocolate by Jinji was founded in 2012 by a father and daughter, their shop a petite storefront next to a vibrant Black Lives Matter mural.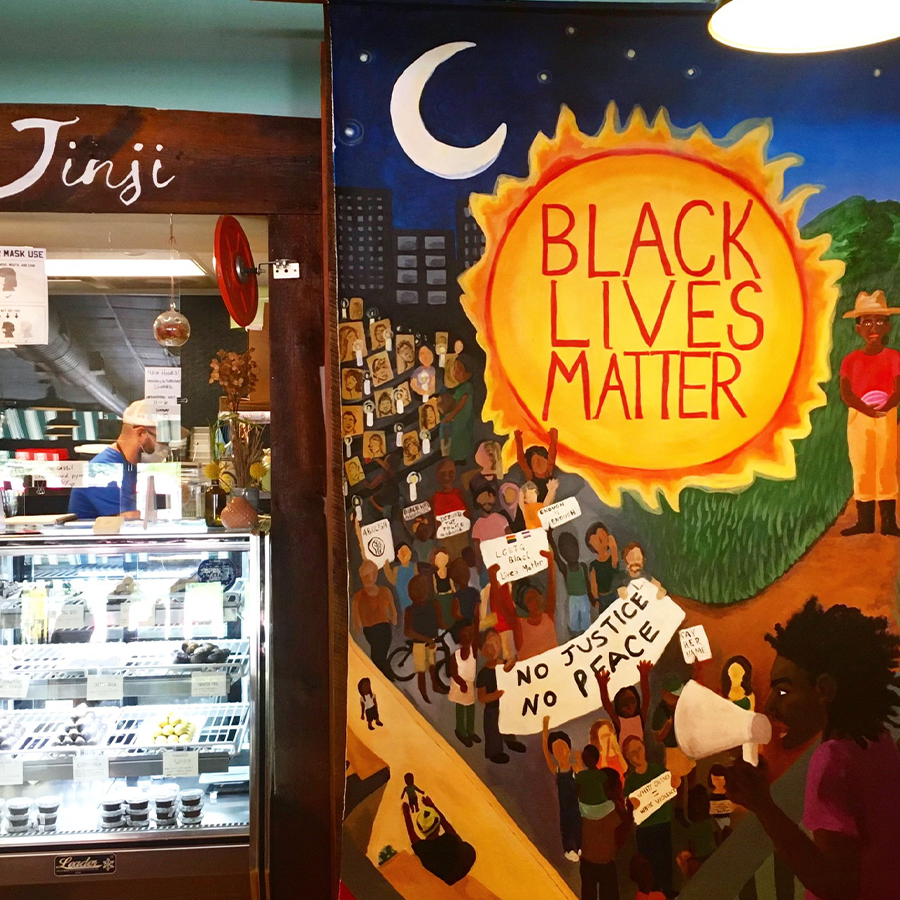 They seek to reframe chocolate as a healthful food as well as honoring its ancient legacy. Jinji recently discovered her own family roots around chocolate, which resonated with her work on decolonizing chocolate and supporting the wellbeing of farmers and the environment.
All but one of their chocolates are vegan, and all are raw, organic, gluten free, and use no refined sugar. (Looking for more vegan recommendations? Check out this piece on vegan eats in the Capital region of Maryland.)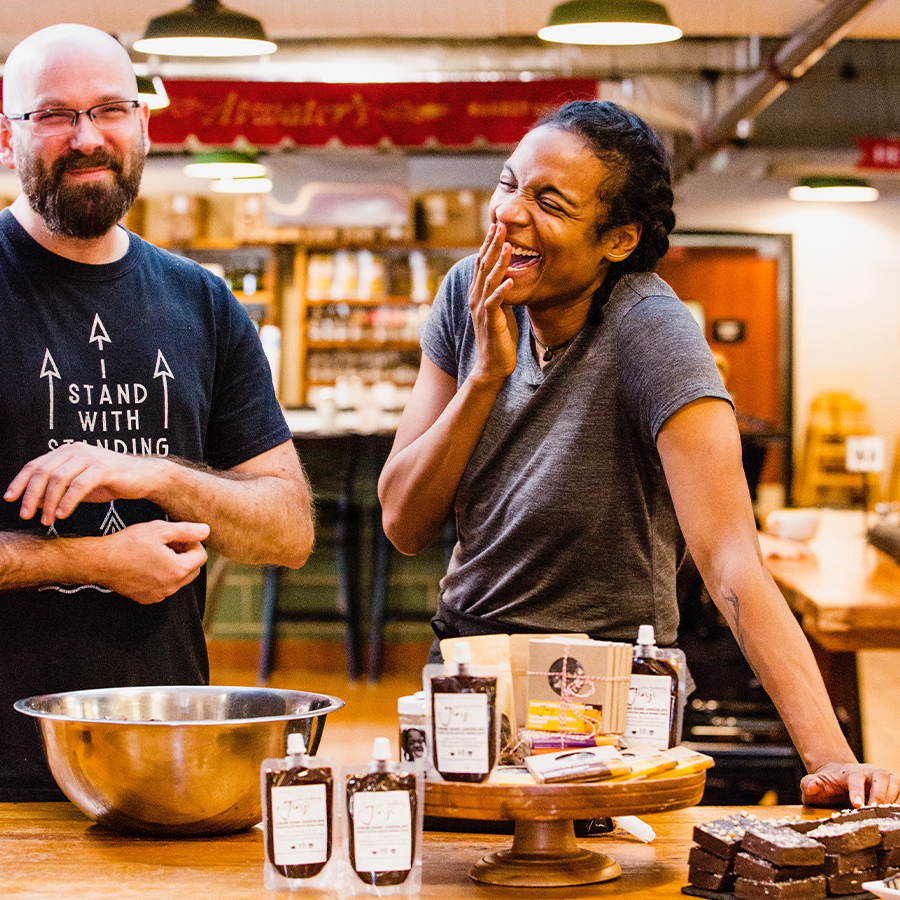 Pure Chocolate crafts truffles, pralines, barks, fudges, and more chocolate creations like hazelnut spread and chocolate-covered espresso beans.  There are plenty of spaces to eat outside if indoor seating is unavailable during your visit. Pure Chocolate offers online ordering as well as a chocolate subscription service with local pickup. 
Since mist started to coat the windshield, I drove to a nearby high school and parked for another van picnic. We shared rich and dense pots de creme, a coconut piece reminiscent of Mexican spiced chocolate, a peanut butter filled fig dipped in dark chocolate, and a candied pecan turtle that was perfectly divine. Our chocolate picnic finished, we drove around the high school lot to admire a colorful mural and snap some pictures together.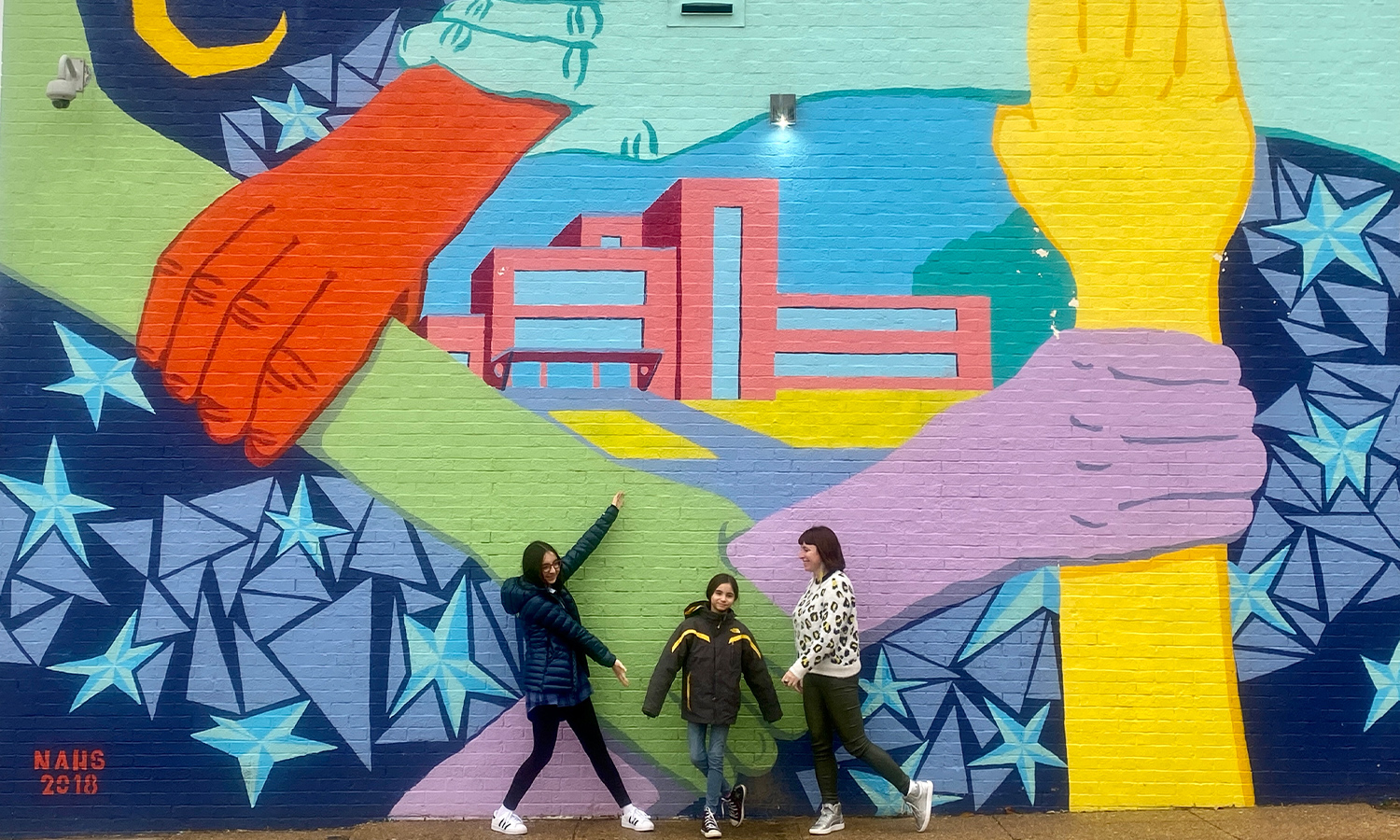 Driving up Buckeystown Pike, the undulating fields and Blue Ridge mountains rolled by our van windows until our arrival in downtown Frederick. 
Zoe's Chocolate Co. was established in 2007 by three siblings and their master chocolatier father. Chocolate has been a family business for three generations stretching back to their immigration from Greece. Their chocolate is all-natural and ingredients are sourced locally and/or sustainably.
Zoe's chocolates are like jewels, each with its own personality and flair. They offer a range of delights, including hot chocolate mixes, bars, and special items like cacao spice rub and chocolate mustache lollipops.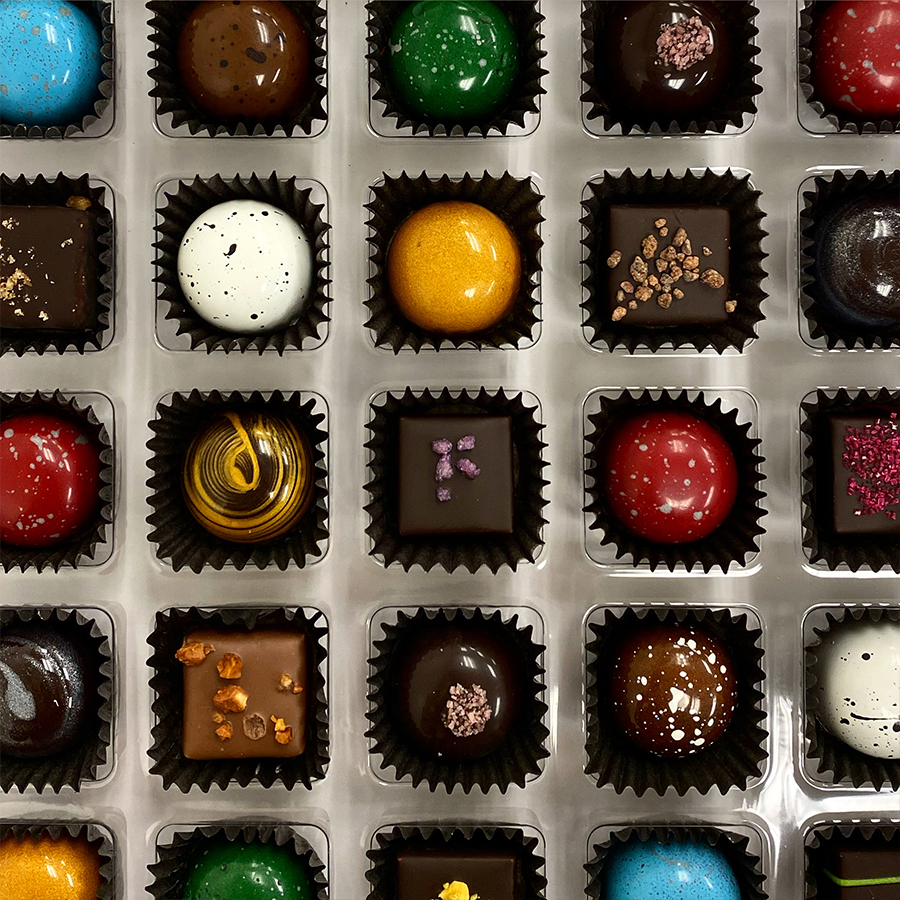 You can visit the shop in person, with metered street parking and nearby garage options, or place your order online to be shipped to you.
Our selections included some of their signature Greek flavors like pistachio, baklava, and pomegranate, and other delicious flavors like hazelnut, honey, apple pie, and fleur de sel caramel. Since the day was cold, we climbed back into our van and took our chocolates home to enjoy, stopping along the way to drop off a couple of boxes we picked out for family and friends.
Learning that the heart behind these three chocolatiers is grounded in their family roots was a happy discovery, but sweetest of all was the time spent with my daughters. It didn't matter that we savored our chocolates in a parking lot rather than a scenic spot. The memories we created and the flavors we enjoyed will linger, helping us appreciate everyday moments and each other with just a little drive from home.
---
Lead Photo: SPAGnVOLA
Christine Rai is a funky professor, writer, and artist who lives in Montgomery County with her family. She loves discovering fab flavors, exploring cool places, and savoring learning. Follow her adventures at www.christinerai.com.