A Sweet and Spicy Dining Adventure Along Korean Way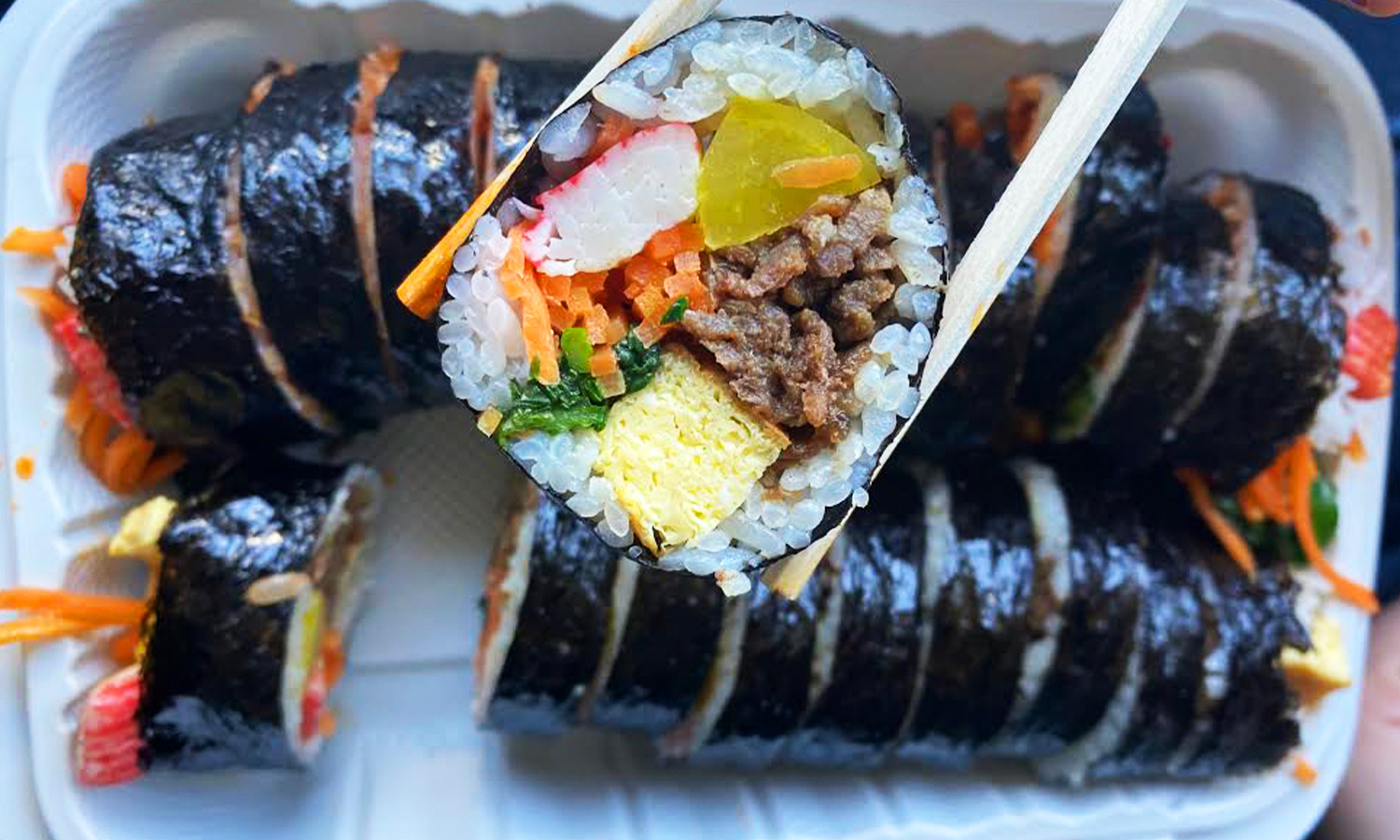 Ellicott City, a historical suburb located in Howard County, is well known for its charming downtown. But Ellicott City is also home to "Korean Way,"  a five-mile stretch  of Route 40 filled with over 160 Korean-owned businesses.
As a Korean food lover, I was shocked (in the best possible way) when I first heard of this place. The close proximity of all things Korean was too tempting to ignore, so my fiance and I decided to make a day trip out of exploring the strip. We packed up our car and set out from our apartment in Adams Morgan.
We planned for a multi-event foodie day trip to try as many spots as we could. Here are five places to check out on your trip to Korean Way:
Start the trip off with sweets from Shilla Bakery
First on our list was Shilla Bakery, a Korean bakery filled with sweet and savory breads, pastries, and other baked goods. They have so much to choose from that it was hard to narrow it down!  When you walk in, you pick up a tray and use a pair of tongs to choose all of the baked goods they have to offer.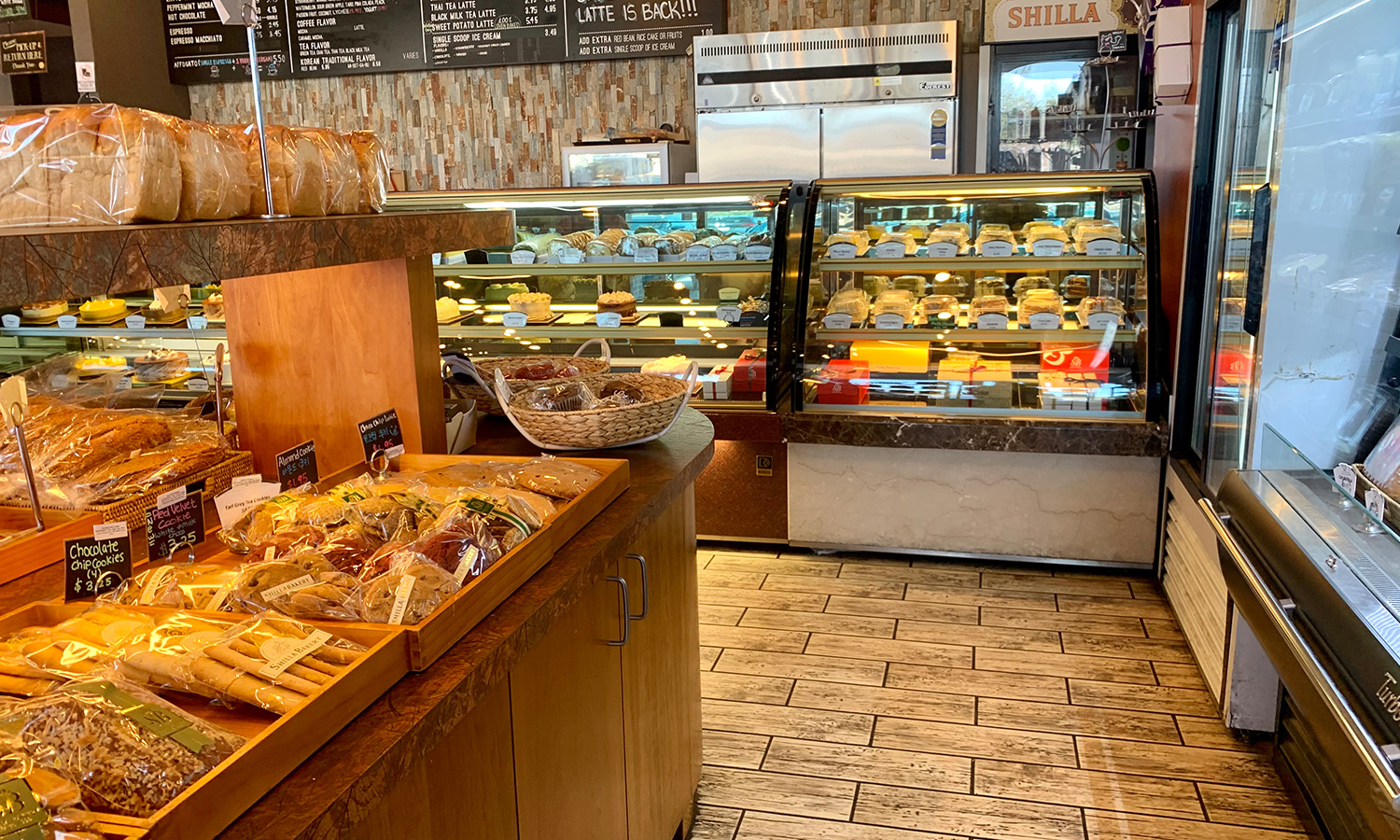 While they definitely have some familiar items (croissants, loaf cakes, doughnuts, etc.), they also have some more unique treats to pick from, like Japanese cheesecake, red bean buns, mango pound cake, and more! Some of our favorites from what we picked up were the twist doughnuts, the red bean donuts, garlic bread, and the hotdog baguette. 
Pick up kimbap at a Korean Deli
Right next door to Shilla Bakery is Kim Bob Na Ra , a small and unassuming Korean deli that is a real gem. Their menu is filled with Korean comfort food dishes, such as noodles, fried rice, stews, and what they seem to be most famous for — kimbap. Kimbap (sometimes spelled gimbap) is a Korean sushi roll made with rice, seaweed, and a variety of delicious fillings. The biggest difference between kimbap and Japanese sushi is that the rice used in kimbap is mixed with sesame oil in place of rice vinegar, adding a sweeter taste to the roll.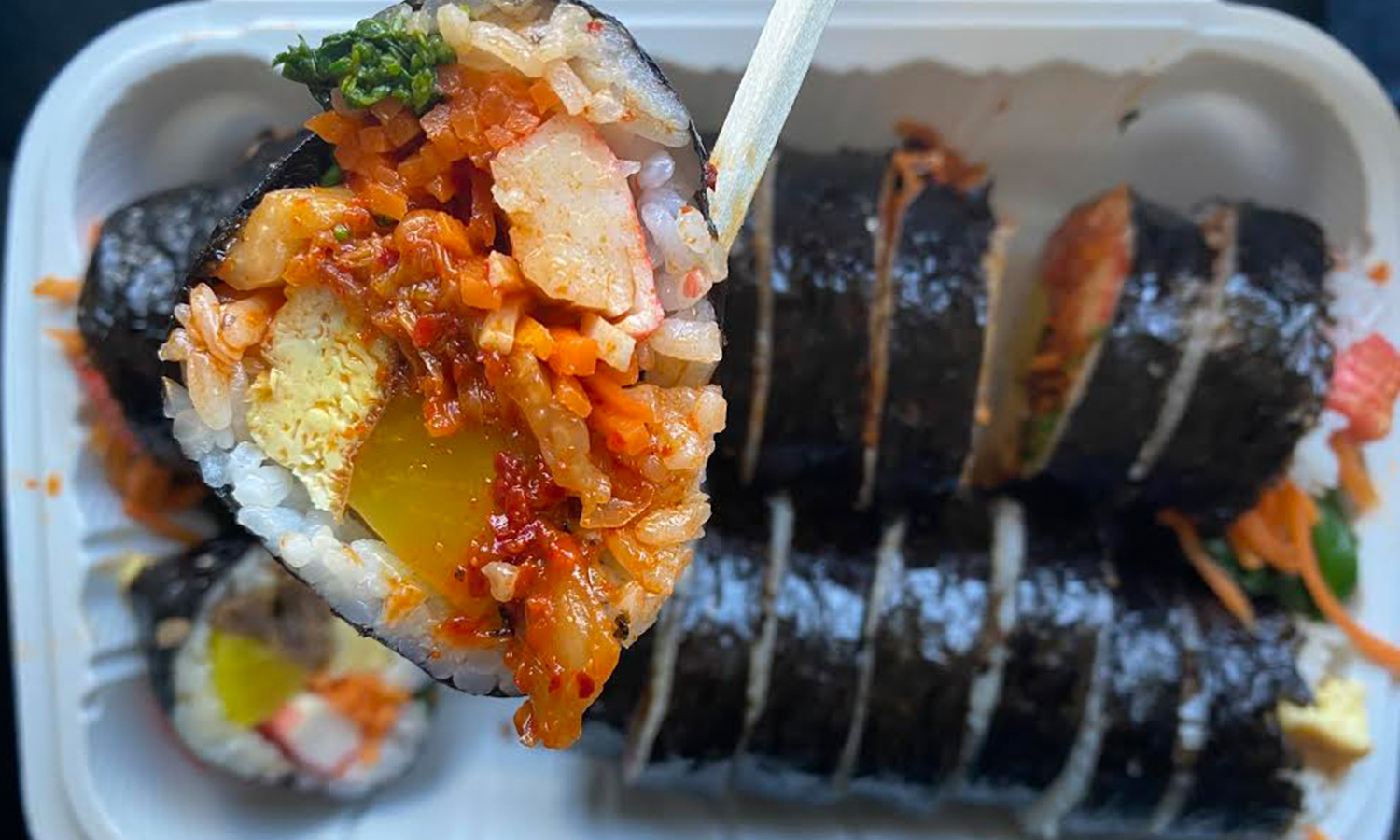 At this stop in our food adventure, we picked up two types of kimbap – kimchi and bulgogi (marinated beef). They were both incredible and made fresh! Kimbap is a very picnic-friendly dish, and you only need your chopsticks to eat it (perfect for eating in the car). The bulgogi kimbap was easily the best bite of the day. We'll be back! 
Sip some boba tea
At this point in the day, we were ready for something to quench our thirst. Boba tea was the obvious next stop on our food tour. Boba tea is one of my favorite treat drinks, and with so many flavors and add-ins to try, it's always a fun experience. While boba tea technically originates from Taiwan, it is popular across many other Asian cultures. There are a few boba tea shops on Korean Way, but we decided to stop at TeaDo since it had great reviews. We were not disappointed!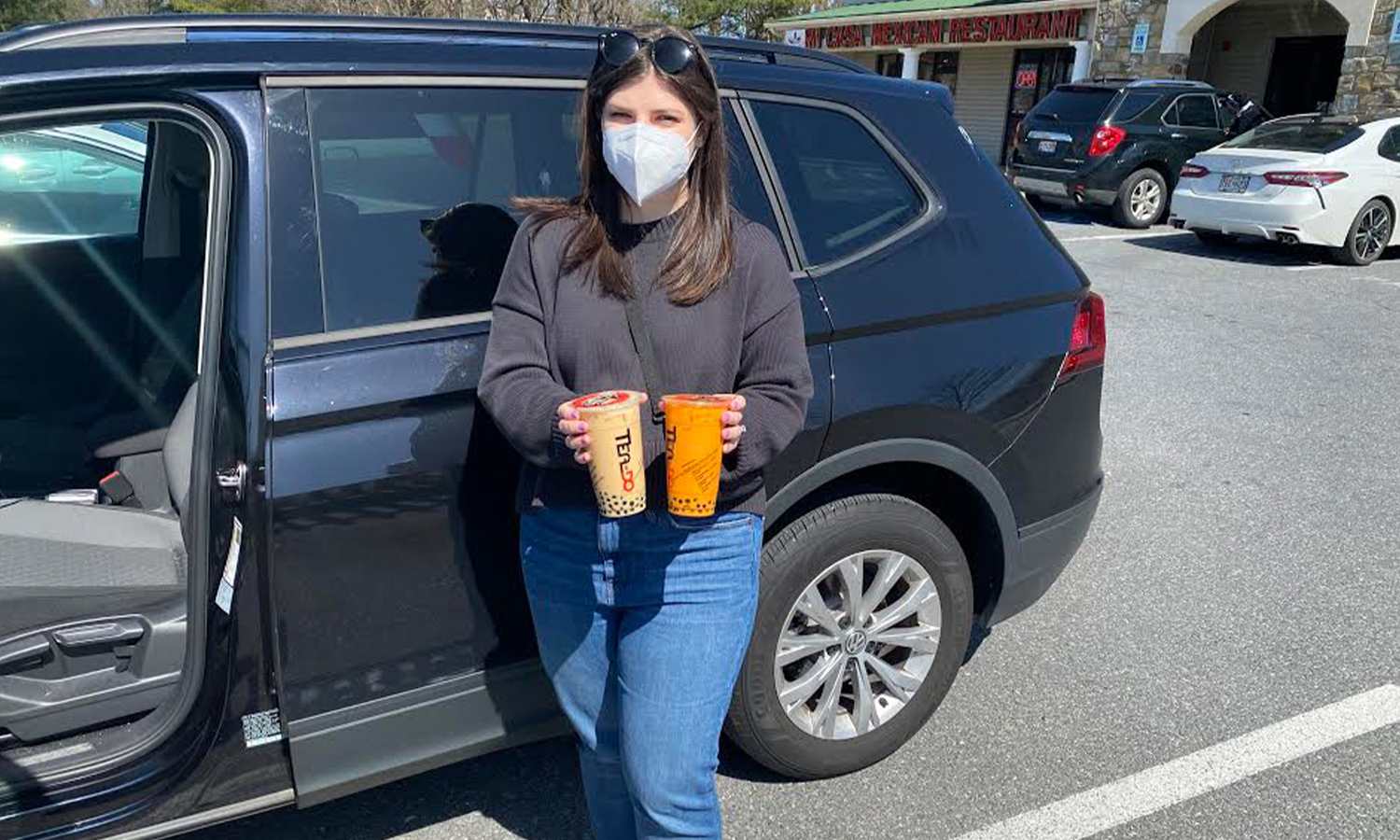 We ordered two milk bubble teas — the Black Milk Tea and the Thai Milk Tea — and almost went back for a third! 
Don't be fooled by a Korean fried chicken chain
After filling up on pastries, kimbap, and boba tea, we realized that our eyes were bigger than our stomachs. So, we decided that our final two stops would have to be taken to-go and saved for dinner. Our first pickup stop was at Bonchon Chicken, a global fast-casual chain that serves up Korean-style fried chicken. In Korean, Bonchon means "my hometown," and the owners' goal is to bring the flavors of their hometown, and that comforting familiarity, to all of their customers.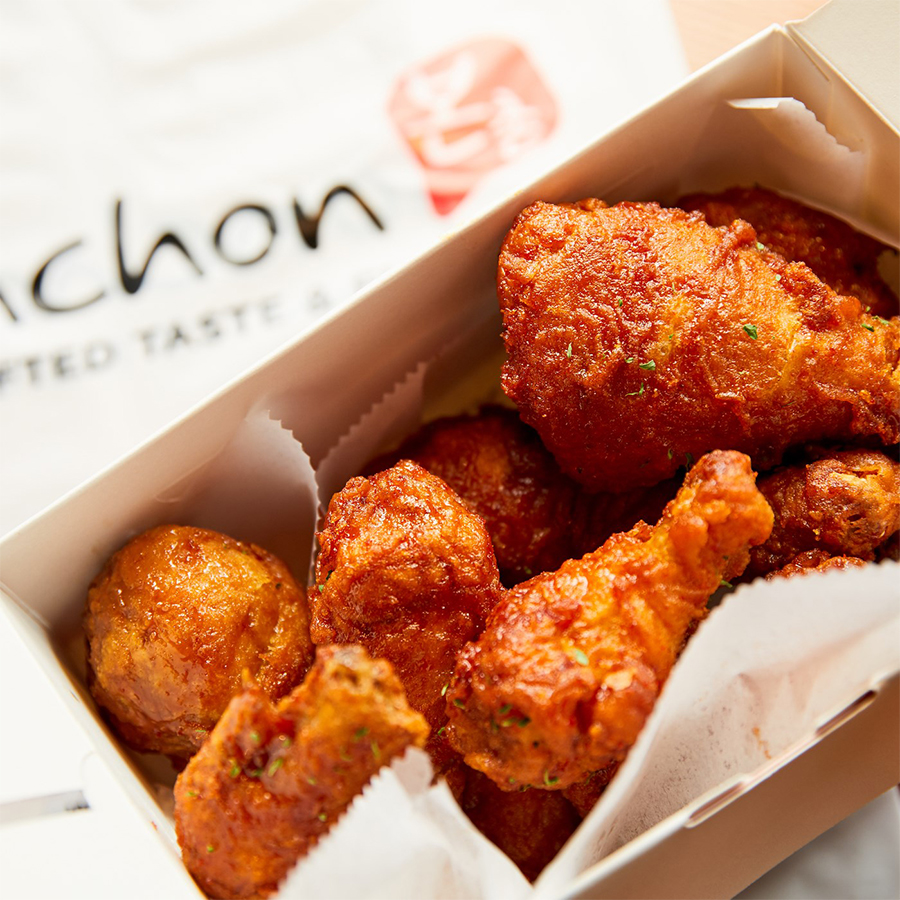 We picked up the boneless wings with a soy garlic sauce and opted for pickled radish as our side dish. The fried chicken was packed in a manner that kept it fresh and crispy and ended up being incredibly flavorful, even after the drive home. While Bonchon can be found all over the world, it still felt like a great find, proving that some chains are popular for a reason.
End the day strong with KBBQ!
We couldn't go on a trip to Korean way and not pick up Korean BBQ! While there are a lot of amazing options in the area, we decided to pick up Honey Pig because they are one of the few restaurants that will actually allow you to order the Korean BBQ selection to go. Unlike when you order KBBQ in a restaurant, the take-home meat comes fully cooked and prepared, so that you just need to heat it up when you're ready to eat.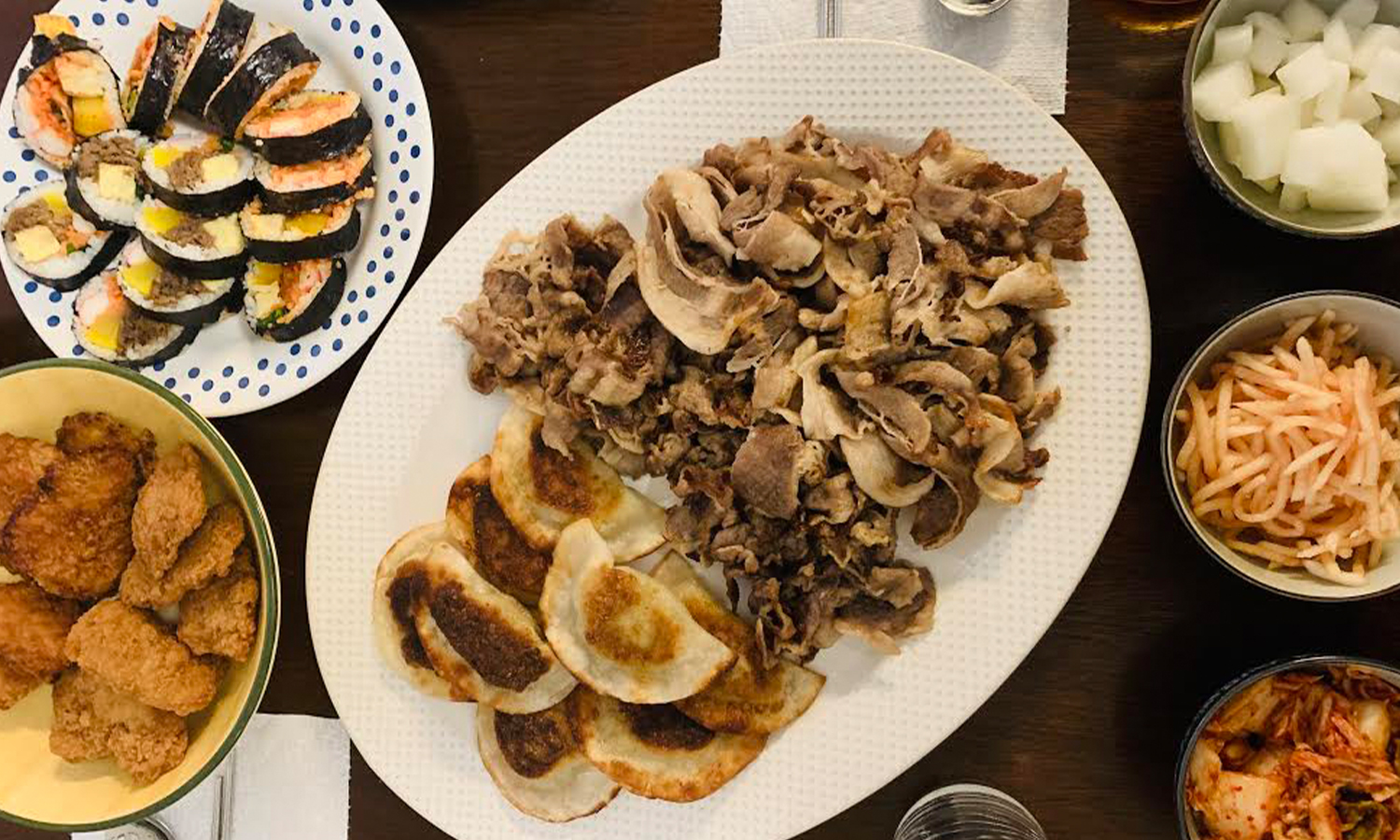 We ordered the thinly sliced brisket (chadol baegi), the thinly sliced pork belly (samgyeopsal) and the pan-fried dumplings (mandu), along with some amazing Korean side dishes, or banchan, to compliment the meal, including cabbage kimchi, pickled radish, and a fish cake salad. Honey Pig packs their dishes really well so it is still fresh when you get home and they make sure to give you all the delicious dipping sauces, too.
While we plan to come back for kimbap and Shilla Bakery, we're also looking forward to exploring more of the many Korean businesses in Ellicott City! If you like tasty drinks and eats, Korean Way should definitely be your next Maryland road trip destination.
---
Lead Photo: Gracie Goldberg 

Gracie Goldberg is originally from Northern California but has been living and working in Washington, D.C. for the last ten years. When she is not at her day job as a recruiter, she can be found exploring D.C.'s many amazing restaurants, cooking new recipes at home for her friends, and posting on Instagram @thebrisketdiaries and her food blog. Gracie loves using food as a way to create memories, try new things, and preserve traditions. She lives in the Adams Morgan area with her fiance and their goldendoodle, Lenny.