Trying New Adventures in Old Ellicott City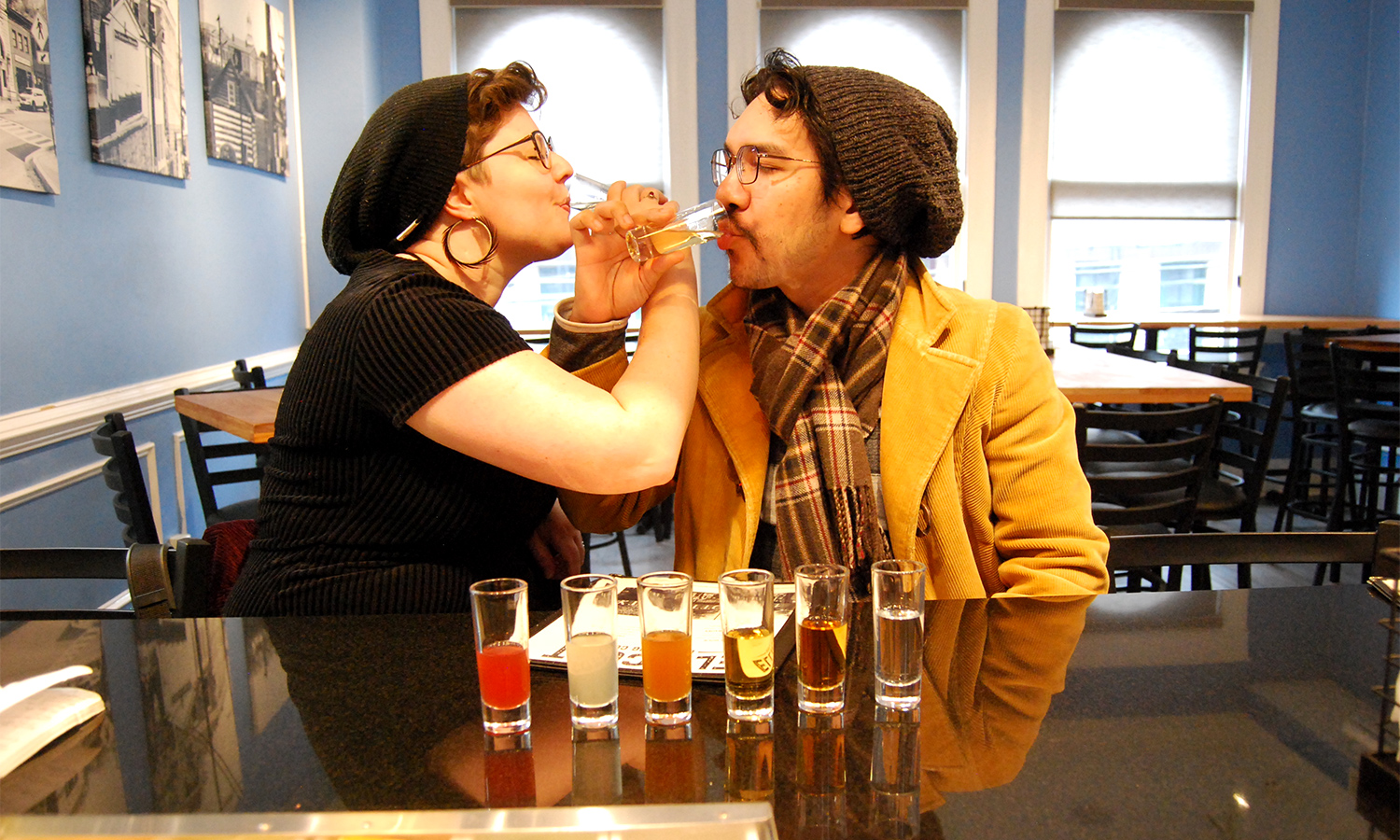 With busy work schedules and a quiet social life after the holidays, my husband, Trevor, and I were in need of a getaway. Our destination needed to be close enough for a quick day trip with simple logistics, and we wanted to find a place that offers activities we'd both enjoy. Historic Old Ellicott City was the perfect choice, especially since we enjoyed our first visit there a few years ago. 
There are eight free parking lots in town, but you'd be surprised by how quickly they fill up due to the town's popularity and unique street design. Luckily, we grabbed a spot early in the day, and when we arrived, we were greeted with delicate snow flurries. Eager to warm up and find some coffee, we headed to Syriana Cafe on Main Street. 
Once inside, we immediately knew we had made the right choice. Low ceilings, decorative rugs, and incandescent bulbs provided a warm and cozy haven from the bitter cold. We felt as if we had stepped into a tavern for wayward travelers, which perfectly describes how Trevor and I act before we've had our coffee. The hostess led us up a narrow spiral staircase to our table, and we put in an order of a few small plates, baklava, and Syrian coffee.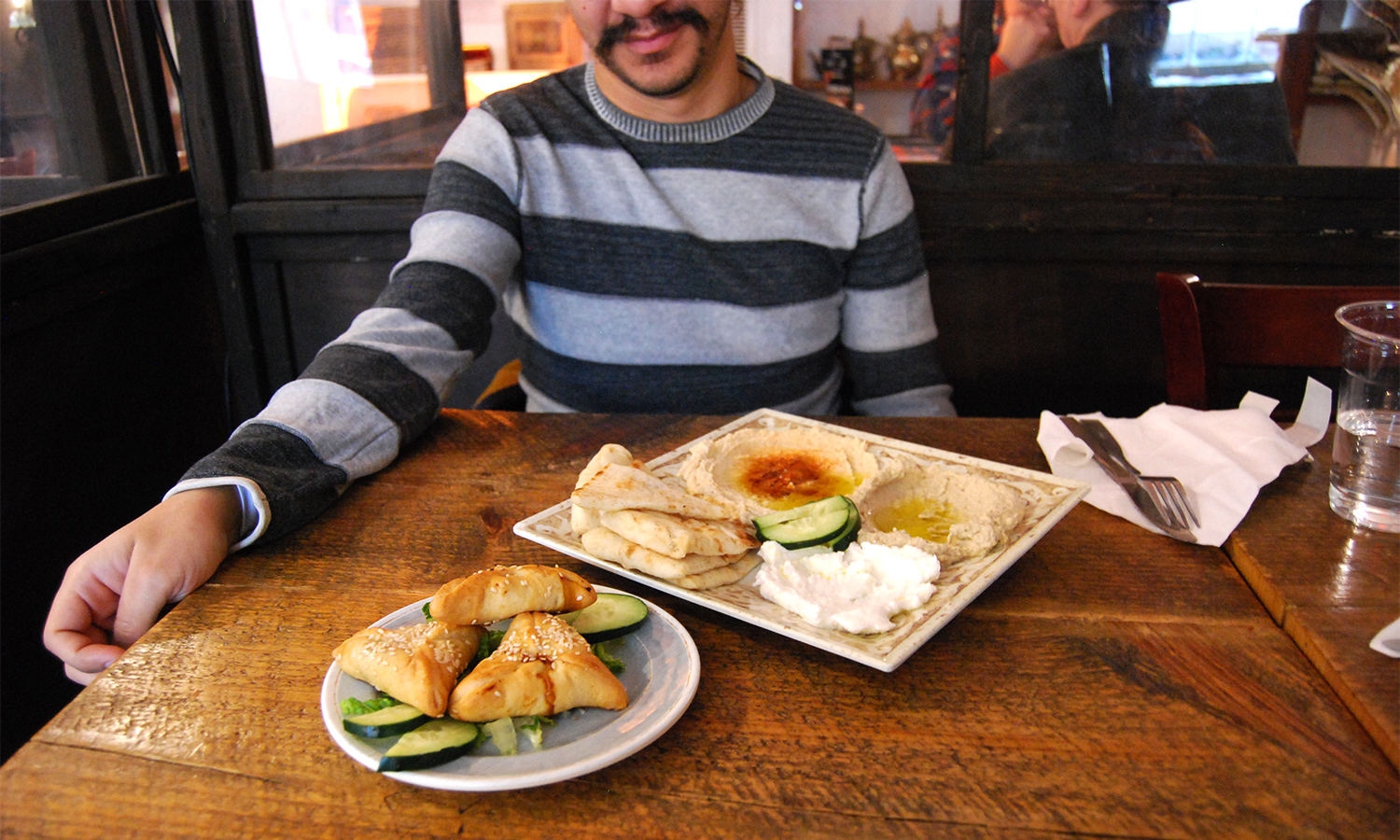 Much of my relationship with Trevor has been spent seeking out incredible food to enjoy together. We don't talk about our day over dinner—instead we sit and analyze flavor profiles and cooking techniques because we love to try and recreate our favorite dishes at home. Ordering several small plates is a great way to have an interactive date, and Syriana Cafe had plenty of choice options that warranted an "mmmm!" or "oh, you've got to try this!" 
We reminisced over the time Trevor pitched that I make homemade baklava instead of buying it for a social function we were attending. Without ever having made the dessert, we quickly realized how labor-intensive it was. I can assure you that Syriana Cafe's baklava is a labor of love worth trying, and of course pairs perfectly with their cardamom coffee. 
Our next stop of the day was Ellicott Distilling Company—just a few doors down from the cafe along the picturesque hill of Main Street. We each chose a mix and match flight, which is exactly how it sounds–you get to pick four different spirits from their lineup. Since they offer whiskeys, brandy, fruit liquors, vodkas, and other specialty spirits, we each picked different flight options in order to try the widest variety in one sitting.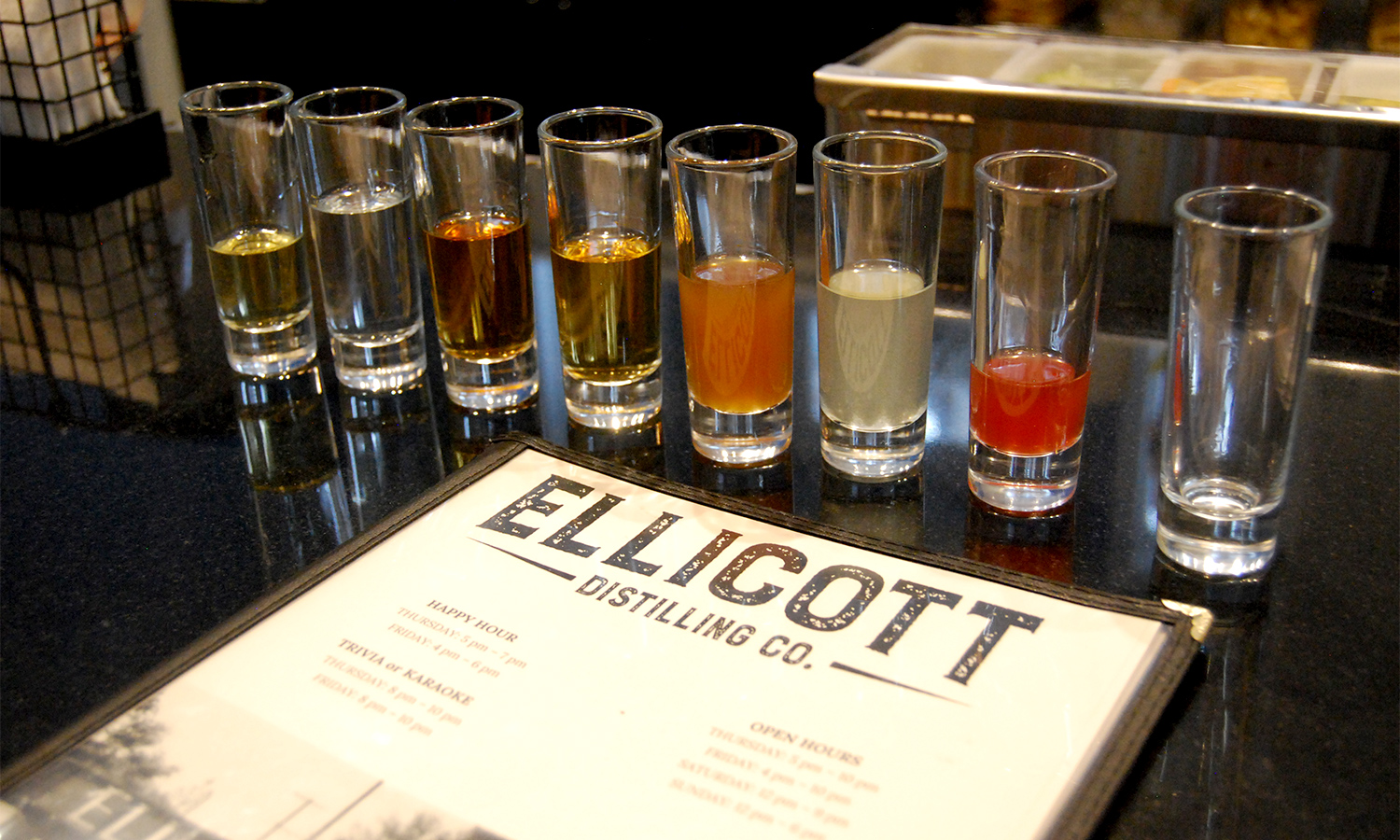 There's certainly something for everyone, and if you don't like straight booze, there are plenty of great cocktail options. My personal favorite was the Sassafras Gin, which was made for the Ellicott City 50th Anniversary in 2022 with sassafras that was locally foraged in Maryland. 
One of the owners, Erika Pallova, taught us a traditional Slovakian toast with their Slivovitz, a brandy made from plums that her father used to make when she was growing up. You raise your glass, say "Na zdravje!" while making eye contact with everyone, and then drink to your health. The slivovitz was sweet and strong, easily making it Trevor's favorite. 
Since we visited on a Saturday, we had just missed the Friday night karaoke, one of several events they hold at the distillery. When Trevor expressed his love of karaoke, he was encouraged to sing an impromptu tune by Erika and the bartenders. If you're looking for a fun and welcoming atmosphere with solid drinks, this is your spot. 
After sampling our flights, we were treated to a sneak peek tasting of the aged rum they're releasing for Valentine's Day. The barrels used to age the rum first held bourbon, and then brandy, and finally the rum, giving it a unique flavor profile. I recommend you keep an eye on their social media for its release, because I'm told it will be a limited run.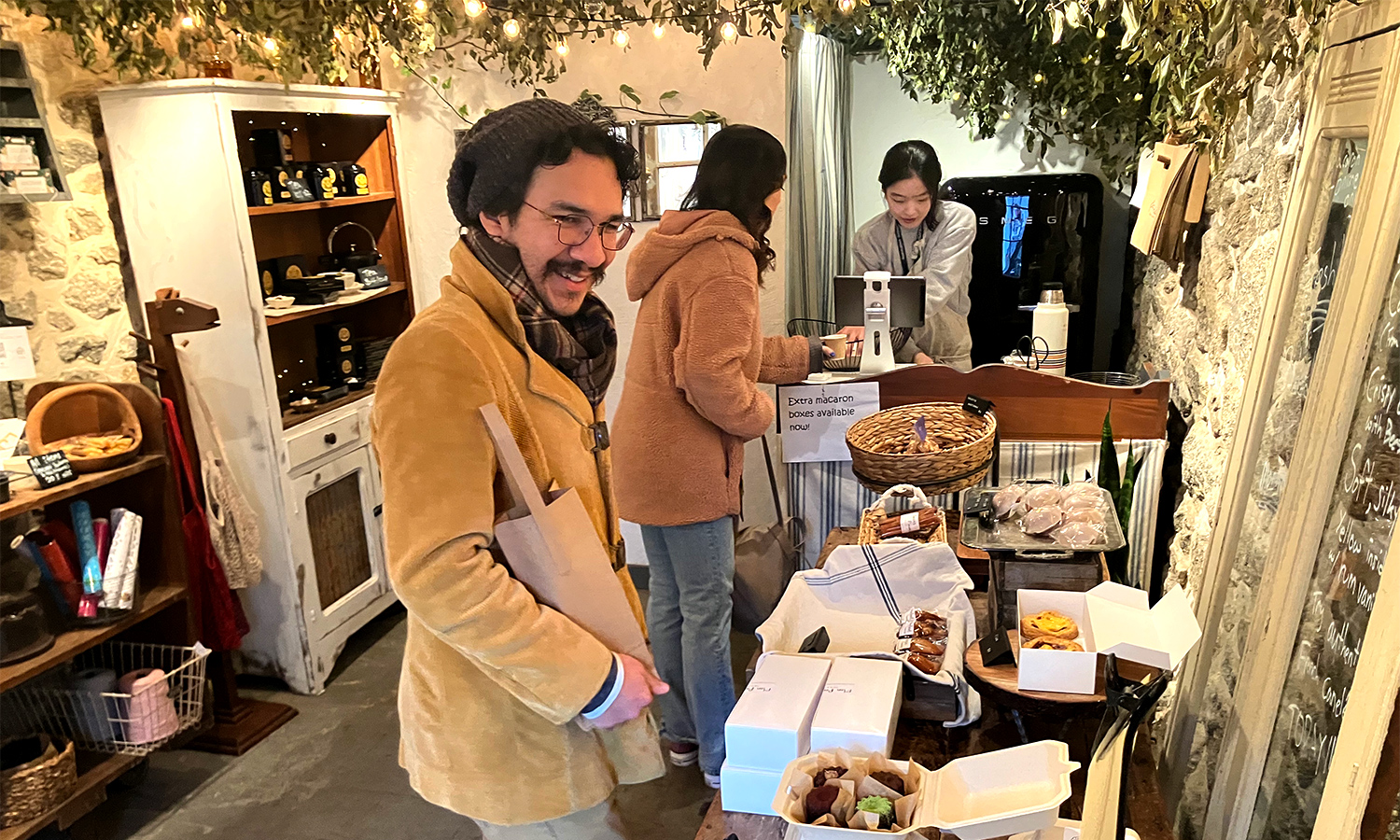 We left the distillery and trekked back up Main Street, popping in and out of shops as we went. One of our favorites was Pâte Bleu, a French pastry shop serving macarons and intricately crafted canelés, which are little cakes dipped in beeswax for a delicate crunch. Among our other stops were the antique mall, Trevor's new favorite lamp shop, and a used bookstore that I could have spent all day browsing. 
Still filled with liquid courage, we forged ahead to AxGard, located at the top of Main Street. My first impression walking in was that this is exactly what an arcade for adults should look like. 
The owner, Mike, gave us a safety rundown before walking us through the different screens and games we could play. You could stick to using the regular bullseye, but then you'd be missing out on the fun of landing an ax into a projected zombie head. Our competitive sides came out in full force while playing a surprisingly heated game of tic-tac-toe!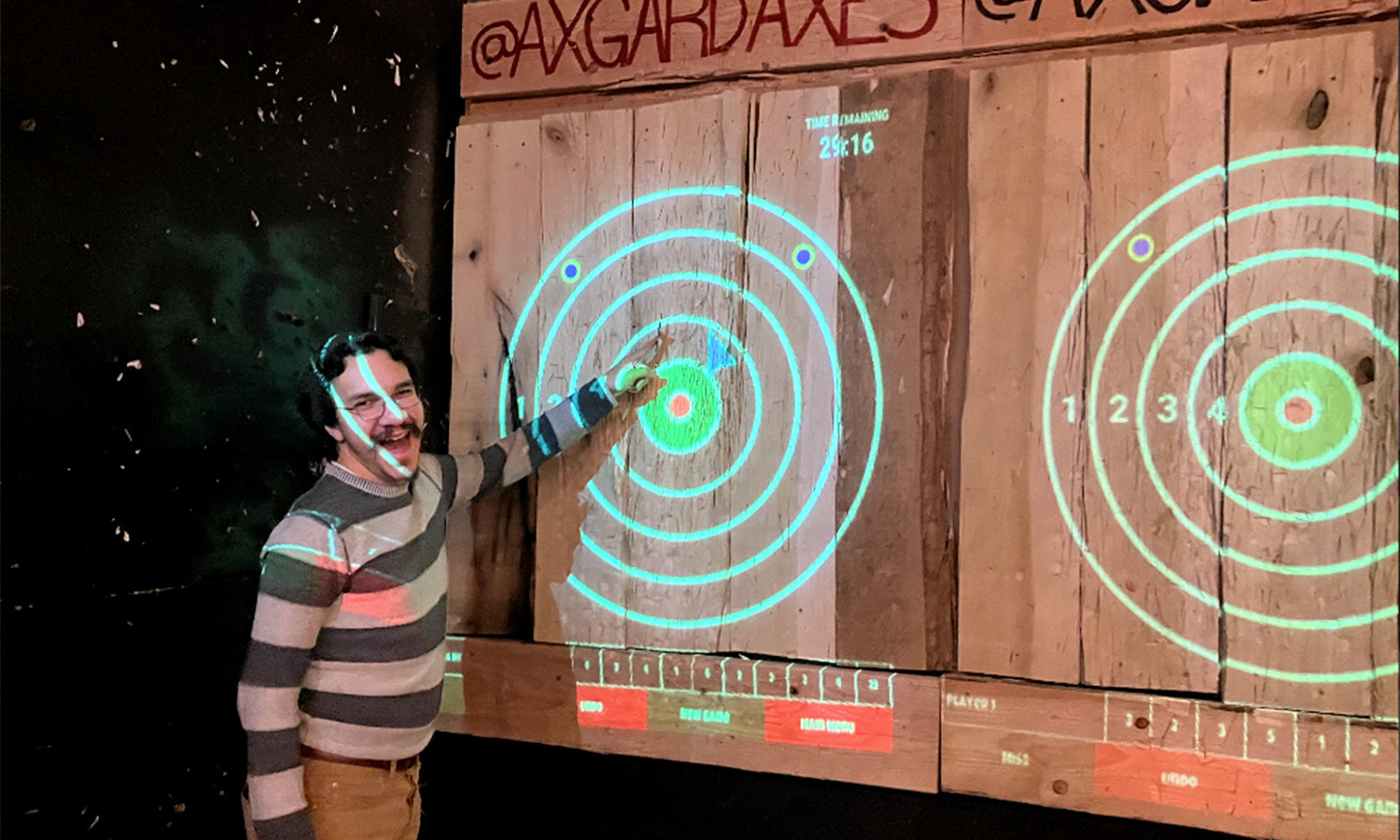 In addition to axes, we go to test out throwing knives, ninja stars, bladed shovels, and war clubs. Trevor's top pick was the throwing knives, which were quick and more versatile, and my favorite was the war club, a weighted faux gun stock with a blade attached. 
For interested parties, you can BYO beer and wine for a small corkage fee. The Wine Bin, located downstairs, is a bottle shop with a fantastic selection. 
We spent some time in the Virtual Reality game room before heading out of town. If you don't take yourself too seriously, like we try to do, you'll enjoy watching each other flail around while playing games like Beat Saber and Richie's Plank Experience, along with tons of other options. They have enough controllers for four to six people, and I can only imagine the hilarious chaos that would ensue, with that many roaming around and waving their arms around at invisible scenarios. 
Every part of our day was filled with unique and different ways of spending quality time together, all while exploring a part of Maryland that's worth visiting time and time again.
______
This article is sponsored by the Ellicott City Partnership (ECP) in Howard County, Maryland. ECP is a 501(c)3 non-profit organization that works to preserve the heritage and vitality of Old Ellicott City (OEC) while enhancing and creating economic growth. ECP strives to make OEC a vibrant and sustainable community for those who live, work, and visit our town. More than just a historic business district, OEC feels like home, even if it's your first time here. 
---
Lead Photo: Ellicott Distilling Co. in Old Ellicott City, Maryland. Credit: Katie Lomax
Katie Lomax splits her time between reading, writing, and riding her motorcycle when she's not working on her powerlifting progress. She's currently based in Frederick, MD, but has lived all over the country and continues to travel as much as possible. Follow her adventures on Instagram @skywardphoto.