My Road Trip to Find the Best Burgers in Baltimore

I planned to write a sentimental ode to burgers here, but you look too hungry to read that. So, read on to see what I ate on my road trip to find the best burgers in Baltimore:
JBGB's—Remington
At John Brown General & Butchery (JBGB's) in Remington, the community fire pit draws you in, and the cheeseburger makes you stay. My preferred seat is with an always-welcoming crowd around the leather-accented bar.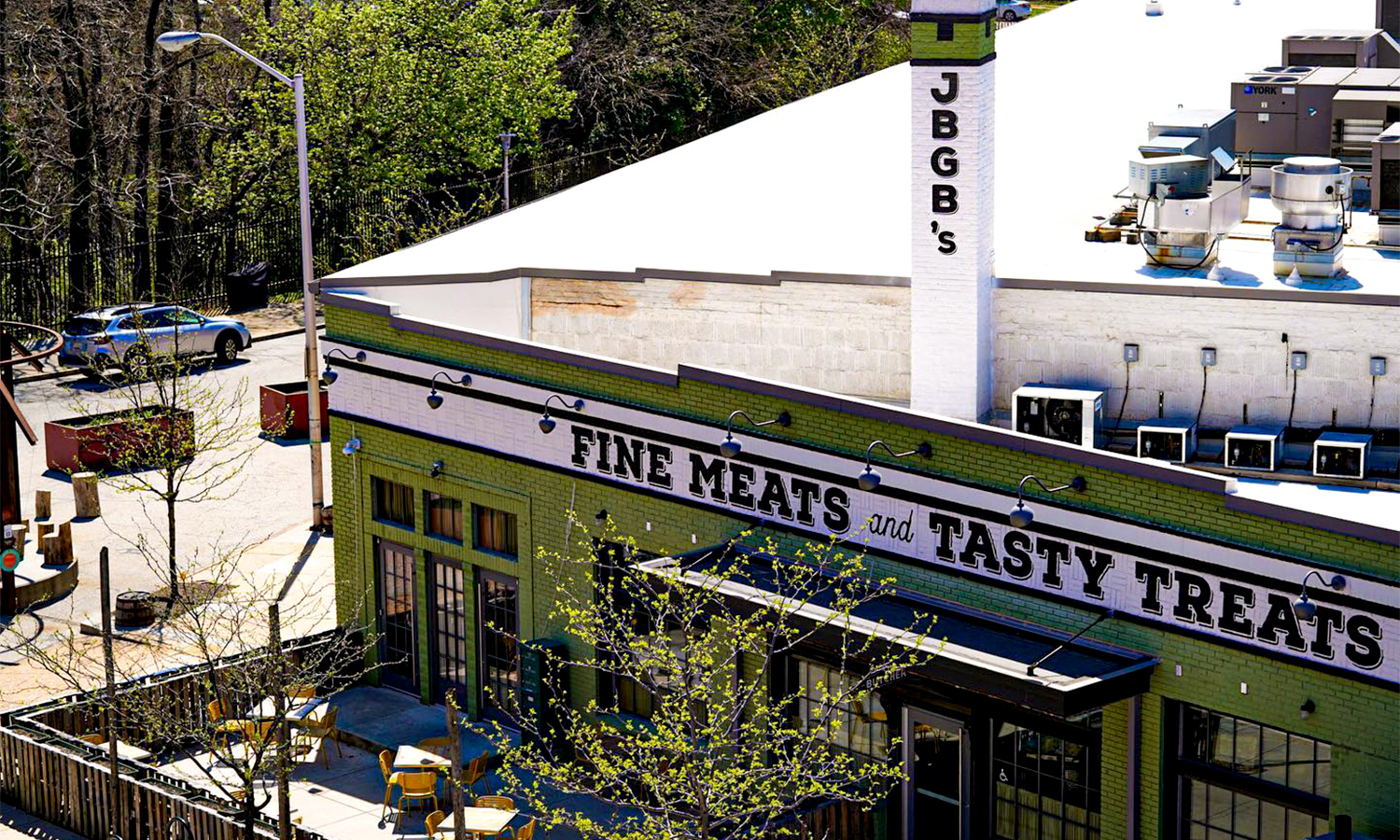 Wherever you sit at JBGBs, make sure the house burger joins you. The 4 oz patties pack a juicy charbroiled taste, and the zesty mac sauce and pickles make it pop. As chef Tyler says, "It's the kind of burger you want to crush at 1:00 am alone in your car without judgment."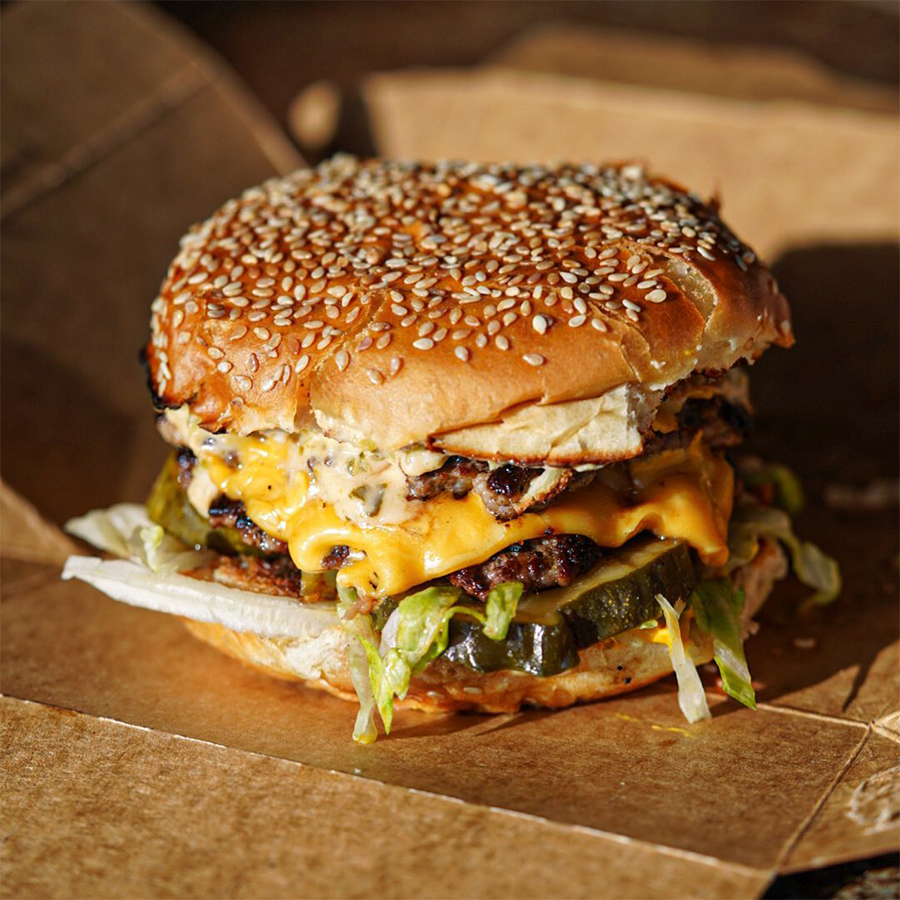 When you inevitably ask, "How did this burger get so flavorful?" you'll be reminded that the B in JBGBs stands for butchery. All of the meat here is ground in-house. 
Pair your burger with unusual wines from far-off corners such as Morocco, Lebanon, and Slovakia. 
Kooper's Tavern—Fells Point
Kooper's Tavern may have one of the best locations of all the burger joints in Baltimore. Cobblestone street access, airy outdoor parklet, harbor views…it's like a movie set!
Beyond the Thames St. curb appeal and art-filled walls featuring the tavern's dearly departed yellow lab namesake, there is also an allure in the burger list. From "the MacGuinness," an all-star classic, to the "Ronan," a new addition with dynamic flavors, to the "Baja," wrapped in a flour tortilla and accented with jalapenos, it may be hard to settle.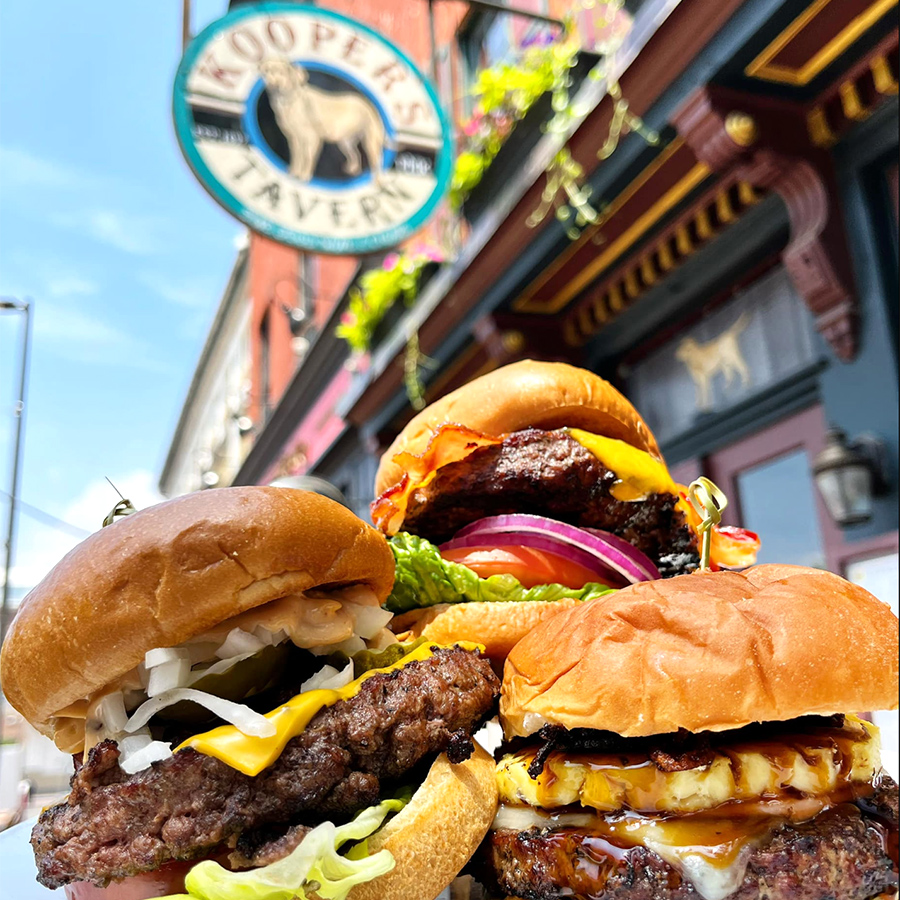 My pick: "Billy's Wagyu." It expertly brings truffle-drizzled arugula into the game. In my opinion, nothing rivals that flavor profile. 
No matter your choice, you'll find that burger zen you've been seeking. Whether you're a regular, a newcomer, or just really love yellow lab swag, you'll find that Kooper's is a special spot. 
Clark Burger—York Road
What happens when poutine marries a burger? You get a food event worth inviting your friends and family to witness. 
The brilliant alliance at Clark Burger was born of Baltimore-based owners who wanted a late-night poutine spot like the ones they frequented while growing up in Canada. Add quality burgers and boozy milkshakes, and the plan works!
Burger traditionalists should try the bestselling "Clark" burger but not stop there. Pair it with poutine—Canada's beloved cheese fries drenched in rich gravy. 
If you truly want to engage in U.S.-Canada burger diplomacy, order the "Full Mountie." It has poutine stacked ON the burger. Regardless, all burgers arrive with freshly made sauces and pillow-like brioche buns.
I have a notable bond with the "Montreal Expo" burger with its briny smoked brisket and crispy onion straws. On the poutine side of the menu, don't sleep, or in this case, "dormez vous" on the "Frere Jacques"—it's a perfect bite of all the flavors.
Pro tip: order food at Clark Burger and take it into the adjacent Senator Theater to watch a flick on the big screen. It's not only allowed, it's encouraged!
If you yen for exotic meats, this is your place. New Zealand deer? Wild boar? Can't choose one? Go for the game meat slider trio with a side of alligator bites.
In my opinion, Abbey's calling card is their build-your-own-burger sheet. The tasty combinations are boundless. Many of their well-portioned ingredients and sides are prepared in-house, such as tangy thousand island sauce with a twist, old bay kettle chips, and cherrywood-smoked meat.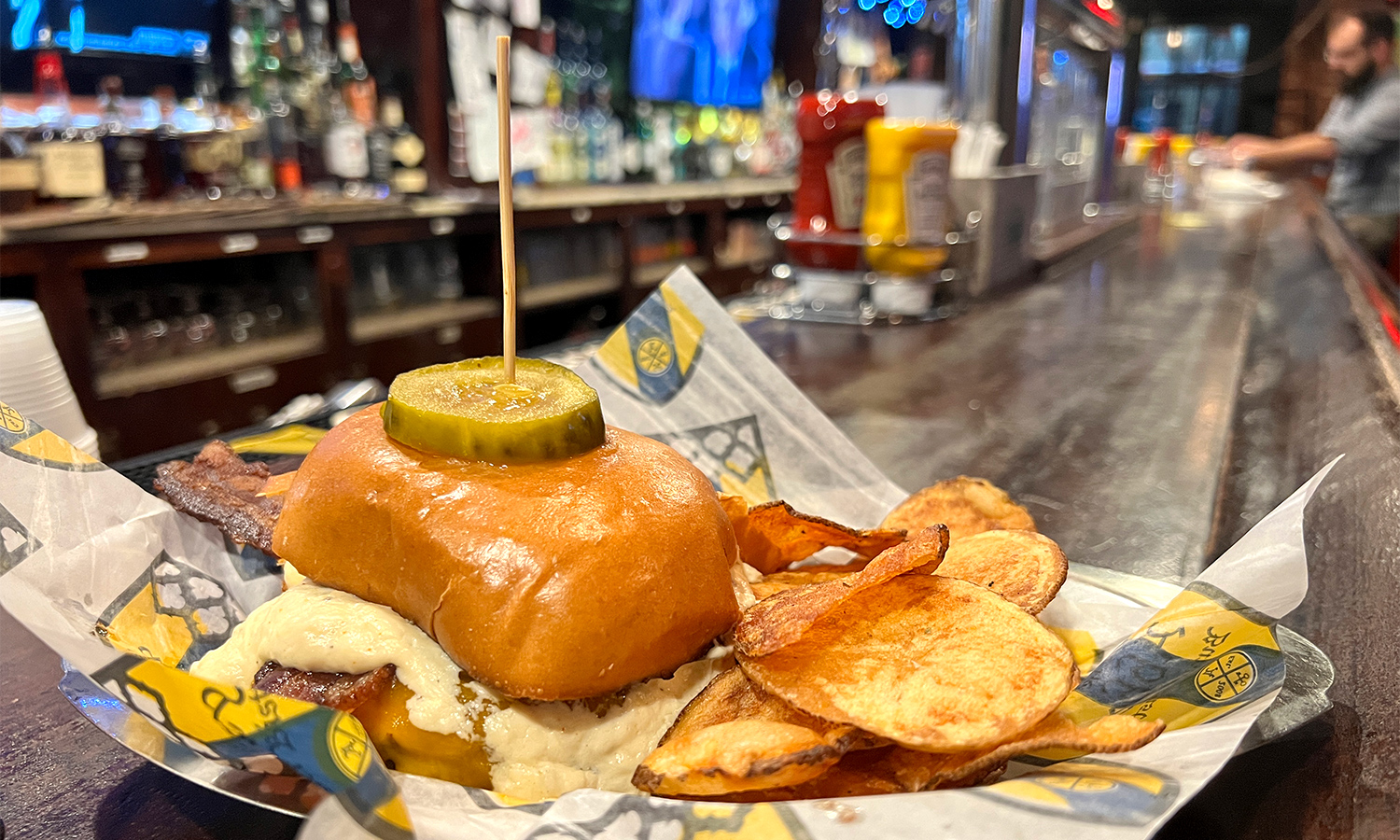 Personally, I like to write home about the Baltimore burger. Mother dearest, don't worry about me. I found crab dip on a burger!
All four Abbey Burger Bistro locations are great for international soccer fans. The Fed Hill location, in particular, is the official home of the local Arsenal fan club. 
Fuzzies Food Truck
The youngest spot on this list is quickly becoming a buzzworthy Baltimore mainstay. Fuzzies nomadic food truck, which posts locations weekly on Instagram, fires up an eye-widening burger presentation to make you glad you waited in line.
Fuzzies is an industry-driven enterprise inspired by the need to create a simple burger lover's burger. Only four burgers are on the menu, all using beef from local Maryland farms.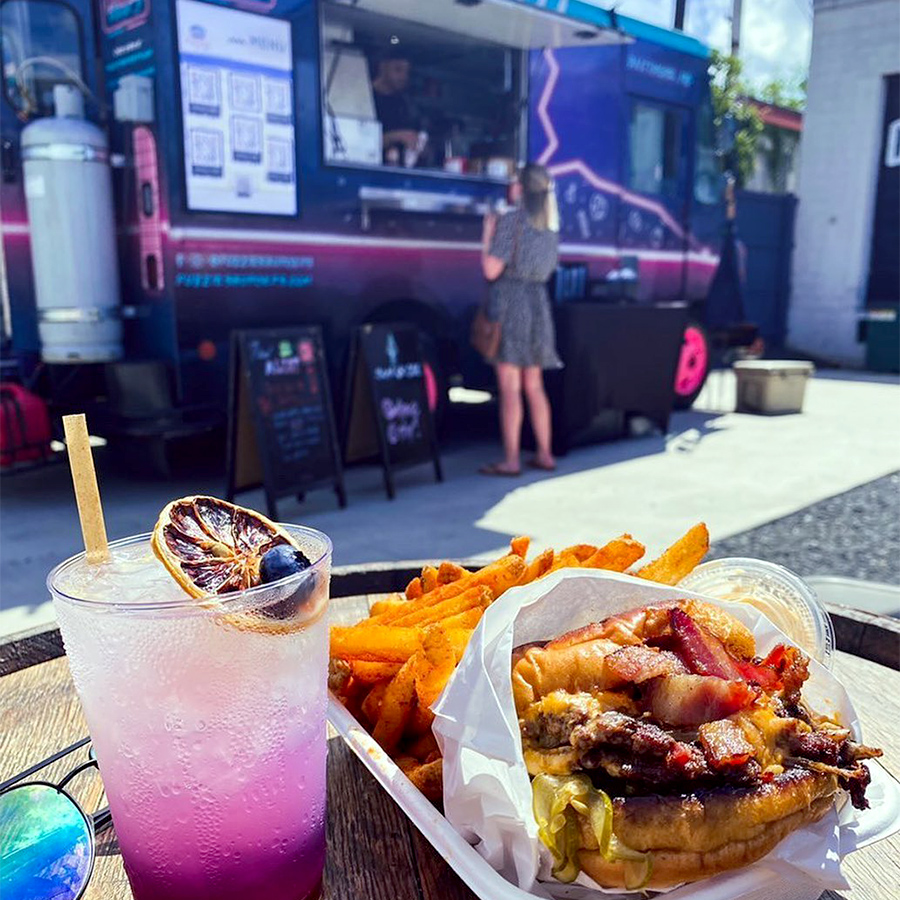 "The Fuzzy" is their signature double patty with American cheese, dill pickles, and "Static Sauce." The "Hot Fuzz," my recommendation for anyone needing a not-scary level of spice, has fruitwood bacon, spicy pimento cheese, pepper jelly, and 'sweet fury pickles.' 
Unlike some burger joints, the fries are not a toss-away. The "Shore Style" fries are reminiscent of Ocean City boardwalk summers, and the "Pickleback" option poetically blends dill, vinegar, and garlic. 
When I order anything from Fuzzies, the Earth's gravitational pull loosens, and I float off the ground a bit.
In summary, it's time to take your own road trip to eat one of the best burgers in Baltimore! You'll be greeted with yummy food and some of the city's signature charm, which, quite like its craft beer, flows endlessly on tap.
---
Lead Photo: Fuzzies Food Truck
A native of Las Vegas, NV, Chelsea Milko McAllister resides in the historic Baltimore neighborhood of Charles Village with her new husband and stepson. Her foreign policy career and travel obsession have taken her to over 50 countries, including Uganda, where she served as a U.S. Peace Corps Volunteer. Chelsea loves documenting her Maryland adventures through writing and photography. Follow her on Instagram @themilkoway.