An Exhilarating Potomac Adventure Tour with Calleva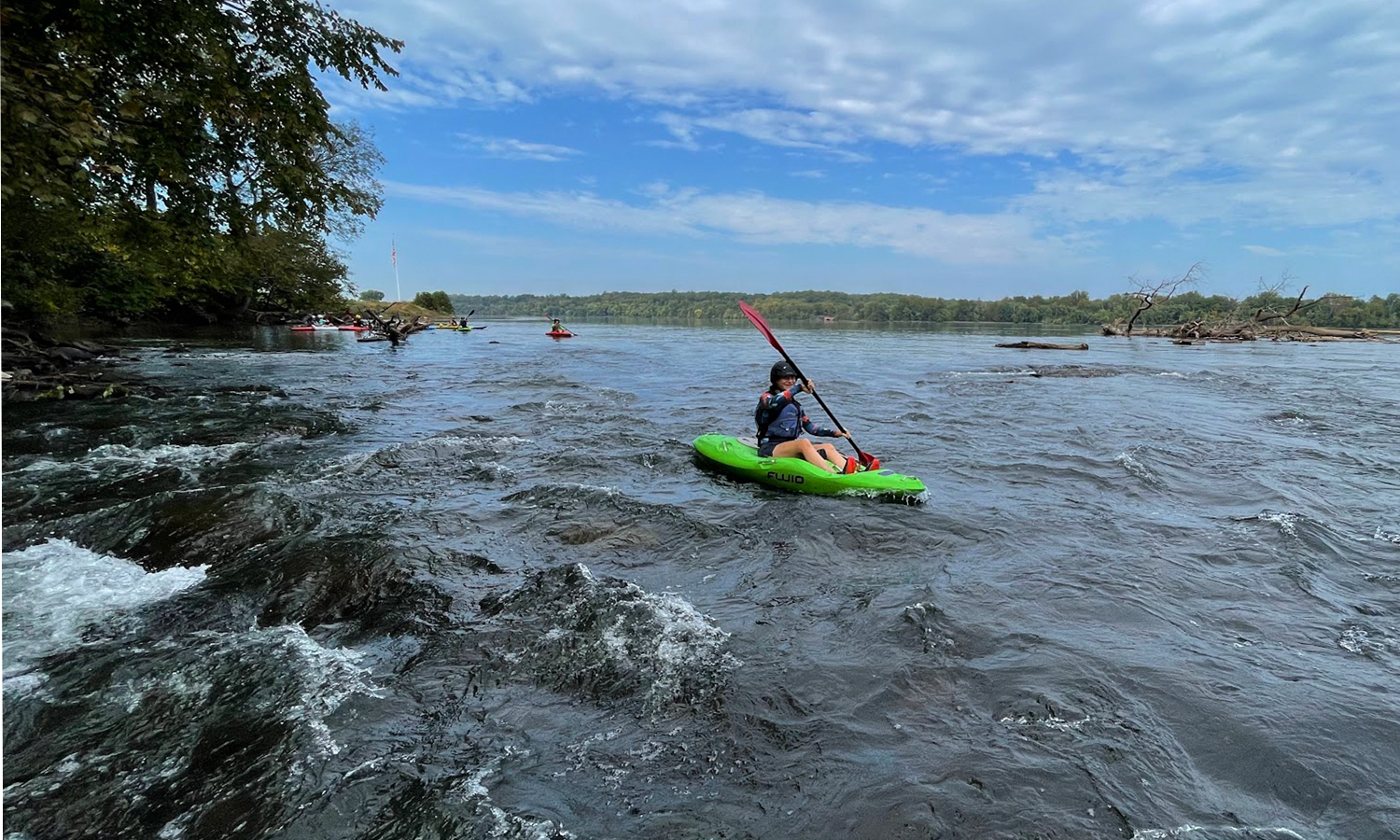 I am in my "try new things" era. If an opportunity arises to do something out of my comfort zone, I'm likely going to say yes. I recently agreed to join my friend and coworker, Hilary, on a Potomac Adventure Tour with Calleva River School in Montgomery County. We had the whole day planned out: kayak in the morning, grab lunch, visit a winery, and end the day with pizza at Calleva Farm. It sounded like the perfect Saturday. (Spoiler alert: it was even better than we imagined.)
Neither of us had ever been whitewater kayaking before—in fact, it was Hilary's first time in a kayak. Butterflies fluttered in our stomachs when we met up with our guide, Mark, at Riley's Rock in Poolesville. Mark explained everything we'd need to know for a successful trip, from how to steer our boat to what to do if we tipped over. Then, we fastened our life jackets and helmets, grabbed our kayaks, and headed to the water.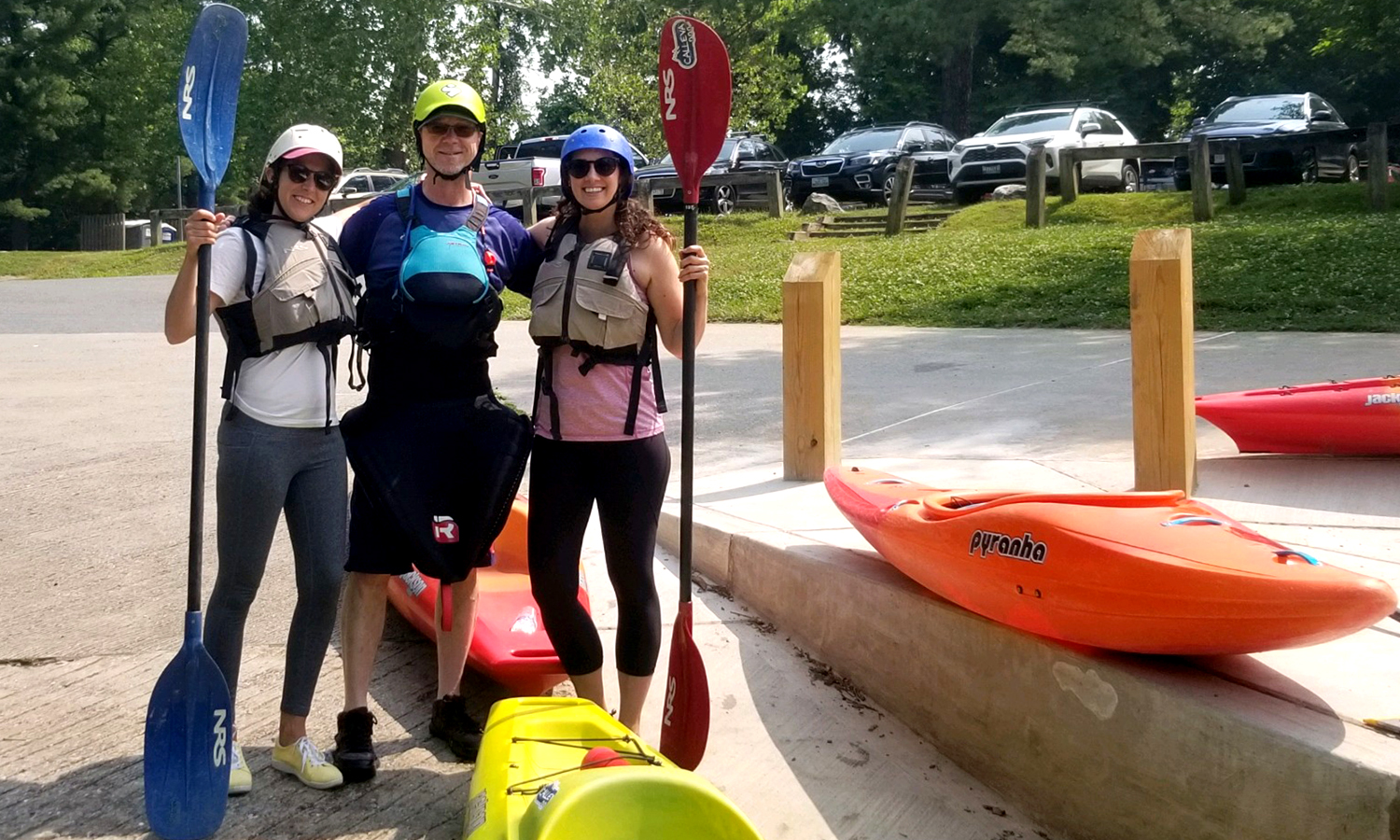 On the water
The trip started out easy. We enjoyed a leisurely paddle under the Seneca Aqueduct, a gorgeous red sandstone structure built in 1832 that was the first aqueduct on the C&O Canal and a lift lock—making it quite an engineering marvel. Things got interesting after we passed through the arches. Mark pointed to an American flag across the Potomac River and said, "We're going to meet over there." Hilary and I exchanged glances—say what?—but kept our cool.
We made our way across, listening to Mark's encouraging comments and surprising ourselves with our ability to maneuver through the choppy waves. With boosted confidence, we were ready to attempt a class II section of whitewater called the Seneca Breaks. Mark talked us through each set of rapids and went before us so we could watch his approach. I won't go into the logistics of everything we learned— you should book the tour yourself!—but I will say that going over rapids and catching eddies made Hilary and me feel like kayaking champions. As someone who watches a lot of Survivor, I know that when people push themselves beyond their (self-imposed) limits, they receive a powerful rush of pride that far outweighs any discomfort experienced along the way.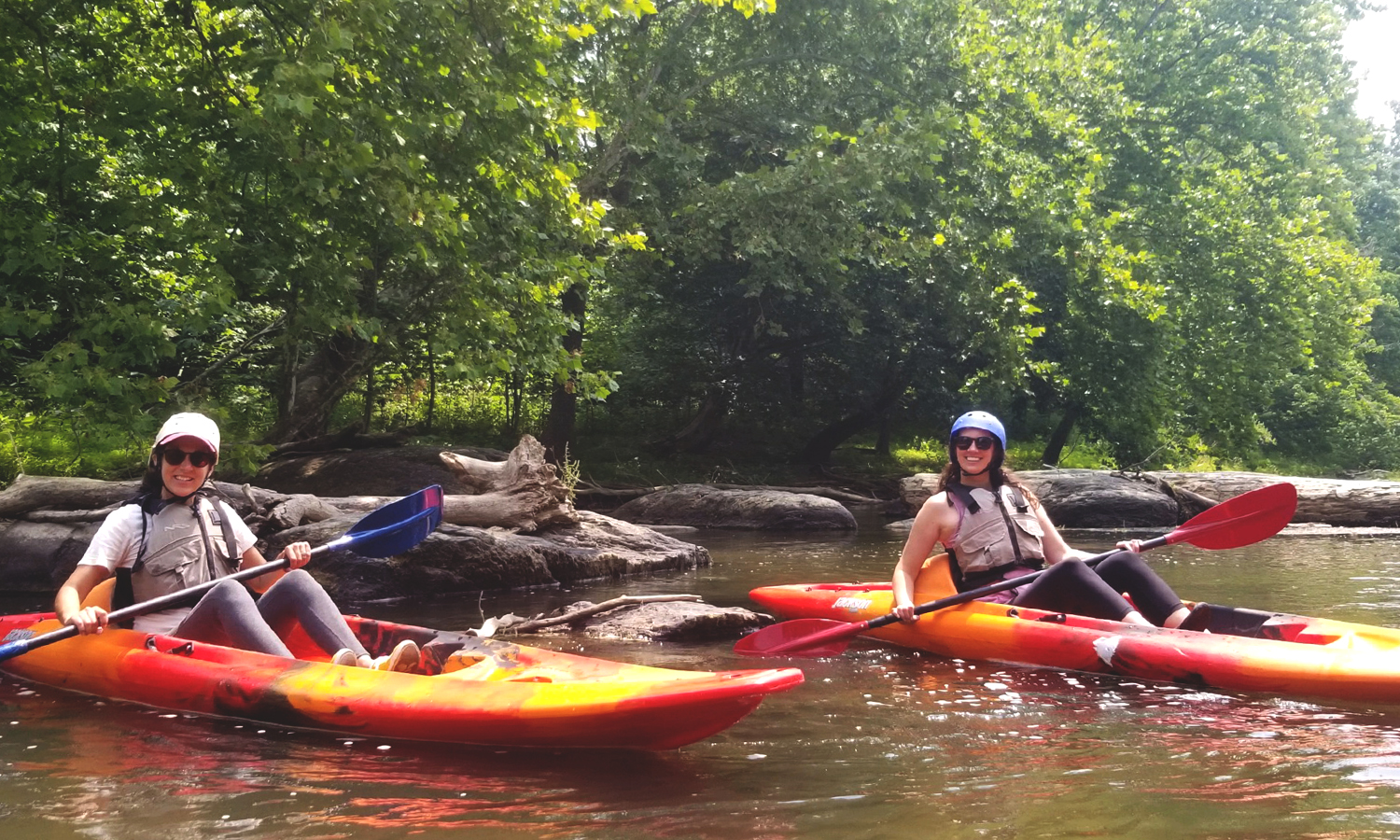 The Potomac's low water level made the portion of rapids slightly less challenging, but it also meant we couldn't sit back and let the current take us down the river. Except for a few breaks for pictures and rest, we paddled nearly the entire time we were on the water. Mark told us about some of the other tours Calleva offers (including an evening paddle under the stars) in addition to whitewater kayaking lessons. We also learned we're both graduates of James Madison University—go Dukes!
Nature sightings
Our final stretch on the water took us past rock formations and islands. We spotted bald eagles, great blue herons, and ospreys soaring above, double-crested cormorants spreading their oily wings to dry, and even a river otter scrambling along the banks. 
Our final "pinch me" moment on our Potomac Adventure Tour with Calleva involved paddling through a tunnel under the C&O Canal to access Muddy Branch Creek. We climbed out of our boats, soaking wet from the waist down, and Mark drove us back to Riley's Lock, where towels and dry clothes awaited us. All I could think about was a burger, and I knew where I wanted to get it—Locals Farm Market in Poolesville.
Time for lunch
I've wanted to check out the restaurant since reading Heidi Schlag's piece about a day trip to Poolesville. Hilary and I split a juicy burger and a massive BLT. I devoured every bit of food on my plate. I'm not lying when I tell you: Locals might be my new favorite restaurant.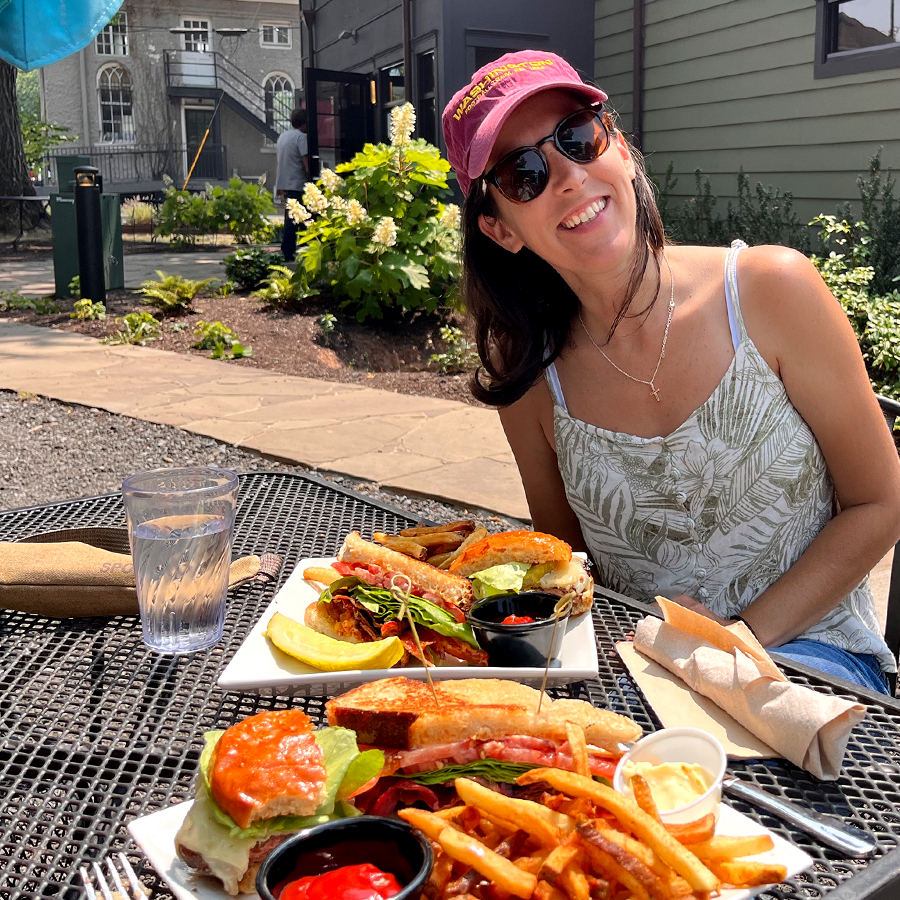 From there, we meandered to The Friendly Thrift Shop, where we immediately spotted a wall of books. Earlier in the day, Hilary noticed a book tucked into my bag and commented that she almost packed a book, too, but she didn't want me to think she was being rude. (I'm never offended by the presence of books.) Here was her chance! Not only did she find titles that interested her, but the cashier told her the books were free. It was meant to be.
Must stop for wine
Our next stop was Rocklands Farm Winery, which I first learned about through my work at Maryland Road Trips and then included 2023 Maryland bucket list. I ordered a wine flight and settled in to read with Hilary. One of the winery's managers noticed our choice of activity, stopped in her tracks, gesticulated wildly with her hands, and said, "Whatever this is, I want to normalize it!" We laughed in agreement. If you've never taken a book to a winery, may we suggest you give it a try? Let's normalize reading with friends!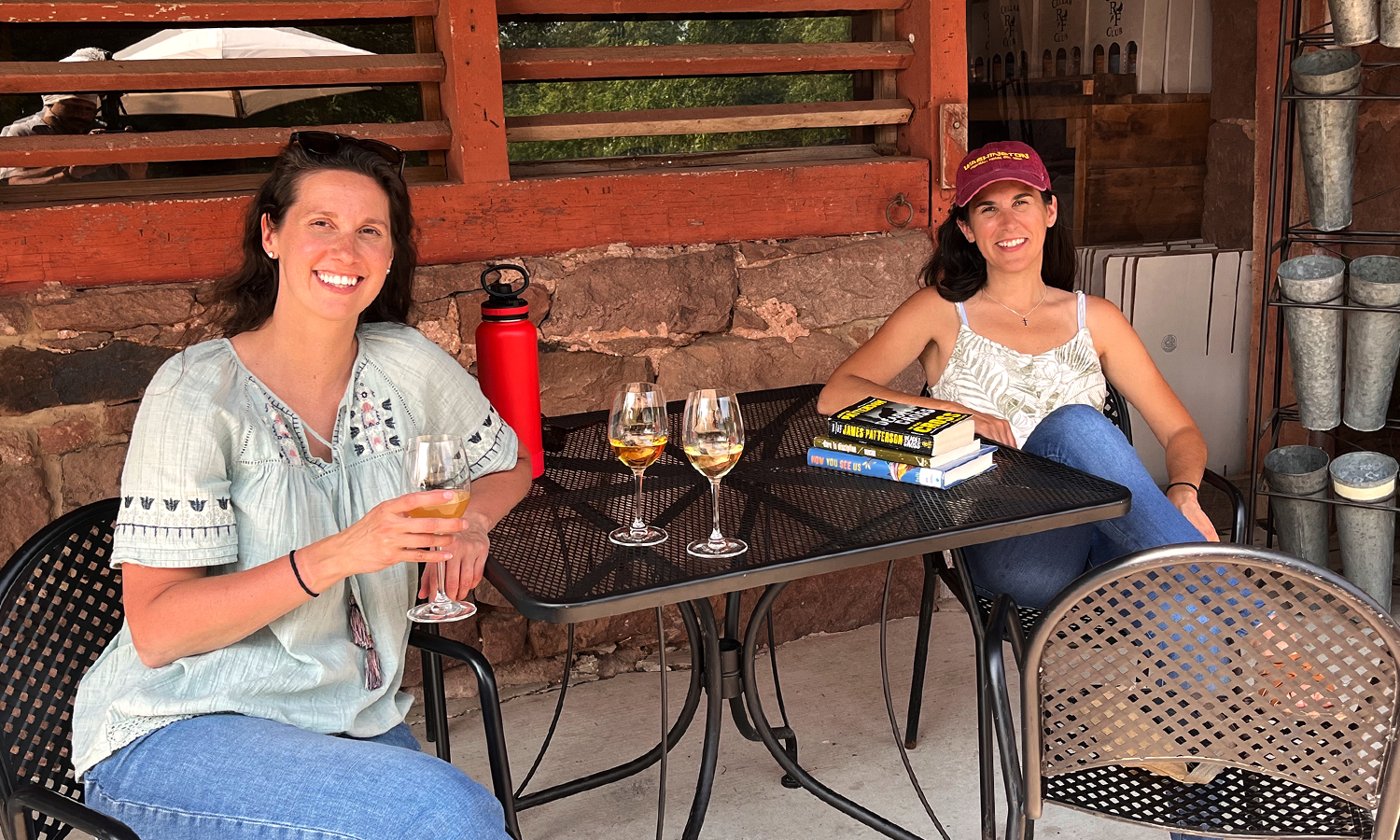 Rocklands was abuzz with activity, and I could see why—it's a gorgeous venue, and the wine is superb. I bought a T-shirt and a bottle of Sungold, promising the cashier that I'd be back soon. 
Pizza on the farm
It was time to head to Calleva Farm in Dickerson for our pizza on the farm reservation. In addition to its river school, Calleva also offers outdoor camps and an equestrian program. The pizza nights are a fun way to bring people to the property.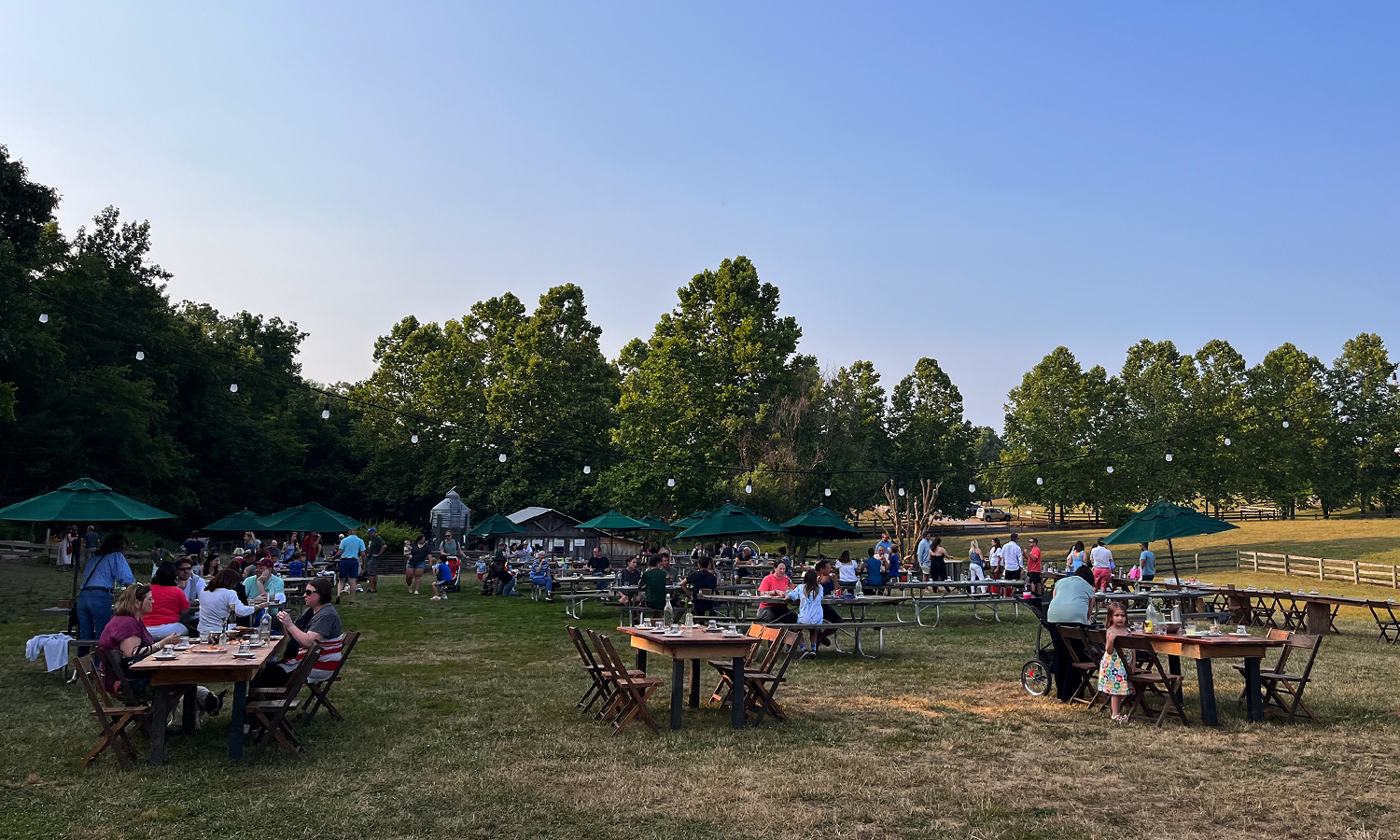 I was impressed with the set-up—string lights and rustic wooden tables set with glasses and water carafes gave the area a winery-like feel. Hilary and I found ourselves drawn into conversations with other diners, most of whom said their kids attend camp at Calleva. Somehow we still had room in our stomachs for more food, and we ate warm wood-fired pizza while watching kids brave a zipline. (My pizza had goat cheese and hot honey on it, and it was superb!)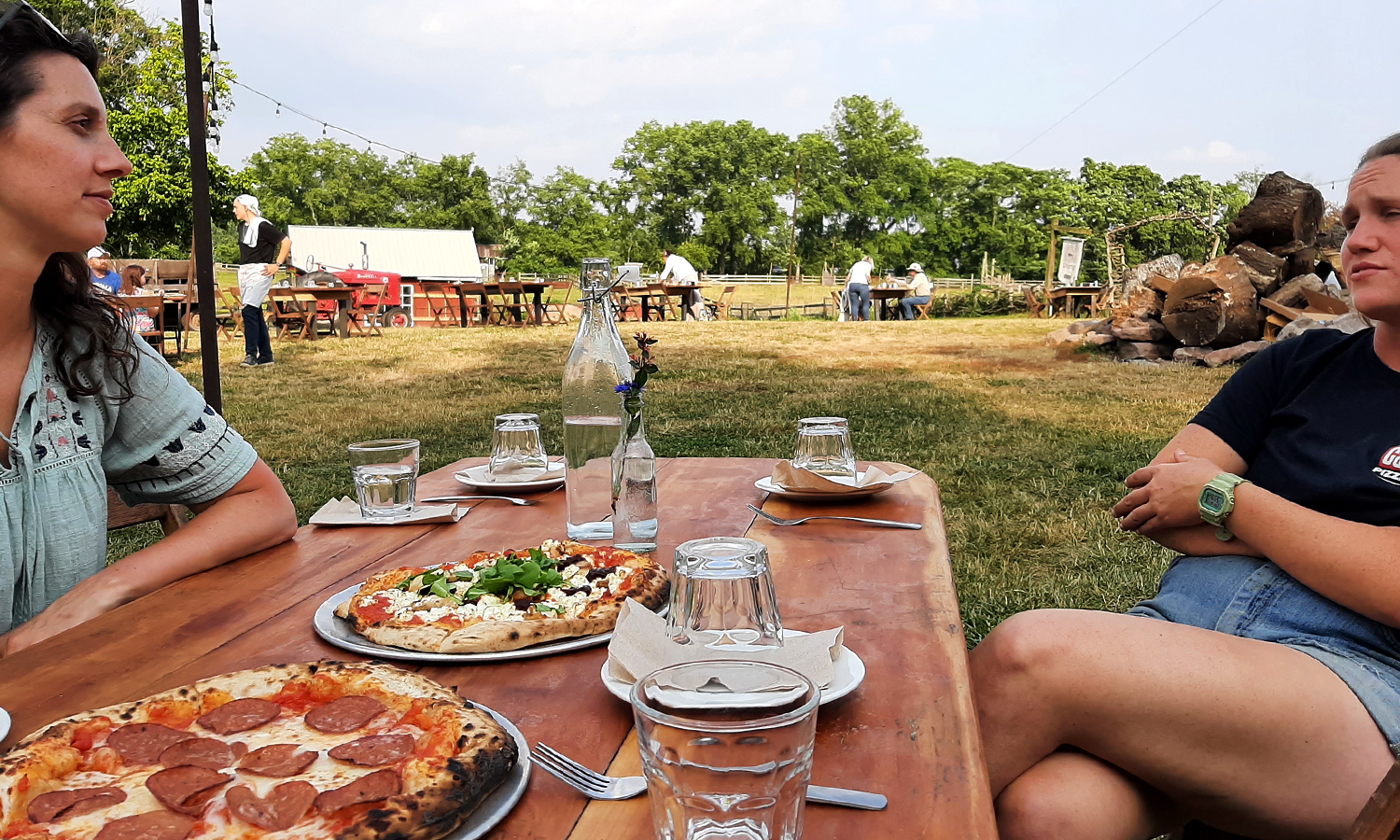 We walked around the property for a bit to see the horses and sheep. Hilary pointed out one of her husband's favorite places in Maryland: Markoff's Haunted Forest, a spooky seasonal offering on the Calleva property. 
Hilary and I laughed and chatted as we reflected on our full day in Montgomery County. We both expressed an overwhelming sense of gratitude that we live within driving distance of such an extraordinary nature escape. 
———
This article is sponsored by Calleva. Originally founded as a small summer camp, Calleva is now nationally known as an innovative force in outdoor adventure & education. With hubs in Maryland, Virginia & West Virginia, Calleva's dynamic programming introduces people to the best parks, trails, rivers, and rocks in our region, providing approachable outdoor experiences that expand comfort zones and foster teamwork. Kayaking lessons, canoe trips, camps, trips & farm experiences are great for individuals as well as groups & families who want to spend time together in the outdoors.
---
Lead Photo: Calleva
Laura Rennie is the Editorial Manager of Maryland Road Trips and also works as a freelance writer. She loves a good burger and often plans her travels around food. Laura lives in Myersville, MD, with her husband and daughter. She can be reached at laura@marylandroadtrips.com.