Exploring Industrial History Along Maryland's Iron Road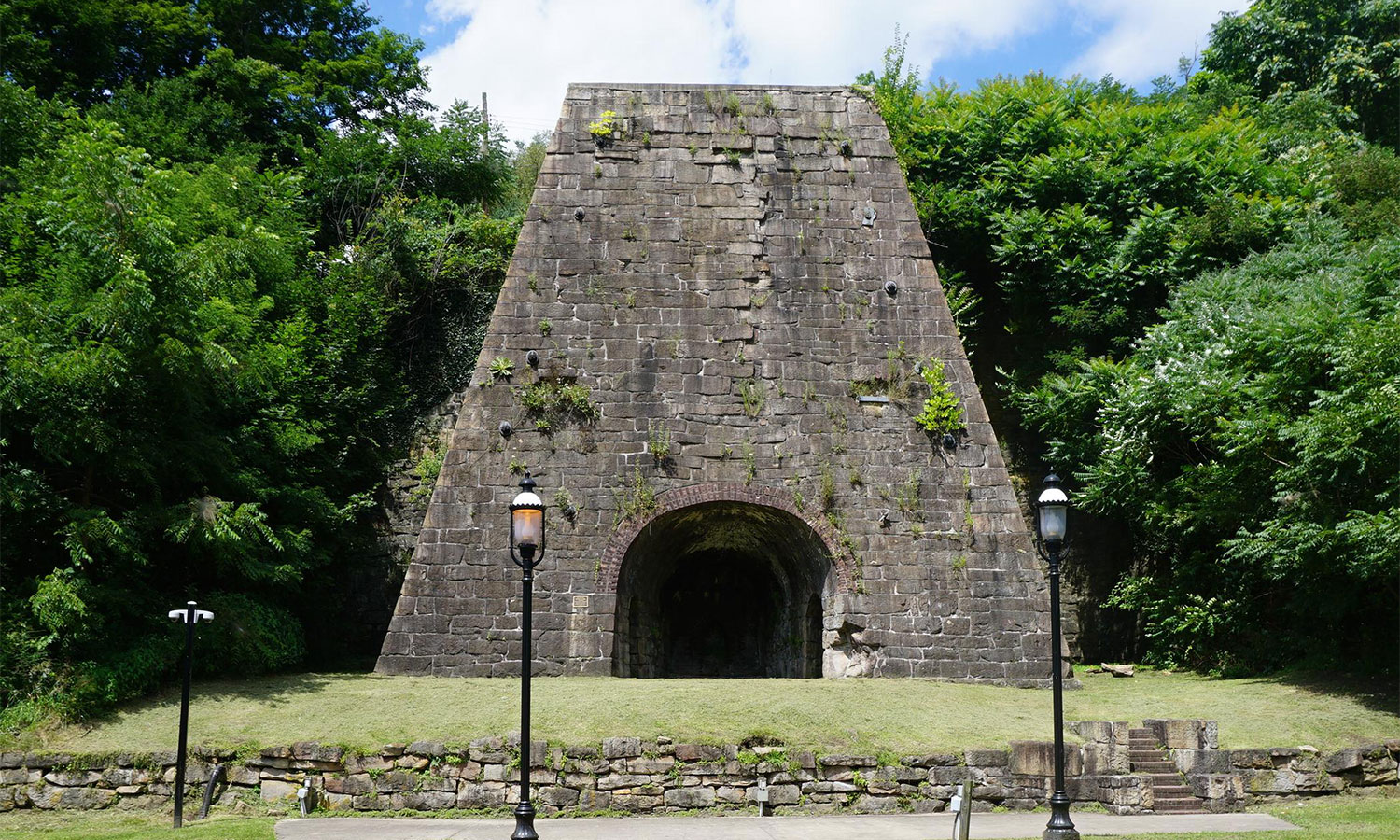 From the foothills of Appalachia to the lower Eastern Shore, Maryland's rich industrial history has left an enduring mark on the environment around us. Around the time of the American Revolution, Maryland was one of the world's leading iron producers with over 30 furnaces. The natural resources required to make iron—such as deposits of iron and limestone, trees to make charcoal, and water for power and transportation—made the state a desirable location for the industry. Iron produced in Maryland furnaces made household items such as stoves, kettles, and pans as well as axes, musket barrels, and munitions. 
Making iron was labor-intensive, hot, and dangerous. Human resources were also plentiful here. While some of the wealthiest men in Maryland owned these operations, the workforce was made up of enslaved, indentured, convict, and free laborers. According to the "Slavery and Iron" exhibit at Baltimore's Reginald F. Lewis Museum, Maryland's iron furnaces relied upon more enslaved workers than most tobacco plantations. Some of these enslaved workers may have been brought from Africa to Maryland because of their skill in ironworking. 
Although many of these furnaces were constructed over 200 years ago and most ceased operations by the 20th century, Marylanders can still see a handful of ironworks dotting the landscape.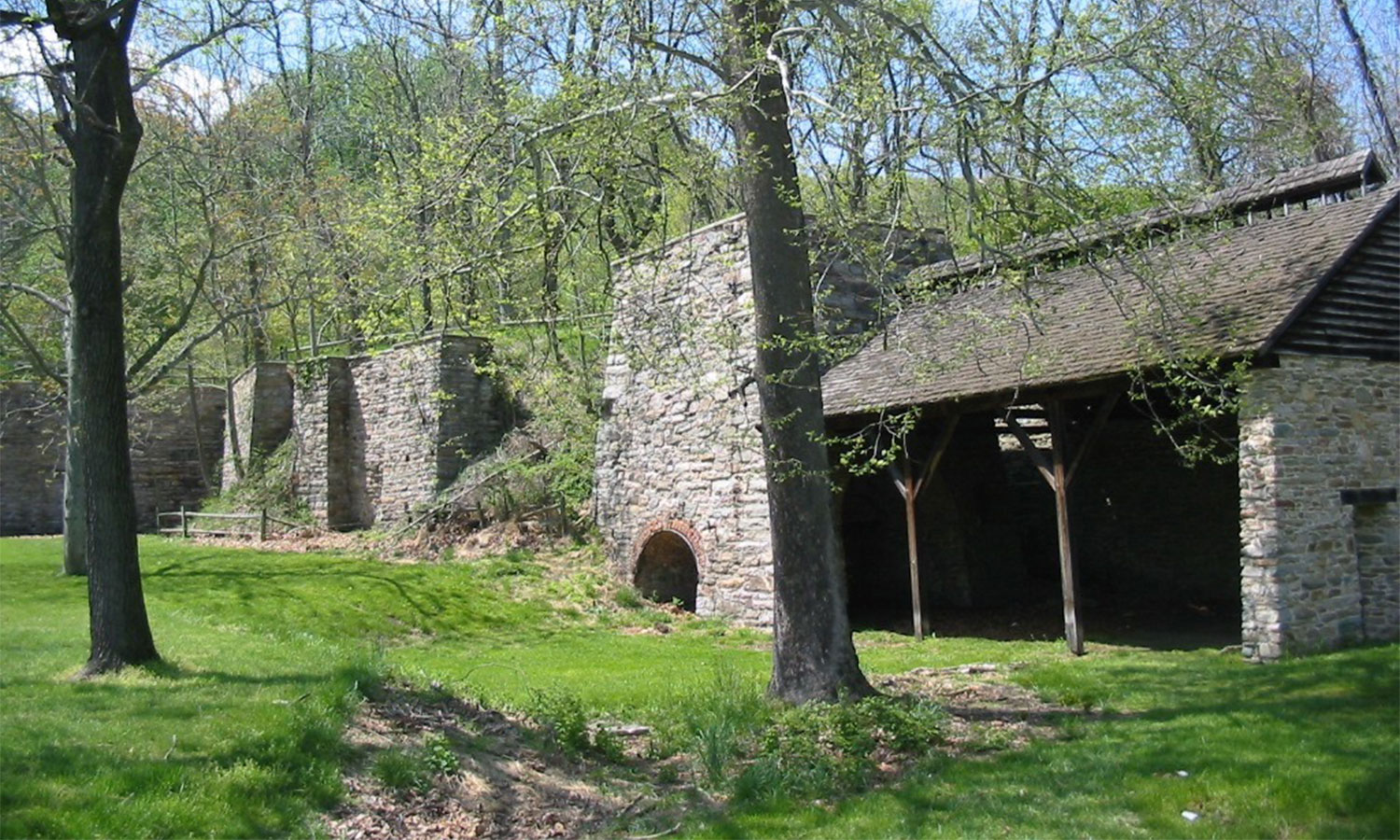 The Catoctin Furnace Historical Society (CFHS) has compiled an Iron Road driving tour featuring 14 sites straddling the Mason-Dixon Line. I'm grateful to organizations like CFHS for the time, energy, and resources they have devoted to preserving and interpreting this period for 21st century Marylanders. This tangible connection to our industrial past reminds me that we aren't that far removed from this history.
Catoctin Furnace
Located just off US-15 between Frederick and Gettysburg, Catoctin Furnace is a well-preserved hamlet near present-day Thurmont. "In blast" between 1776 and 1903, Catoctin provided munitions to George Washington's Continental Army during the Revolutionary War. At least 270 enslaved people worked here in the 18th and 19th centuries, and CFHS has conducted extensive research on this workforce.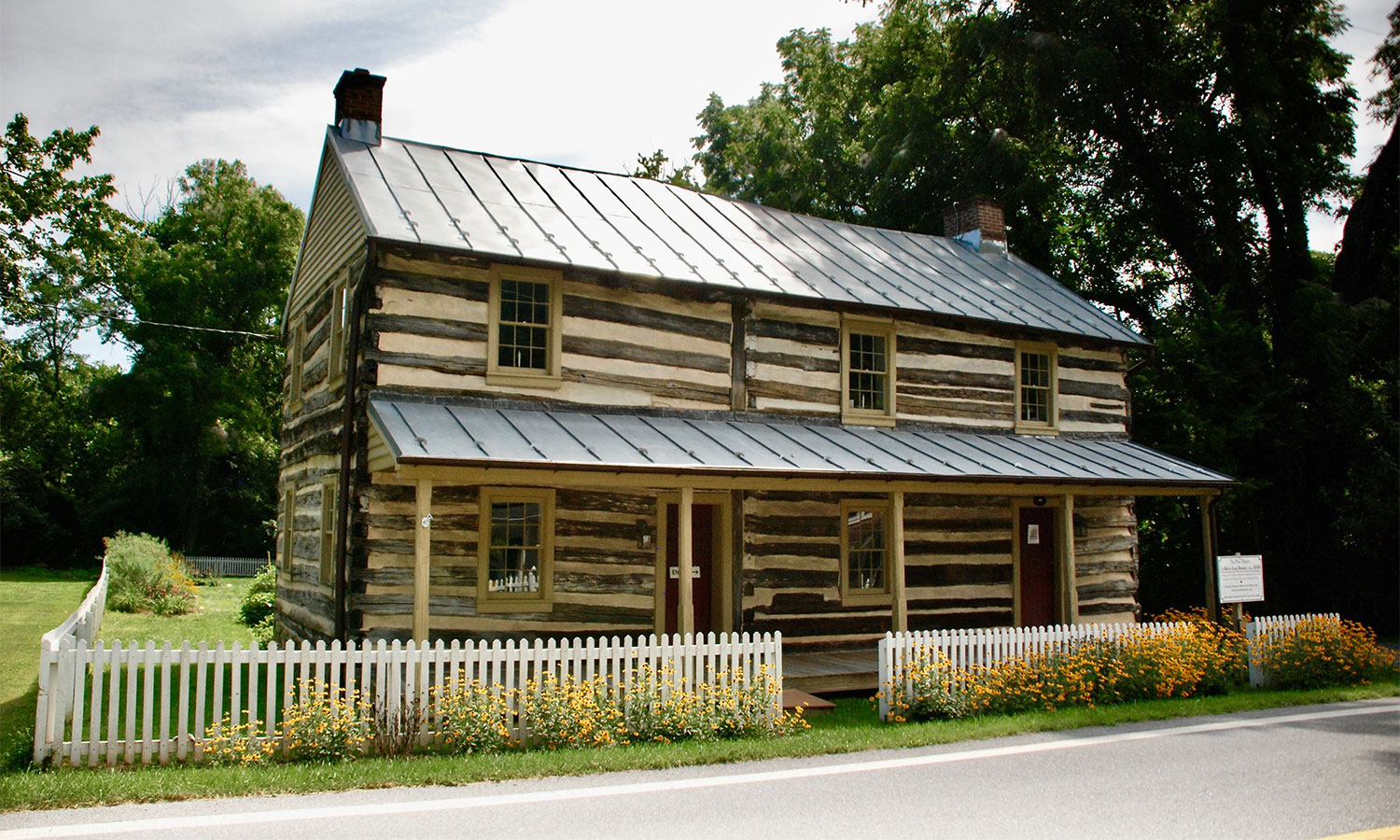 Today, visitors can park along the village and walk to the Isabella stack built in 1857, a collier's double log house built between 1810-1830, and an 1820 worker's cottage that opened in 2021 as the Museum of the Ironworker. Another must-see stop is the African-American cemetery and interpretive trail–part of the National Park Service Network to Freedom.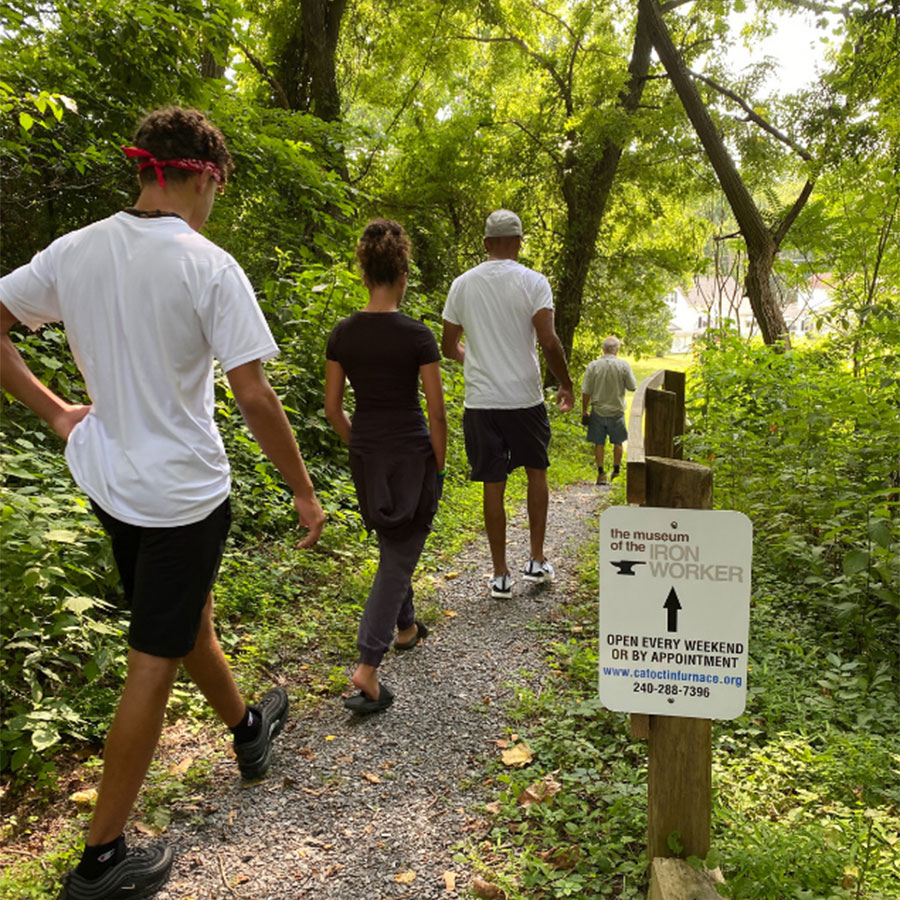 CFHS offers programming throughout the year, including Spirits of the Furnace in the fall, Traditional Village Christmas in the winter, and the Maryland Iron Festival in the spring. Located just a few minutes' drive from the village are Cunningham Falls State Park and Catoctin Mountain Park and three historic, covered bridges. When I'm in this part of Maryland, I always stop at Catoctin Mountain Orchard for a fresh (or frozen) pie, preserves, and fabulous playground.
Lonaconing Furnace
The Lonaconing Furnace in Allegany County operated only briefly, between 1839 and 1855. Founded as the George's Creek Coal and Iron Company, the operators experimented with technology to prove that both coke and bituminous coal could fuel iron manufacturing. According to its National Register of Historic Places nomination, Lonaconing was the first successful coke furnace erected in the U.S. and may have been the first in the world to use the basic coal-fired production method still used today. While English iron producers embraced coke in the 1830s, most American iron furnaces were still heated by charcoal—which required workers called colliers to spend precious time and resources turning trees into charcoal. This furnace produced stoves and agricultural equipment, as well as materials for the lock walls of the nearby Chesapeake & Ohio Canal. Ultimately, its location far from major transportation routes led to its closure.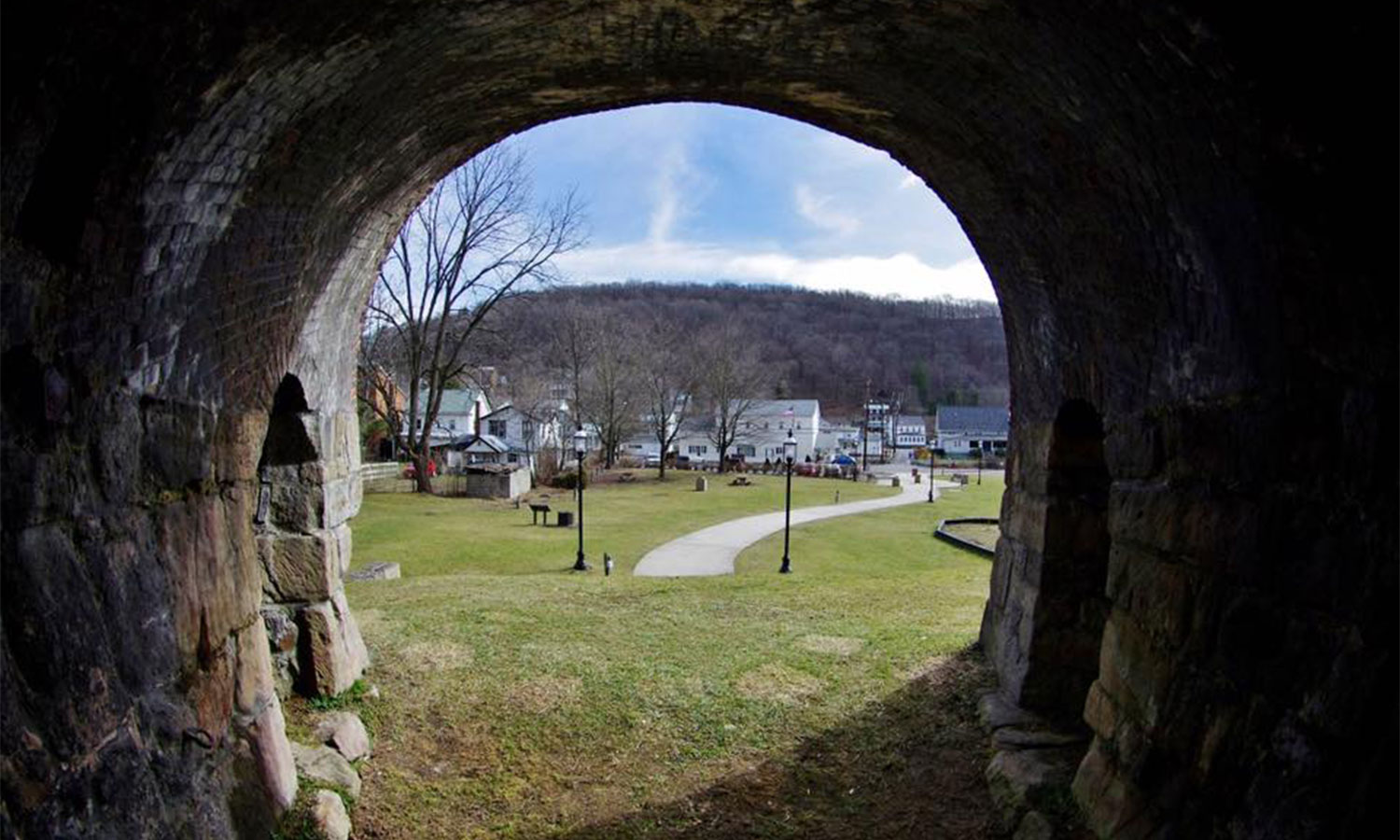 Located along Lonaconing's Main Street, the 50' tall structure built into the hillside welcomes visitors with a park, playground, and picnic tables. The town is about 15 miles south of Frostburg, home to some of my favorite independent shops: Mountain City Coffeehouse and Creamery and Main Street Books. Lonaconing is nestled in the Appalachian foothills near Dans Mountain State Park as well as many other scenic state parks in Western Maryland.
Furnace Town Historic Site
The Nassawango Iron Furnace in Worcester County, on the lower Eastern Shore, was in operation around the same period as Lonaconing between 1830-1850. Founded by the Maryland Iron Company, this was the only furnace in Maryland to use the bog ore (read up on Wikipedia) found in the swamps near the Pocomoke Forest. A company town was home to 300 workers during this time. The ironworks represented another technological innovation, employing the hot blast technique of smelting iron shortly after it was developed by Scottish ironworkers in the late 1820s.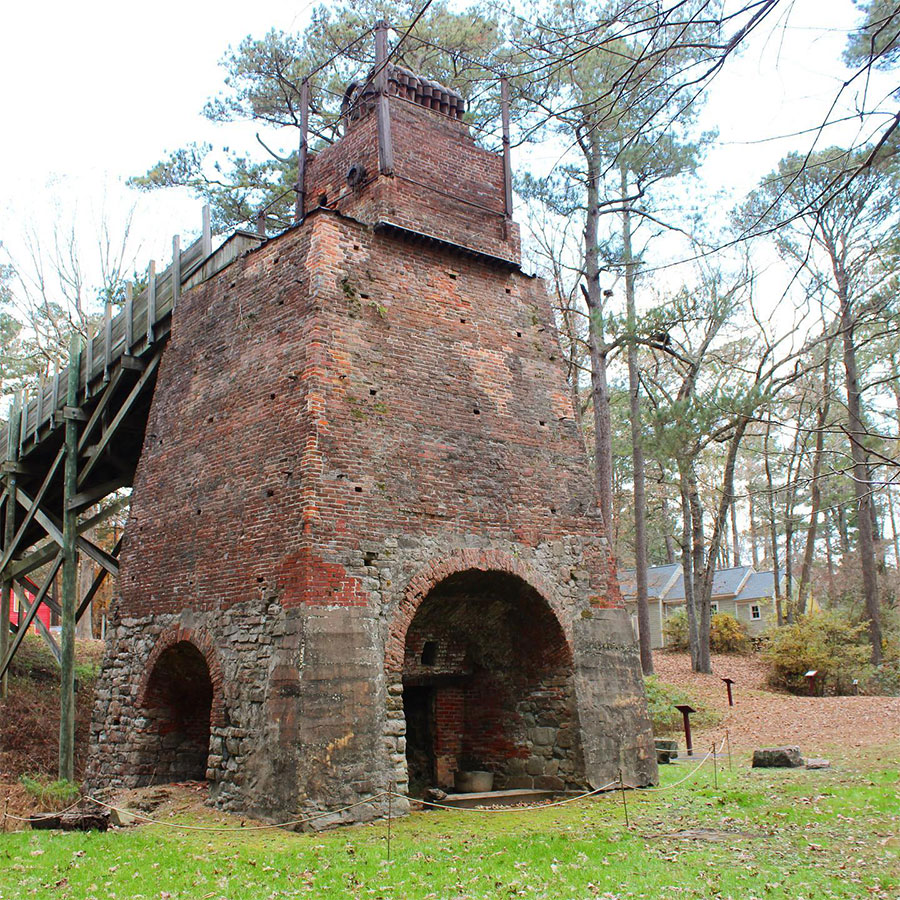 The site is recognized as a National Historic Mechanical Engineering Landmark by the American Society of Mechanical Engineers because it survives as an early example of this technology. The operation went bankrupt in 1850.
Although the ironworks were in blast for only 20 years, the historic site has been welcoming visitors for much longer. Work to restore the furnace began in the 1960s and the nonprofit Furnace Town Foundation Inc. has run the living history museum since 1982. In addition to the furnace, the 25-acre park includes a dozen buildings, including a blacksmith shop, print shop, Old Nazareth Church, and Mt. Zion Schoolhouse. The Worcester County Historical Society maintains a museum at the village in a Gothic revival church school and parish house. While waiting for the grounds to reopen in April, you can whet your appetite by exploring their virtual village tour.
Furnace Town is located on the edge of Pocomoke State Forest, about five miles northwest of Snow Hill. History lovers will want to stop at the Julia A. Purnell Museum, known as "The Attic of the Eastern Shore," as well as the Ward Museum of Wildfowl Art at Salisbury University. Also in this vicinity are the charming towns of Pocomoke City, Princess Anne, and Crisfield and the Chesapeake Bay destination of Smith Island.
Make it a Road Trip
It is feasible to drive from the westernmost Iron Road destination to the furthest east, on the opposite end of the state, in less than five hours. However, I'd recommend stops at other central Maryland ironworks in order to better understand this part of our past. Baltimore County was a hotbed for the iron industry in the late 19th and early 20th century. Visitors can see the legacy of these ironworks at Ashland (now along the NCR Trail), Avalon (now Patapsco State Park), Gunpowder (now part of Gunpowder Falls State Park's Central area), Oregon (now Oregon Ridge Park and Nature Center), and Northampton (now Hampton National Historic Site). The Elkridge Furnace Inn in Howard County and Principio Furnace in Cecil County (very close to Susquehanna State Park) are worthwhile destinations. And in Baltimore City, the still-operational G. Krug & Son Ironworks near Lexington Market and the permanent exhibit on ironmaking at the Reginald F. Lewis Museum are also worth a visit. 
---
Lead Photo: Steve Dill
Lonaconing Furnace in Lonaconing, MD.
Auni Gelles is a public historian, ice cream enthusiast, and mom to an energetic toddler. A Seattle native, she has lived in Baltimore for 10+ years. Follow her at @aunigelles.