Emmitsburg: A Sacred Sanctuary in the Mountains

Just south of the Mason–Dixon line and 14 miles from Gettysburg lies the small northern Maryland town of Emmitsburg, often overlooked by travelers on the way to the famed Civil War battlefield. But hidden in the folds of where the Blue Ridge's Catoctin Mountain reaches its northern terminus, visitors—or pilgrims if you prefer—find a sacred mountain sanctuary rich in history, alive in spirituality, and quite simply unsurpassed in its testament to the gently rolling beauty of the piedmont. 
It's not every state that has, as Visit Maryland describes it, "one of the oldest replicas of the Lourdes grotto in France," on the campus of the nation's second oldest Catholic university. And no other state at all lays claim to the final resting place of Saint Elizabeth Ann Seton, the first American-born figure to be canonized as a saint. And yet, it's Emmitsburg, this speck of a town with outsized historic and religious importance, that plays host to these destinations and more, deserving a spot on the "to visit" list of any curious Maryland road tripper regardless of belief. As a recent transplant to Maryland myself, my curiosity for religious landmarks of any kind was piqued.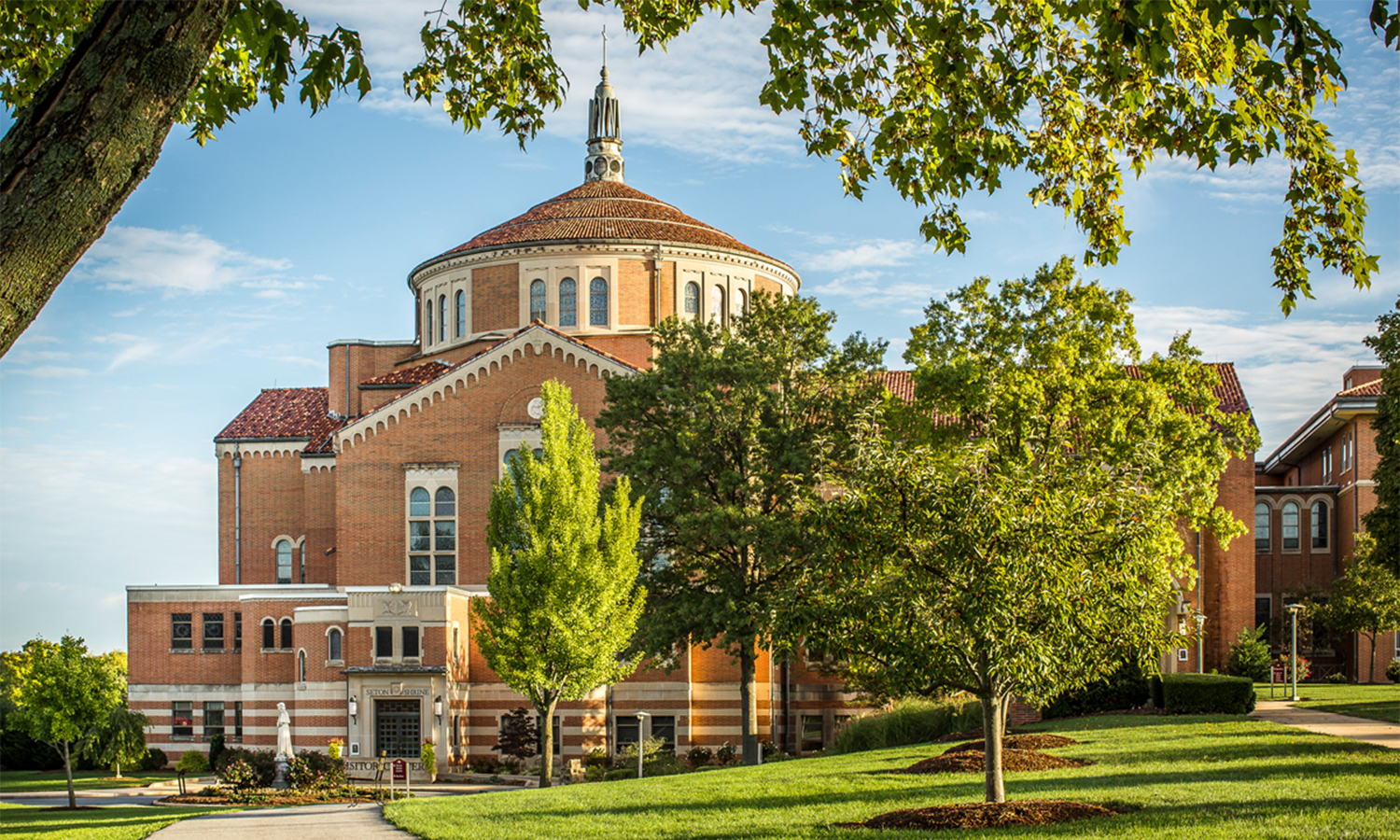 Upon arrival, I quickly learned there were even more monuments in Emmitsburg worth seeking out that weren't religious in nature at all, but that still inspired awe and quiet reflection. The National Fallen Firefighters Memorial anchors an old quad on the historic campus of what is now home to the National Emergency Training Center and the U.S. Fire Administration (NETC). The center of the memorial features a stone monument with an eternal flame at its base standing in tribute to fire service members killed in the line of duty, while plaques listing the names of those fallen create a circle around it.
Across the quad stands a more recent tribute to the heroes of 9/11. Towering 40 feet high and featuring three firemen hoisting an American flag above the rubble of the World Trade Center, the bronze sculpture "To Lift A Nation" by Stan Watts is a massive structure that leaves quite the impression as much as it induces contemplative thoughts on sacrifice and service. It was a fitting start to a more sober mood of exploration that would continue with me as I visited Emmitsburg's more religious sites.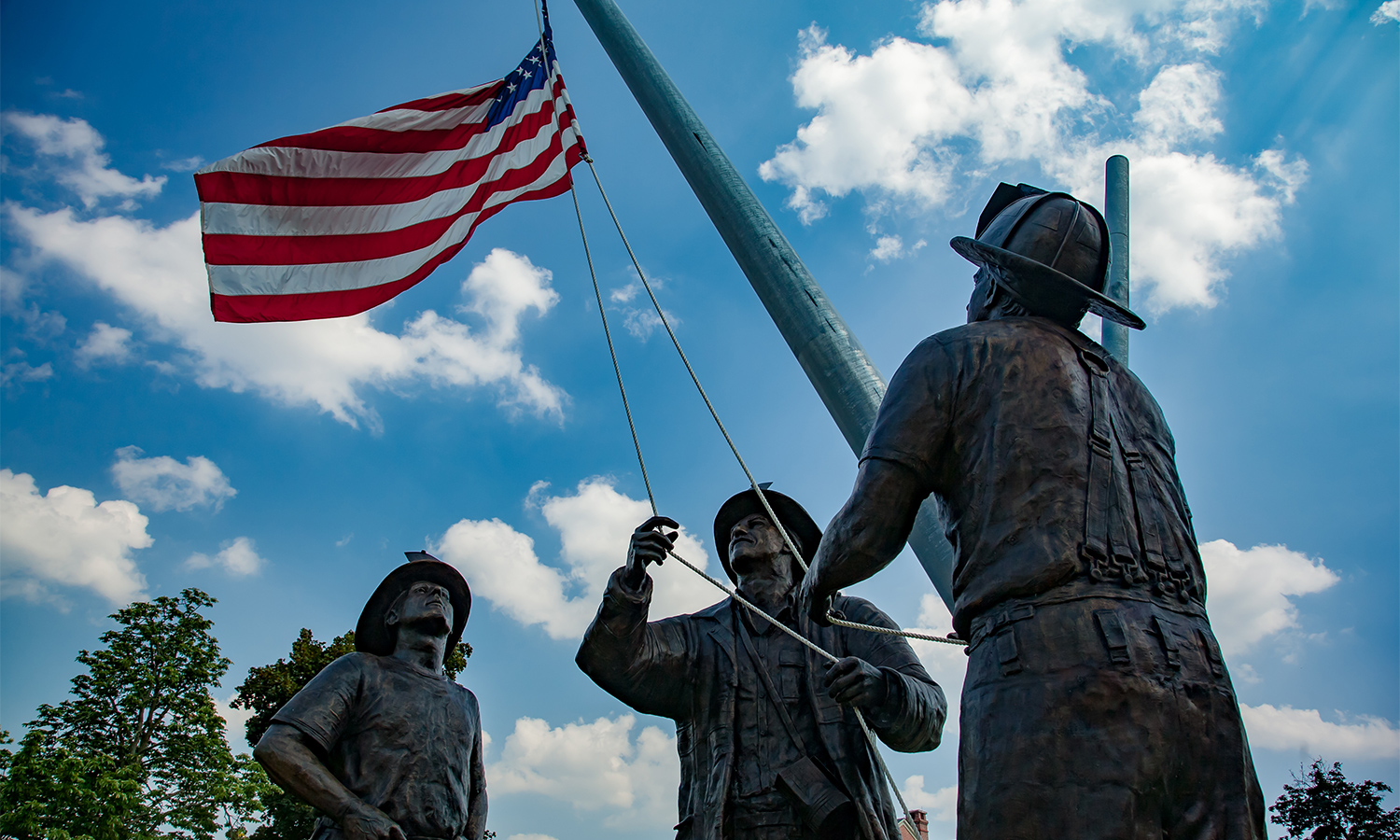 But first, lunch. The Carriage House Inn is clearly the area's highbrow dining destination, but it was closed on a Monday, and anyway I had my sights on what appeared to be a more institutionalized dining establishment on the town square. The Ott House Pub, a kind of monument itself, is cavernous and dark, offering straightforward but tasty pub fare, and proudly displaying uniform patches on every available bare spot of the wall given by visitors attending the National Fire Academy.
Next to the NETC is the National Shrine of Saint Elizabeth Ann Seton. The Seton Shrine is both a historical interpretive center and a functioning church hosting confession and mass every day.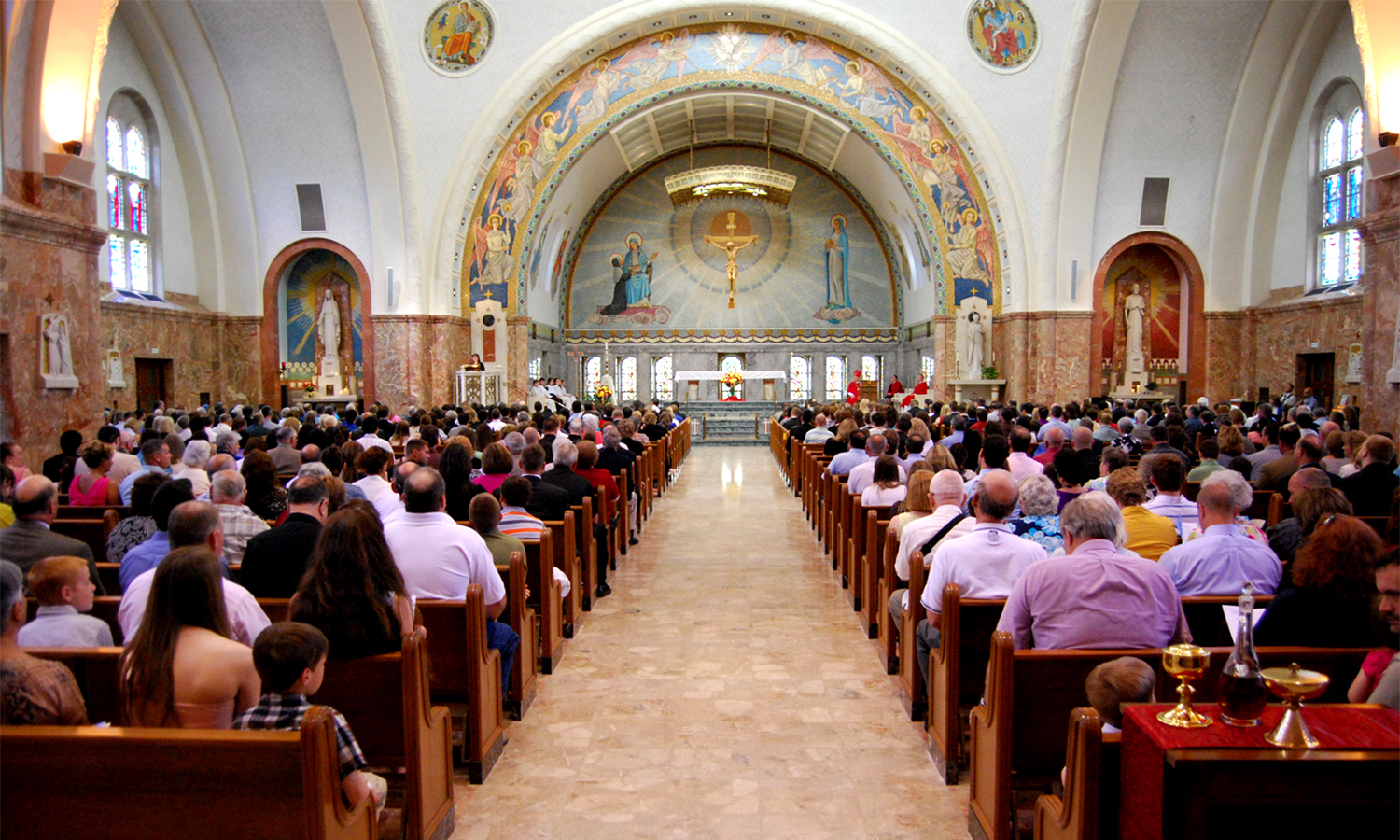 I arrived just before mass where the sanctuary, full of earnest practitioners of the faith engaged in their own silent supplication, left me feeling a little out of place as I wandered around to see the shrine where Saint Elizabeth Seton is interred.
The basilica is majestic and ornate, as is the shrine itself, but it's beyond the marble walls and stained glass to the grounds where the dutifully preserved historic structures from Seton's time there convey the more humble roots she thrived in, and give the best window into who she was and the time period she lived.
It was time to head to the Mount and on to the National Shrine Grotto of Our Lady of Lourdes nestled into Catoctin Mountain itself, overlooking a vast and unencumbered view of the valley eastward. This was a setting Seton described by saying "we are half in the sky; the height of our situation is almost incredible." A pristine setting, then, for what would later become a pilgrimage destination for Catholics across the world.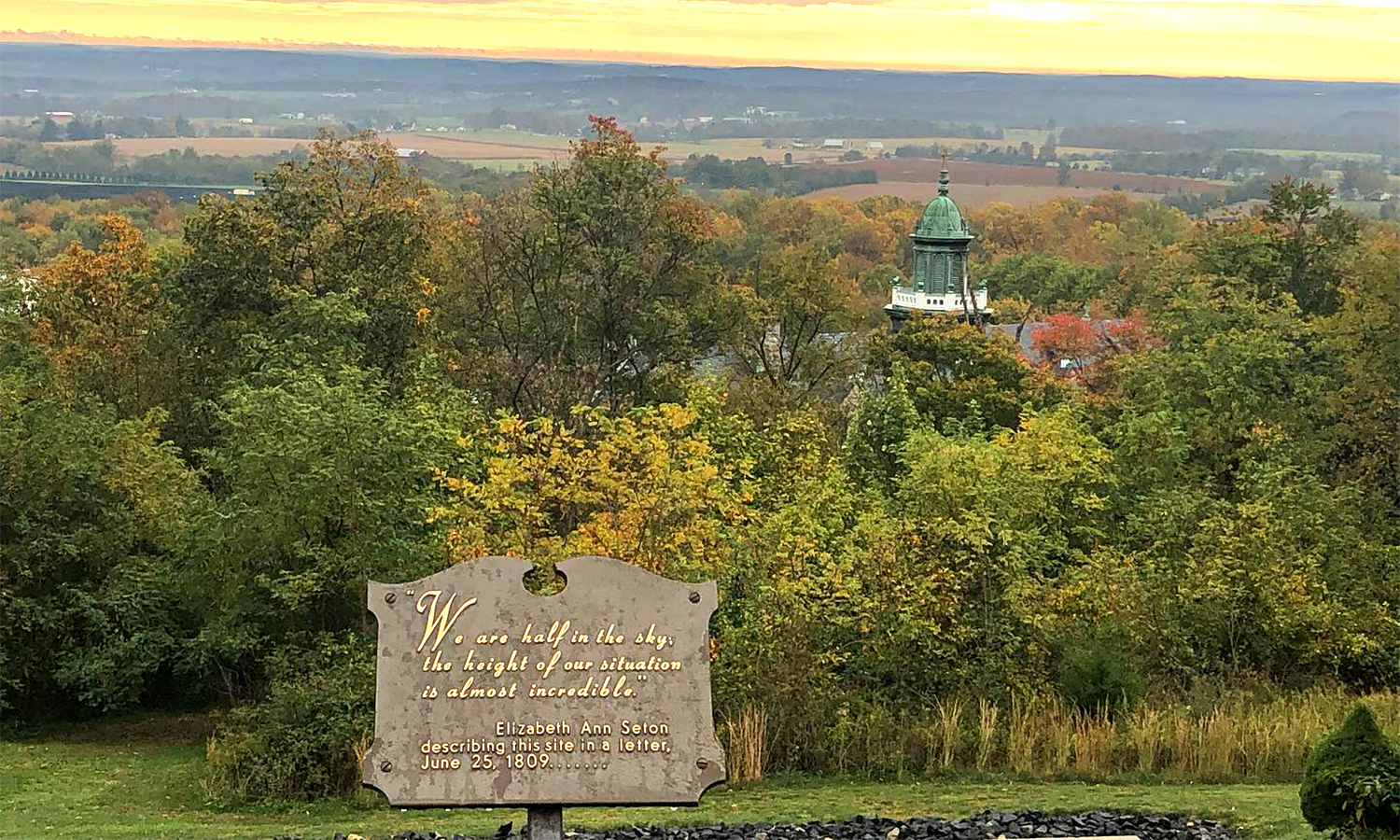 Visitors to the Shrine Grotto will first see a dramatic granite tower topped with a golden statue of Mary; a beacon guiding those making their way to the mountain. Beyond the tower and visitors center lies an inviting garden where a peaceful walk or meditative rest among fountains, statues, chapels, and mosaics all dotting the hillside landscape can be enjoyed.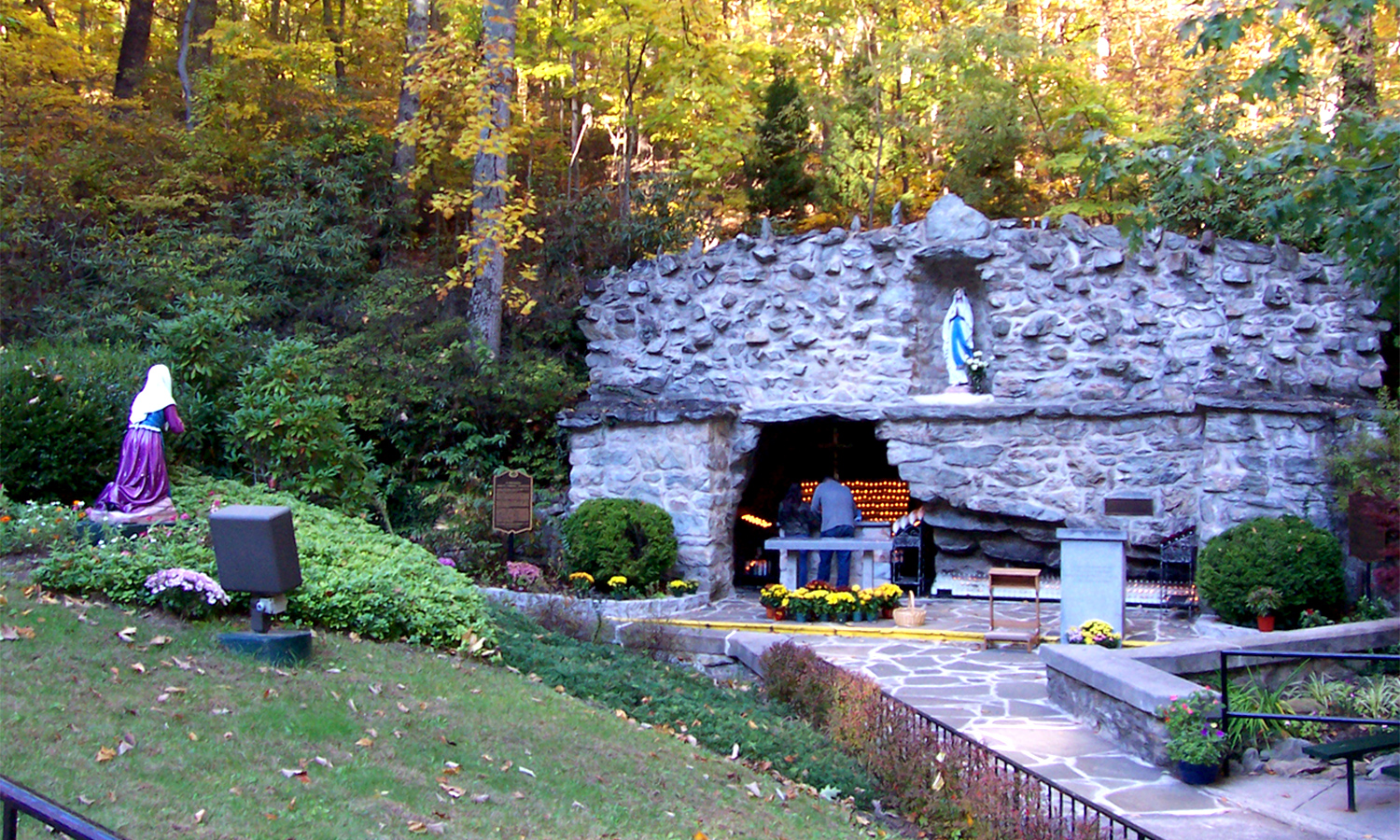 It's a portal to another world, really, and a place to wander at one's leisure, or to get lost in thought. 
Emmitsburg is a worthy detour while en route to Gettysburg. But if you have more time, it makes for a perfect day trip or a unique and spiritual personal retreat.
---
Lead Photo: St. Joseph Cemetery at Seton Shrine in Emmitsburg, MD. Credit: Courtesy of Visit Frederick
New to exploring Maryland, Joseph is always searching for that unexpected gem in unassuming places. From forgotten corners in big cities, to hidden historical markers in the middle of nowhere, he wants to find them all, and hit up every small town, museum, craft brewery and point of interest in between.