From Farm to Fashion: A Textile Trip Through Women's History

The story of textiles is, in large part, the story of women. Farm wives spun wool and wove cloth. Quilting circles created beautiful works of folk art. Dressmakers copied the European styles and cut gowns by hand until the industrial revolution when mass-produced and ready-to-wear garments started rolling out of factories. 
This story played out all across America. Today, you can trace its timeline as you visit museums and small businesses in three Maryland counties. The Heart of the Civil War Heritage Area, a nonprofit dedicated to preserving and interpreting our heritage, operates in Washington, Frederick, and Carroll counties and is a wonderful resource for history-themed road trips like this one.
Learn more about the integral role textiles played in women's history with a visit to Stitches in Time: Women's Work from Farm to Fashion at Heritage Frederick. Open through the end of December, this exhibit is organized in three sections—farm, factory, and fashion—and tells how women drove the change from hand-made to factory-manufactured textiles.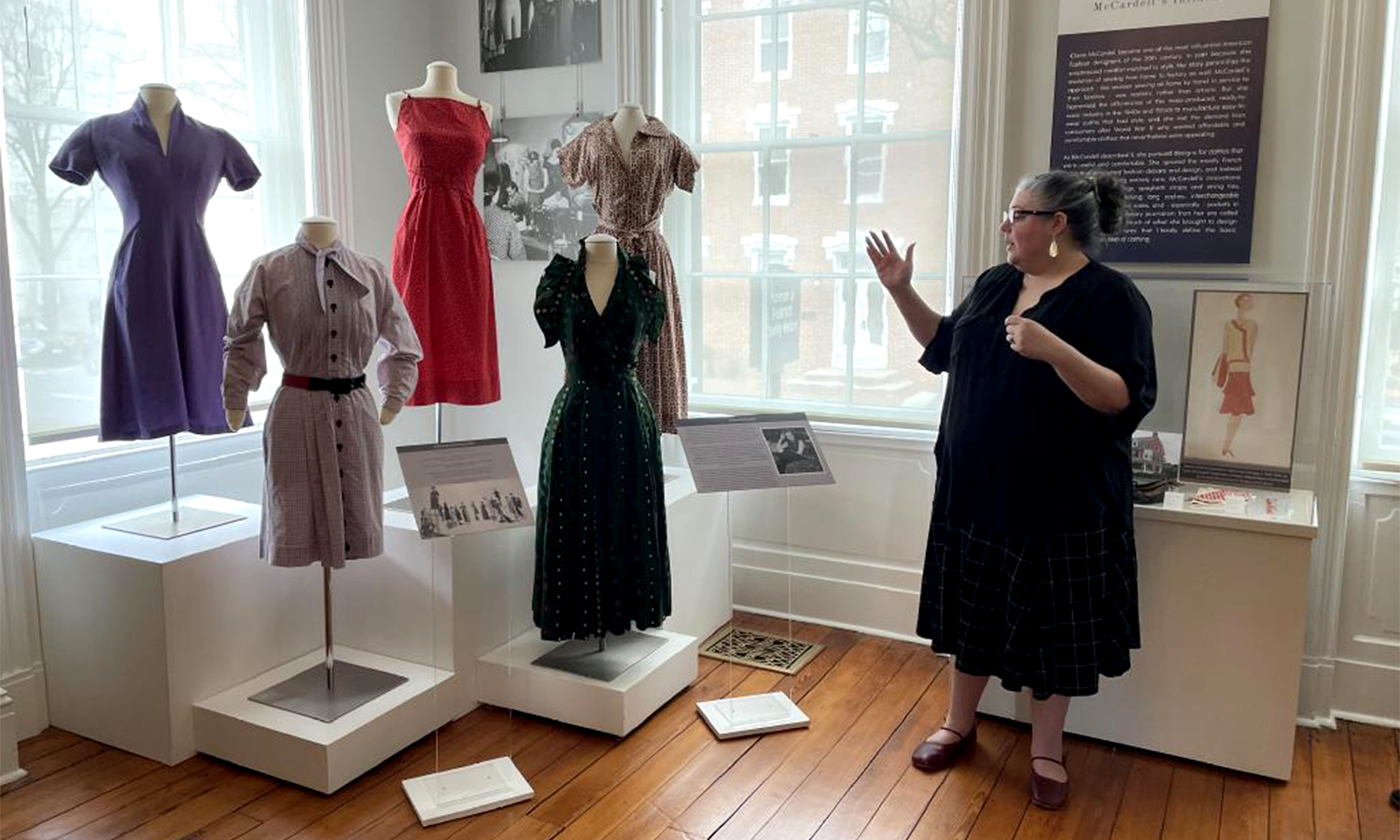 On display are spinning wheels, handmade quilts, antique sewing machines, knitting mill memorabilia, photos of area department stores, and a variety of gowns and dresses, spanning 120 years of history. Of special note are 10 wedding dresses that illustrate how fashion changed over the decades, starting with an 1823 Regency-style gown and ending with the wedding clothes of a World War II bride.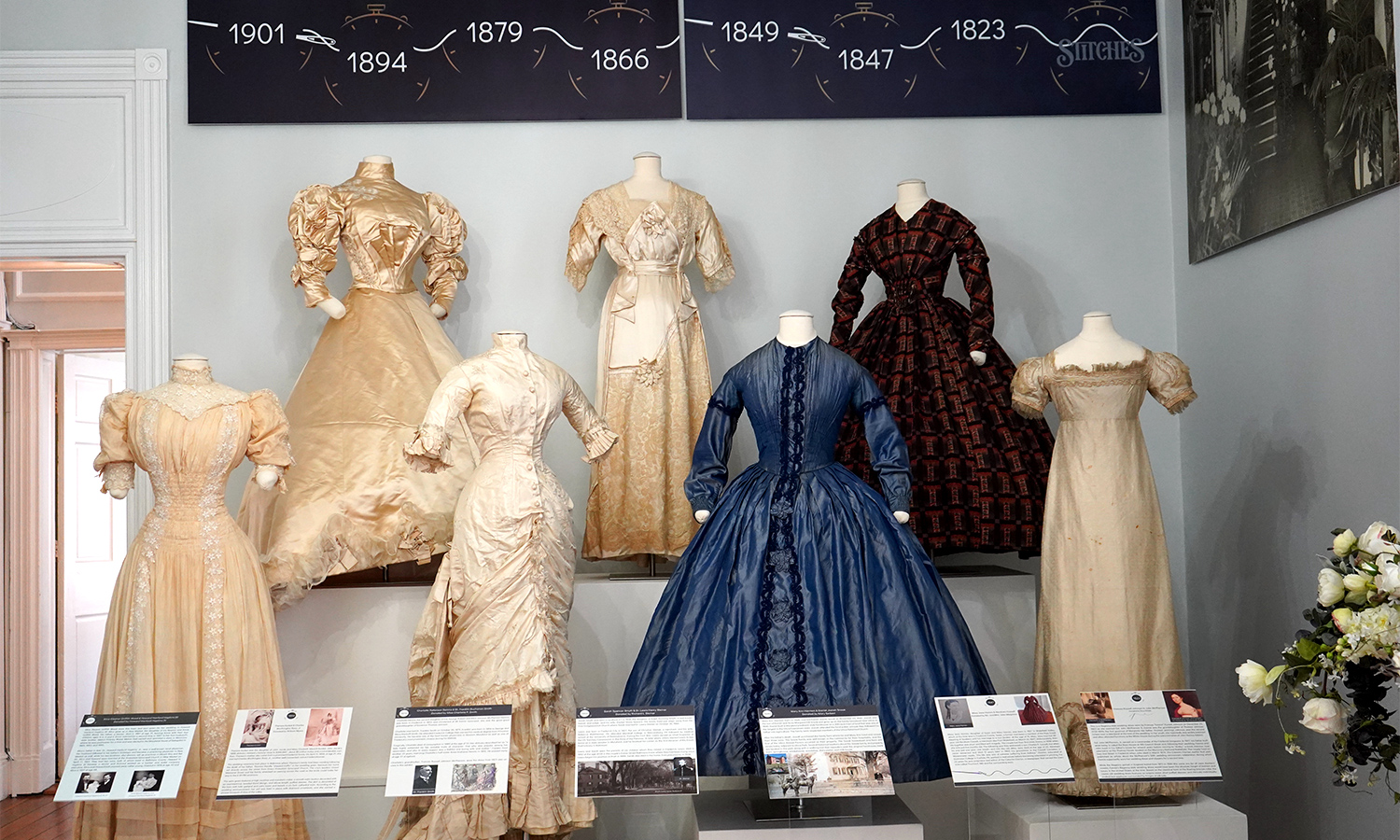 After admiring the handiwork and ingenuity on display at this comprehensive exhibit in downtown Frederick, take a road trip to experience the history firsthand.
On the Road
A visit to the Carroll County Farm Museum in Westminster offers a glimpse at the agricultural life of our ancestors. They offer spinning and weaving demonstrations during special event weekends, and a new exhibit featuring locally-made quilts and coverlets will open in mid-June.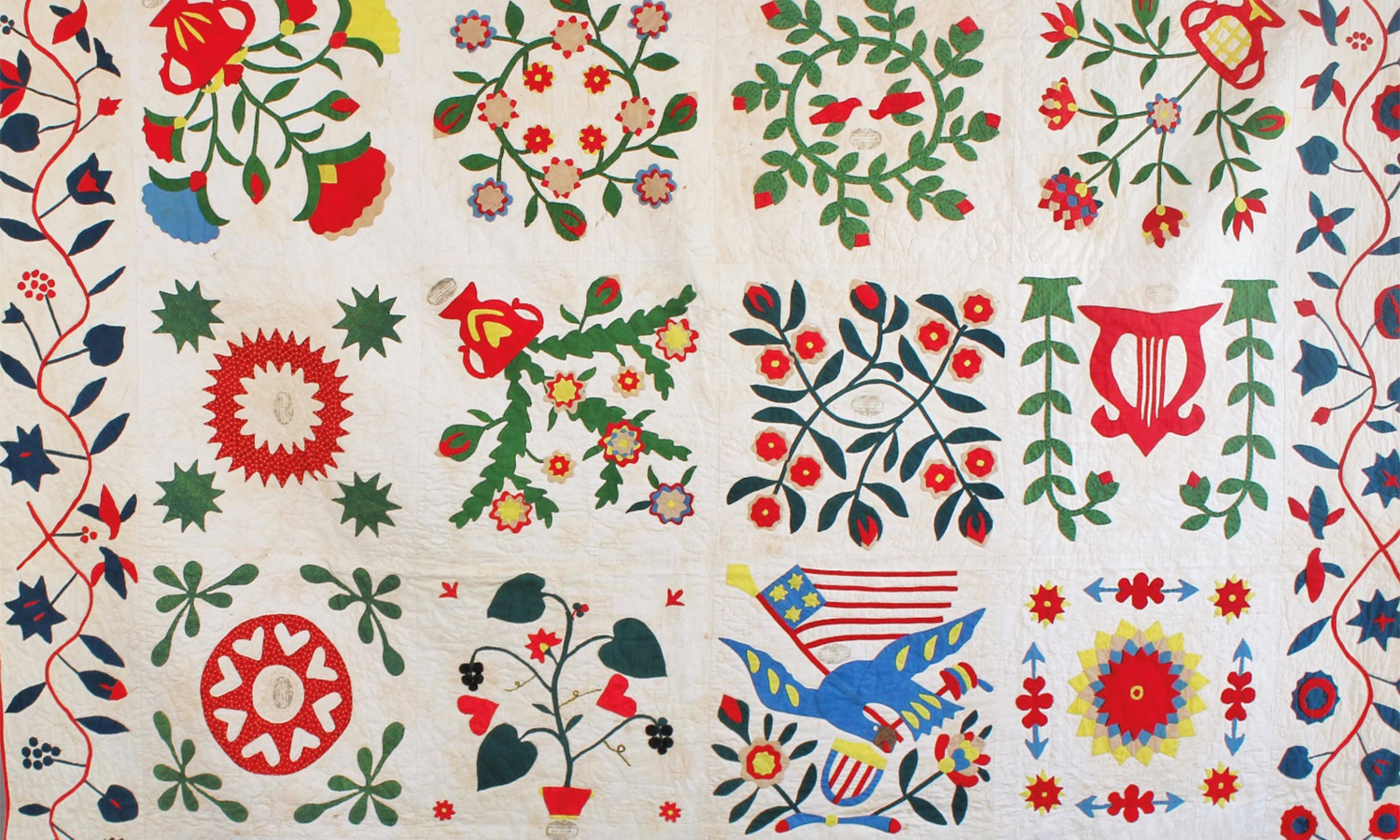 You will see a large collection of farm artifacts and machinery, as well as an 1880s farmhouse, and children will delight in the barnyard full of animals.
Several artisans in the area will let you try your hand at spinning wool into yarn. Both Withers Wool & Farm in Woodbine and Flying Goat Farm in Frederick offer classes, and during your visit, you can meet the flocks of sheep and goats selflessly giving up their fleece for your sweater.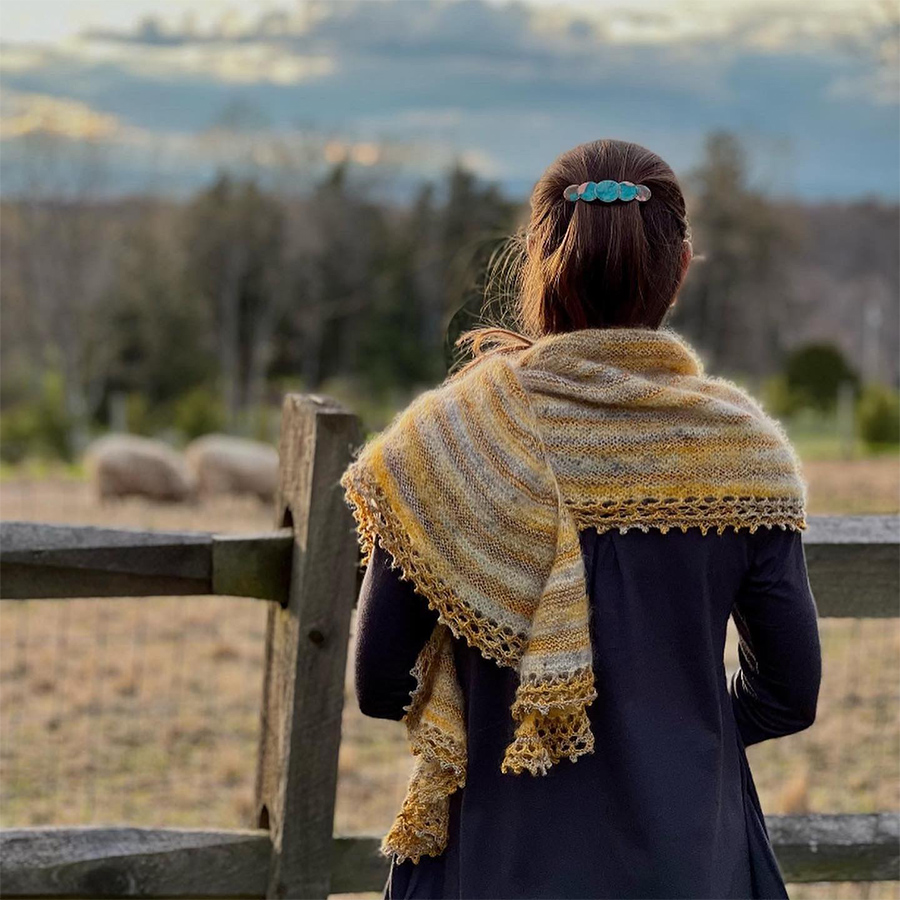 The monthly Fiber Arts Studio Tour is another opportunity to spend a day immersed in yarn and wool. 
The Washington County Historical Society and the Washington County Rural Heritage Museum, both in Hagerstown, also have textile artifacts on display, including spinning wheels, looms, and historic fashions for men, women, and children. 21st-century fashionistas will be fascinated by the undergarments our great-grandmothers used to transform themselves into hourglass silhouettes.
No textile exhibit is complete without quilts. These heirlooms are ubiquitous in family linen closets due to the vital role they played in women's lives, both functionally and socially. At first a method for fighting off the chill, quilts quickly became a way for women to exhibit their needle skills and artistry. Quilting bees became popular, where women gathered to collectively sew a quilt while sharing town gossip and new recipes.
By the mid-nineteenth century, friendship quilts were being created as gifts for friends and family. One such quilt is the Pry Quilt, made by the members of the German Reform Church in Keedysville in the early 1870s. The quilt was signed by the congregation and gifted to the Pry family, who lost their farm when the Battle of Antietam arrived on their doorstep in 1862. This gift, a reminder of the friends they were leaving behind in Maryland, traveled with them to their new Tennessee home and is now on display at Keedysville Town Hall.
Quilt designs were very personal, generally reflecting the creator's history, regional folklore, and religious beliefs. In the early 2000s, the quilting tradition turned into a public art movement when farmers began placing meaningful family quilt squares on their barns.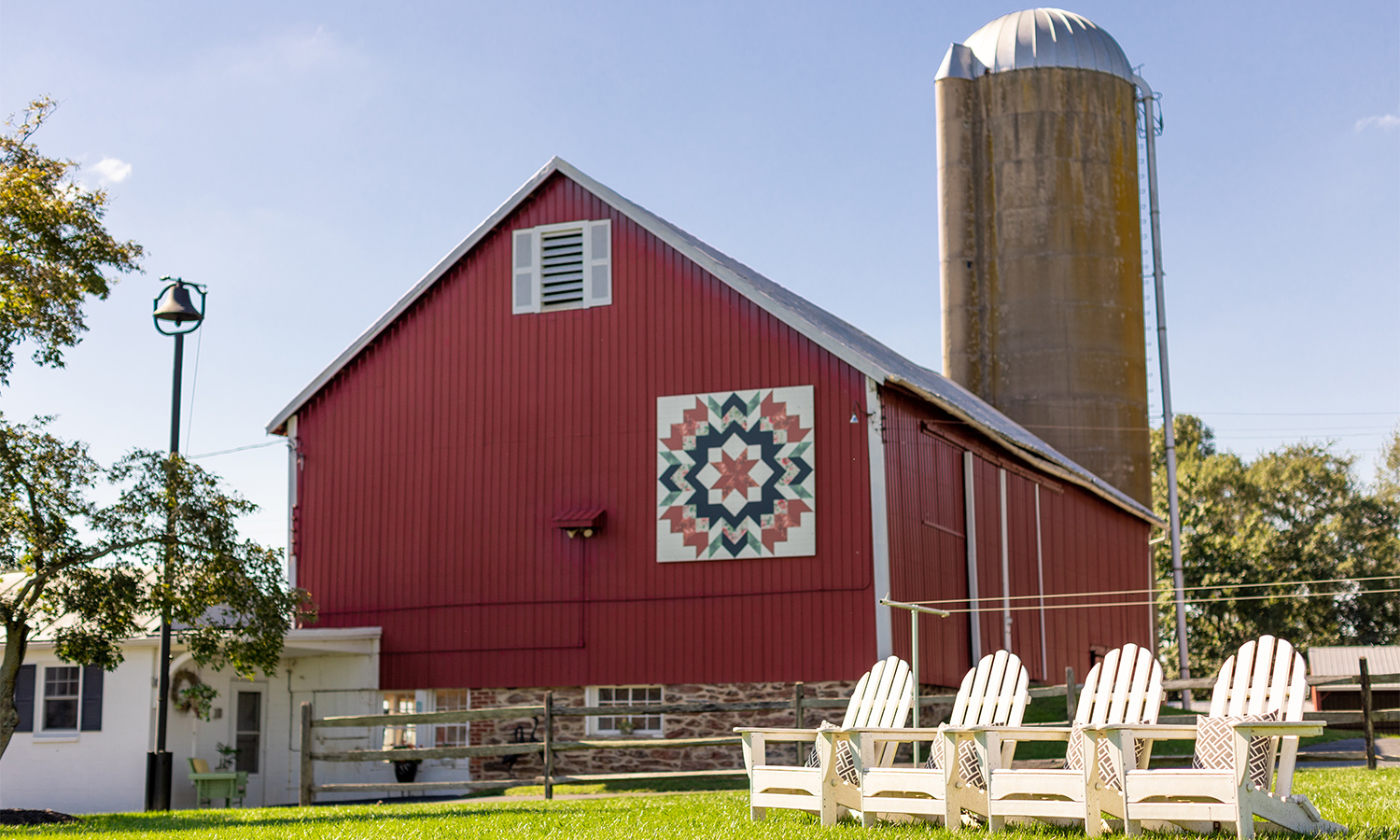 Today, you can tour over 40 of these folk art displays on the Carroll County Barn Quilt Trail. A copy of the Carroll County Barn Quilt Trail guide will provide you with the history of each barn and quilt square and can be a day-long adventure all by itself. 
Back in Frederick stand two monuments to textile innovation during the mid-twentieth century. A historic mill building on East Patrick Street was once the home of the Union Manufacturing Company, where stockings and men's shirts were manufactured until 1959. They were the first company in Frederick County to actively recruit women to work in factories, and, in many cases, women returned to the factory floor after having children because the jobs paid more than their husbands'. The company thrived until World War II ended when fashions changed and they were forced to shutter.
Now, this industrial structure (one of the few still intact in the city of Frederick) is home to Idiom Brewing Co., Steinhardt Brewing, and Union Mills Public House.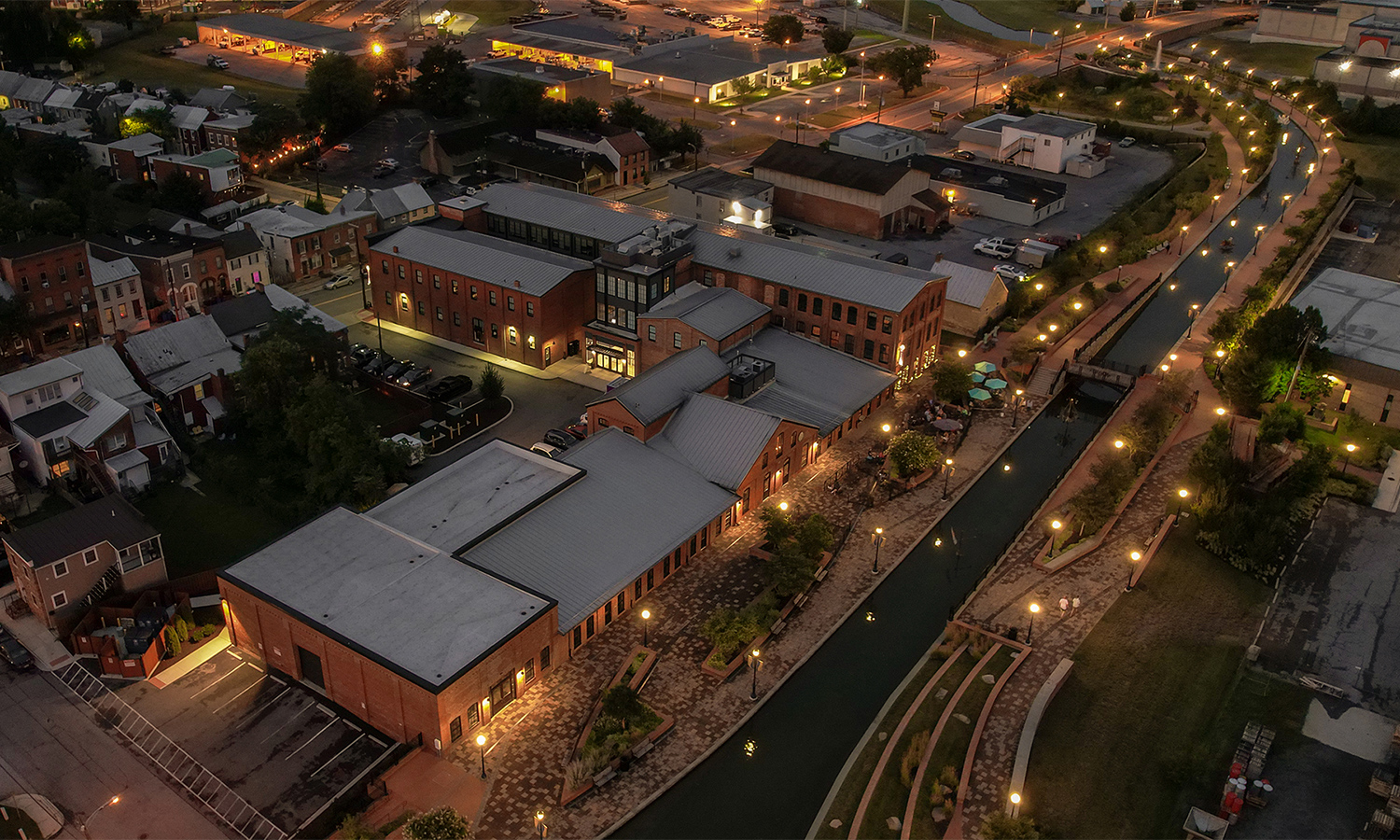 The other tribute to the fashion industry is just a few steps away along Carroll Creek Linear Park. You can't miss the seven-foot bronze statue of Claire McCardell, a Frederick native who pioneered comfortable, ready-to-wear clothing for women that were mass-produced and affordable. Casually leaning against a mannequin, and clad in her signature ballet flats and pocketed dress, McCardell's statue keeps this incredible entrepreneur's story alive to inspire another generation of women.
Before wrapping up your trip, purchase a few souvenirs to remember your day exploring textile history, and maybe even create something of your own. Primitive Homespuns Wool and Needlework and Charlotte's Cottage Quilt Shop are both located in Everedy Square and Shab Row, and Magpie Fibers is on the corner of Market and 2nd Street.
Mark your calendars for the Hagerstown Fiber Fest on Saturday, October 7, 2023. This first-time event will feature vendors selling yarn, crafts, and accessories; demonstrations of spinning and weaving; and local food and music.
____
This article is sponsored by the Heart of the Civil War Heritage Area. Maryland's Heart of the Civil War Heritage Area is Carroll, Frederick, and Washington Counties' certified Heritage Area. We highlight the region's historic places and diverse stories, welcoming visitors as they engage meaningfully with the past and make lifelong memories.
---
Lead Photo: Sean Reel for Downtown Frederick Partnership
Heidi Glatfelter Schlag is a marketer, history lover, and traveler who can often be found exploring museums, parks, small towns, and farms. She founded Culture-Link Communications, where she helps local nonprofits and small businesses build their brands. Heidi lives in Frederick, MD, with her husband and two dogs.