A Family Weekend in the Catoctin Mountains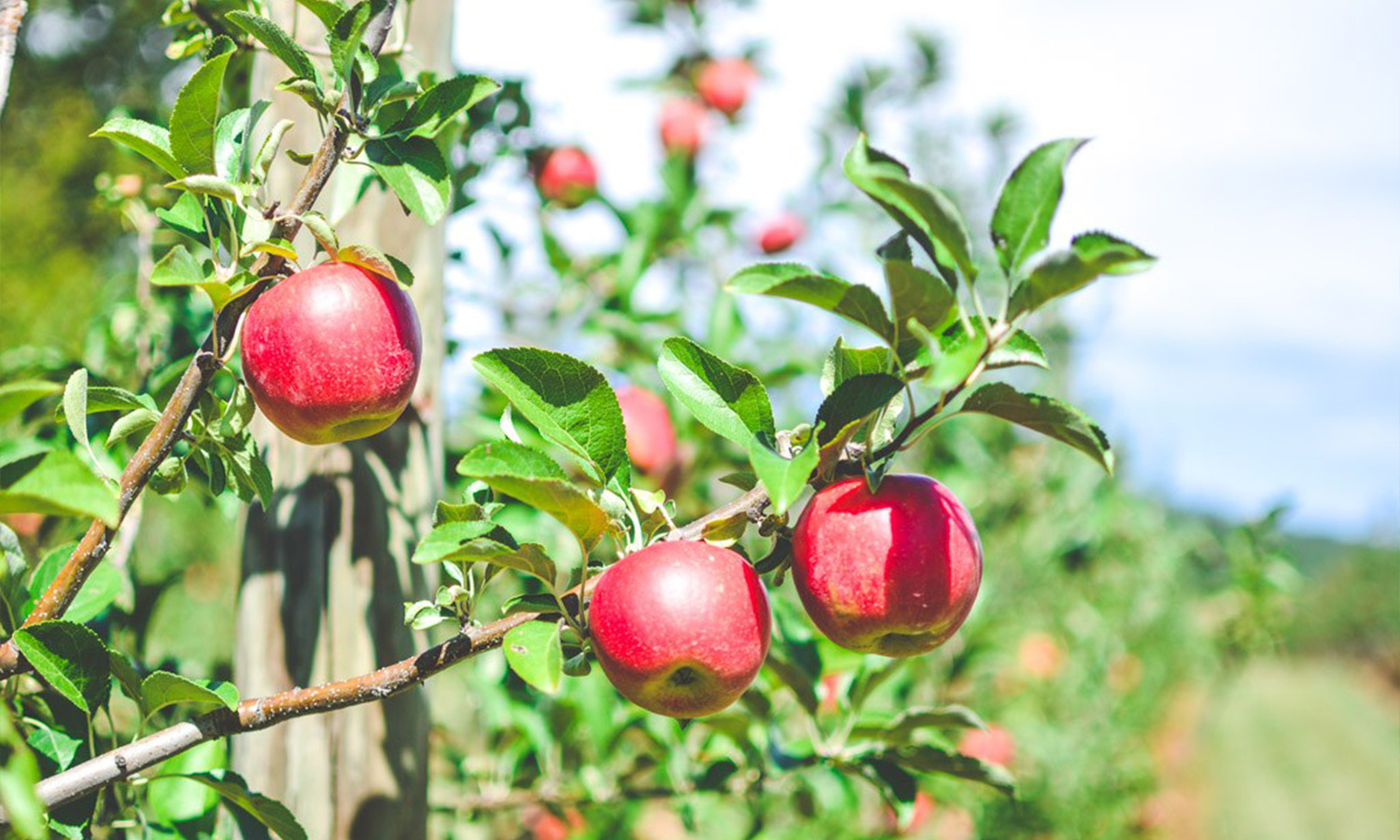 Being born and raised in Frederick, Maryland, I grew up hiking and exploring the Catoctin Mountains.  Now that I have a family of my own, we make sure to venture to the Northern tip of the county as often as we can. 
If you're looking for a weekend trip that will rejuvenate your soul and provide lasting memories for your family, consider escaping to the Catoctin Mountains.
The secret to a successful getaway with kids is finding a destination with plenty to do in short driving distance from your accommodations. The following Catoctin Mountain destinations are all accessible by the same highway, Route 15, and surround the town of Thurmont, Maryland. From the most southern destination (Ole Mink Farm) to the most northern destination (Catoctin Mountain Orchard) is just over a 5 mile stretch. 
Now it's time to pack up the family and head for your fall getaway to the beautiful Catoctin Mountains. 
Ole Mink Farm Recreation Resort
Ole Mink Farm Recreation Resort is a hidden gem tucked away in the Catoctin Mountains and is a great place to call home base on your weekend getaway. This family-run resort has been in business for over fifty years, and it is easy to see why. The resort offers various types of accommodations, such as seasonal campsites, pet-friendly log cabin-ettes, and luxury cabins.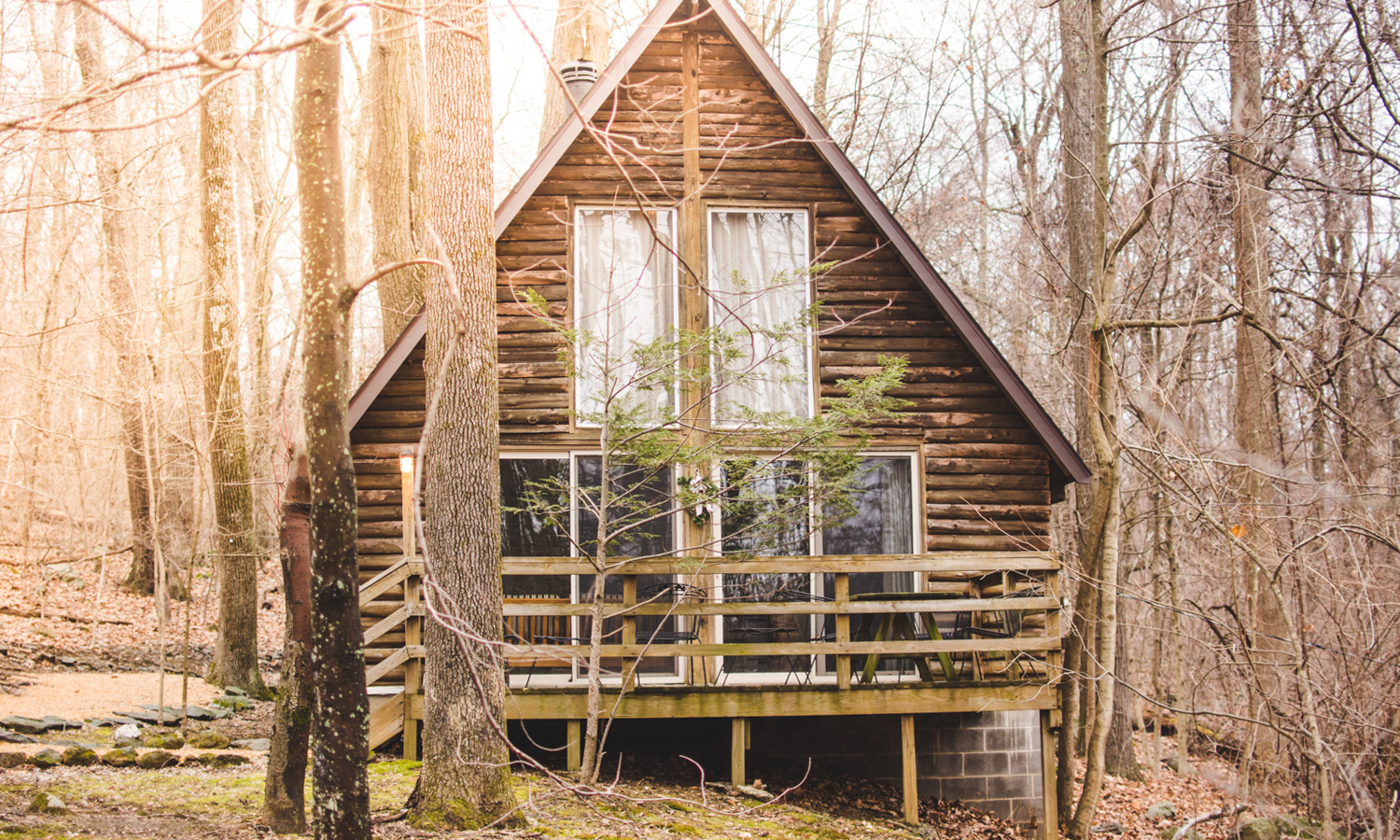 During the fall season, you can experience being surrounded by the beautiful changing leaves, whether you're cozied up inside or exploring the grounds. Kids will love roasting s'mores on the outside fire pits, climbing on the playground, and checking out the resort's game room. They even have Magic Pumpkin Patch — but keep this feature a secret from the kids! Upon check-in, children are given a pumpkin seed to plant in the pumpkin patch and water with the magical watering can. When the children wake up in the morning, a fully-grown pumpkin is waiting for them. How fun is that!?
Ole Mink Farm is also great for couples. Last year my husband and I decided to get away just the two of us. It was just what we needed to relax and reconnect.
Current COVID Regulations: Masks must be worn in the lobby/gift shop and outside when social distancing is not possible. The game room is available by reservation only (reserved in 1-hour slots, only one family allowed in at a time) and is thoroughly cleaned afterward. Each cabin is cleaned from top to bottom between guests, including all kitchen dishes. An ozone generator is run to help provide further disinfection in addition to allowing 24 hours in between guest reservations.  
Catoctin Wildlife Preserve
Perfect for kids and kids at heart, Catoctin Wildlife Preserve offers an authentic animal kingdom experience.  Featuring over 600 exotic animals over a 50-acre property, visitors are given a much closer view of the action than in traditional zoo settings. Upon entry, you will feel like you are in the wild with lush vegetation, impressive landscaping, and plentiful natural ponds, making the separation between you and the animals seem less noticeable. My favorite part of the Catoctin Wildlife Preserve is the animal petting area. For a small fee, you can buy food to feed animals such as pigs, alpacas, goats, and deer.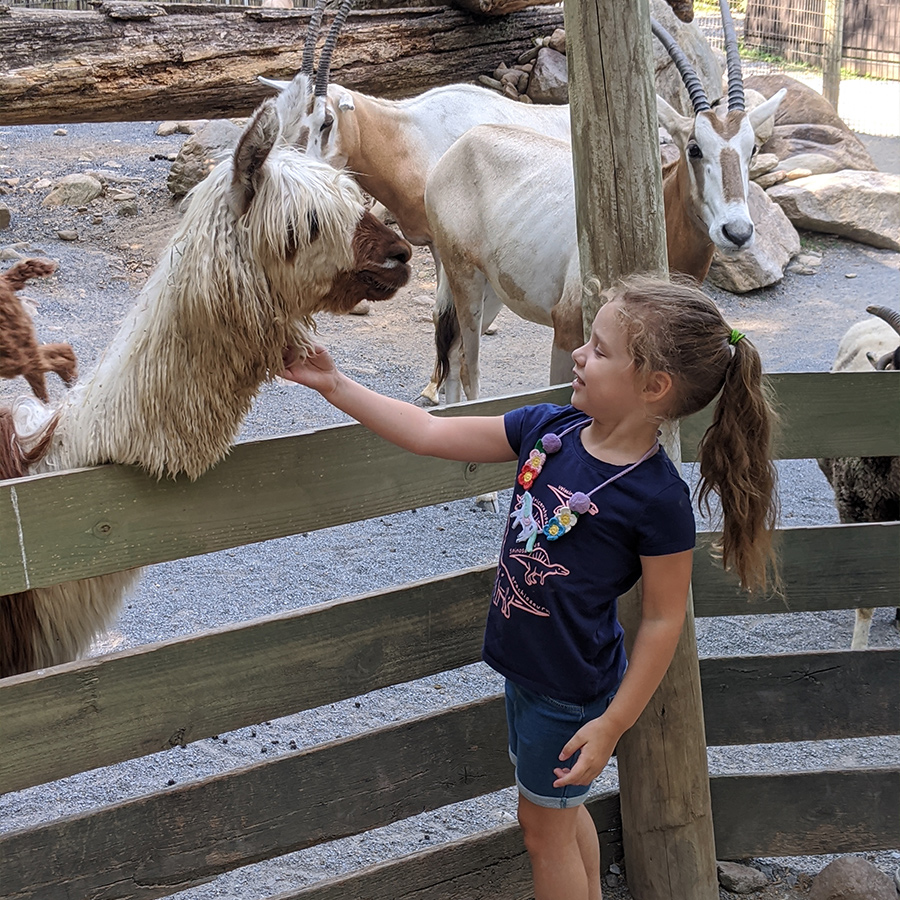 The preserve also offers an hour-long guided Safari Ride, which will leave your entire family in awe. You'll see a variety of wild animals such as zebra, ostrich, antelope, and buffalo. You will even get the chance to feed and pet them from the safari vehicle.  Please note that you must buy an additional ticket ($15 in addition to the entrance ticket price) to go on the Safari Ride. 
Tip: The Safari Rides sell out quickly so make sure to arrive early and purchase your Safari ticket when buying your entrance ticket. The gift shop has amazing stuffed animals and toys for purchase as a trip memento.
Current COVID Regulations: All guests must wear masks inside the ticket building, gift shop, enclosed animal buildings, restroom areas, and while on the Safari Ride. During COVID the Safari Rides are offered at 50% capacity. 
Cunningham Falls State Park
Cunningham Falls State Park is divided up into two sections. The William Houck area is home to a large lake that is great for canoeing, kayaking, and fishing. To see the famous falls, you can take the short Lower Trail, an easy, half-mile walk close to parking. The Cliff Trail also accesses the falls; it is ¾ mile long and covers rougher terrain.
The second section of Cunningham Falls State Park is the Manor Area. Kids will love checking out the Scales and Tales Aviary, which displays reptiles and birds that are local to the area. The Manor Area is also home to the historic Catoctin Iron Furnace that was first established in 1776 to produce pig iron. Tours of the furnace and nearby village are offered through the Catoctin Furnace Historical Society. Both areas have hiking trails and campsites that are available through October. 
Cunningham Falls State Park is a favorite of mine when it comes to bringing kiddos because of the easy accessibility options (easy hikes, plenty of close parking), private areas to rest/picnic, and the schedule of fun family events planned throughout the year. I'm especially looking forward to taking my son to the annual Maple Syrup Festival in early spring. 
Catoctin Breeze Vineyard
Catoctin Breeze Vineyard is one of my favorite wineries in Frederick County. Not only is their wine exceptional, but also the atmosphere is warm and welcoming. Once you enter the tasting room you will see a massive stone fireplace that is optimal for those chilly fall days, feeling as if you are in an upscale lodge. 
The outside sitting area at Catoctin Breeze has spectacular views of the mountains and vineyards with various sitting areas including a fire pit.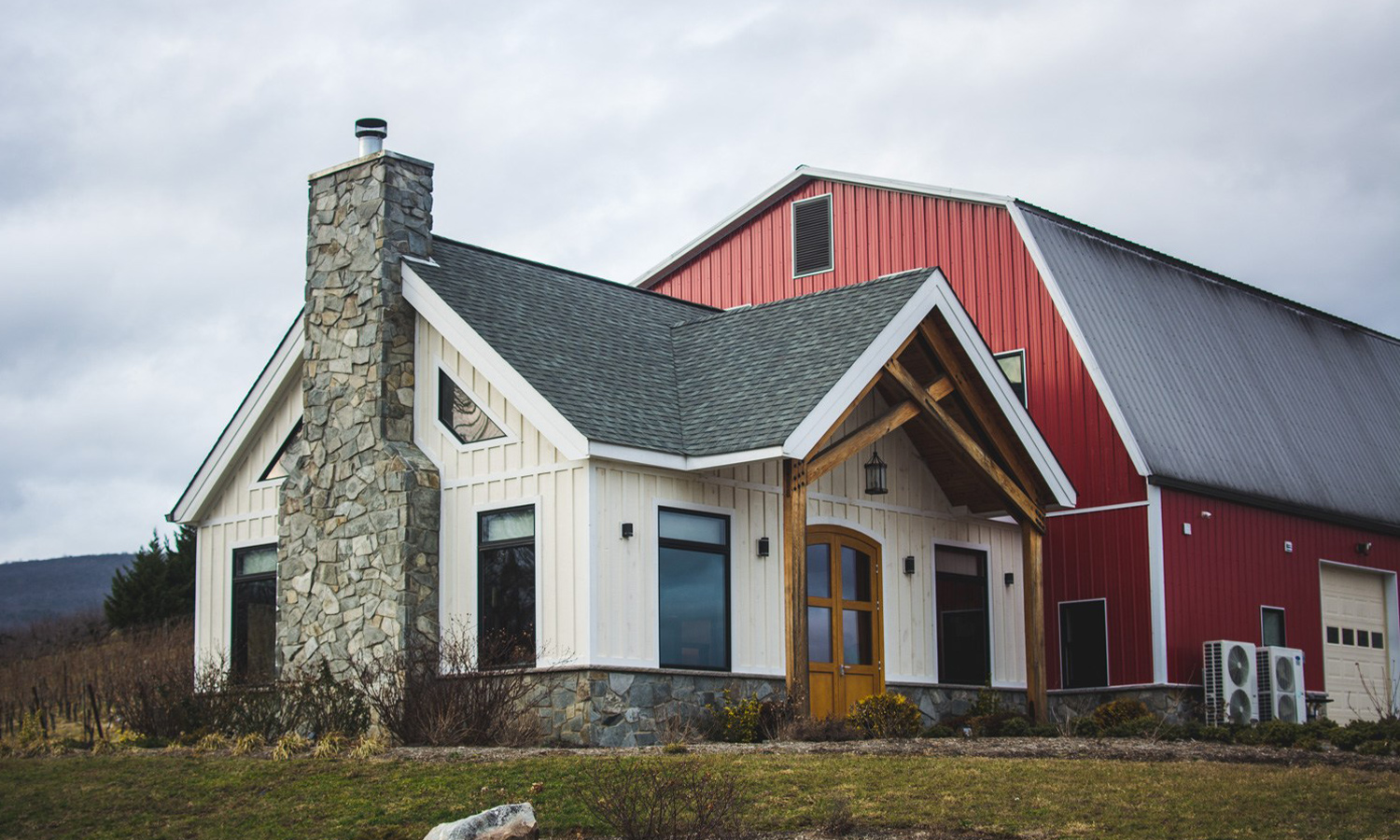 Many fall weekend nights at the winery include some type of entertainment, whether it be a live band, which is free for patrons, or a ticketed event such as 'Wine and Spirits', which includes wine and ghost stories from the area around a warm fire. You can also indulge in some of the local food trucks on weekend evenings. Bringing your own food is also allowed. 
Catoctin Breeze is family-friendly; and well-behaved, leashed dogs are also allowed. Both your kids and dogs need to be supervised by an adult. When visiting, be sure to bring items to keep your kiddos entertained at the table, such as Jenga (a personal favorite) or Uno. You don't want to be the parents with their kids running around and bothering other guests! 
Current COVID Regulations: Guests must wear masks inside while not seated at their table or at the main serving bar. Private tasting reservations both inside (in a separate area) and outside are available upon request. 
Catoctin Mountain Orchard
In our family, trips to Catoctin Mountain Orchard are a frequent occurrence. Catoctin Mountain Orchard is located right off of main highway 15  (approximately 2 ½ miles from downtown Thurmont, MD) and has been serving the area with fresh produce, baked, and jarred goods since the 1960s.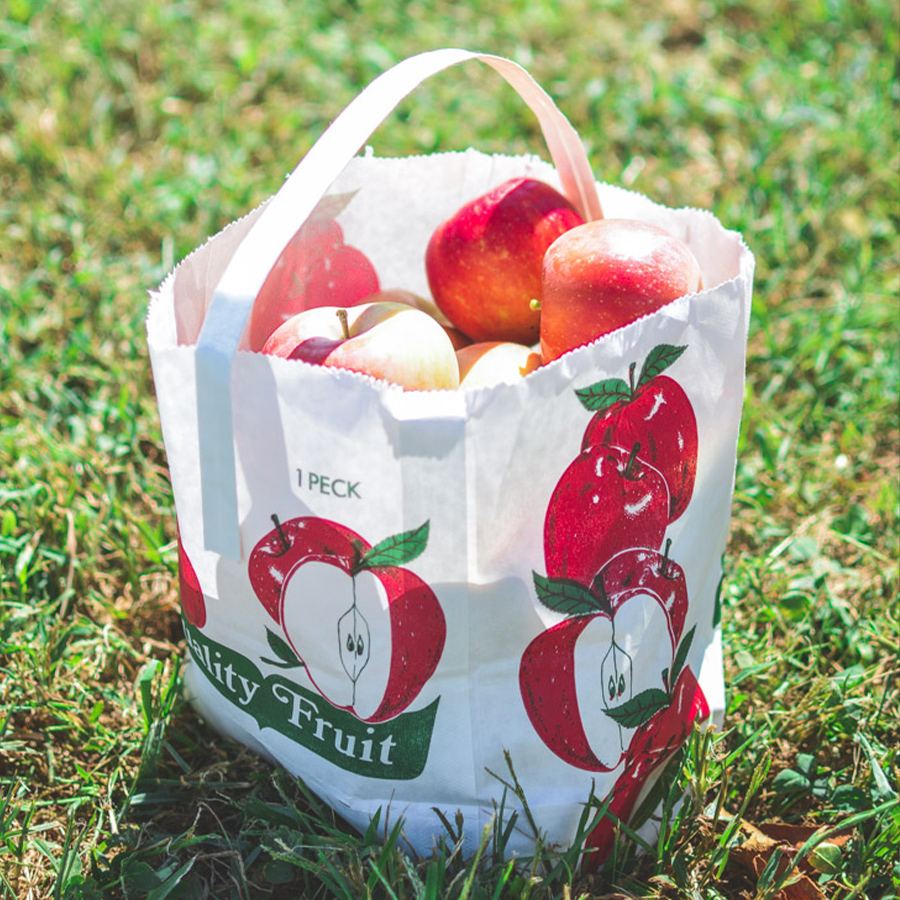 The grounds boast a fun playground area for the kiddos to let loose on as well as seasonal fruit and flower picking. When entering the Orchard's enclosed market, you will instantly smell the amazing homemade pies and other sweet treats being baked right on the property. I love their fresh apple cider donuts, apple pies, and gingerbread. Pick up some goodies for a family picnic, as an after hike reward or to take back home with you. 
During the autumn season, your family can enjoy picking your own apples from the orchard. The entrance fee is $3 per person (for those ages 3 and over) and includes a hayride to the apple picking area and back. Depending on the week of your visit, there are different varieties of apples that are ready to be picked. Whether you are an apple fan or not, you will build lasting memories with your family at Catoctin Mountain Orchard while exploring the grounds and market. 
Current COVID regulations: All visitors must wear a mask inside the market, in line at the apple bag purchase counter, and while on the hayride. 
Additional Tips
: 
Maryland weather is all over the place, especially in fall. Pack layers and rain gear so the weather won't hinder your fun! 

Check each venue's website for events and up to date information as they are subject to change.

Cell reception can be spotty, especially in the mountains and park areas. Plan accordingly and remember that getting lost is half the fun!

Looking to extend your road trip? Frederick County has so much to offer. Be sure to check out the

Frederick County Tourism Website

for more fun things to do in the area while on your road trip. 
While You're in the Area:
The below additional destinations add an additional 5 miles to your trip, making the stretch 10 miles along main highway 15 and are in order from most south to north.
Springfield Manor Winery, Distillery and Brewery– This spot is perfect if some folks in your group are not wine lovers, as they also have award-winning spirits and a brewery. During the fall you can enjoy live music, food, and warm fires on their large patio. 
Pryors Orchard– Another local orchard known for great pick your own fruits
Farmhouse Exchange– A meat, produce, and deli market. Perfect for picking up a picnic lunch.  I have heard great things about this place!
Gateway Market and Candyland– Perfect for kids and those young at heart. Shop over 500 varieties of candy, including those from yesteryear.
Catoctin Mountain National Park– Located right next to Cunningham State Park, here you can explore 18 miles of trails of all difficulty levels with beautiful vistas. 
Historic Covered Bridges – Explore three beautiful historic covered bridges that were constructed in the mid/late 1800s. 
National Shrine Grotto of Our Lady of Lourdes– Located at Mt. Saint Mary's University. Free entry and open to the public daily from 8:30am-5pm.
---
Lead Photo: Tara Butler
Tara is a born and raised Maryland girl from Frederick County. She loves sharing all about her travels, food experiences, and fun events on her lifestyle blog, Lace and Grace Blog. She lives with her husband, two young sons, and pup. In her spare time, she loves to be outside, explore new places, entertain friends/family, and go antiquing. Follow her on Instagram at @lacegraceblog.