Prospect Point Brewing Checks All the Boxes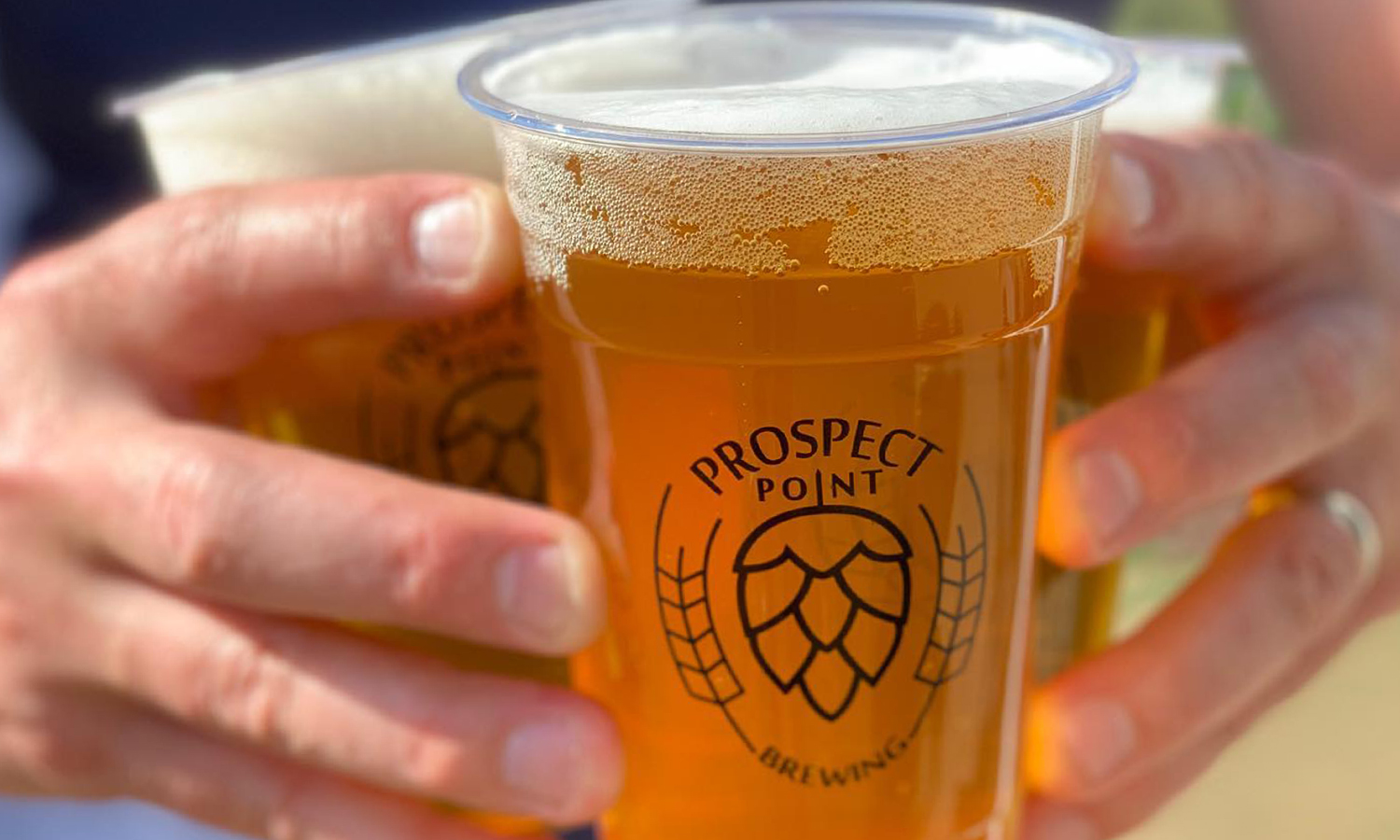 What do you look for in a brewery? Obviously good beer. But how about plentiful seating? Gorgeous views? A place for the kids to play? A dog-friendly atmosphere? Yummy food? Prospect Point Brewing, a relative newbie to the Frederick beer scene, checks every one of these boxes, and then some.
We visited the farm brewery on Memorial Day Sunday. After traveling two miles south on Jefferson Pike from 340, we turned right into an unassuming drive lined with twinkle lights and followed the path to an equally unassuming white, one-story building. But the size of the parking lot lets you know that Prospect Point draws crowds.
We brought our dogs with us since the brewery welcomes canine companions both indoors and out. Since the weather was perfect—mid-seventies and sunny—we selected an outdoor picnic table equipped with a red umbrella and got settled.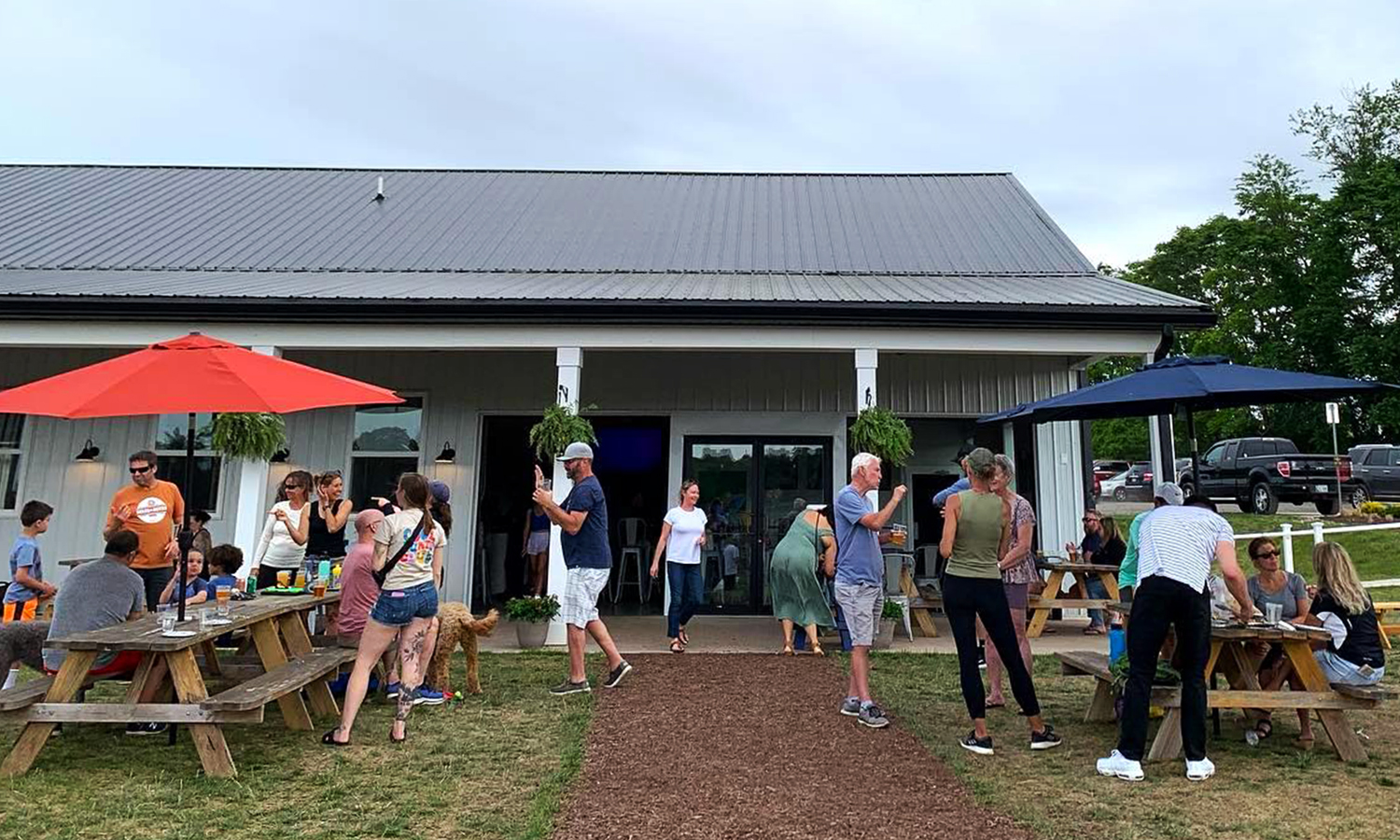 Every seat in the outdoor area behind the brewery is a good one, with scenic views of farmland, foothills, and Braddock Mountain. More picnic tables, along with Adirondack chairs and fire pits border a nine-acre hop yard, and people are able to pull the chairs up to the tables to accommodate larger groups.
Prospect Point is owned by brothers Nick and Dan Carroll, who purchased the farm on which the brewery sits in 2014. After nurturing their tap room dream through the pandemic, they finally opened its doors to the public in May 2022.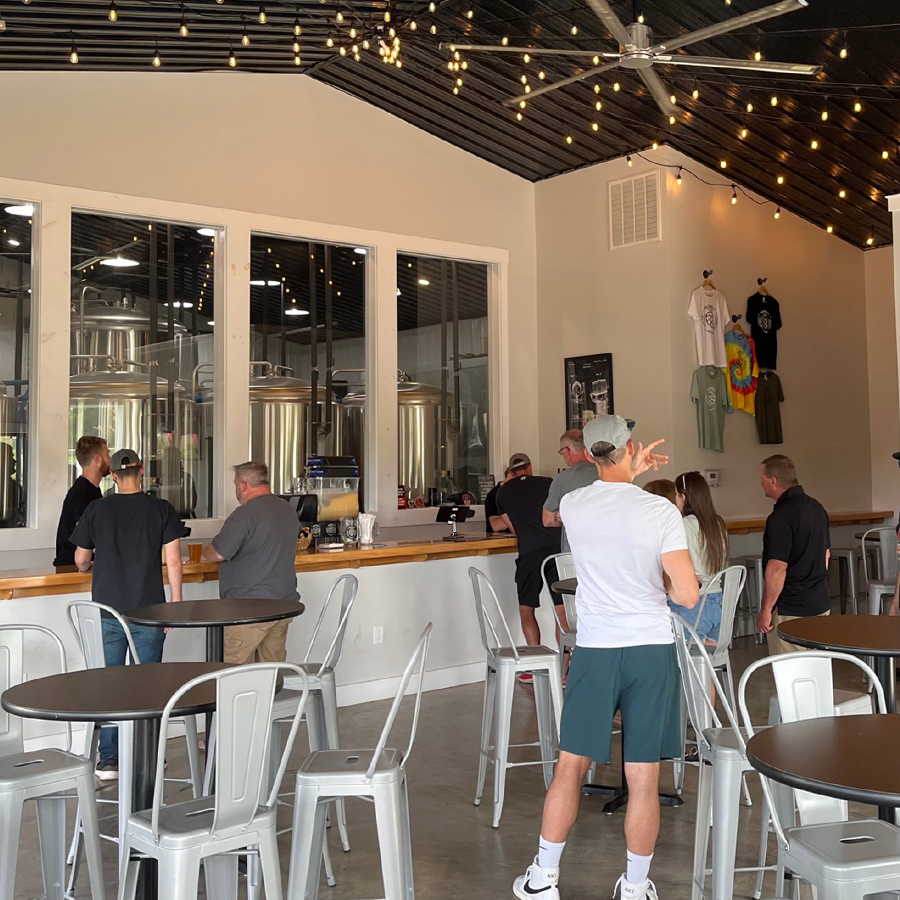 We headed into the tap room, an industrial-style space with a tin ceiling, metal chairs surrounding high tops, several flat screen tvs, and large windows behind the bar displaying the 10 bbl brewhouse and four 10 bbl fermenters. Joe selected the American Pale Wheat Eat Your Wheaties, a crisp, clean beer perfect for the mild summer day. I went with a peach seltzer slushie that was so delicious, I ended up recommending it to other customers throughout the day.
Diego's World Food Truck was parked out back, and we headed there for lunch. (A schedule of food trucks can be found on the Prospect Point Brewery Facebook page, along with musical guests.)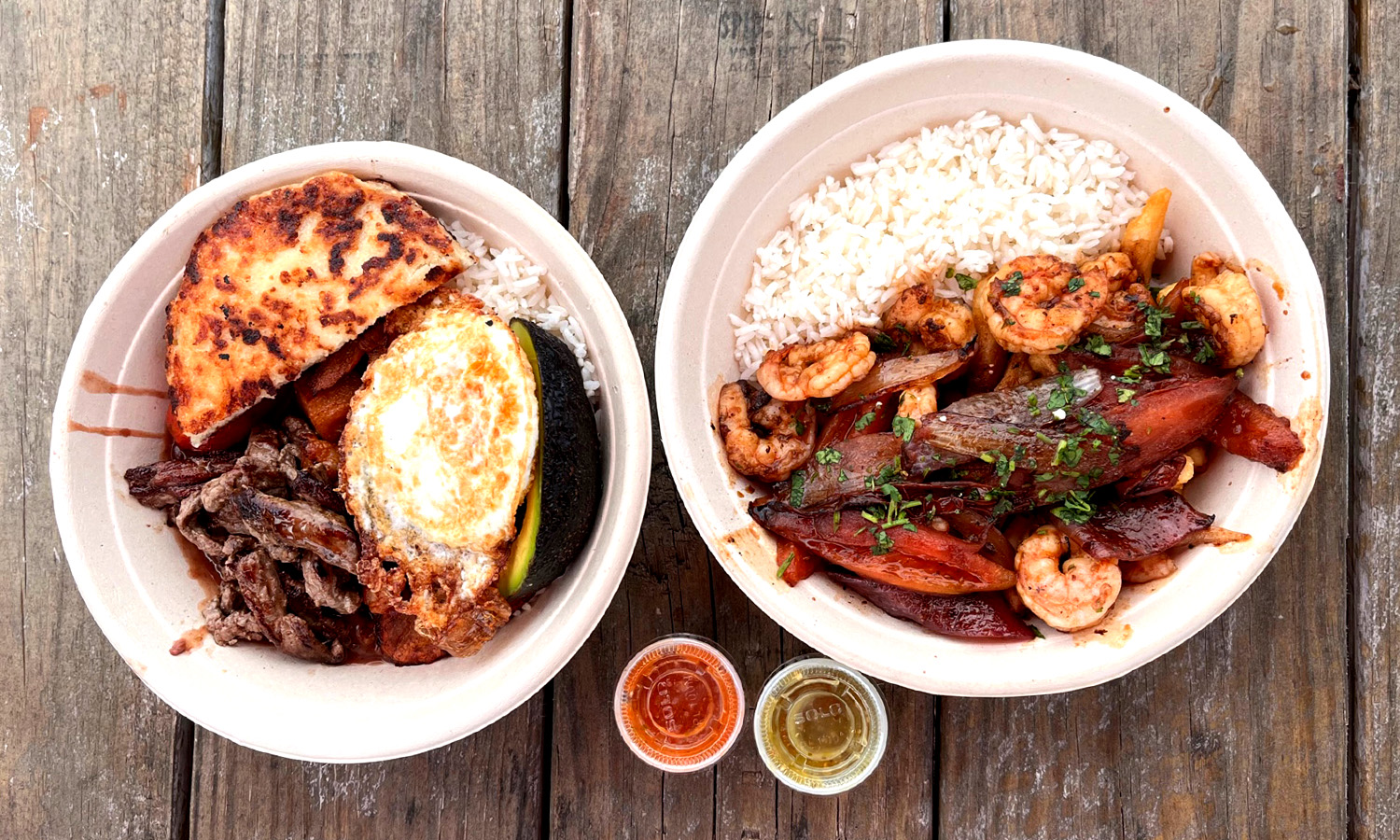 My Lomo Saltado bowl had Peruvian stir fried tomatoes, onions, and shrimp, served over white rice and french fries, while Joe's Bandeja Paisa Bowl contained marinated steak, Colombian chorizo, pork chicharon, red beans, rice, fried sweet plantains, sliced avocado, and arepa, all topped with a fried egg. Everything was delicious.
We reloaded on beer, this time choosing a flight of four: the mango and blueberry sours for me, and the Westward Bound IPA and In A Pinch NEIPA for Joe. My sours were a perfect mix of fruity and sour, without being lip-puckering.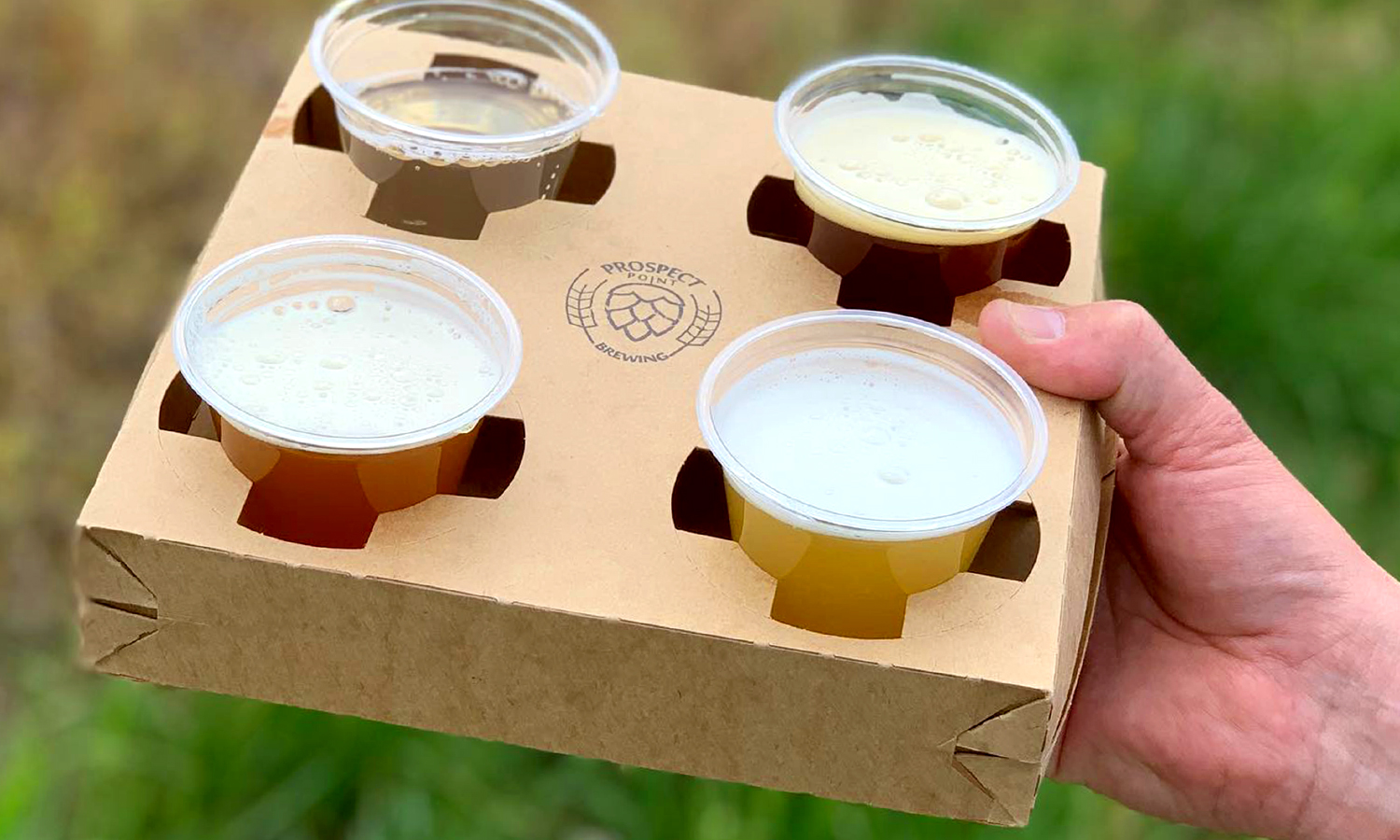 Joe enjoyed both of his selections, especially the Westward Bound, which was hoppy with a hint of spiced orange peel. He finished off his day with a full pour of that beer. 
All around us were friends and families celebrating the arrival of summer. The family at the next table (who enthusiastically thanked me for my peach slushie recommendation) were introducing a newborn baby girl to the extended family, while on the other side of us, a group of college friends reunited. 
Judging from the beeline children were making to the playset in the hop yard, Prospect Point is equally fun for younger guests. Besides the slide, monkey bars, and small climbing wall, the brewery offers a lot of open space for kids to run. Our table neighbors told us that there were so many children there one Friday evening, a big touch football game had started up.
After playing a board game and soaking in the views, we packed up and headed for home. "I loved every beer I had today," my husband told me, high praise from the beer connoisseur. 
I loved the laid-back atmosphere, the fact that the music was soft enough that I could hear conversation, and that I felt truly relaxed after our visit. We will be back soon!
If you go: Prospect Point Brewing is open Thursdays-Sundays. They are hosting their first car show on Saturday, June 17.
---
Lead Photo: Prospect Point Brewing
Heidi Glatfelter Schlag is a marketer, history lover, and traveler who can often be found exploring museums, parks, small towns, and farms. She founded Culture-Link Communications, where she helps local nonprofits and small businesses build their brands. Heidi lives in Frederick, MD, with her husband and two dogs.