My Mid-Week Road Trip to Boordy Vineyards

I recently returned to Maryland after a stint working in California wine production. I had a great time, but Mid-Atlantic wine has my heart. In 2023 I am on a mission to taste as much as I can of what my home state has to offer. My first stop: Boordy Vineyards in Hydes, Maryland. 
Boordy Vineyards is the oldest bonded winery still making wine in Maryland. Officially, their first legal vintage was in 1945, but founders Philip and Jocelyn Wagner made home wine and helped other people do the same since prohibition. The Wagners retired in 1980, and the Deford family bought the business and still runs it today. 
This isn't just a story about wine, though, but also about a road trip. (I consider myself qualified to speak on the topic, as  I just completed my sixth solo cross-country drive.) In my experience, a 'road trip' isn't a definable distance or destination but a state of mind. 
The first tenet of a good road trip is freedom—a break from the obligations and conventions of everyday life. One of the joys of staying local, and going solo, is the ability to leave whenever the mood strikes. I had no plans when I woke up one weekday in December, but by 3 p.m. that day, I had left my home in Olney to head to Hydes.
Halfway there, circumnavigating Baltimore city, I passed the smokestacks and giant fiberglass pineapple I remembered from the northbound road trips of my youth. If you planned better or just got the itch for a trip earlier in the day, you could stop in the city to eat or drink. 
The second feature of a good road trip is that it reminds you that no matter how many places you've been, there is still so much to see—especially of the prosaic, quiet places tucked between major cities. I've lived in Maryland most of my life, but nothing is familiar once I'm past Baltimore. Coming up on Boordy Vineyards, the scenic agricultural landscape appeared frozen in time. It isn't really; farmers work the land throughout the year to provide for our modern life. It certainly was frozen, though. In a true testament to the time of year, I watched the biggest flock of crows I have ever seen descend on a field to glean the abandoned remnants of a summer corn harvest. A mile later, I turned into Boordy Vineyards.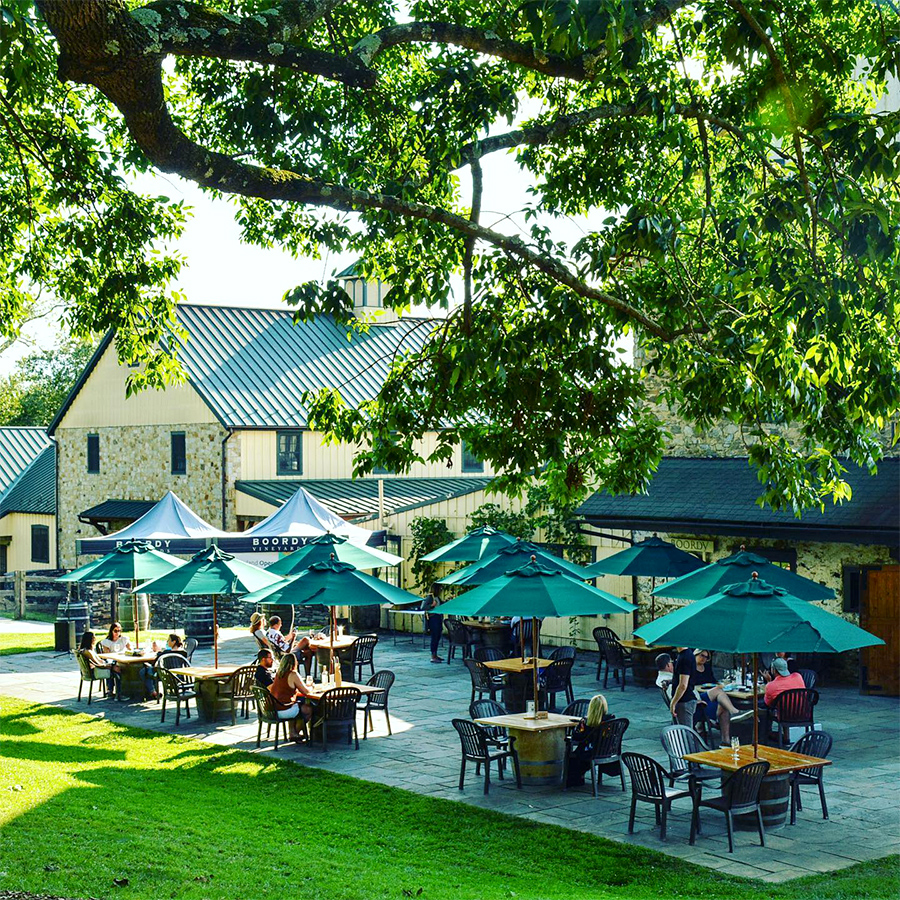 The high season for visiting vineyards is the summer and early fall. You can come with a crowd of friends and family to see music, try food trucks, and run around outside—all of which Boordy has to offer. But I was on a solo road trip after a slightly different experience. 
The last element of a road trip, especially one you are on by yourself, is a feeling that is hard to describe. On the spectrum from daily life to vacation, a local road trip is smack in the middle. It took an hour to drive to Boordy Vineyards—the same distance it takes me to get to my doctor's office and the good Costco. This hour feels different, though—on a road trip, you can go anywhere, stop anytime, and experience anything.
At four o'clock in December, the sun was already starting to give up for the day. The tasting room at Boordy is in the lower level of a repurposed barn where livestock would have once been kept below the hay stored above.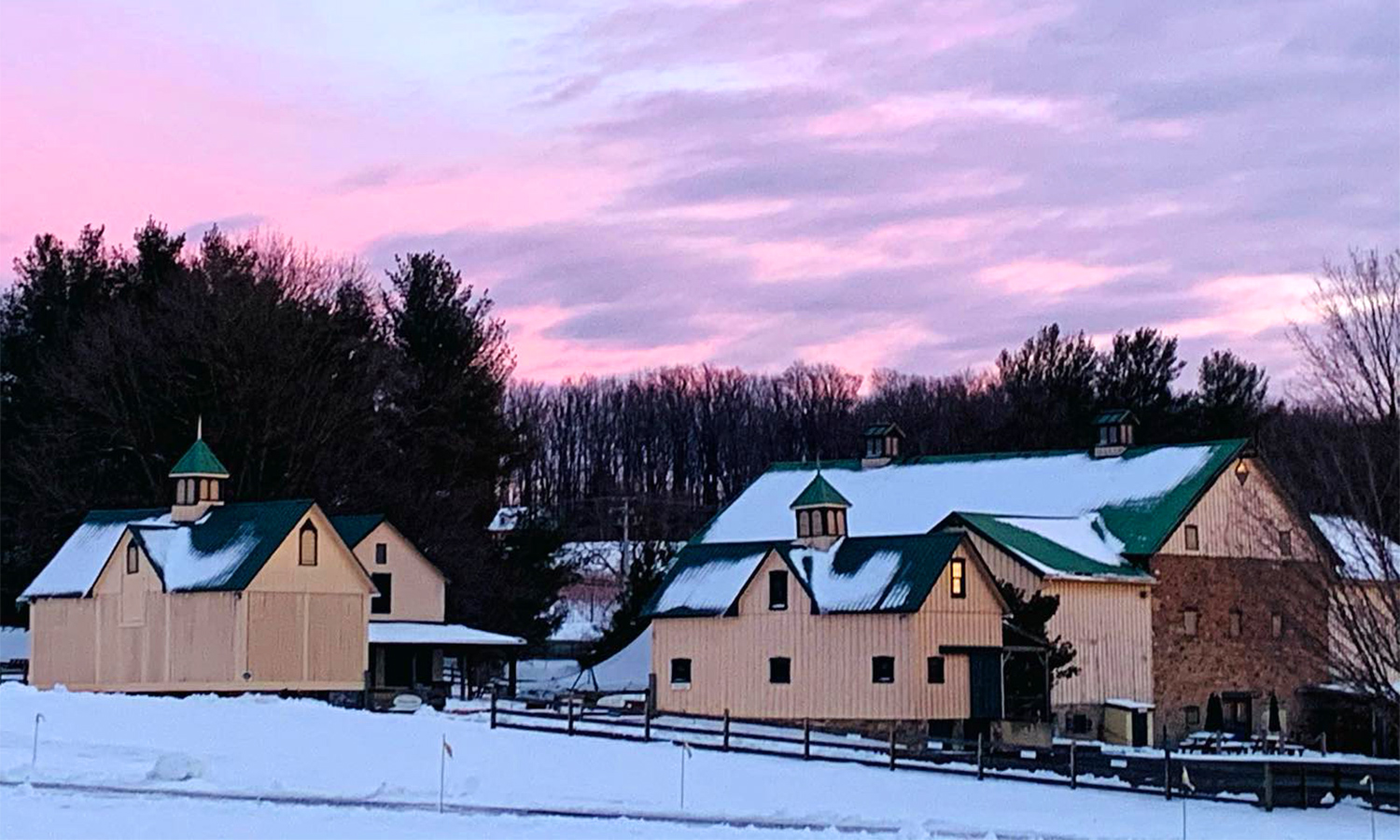 The low ceilings, cozy interior, and wood-burning fireplace contribute to the feeling of a neighborhood pub, and the service is friendly and informal to match. They close at five, so I don't waste any time before looking at the menu of tasting flights.
Here is where I'll say that one of the possible complications of wine tasting alone is that you also need to be able to drive home. If you've ever seen a professional taste wine in a movie or at an event, you have also seen them spit it out. One of the questions I get most often from friends and family outside the industry is, "Do people actually do that, or is it for show?" We actually do, and it is the most comfortable way for me to taste the amount of wine I want without giving up all my faculties. If you'd prefer not to be gross, you could spend longer at the winery, eat something while you taste, or get a bottle of wine and take most of it to go.
I started with the Viognier and the Stone Fence, a blend of Albarino and Chardonnay. The first was bright and floral, while the second was quite elegant. The tasting notes from the menu—orange blossoms and violets—were spot on. It isn't a common blend of grapes, but I am surprised by how well the Albarino seemed to punch up the Chardonnay base. 
I also tasted Merlot Reserve, Cabernet Franc Reserve, and the Landmark Reserve (a Bordeaux blend). All of them could hold their own on a winter dinner table and beautifully expressed a cranberry through line that I imagine comes from the terroir (the environment where wines are produced). 
Afterward, I walked around the property and watched the sunset over the vineyard. I drove home thinking of the wine I just had at Maryland's oldest winery and the many other road trips to wineries in my future. I can't wait to taste more.
---
Lead Photo: Boordy Vineyards
Allegra Barnes has had many careers and lived all over the country, but Maryland keeps luring her back. Someday she hopes to start her own winery highlighting the character of the region. In the meantime she is an amateur ampelographer and devoted cat mom.