The Road to Relaxation is Paved With Maryland Products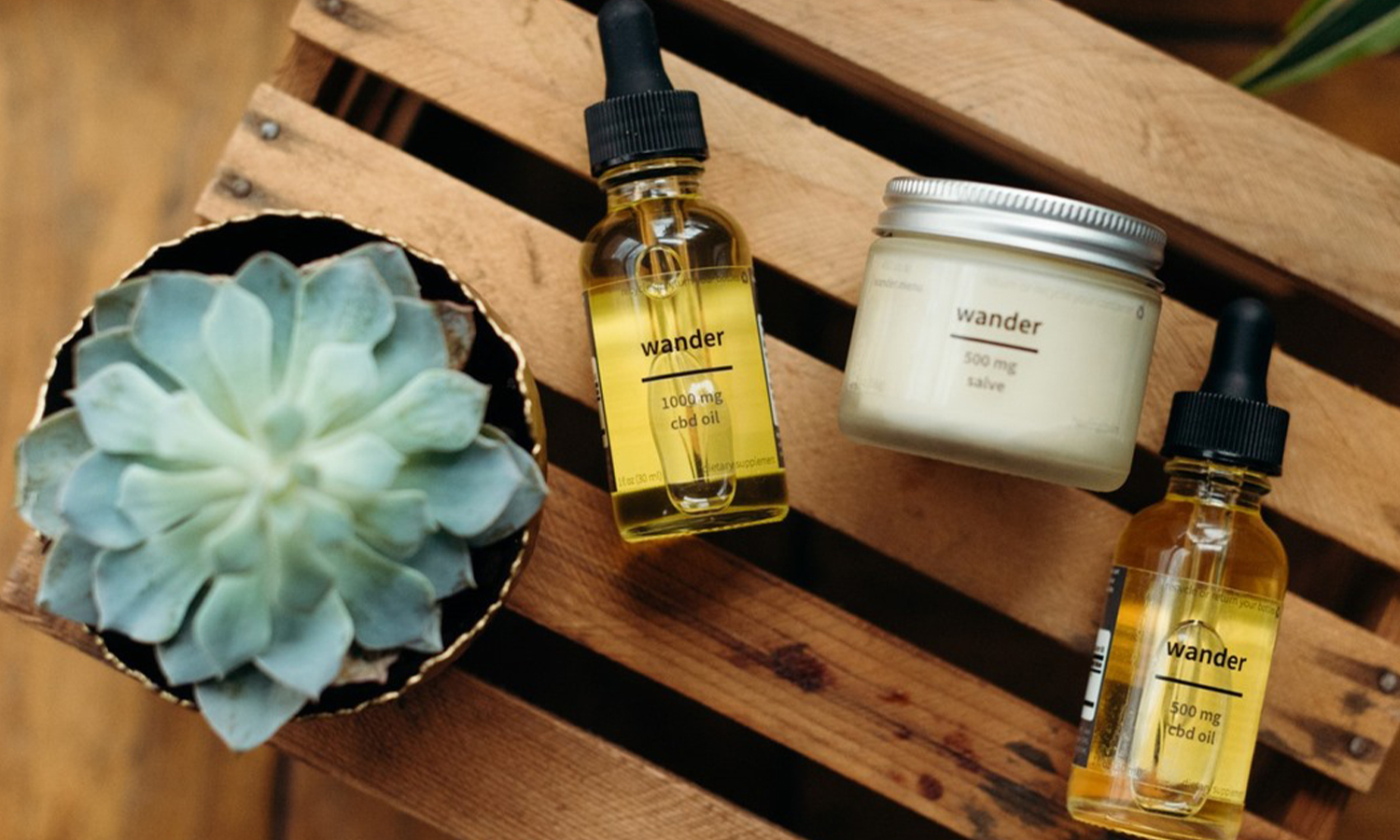 Hey, you (yes, you)! I see you there, feeling overworked and stressed out, your brain going a million miles a minute, your tense shoulders up to your ears, your to-do list a mile long. Let's press pause and take a break to check out some Maryland-based products created to help you to re-energize, bust stress, and feel your best.
Rosebud Perfume Company
Smith's Rosebud Salve, Rosebud Perfume Company's most famous product, has been around since the 1890s and rates a spot in the Smithsonian's collection. Makeup artists, models, and celebrities appreciate its versatility and lovely rose scent, using it for lips, cuticles, flyaways, and more. It may not make you sing like its super fans Beyonce and Alicia Keys, but it'll make your lips soft and dewy just the same. Mwah!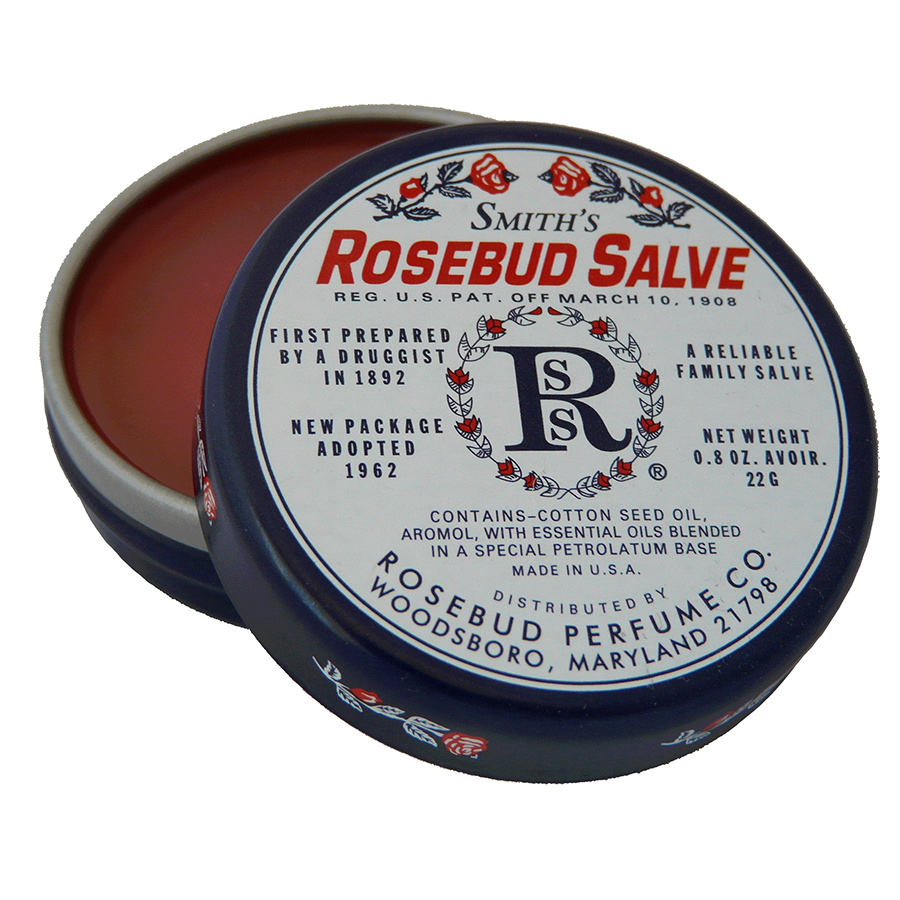 The original salve is available for purchase online via various sites as well as national beauty supply stores and boutiques or you could take a drive to see where it all began. The company is headquartered in the circa 1786 town of Woodsboro in northern Frederick County. Rosebud's offices are in a beautiful old brick hotel on a street lined with Victorian houses. Easily reached via Maryland Routes 194 or 550, check their website or call ahead to confirm that they are open before visiting.
Whiskey Bottom Candle Company
Sustainability is the name of the game with Whiskey Bottom Candle Company's richly scented soy candles poured in upcycled bottles from local businesses or reusable whisky glasses and mason jars. They offer a range of scents, including three Maryland-themed options, Bay Breeze, Black-eyed Susan, and Maryland Crab, so there's sure to be something that appeals to everyone.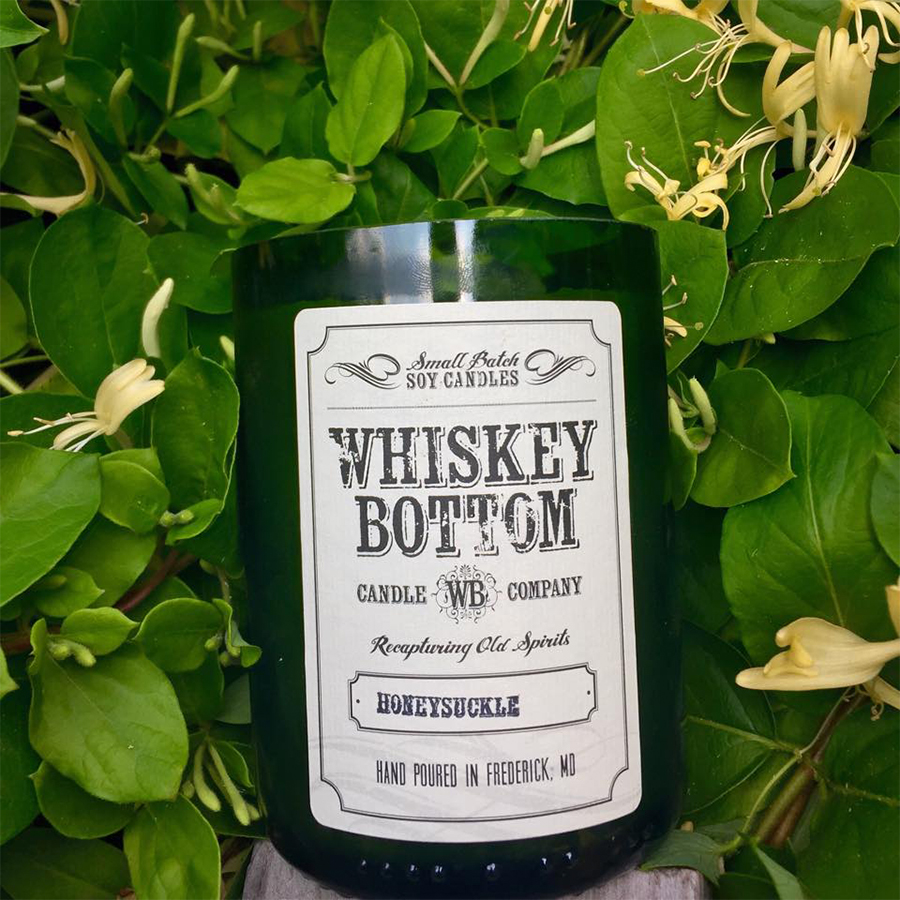 Whiskey Bottom's candles can be purchased online from their website or in person at their Frederick shop inside Sweet Clover Barn's vintage and artisan marketplace. Hop off the frenetic pace of Route 270 and downshift to the fields and farmland along Route 85–it's a lovely area for a scenic drive. Their wonderful scents may inspire impatience to light your purchase but please don't drive home with a lighted candle on your dashboard.
TOA Waters
Baths are an integral part of relaxation and personal care rituals, soothing sore muscles and softening skin. TOA Waters craft bubble baths that are nourishing and cruelty-free, and feature more assertive and less floral scents, perfect for who they refer to as "the rugged individual." Slide into a tub full of their Sweet Temptation bubbles and drift away on clouds of cocoa, tobacco, and vanilla, your stresses popping with each bubble's burst. Rubber ducky optional.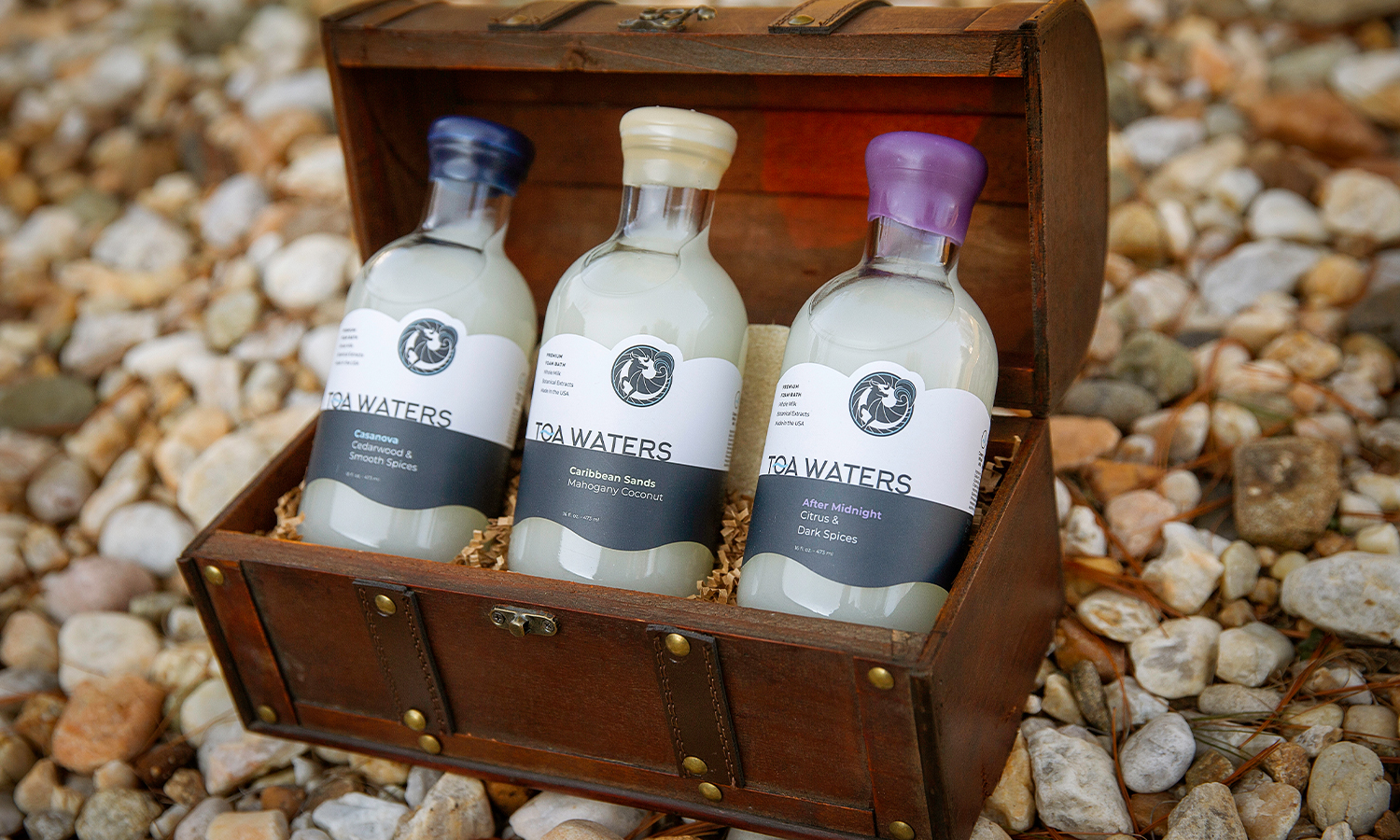 The full line of TOA Waters' "brawny" bubble baths, hand sanitizer, and other products are in their online store. 5% of hand sanitizer proceeds will be donated to the Maryland Food Bank.
Soleado Lavender Farm
Winter weather isn't always easy on skin, but the physical and mental health benefits of fresh air are on offer year-round. For dry lips that just won't quit, check out the buttery lip balm at Soleado Lavender Farm. Their balm is infused with the uplifting fragrance and healing properties of lavender essential oil sourced from their family farm at the foot of the Sugarloaf Mountains. Close your eyes and let its serene scent lighten your load.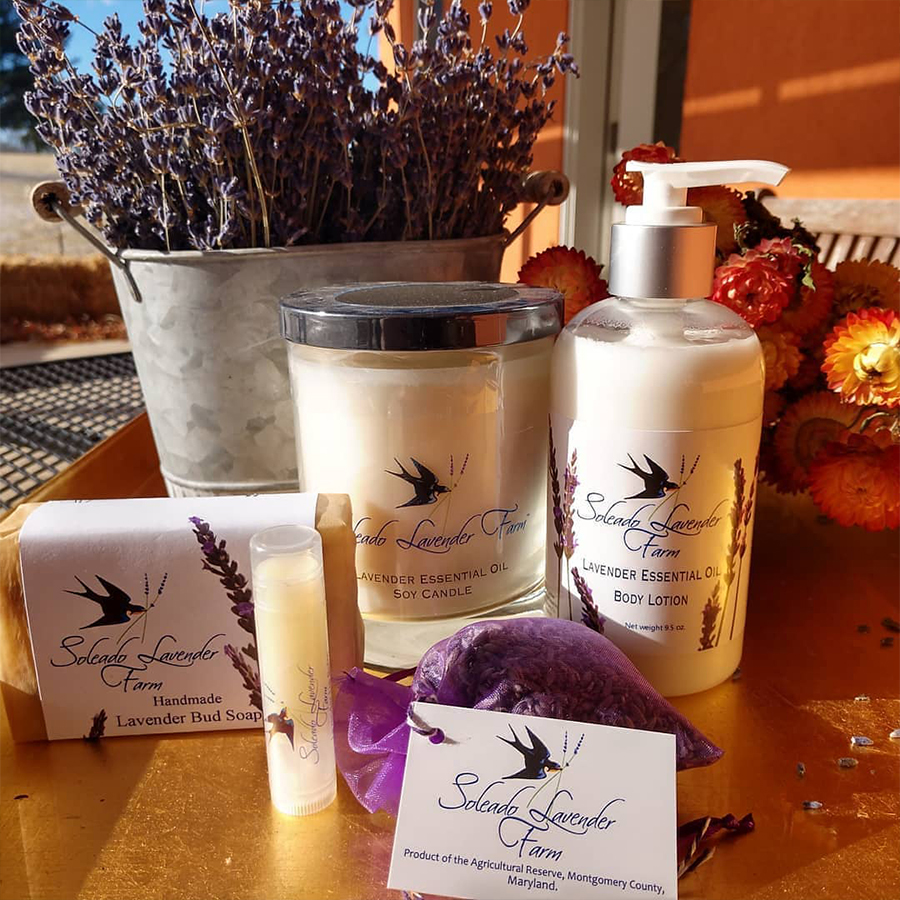 Soleado Lavender Farm's products are always available in their online shop. Before taking a drive out to visit, be sure to check the farm's website to see if their on-farm shop is open to visitors.
Wander Hemp Company
Passionate about the benefits of plant-based medicine, Wander Hemp Company stocks high-quality, certified CBD products for humans and their pets. If you've been tossing and turning or having a difficult time drifting off, let their Sleep Oil's CBD, Valerian root, reishi extract, and cheery blend of essential oils bring you a restful and revitalizing night. Sweet dreams indeed!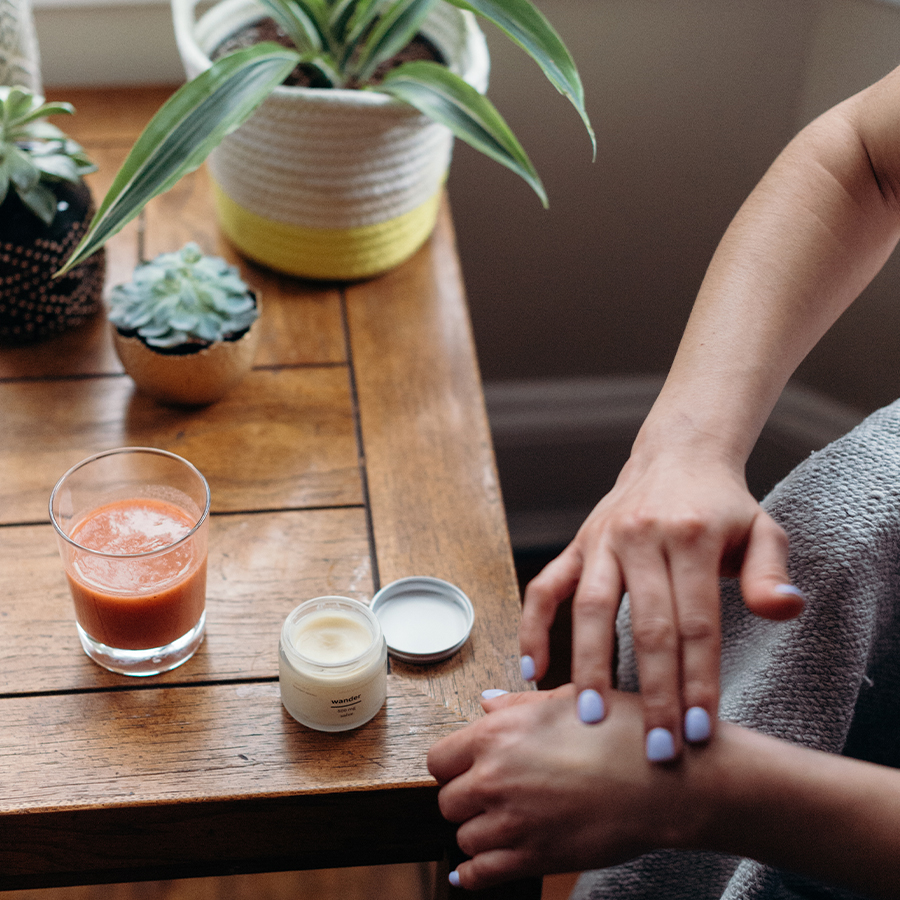 Take a little road trip to Wander Hemp Company's downtown Frederick shop or order oils, soaps, balms, and body butters from their online store. While you're in the area, check out the many restaurants and shops along N. Market Street — grab some chocolate or stretch your legs on a walking tour while you're at it. 
Madison Fields Goat Soapery
Combine your self-care with community care for the ultimate stress-buster. The Madison Fields non-profit is home to many incredible community outreach programs, including their soap business that provides job training for young adults with autism. With each bar of skin-nourishing goat soap you purchase, one is donated to shelters and people in need. Some of their soap packagings feature vibrant original art from Madison himself; all are handcrafted free from sulfates, preservatives, and animal testing.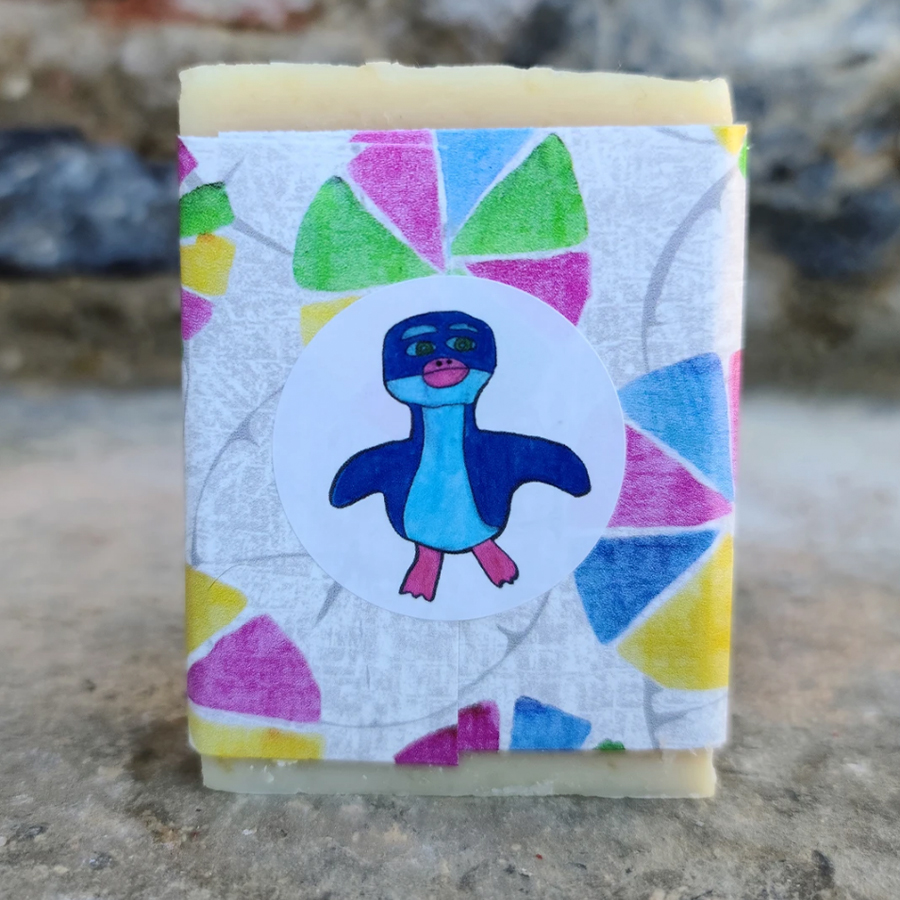 If you're interested in volunteering, touring the soapery, or learning more about the community programs at Madison Fields, you can schedule a visit on their website. (Plus, their gorgeous farm is the perfect place to rejuvenate your spirits.) 
Self-care means taking time to nurture yourself. It could be as quick as a swipe of floral-scented lip balm or as long as an evening ritual to help you wind down before bed. Want to share the love? Send a loved one a care package that includes these Maryland products!
---
Lead Photo: Wander
Christine Rai is a funky professor, writer, and artist who lives in Montgomery County with her family. She loves discovering fab flavors, exploring cool places, and savoring learning. Follow her adventures at www.christinerai.com.