Take a Bite Out of Matthew's Pizzeria—a Baltimore Institution Since 1943

If you live in Baltimore and follow Dave Portnoy's Pizza Reviews, you might wish the Barstool Sports founder would make a visit to the city and take a bite of pizza at Matthew's Pizzeria. Having watched countless episodes of Portnoy's segment where he ranks pizza slices in various cities after only eating one bite, I feel confident he would rave about Matthew's Pizzeria to his millions of followers. 
As a person of Italian descent and a cook myself, you must trust me that I know my Italian food. My husband, also an Italian, spent years in New Jersey and New York and has tried every style of pizza known to man. The kids and I have nicknamed him the Pizza Connoisseur. Matthew's Pizzeria ranks high on my husband's list of great pizza in Maryland. We take out-of-town guests there. We crave it when we've been away from it for too long.
In 2019, Zagat ranked it as "excellent," with its reviewer calling it "the best pizza I've ever had."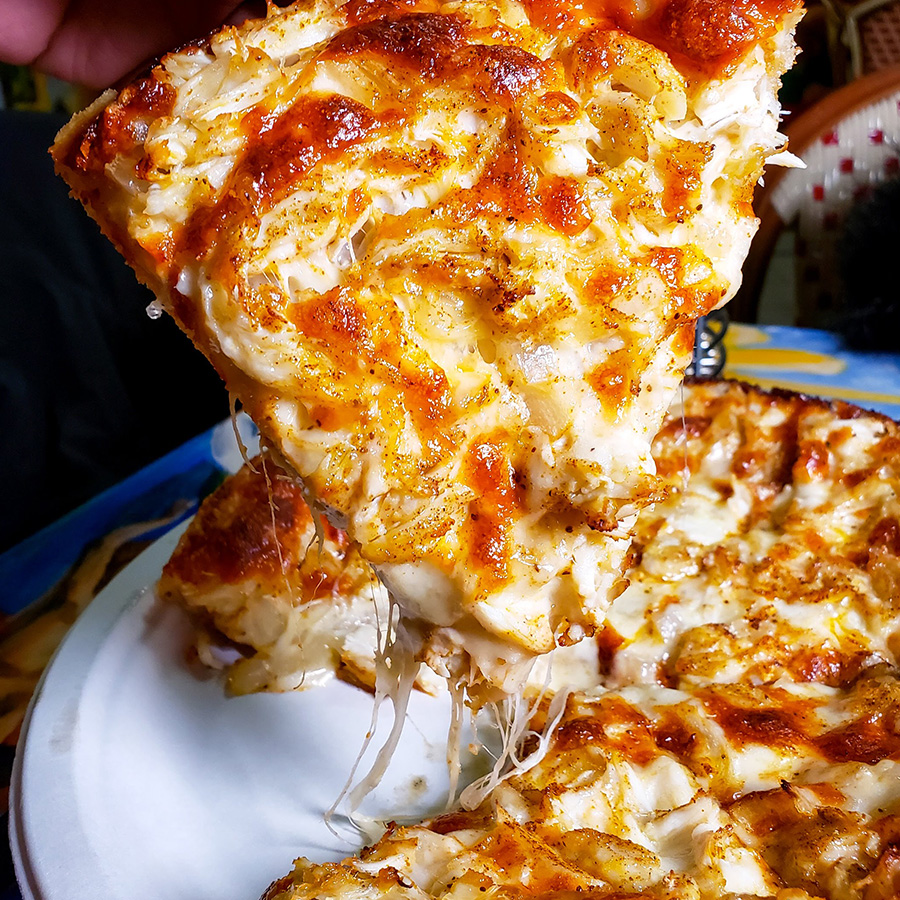 Matthew Cacciolo opened up his pizza shop in 1943, making it the oldest pizzeria in Baltimore. Located in Baltimore City in the Highlandtown neighborhood, Matthew's Pizzeria remains one of the best-known treasures of Maryland. Currently owned by Chris Maler, who invented the crab pizza about fifteen years ago, Matthew's Pizzeria continues in its founder's tradition. As for the crab pizza, it has become one of the most popular items on the menu. In 2017, The New York Times touted the crab pizza, writing: "The backfin crab-topped pizza, sprinkled with mozzarella, caramelized onions, and Old Bay (which originated in Baltimore) is an experience not to be missed." 
The exterior of the restaurant is a colorful assault on your eyes, which grabs your attention as you drive along Eastern Avenue. Inside the small but quaint restaurant, the seating is tight, and you'll find hand-painted murals by artist Anthony Miserendino and framed newspaper clippings touting the pizzeria's success plastered all over the walls. The place isn't flashy, which adds to its appeal. In fact, it feels as if you've stepped back in time—to a simpler time, where you can imagine generations before you having a leisurely bite to eat and speaking in Italian in this tasty trattoria.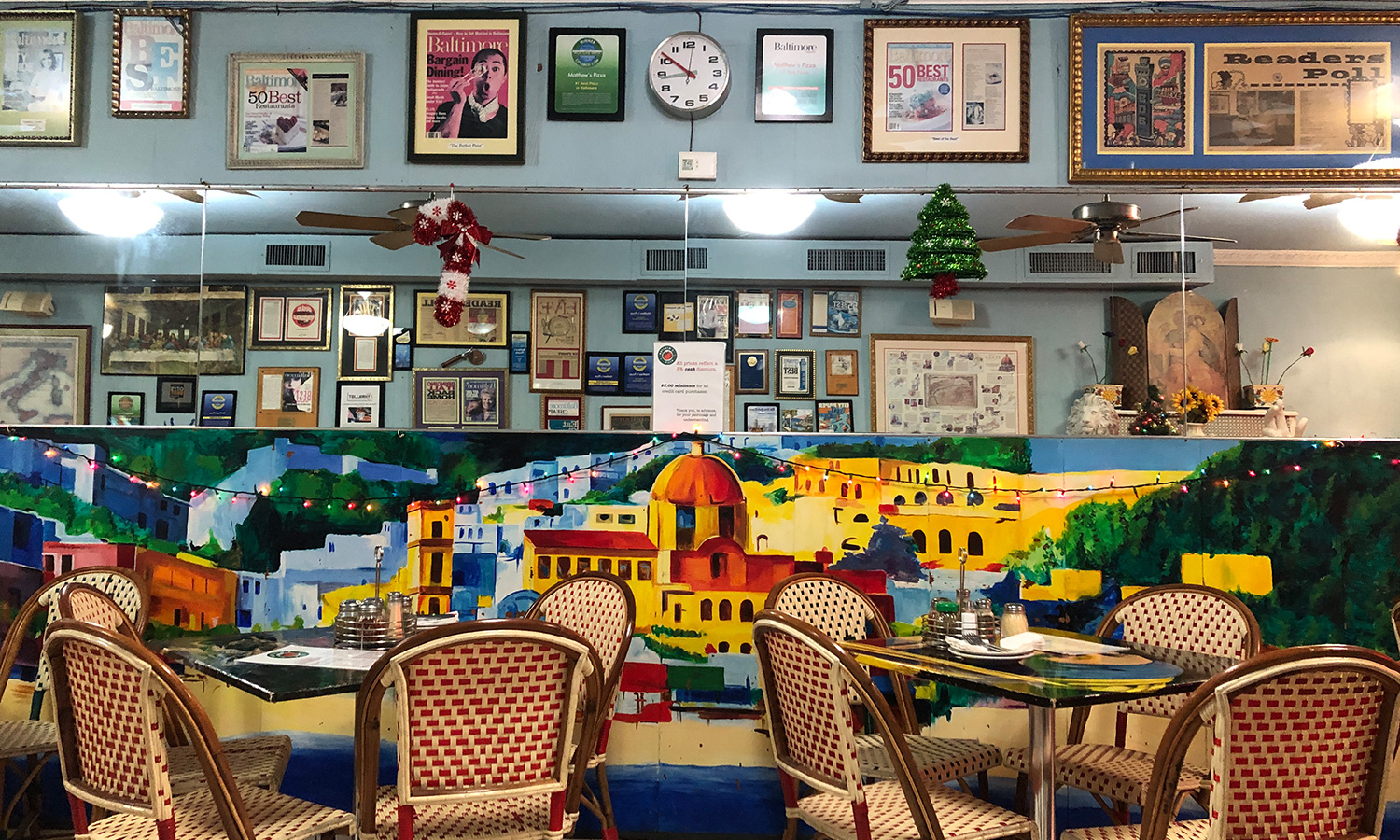 Ah, and the food! You won't regret your road trip to this little gem. 
Serving both thin crust and thick crust pizzas that are a little larger than personal size, the sauce and cheeses will have your mouth watering. The Original Tomato Pie (a Matthew's Pizza specialty) features no cheese on it, perfect for those who may be lactose intolerant, and it's delectable. The Mozzarella Pie, my husband's pie of choice, is a crowd-pleaser, as the chefs cook it to perfection.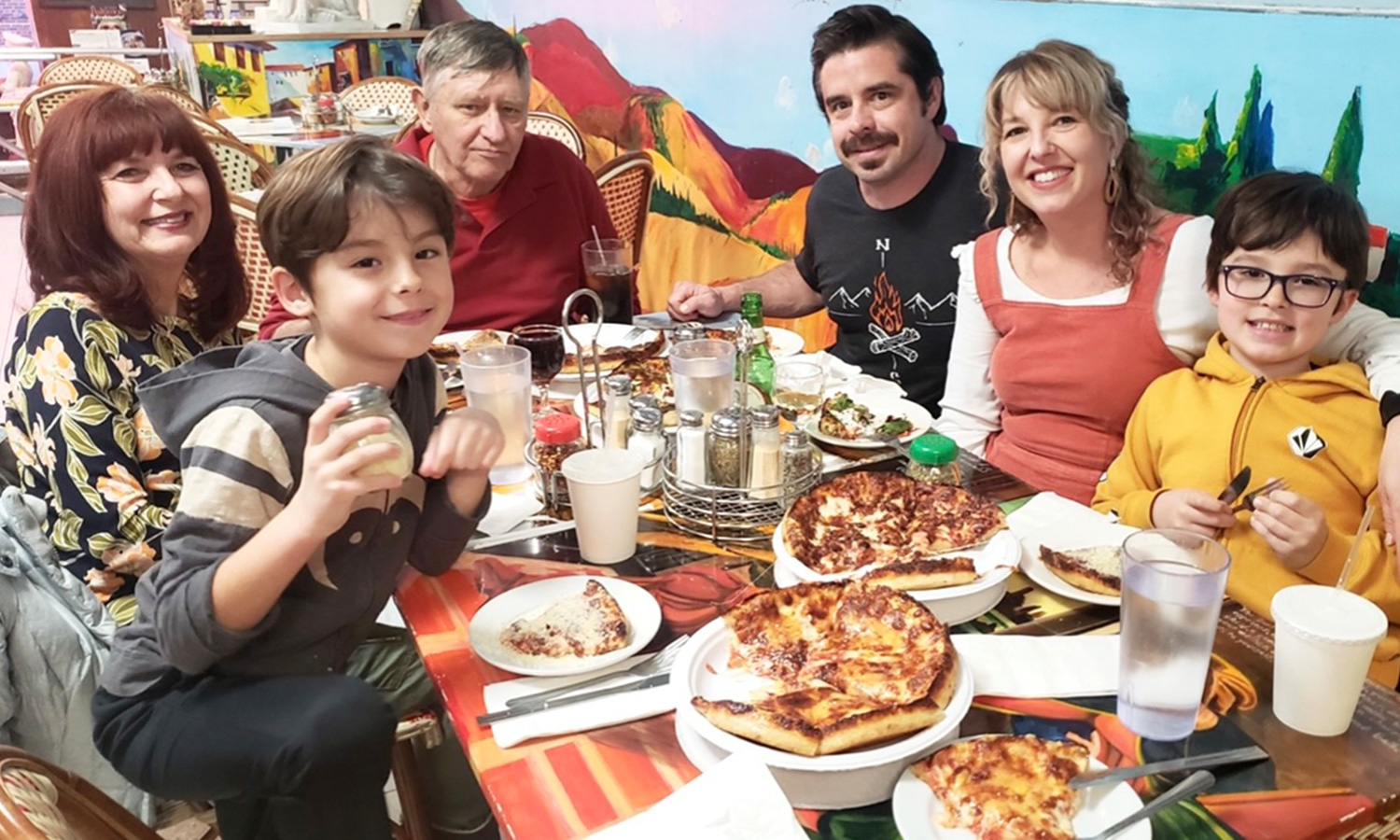 Matthew's also serves stuffed pizza, pasta, and subs, so if you're not in the mood for pizza, you could give their spaghetti a try and even bring home a jar of their homemade sauce. If you have room at the end of your meal, you can top it off with one of their desserts, such as cheesecake, Limoncello, or a famous cannoli from another Baltimore institution—a pasticceria in Little Italy called Vaccaro's.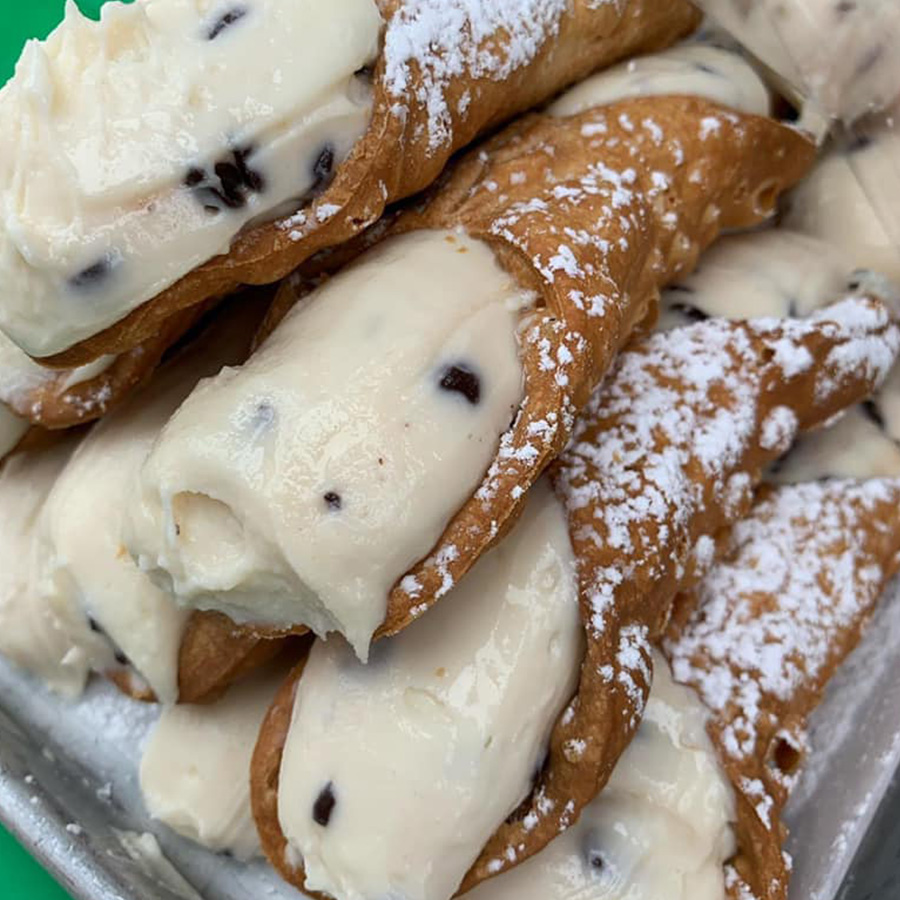 I'm confident you won't be disappointed when you visit. You might even leave feeling nostalgic for simpler times when people would sit around a table for hours and savor a good meal together.
---
Lead Photo: Adam Yosim 
Stephanie Verni is an Adjunct Professor of Communication at Stevenson University and the author of seven novels. She has taught a variety of communication courses, and she especially loved teaching courses in travel writing. A true Marylander, she enjoys writing about the beauty of her state and incorporating Maryland locations into her books. When she's not writing, you can find her on her boat cruising the Severn River with her family. She's on Instagram at @stephanieverniwrites