Nothing to W(h)ine About at Great Frogs Winery

When you think of Annapolis, sailboats and powerboats may come to mind. Perhaps you envision the United States Naval Academy or the historic city with an abundance of shops and restaurants. Annapolis is a mighty little city with much to offer, but did you know that just over three miles from the downtown area is a winery that will remind you of those found in Napa Valley and Sonoma Valley? Replete with gorgeous grape vines, barn-style buildings, casual patios, and colorful landscaping, Great Frogs Winery is a picture-perfect gem. If sipping a glass of wine and relaxing on an alluring property are your thing, then Great Frogs Winery is a must-do when planning a trip to Annapolis.
My daughter turned 21 this summer, and I promised her an afternoon at Great Frogs to celebrate. We scheduled our outing for the weekend before she had to return to college. We were blessed with clear skies and sunshine and headed to the winery when it opened on Friday late in the day. 
We knew we were in for a treat as we drove the car along the long driveway flanked by the flourishing grapevines. It's hard to believe you're in Annapolis, it's so secluded. Old trucks were strategically parked on the lawn, the perfect backdrop for picture-taking among the acres and acres of lush grapevines.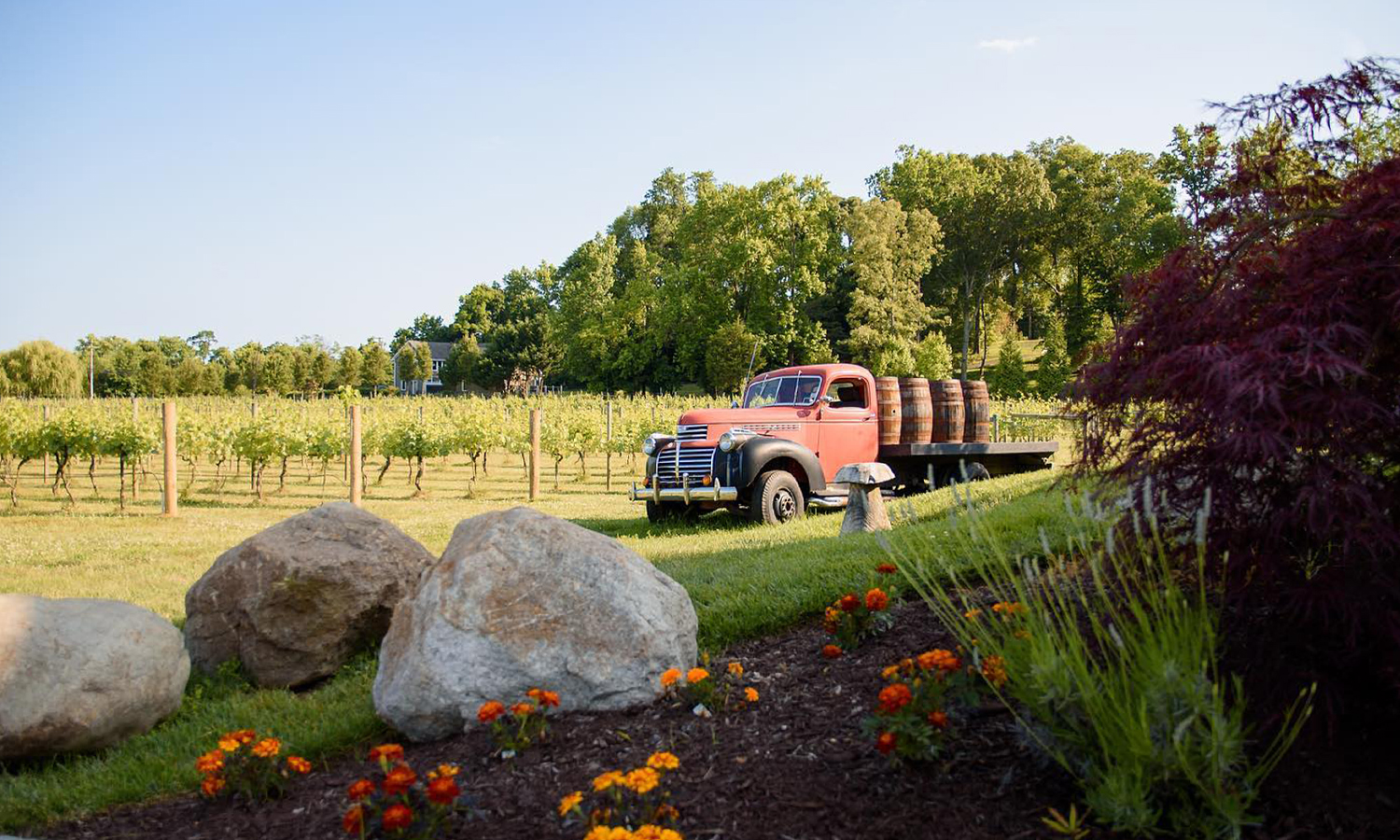 Everything looked green, especially framed by the bright blue sky. Parking is easily accessible on site, mere steps from all the action at the winery. Reservations are encouraged for indoor seating, and I thought about booking a table, but after I called and spoke to someone at the winery, she said seating would be no problem if we could arrive by 5 p.m., which we did.  Outdoor seating is on a first-come basis, and we decided to grab a seat on a couch on the outdoor back patio. While tastings are self-guided with pre-bottled 2 oz flights of 6 wines for $30, you can also purchase wine by the bottle or by the glass. Additionally, Great Frogs offers cheeses and snacks that are available to pair with your wine of choice. And as an added bonus, you get to keep the wine glass.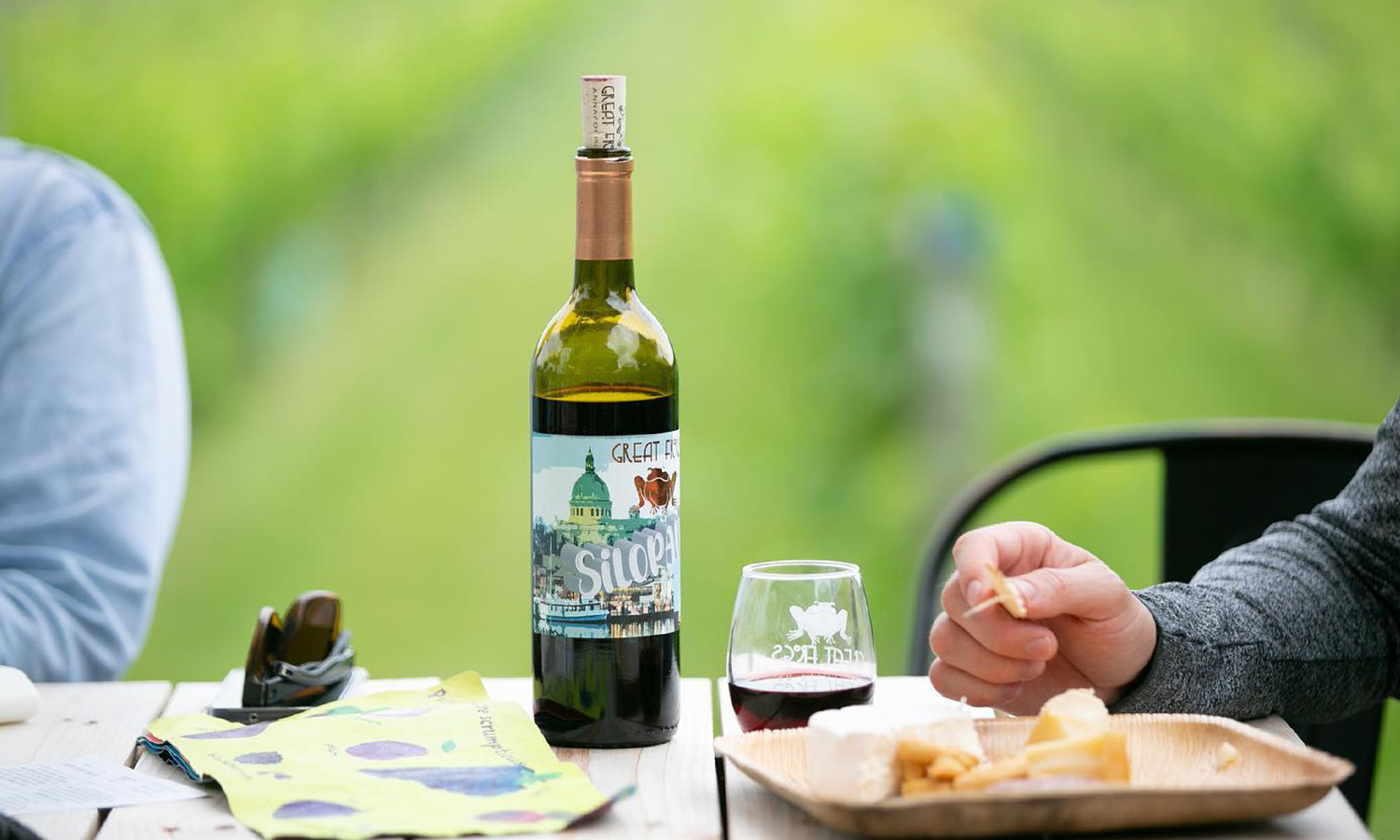 My daughter and I each ordered a glass of Chardonnay, along with circular-shaped Classico Tralli crackers imported from Italy and a creamy block of Chapel cheddar cheese. Along with our chosen Chardonnay, other wines on the sampling menu include the following: Tanyard (full body), Cab Franc, Vintner's Reserve, Cold Blooded, and Atomic 29 Red. Many flavors were offered for various taste buds.
Our view of the vineyard was truly picturesque. Families with children and dogs joined us on the back patio, and a few folks played cornhole on the lawn next to the tasting room. Others strolled the vines with their pets, taking in the splendor of the place. Fridays and Saturdays feature live music, and we were treated to music performed by Black Rhinoceros.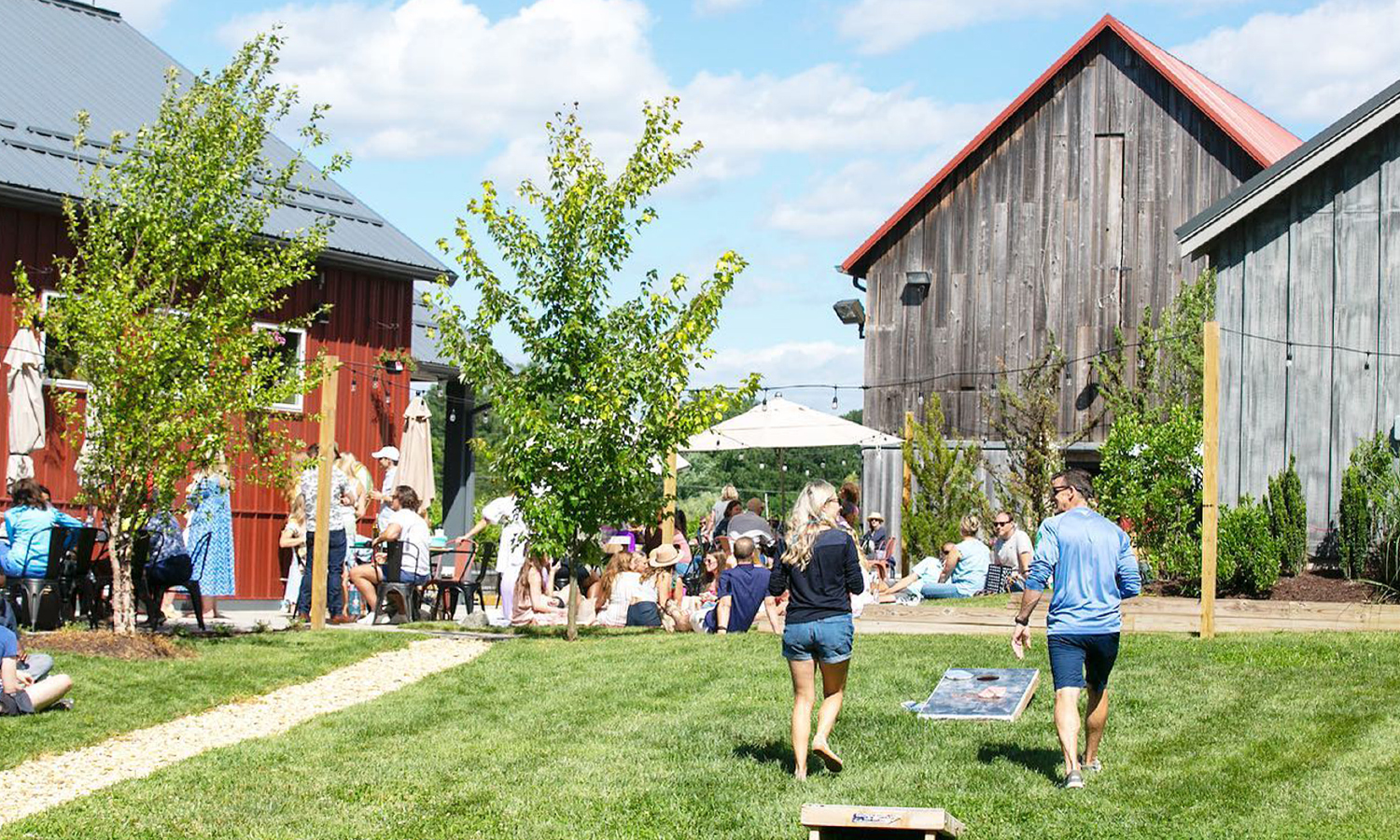 Owners Nathanael and Andrea O'Shea, the winemakers and general managers of Great Frogs, have added special touches to the property. You can see them everywhere you look, from the beams dressed in greenery and twinkle lights inside the tasting room to the meticulous landscaping, to the special accents and signage that give Great Frogs its personality. Not only did Great Frogs survive the repercussions from the pandemic, but they also were hit hard by an EF1 tornado in September of 2020. Buildings were damaged, vines were destroyed, and furniture was broken, lost, or irreparable. But the O'Shea's didn't let that get them down; they quickly rebuilt and reopened by May of 2021, and people are flocking to the winery.
The O'Sheas know that good wine begins with good grapes. Their commitment to growing the best quality grapes can be seen in the results of their tasty wines. In fact, their wines have won awards over the years, beating some of the west coast wines. 
When I asked my daughter how she liked Great Frogs, she responded that she's already planning to come back with her friends. I'd say that's a pretty good endorsement of an enticing, charming, and welcoming winery.
__________
This article is sponsored by Great Frogs Winery. Great Frogs Winery brings Napa to Annapolis! Our wines are made with rustic expression and an artisan approach.  Specializing in dry wines that showcase the the terroir of Maryland's capital.  Visitors welcome! www.greatfrogs.com
Stephanie Verni is an Adjunct Professor of Communication at Stevenson University and the author of seven novels. She has taught a variety of communication courses, and she especially loved teaching courses in travel writing. A true Marylander, she enjoys writing about the beauty of her state and incorporating Maryland locations into her books. When she's not writing, you can find her on her boat cruising the Severn River with her family. She's on Instagram at @stephanieverniwrites