Drive, Bike, or Hike: Where to View Fall Colors in Maryland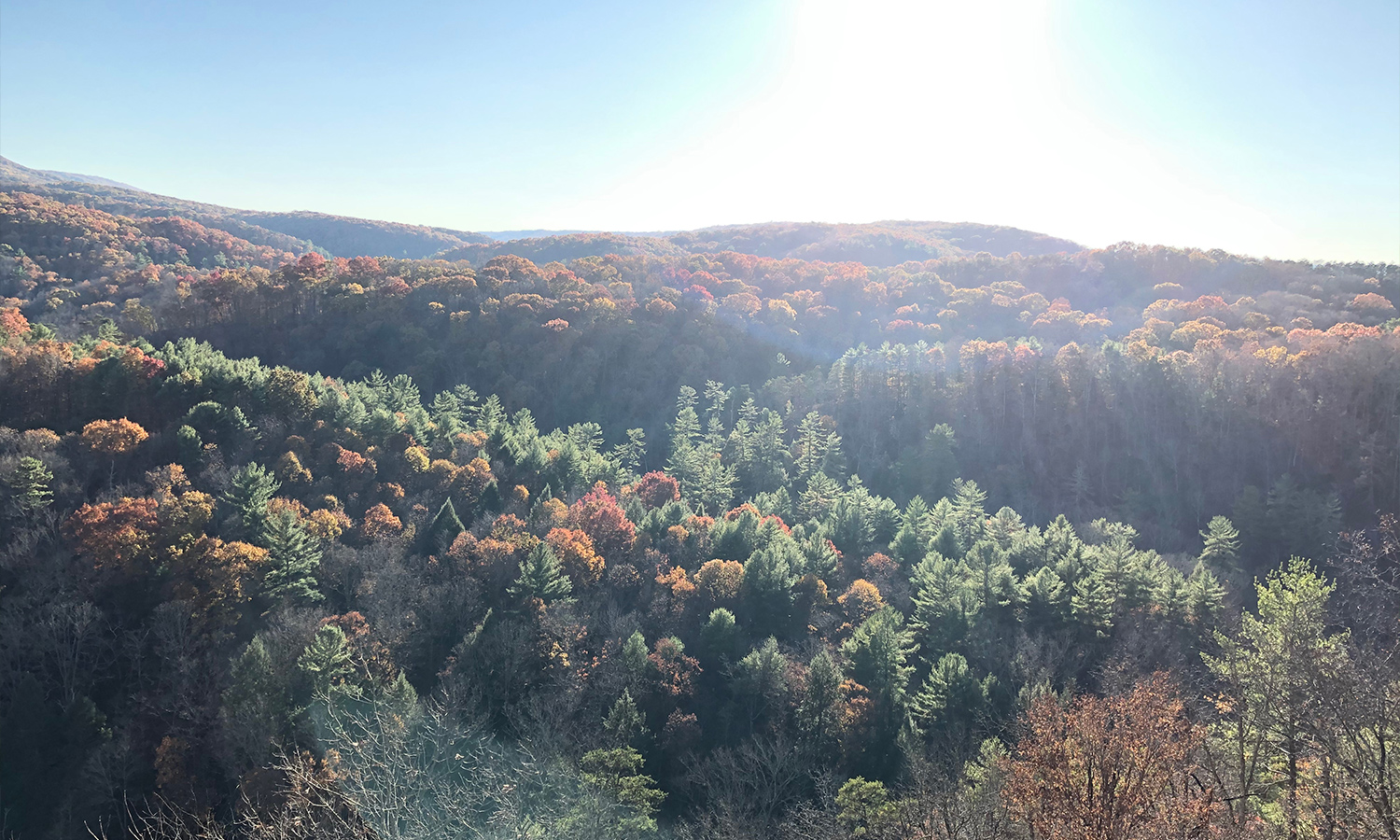 The leaves will start changing before we know it, which makes now the perfect time to plan ahead on where you'll view fall colors in Maryland.
There's something truly magnificent about fall in Maryland. It's an absolute delight for the senses—from Mother Nature putting on a show with her vibrant display of leaves ranging from ocher to crimson, to the crunch of dry, brittle leaves underfoot as you walk through the woods, to the cool crispness in the air that prompts you to pull out your favorite cozy sweater. 
Get ready to explore the beauty of the Old Line State in all its autumn splendor by car, by bicycle, or on foot.
Fall Colors by Car
With its sandy beaches to the east, mountains to the west, and every kind of terrain in between, it's no wonder Maryland is often referred to as "America in Miniature." The mountains of far western Maryland, with their old-growth forests, seem to be the obvious choice for a road trip.
The Mountain Maryland Scenic Byway loops through the mountains with stops at scenic state park and state forest lands. If your ideal fall scene includes water, you're in luck. The byway includes stops at Deep Creek Lake State Park, with one mile of shoreline along Deep Creek Lake, and Swallow Falls State Park, home to Muddy Creek Falls, Maryland's highest free-falling waterfall. 
Another great road trip option for leaf peepers is Maryland's Historic National Road Scenic Byway, winding from Baltimore all the way to Western Maryland. Must-see destinations along the byway that boast incredible fall vistas include Washington Monument State Park, Fort Frederick State Park, Rocky Gap State Park, Savage River State Forest and Casselman River Bridge State Park near Grantsville. The views at most of these locations are just a short distance from parking areas.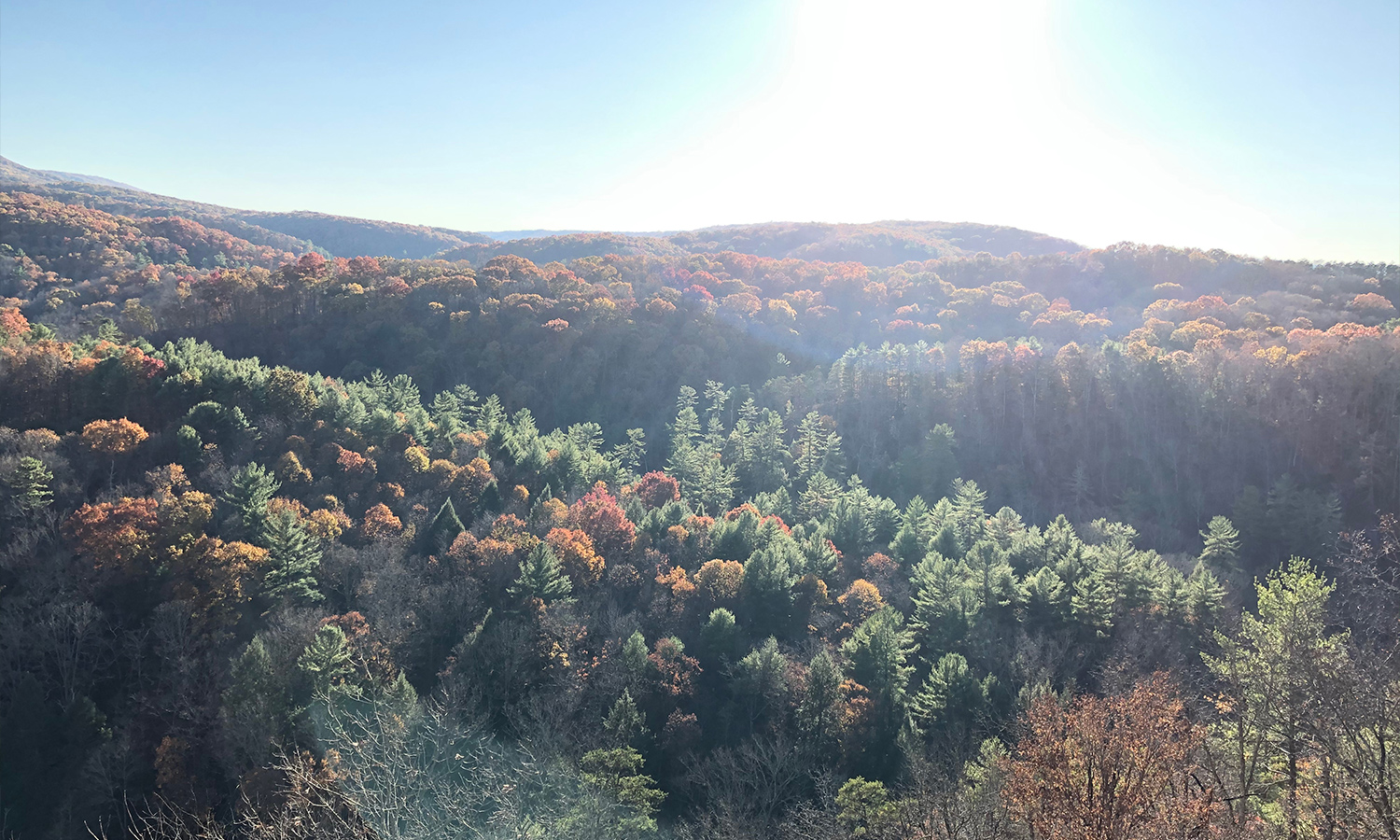 In Allegany County, the Green Ridge Driving Tour is the perfect side trip when traveling the Historic National Road Scenic Byway. At 44 miles in length, it requires about three hours to complete, but the beauty of Green Ridge State Forest can't be beat.
The Covered Bridges Driving Tour in the Catoctin Mountains (just north of Frederick) offers stunning fall views and idyllic historic bridges
Must-See Fall Bike Routes for Cyclists
If your preferred method of transportation is on two wheels, the C&O Canal National Historical Park and Western Maryland Rail Trail (WMRT) are both bicycle paths near the Potomac River with lots of fall color. The Canal towpath is predominantly flat and stretches 184.5 miles from Georgetown to Cumberland. Cyclists looking to extend their journey can continue another 150 miles from Cumberland to Pittsburgh, Pa. on the Great Allegheny Passage (GAP) rail trail. The Western Maryland Rail Trail is a paved, linear path along the Western Maryland Railway's former main line. It parallels the C&O Canal from Big Pool to Little Orleans.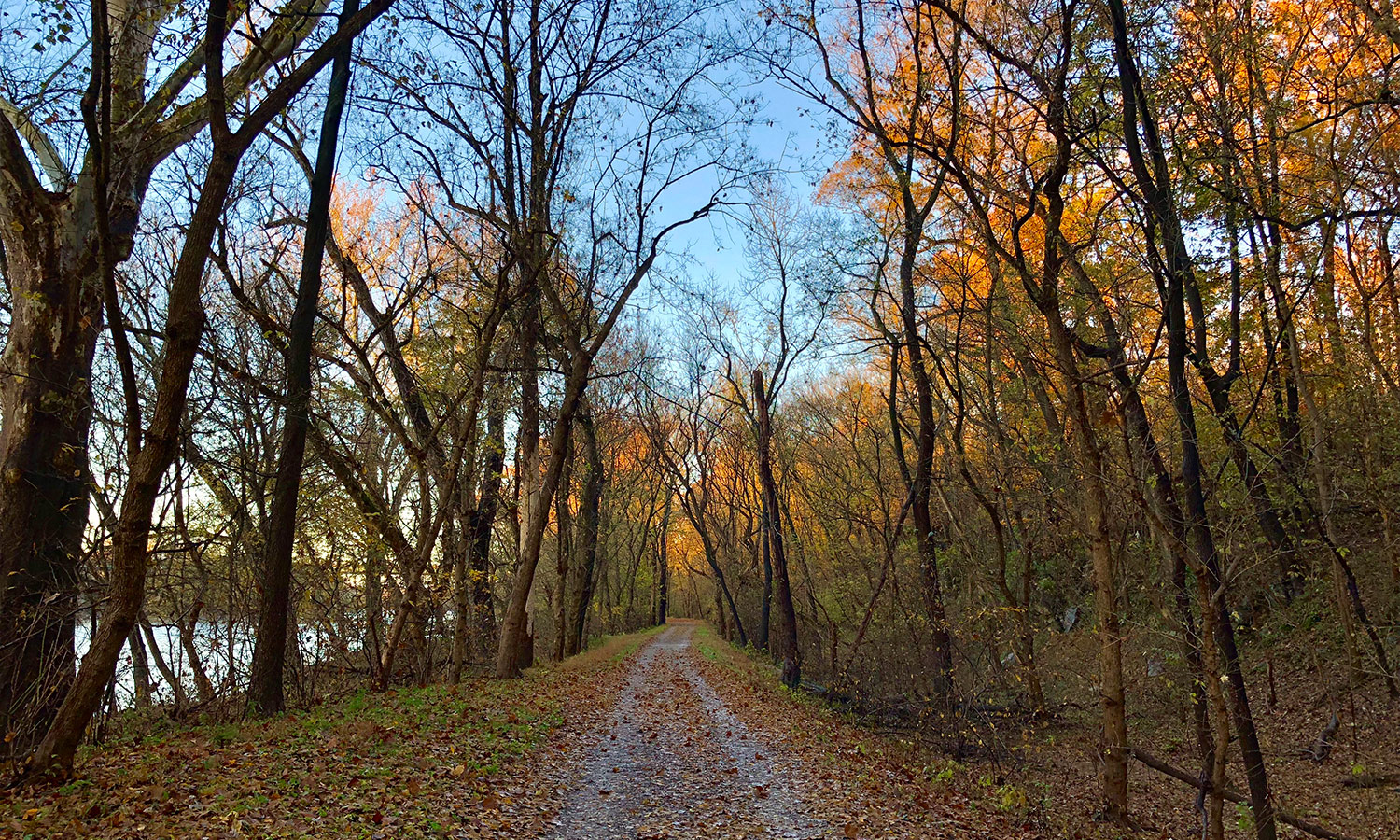 At the opposite end of the state on Maryland's Eastern Shore, Blackwater National Wildlife Refuge has two paved bike loops from which to explore and enjoy its tidal wetlands and waterfowl. One of those is Wildlife Drive, a 4-mile paved road with beautiful views of fall color along the Blackwater River. Another popular rail trail with beautiful fall views is the Torrey C. Brown Rail Trail in Gunpowder Falls State Park. The shaded dirt trail is 20 miles long, following the old Northern Central Railway and offering picturesque views all the way to the Pennsylvania border. 
Perhaps speeding down a mountain path is more your preferred speed. If that's the case, Maryland has a wide variety of gnarly trails from entry-level to advanced and everything in between. Patapsco Valley State Park has more than 200 miles of trails in eight developed recreational areas along the Patapsco River. While some trails are for hiking only, there are many multi-use trails making the park a popular mountain biking destination. The Avalon Area and Vineyard Trail are top choices for riders seeking an intermediate ride. Cascade Falls, located in the Avalon Area, is especially scenic in the fall.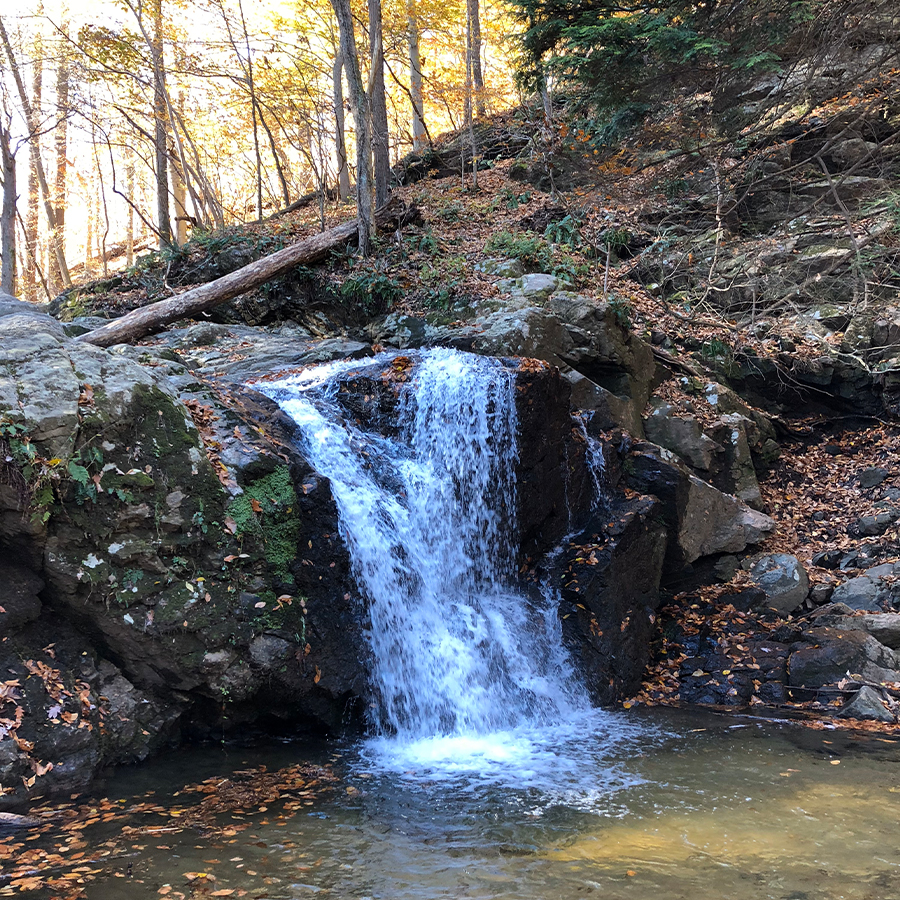 Other popular singletrack mountain bike trails surrounded by gorgeous fall foliage include Schaeffer Farms in Montgomery County, the Frederick Watershed in Frederick County, and Rosaryville State Park in Prince George's County. 
Take a Hike to the Best Fall Vantage Points
Hiking is one of the best ways to see the region's fall foliage and enjoy views that are only reachable on foot. Maryland's 41 miles of Appalachian Trail follow the ridgeline of South Mountain, weaving in and out of Washington and Frederick Counties along the way. Some of the most stunning views of fall color are available from Weverton Cliffs, which overlooks the Potomac River, Washington Monument State Park, Annapolis Rock, Black Rock, and High Rock.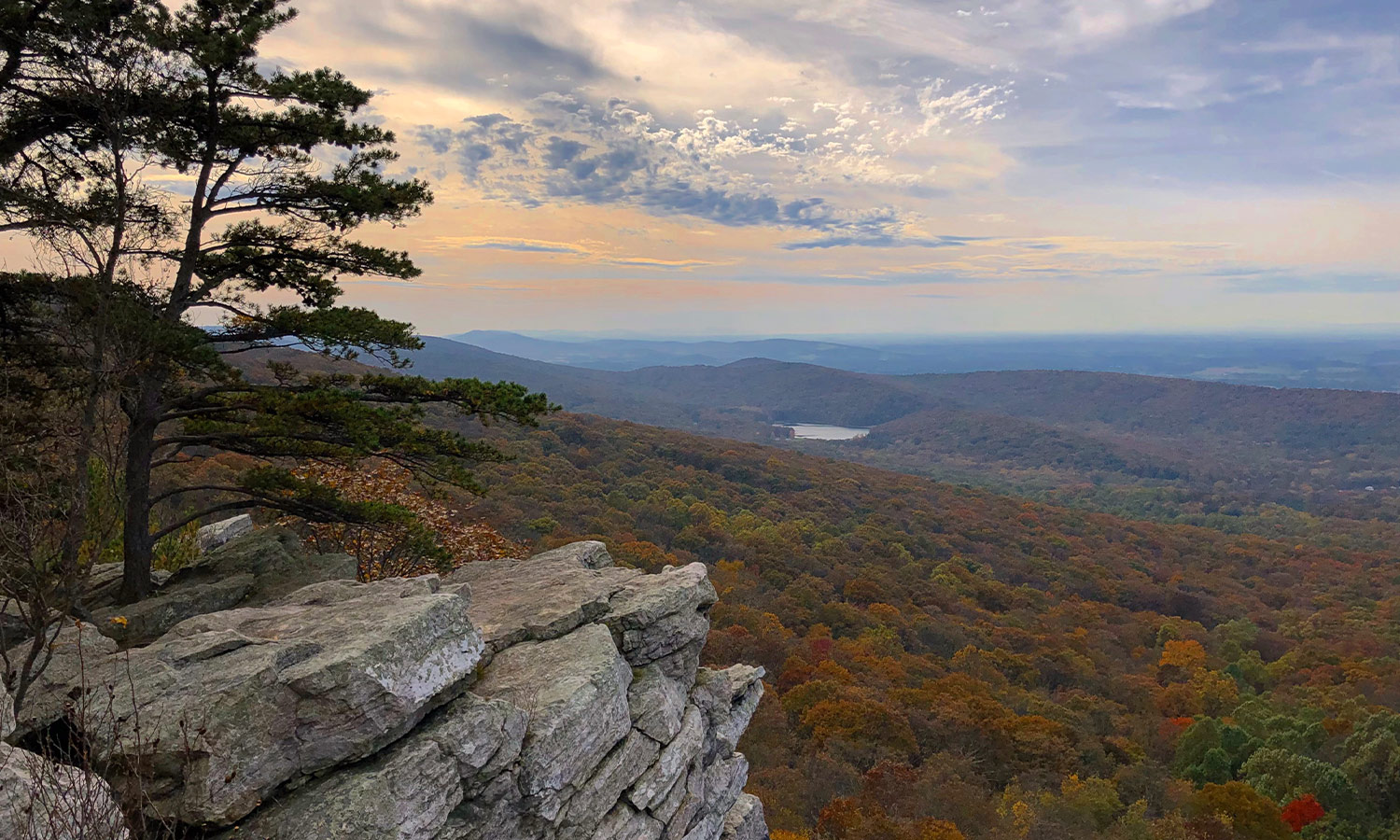 Sugarloaf Mountain straddles the border of Frederick and Montgomery Counties, offering a challenging trail system with scenic vistas and forests of oak, poplar, birch, and more. 
Northern Frederick County is the perfect place to enjoy a fall foliage hike. Home to both Catoctin Mountain Park and Cunningham Falls State Park, the hiking opportunities are endless and the views are second to none. Hikers can enjoy a waterfall, a lake surrounded by fall color, scenic overlooks like Chimney Rock and Cat Rock or Thurmont Vista, peaceful mountain streams, and many miles of wooded, well-maintained trails. The spectacular Catoctin Mountains are even home to presidential retreat Camp David. 
Calvert Cliffs State Park in Southern Maryland is best known for its massive clay cliffs and sandy beach, but it's also a spectacular sight to see in the fall. The park has 13 miles of trails, rated easy to moderate, for foot traffic only. Rocks State Park, in Harford County, features popular hiking trails to The King and Queen Seat and picturesque Kilgore Falls, both of which are exceptionally beautiful as the leaves peak.
The mountains of far Western Maryland are home to some of the most breathtaking fall foliage in the state. The Potomac-Garrett State Forest alone has more than 80 miles of trails. The state forest is home to the Lostland Run Trail with its swinging bridges and the highest point in Maryland — Hoye Crest on Backbone Mountain.
There is so much scenic beauty to be discovered throughout Maryland, especially during the fall season. The views are absolutely breathtaking when the leaves are at their peak. Whether you enjoy a challenging hike through the woods, a down and dirty bike ride over roots and rocks, or a leisurely road trip, there are countless ways to enjoy Maryland's spectacular fall foliage and the great outdoors. Get outside and enjoy the beauty of the season! 
Additional Tips & Notes
Be sure to check the Maryland Park Service website, the free AccessDNR app, or other park websites for any COVID-related updates.
---
Lead Photo: Green Ridge State Forest by Charissa Hipp
Charissa Hipp is the founder and CEO of The Nature Prescription, LLC. A longtime tourism marketer and nature therapy guide, she believes in the power of connecting people to places. Charissa resides in Williamsport, Maryland with her husband and three children.