The Tale of the Sail: Finding Your Adventure on the Chesapeake Bay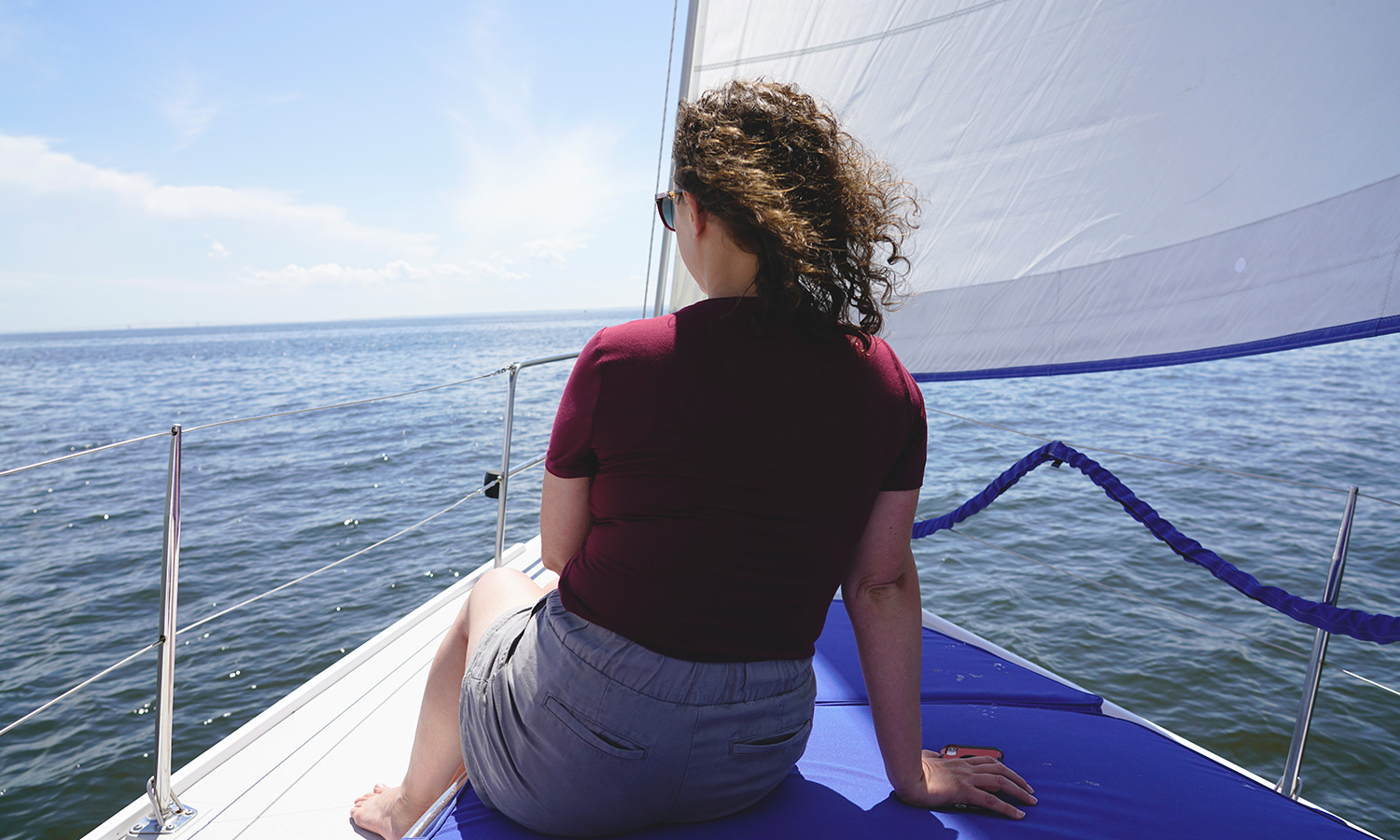 "You want me to hand you that rope?" An abrupt silence fell across the stern of the boat. All eyes turned to me like when a stranger enters a tavern in an old spaghetti western. My soon-to-be father-in-law, a seasoned sailor, looked on curiously as though his mind was drifting somewhere between laughing and tossing me overboard. Then in a very matter-of-fact tone, he announced, "When you're on a ship, it's called a line." I peered over my shoulder to my significant other, who smirked with amusement as though to say, "Welcome aboard!" So, I picked up the long, nylon-braided line (that very much resembled a rope), and wondered how such an inauspicious introduction to sailing might play out for this landlubber from Indiana.
Despite my early misgivings, I married into that seafaring family and would later move to Maryland, affording me opportunities to chart a course around the Chesapeake Bay on a variety of sailboats. I learned the basics of sailing  —  what tacking meant, how to fend off while docking, and how to safely use the head while underway (it's all about balance). And though I never rose through the ranks of my wife's elite familial crew  — my specialty was always cold beverage acquisition and consumption of rations — I fell hopelessly in love with being on the Bay. A sail full of wind, water lapping against the hull, the calls of waterfowl along the shoreline, and the prospect of new discoveries became a welcome reprieve from the daily grind. 
But it had been a while since I last took to the Bay. Life's responsibilities have an unfortunate way of leading you to believe there's not enough time for relaxation, so it felt like a divine appointment when I connected with Shardana Sailing Charters, a private charter company based in Rock Hall, Maryland. With their stunning vessel — a custom-built, 43-foot Catalina 425  — the crew of the Shardana provides guests with adventures tailored to their unique preferences, ensuring a truly memorable experience for those looking to strike out across waters that garner worldwide envy from boating enthusiasts.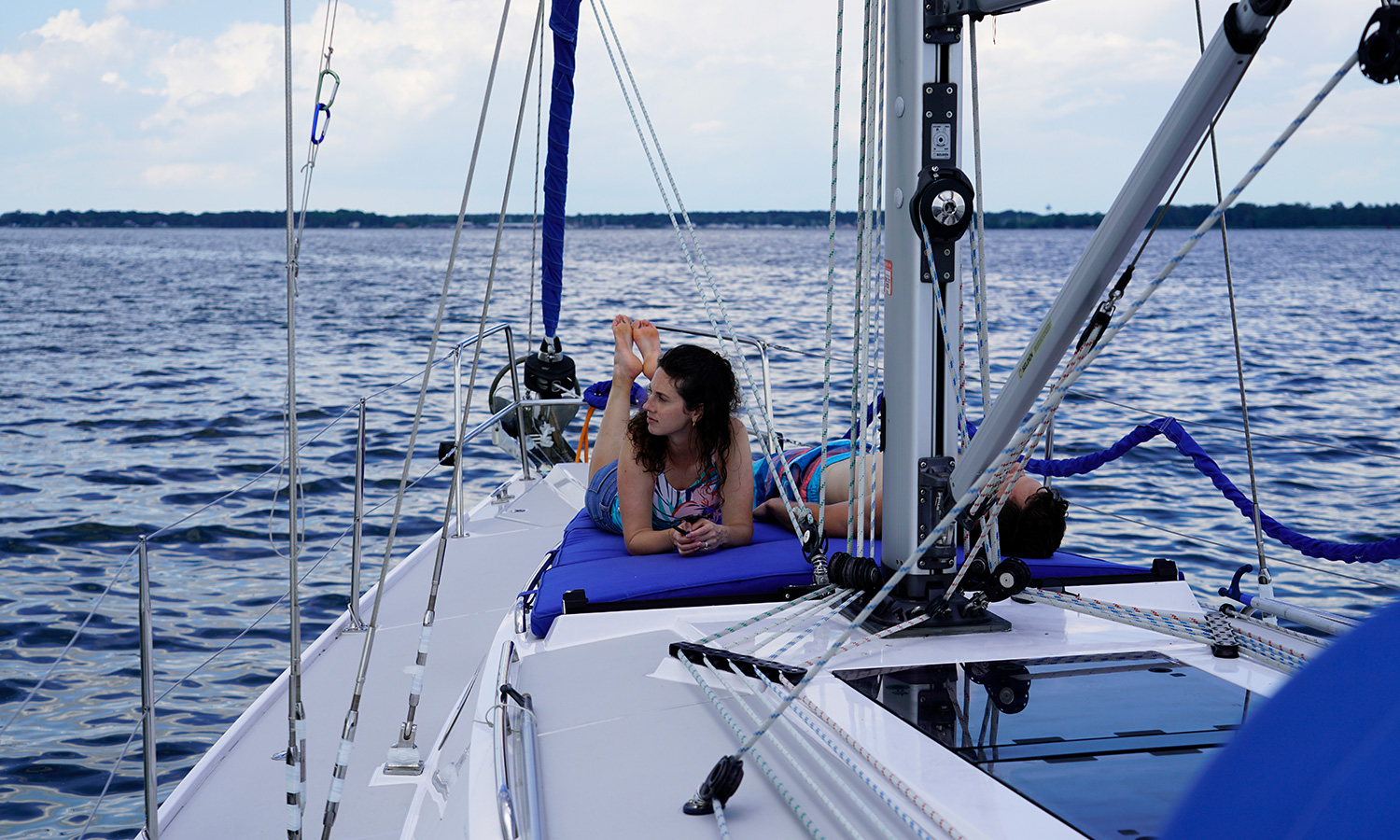 If you weren't aware, the Chesapeake Bay is known for its world-class sailing. In fact, Annapolis, Maryland has been dubbed the "Sailing Capital of the U.S.," and plays host to the U.S. Naval Academy, the U.S. Sailboat Show, the National Sailing Hall of Fame, and many national and international sailing competitions. Additionally, much of Maryland's rich history is steeped in life on the water, so it's no surprise the Bay's shoreline of 11,600 miles boasts a countless number of quaint, waterfront towns offering rich history, memorable experiences, and most importantly (to me) — incomparable seafood. No matter how many times I've explored these destinations by boat or by car, there's always some new fascinating element that further endears me to the Free State. I was more than ready to embark on the next adventure.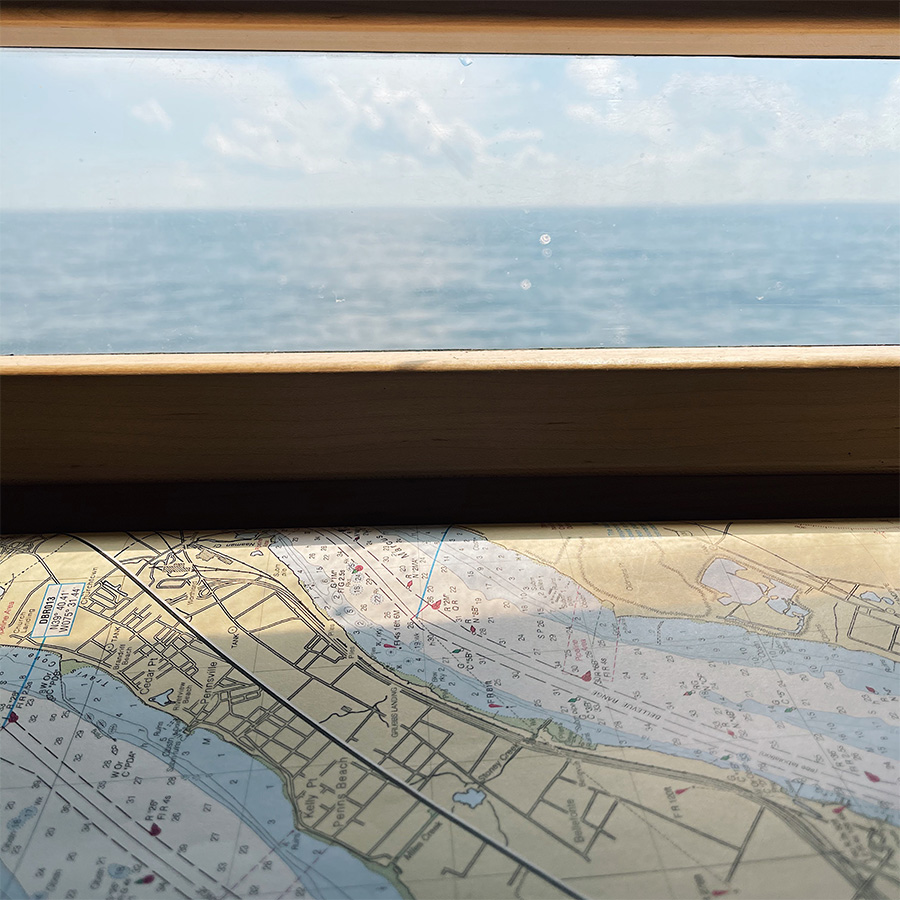 Don't get me wrong — sailing was very much on my mind when we left home. Shardana called to me as persistently as my six-year-old wanting a snack, but one of the treasures of traveling to the Chesapeake Bay is watching Maryland's landscape slowly unfurl its waterside culture, particularly when you're traveling from the west. Densely-forested mountains give way to stunning, rolling farmland. Farmland gives way to metropolitan suburbs dotted between major highways. And ever-so-subtly, roadside signs begin to provide mileage for destinations with "Ocean" and "Beach" in their names. The confluence of rivers and streams you pass over near Annapolis seems to whisper, "You're getting close." And before you know it, you're being lifted across the water by the architectural marvel that is the Chesapeake Bay Bridge — a nearly five-mile-long steel structure that affords drivers incredible views of the Bay and its flurry of boating activity from fishermen and shipping freighters to sailboats and luxury yachts. Sure, it's just a bridge, but it feels much more like a gateway to possibility.
Upon arriving at the Eastern Shore late Thursday morning, we traveled to the charming town of St. Michaels to meet our friends for a full day of sightseeing by the water. There's hardly a more quintessential place to absorb sailing culture than historic St. Michaels, where you can gawk at the impressive boats at the town dock, school yourself on watermen culture at the Chesapeake Bay Maritime Museum, or eat and drink your way along a centuries-old main street. We shamelessly did a lot of the latter, and while the whole day warrants a separate write-up, let me change your life with a few quick suggestions.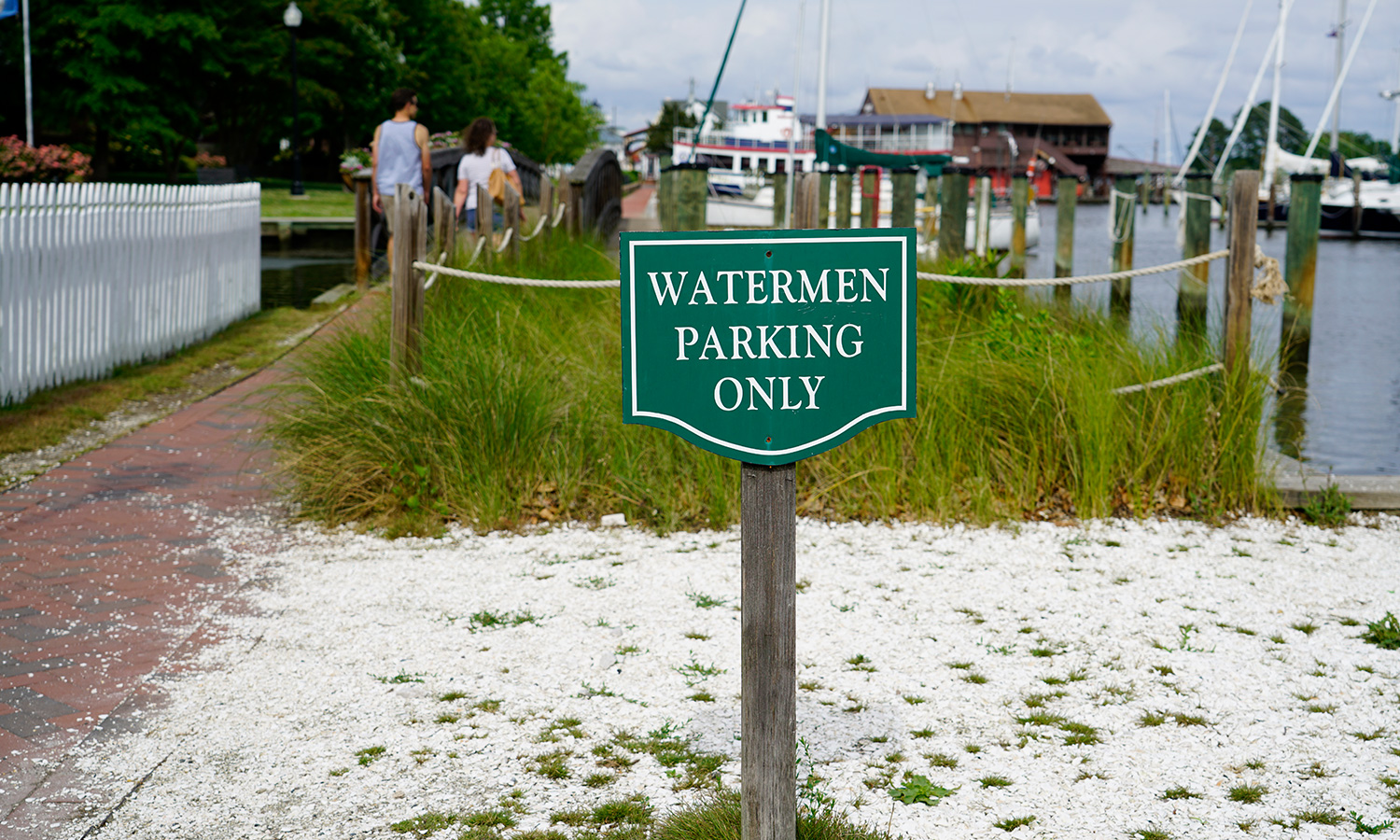 Grab brunch at The Galley, where you'll want to tackle The Big Geiger–tater tots topped with bacon or sausage (I did both because why not), scrambled eggs, melted cheese, sour cream, and salsa. Fun fact: you can also add sausage gravy, which I did. Walk along Talbot Street and visit the shops to burn off the calories. Naturally, you'll work up a thirst, so pop into Eastern Shore Brewing for a couple of cold beers. You've earned them. With the day's exploration wrapped up, you'll need, you guessed it — more food. Visit Ava's Pizzeria for not only an incredible vibe and fantastic Detroit-style pizza, but literally the best meatball sliders you will ever find. This isn't hyperbole — I sometimes think about these meatballs while lying awake in bed at night. As you can imagine, we left St. Michaels with our hearts as full as our stomachs thinking excitedly about our sailing adventure the next day. That evening I fell sweetly to sleep curious if our day's binge would have any impact on the ship's buoyancy.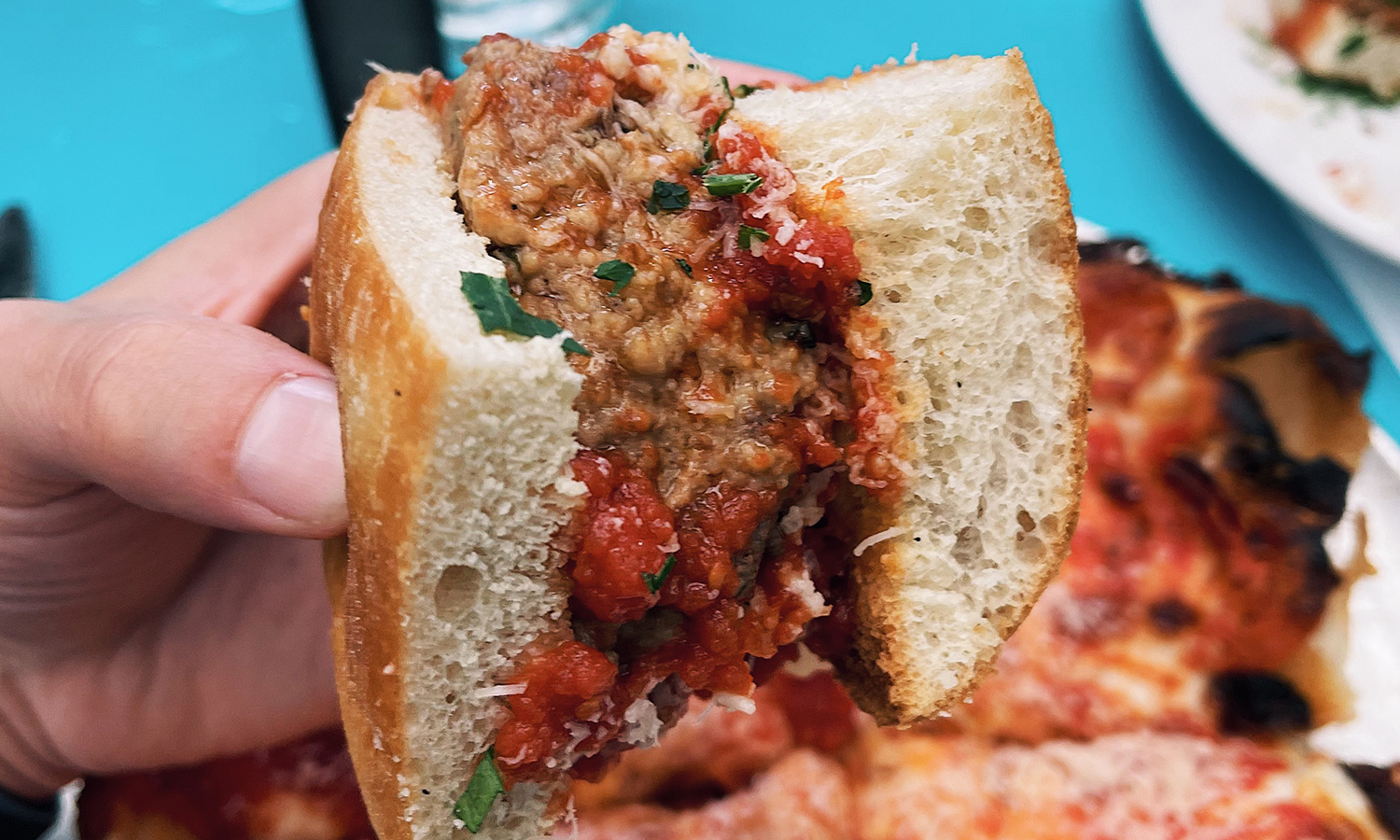 After a slow start to the morning and a quick stop at the grocery store, we set out for Rock Hall with coolers full of snacks and drinks for the boat. We meandered along Route 213 encountering more small towns — Centreville, Church Hill, Kingstown — each seemingly worthy of exploring. We then crossed over the Chester River and entered Chestertown, another historic gem with centuries of use as a riverfront trading post and presently as the home of Washington College. But there wasn't time for exploration no matter how enticing the views from the car. We were getting closer to Shardana, and my daydreams of sitting at the bow of the boat while the wind blew through my non-existent hair became more and more vivid. At last, we arrived at Osprey Point Marina, where our adventure awaited us at Dock B, Slip 38.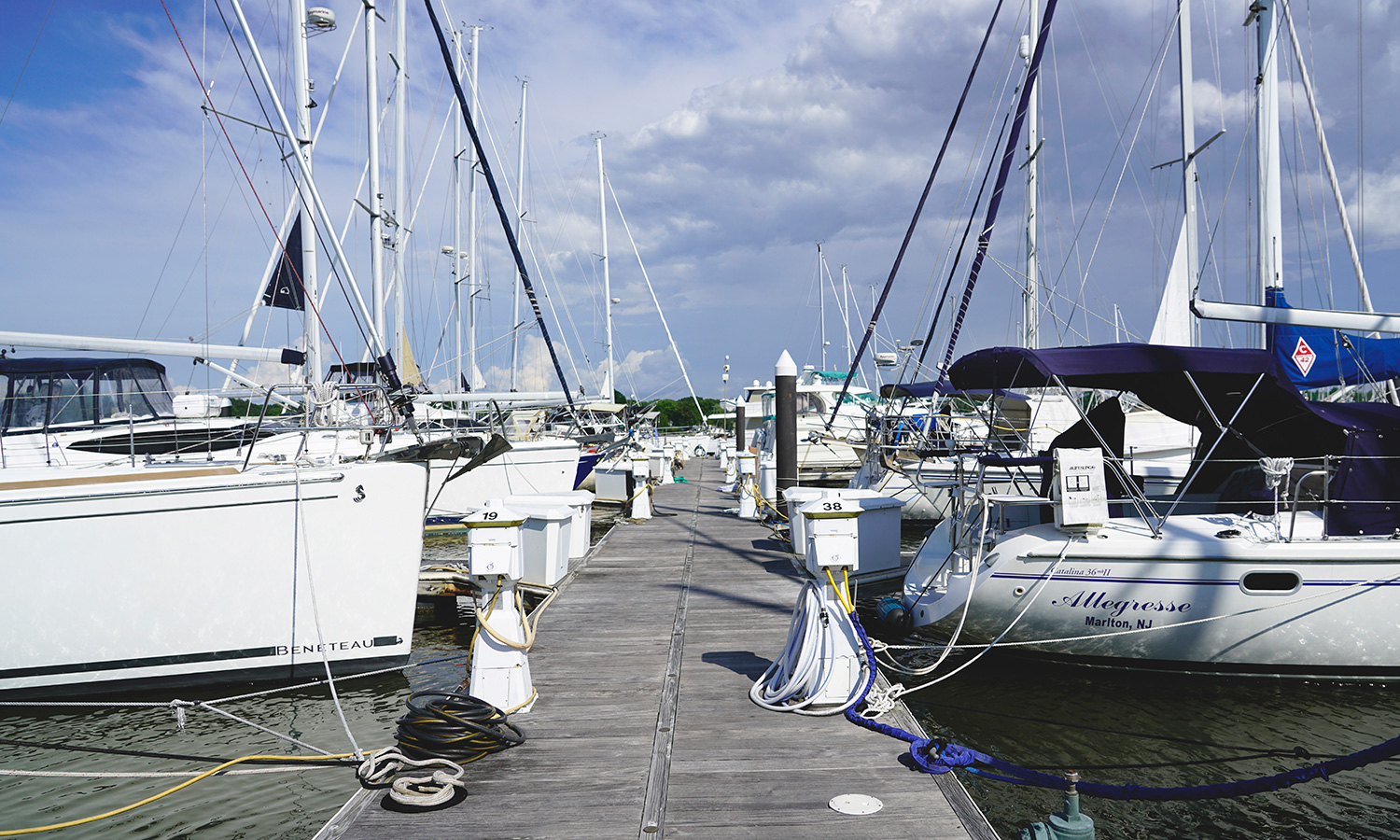 We walked along the expansive wooden dock passing row upon row of stunning sailboats. Some owners toiled over cleaning the decks while others relaxed under the biminis, sipping cold drinks in a very Jimmy Buffett-esque way. We spotted the distinct blue lettering along the hull reading "Shardana" and were greeted warmly by Captain Davis Jones and Captain Andrew Seligman, the latter of which would be our guide for the day. I immediately felt ridiculous with the sheer volume of bags and coolers for four people doing a few hours of sailing, but with absolutely no judgment in their expressions, the crew helped us aboard and invited us to make ourselves at home. Immediately, there was a distinct difference in the way this ship was managed by its owners, and I would soon come to learn why.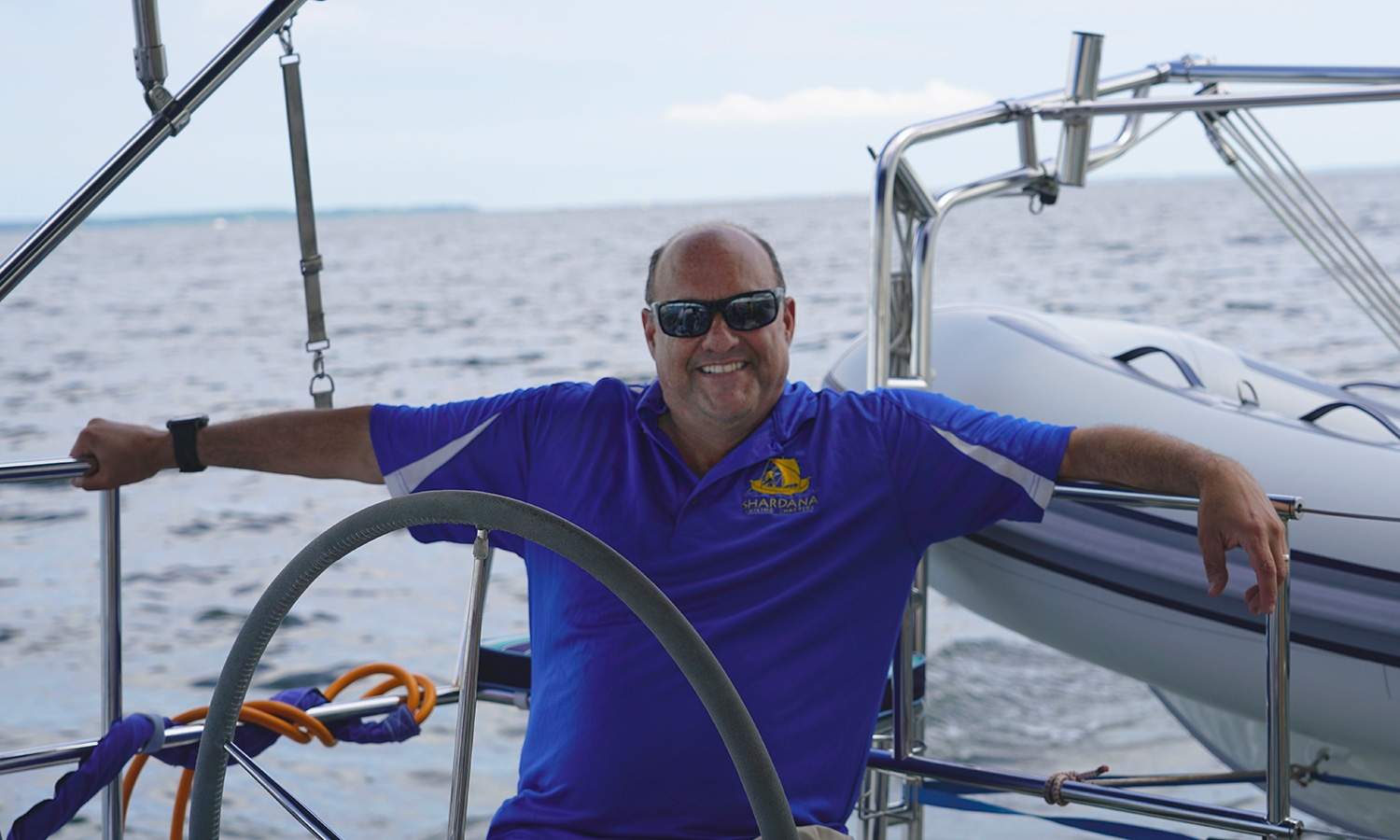 The Shardana is the by-product of two friends — both employed as scientists at the Environmental Protection Agency — with unique life experiences, a lot of global travel under their belts, and the desire to create experiences for people on the water that they won't soon forget. The captains are all licensed by the United States Coast Guard and many are certified by the American Sailing Association, which puts safety and education at the forefront of their commitment. But this crew doesn't try to impress you with their credentials. In fact, we were discouraged from using the title "Captain" while addressing them. What is really at the heart of why they do what they do is the desire to help others enjoy sailing in a way that resonates with them.
Shardana Sailing Charters lives out its mantra of "Sail Your Story" by empowering passengers to create an itinerary, which the crew fully facilitates with the exception of food. Want to anchor out in the Bay and jump in the water to cool off? Sail to Annapolis for a great seafood dinner? Grill out on the BBQ in the cockpit and have a nightcap top-deck under the stars? They'll make it all happen in a way that feels like one of those "choose your adventure" books from your childhood. And in that spirit, I felt like our adventure had commenced as the boat slowly pulled away from the dock while I tried to suppress the silly, child-like grin forming on my face.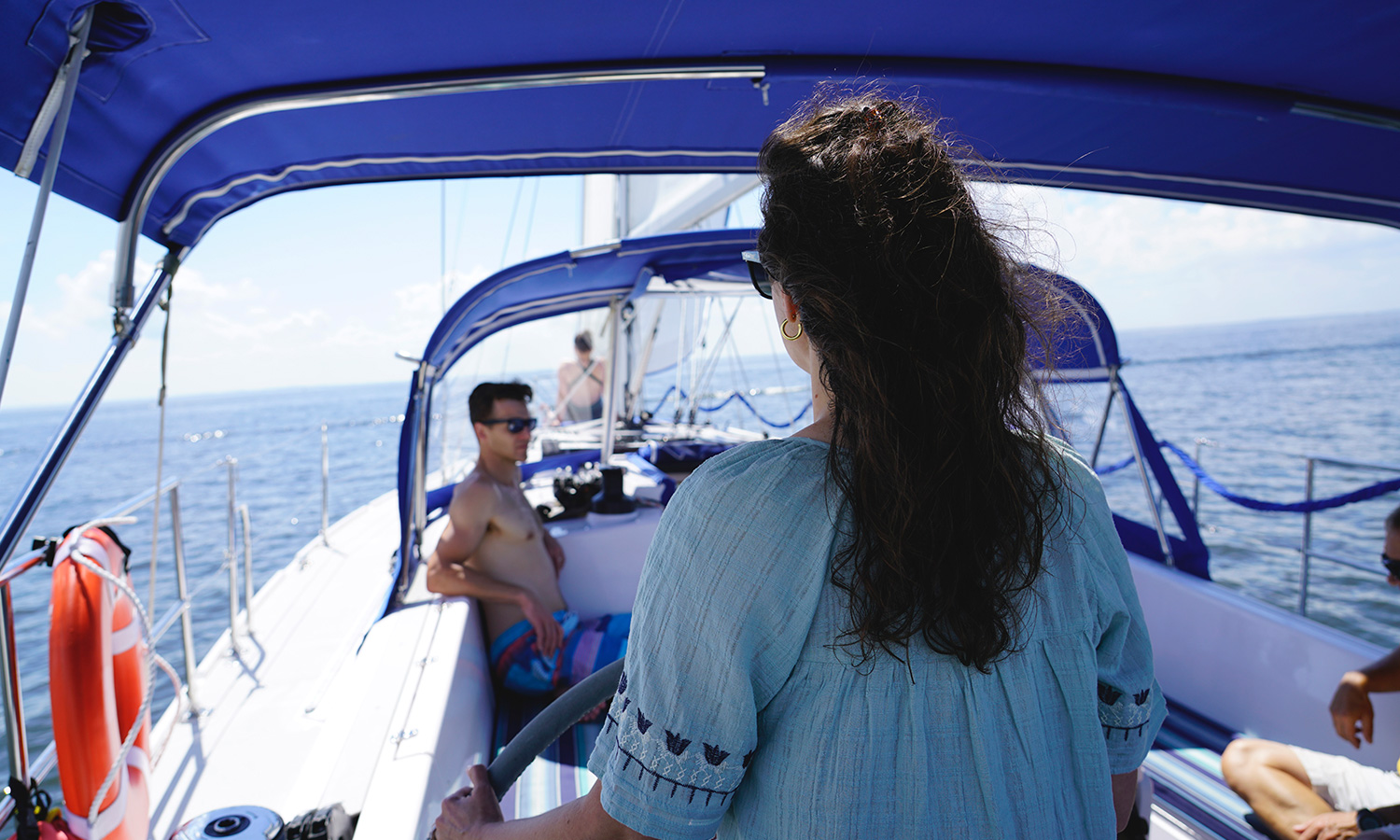 Under motor, we glided along Swan Creek as the marina disappeared further behind us. The mouth of the creek grew wider and wider until we found ourselves entering the enormity of the Chesapeake Bay. The Bay Bridge was still discernible to the southwest through the hazy summer sky while billowy clouds periodically passed overhead giving a reprieve from the sun. When we found ourselves in more open waters, Captain Andrew cut the engines and directed his first mate to raise the sails. We admired how he instinctively adjusted the wheel, causing the sail to fill with wind. And just like that, little sound could be heard beyond Shardana cutting through the water and the release of carbonation as we cracked open our drinks.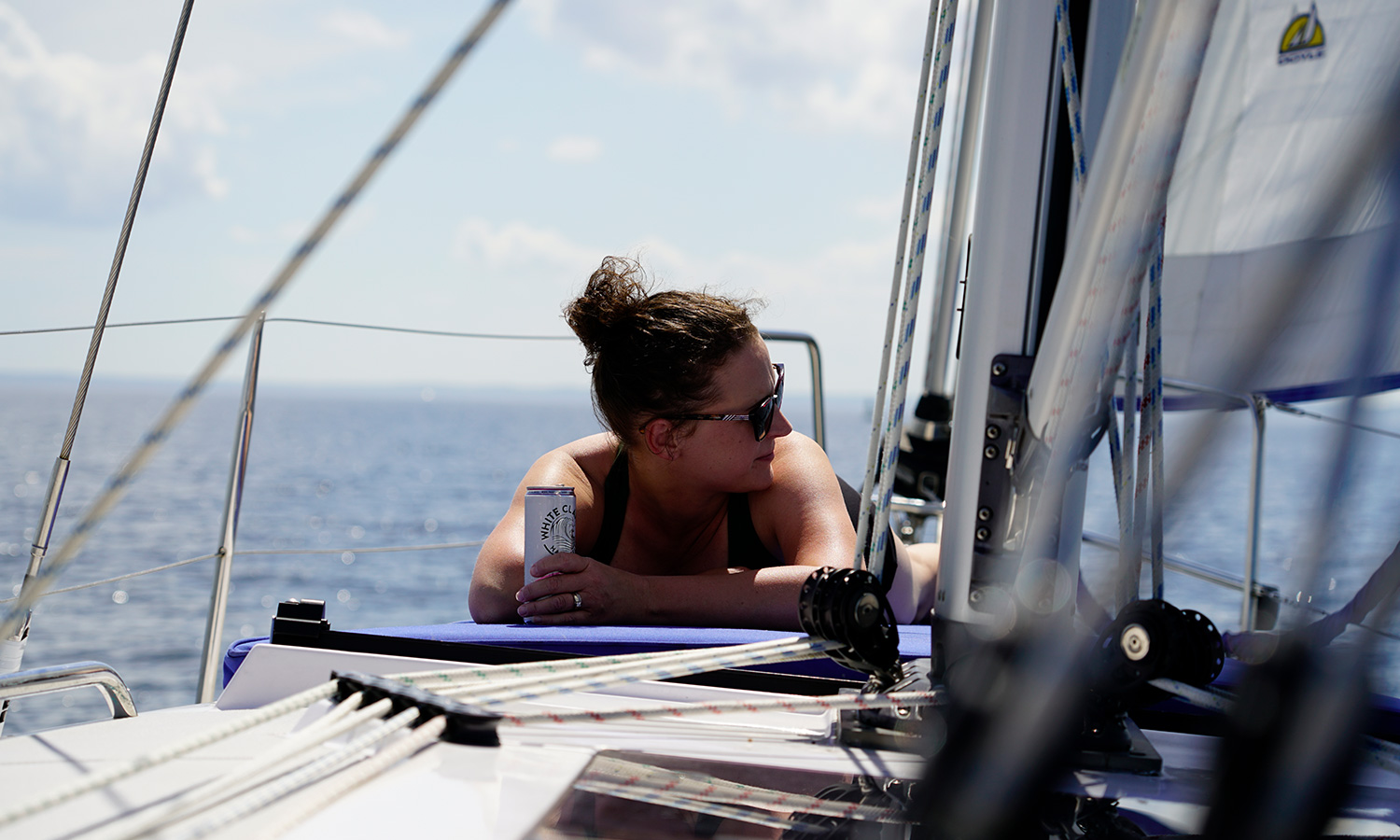 The afternoon was spent like I had hoped — relaxed, disconnected, and content. Captain Andrew regaled us with stories of his upbringing and experiences on the water. As I learned more about him and took in the surroundings, it baffled me as to why anyone wouldn't try sailing. I asked Captain Andrew for his thoughts on the matter, and he pointed out the common misconception that sailing is reserved for the wealthy or it's simply not even on people's radars as an opportunity. He recommended folks get their feet wet by trying out a half or full-day sail. With confidence, he stated most people will fall in love with the experience and subsequently long for a multi-day trek, which was the case for me. As the afternoon progressed, so did the unexpected storm clouds. Captain Andrew lowered the sails in a move of much-appreciated caution, and we headed back to the marina only to be glanced by the edge of the storm.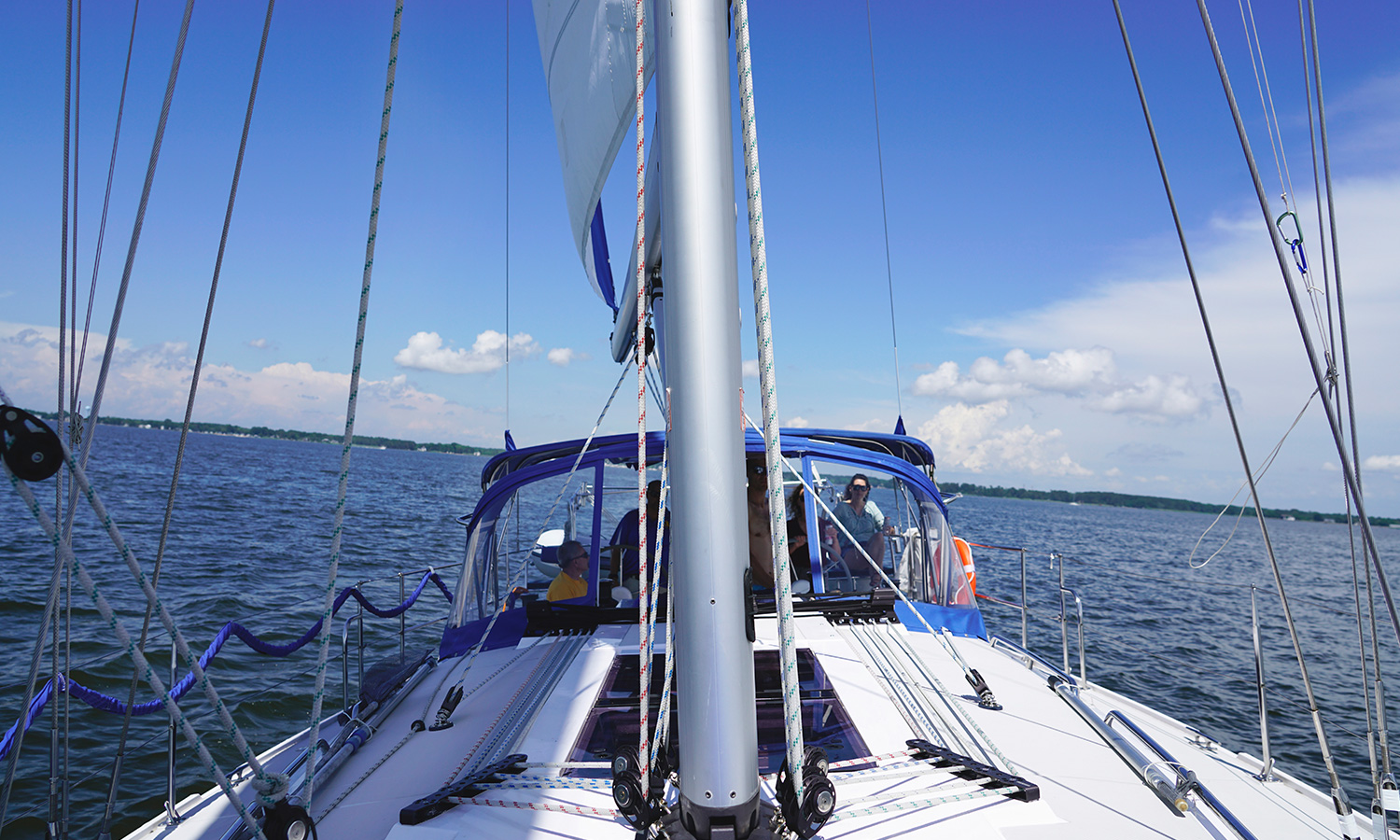 Somewhat saddened at the conclusion of our sail, I looked to Captain Andrew and sheepishly asked, "Once we get to the dock, do you mind if we stay on Shardana a little longer to eat,  drink, and live like boat people for a couple more hours?" He smiled and responded, "Yes, as long as I can join you." There I sat taking in the music, the breeze, and the stories. The sun was shining on my shoulders as the condensation dripped from my cold beer. The weight of the world had been carried away on the same winds that filled our sails. And as I watched the crew tie us back to the dock, I cheekily thought, "Should I give them a hand with the lines?"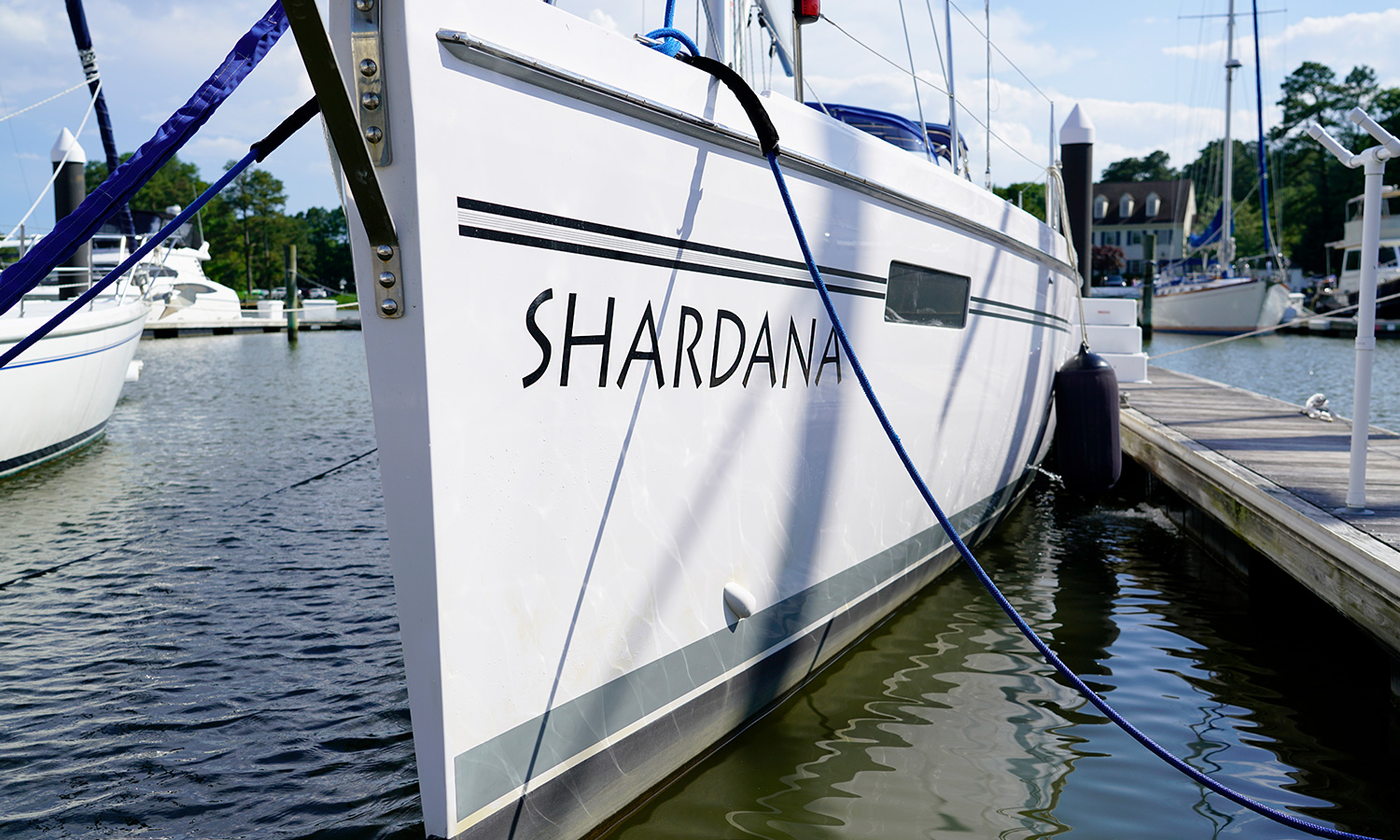 ---
Lead Photo: Chris Vandergrift
Chris is the Editor of Maryland Road Trips and loves spending time in nature with his wife and son.