Maryland's Bayside Jewels: Chesapeake Beach and North Beach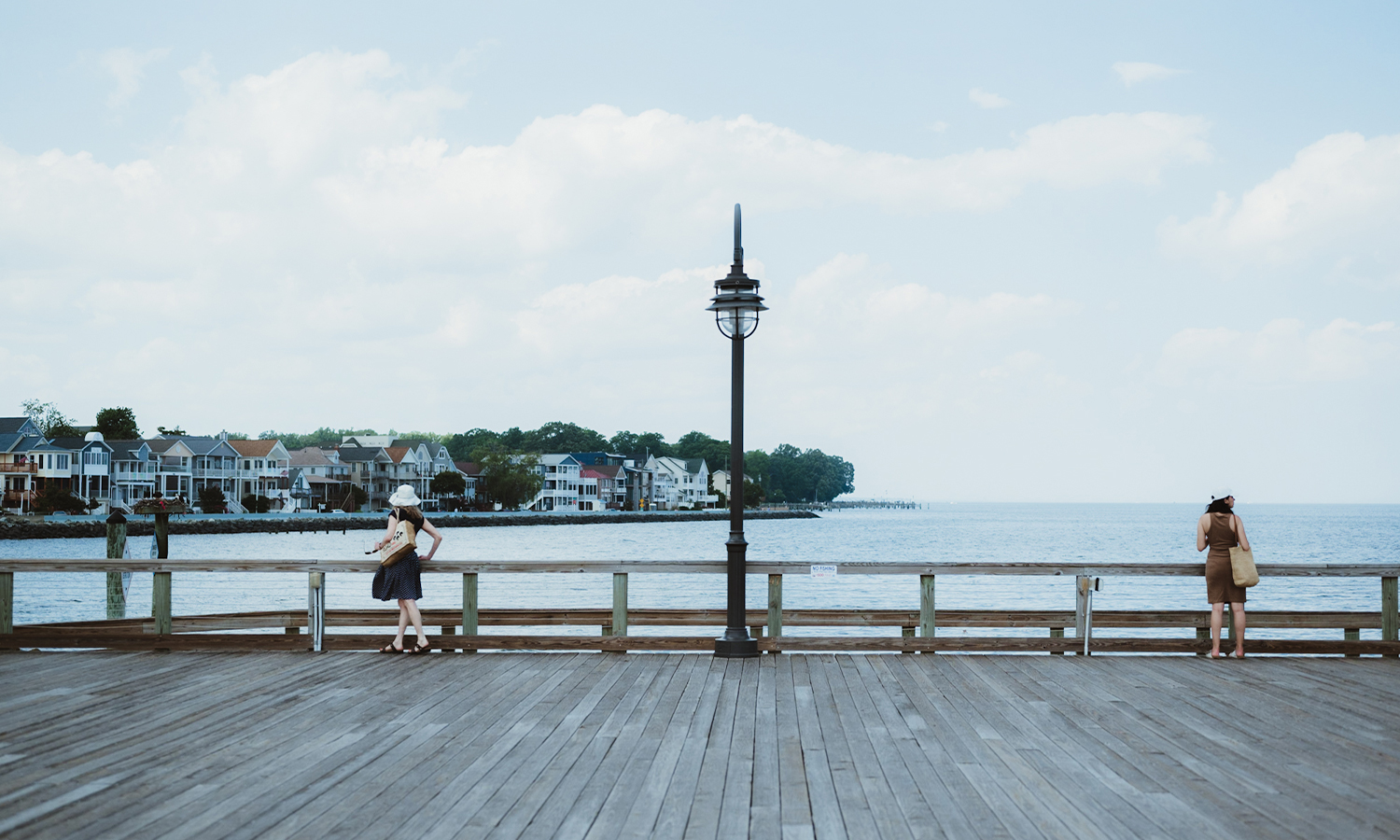 There's nothing that a sunny day spent strolling on a boardwalk and eating on the deck of a waterfront café can't cure. Located just under 30 miles south of Annapolis and 35 miles southeast of Washington, D.C., the charming Bayside towns of Chesapeake Beach and North Beach are worth the drive. Here, you'll find views of the water and small beaches that are reminiscent of those along the Atlantic Ocean.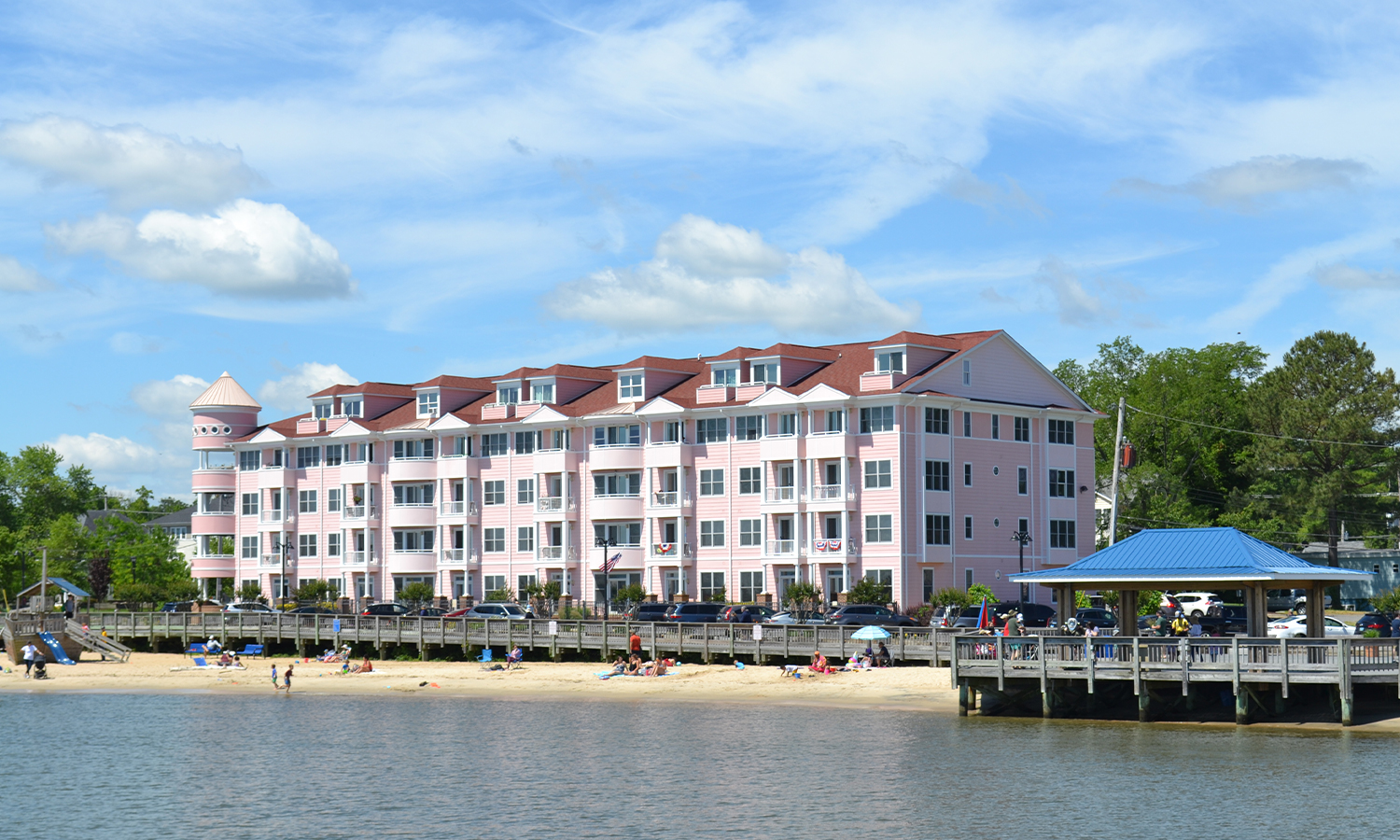 Chesapeake Beach and North Beach share the coastline of the Chesapeake Bay and the main street (Bayside Road) that takes you from one town to another. Rich with history, the towns seem to be in the midst of a renaissance of sorts. With new construction, a casino, waterfront dining, new homes and condos that sit on the water, and beautifully manicured boardwalks for strolling, you'll be glad you took the drive to spend time in this picturesque destination.
In the early 1900s, Otto Mears and a group of associates created plans for Chesapeake Beach as a destination resort town. When the idea became a reality, and the first trains arrived from Washington, D.C. and Baltimore in June of 1900, Chesapeake Beach was officially on the map. Visitors enjoyed waterfront hotels, a boardwalk, casino, bathhouse, and beaches.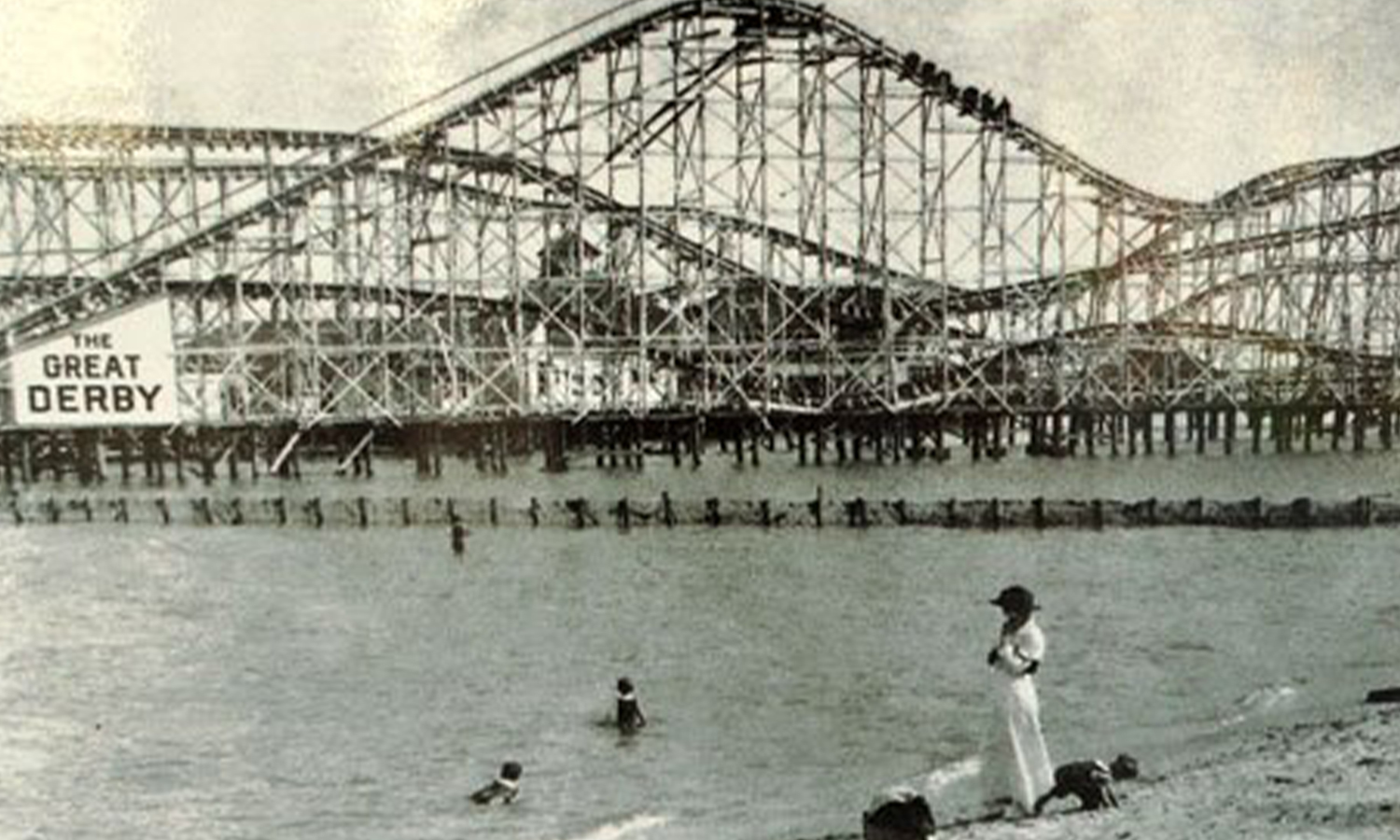 Other attractions were built as well, including a roller coaster, carousel, dance pavilion, and many games and entertainment booths. Unfortunately, when the Great Depression hit in the 1930s, the area suffered, and the trains stopped coming. While the railway station may have closed for business, you can learn more about the history of the area by visiting the Chesapeake Beach Railway Museum, which was established in 1979. It's a great way to relive the era around the turn of the century.
One of the draws for residents of Calvert County and town residents is the Chesapeake Beach Water Park.  A staple and draw in town, like many things in our lives right now, the water park is currently restricted for the 2021 season to those who live in Calvert County. Perhaps in the future, those restrictions will be lifted. If nothing else, it's a great way for Calvert County residents to cool down during the hot summer months — and it looks like a lot of fun!

And while there may no longer be a wooden roller coaster situated on the coastline like there was in the early 1900s, the Rod 'N' Reel Resort satisfies vacationers looking for a weekend getaway. The Rod 'N' Reel Resort's casino offers gaming and slot machines. Located on the shore of the Chesapeake Bay, the hotel sits majestically on the water and hosts weddings and special events on-site. Charming in its present state, visitors will be pleased to know that the Rod 'N' Reel Resort is slated for redevelopment, with a renovation scheduled for a 2022 delivery. It will be interesting to see the outcome of the improvements and additions to an already attractive and well-maintained resort.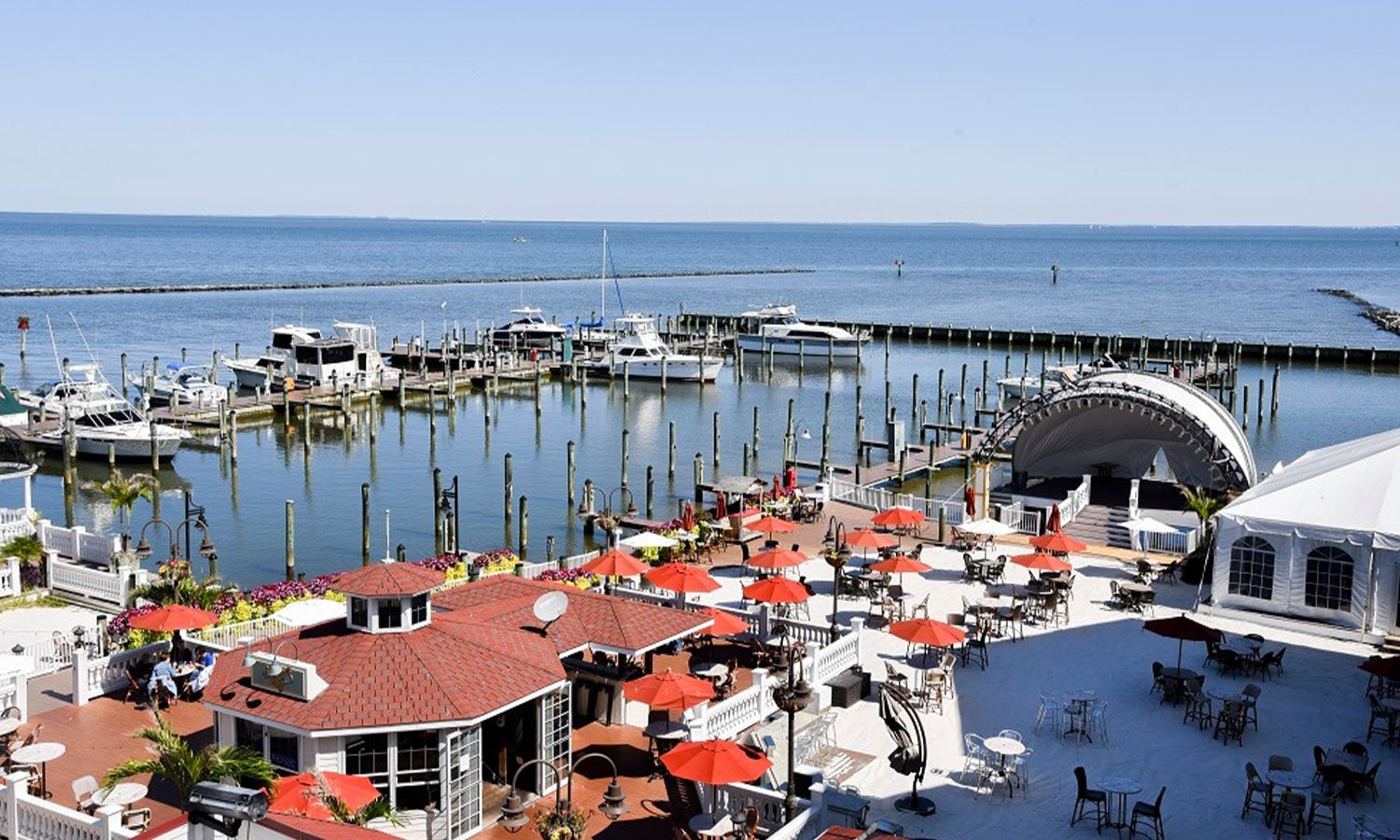 Dine at the Rod 'N' Reel Restaurant on the water, or sit outside on the deck at the Boardwalk Café. The exterior of the resort is elegantly designed and landscaped. At the suggestion of my server at the Boardwalk Café, I ordered a delicious steamed shrimp appetizer and a burger that didn't disappoint. 
For those wishing to explore the Chesapeake Bay for fishing, crabbing, or sailing, charter boats can be booked in advance and depart from the marina adjacent to the Rod 'N' Reel. There are many options from which to choose.
If your sea legs are a bit weary, but you'd still like to fish or crab, you'll find many fisherman and crabbers set up on the extended and expansive North Beach Pier, just down the road in North Beach. The pier itself is adorned with benches, as is the boardwalk that runs along the coast. These benches memorialize and pay tribute to residents the town has lost, from two brothers who served in two wars and lost their lives, to those who have passed away too soon.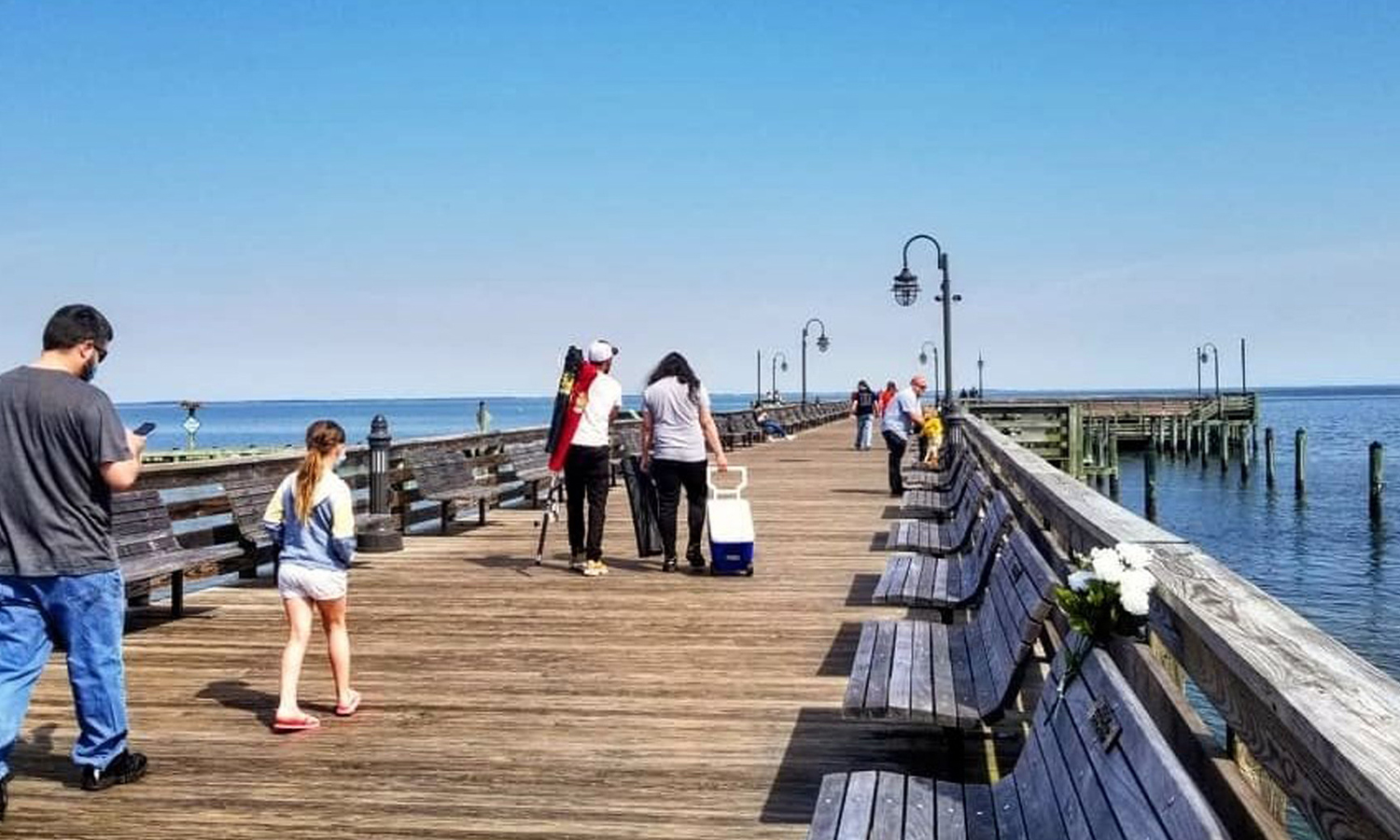 One of the more touching stories uncovered during my visit was that of Sally Donaldson, an energetic and beloved resident of North Beach. Donaldson moved to the area in 1999, and became the town's biggest cheerleader and supporter, planning events, coordinating fundraisers for the Boys and Girls Clubs, and serving as the Special Events Coordinator for many years. Her service to the community was broad and diverse and even included planting the flowers and decorative plants along the boardwalk. After her passing in 2016, the mayor and Town Council renamed the Welcome Center in her honor; it is now called the Sally Donaldson Welcome Center. It is a lovely tribute to someone who gave so freely of her time to a community she dearly loved.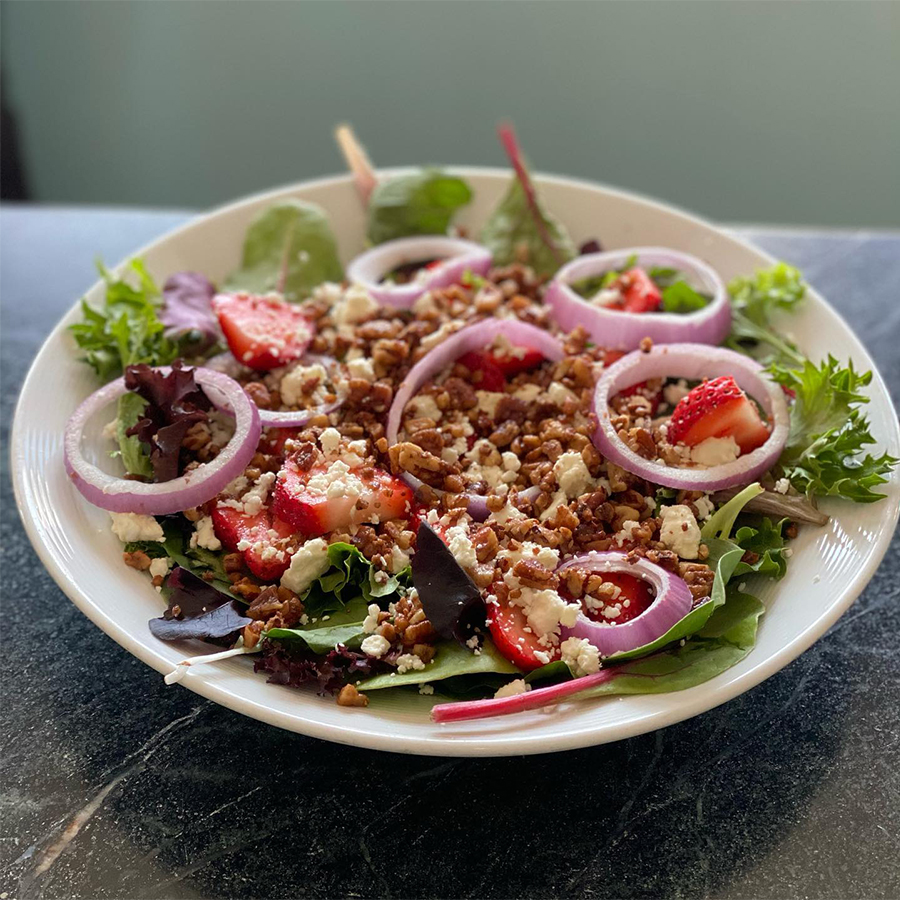 North Beach also has a few restaurants for your varied tastes, be it Plaza Mexico, Neptune's Seafood Pub, Hook & Vine, The Wheel House Beer Garden, or a few others that are "coming soon." It's no surprise to see the housing market on fire, especially in water-privileged towns. When speaking with a North Beach resident whose house sits on the water overlooking the Chesapeake Bay, she said, "My husband and I own a condo in D.C., and this is our second home, but when the pandemic hit, we came here — and we've been here ever since. We love it here."
If you're in the mood for shopping, stores in town are limited, but there are a few adorable ones in North Beach, namely an antique store, a soap store, and a gift store. However, if it's ice cream you're craving, there's certainly no shortage of ice cream shops. There's also a local farmer's market with fresh fruits, vegetables, juices, and sauces. Finally, if you're looking to have your palm read, you're in luck. North Beach has a palm reader, too.
For those who come to Chesapeake Beach and North Beach for their namesakes — the beach — you have a couple of options. North Beach is free to residents; however, both out-of-county visitors and Calvert County visitors must pay a fee. Out-of-county visitors pay $25 per adult and $10 for children 3-11. Calvert County residents pay $9 for adults and $6 for children 3-11. Children under two are free. There are also discounts for seniors and active military. Brownie's Beach, located in Chesapeake Beach, is currently open for residents but closed to the public for the 2021 season.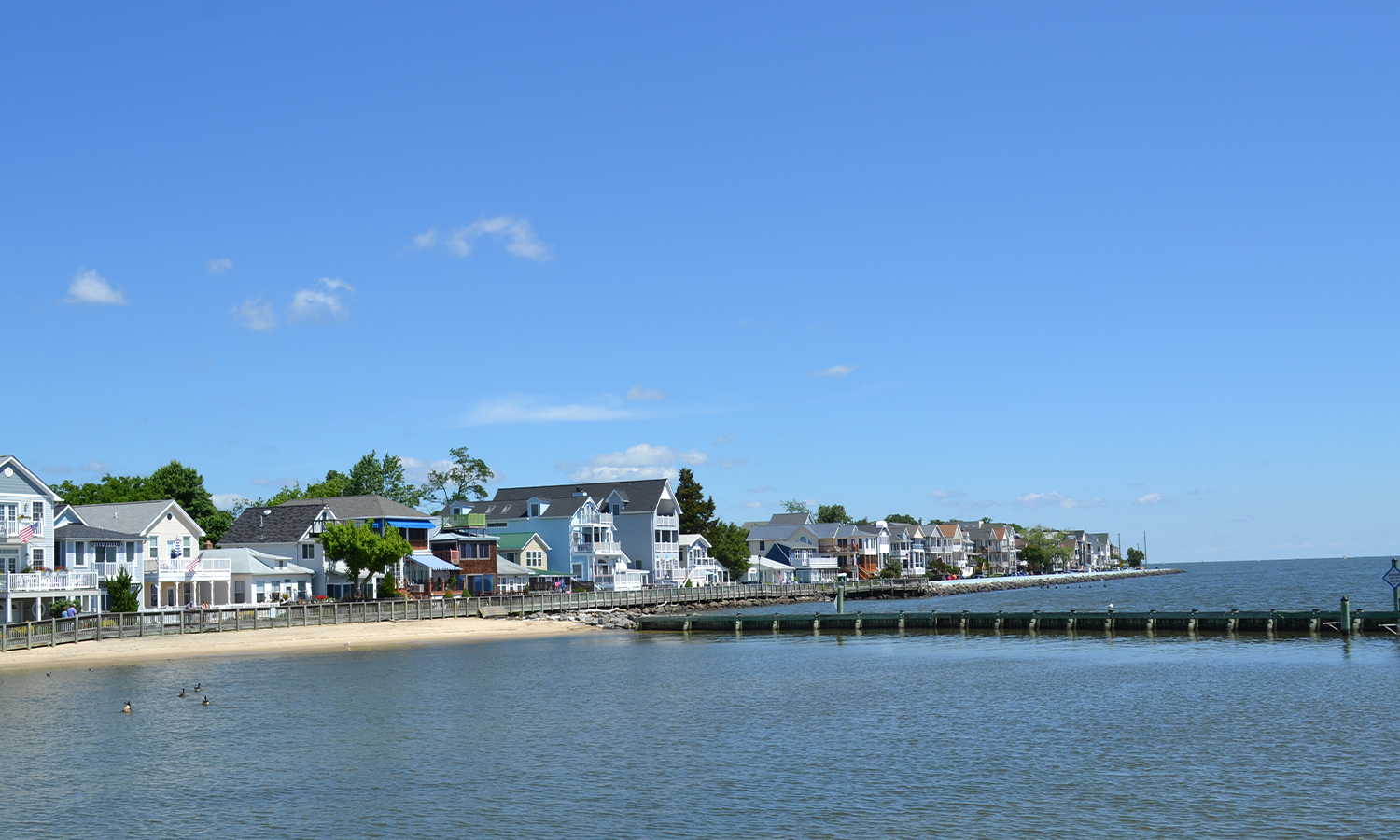 Regardless of what you choose to do, an afternoon spent in Chesapeake Beach and North Beach will have you feeling as if you've slipped away to a remote beach town. Strolling on the boardwalk, walking through town, eating on the water, and treating yourself to ice cream may be on the docket if you can't get to the Atlantic Ocean but want to experience waterfront towns on the Chesapeake Bay.
---
Lead Photo: Sarah Menard
Stephanie Verni is an Adjunct Professor of Communication at Stevenson University and the author of seven novels. She has taught a variety of communication courses, and she especially loved teaching courses in travel writing. A true Marylander, she enjoys writing about the beauty of her state and incorporating Maryland locations into her books. When she's not writing, you can find her on her boat cruising the Severn River with her family. She's on Instagram at @stephanieverniwrites