5 Spots Across the State to Drink Outside This Winter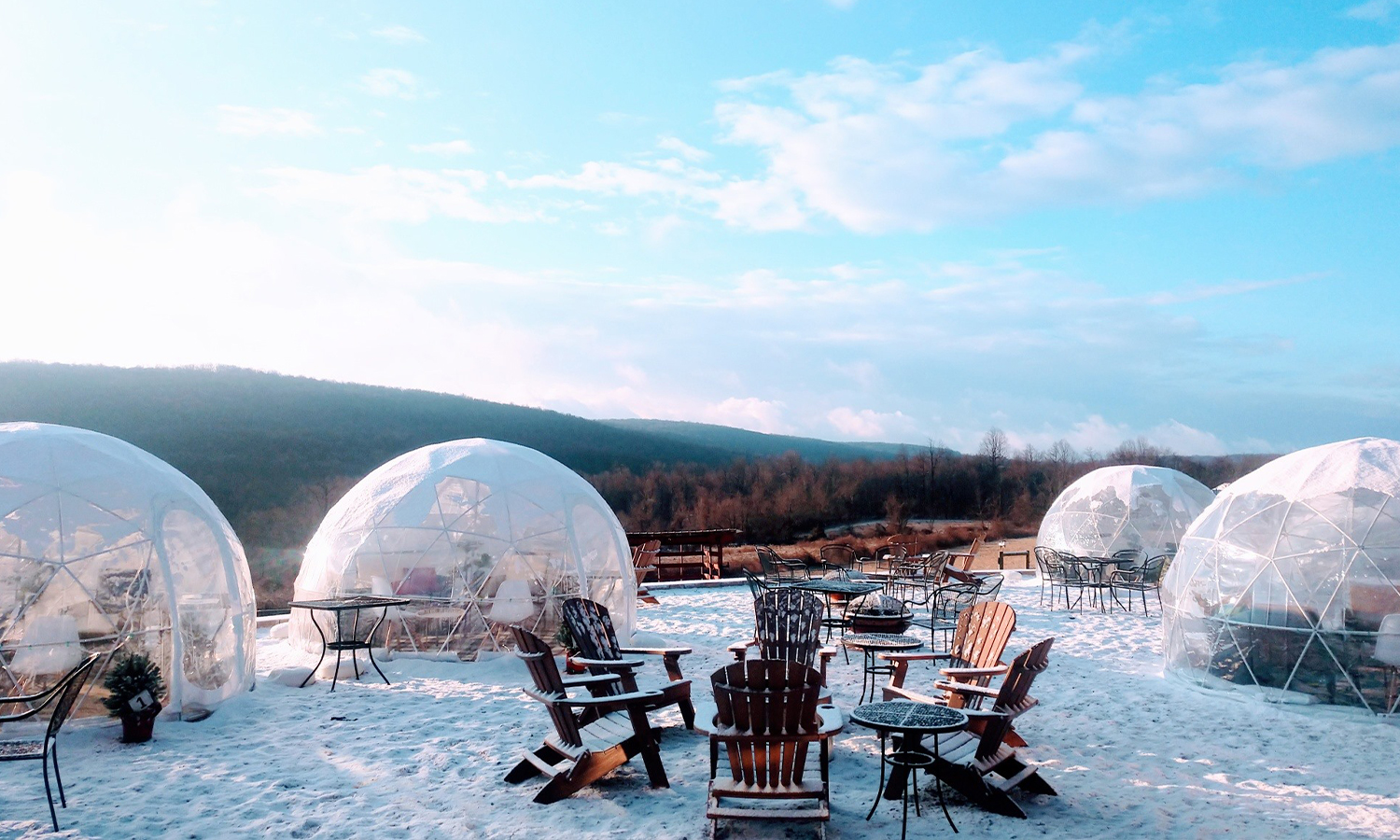 Don't let the cold get you down! With the growing popularity of igloos, tents, and fire pits, you can imbibe outside without freezing your buns off. Check out five of the craft beverage spots in Maryland that have adapted to include cozy outdoor drinking spaces:
Frey's Brewing Company, Mount Airy
If you are looking to slow down and bask in the countryside, take a drive over to Frey's Brewing Company. The tasting room is in a renovated 200-year-old barn, which is worth checking out, but guests are also more than welcome to rent out fire pits for the day for $20 now through the end of March. No reservation is required, but they are first come first serve. A starter kit and wood are provided.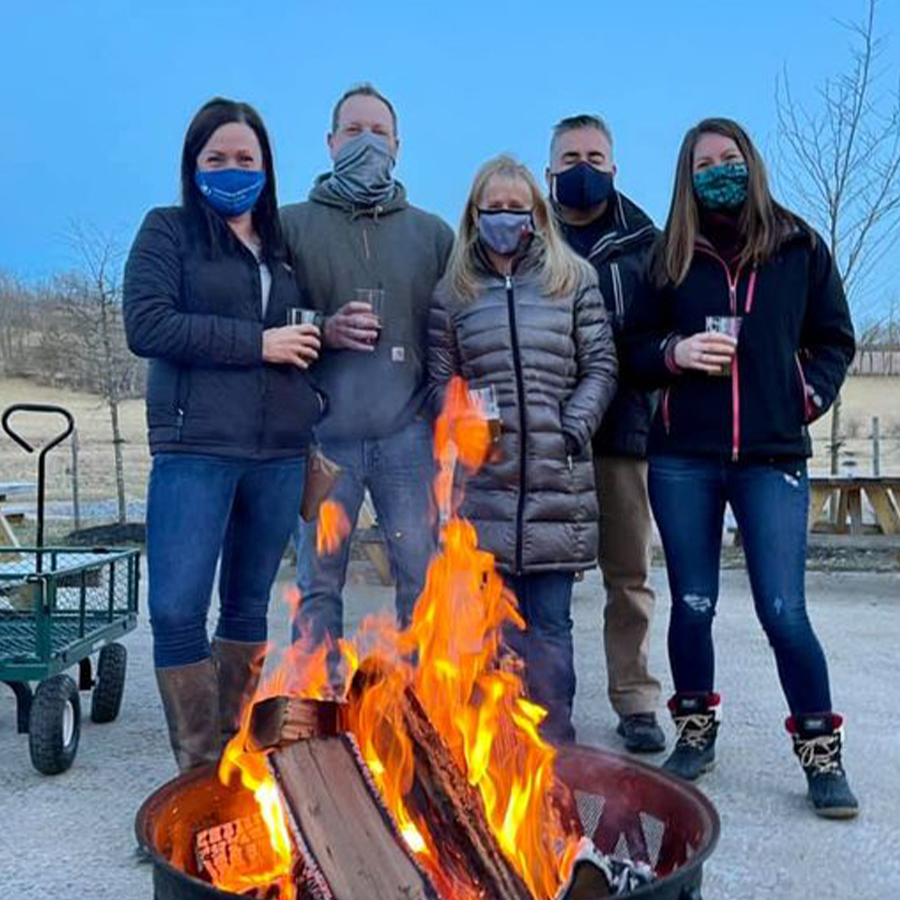 There is something for everyone at Frey's. You'll find 20 beers and ciders on tap and plenty of appetizers to choose from, such as hot pretzels, nachos, crab dip, and jerky. More recently, a coffee and hot cocoa bar has been added inside the tasting room. The drink menu also includes two mocktails for non-drinkers and children alike. Not a fan of beer? I recommend the Cherry Vanilla Cider.
If you are lucky, you might be able to see a few barn cats roaming around outside —they love people, be sure to say hello!
Lone Oak Farm Brewing Company, Olney
Lone Oak Brewing opened to the public in June 2020 and has already left a mark on the Montgomery County brewery scene. They offer a vast selection of seasonal and specialty beers, hard seltzers, hard sodas, and food including dips and spreads, craft pizza, and chili.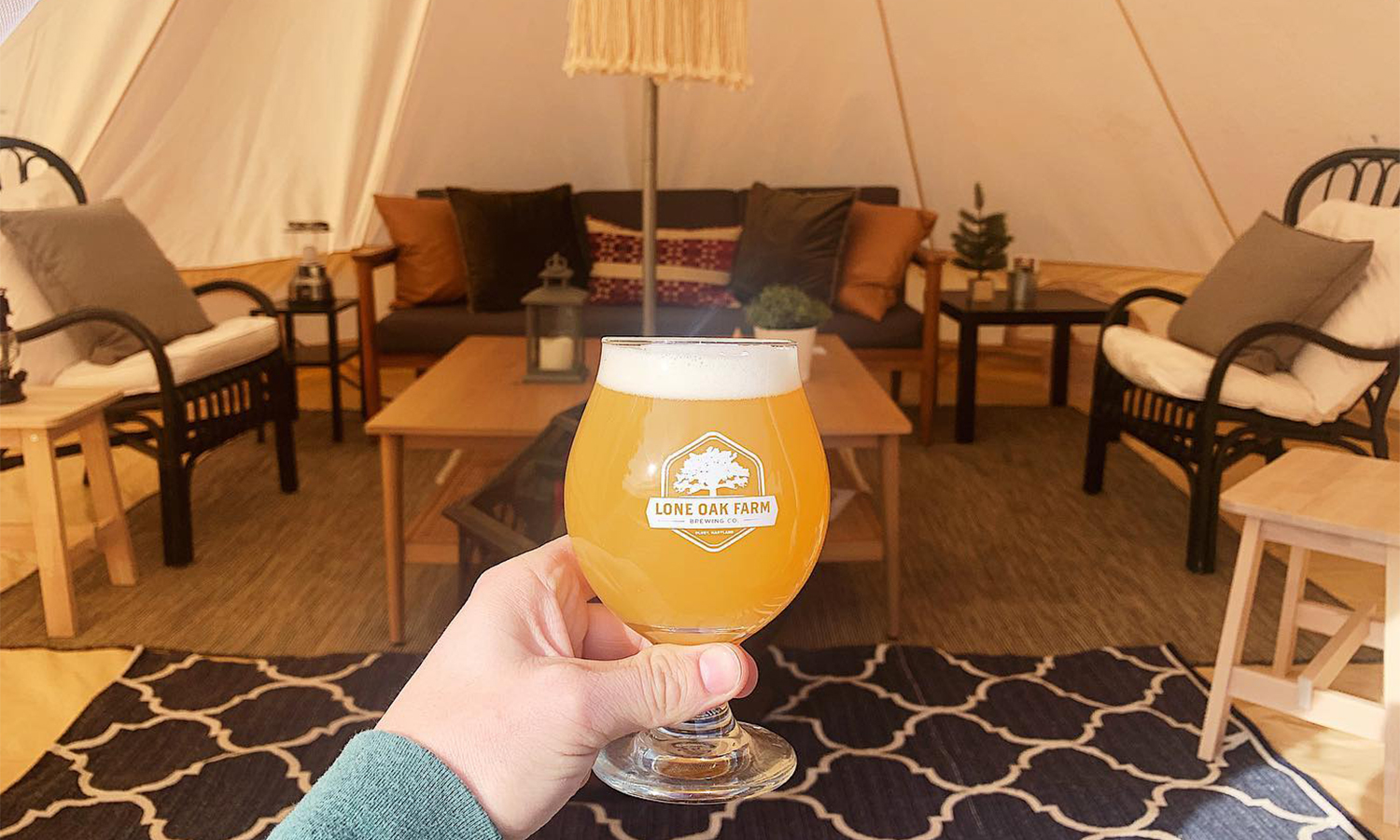 The highlight of the brewery is "The Lone Oak Tent Grove," a collection of heated and furnished bell tents. The tents, provided by woman-owned Montgomery County business Wild Tribe Company, also include a server for your drinking and dining needs. Lone Oak has also added fire pits to rent with six Adirondack chairs and a server included. The tents and fire pits require a reservation and will be available through the end of March. Tents are $125 for a two-hour time slot and fire pits are $75 for a two-hour time slot. Each rental is for one hour and 45 minutes (plus an allowance of 15 minutes for cleaning).
Red Heifer Winery, Smithsburg
Outdoor seating options are nothing new to Red Heifer Winery; this is their third year offering igloos to accommodate more outdoor seating on their 56-acre property. Now with outdoor seating as the norm this winter season, they've upgraded their seven igloos with adorable furnishings and infrared heaters. The igloos are by reservation only until the end of April. Standard size "fire bowls" are offered on a first come first serve basis. There is one premium, large  "fire bowl" where reservations are required. The reservation fee for an igloo is $35 and there is an $85 food and beverage minimum for a 2.5-hour time slot. The fee for a "fire bowl" is $30 for a 2.5-hour slot, which includes a fire starter, kindling, and firewood.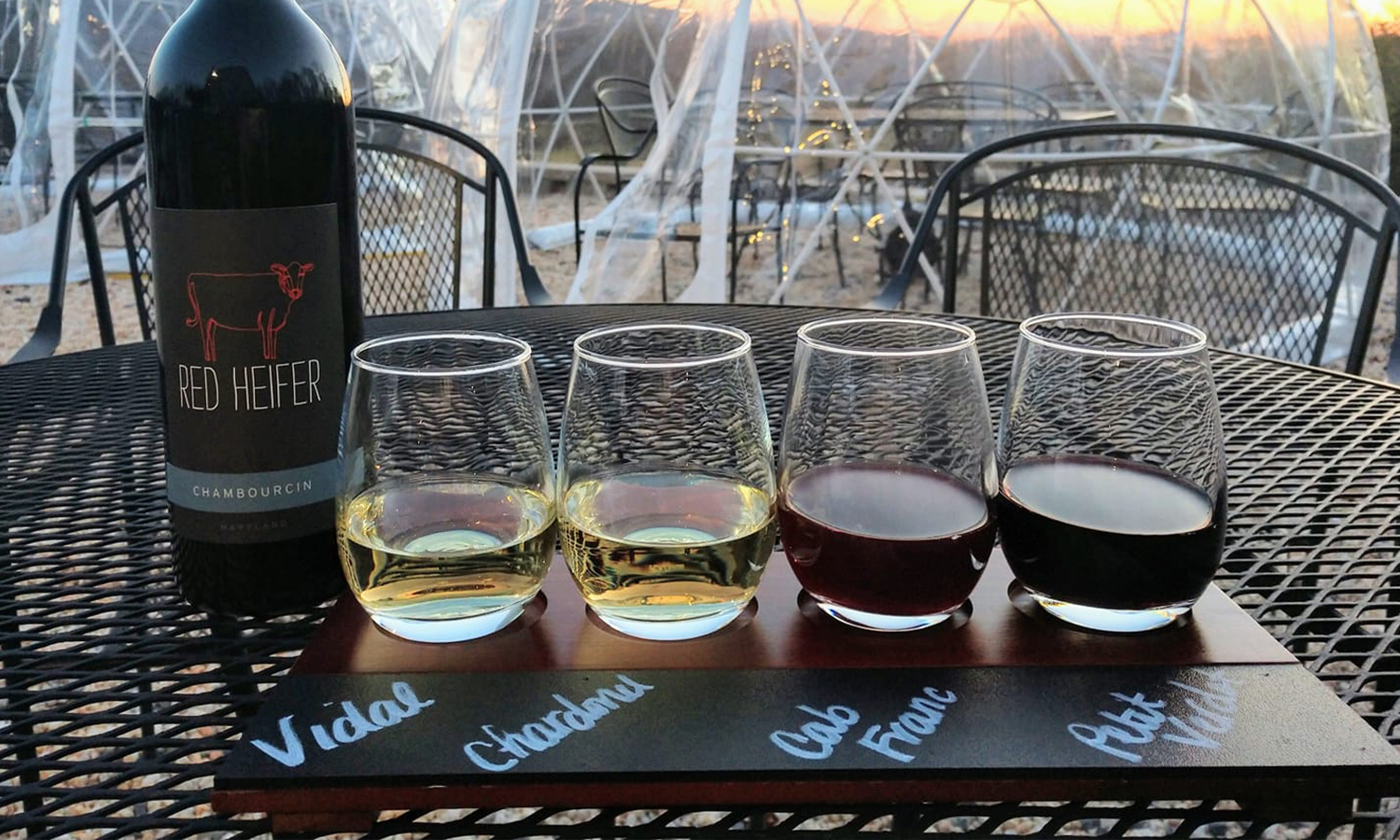 Enjoy a wine flight of dry and sweet wines while overlooking the mountains for a match made in heaven. 
Mountain State Brewing Company, McHenry
A popular year-round destination for a Maryland getaway is Deep Creek Lake. If you are planning a trip to the lake or a day on the slopes at Wisp Resort, put Mountain State Brewing on your itinerary. Mountain State Brewing is a chain of breweries originated in West Virginia, with three locations in its home state. Their Deep Creek Lake location also doubles as a restaurant, specializing in artisan flatbreads baked in hand-built, wood-burning ovens.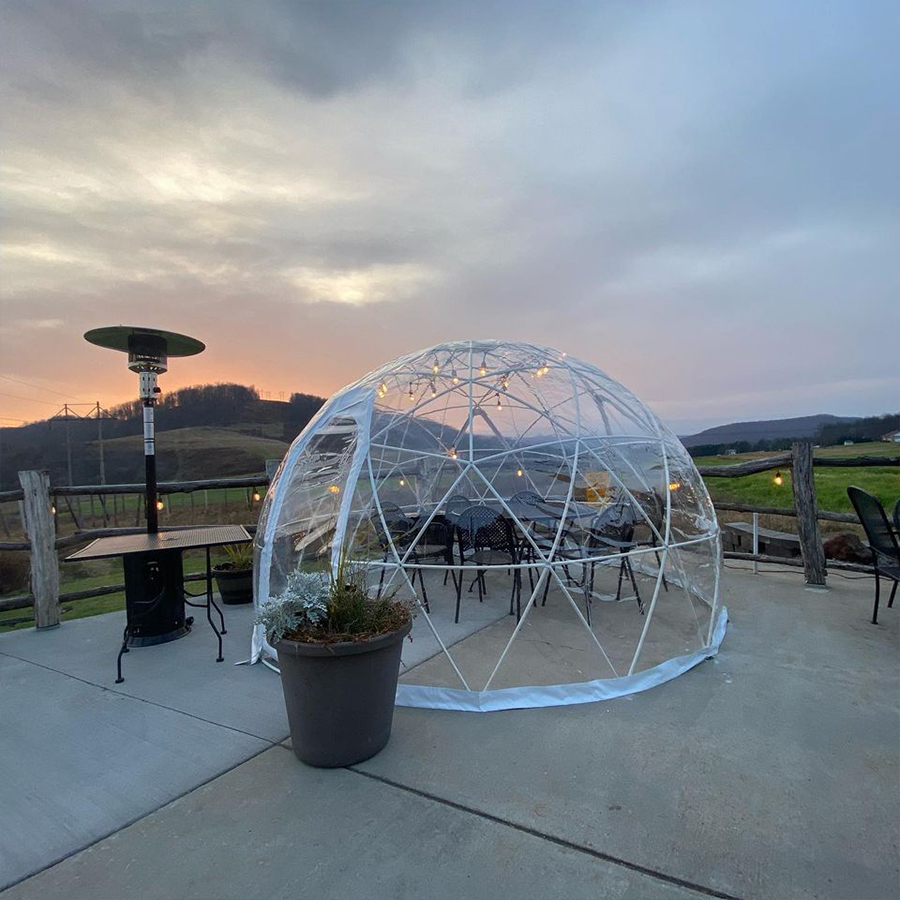 As for outdoor seating arrangements, the brewery and restaurant is offering four heated outdoor igloos through the end of March by reservation only at no cost for a two-hour time slot. Kick back and relax with a brew and participate in trivia on Thursdays and bingo on Sundays. Be sure to check out their "igloo cocktail" menu!
Windmill Creek Vineyard & Winery, Berlin
Don't let chilly weather keep you away from the shore! Head east over the Chesapeake Bay Bridge to Windmill Creek Vineyard. Located in Berlin and only twenty minutes from the Ocean City Boardwalk, this winery is located on a historic farm and features an "igloo village," which consists of nine igloos on the property that can be reserved by reservation only. The vineyard also features first-come-first-serve fire pits at no cost; both attractions are available through the end of March. Each of the nine igloos has a safe-touch space heater.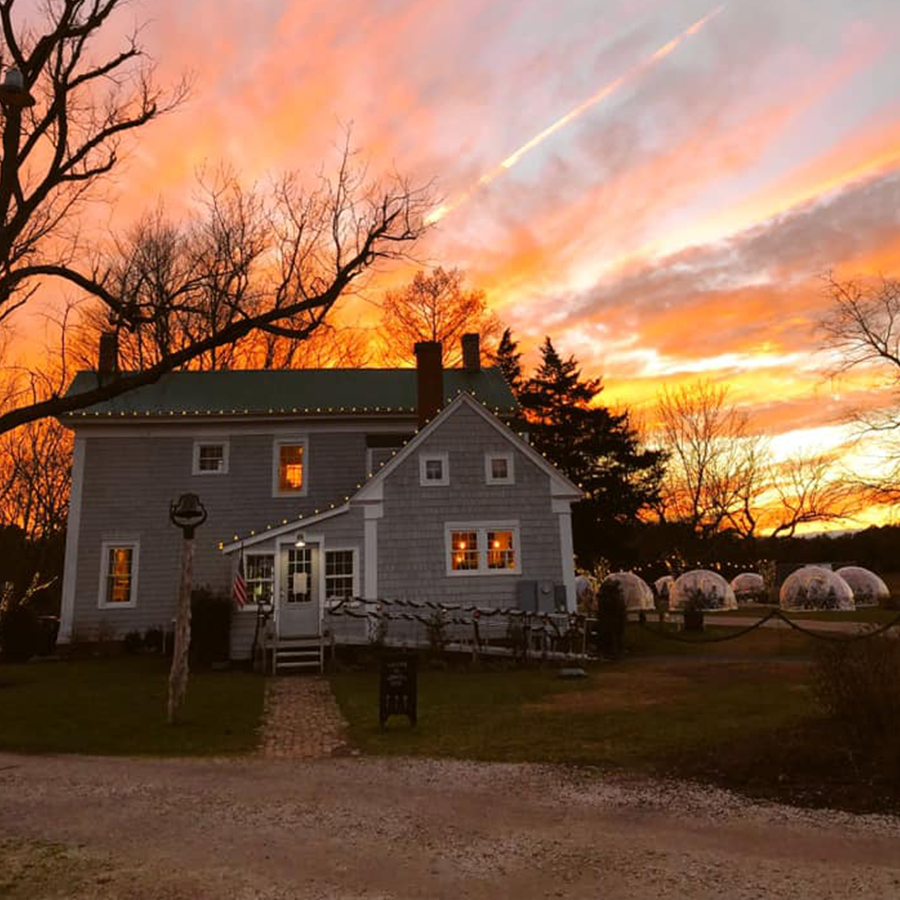 Guests can order food from the Backyard Bistro food truck with a menu of sandwiches, fondue with meats, bread, fruits, and veggies. If you are like me and miss live music, this is the spot for you. While you nosh on your fondue, enjoy live, local music Thursdays through Sundays. The musicians play inside the historic Mariner house on the property and the music can be heard through the speakers in each igloo. Igloos are $50 for a two-hour time slot. Reservations must be made in advance by calling the winery at (410) 251-6122. 
---
Lead Photo: Red Heifer Winery
Caitlin Denny, a Maryland native, is a recent journalism and public relations graduate of the Indiana University of Pennslyvania. Her interests include live music, the beach, writing, and checking out the brewery and winery scene of central Maryland.