Hub City Vinyl: An Art Deco-Inspired Record Store in Hagerstown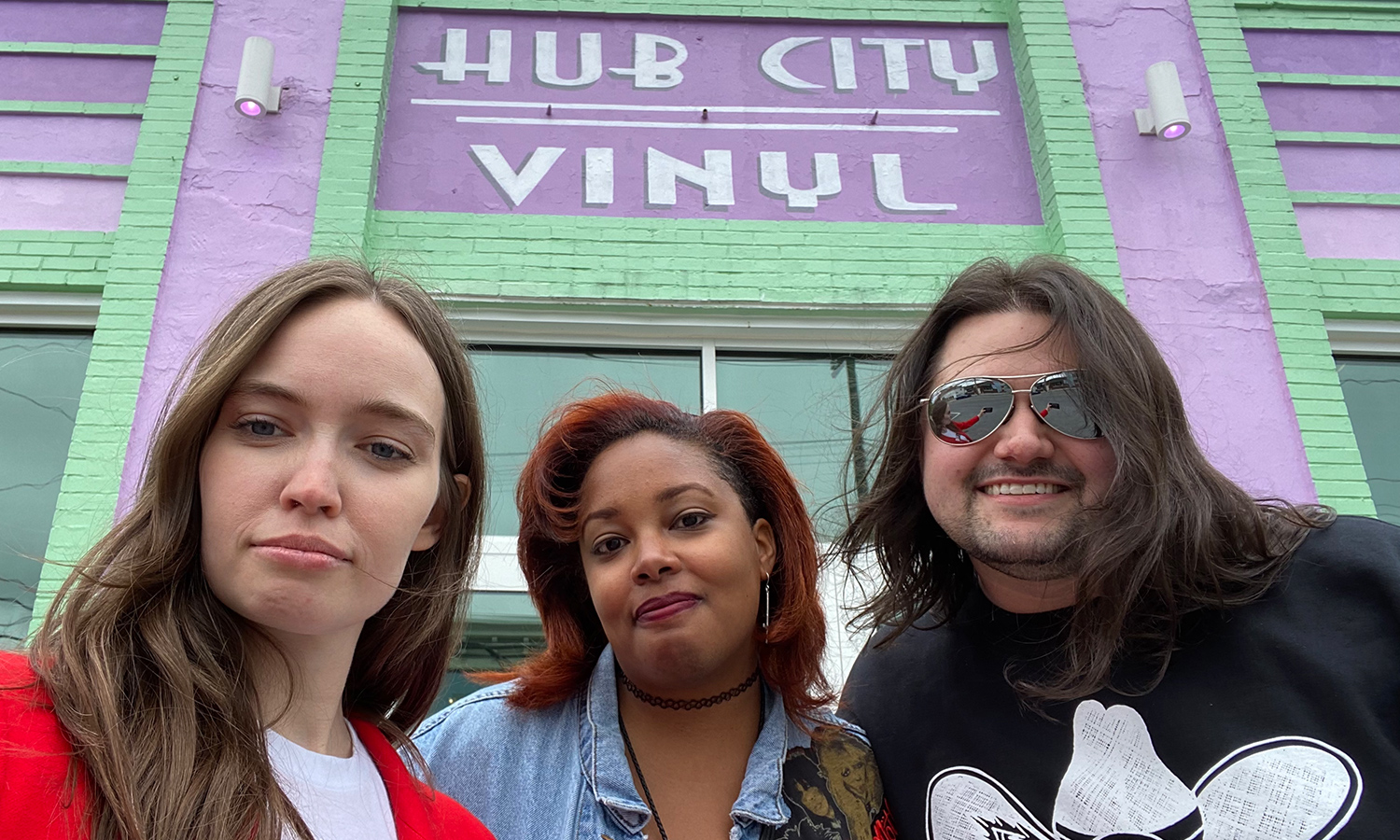 Hub City Vinyl is hard to miss. A prominent 20,000-square foot building painted mint green and pastel purple in art deco style, it's a beacon to those passing through Hagerstown, Maryland.
I was drawn to those same colors in a Facebook post, which I promptly sent to two of my concert pals with a message that essentially said, "we're going, right?" 
We made good on that intent and drove about an hour and a half from Baltimore via I-70 W to meet at the 28 E. Baltimore St. building, less than a 10-minute walk from downtown Hagerstown. 
Upon entry, we first spotted the miscellaneous bins, which were filled with delightful gems such as a polka record featuring a giant pizza pie (with a recipe on the back), a fitness record by Hollywood darling Debbie Reynolds, and instructional records on how to operate a CB radio, train your parakeet, and quit smoking. We then perused the Disney laserdiscs before fanning out into the rest of the store to explore everything from metal to country to rock to jazz.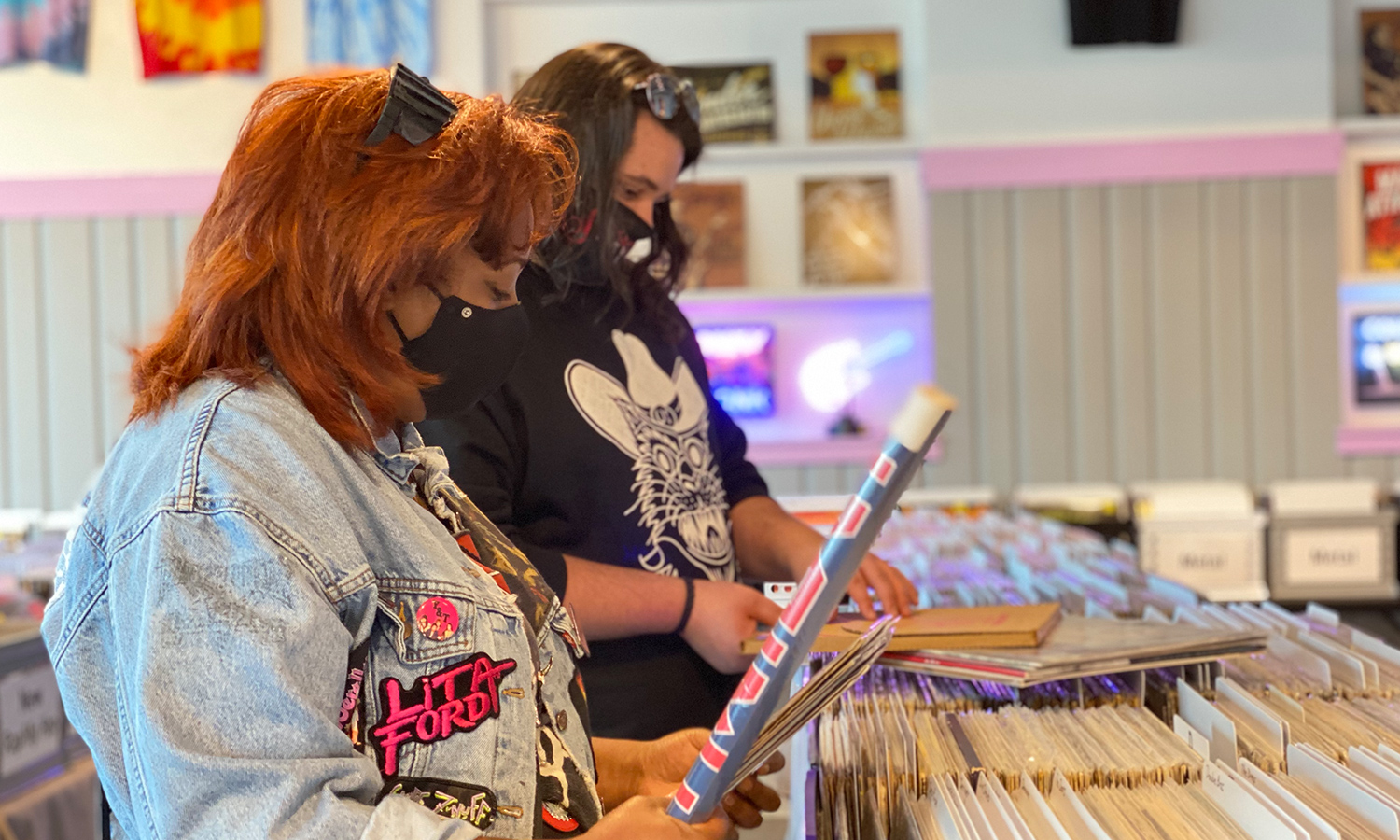 Sheree Thoburn owns the massive record store—the name Hub City being a nod to Hagerstown, which once had several railroad lines into the city that resembled the spokes of a wagon wheel.
"Because the lines of this building were art deco, we looked at photos of buildings in Miami in their art deco district," said Sheree Thoburn, on what inspired the bright facade.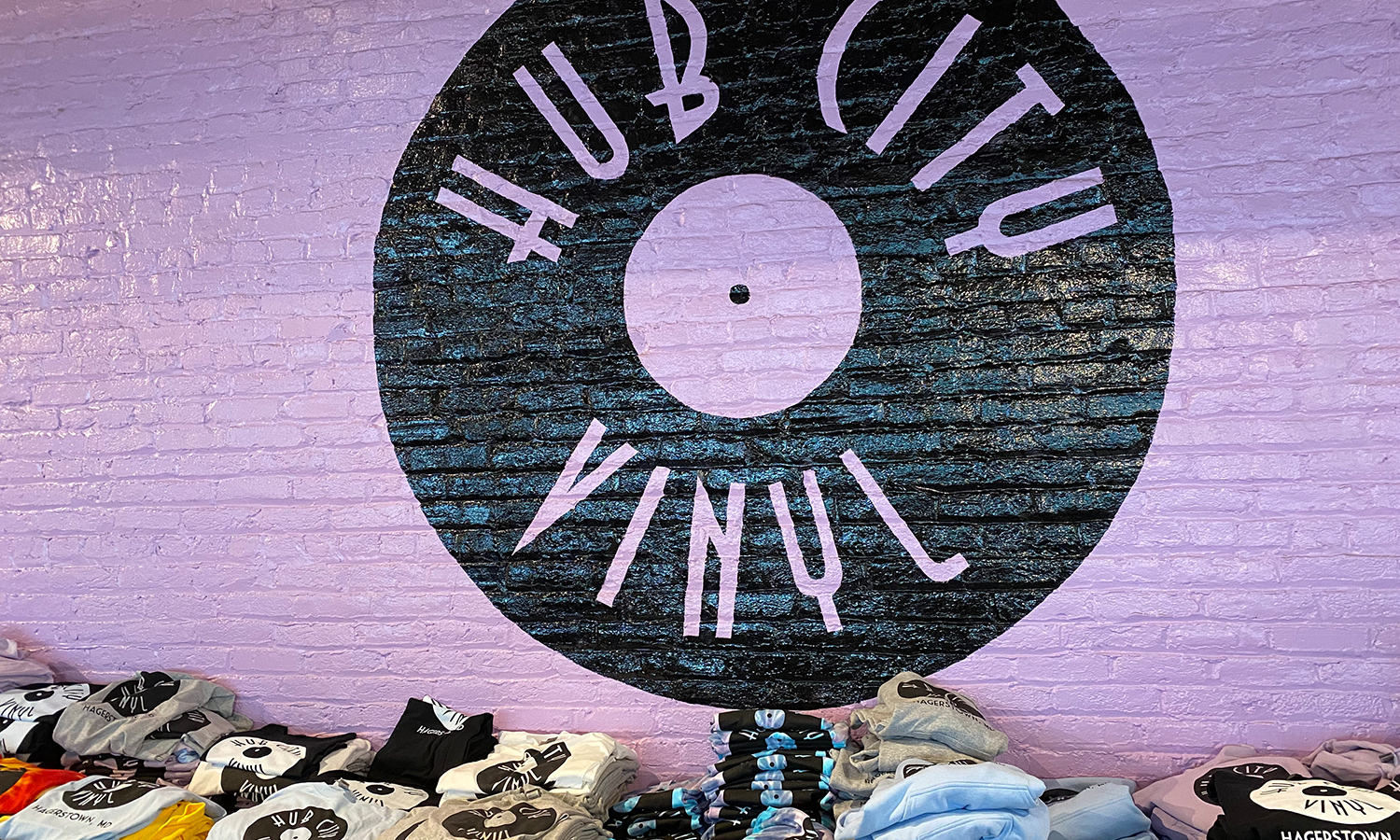 Sheree and her husband, Lloyd, have been diligently building their collection since March 2020. The store opened just a week before the state's governor ordered non-essential businesses closed to the public — including theirs. But they continued coming to work sorting, organizing, and buying. They had thousands of 45s from jukeboxes thanks to Lloyd's Coinopwarehouse, selling coin-operated antiques wholesale, but they still needed to add to their LPs.
What started with just two bins in that collection is now a store of more than 4,000 new and more than 10,000 used titles (and hundreds of thousands of 45s and LPs yet to be sorted in the back room and basement, which runs the length of the main floor above.)
Update: As of 3/2023, the inventory of new records is over 10,000, and the store has over 20,000 used records (with thousands more in the back to be cleaned, sorted, and priced). Hub City Vinyl is now Maryland's largest record store!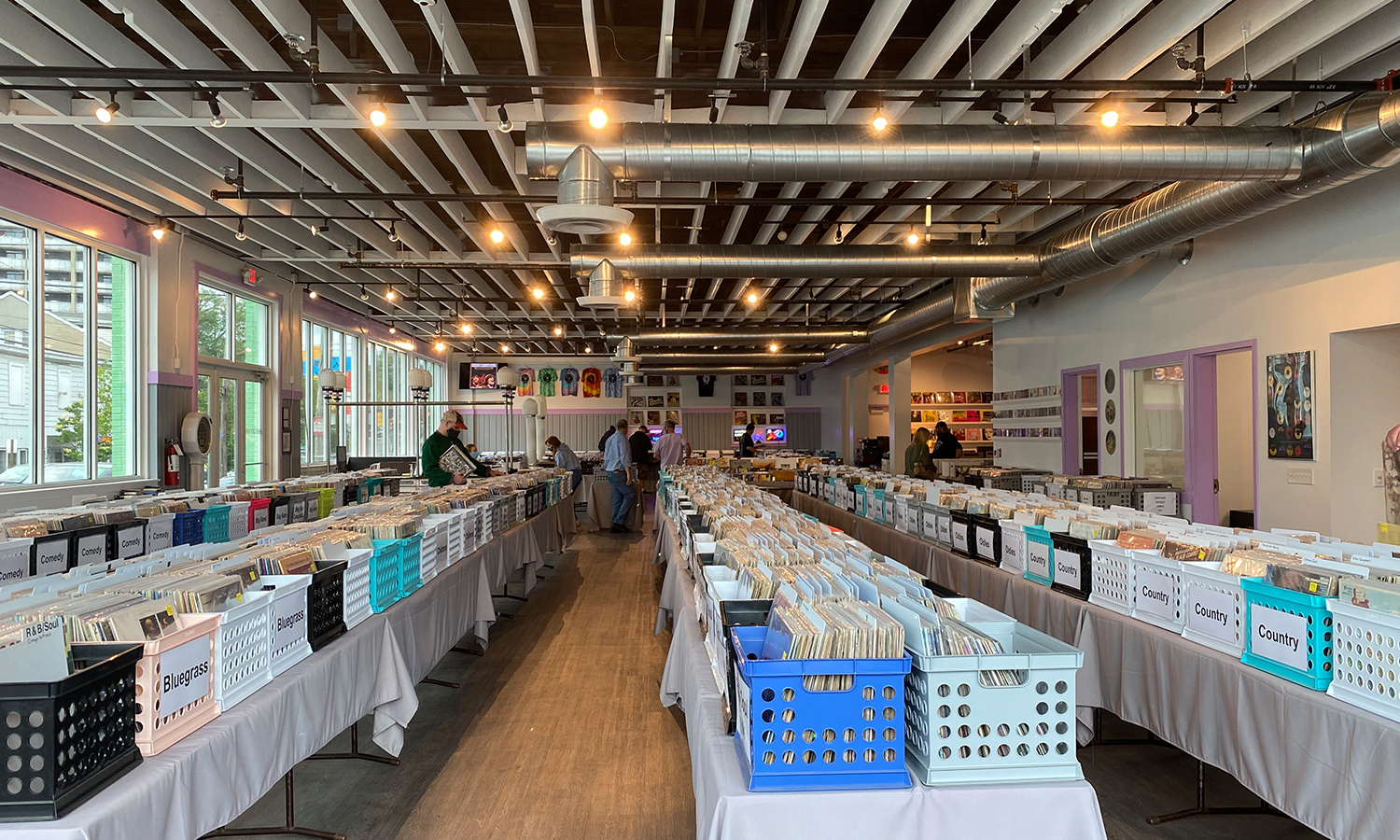 Apart from the impressive inventory, the space itself also offers a rare shopping experience for record collectors. More often than not, record stores tend to be cramped and compact, but it was important to the Thoburns to utilize their space to create wide aisles and add other features to make the store fully handicap accessible. There is ample space for the store's own merch, a local artist table, turntables, other audio equipment, and vinyl accessories like the Sergeant Pepper's Lonely Hearts Club Band platter pad I swiped up to keep dust off my records.
Despite such a large space, it felt personal. Lloyd Thoburn could be found walking around the store introducing himself to new shoppers and asking what they needed help finding. A few dog toys were there to entertain shop dog Aubrey — named after a song by the band Bread. A TV playing old music videos and live performances brought back a wave of nostalgia for Friday nights in the 90s staring up at similar TVs playing new releases and previews on a loop in video rental stores.
Hub City Vinyl also does not lose the charm of rifling through small record shop bins to find rare collectibles. The Thoburns are consistently getting new inventory, including sealed early edition albums, and they come at reasonable prices. One of my friends was delighted to snag an original 1973 Muscle of Love Alice Cooper record with a rare cardboard sleeve, and I was pleased with the used books collection, where I found a thick Stones bio by bassist Bill Wyman.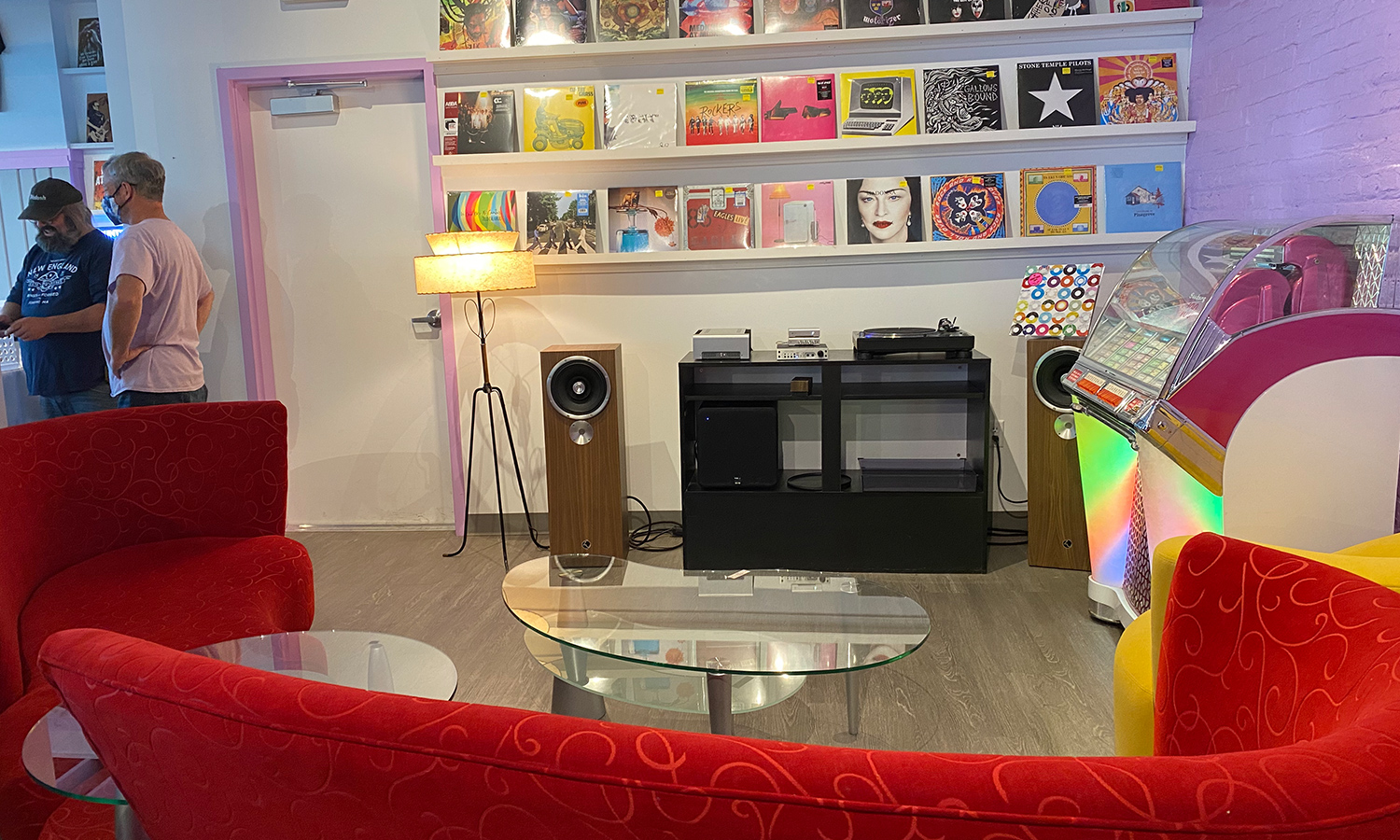 The best feature of this space, however, is undoubtedly the listening lounge. With a high-end stereo system custom-designed for the store, you can listen to the jukebox or turntable without headphones, and the sound won't carry throughout the rest of the space. The mid-century modern couches really make you feel like you're in your own living room. 
And in that spirit, Hub City Vinyl might soon become a place not just to shop but also to hang out. The Thoburns plan to clear out the back room to make space for more records and a small performance space, hopefully in the next year.
Bottom line: Worth a visit, and be on the lookout for what they have in the pipeline.
Update: As of 3/2023, the showroom at Hub City Vinyl has doubled in size! The live music venue expansion is on track to open later this year.  The store hosts regular live music performances on its stage.
Aubrey, the shop puppy, now has her own fan club with buttons and air fresheners free to members.
The Thoburns have added six pinball machines in the shop that are free for customers to enjoy. They've also added a retro fun and games section, with vintage home arcade games, puzzles, lunchboxes, signs, lava lamps, and all kinds of other fun stuff. Plus, an immersive sound system now covers the whole store, adding another level of enjoyment to the customer experience.
---
Lead Photo: Lindsay VanAsdalan
A Baltimore-bred journalist who takes great pride in her Old Bay, Natty Boh and that one football team, Lindsay C. VanAsdalan has always loved experiencing life through food, music and culture. And road trips have been a big part of that — so much so she made an entire magazine devoted to road trips for her senior project in college. When not writing, you can find her out at a concert (in safer times), trying the best new burger in town or snuggling cats.