From Slinky Robes to Retro Housewares: A Day of Vintage Shopping in Frederick

The joy of finding something old and giving it new life is a delightful bonus of vintage and antique shopping. Tapping into characters and personalities of years gone by—not to mention the style aesthetic of high-waisted jeans, multicolored shades, and crops I've found myself drawn to within the last five years—are all reasons that led me to plan an excursion of vintage shopping in Frederick. 
Along with plenty of restaurants and shopping, the downtown Frederick scene also promised a solid collection of vintage wares, so I asked my friend Lynn (who owns a vintage shop in Gettysburg) to come along. 
Before we got into the vintage, we stopped at Zoe's Chocolate Co. for a snack. We split a smoked bourbon bar (can you tell we're both whiskey fans?) and each got a trio of truffles, with flavors including apple pie, honey, and other bourbon infusions.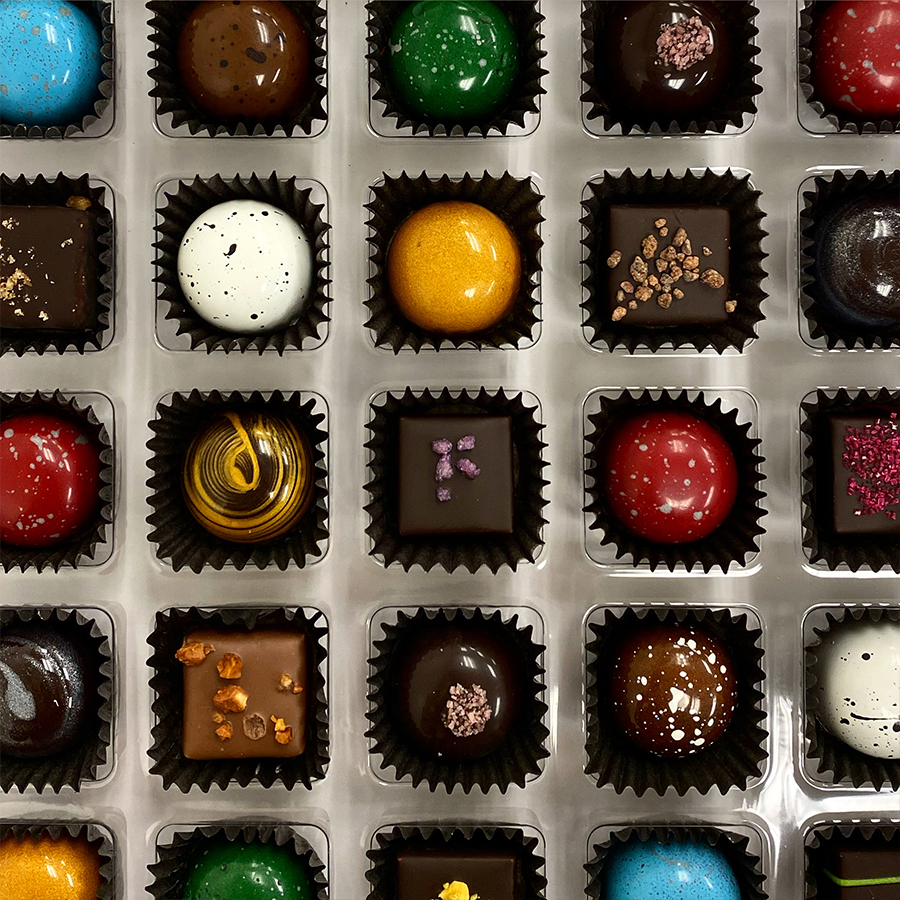 I also got dark chocolate roasted chickpeas called chic chocks. The name spoke to me. 
Our first vintage stop was Tiara Day. Fragrant scents and big band music welcomed us as we stepped foot in the door. Looking around, we could see cheeky shopping bags, positive messages of female empowerment—and of course, tiaras. The name of the store came from something owner Maria Peck would always say to her husband when he asked a question: "because every day is a tiara day." So, naturally, she had to get some tiaras. But the phrase was also meant to embody the good vibes of the shop—an escape into "sparkle therapy."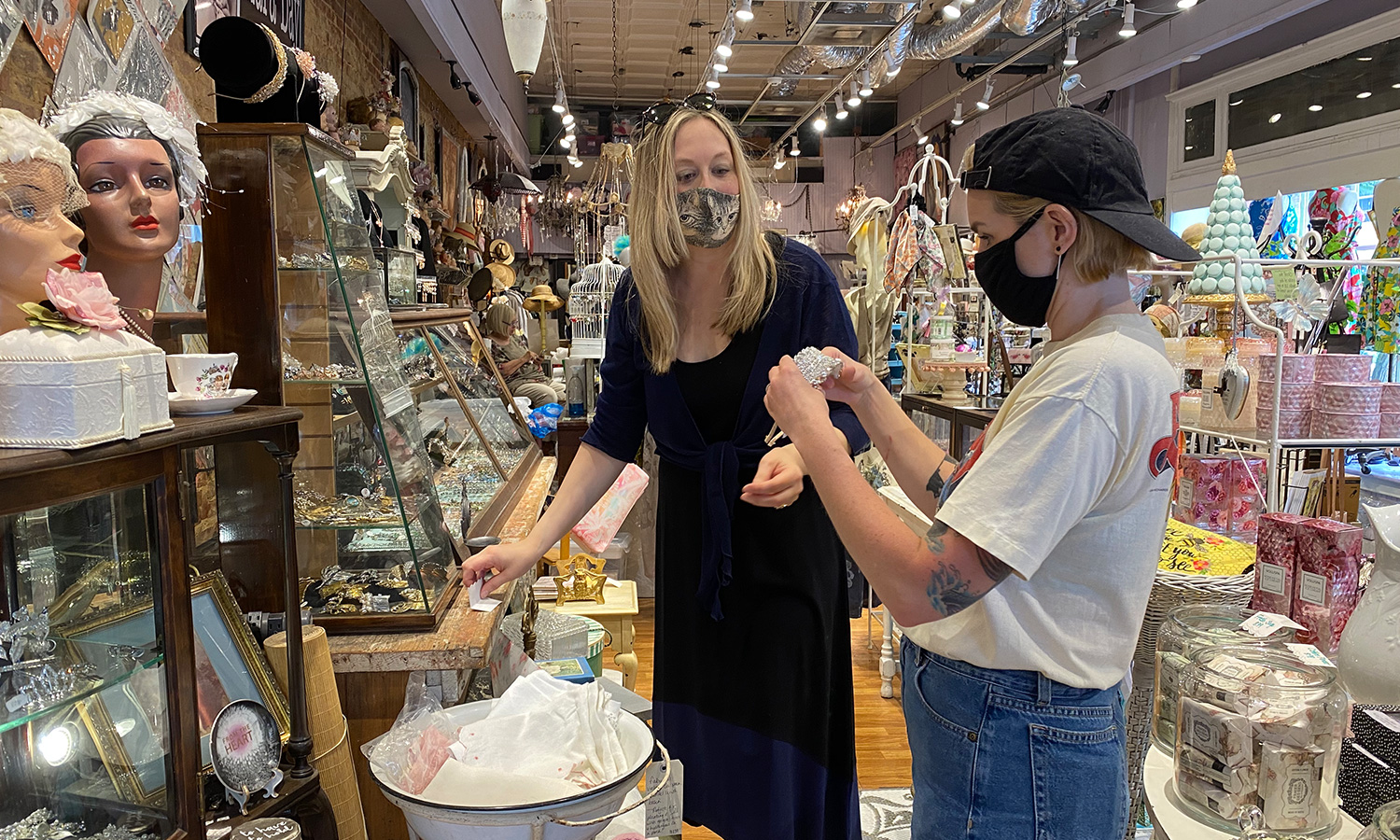 Special touches, such as lifting a bell jar to inhale the fresh candle scent trapped inside, really made us feel like we were getting pampered.
Peck's vision was to celebrate female friendships and empower women (and men too!) to follow their passions. The store is filled with Peck's own passions, from antiques, French items (especially Paris), and 1950s retro to cats.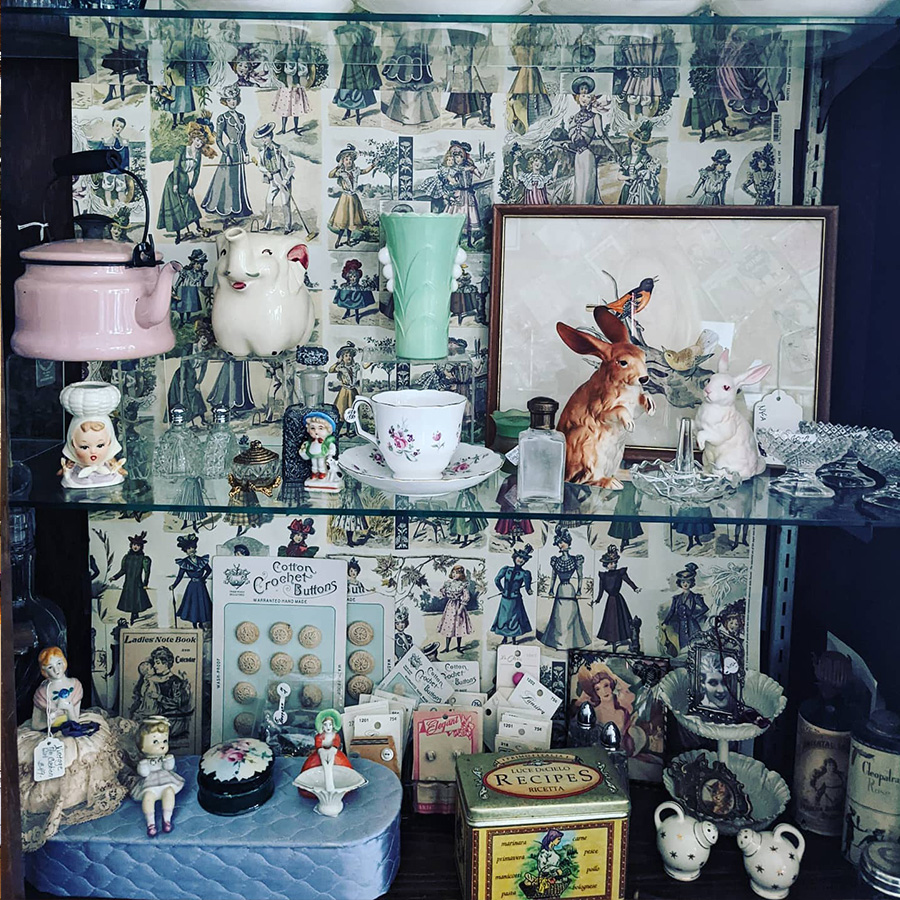 You'll also feel as though you've escaped into world travel as the shop is a treasure trove of vendors from all over. There are soaps from Versailles, vintage bridal handbags from Japan, and handmade towel bags from Greece. 
Shop No. 2 was Venus on the Half Shell—a nod to a Sandro Botticelli painting and an homage to owner Jennifer Stillrich's artistic background. The door of the shop opens to a large room accented by the sounds of the Bee Gees, a cow print rug, and an "80s sexy suede divan" for sale. The focal point in this store was definitely the clothes: long rows of racks with everything from fur-trimmed jackets, blazers, jean vests, silky robes, boho tops, and swimsuits.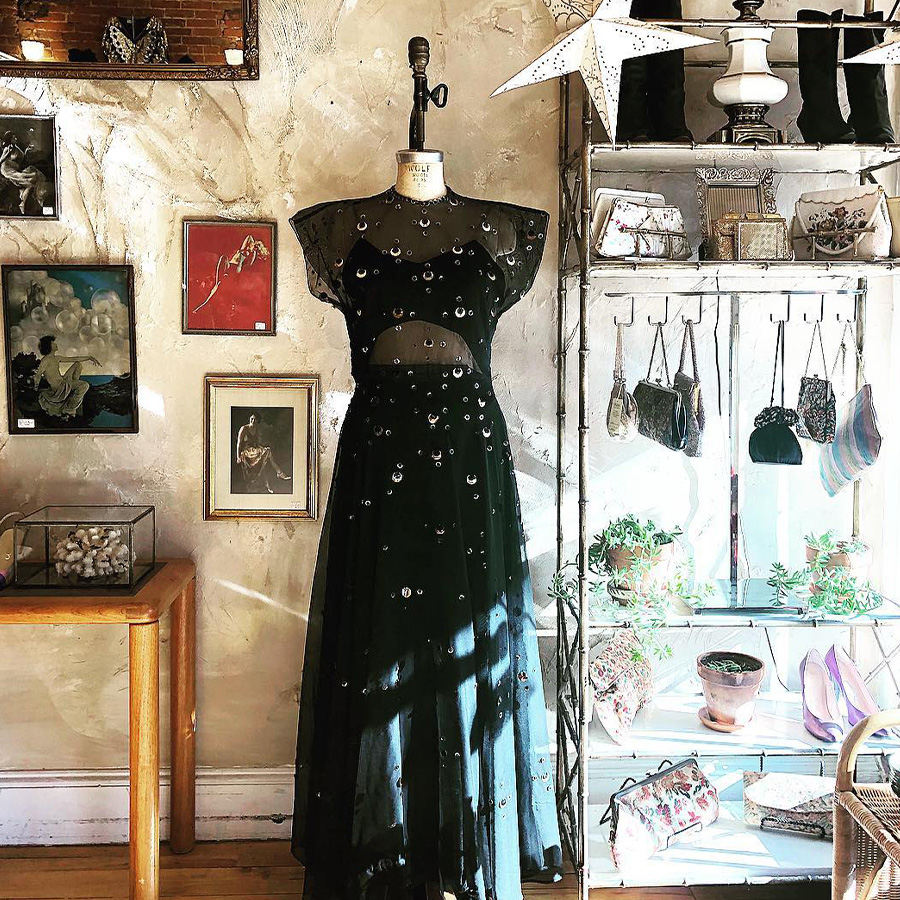 Some standout pieces included a cityscape button-down, a red windbreaker with Canadian insignia, and a black 70s jumpsuit accented with yellow flowers that Lynn snatched up, always looking for comfortable statement pieces to wear during the day in her own shop.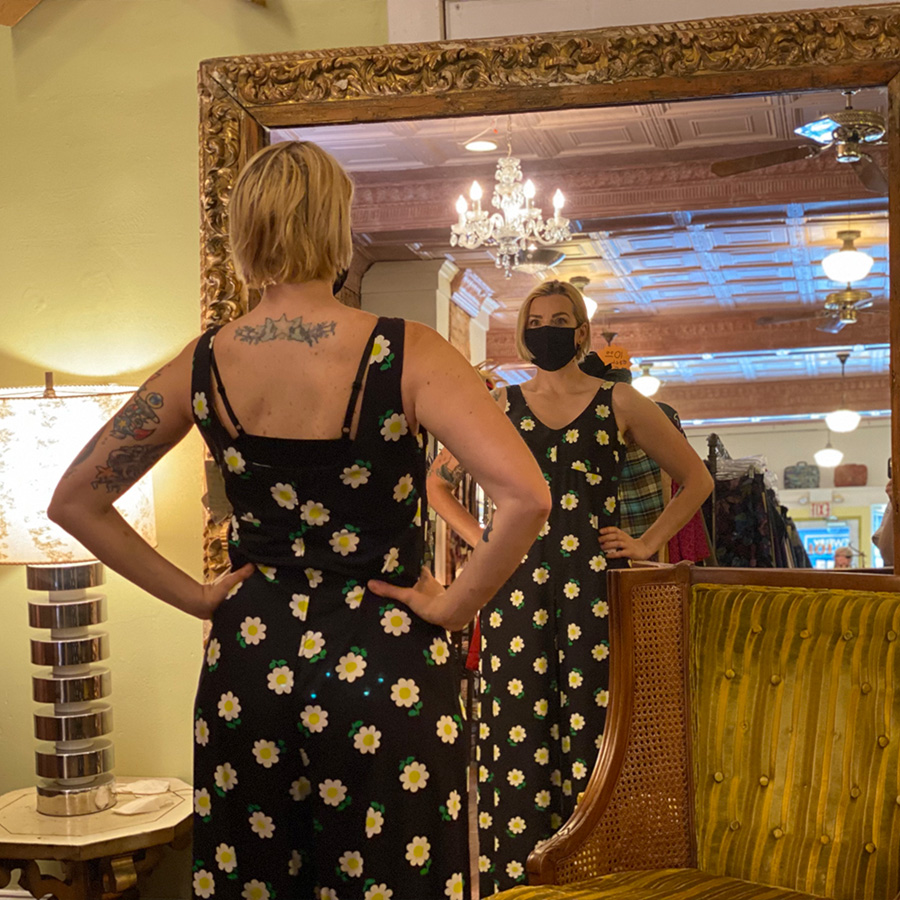 Stillrich also had a cart full of duckpin bowling pins and balls for sale—a favorite pastime of hers. 
Next up was Emporium Antiques. Where to begin with this collection—and where to end? The 55,000 square-foot space is easy to get lost in, with more than 100 dealers and 2,500 consigners. There's a 5-year waiting list for a space in the warehouse. Because of the size of the collection, said owner Sandy Izer, Emporium has everything from a $2 stamp holder to a $10,000 oil painting.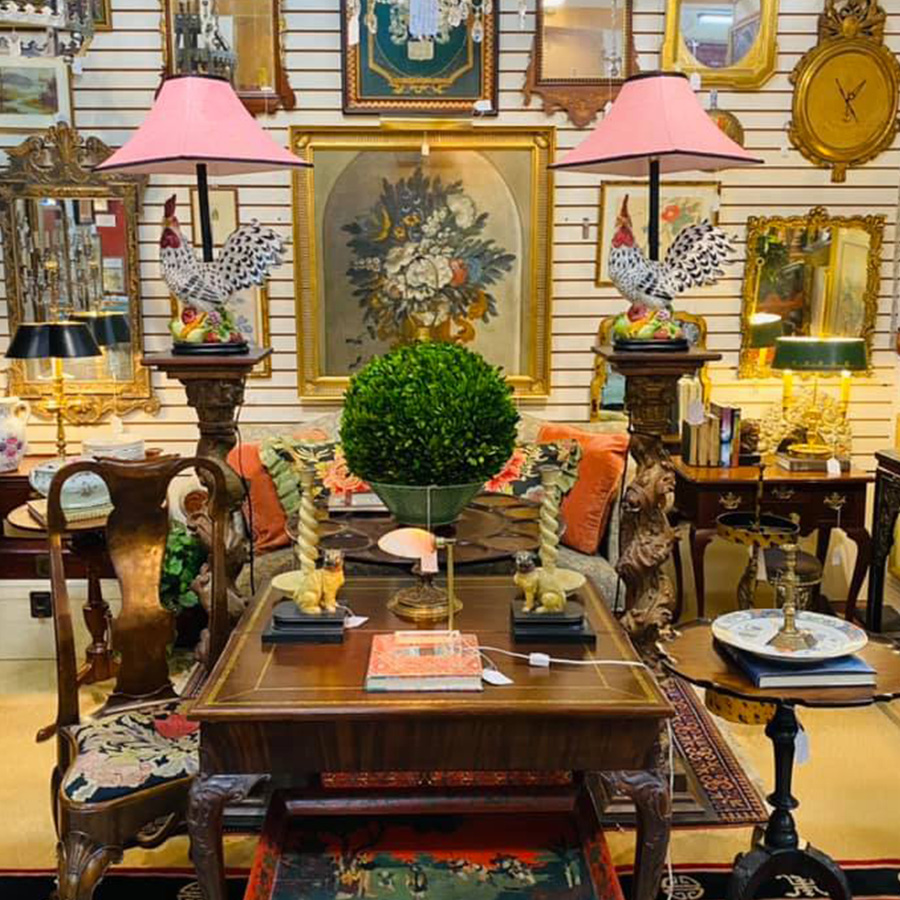 The sections were often presented as their own little living space. I could imagine sitting in one of the dining rooms, opening up the book neatly placed on the table, and asking someone to pass the coffee.
Lynn and I were drawn into the Rek Books section, which had Marilyn Monroe journals, books about the journey of reading itself, and delightful coffee table books like "Fancy… cycling," in which each page shows a different way to sit on your bike.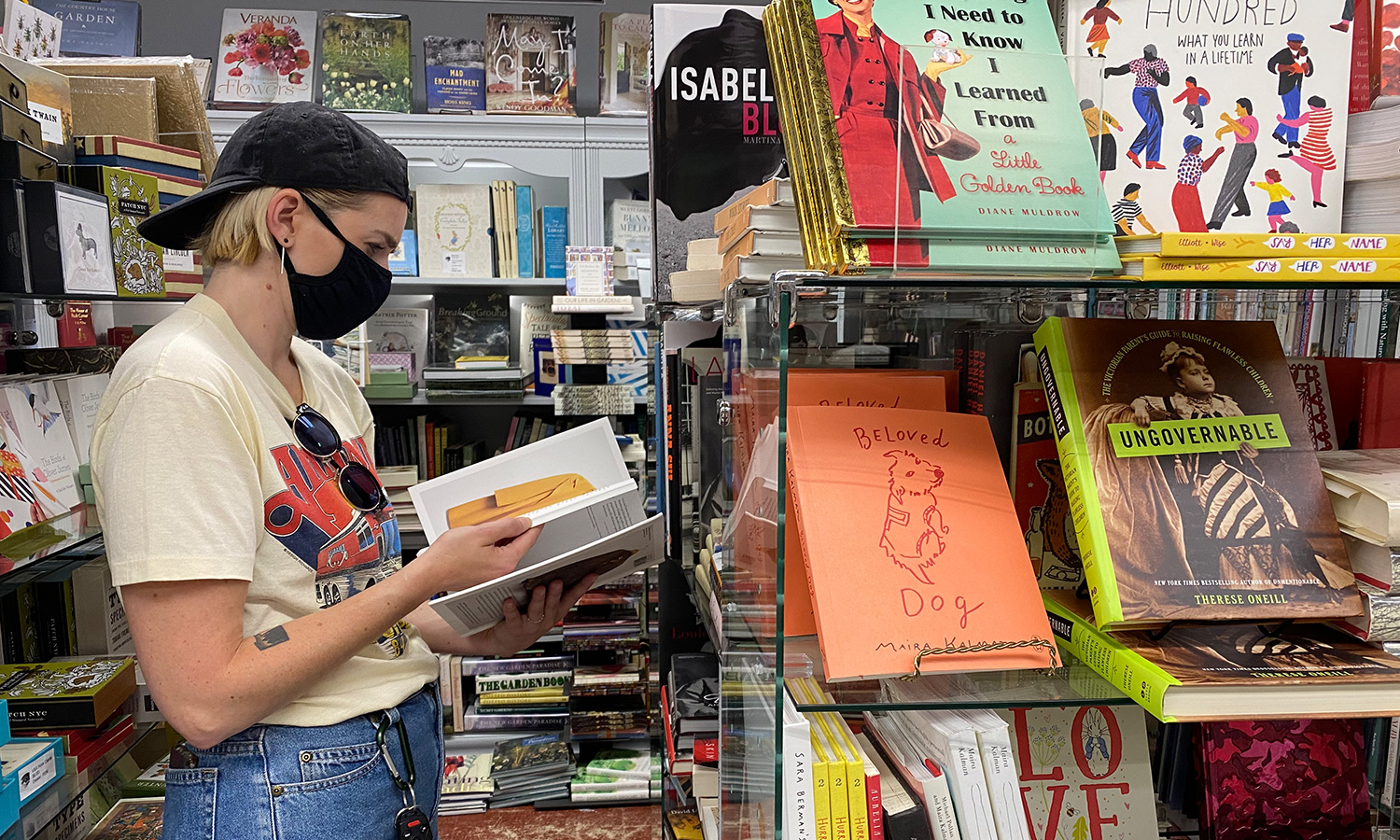 A spiraling display of silverware reminded us of the intricate throne on Game of Thrones, and we enjoyed looking at vintage postcards from Pennsylvania. I fell in love with a 1950s wicker purse that I vowed to use to carry books and picnic lunches. 
Our last stop was Vintage MC, primarily focused on mid-century modern furniture from the 50s and 60s but also filled with shaggy latch hook wall hangings, boho-chic chairs, and art deco. 
Owner Mindy Cawley said she likes to also sprinkle some smaller ticket items and modern trinkets into her collection, so there's something for everyone who happens to stop by. I was drawn to a little rose gold hanging disco ball for my car. One nice addition is the plant section in the front, where customers can pick their own fresh cut flowers by the stem (and cute little signs for their plants like "grow, dammit!").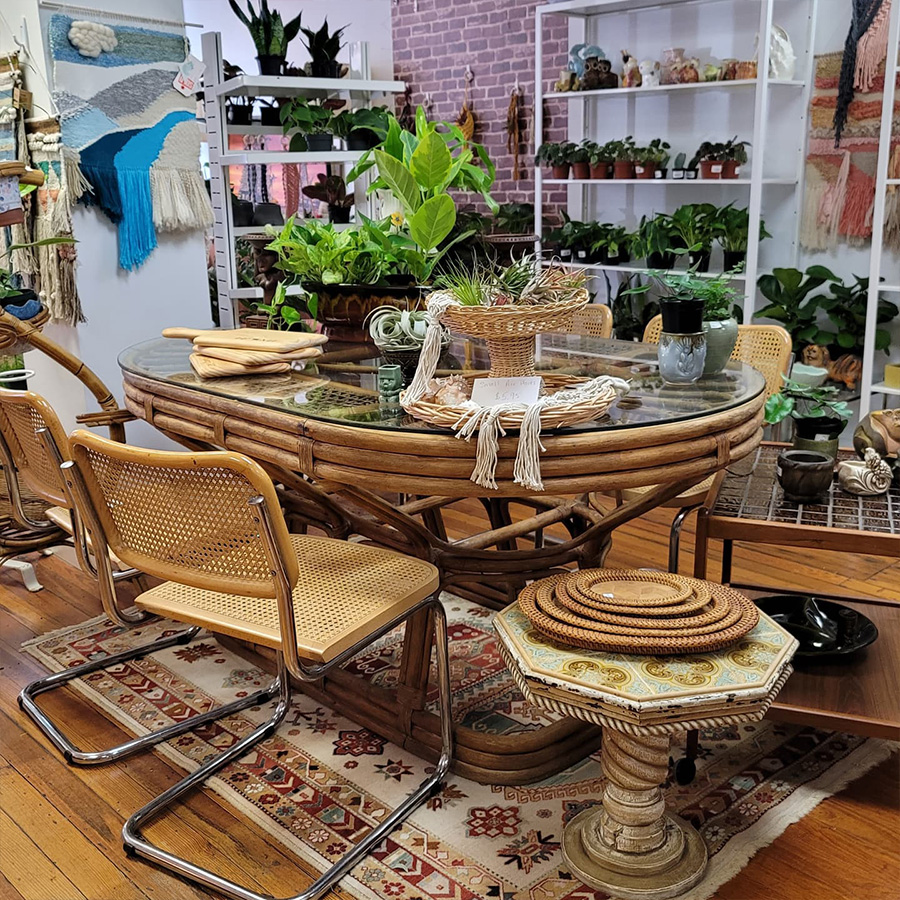 Her shop grew out of her search for decor to fill her late 40s post-war house. When she could not find any in Frederick, she realized she had stumbled onto a bit of an untapped market!  
With temperatures pushing 90 degrees, Lynn and I were relieved to descend into the dimly lit and cool atmosphere of Wag's Bar & Restaurant for a late lunch.
The below-street-level entrance paired with an unpretentious bar and 75-cent Yuenglings made me feel like I was stepping into a bar "where everybody knows your name." This place is known for its burgers, and Lynn also shares my love for the meaty miracle, so we were excited to try what they had to offer. Lynn had the Reuben burger, and I had one with sour cream and mushrooms. The patty itself did not knock my socks off but the recipe sure did. Once I smashed the bun down and saw the sour cream cascade over the side, I knew I was going to be in for a treat. 
Our day was a success, and we found some new favorites. Can't wait to come back for more vintage shopping in Frederick. 
---
Lead Photo: Lindsay VanAsdalan
A Baltimore-bred journalist who takes great pride in her Old Bay, Natty Boh and that one football team, Lindsay C. VanAsdalan has always loved experiencing life through food, music and culture. And road trips have been a big part of that — so much so she made an entire magazine devoted to road trips for her senior project in college. When not writing, you can find her out at a concert (in safer times), trying the best new burger in town or snuggling cats.