Merriment Abounds at the Maryland Renaissance Festival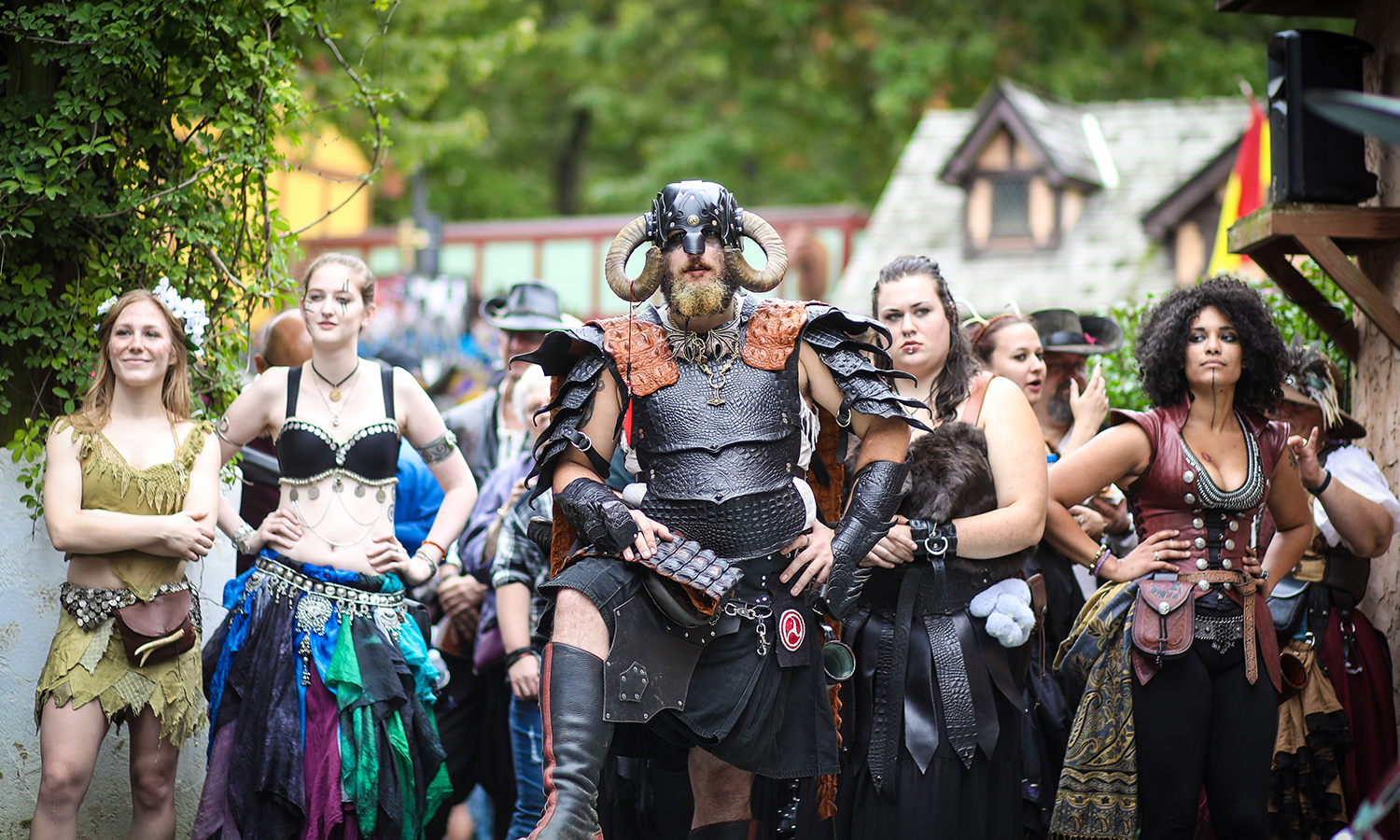 Huzzah! Noble Lords and Ladies, the Maryland Renaissance Festival hath returned! After closing in 2020 due to the pandemic, Crownsville's Revel Grove kicked off the season on August 28. The Festival will be open every weekend through October 24, leaving plenty of time to plan thy trip to sixteenth-century England.
My husband, Joe, and I were so eager to get back to "Rennfest," as it is known in our house, that we visited on opening weekend. We purchased our Festival tickets online—a requirement this year. Historically, Rennfest gets very crowded during the second half of its run, and if you don't buy tickets ahead of time, they may be sold out by the time you arrive. Presumably, with all ticket sales being handled online this year, this will be less of a problem. 
Part of what makes the Maryland Renaissance Festival so much fun is dressing the part. Although not required, about half of the attendees wear some type of costume, running the gamut from serving wenches, pirates, and fairies, to Steampunk characters, wizards, and Disney princesses. It makes for fascinating people-watching.
This year, Joe and I chose to rent costumes; he was a knight, I was a fair maiden. For $20-$30 apiece, we suited up and headed out for some merry-making.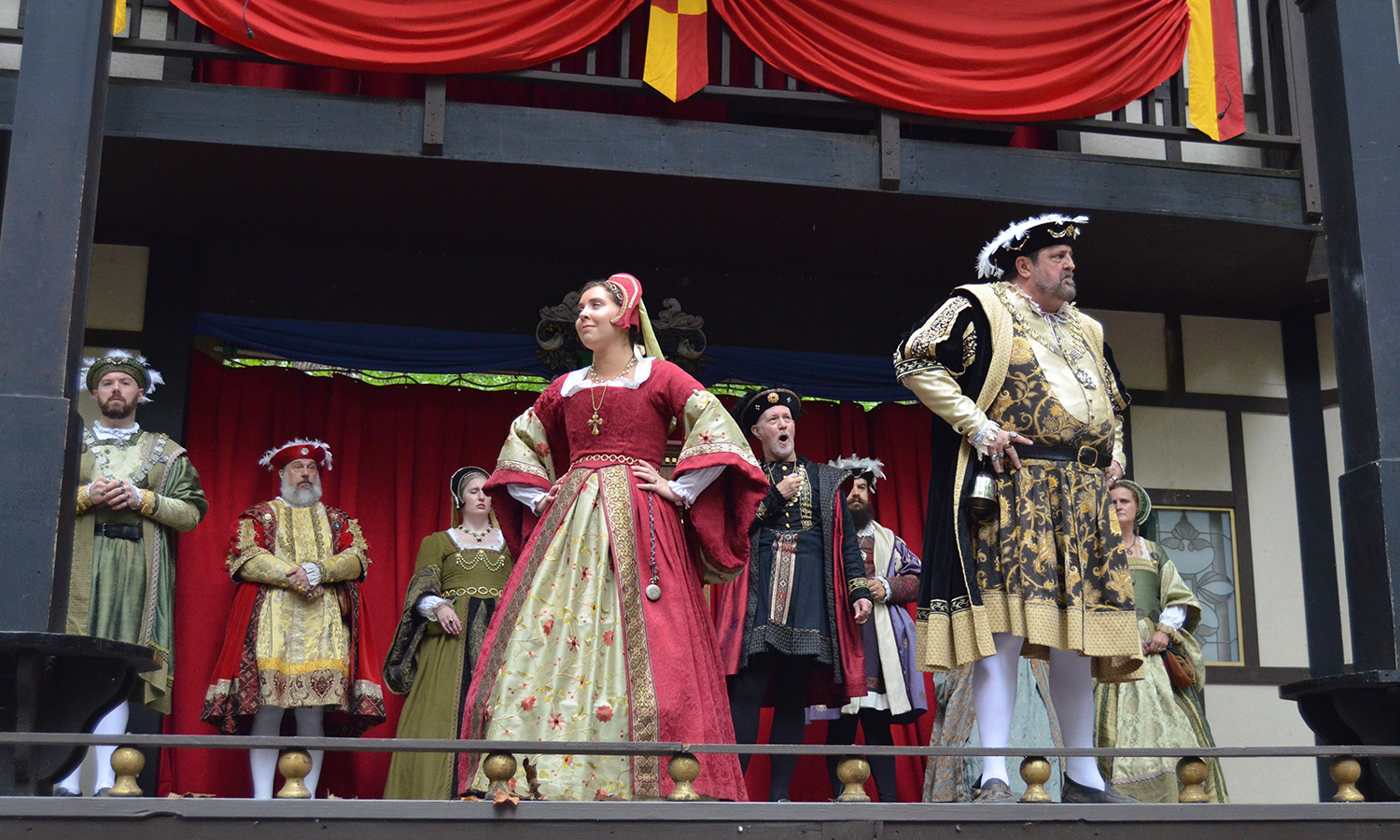 Revel Grove is populated by King Henry VIII and his royal court, who depict the history (and wives—he had six!) of the monarch's reign. This year's scenario takes place at a Harvest Fest in 1534, when Henry was married to wife #2, Anne Boleyn, but was more interested in a woman known to history only as "The Imperial Lady." Joe and I attended the "Royal Welcome" at the Globe Theatre, where the cast establishes the storyline for the Festival in a 30-minute skit. Several more appearances throughout the day advance the plot; children can also meet the King during the "Children's Knighting Ceremony."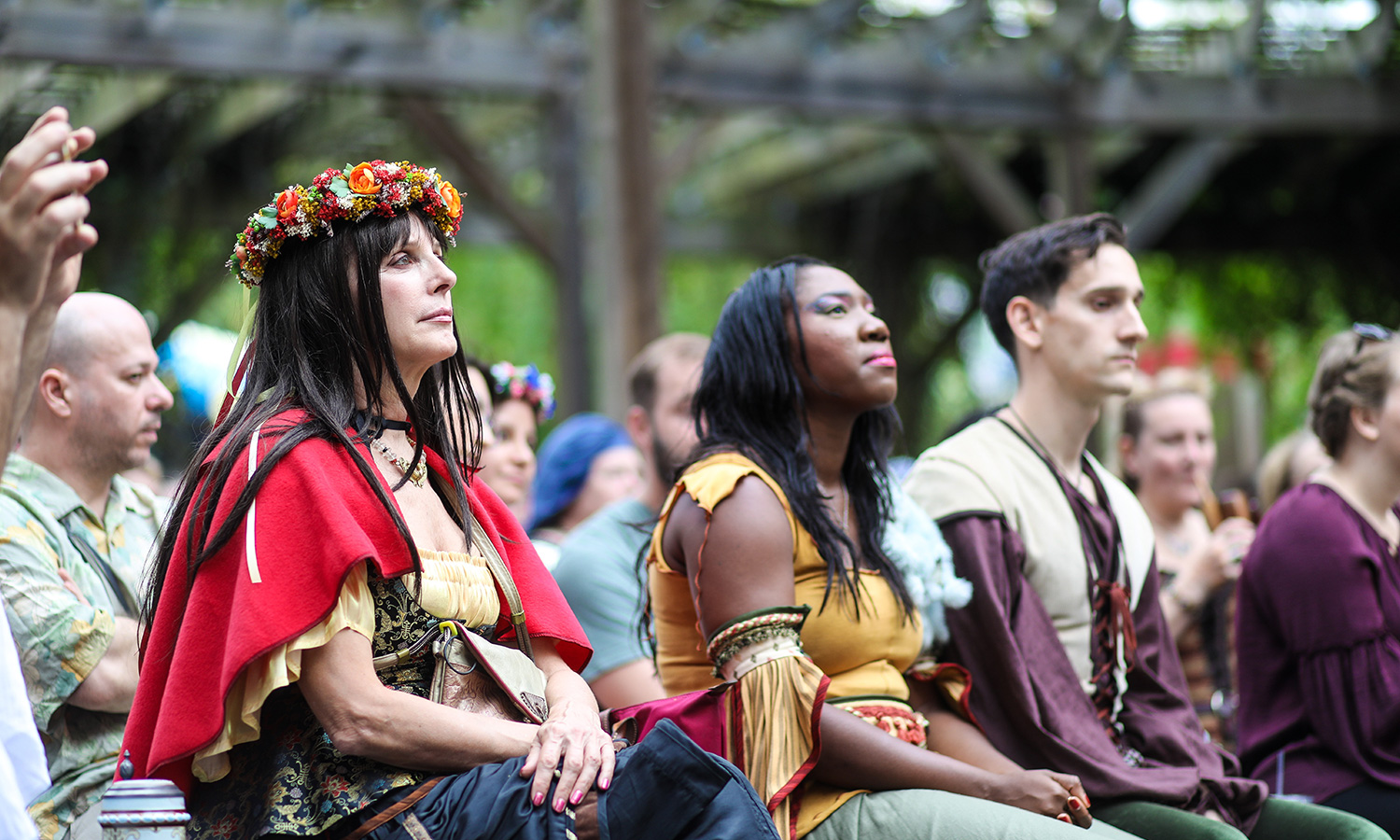 Performing groups entertain on twelve different stages throughout the day. We headed to the White Hart Tavern to see one of our favorites, "The Hooligans," a four-piece band that performs bawdy versions of classics like "Wild Rover" and "Rattlin' Bog." With a bar in the rear, the White Hart is a popular place for music. Some patrons spend all day there, chatting with friends, drinking "grog" (beer), and enjoying the rotating musical acts.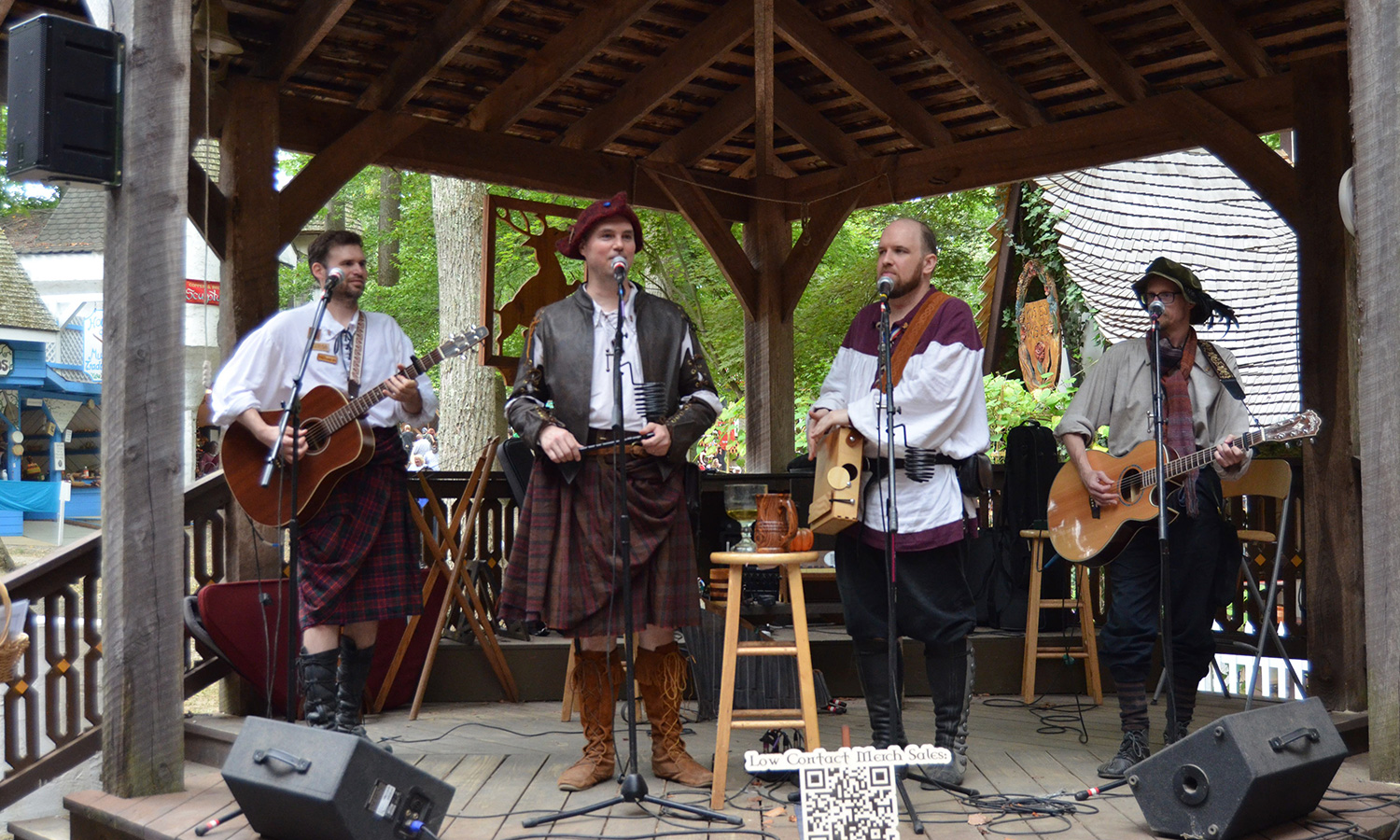 Another favorite of ours is "Shakespeare Scum." This comedy-acting troupe reduces Shakespeare plays to twenty minutes or less. This year's selections, "Macbeth" and "Hamlet," were performed with Scum's typical irreverent style, along with twenty-first-century pop culture references, physical comedy, and spit takes. Children love the slapstick, and the more off-color jokes will fly right over their heads.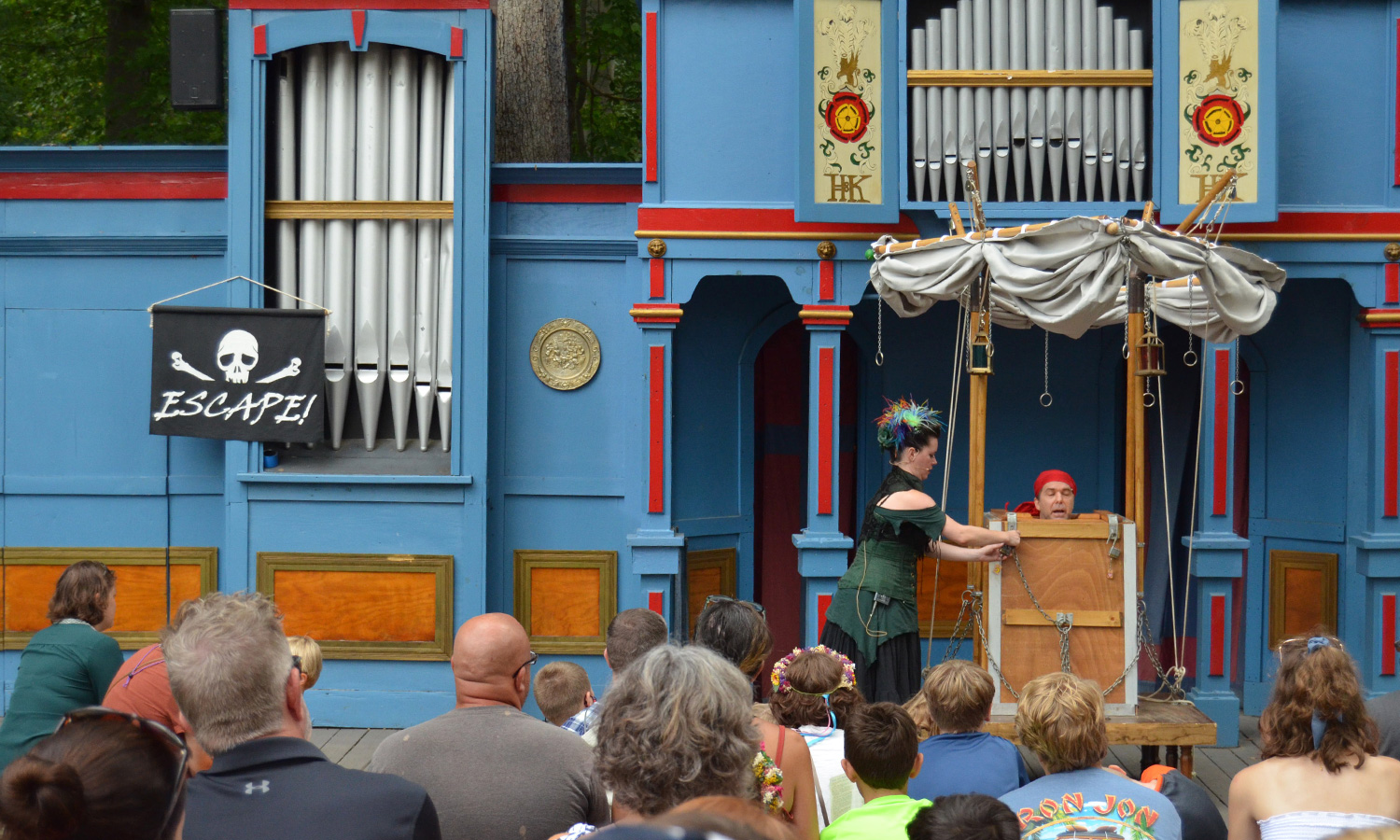 Although we don't have kids and typically skip performances geared to younger visitors, in the interest of this story, Joe and I next checked out "Matt Pauli's Pirate Escape" at the Lyric Stage. Pauli was locked and chained in a box by his lovely assistant, Lady Gwendolyn, and then, in the blink of an eye, freed himself. His audience of all ages loved him.
Insider tip: When selecting shows for your youngsters, pay attention to the entertainment guide's PG ratings—some groups aren't appropriate for little ears. 
The games and activities interspersed around Revel Grove are always a hit with kids big and small. Face painting and hair braiding are popular with the little girls, while the boys enjoy shooting bows and arrows.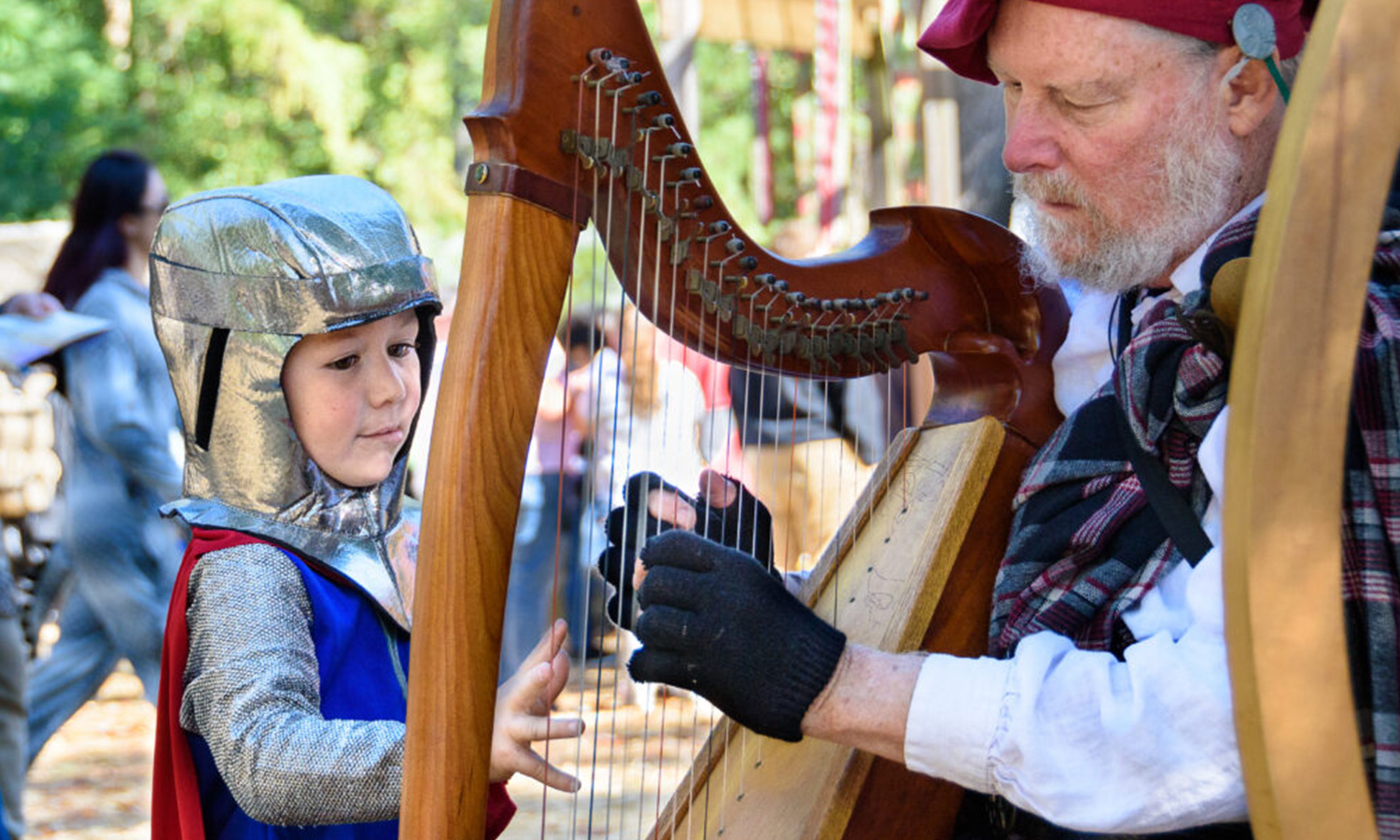 A festival is nothing without a large selection of delectable treats, and the Maryland Renaissance Festival does not disappoint. Joe is a fan of the ubiquitous turkey leg, and while I typically get seafood from "O'Shuck's Pub," I opted for a chicken sandwich on this trip. Later in the day, we snacked on crepes, snowballs, fried mac and cheese, and chocolate chip cookies, but those were hard choices to make. We could have selected ice cream, cheesecake, falafels, ribs, soft pretzels, pickles on a stick…the list goes on and on. There is a multitude of beer options, but I recommend mead, an alcoholic drink of fermented honey. Nothing says "Rennfest" to me more than a Bee Sting, a mead-cider mix.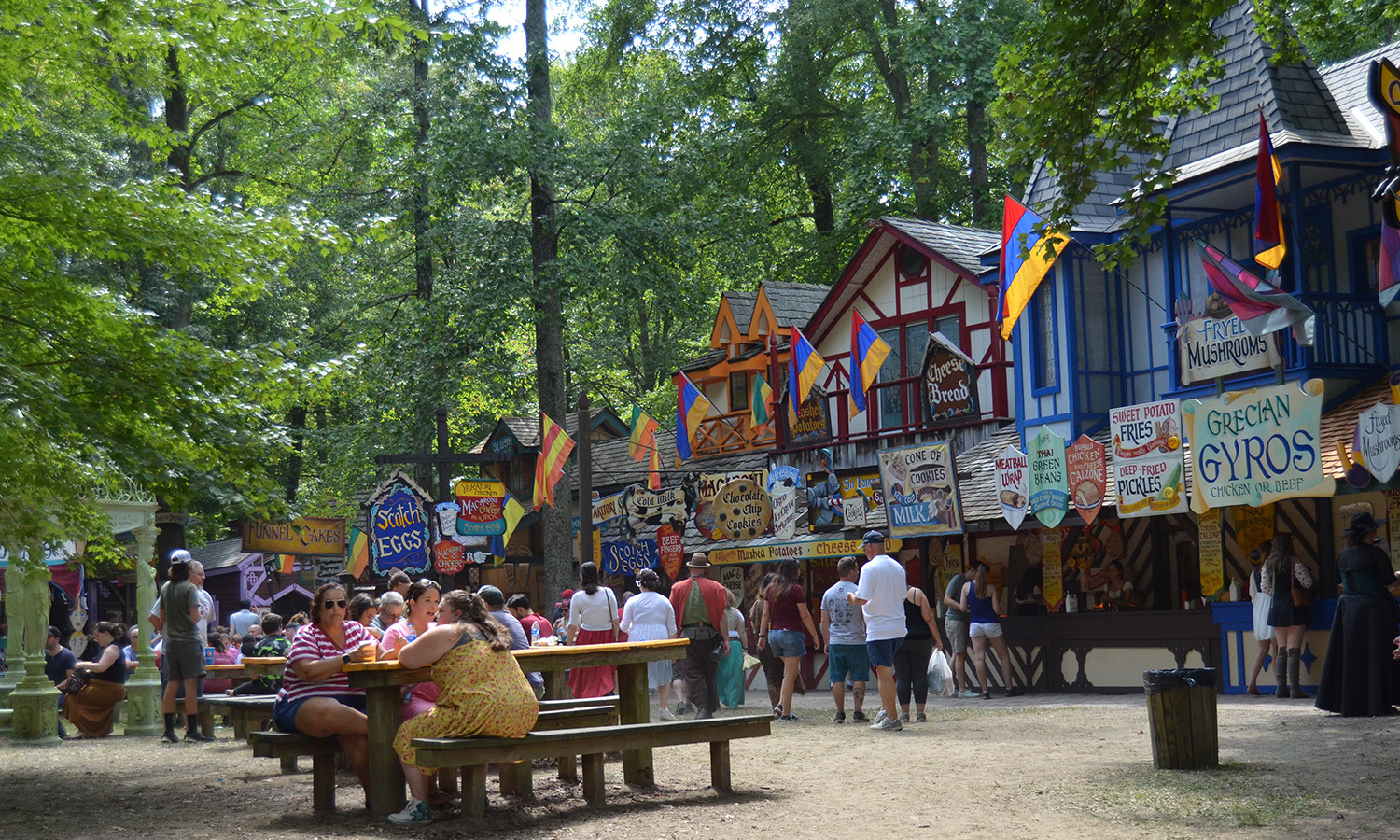 We spent the afternoon wandering the grounds, exploring the merchants, and interacting with the costumed cast and visitors. At "Crysalis Hammocks," we both climbed into a hammock chair while Lord Vincent and Lady Emily, the salespeople, swung and serenaded us. It was a delightful interaction that highlights how the Rennfest staff love interacting with their guests. Between encounters with street performers including harpists, jugglers, and puppets, "Conundrum" the street magician stumped us with several puzzles, the artisans at "Greentree Weaving" explained how their loom worked, and the gamers at "Ye Olde Gamery" tried to draw us into a session of Chinese checkers. 
While "The Bee Folks" weren't doing honey tastings this year and didn't have their beehive on display, both due to the pandemic, it is still one of our favorite stops, along with the "Page After Page" book shop. The artisan shop displays are inspiring in their intricacy and beauty—blacksmiths, glassblowers, jewelers, woodworkers, and other craftsmen offer their wares as mementos of the era.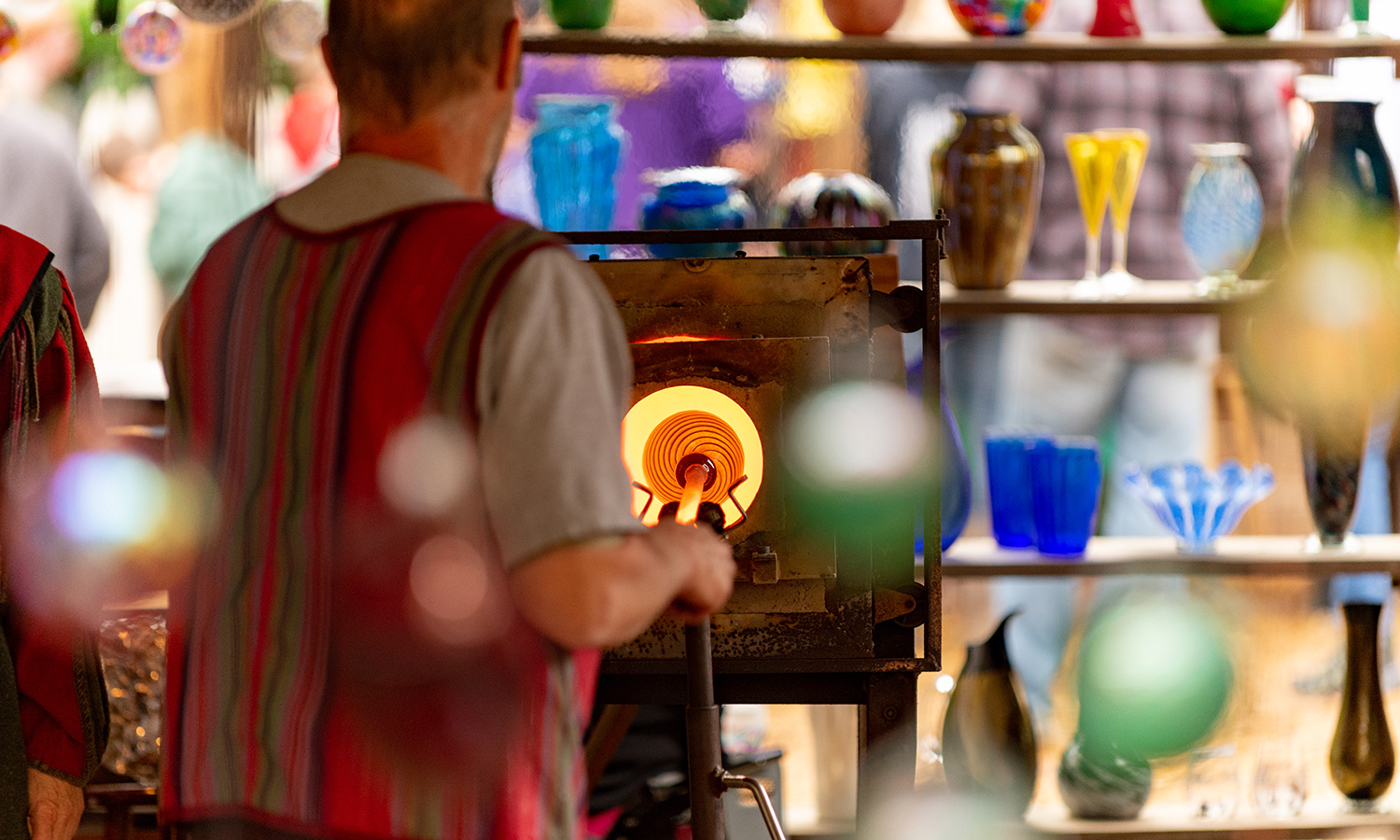 Of course, no Renaissance Festival would be complete without the joust—it IS the official sport of Maryland, after all. This one is rowdy and celebratory—the cast is wonderful at eliciting crowd participation, assigning each section their own knight to cheer on to victory.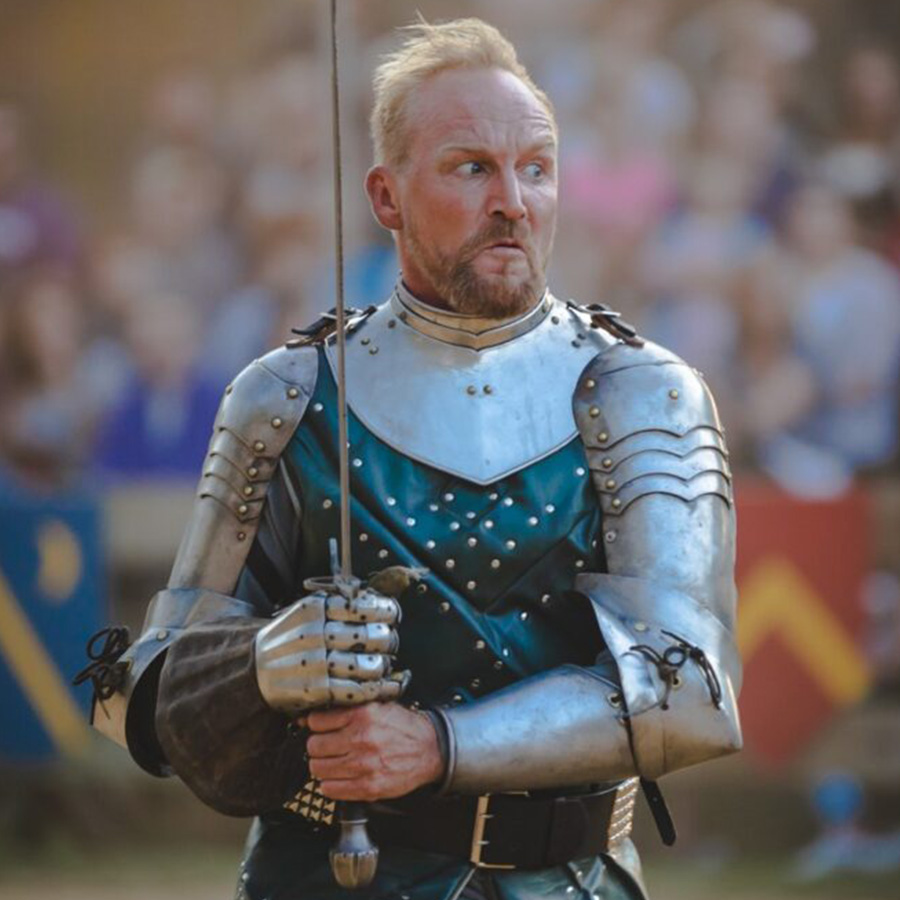 The knights participate in a series of games to test their skill before getting down to business. The sound of lance hitting shield is exhilarating, and with the Royal Court in attendance, the event is one of the most ceremonial of the day.
We only saw a small portion of the amusements Rennfest has to offer during our opening weekend visit, but we plan to go again later this fall. The Festival is a completely different experience in cooler weather when you can enjoy hot mulled wine, soup in a bread bowl, and warm crab dip. Perhaps we will see you there?
If you are planning a trip, be sure to bring cash with you. Most vendors do not accept "Master Card" and "Lady VISA," and the only thing longer than the beer lines are the ATM lines. Also, because the Festival is outside, masks are not required—but they are recommended, and some vendors require you to wear them while in their shops.
Fare thee well, Lords and Ladies, until we meet again at Revel Grove!
---
Photo Credit: Nicole Glass Photography / Shutterstock.com
Heidi Glatfelter Schlag is a marketer, history lover, and traveler who can often be found exploring museums, parks, small towns, and farms. She founded Culture-Link Communications, where she helps local nonprofits and small businesses build their brands. Heidi lives in Frederick, MD, with her husband and two dogs.