More than the Shore: Calvert Cliffs State Park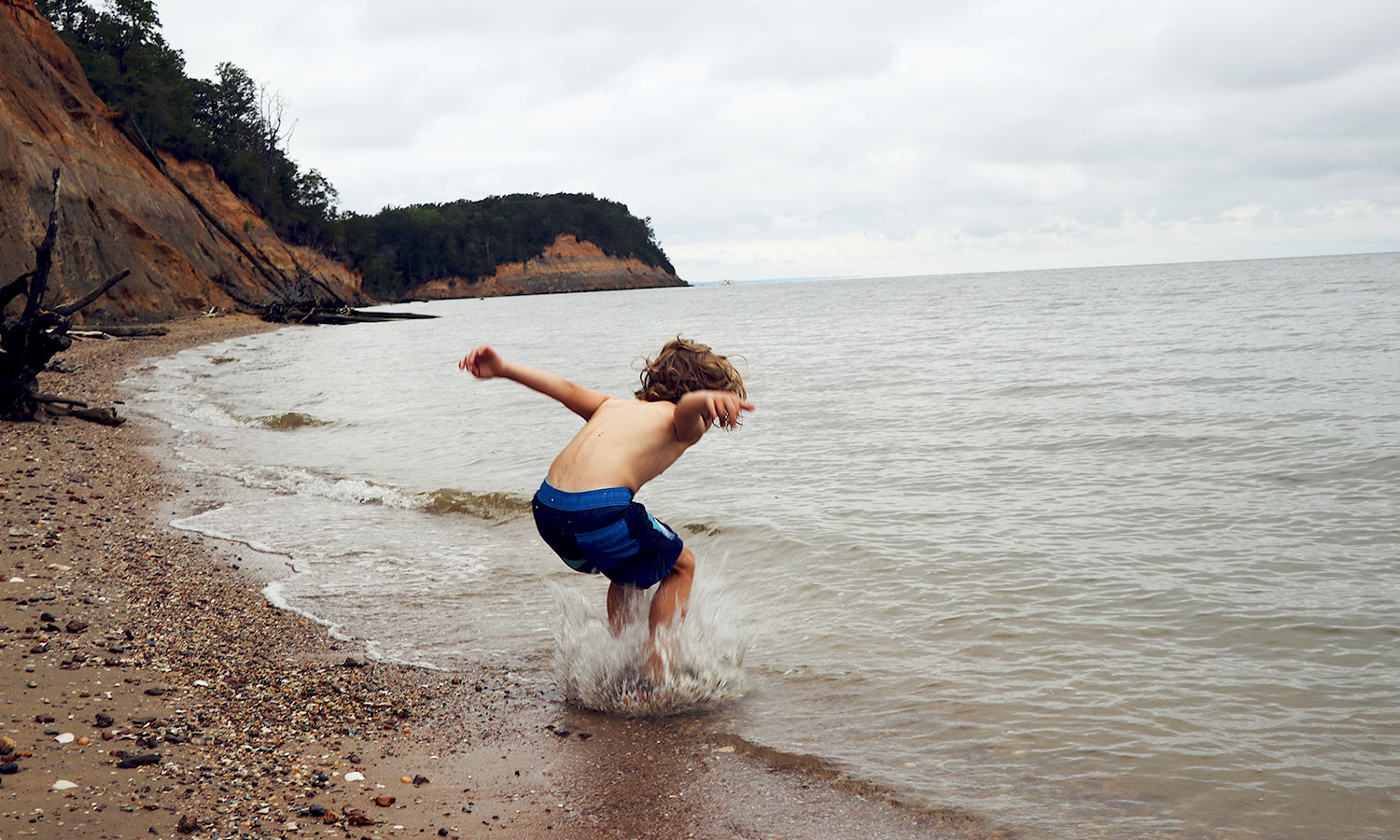 Nestled along the western shoreline of the Chesapeake Bay lies a hidden gem that's been millions of years in the making. Boasting coastal cliffs, forested trails, sprawling wetlands, and a fossil-filled beach, Calvert Cliffs State Park gives visitors not only a glimpse into the prehistoric landscape of Maryland, but offers what many of us are desperately seeking these days – an outdoor attraction with an abundance of activities. And, if it captivated the attention of my active five-year-old for the better part of six hours, it'll make the perfect stop for you to shake off the cabin fever and take in some fresh air.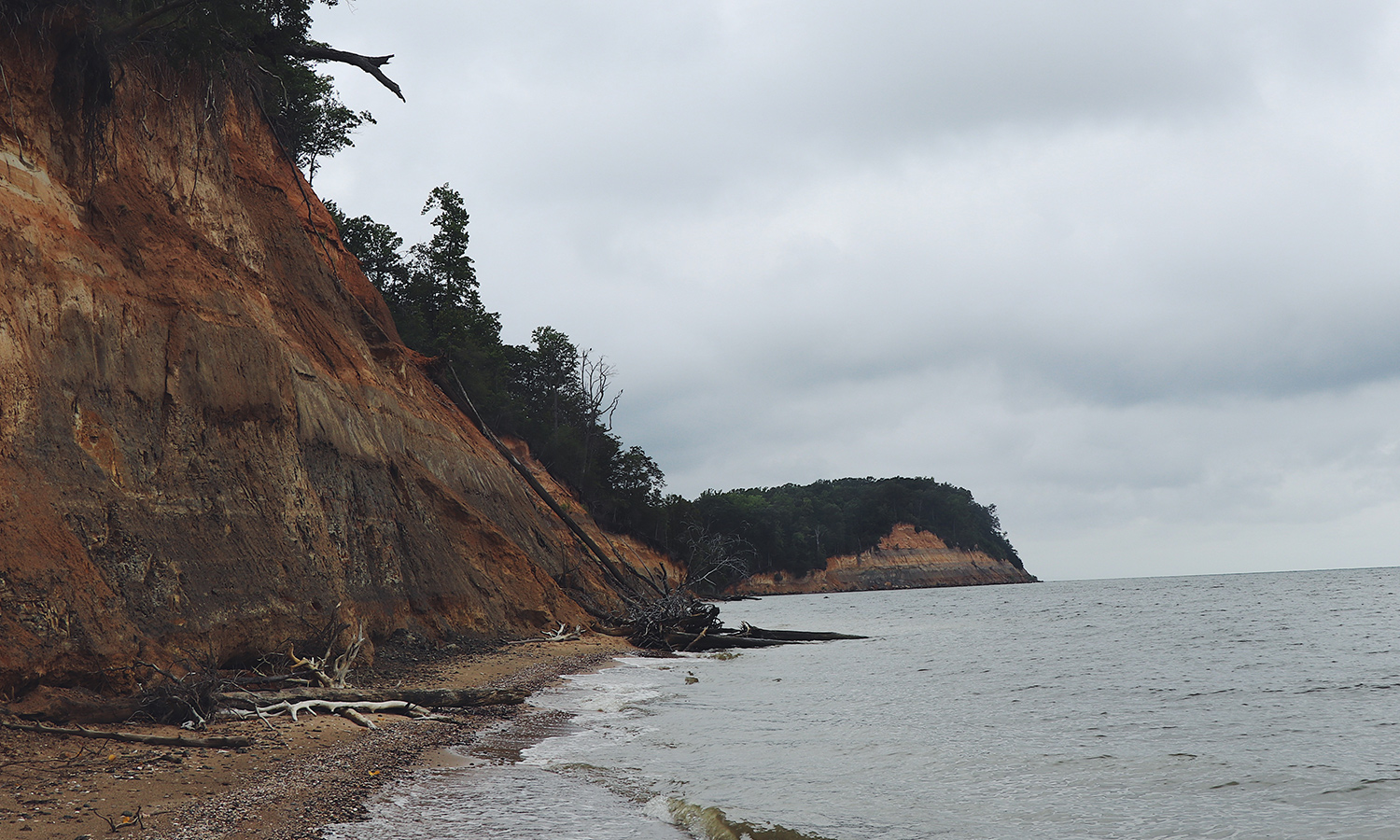 Located in Calvert County away from the bustling metropolitan areas, Calvert Cliffs State Park is a somewhat unassuming destination. An obscure turn from Route 4 landed us immediately at the entrance of the park, where a friendly attendant at the gate collected $5 for our day pass ($7 for out-of-state visitors) and directed us to a small parking lot located next to the trailhead. You don't see anything of the water or cliffs upon arrival, so it felt a bit underwhelming at first glance. But as soon as we exited the car, the scents of the forest and the sounds of frogs at a nearby freshwater pond had my son, Hudson, clambering to hit the trail. With our backpacks in tow and cameras at the ready, we began our hike. 
The park features a 13-mile network of foot trails throughout its 1,079 acres of preserved land, some of which can be accessed for bicycling and equestrian use. Since we didn't bring a horse with us, we opted for the Red Trail – a 1.8-mile-long footpath leading directly to the shoreline. It's important to take note of that number, 1.8, because as a round trip, it's a 3.6 mile hike. The well-marked trail is mostly level and consists of sandy soil and boardwalks, so even a novice hiker could readily get to the water and back, but 3.6 miles can sneak up on you if you're not wearing the right shoes or you didn't bring along the essentials in a comfortable pack. There are no "quick trips back to the car," so plan ahead and take everything you need with you.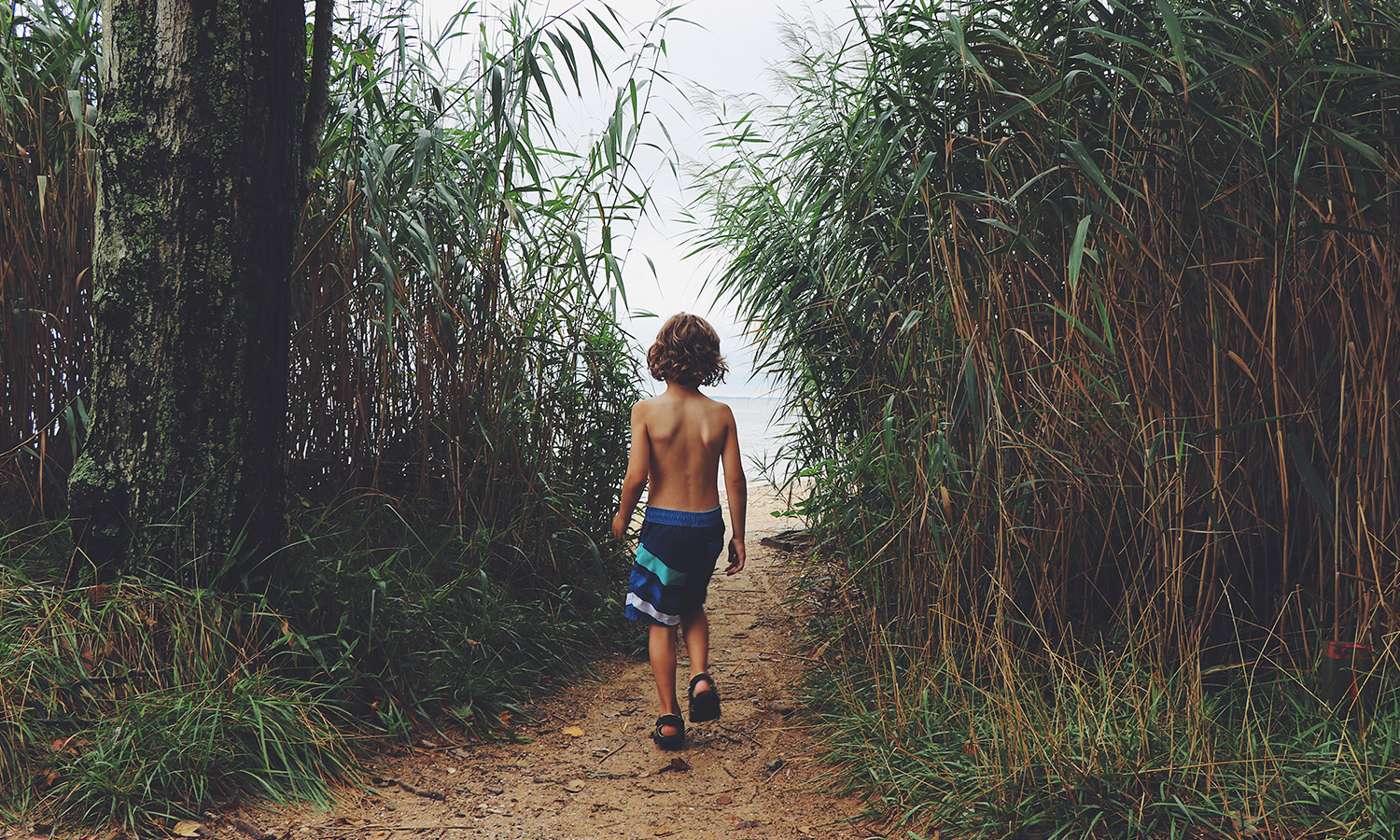 But, as we learned firsthand, the mileage flies by on this picturesque trail replete with lush forest, trickling streams, and wetlands where we excitedly spotted waterfowl, beaver dams, lily pads in bloom, and creatures in the shallows. Being so captivated by the surroundings, it was easy to forget that we were actually walking towards the Chesapeake Bay, but we were quickly reminded as the trail opened up to the impressive body of water ahead and dramatic cliffs to the left and right. I took in the relative awe of the moment, and before I could get a word out, Hudson was barefoot and digging through our gear to find a bucket and shovel. See, Calvert Cliffs offers more than a trip to the beach. It gives rockhounds, aspiring paleontologists, and anyone with a shovel and some patience the chance to find fossilized shark teeth!
The remainder of the day was filled with fossil hunting (we found four shark teeth), sandcastle building, boat watching, swimming, and snacking along the small but idyllic quarter-mile of beach. Although the cliffs themselves are closed due to safety concerns and erosion, it was nonetheless impressive to see their size and the visible strata, which hold clues to a Maryland from long ago. So whether you're looking for relaxation or education, leisurely hiking or high-intensity fossil hunting, Calvert Cliffs State Park is a perfectly unique outdoor destination to keep your spirit of exploration alive and well.    
Additional Tips & Notes
The park can get crowded during peak season, so plan to arrive early on the weekend or pick a weekday when most locals are at work. Of note, the beach does have a view of the distant liquid natural gas receiving station. While it might not be the most photo-worthy angle, it caused no disruption to our visit. 
While You're in the Area
A perfect compliment to visiting Calvert Cliffs State Park is a stop at the Calvert Marine Museum located in nearby Solomons, Maryland. This small but impressively well-curated museum will teach you everything you need to know about the landscape, history, culture, and biodiversity of the nearby Chesapeake Bay and the freshwater systems that feed it. Engaging displays of fish, crustaceans, jellyfish, stingrays, and otters will give you and the family plenty of viewing entertainment. Plus, massive bones and fossils of creatures excavated from the coastal cliffs themselves will bring to life what prehistoric Maryland must have been like. Step outside along the water, where you can take a tour of the Drum Point Lighthouse and see a collection of boats that truly showcase life on the Bay. Due to COVID-19 precautions, visits must be scheduled through the museum. 
---
Lead Photo: Chris Vandergrift
Chris is the Editor of Maryland Road Trips and loves spending time in nature with his wife and son.