Where to Stop for Ice Cream on the Way to Ocean City

The thought of eating ice cream may come up in the car when you're making your way to or from the beach. Good news: You don't have to wait until you arrive at your vacation destination to sample a tasty delight! There are some great ice cream shops not too far off the beaten path as you navigate your way to and from sun and surf. Here's my tried and true list of where to stop for ice cream on the way to Ocean City:
The Daily Scoop—Pasadena
I finally made my way to Daily Scoop in Pasadena, Maryland after hearing numerous recommendations, and I have to say, it was a real treat in more ways than one. Located on Mountain Road, proprietor Fran Linder specializes in specialty cakes for birthdays, anniversaries, and weddings, as well as specialty drinks such as milkshakes, Root Beer floats, smoothies, and blended ice coffees.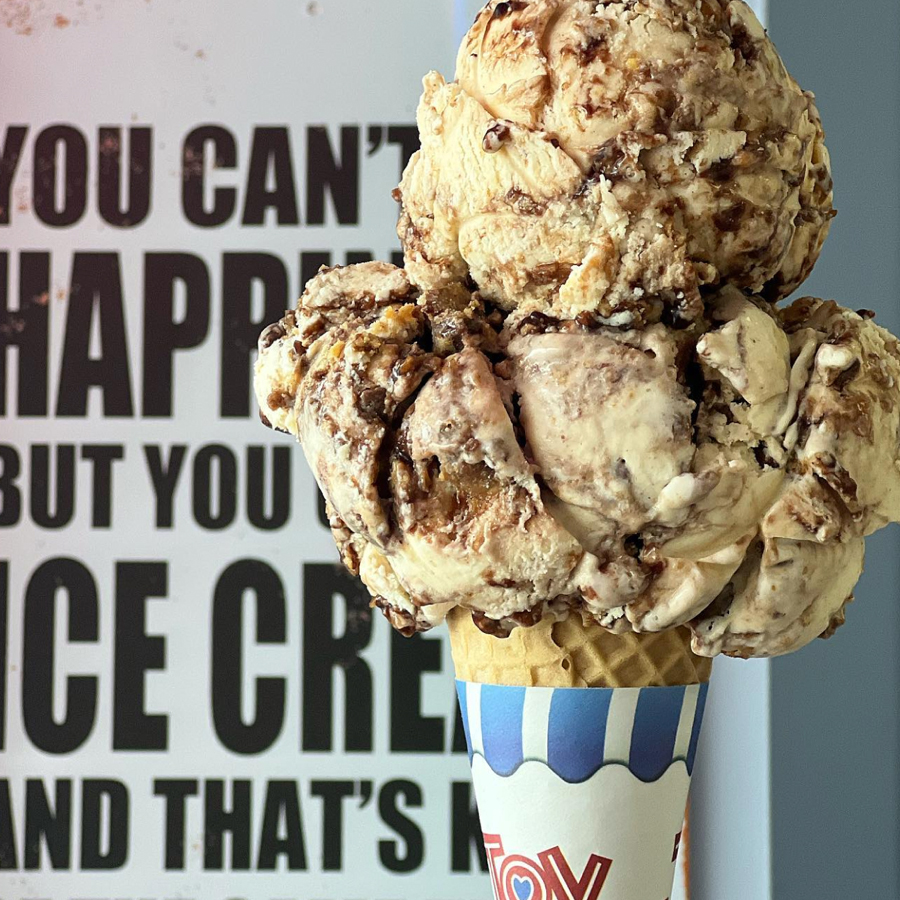 And if it's ice cream you're craving, then ice cream they have, and it's made daily in the shop using the finest ingredients. Most impressive of all is that they have 145 seasonal flavors! They also serve vanilla, chocolate, and twist custard for those who like the basics. 
Kilwins Annapolis—Annapolis
Heading south from Pasadena, you'll find Kilwins Annapolis located on Main Street in the historic part of the city, home to the State Capital of Maryland and the United States Naval Academy. Both residents and tourists love this shop for its wide variety of both ice cream and chocolates that will whet your appetite.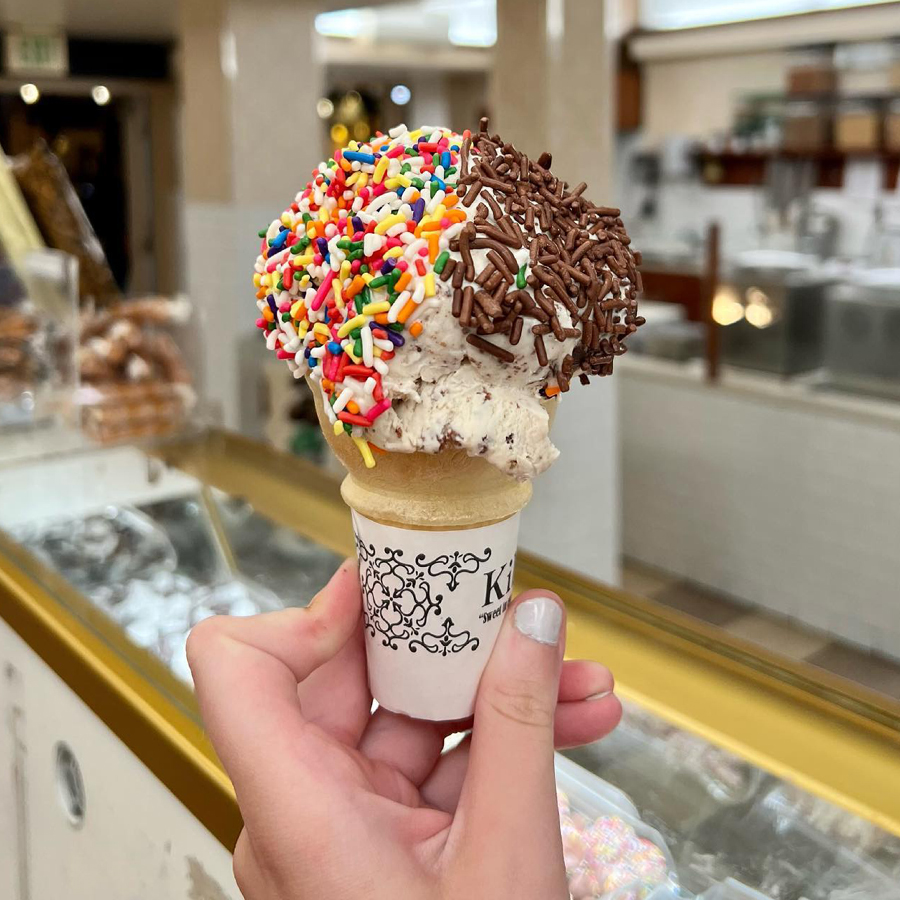 Kilwins Original Recipe Ice Cream is made with the richest ingredients, and one of the most popular flavors is the Kilwins Turtle Ice Cream. Whether it's one scoop, two scoops, or three, you may want to indulge and have your favorite flavors served in a waffle cone. While you're there, purchase some fudge, caramel, brittles, and more for your vacation. If it's not too hot, take your cones and stroll to the Annapolis harbor to watch the boats parade in and out of Ego Alley.
Tasty Toucan—Stevensville
Whether you're going to or coming from Ocean City on Route 50, you can make a pleasant pit stop at the Tasty Toucan in Stevensville, Maryland. Last year, on one of the hottest days of the year, as I returned from covering a story on Love Point Winery on Kent Island, I stopped off at the Tasty Toucan and fell in love.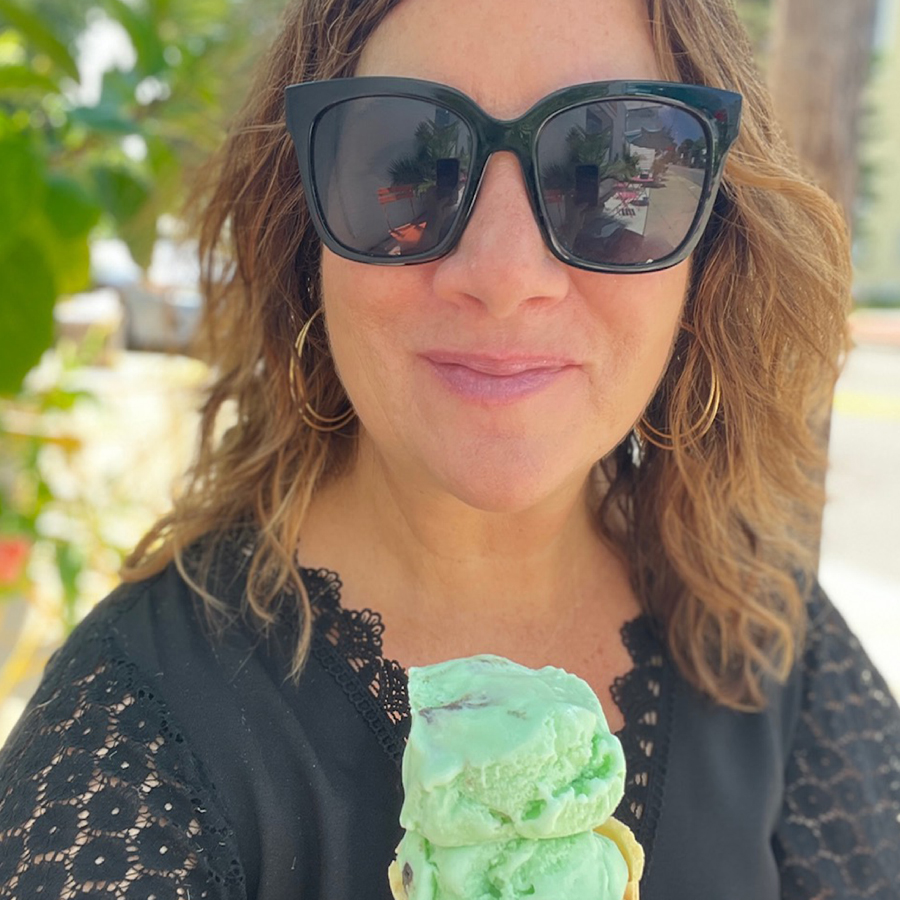 It's true. I fell so in love with the Tasty Toucan that I had to bring my whole family back for ice cream a couple of weeks later. Honestly, I think the chocolate chip mint ice cream cone I devoured that day may have been one of the best I've ever tasted. This colorful shop, replete with the perfect "photo opp" tiki stations, will just make you happy. It's bright and cheerful and the ice cream is…well, I can't say enough about it. If you need a cake for a special occasion, they have you covered as well. Pop onto their happy little website; it perfectly depicts everything they are—vibrant, fun, cute, and friendly—and they list all their numerous flavors, which may complicate your life trying to decide which ones will suit you best. They are all amazing. Sit outside at their tables and enjoy feeling like you're away from the hum of Route 50, despite the shop being less than a mile from the highway.
Justine's Ice Cream Parlor—St. Michaels
Some folks like to take their time getting to the beach with late check-ins and other folks like to extend their vacation time on the way home, so planning visits to Oxford and St. Michaels (either coming or going) isn't a bad plan. Plus, it just means there's additional time to sample more ice cream. In St. Michaels, your day won't be complete without popping into Justine's Ice Cream Parlor for a taste of some Eastern Shore delights.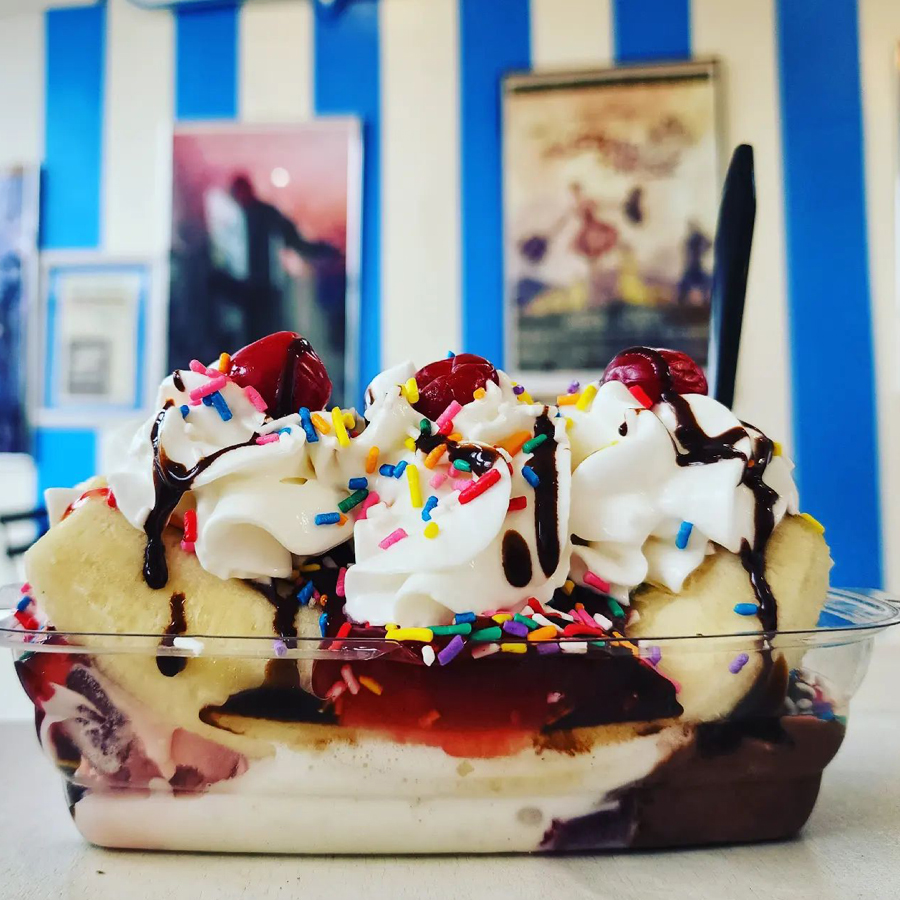 Justine's feels like an old-fashioned ice cream shop, and has been recognized in The New York Times, Washingtonian Magazine, and Life Magazine, among others, as one of the top 10 ice cream shops in the country. With over 20 flavors of ice cream, Justine's also serves thousands of customers a year, and the menu includes sundaes, banana boats, ice cream sodas and thick shakes. Bonus! They are all dipped by hand. 
Scottish Highland Creamery—Oxford
Scottish Highland Creamery in Oxford, Maryland, has been voted the "best ice cream on the Eastern Shore" for 10 years in a row! Trip Advisor voted them as Top 5 in the United States! I can see why—and so will you—when you check them out.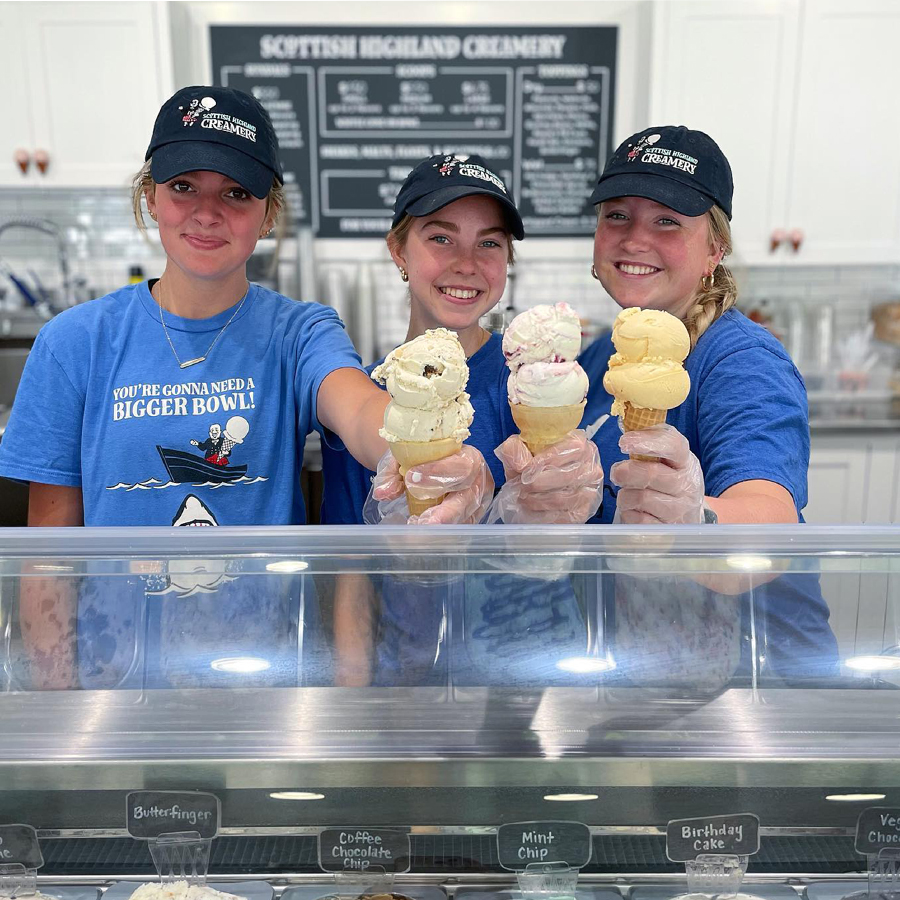 Founder Victor Barlow grew up in Edinburgh, Scotland, where he lived above an Italian ice cream shop called Mr. Boni's. There, he learned all the trade secrets of how to make the best ice cream. Since then, Victor and his wife, Susan, have brought those delicious flavors to Oxford for all its locals and visitors alike.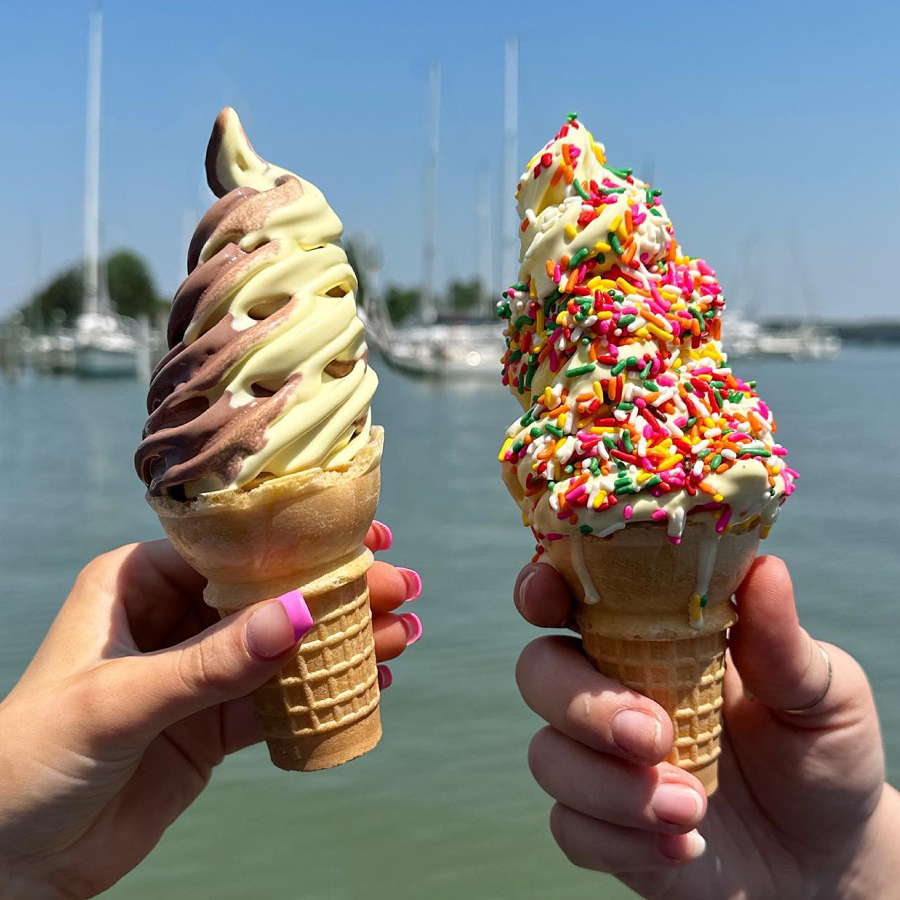 You'll enjoy stopping by and sitting on the docks, visiting a secluded beach, or strolling through the quaint streets of Oxford while you savor the variety of flavors Scottish Highland Creamery offers. 
Island Creamery—Salisbury and Berlin
As you near Ocean City, stop in Berlin or Salisbury, Maryland, for a treat at Island Creamery, recently voted (July 2023) Best Ice Cream Place in America by USA Today. Island Creamery started making its own ice cream in 1985 and finds inspiration for flavors from local fruit farmers and even from its customers. Plus, they make their own waffle cones on the premises (a secret recipe!). You won't want to miss an opportunity to treat yourself to the newly named Best Ice Cream Place in America!
Obviously, this list of where to stop for ice cream on the way to Ocean City is not exhaustive, but it's a good starting point. Plus, don't tell the editor just yet, but I think it's the perfect excuse for me to keep sampling ice cream and writing about it, don't you think?
---
Lead Photo: Tasty Toucan
Stephanie Verni is an Adjunct Professor of Communication at Stevenson University and the author of seven novels. She has taught a variety of communication courses, and she especially loved teaching courses in travel writing. A true Marylander, she enjoys writing about the beauty of her state and incorporating Maryland locations into her books. When she's not writing, you can find her on her boat cruising the Severn River with her family. She's on Instagram at @stephanieverniwrites