Glenstone: Maryland's Most Serene (and Hidden) Art Experience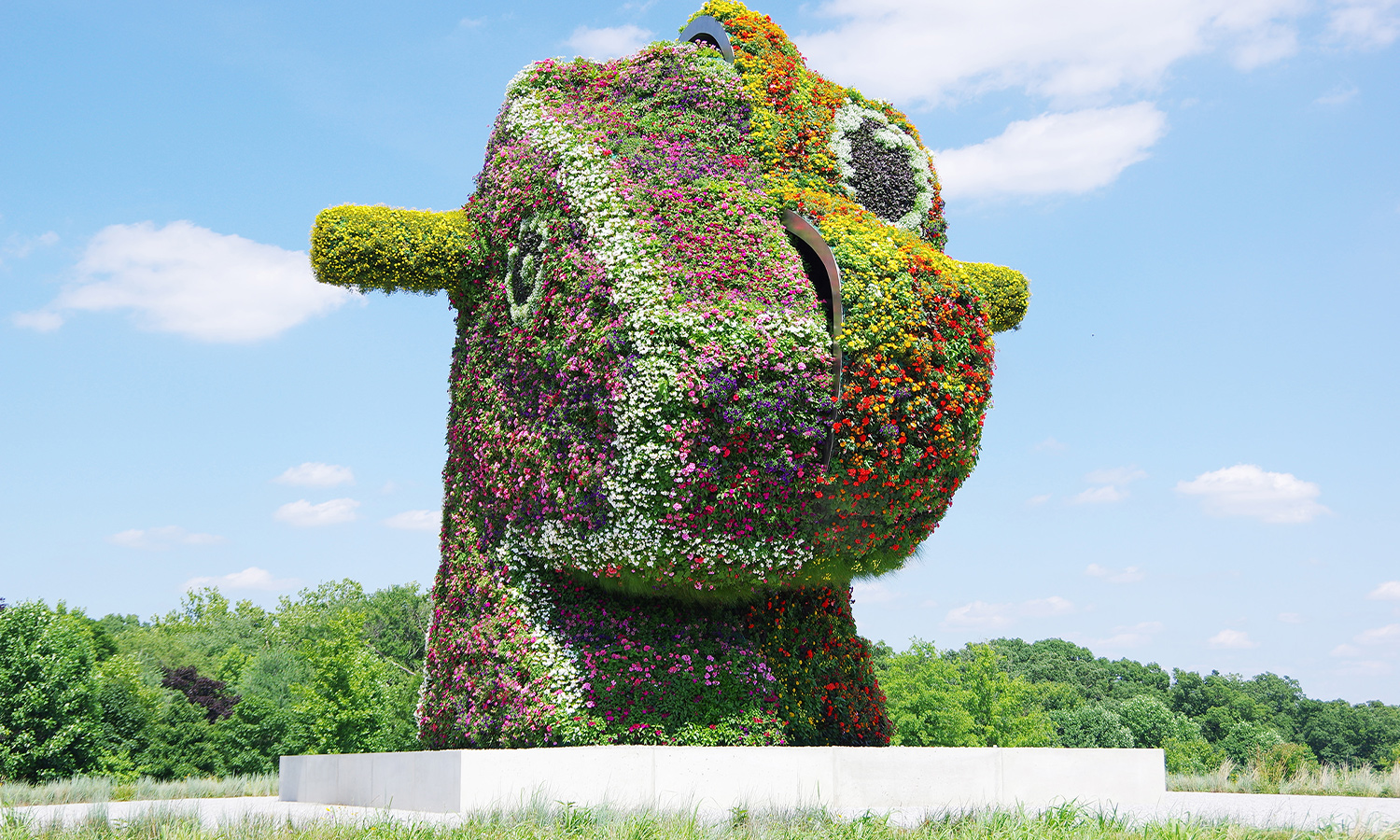 My favorite museum is a 15-minute drive from my parents' house in Potomac, Maryland, but until recently I didn't know it was there. The first time I visited Glenstone was a little over a year ago. My friend and I took off work early on a dreary Friday to drive from DC to Potomac. As we turned off Glen Road onto a wide gravel path, I saw the large white letters spelling "Glenstone" standing elegantly against a grey stone wall. I caught my breath, feeling as if we had arrived at a three-star Michelin restaurant in a very special, remote place.
A young, sharply dressed docent gave us a map of the sprawling 300-acre grounds. With exhibit pavilions, paths, trails, streams, and forests, it looked more like a map of a theme park than of a museum. 
Walking the half-mile path to the exhibit pavilions felt like being inside Andrew Wyeth's painting, Christina's World. A vast wheat-colored meadow brushed against the overcast sky. Towards the horizon, I could make out the faint geometric lines of the grey pavilions and the looming figure of Jeff Koons' Split-Rocker, naked and seemingly abandoned without its flowery coat.
The walk was both invigorating and meditative, priming my senses for the art to come, like a delicious appetizer building momentum for the main course. 
Every museum I've ever been to, including some of my favorites in the world – the National Gallery of Art, Musée d'Orsay in Paris, and the Pergamon in Berlin – has felt like entering a stifling, tightly controlled environment where only the art is supposed to make you feel something. Glenstone is decidedly the opposite. Conceived as a place that "seamlessly integrates art, architecture, and nature into a serene and contemplative environment," Glenstone invites visitors to discover how nature and art can coexist and augment the experience of one another. Despite its impressive collection of post-World War II art, including works by Jeff Koons, Jackson Pollock, Alexander Calder, Andy Warhol, Michael Heizer, Richard Serra, and Keith Haring, Glenstone is less about the art than cultivating a uniquely restorative experience. One recent visitor wrote on Tripadvisor: "A visit to Glenstone felt like the perfect getaway for a mini-vacation."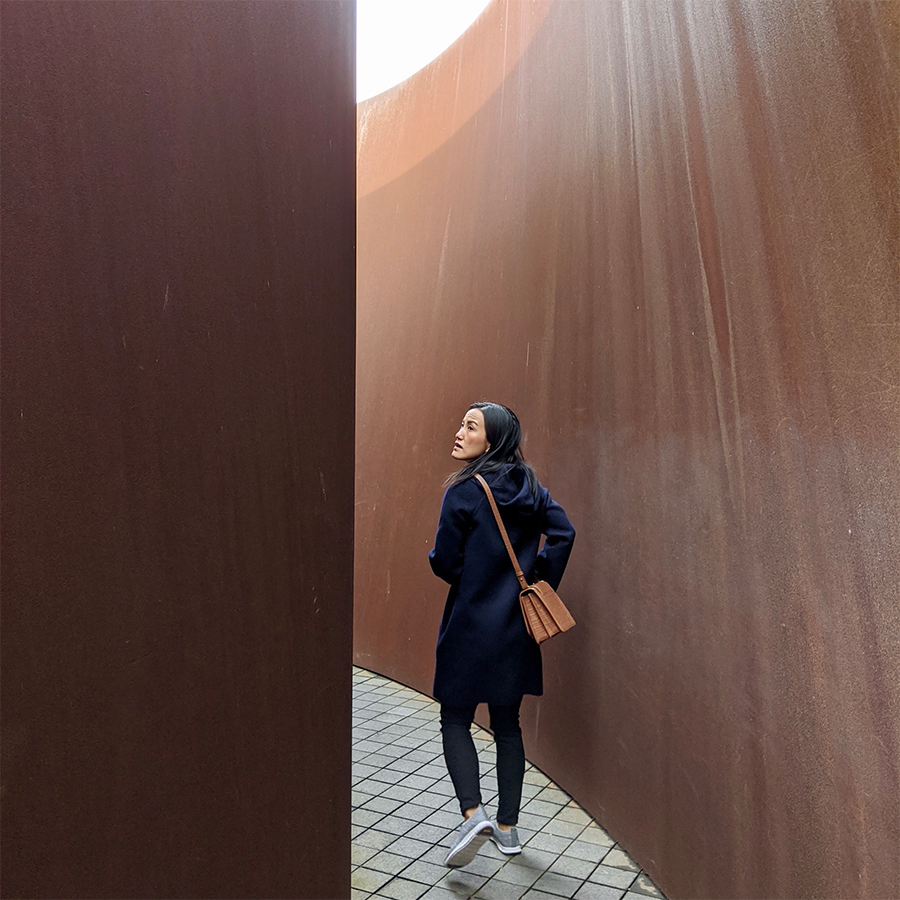 Throughout the museum, art is intentionally and intimately integrated with nature. Many rooms have floor-to-ceiling windows with views of the grounds. The main pavilion is designed around an 18,000 square foot "Water Court" where you can sit on a bench to enjoy a moment of peace while gazing at the variety of aquatic plants, the elegant lines of the pavilion, or the people walking through it.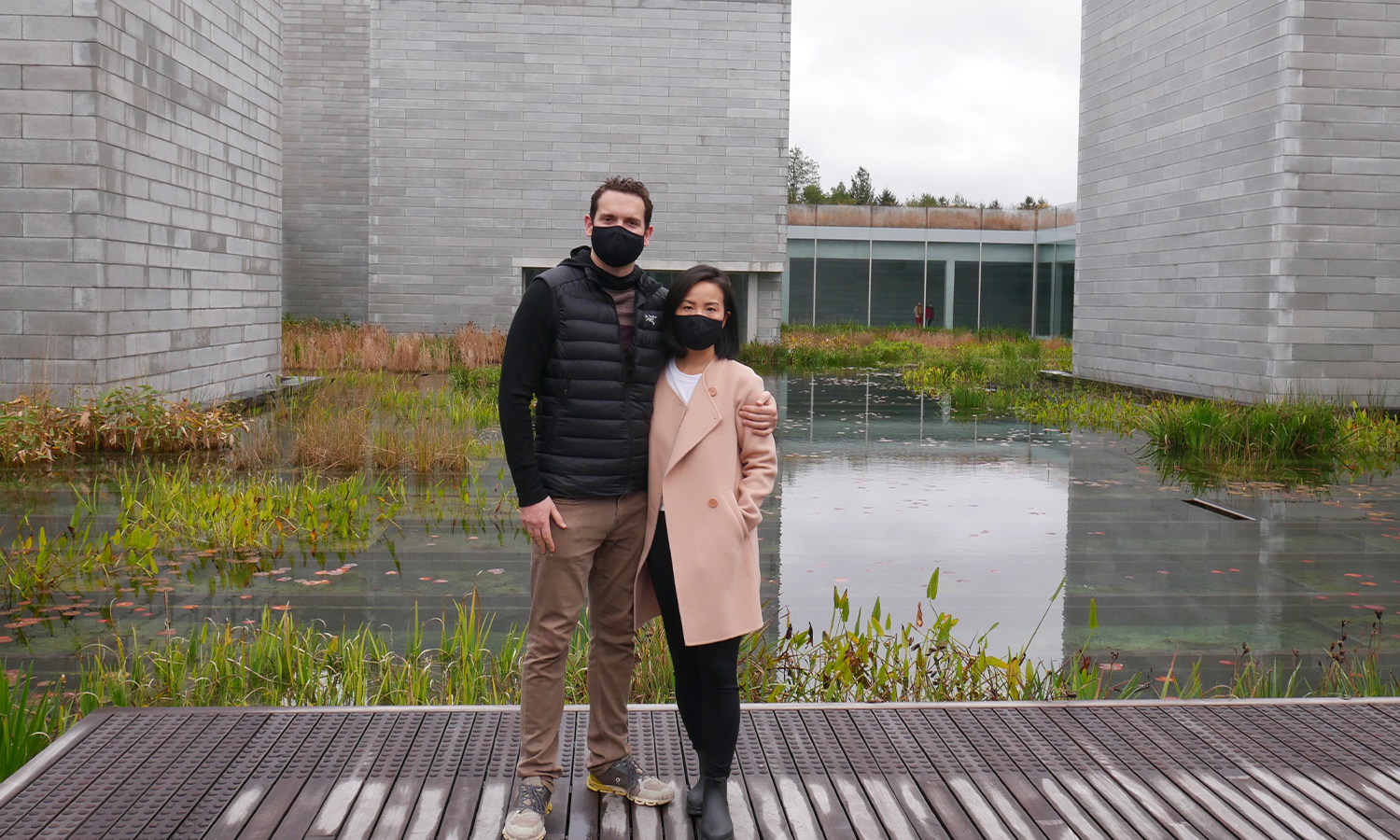 My favorite "nook" at Glenstone and the perfect example of the interaction of art, architecture, and nature is Room 7, the "Viewing Gallery." The only piece of art in this room is a long, 20-seater wooden bench designed by artist Martin Puryear and furniture maker Michael Hurwitz. It faces a massive picture window the size of an entire wall, overlooking a peaceful meadow with distant houses and oak trees. The window is so pristinely clear that you would swear it wasn't there. On the opposite wall is a bookshelf the length of the room filled end-to-end with art books. You are encouraged to pick one up, sit on the bench, and enjoy a window into nature. I could've sat on that bench for hours, and I still often daydream about being in front of that window.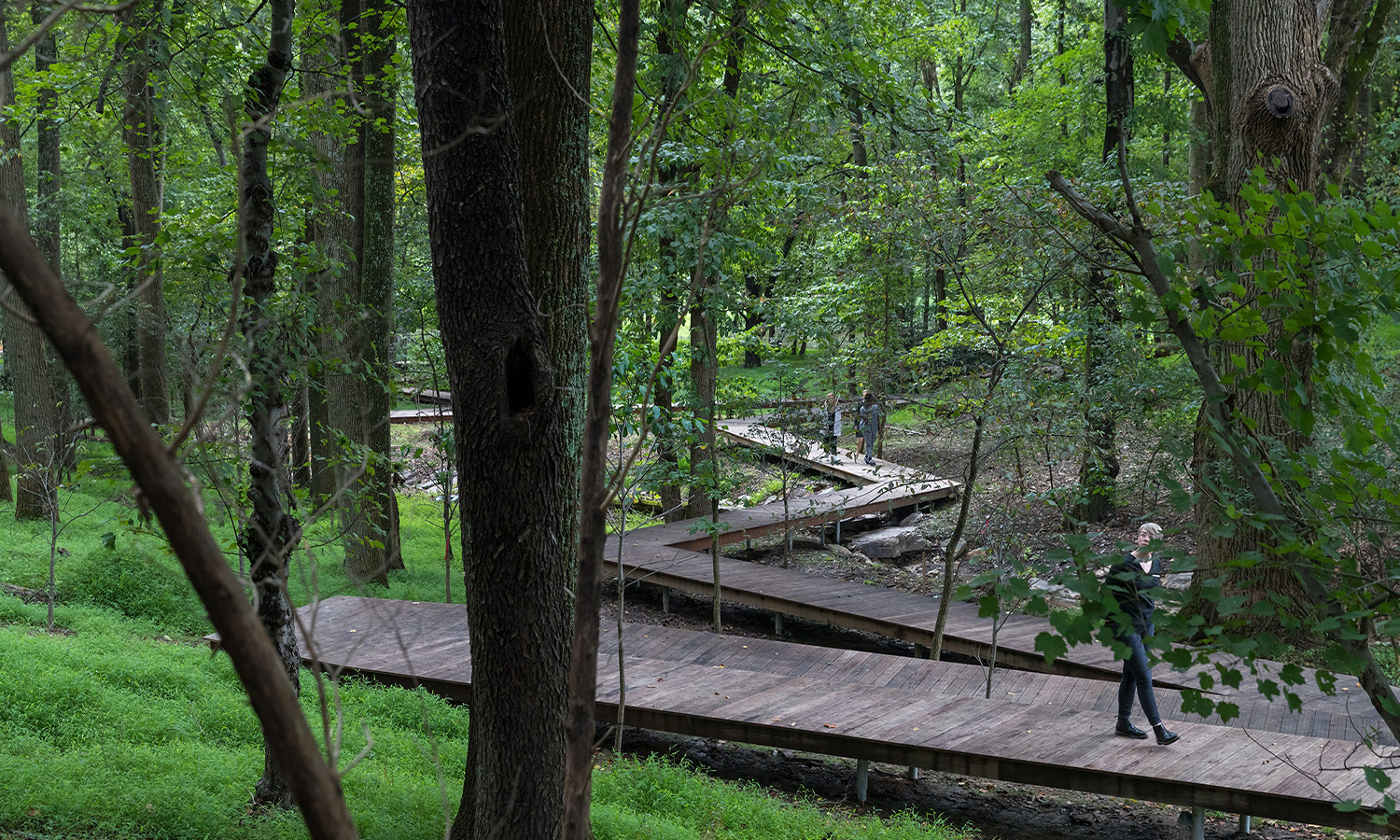 What I've come to appreciate about Glenstone are the many opportunities for peace and reflection that it offers. Besides incorporating pockets of nature, the presentation of the art itself feeds into visitors' experiences. Director and co-founder Emily Rales says she follows a "less is more" strategy, "placing a premium on negative space that acts as a palate cleanser between artworks." There are no group tours, audio tours, or panels with lengthy descriptions of artworks – just an artist's name and the name of the piece. You are given complete permission to interpret the art however you want. As a Type A consumer of art who is typically chained to audio tour equipment to ensure that my interpretation of each piece matches that of the artist, not having the option to "get it right" felt incredibly liberating.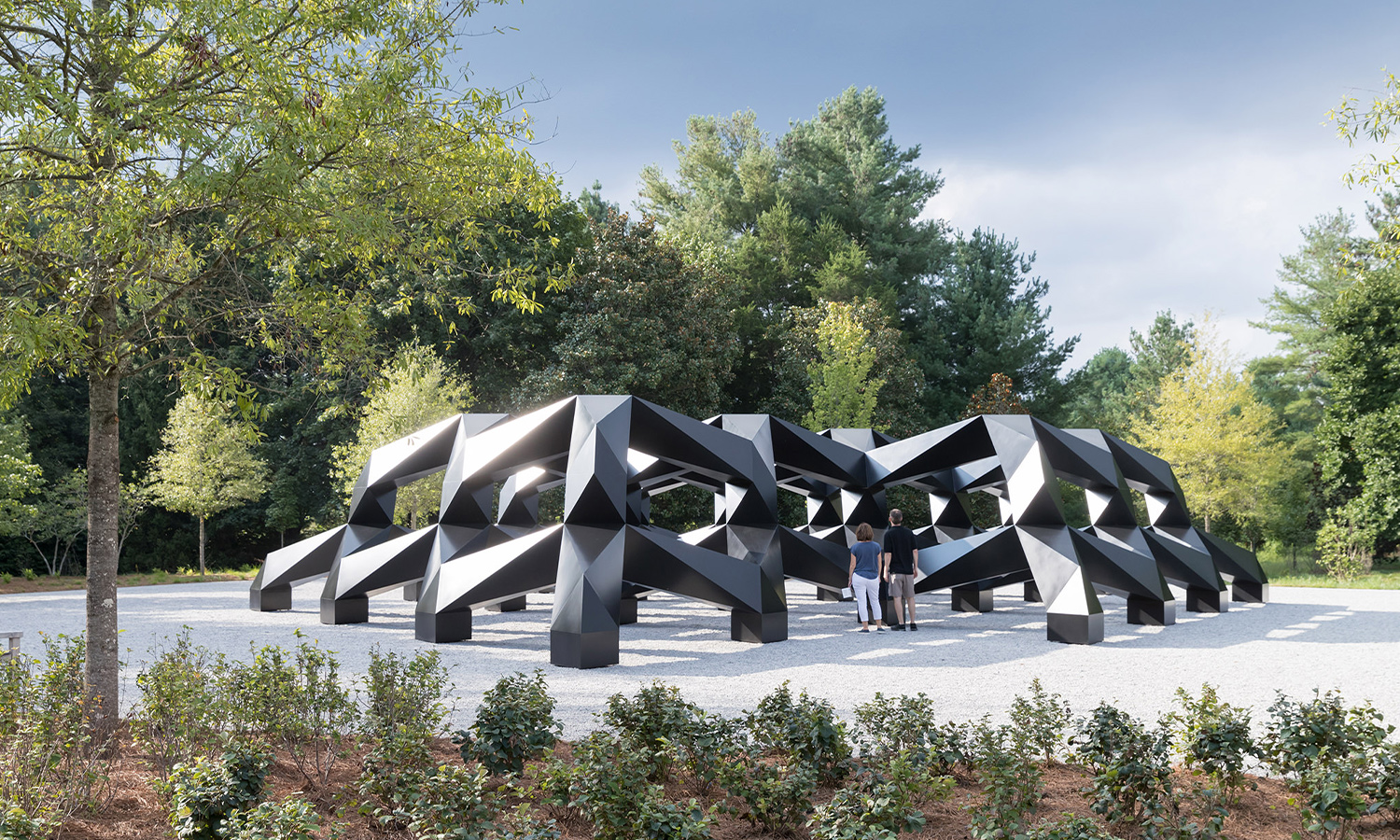 I found myself being naturally drawn to certain pieces, spending more time with them, and letting them "reveal" themselves to me through images and emotions. Instead of feeling like I had to see and understand every piece in the museum, I began to trust my own eye and make the experience my own. 
To achieve the serene environment it offers its visitors, Glenstone intentionally restricts the number that they have. Tickets are free but only a limited number are available on the museum's website. The website is updated in real time and will show all current availability and operating status. Indoor photography, pets, and kids under 12 are not allowed. Although controversial, Glenstone has stuck with these rules.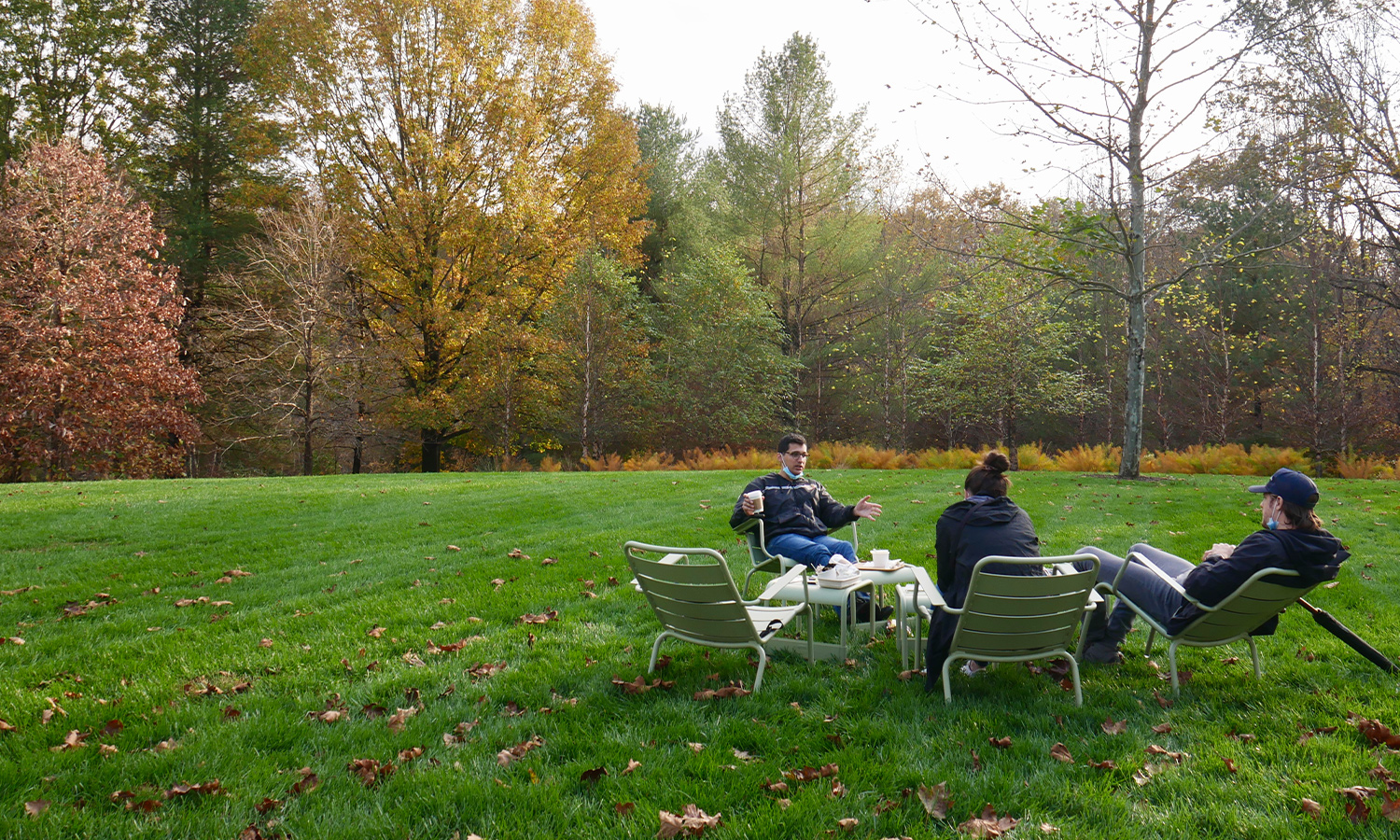 While you should experience Glenstone at least once in your life, know that you may be drawn to it again and again. I didn't fully appreciate it until my second visit when I realized that what I was most looking forward to wasn't the art, but being transported back to a state-of-mind. When I went again last November, the barren beauty of winter had fallen away. Split-Rocker was covered in flowers and the landscape was alive with the colors of fall. I was with my husband and parents this time, and as we set out on the half-mile path towards the pavilions, I found myself excited about how they would experience Glenstone. The spirit of the museum feels like a synthesis of the season, weather, and collective experience of all its visitors. I imagined myself coming back season after season, experiencing each one with a renewed perspective and appreciation.
---
Lead Photo: Jeff Koons, Split-Rocker, 2000 stainless steel, soil, geotextile fabric, internal irrigation system, and live flowering plants 37 x 39 x 36 feet © Jeff Koons. Photo Credit: Courtesy of Glenstone Museum
Gina is a writer, yoga teacher, and career coach. Her love of food and self-discovery has led her to travel and live all over the world, including San Francisco, Chicago, Bali, and her hometown of Chengdu. She currently lives in Maryland with her husband and English Cream Golden Retriever. Follow her @ginachenart