Get Your DIY On: Candle Making, Glass Blowing, and More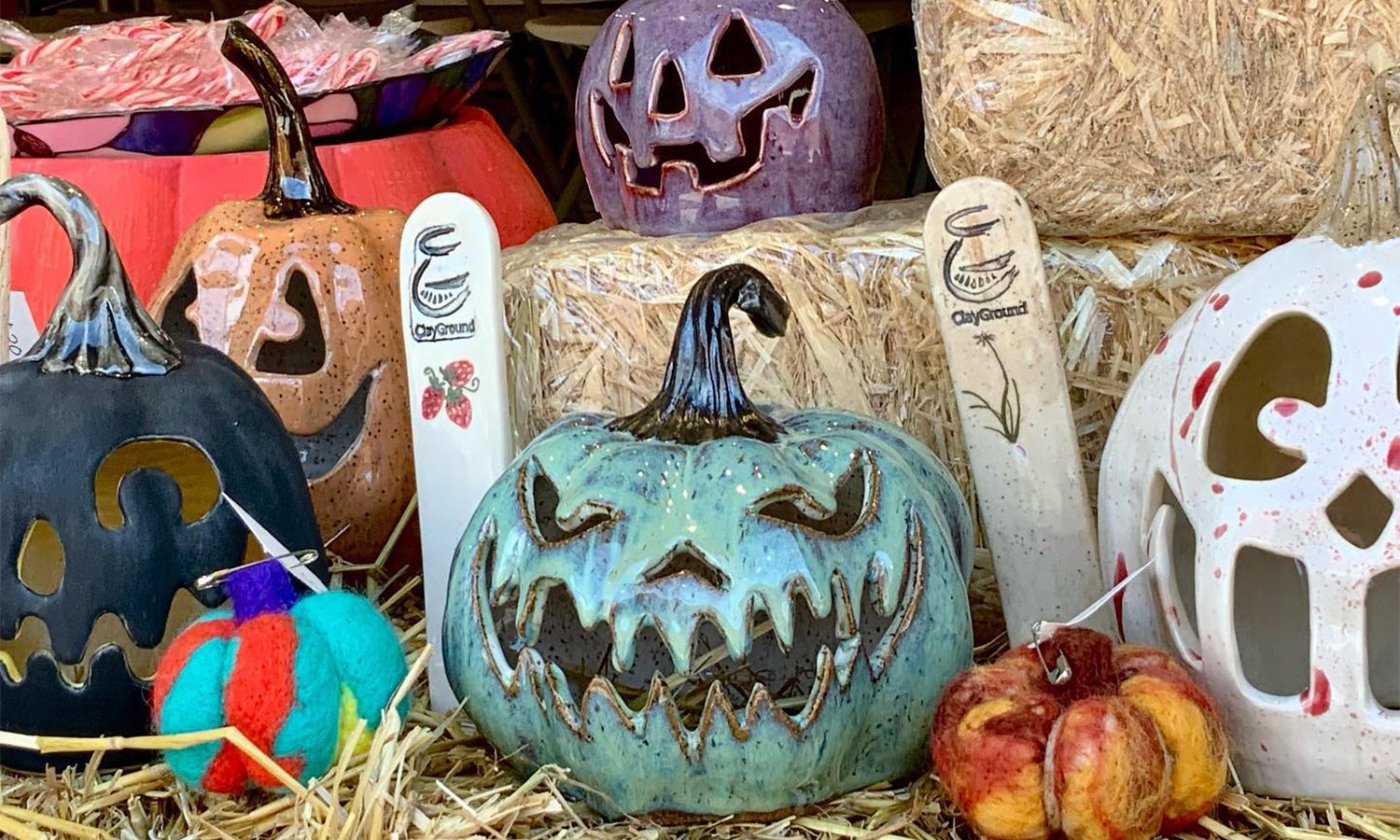 In search of a one-of-a-kind gift for the holidays? Consider the DIY approach! Make your own gifts at a studio in Central Maryland—from a glass-blown vase to bath bombs to customized candles and more. No prior experience is needed in these classes. Bring an open mind, and you'll find that making a gift for a loved one is an opportunity to create laughter and memories. Even if your piece isn't perfect, you'll have a great story to tell.
Join me as I highlight five studios worth the journey (and a little sweat equity):  
McFadden Art Glass—Baltimore, MD
Shape blazing molten glass with your own hands at McFadden Art Glass in southeast Baltimore. I ventured to this glass-blowing studio intent on making a vase. But beware: Creating your masterpiece is addicting (I made three pieces). Tim McFadden's studio offers expert guidance for one-time projects and workshops, classes, and events, such as date nights. The space also buzzes with artists honing their skills via studio rental.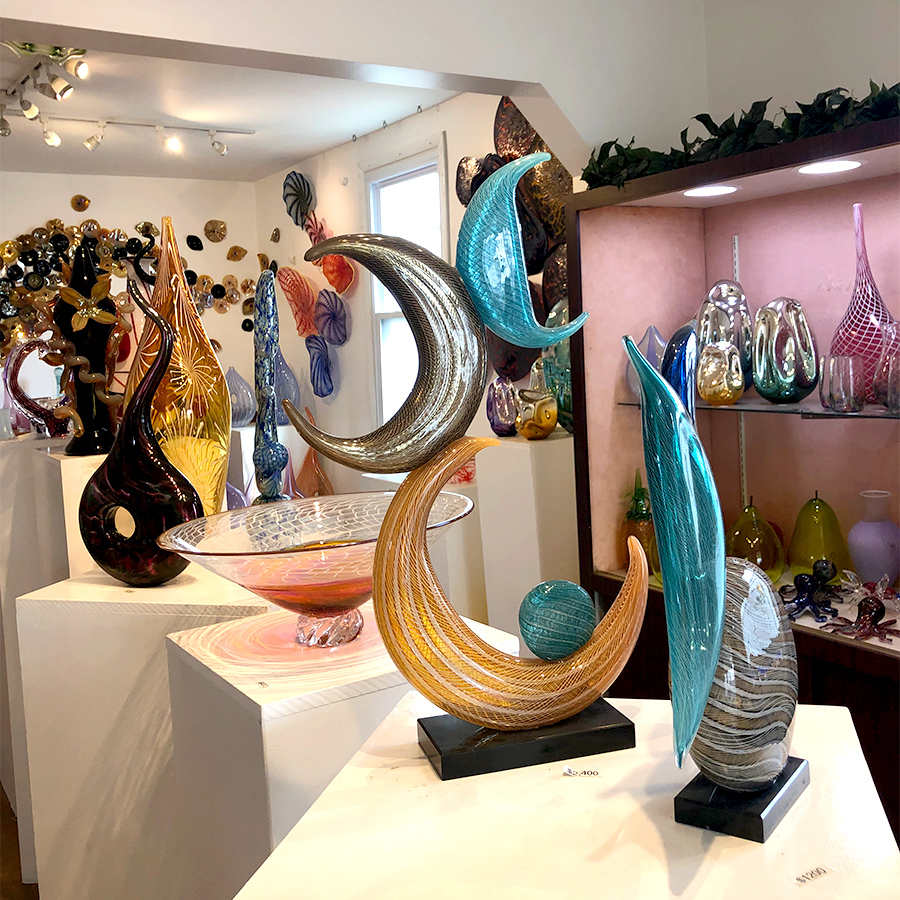 My project began as a ball of white-hot glass on a steel blowpipe. We worked quickly with gigantic tweezers shaping the project as the glass cooled to a dense form of taffy. After shaping, pieces are stored in a special oven to cool. From start to finish, I had a beautiful custom flower vase in forty-five minutes. Important tip: Since the glass requires time to cool, projects are available 48 hours later. If needed, they can ship your finished piece to you.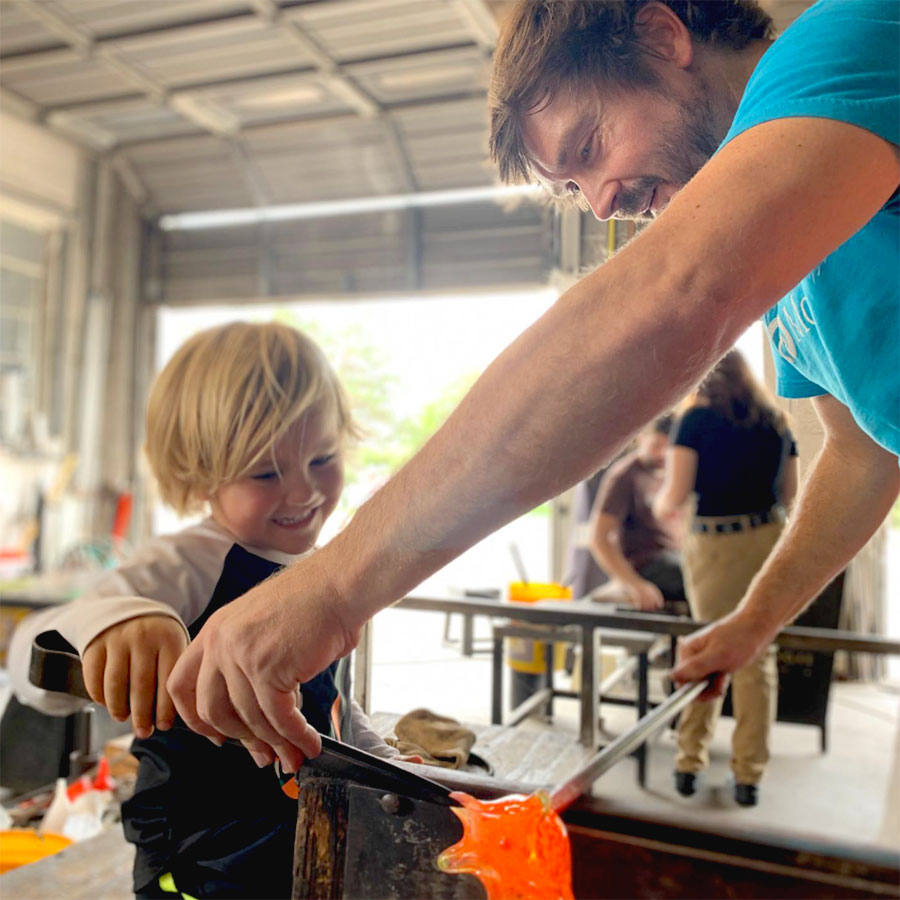 Tim's passion for glass blowing echoed through as he shared his journey of discovering this art form in college to eventually opening a family-owned studio. He and his wife, Rosemary, pride themselves on creating a personable experience while offering a wide range of projects for the whole family. Make your own glass projects range between $25 and $75. And if you aren't feeling creative, there's a gallery filled with stunning pieces for sale.
While You're in the Area:
Head two miles east to Matthew's Pizzeria for their iconic crab pizza and walk it off with a stroll through Patterson Park.
AR Workshop—Columbia, MD
Located in Columbia, AR Workshop's chic boutique allows all of your creativity to flow. Franchise Owner Cassandra Kilcarr fell in love with the homespun aspects of her wedding and went on to open her own boutique in 2021. According to Cassandra, "AR Workshop is truly all DIY." 
My friend and I spent a sunny Sunday afternoon exploring all of the design possibilities.  You can choose to make wood signs, frames, canvas pillowcases, lazy susans, centerpiece boxes, trays, chunky knit blankets, and more. We decided on a customized round wooden sign with a nautical design and holiday-themed 18 x 18 pillowcases.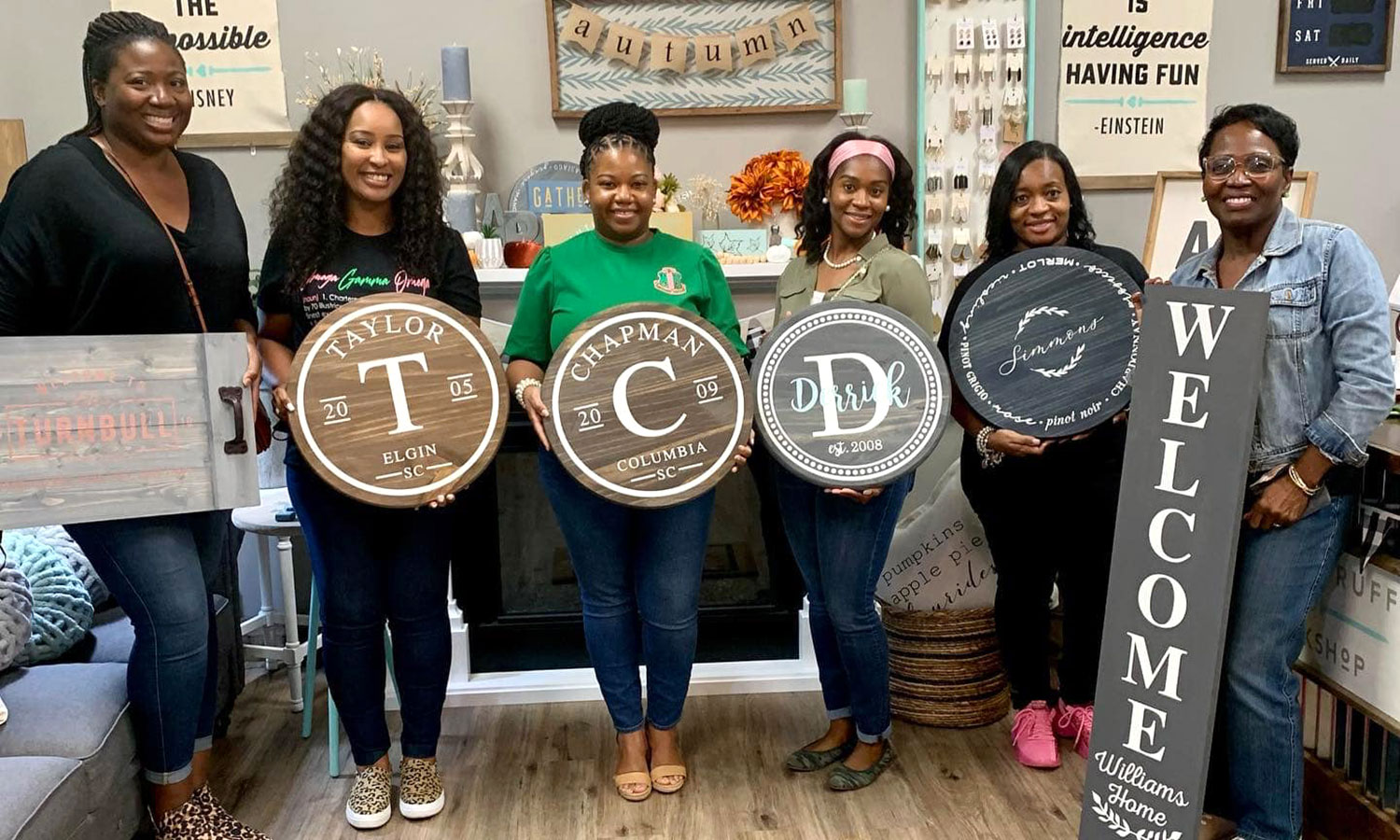 The process starts with selecting from the numerous stencils. Since the stencil is made onsite, you can add specific details to complement the design, such as a name, GPS coordinates, or a favorite saying. 
Next, you "weed" the stencil by removing the negative pieces from the image and adhering it to your project surface. You then pick your colors, and the fun starts as you dab non-toxic, odorless paint onto the stencil. It's painting by numbers at a whole new level!  
Confession: my holiday gnome-themed pillowcase is so adorable that I don't want to give it away as a gift.  
AR Workshop has a full calendar of classes sure to inspire your next gift. The projects are suitable for children ages seven and up. According to Cassandra, men also get into the spirit by making beer bottle openers or other designs.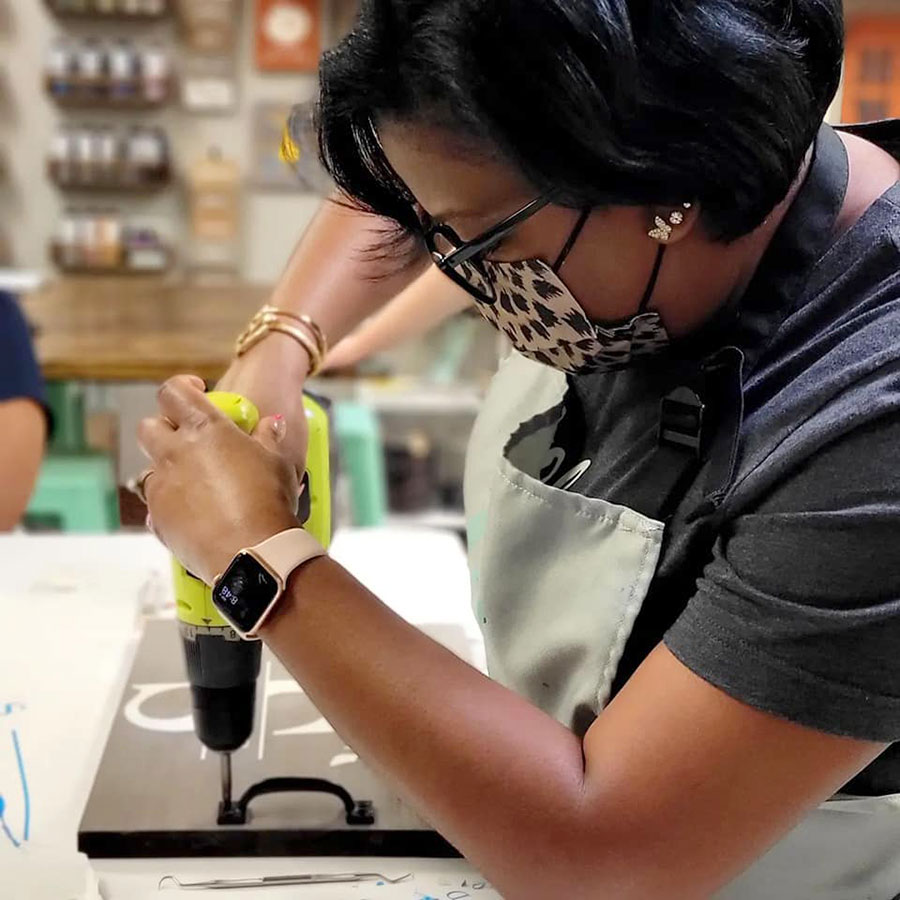 Depending on the complexity of the design, expect to spend about three to four hours at the studio. Projects are ready to take home that day. Cassandra also offers extra touches like hooks, sealers, and pillows for a one-stop-shop gift.
While You're in the Area:
Kick back with a drink at nearby breweries Sapwood Cellars or Hysteria Brewing Company.
KSM Candle Co.—Baltimore, MD
Believe it or not, KSM Candle Co. in Baltimore is based on surviving a zombie apocalypse. Owner Letta Moore wondered what she'd do if she lived beyond this cataclysmic event, and the answer was using her skills to make candles.
You need not fear the undead in this cheerful industrial space, though. Letta and her daughter, Taaj, deliver a peaceful soy-based candle experience.
The class starts with a lesson on the benefits of soy versus paraffin wax. Not only is soy environmentally sound, but it also is vegan, pet, and child friendly.
The mother and daughter duo will guide your selection and, if interested, help blend scents. Customer favorite scents are linen and lavender. For the men in the group, fragrances consisting of leather and whiskey are a hit. Holiday scents include wassail, juniper, Fraser fir, warm fire, orange cedar, and pumpkin.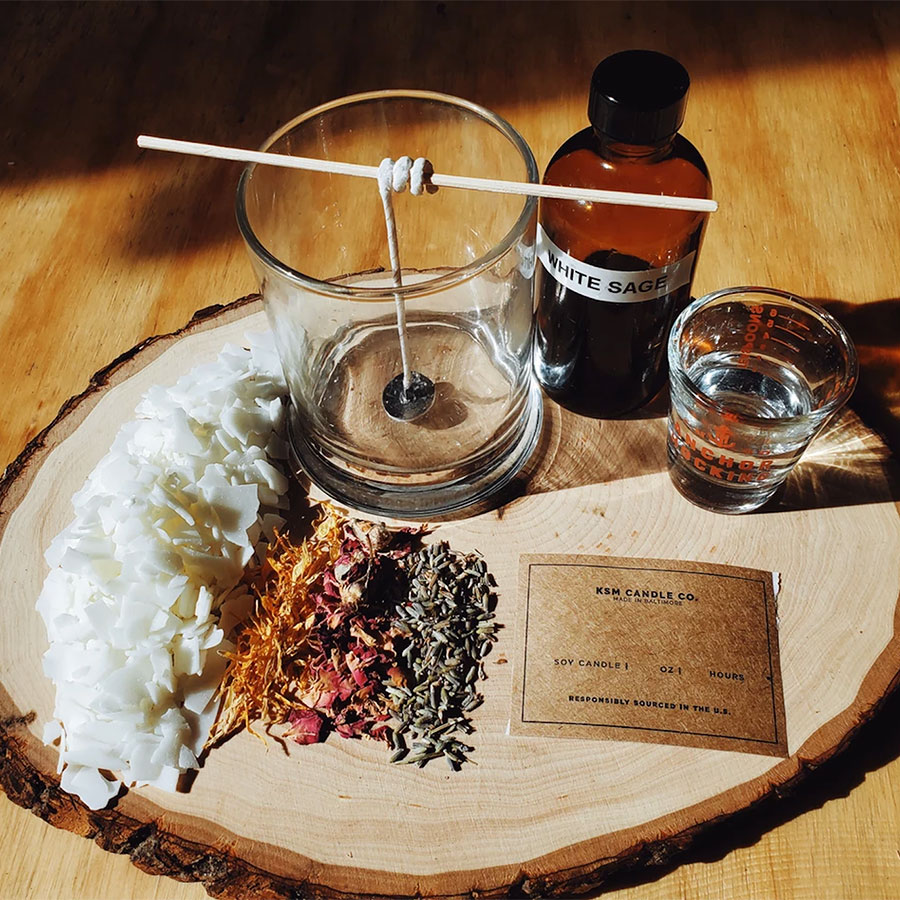 Once you pick the size of your candle, you melt wax under supervision. The wick is carefully placed in the jar so that it stands upright. Stir in your particular scent in the wax and pour. 
Each candle must cool before you can take it with you. Small candles take about an hour to cool thoroughly. Larger candles take a few hours. Many of KSM's guests go to nearby Hampden for some shopping or a meal, then return to fetch their gift. 
KSM's candle-making workshops are on weekends only and cost $40. There is also an online workshop for $40 if you want to take a class with friends from out of town.
While You're in the Area:
Sip on a specialty latte at Good Neighbor.
The Blended Essentials—Severna Park, MD
The Blended Essentials in Severna Park all started with a teenager's dream. Ella Bowen and her father started making cold processed soap as gifts; now, they own a warm and friendly studio filled with unique aromas. There are over 150 scents available here and a fantastic array of products to make—candles, soap, scrubs, linen sprays, and bath salt. Some of the projects are very quick, and you can make numerous items in a single session. I made six bath bombs, liquid hand soap, and bath tea in 1.5 hours.
The bath bombs were particularly fun as they involved a little chemistry. Ella personally developed the recipe, and it's her favorite thing to make, too.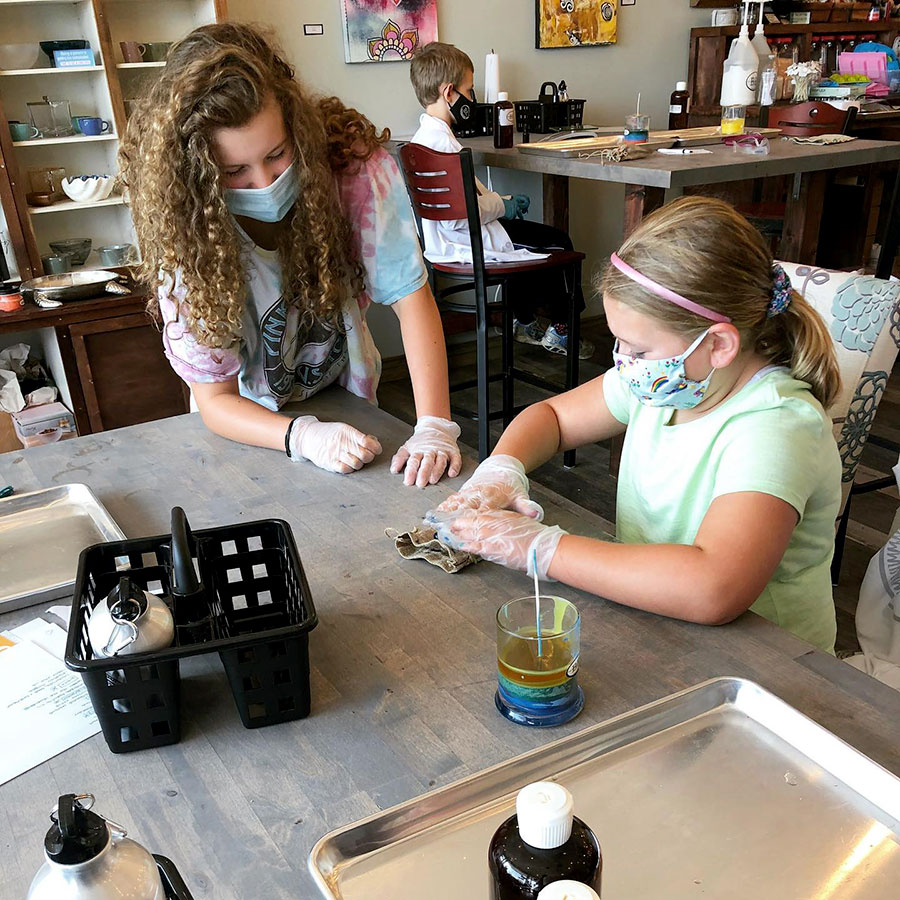 The first thing you do is pick a scent from one of three categories: food, nature, and spa. (You control the level of fragrance, which is helpful when you're creating a gift for someone with sensitive skin.) I chose Spa Day to blend with blue mica pigment and pre-measured dry ingredients.
The mixture is then put into tiny little half-circle molds and pressed together. Once formed, you tap the mold on the table, and out pops a perfectly round fizzy bath bomb.  Note that bath bombs take 24 hours to cure. If you don't have time to return to the store, they can ship your creations to you.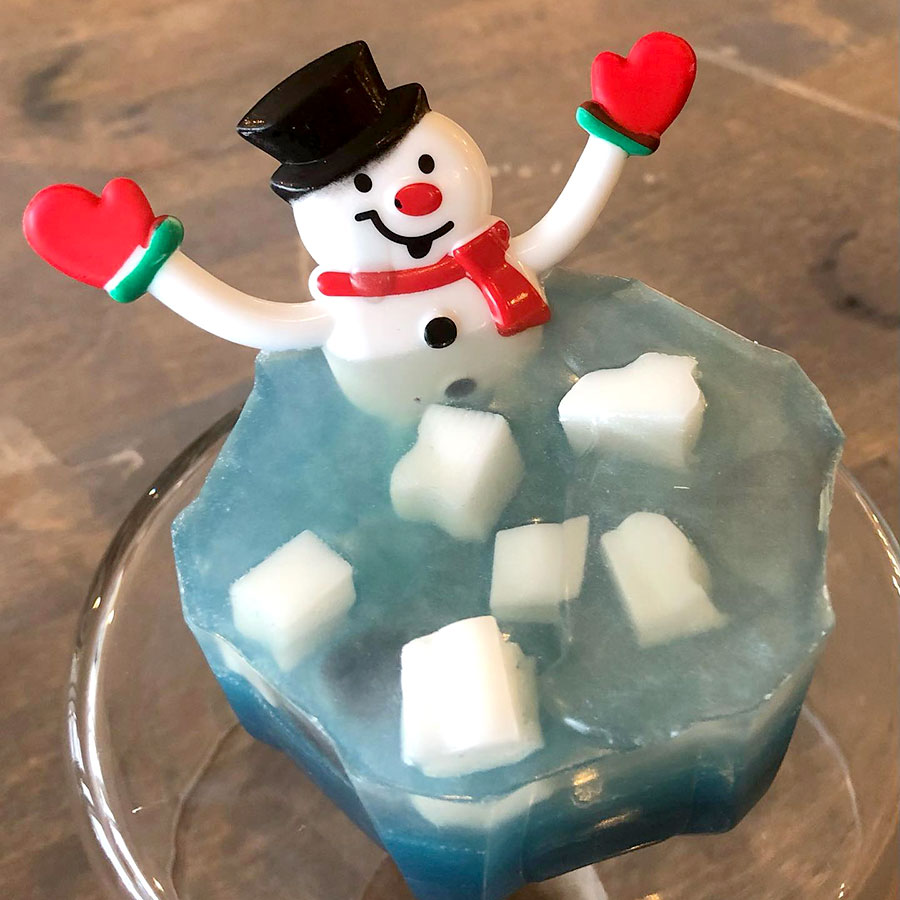 The Blended Essentials has a lot packed into a small space, including a wide range of ready-made goods for sale. The shop also offers home kits and Zoom classes. Sign up for studio time to make any project you wish, or select one of their workshops.
While You're in the Area:
Browse the shelves at independent bookstore Park Books & LitCoLab, a short walk away from The Blended Essentials, and enjoy a decadent meal at Cafe Mezzanotte.
ClayGround Studio & Gallery—Ellicott City, MD
You know you're going to have fun when the mantra is: "we're a therapeutic environment where you get to break glass and play in the mud." That's precisely the spirit at ClayGround Studio & Gallery in Ellicott City. This family-run business caters to the adventurous who want to learn pottery, glass, and mosaics.  
Owner Michael and his staff are enthusiastic about mud and glass. According to him, the studio is an opportunity to get out of the crazy world and create some memories. In addition, his talented team can teach anyone to make magic in their two-story studio.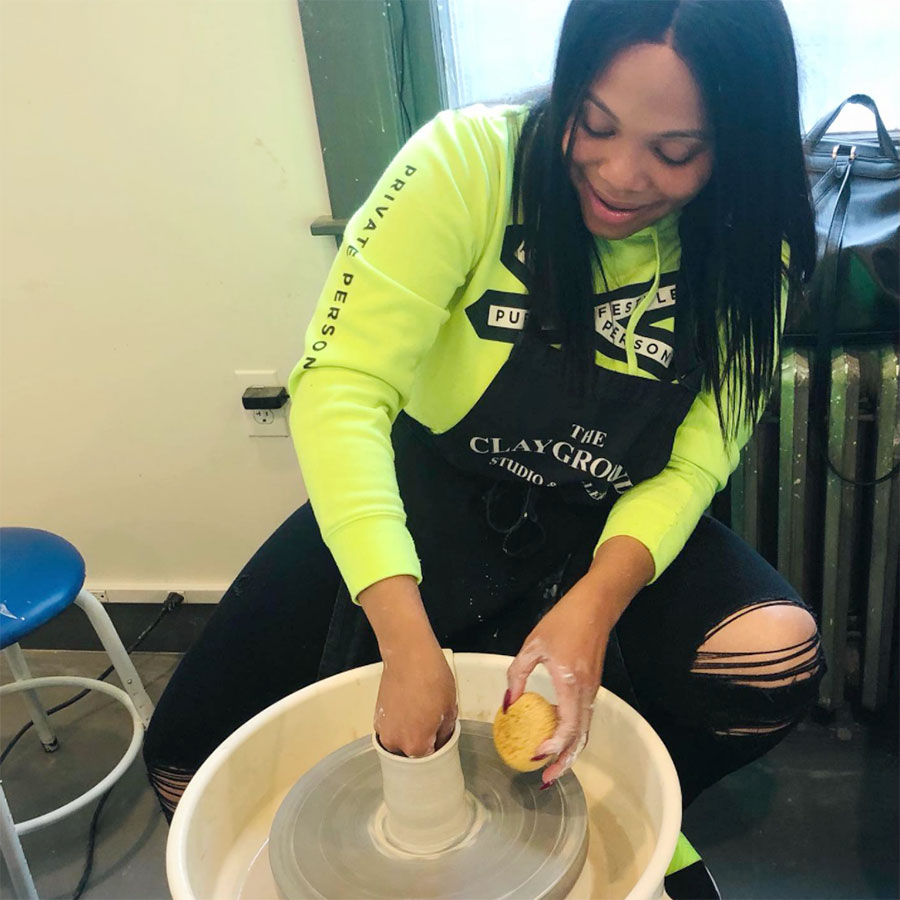 My friend and I signed up for the fused glass class. Our instructor, Bree, was there in her self-proclaimed role of "bartender psychologist" to educate and lend support as we pieced together shiny pieces of glass.  
Fused glass involves layering glass that you have intentionally broken and shaped to form a pattern. Grinding glass and wielding it into a shape is seriously fun. Putting together a glassy puzzle involves a good bit of focus, but it is gratifying.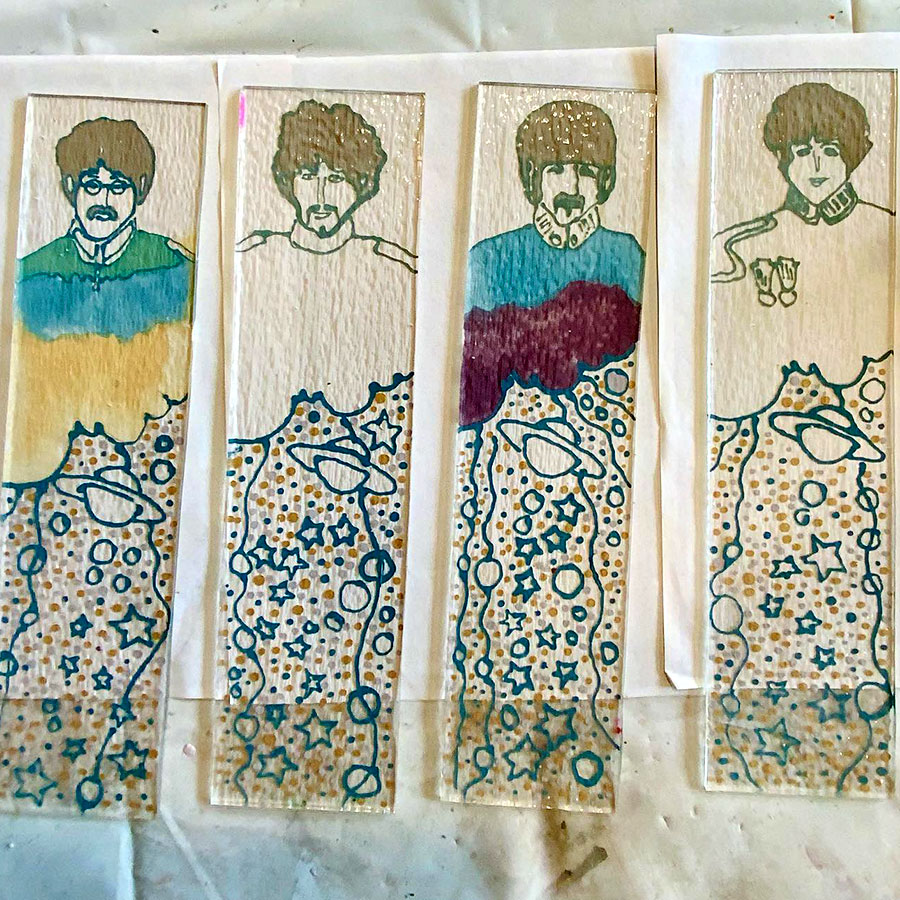 Allow at least three hours for a fused glass project. You'll come back to pick up your masterpiece after it's been fired in a kiln and cooled. Arrange for shipping if you can't make it back. An entry-level fused glass project costs $95. There are also six-week courses available.
Other projects at the studio include glass mosaic picture frames or different designs.  Mosaic projects are ready the same day. Mosaic classes are $45.
If you'd rather play with mud, you'll need to allow 2.5 days for your project as the piece bakes in a kiln. Glaze application occurs at the second class, and the work is fired again. However, the artists at the ClayGround can glaze and ship the piece to you if you can't make it back. Pottery workshops start at $45.
Like all of the studios described above, the ClayGround has a gallery with ready-made artwork for sale. With a bit of notice, they can also make commissioned pieces.
Visit ClayGround's website for info on hours and to book a class.
While You're in the Area:
Explore historic Ellicott City for a wide array of shops and eateries. Pure Wine Cafe is a perfect place to grab a small plate and glass of wine after your workshop. 
---
Lead Photo: ClayGround Studio & Gallery
Julie Dee Suman is a Maryland-based freelance travel writer and photographer. She has traveled extensively including over 43 countries across 5 continents. In addition to featuring the Mid-Atlantic Region, Julie enjoys destination travel with a focus on nature and wildlife excursions. She is a member of the Travel Writers Café, International Food, Wine & Travel Writers Association (IFWTWA) and TravMedia.