The Ultimate Family Pit Stop: Playgrounds Near Major Maryland Roads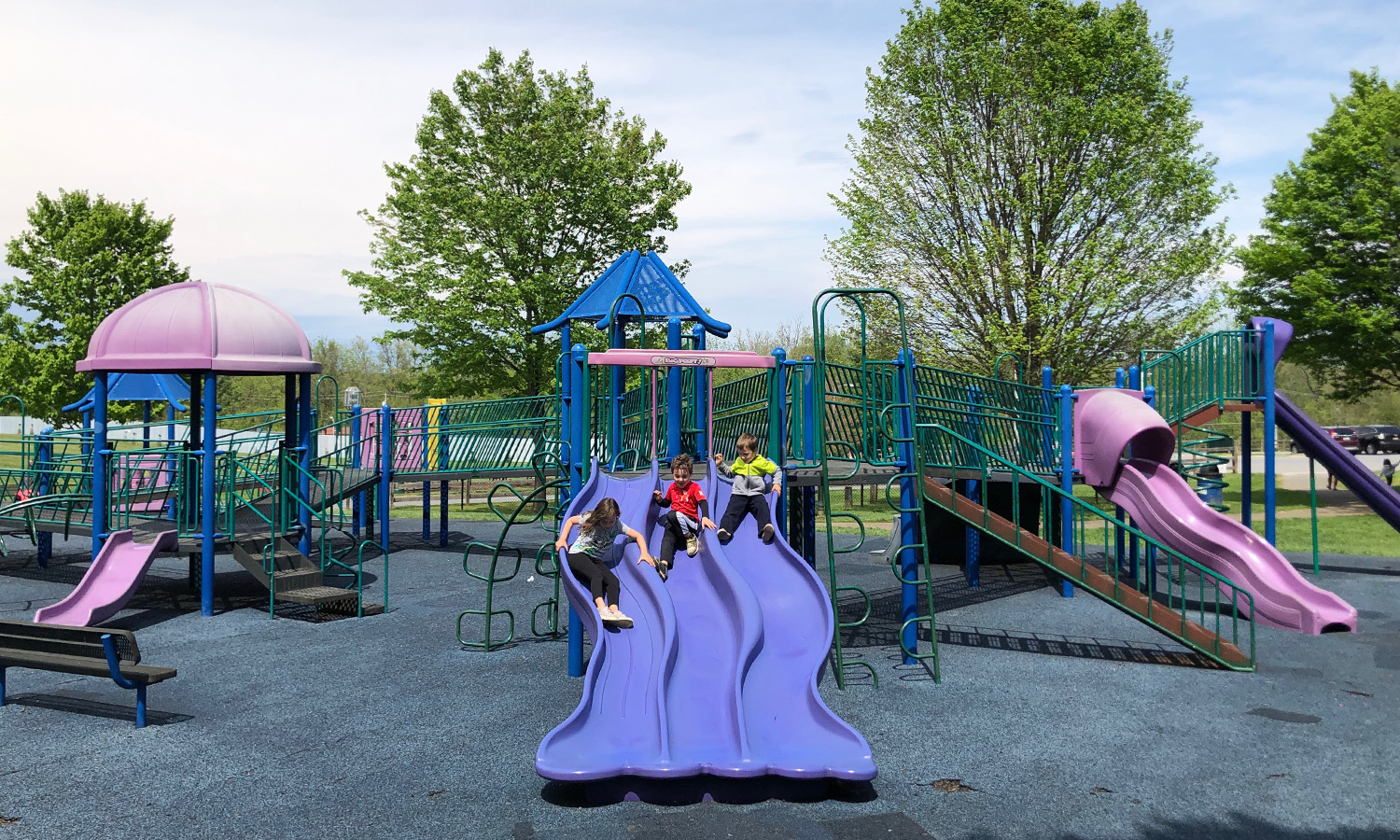 My husband and I used to take road trips around Maryland all the time. We'd often turn a trip to the beach or the mountains into an opportunity to explore small towns, go antiquing, or grab a bite to eat, leisurely making our way to our destination. I remember once turning a three-hour drive into a six-hour adventure, and loving every minute of it. And then… we had kids.
Our first road trip as parents was a trip to Ocean City. Our daughter was three months old, and we made the entire trip without stopping while she slept peacefully the entire drive. If you want to know the exact definition of "being lulled into a false sense of security," that's it. By the time our second daughter came along, we found ourselves with an antsy, potty-training toddler and an infant who hated being in a car seat for long periods of time. Gone were the days of antiquing and leisurely coffee time, and gone were the days of peaceful sleeping babies. 
Road trips would be forever changed as we frantically searched for anywhere to stop with a bathroom and a place for the kids to stretch their legs. And let's be honest, after two pregnancies, I certainly wasn't making it on a three-hour trip without a potty break either.
Almost six years later, we've pretty much got it down. Mapping out our route and where to stop along the way has become as important as planning out the trip itself. We know where to stop along which highways and how to make the stops a fun and exciting part of the journey.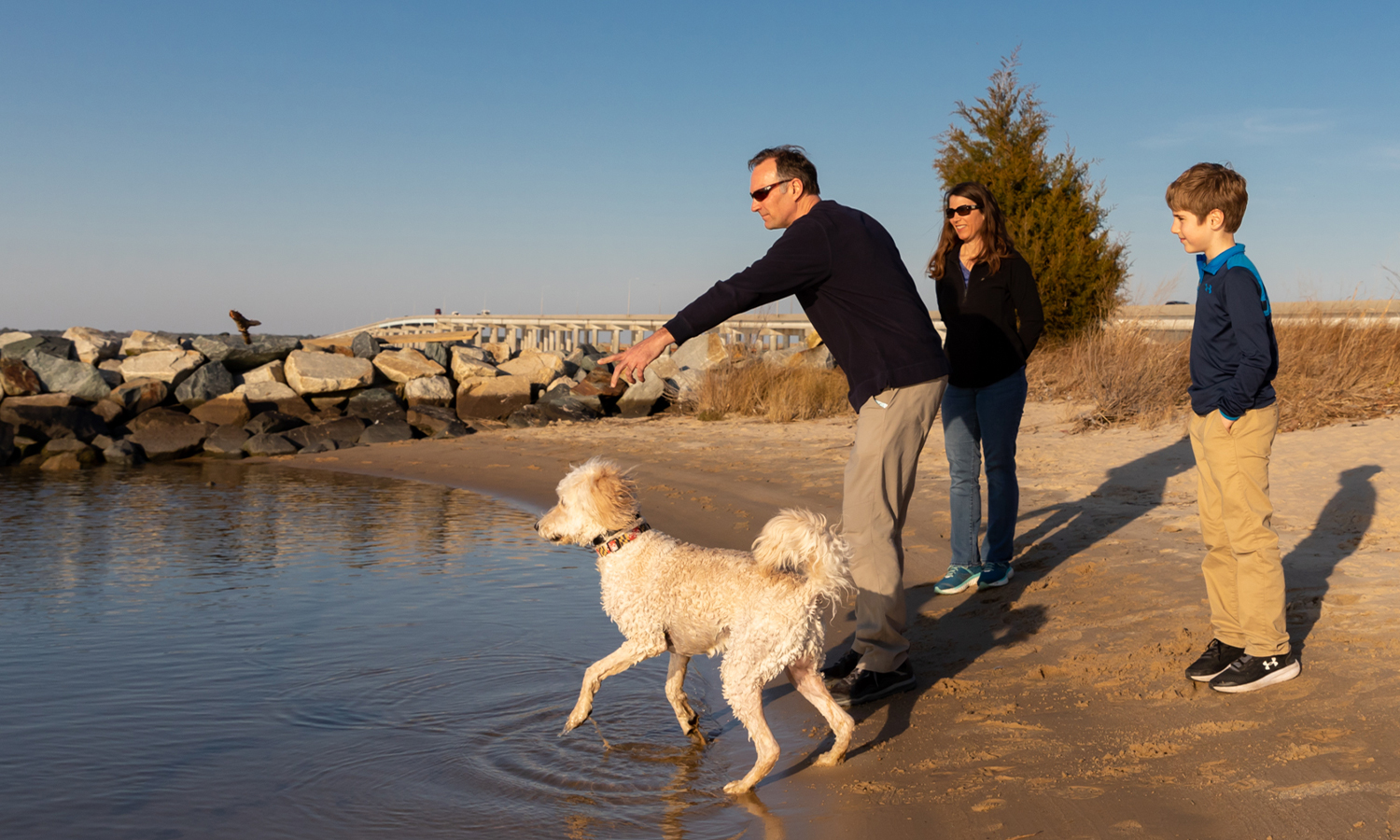 Below are some of our favorite places to play and use the bathroom along some of the most frequented travel routes in Maryland. Some are perfect for a quick stop, while others are almost a travel destination in and of themselves.
Make your rest stop part of the adventure with these great spots:
The South Mountain I-70 Welcome Center
off of I-70 in Myersville, MD
The South Mountain I-70  Welcome Center is our go-to place to take a break from the road and use the bathroom when traveling to and from the mountains of Western Maryland. The welcome center has clean spacious restrooms, and the grounds include picnic tables and a playground. I actually remember the first time we stopped here because it was the first time I'd ever seen a rest stop with a playground and thought it was absolutely brilliant. The visitor's center itself is not open every weekday, so check before you go!
Millard Tydings Memorial Park
off of I-95 in Havre de Grace, MD
Millard Tydings Memorial Park, located in Havre de Grace, is about fifteen minutes off of I-95. It's a little further off the highway than the other parks, but one hundred percent worth it.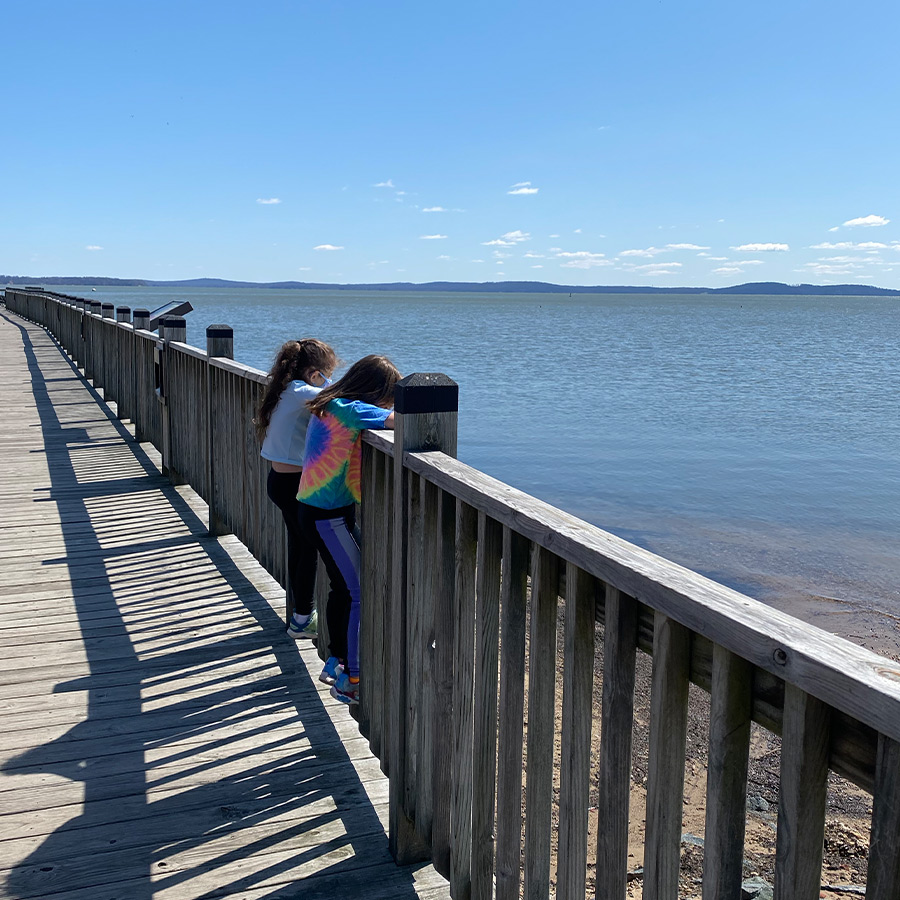 There you'll find a huge playground, clean indoor restrooms, a promenade boardwalk along the water, and an abundance of picnic tables and fields for a quick snack break.
Before you head back on the road, grab lunch or some ice cream at the Promenade Grille or take your chances with kiddos in tow and enjoy an afternoon of antiquing in downtown Havre de Grace.
Dorchester Visitor Center at Sailwinds Park
off of Route 50 in Cambridge, MD
Dorchester Visitor Center at Sailwinds Park is a great pit stop when you're driving to the beach via Route 50. It's about an hour and fifteen minutes away from Ocean City, and if you're traveling from central Maryland, it's almost a perfect halfway point.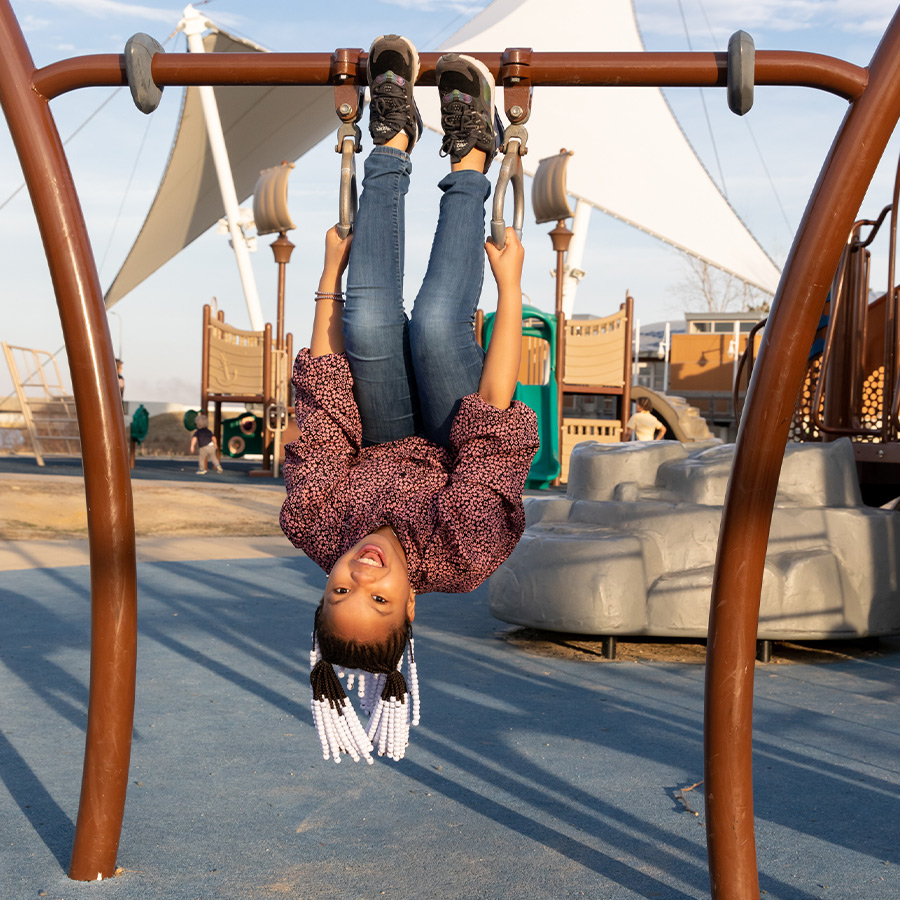 This park is so cool that I've actually considered making a day trip just to go there. It boasts a large visitor center with bathrooms, a playground, a small beach area, and a boardwalk. It's the perfect place to stretch your legs and have a bathroom break before continuing on your trip to the shore.
Oregon Ridge Park
off of I-83 in Cockeysville, MD
Oregon Ridge Park is one of our favorite places in Maryland. We are lucky enough to live close enough that we can enjoy Oregon Ridge anytime, but it happens to be right off of I-83 and is the perfect pull-off for when you're traveling north or south between Baltimore and Harrisburg, PA. If you're looking for a quick stop, I suggest going to the Park/Lodge side of Oregon Ridge, where you will find a large playground and a lodge equipped with restrooms and vending machines.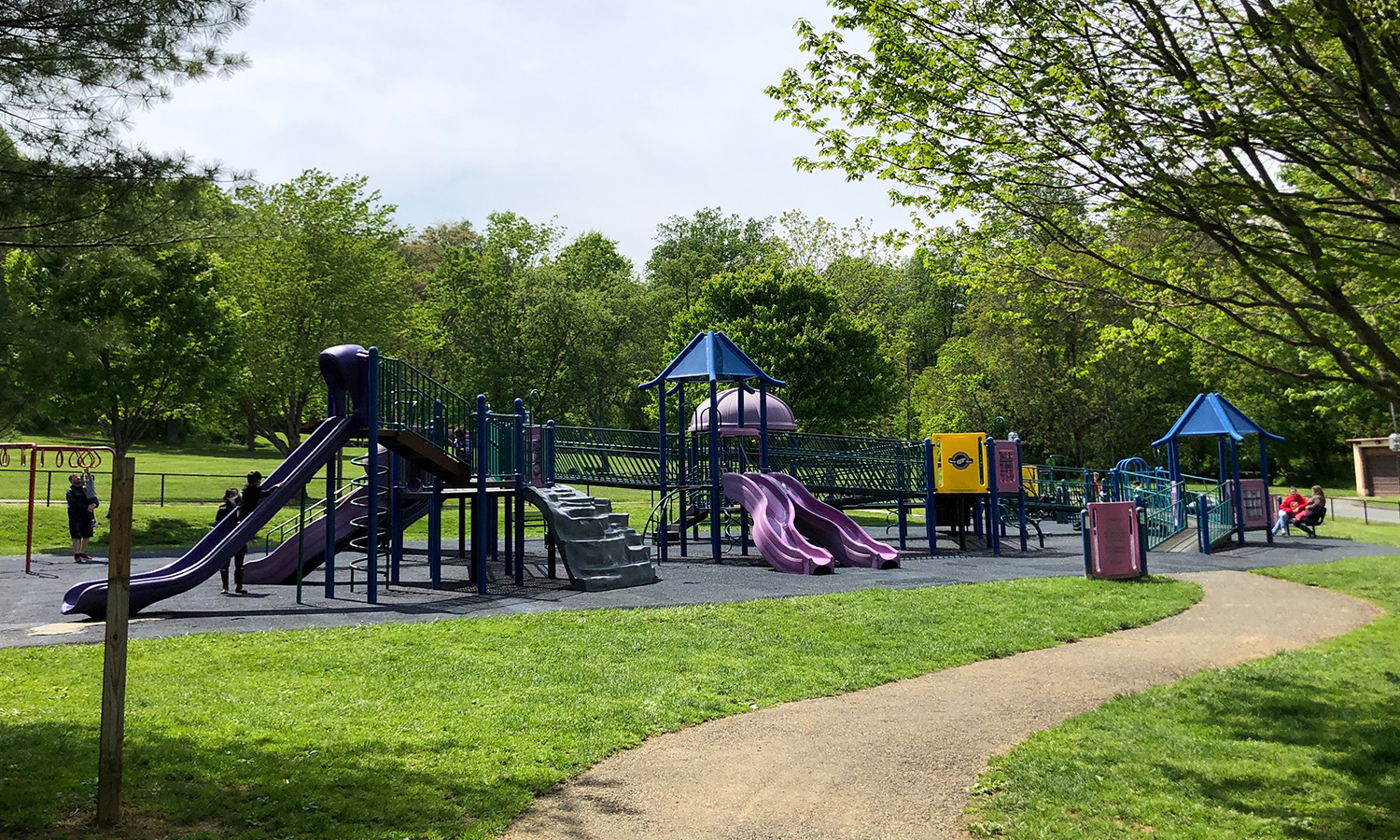 If you want to spend more significant time there, head over to the nature center side and explore the natural play area, the story trail, have a picnic by the lake, and check out the nature center which features exhibits including live animals, and pieces of Maryland mining history. 
Need some energy for the rest of your trip? Visit John Brown Coffee, or stop at Hunt Valley Towne Centre for lunch. Both are minutes from Oregon Ridge and offer easy access back to I-83.
Cabin John Regional Park
off of I-270 and 495 in Bethesda, MD
Cabin John Regional Park is located in Bethesda and can be easily accessed from I-270 and 495. Whether traveling to or from the DC/VA area, this park is a great place to get the wiggles out on the playground, use the restroom, and have a picnic or snack at one of the many picnic tables located throughout the park.
Cabin John Park is also located less than fifteen minutes from Downtown Bethesda, which has countless options if you want to stop for food or coffee.
It's not a secret that traveling with kids can be stressful, but with a little planning and some helpful hints, you can make the trip a little more enjoyable for everyone. Get yourself a cup of coffee and buckle up for the ride.
---
Lead Photo: Oregon Ridge Park in Cockeysville, MD. Photo Credit: Laura Rennie
Rachel Zillig was born and raised in the Baltimore area, and currently resides in Parkville with her husband and two daughters. She is a full-time stay-at-home mom, with a part-time job that she does from home. She graduated from Towson University with a bachelor's degree in Sociology, and in her spare time enjoys hiking, and going on adventures with her family. She also runs the Baltimore Family Fun Instagram page, which she uses as a resource for local families looking for family-friendly things to do in Maryland.