Seeking Serenity: Exploring the Western Maryland Rail Trail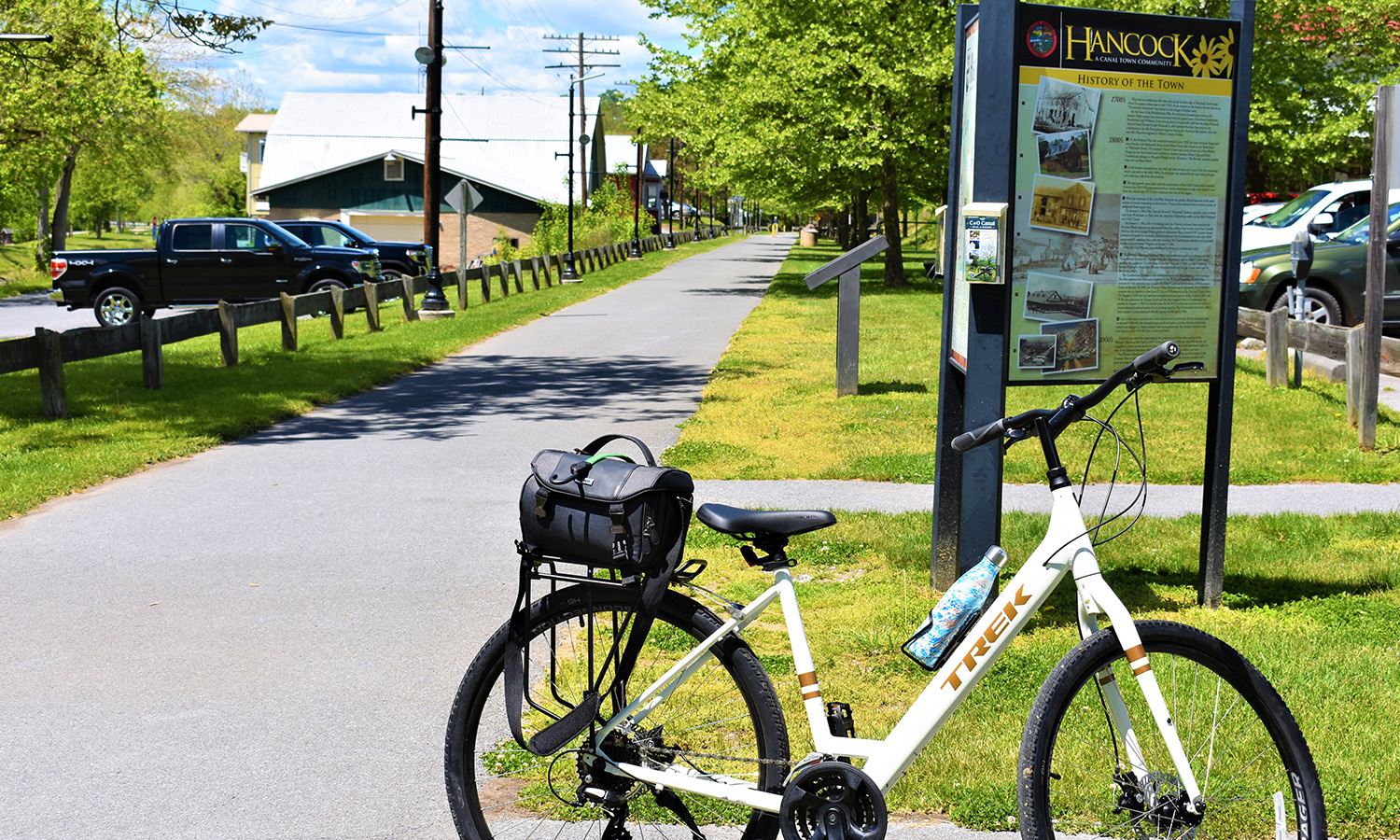 I can't help it, I'm obsessed with being outdoors. Whether it's hiking, kayaking, camping, or simply taking a long walk outside, being in nature has a way of soothing my soul. So when an opportunity arose to explore the Western Maryland Rail Trail, I knew I had to take it. Plus, despite living in Maryland for many years, Western Maryland was an area I hadn't explored much.
The Western Maryland Rail Trail (WMRT) is an asphalt-paved pathway stretching 27.5 miles from the town of Big Pool in Washington County all the way to the village of Little Orleans in Allegany County. It's an outdoor enthusiast's paradise — perfect for walking, rollerblading, or bicycling. The WMRT is entirely flat, which is a significant achievement considering it's in the mountains, and is suited for trail visitors of all skill levels (and ages).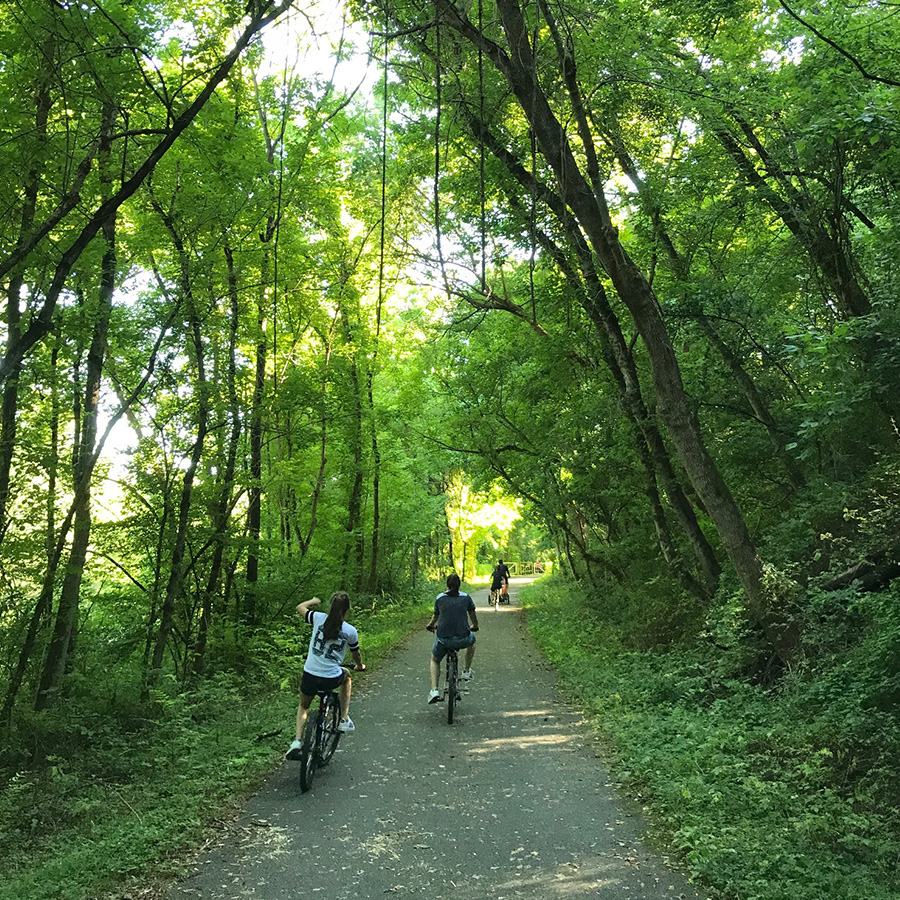 One word of caution, though: Since trees line a majority of the trail, there are areas where tree roots have grown under the path, causing the asphalt to heave in spots. Add to that the dappled shade on a sunny day, and sometimes those little "speed bumps" can be hard to see. Always consider safety first and wear a helmet if you are biking or rollerblading.
I set off to explore several sections of the trail, starting with the eastern-most end that begins in Big Pool. The morning was cool and crisp, as is often the case in the mountains, and the quiet was undeniable. I stopped to read several interpretive signs along the way that highlighted old ruins and the historical significance of the Western Maryland Railway system, which in its heyday was the lifeline of the tristate area. This first section of the trail is the original, opening to the public in 1998, almost eight years after Maryland's Department of Natural Resources acquired a twenty-mile section of the abandoned Western Maryland Railroad line.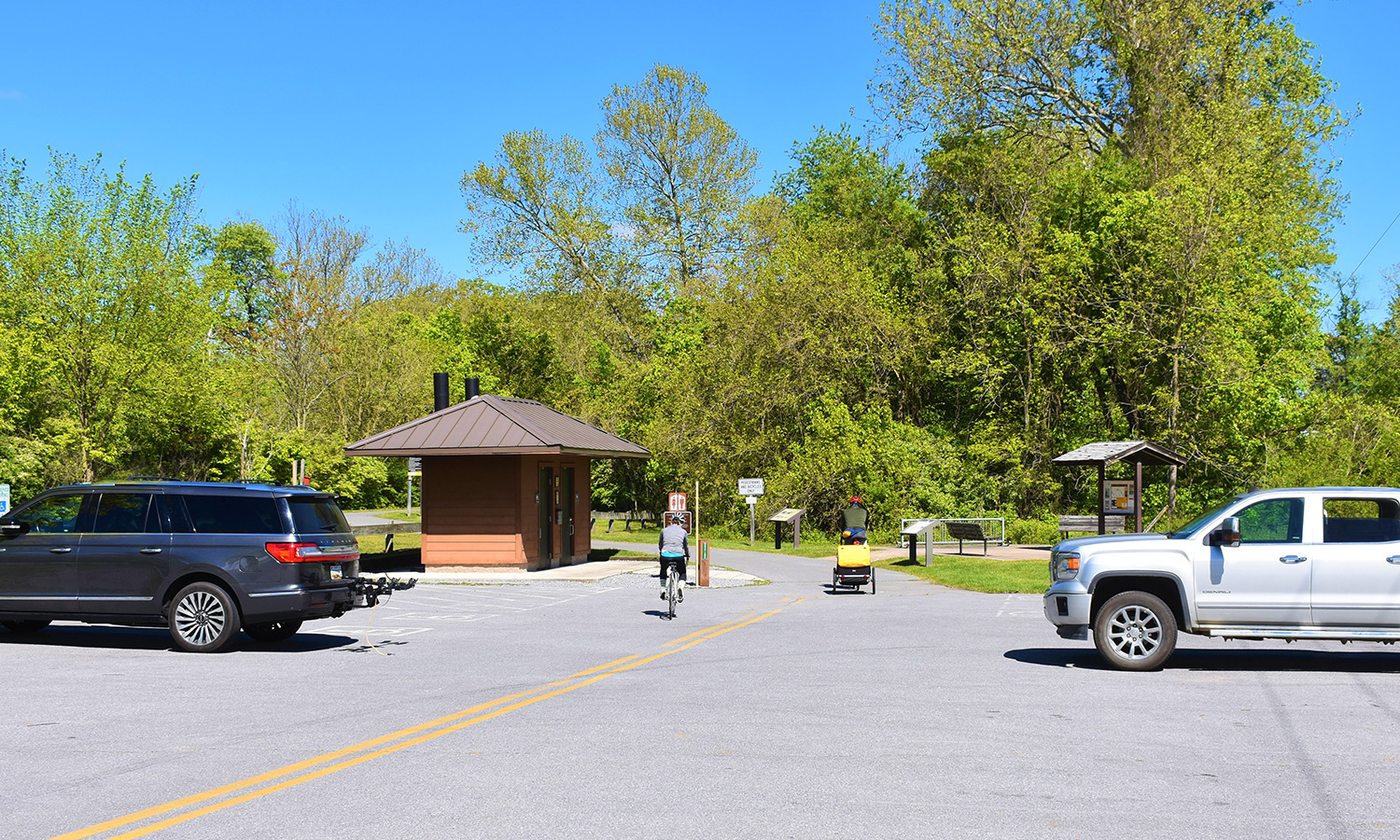 In my 2.5 mile stroll, I passed an older white-haired gentleman out for his morning walk, a middle-aged woman walking her dog, and a group of four 60-somethings who had just pedaled their way from the town of Hancock, a good eleven miles north. 
The town of Hancock lies at almost the center of the 27.5 miles of trail, making it the perfect dividing point between the eastern and western sections. Should you want to bike the entire path, you could use Hancock as your home base for overnight accommodations, and do one half of the trail on one day and the other half the next. Out and back is roughly 20 miles per day.
Since I hadn't been on my bike in a few years, considering a 40-mile journey in just two days was more than I had in me. Still, I was determined to pedal along a good portion of each section. I drove from Big Pool out to Hancock, more eager now than ever to explore the trail on a bicycle. Having researched before my journey, I knew of a bicycle repair shop that also rented bikes for those who wanted to cycle the rail trail but didn't have (or bring) their own. At milepost 10.7, C&O Bicycles rents by the hour or day. They are conveniently located alongside the rail trail with parking to the rear of the shop. All that is required to launch your journey is to leave a valid driver's license with the shop while you ride. Upon return, you're charged based on the amount of time you occupied the rental. I was able to pick my bike from several available styles, and they helped me choose an appropriate size and made sure the seat was in a comfortable position. I donned my helmet (also available at no extra charge), grabbed my water bottle, and set off!
When I think of serenity, I imagine quiet wide-open spaces, where I can bask in the peacefulness of nature while indulging in jaw-dropping views. Add to it seemingly endless miles of lush farm fields dotted with grazing cattle on the outskirts of quaint towns dripping with history, and you'll glimpse a small piece of the serenity I found in the magnificent Western Maryland mountains.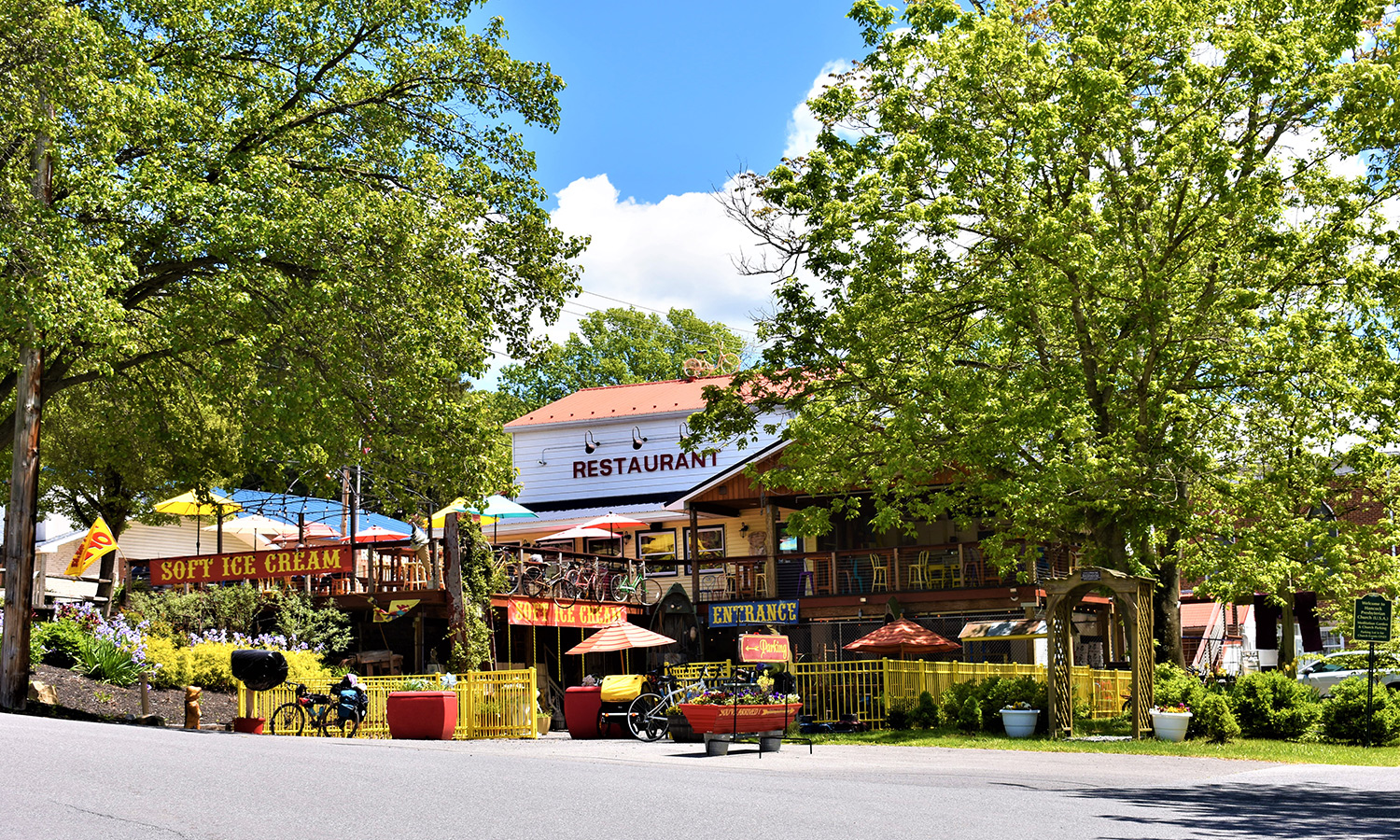 Heading east from the rental shop, I passed Buddy Lou's Antique Shop and Restaurant. The four bikers that I spoke to back in Big Pool highly recommended this stop for its quirky antiques and delicious food. A large, welcoming back deck overlooked the rail trail with plenty of bike racks available should you want to stop for lunch. Pedaling further east, I passed a sign directing me to the C&O Canal Hancock Visitors Center, which unfortunately was closed that day. Still, this was a great stop for both pictures of the grand historic building, and for a quick pit-stop to use the spot-o-pots located near the parking lot.
Back on the trail and still heading east, I passed over the Tolonoway Creek tributary. This part of the Western Maryland Rail Trail borders a stretch of Interstate 70, making it a bit noisy from traffic for a period, but it's not unbearable. Next up on my list of places to stop, at the far outskirts of Hancock, was the Blue Goose Market. Trail signs pointed to the enormous shop housing a bakery where various grab-and-go goodies tempted my sweet tooth, souvenirs were abundant, and bottled water was available, thankfully, as my bottle was already nearing empty.
About two miles past the Blue Goose, I decided to turn around and head back toward town to give myself enough time to explore the western section of the trail. I stopped at a trailside bench to rest, and noticed how many older adults there seemed to be on the trail. They glided past with a big smile and a cheery wave. I wondered if they, like the other group I had passed on my walk, had pedaled the 11 plus miles from Big Pool to Hancock.
I jumped back on my rented chariot and headed west. As the pavement pushed beyond town limits, a stretch of rolling mountains came into view. I slowed to take in the sight of the green pinnacles at a distance and heard nothing but the gentle breeze caressing my ears.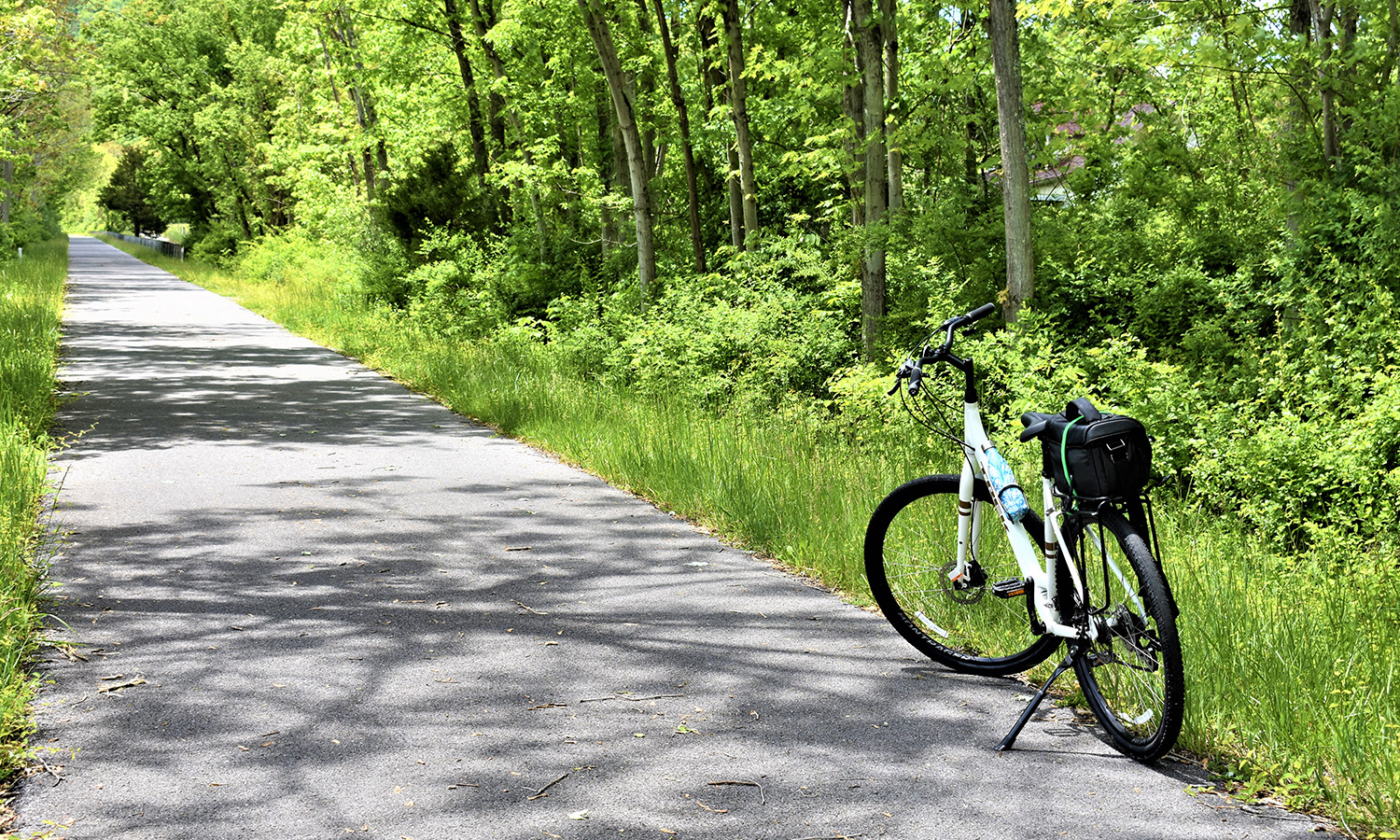 The western section seemed almost silent. No town or traffic-generated noise was apparent for miles. I headed out past acres of farm fields toward what is known as "The Devil's Eyebrow," a unique geological feature appearing like a large eyebrow folded into the limestone just outside Hancock between mileposts 13 and 14. My goal was to reach Polly Pond, located between miles 20 and 21. Historically, Polly Pond had been used to store C&O canal boats over the winter months. I didn't make it quite that far, only because time was moving so quickly, and before I knew it, I needed to turn back to ensure I returned my rental before the bike shop closed at 5 pm. (As a side note, you can rent bikes for multiple days as well, allowing you all the time you need to explore.)
I enjoyed this section of the bike path for all of the scenery and solitude I encountered. Only passing two other bicyclists during my exploration of the western portion from the town of Hancock was an odd yet exhilarating experience. Time flew by in a blur while I took in the sights of all that surrounded me, seeming like I was the only person around for miles at times. It was just the dose of serenity that I had so desperately been seeking.
After riding parts of both sections, my takeaway was how easy it is to plan your own way to enjoy the trail. Whether you are up for the challenge of taking on the entire rail trail from one end to the other, or you'd like a few hours of peaceful exercise outdoors, the WMRT is an excellent option.
If you go:
Exploring the eastern-most section from Big Pool  – The Holiday Inn Express and Suites in Clear Spring is the perfect accommodation choice. From Interstate 70, head west one exit. A short, 5-mile drive to the Western Maryland Rail Trail parking lot from the hotel allows for easy access. The Holiday Inn has an indoor pool for playtime if you take the kids, as well as a more-than-adequate breakfast bar with many hot and cold options in the mornings. With an Italian restaurant across the street and a McDonald's next door, there are easy dining options close by after a long day on the trail.
Exploring from the middle of the trail from Hancock – There are two B&B's in Hancock, Riverrun Bed and Breakfast and 1828 Trail Inn Bed and Breakfast are both situated for easy access to the trail. The Hancock Motel is an inexpensive, no-frills choice as well.
Exploring the western-most section from Little Orleans –  Town Hill Bed and Breakfast is the way to go. They offer a shuttle service to and from the Western Maryland Rail Trail and specifically cater to cyclists. This gorgeous historic building overlooks three states for some of the most spectacular views in Western Maryland, with acres of property to wander.
---
Lead Photo: Colleen O'Neill Mulvihill
Colleen O'Neill Mulvihill is a retired Howard County career firefighter, certified holistic nutrition consultant and health coach, who has also become an avid travel writer. She is a wellness-travel seeker who enjoys sharing mind, body, and soul experiences along with holistic and healthy travel tips on her website and blog, HolisticHealthTraveler.com. You can follow her travels on Facebook and Instagram @holistichealthtraveler