Bay-Raised and Ready to Slurp: Oysters in Southern Maryland

In Maryland, when the days start to shorten and the letter R once again appears in the name of the month, it is time to treat your tastebuds to the sensual and succulent taste experience you've been waiting months to enjoy: the Chesapeake Bay's foremost seafood, the mighty oyster. For a great oyster experience, be sure to take a road trip down to Southern Maryland, home to the U.S. Oyster Festival held every October in St. Mary's County. An easy day trip from Annapolis, D.C., and Baltimore, Southern Maryland offers multiple ways to experience Maryland's renowned oyster industry, culture, and traditions.  
While wine gets its flavor from terroir (the taste of the land), oysters get their flavor from merroir (the taste of the sea). Oysters constantly filter water through their gills which imparts specific regional flavors. Water temperature, water current, levels of salt, and nutrients in the water all determine an oyster's taste.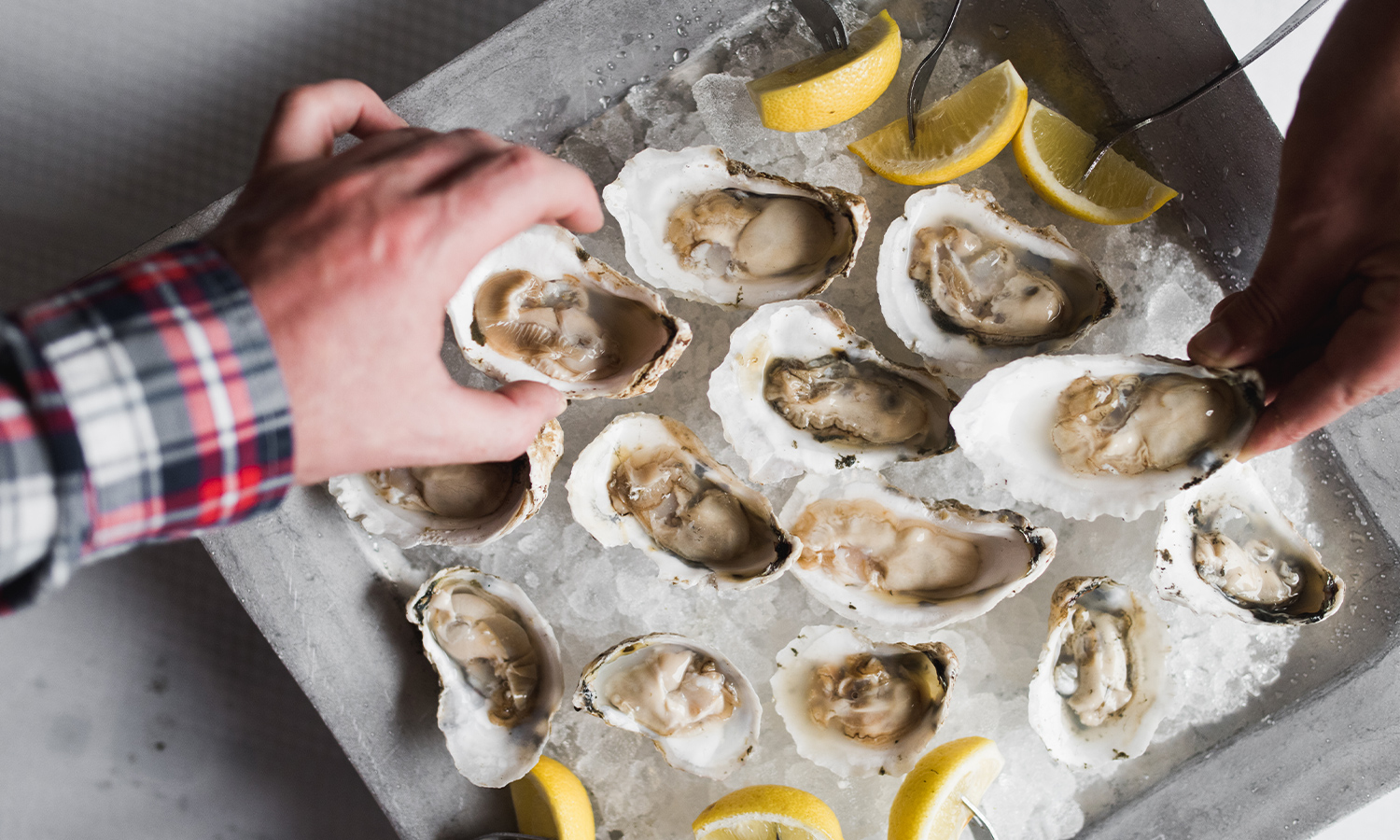 Oysters in Southern Maryland come from the Chesapeake Bay and are often described as tasting like butter, melons, cucumbers, rust, and/or copper. Words to describe oyster texture often include creamy, springy, firm, or meaty.
Wild-caught versus farm-raised is another important factor. According to J.D. Blackwell, Chief Oyster Officer of 38 North Oysters, wild-caught oysters pick up random flavors from the seafloor while farm-raised oysters are consistently buttery because they are raised in cages placed in the middle of the water column away from the unpredictable merroir of the seafloor. Regardless of whether oysters are wild-caught or farm-raised, experienced oyster eaters, much like wine tasters, rely on experience, personal preference, and a well-developed palate when selecting their oysters. Numerous seafood markets and restaurants specializing in oysters make Southern Maryland the perfect place to put those oyster analyzing skills to the test.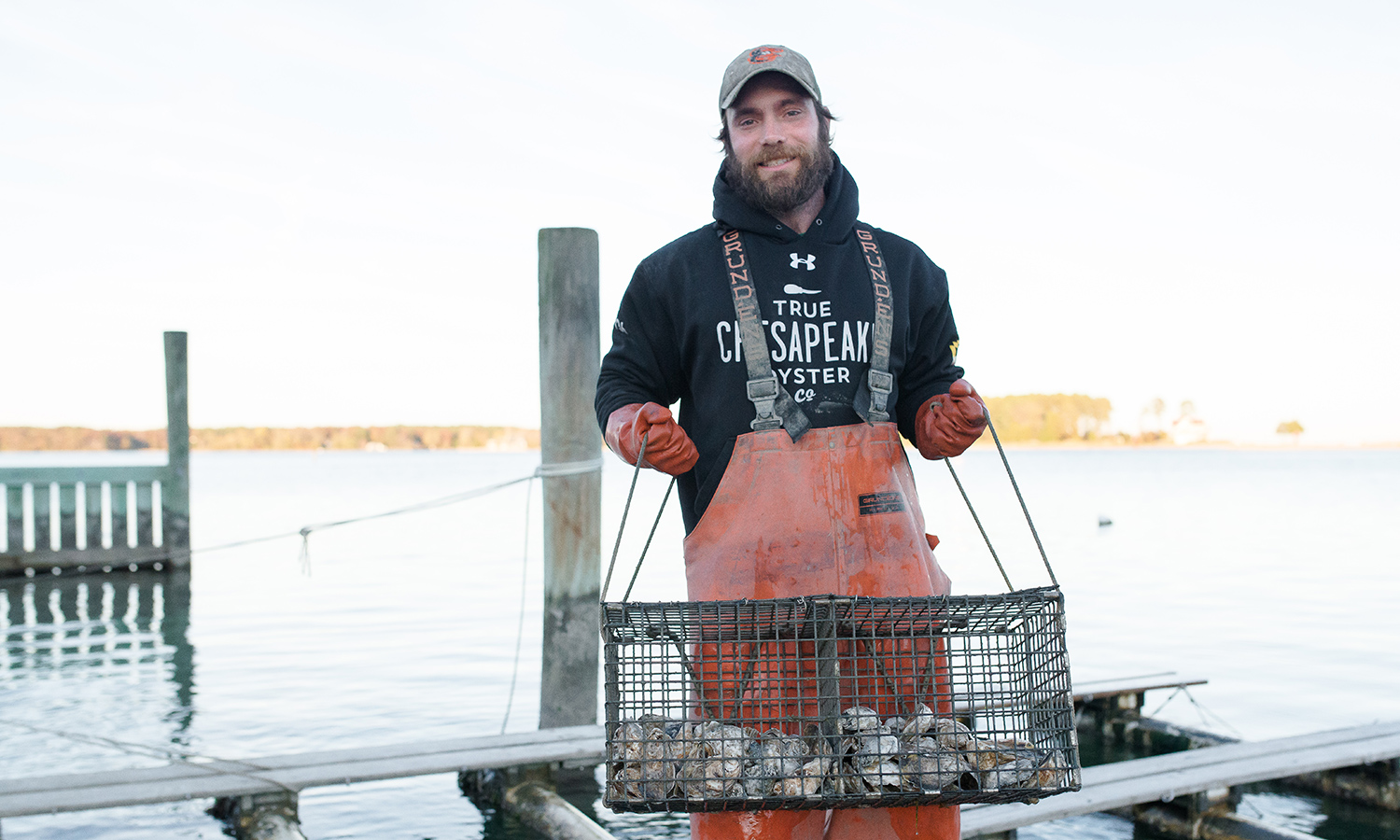 For centuries, people living along the waters of the Chesapeake have feasted on this local commodity. Native Americans who left behind countless mounds of spent oyster shells in trash heaps, British settlers who first landed on Southern Maryland's St. Clement's Island over 400 years ago, enslaved Africans brought unwillingly to the New World, and countless people from across the globe who have made Maryland their home have all embraced this quintessential Maryland mollusk.
For hundreds of years, Marylanders have prepared oysters using countless methods. They have been spiced, broiled, roasted, steamed, grilled, minced, fricasseed, creamed, scalloped, browned, curried, and added to soups, sauces, stuffings, and salads. Oysters were also added to beef, lamb, mutton, turkey, sweetbreads, giblets, gumbo, and pâté dishes to add a layer of flavor. In the 19th century, most oyster recipes relied upon a common palette of flavorings including salt, black pepper, cayenne pepper, mace, cloves, and nutmeg. These historic flavorings inspired seafood seasoning mixes such as Old Bay.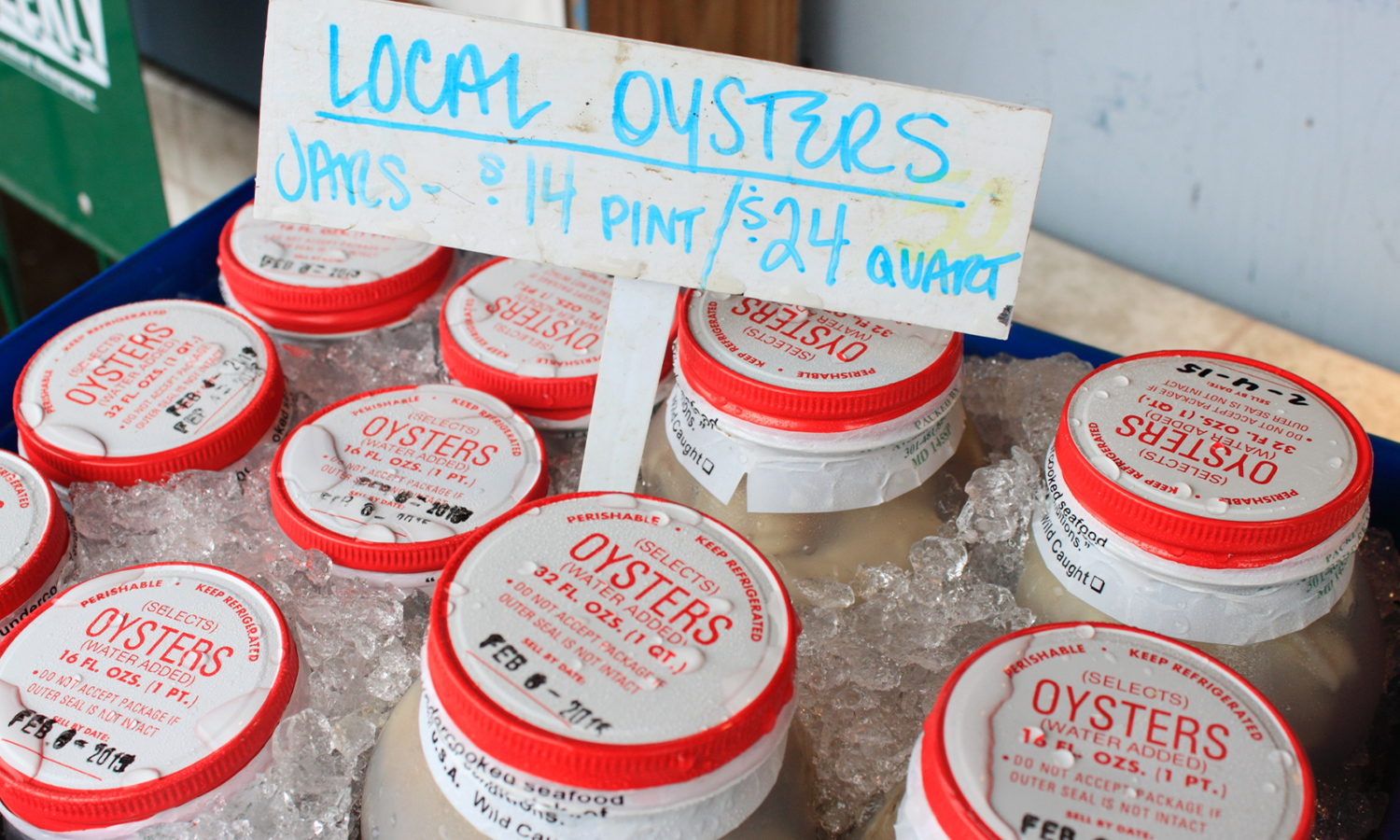 Take a trip to Southern Maryland's museums, historic sites, markets, and restaurants to immerse yourself in all things oyster. Please contact each business to confirm opening hours before you start your journey.
St. Clement's Island Museum, Colton's Point
Start your oyster road trip by taking a crash course in oyster history and culture at St. Clement's Island Museum located on the east shore of the Potomac River overlooking St. Clement's Island, the site marking the landing of Maryland's first English settlers in 1634 under the management of the colony's proprietor, Lord Baltimore, and his family, the Calverts. Maryland Day occurs annually on March 25 to commemorate this event. The museum boasts exhibits exploring Maryland's early history along with an exhibit in the Potomac River Room called A Glimpse into the World of the Oyster Industry in St. Mary's County, a good place to discover facts about oystering in Maryland. The oyster experience is enhanced by an outdoor exhibit of an early 20th-century waterman's boat, a Potomac River dory boat called, The Doris C.
Piney Point Lighthouse Museum & Historic Park, Piney Point
Piney Point Lighthouse was built in 1832 and is the oldest lighthouse on the Potomac River, and the park contains the Potomac River Maritime Exhibit showcasing historic wooden boats watermen used when they harvested seafood such as oysters from the waters of the Chesapeake Bay. A skipjack with a dredge for catching oysters and a bugeye boat (a type of sailboat used to collect the multiple daily oyster harvests from watermen) are on display. For children, the park also has a playacting area they can use to mimic watermen who used the tonging method to harvest oysters.
Half Shell Adventures, Solomons
As Captain Donald Novak of Half Shell Adventures says, "What better way to enjoy and celebrate the best the Chesapeake Bay has to offer than slurping oysters aboard a historic buyboat?" If you are looking to immerse yourself in an unforgettable and unique experience, sign up for an oyster scald cruise onboard the Half Shell, a buyboat built in 1928. A buyboat is a wooden craft designed to collect oysters from watermen and deliver them to market in the various southern Maryland ports.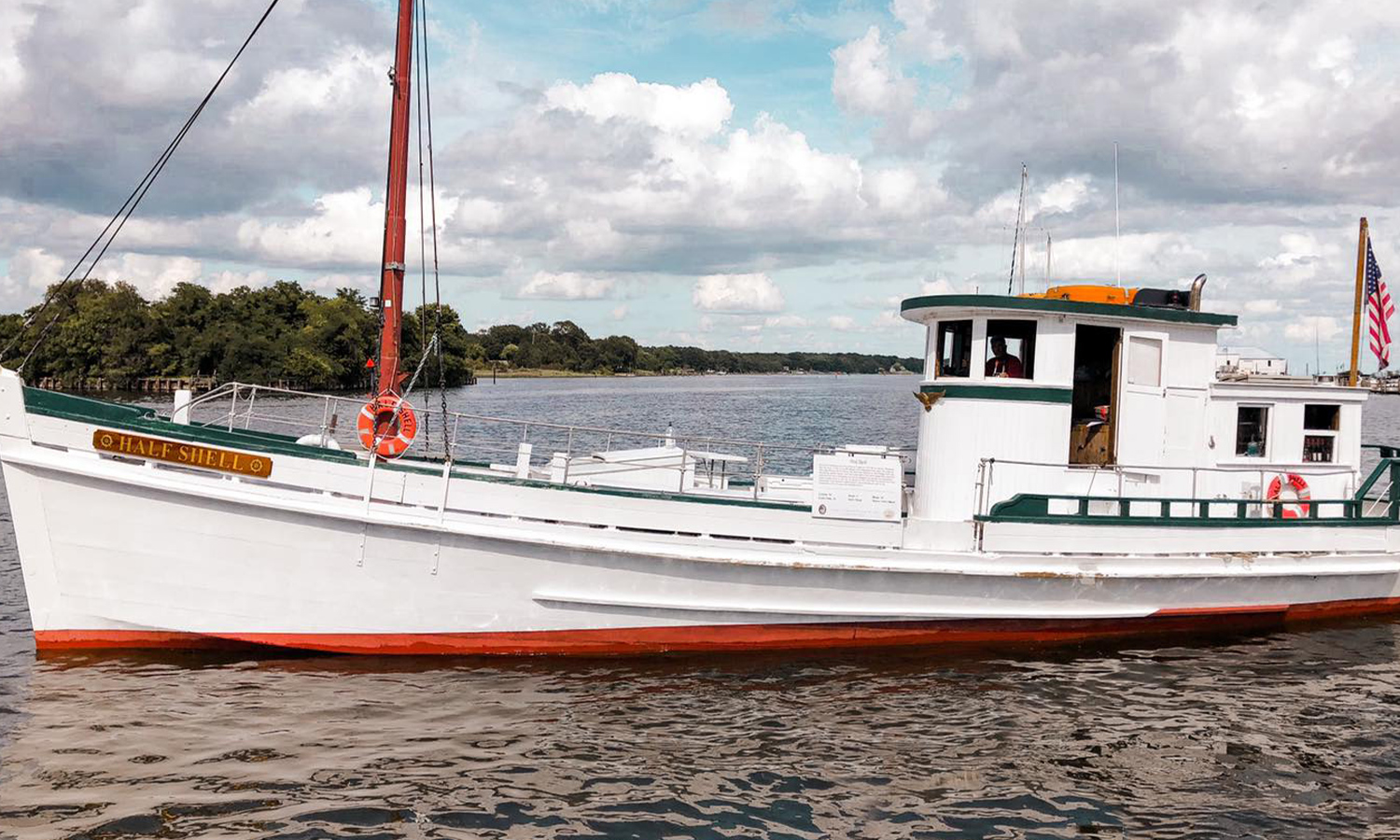 Half Shell Adventures oyster scalds include freshly steamed oysters, a beautiful afternoon cruise, and beverages for sale. Private charter adventure cruises with delicious food provided by local watermen and caterers are also available. Check the website for more information and events. 
The Pier
14575 Solomons Island Rd., Solomons
The Pier is a historic landmark restaurant with panoramic views of the Patuxent River in Solomons, one of the quaintest towns on the bay. Indulge your cravings with oysters served raw, steamed, or fried with an Old Bay flavored batter. For something a bit different and with a kick, sample the Pier Oysters, a spicy starter with jalapeno, bacon, and cheese.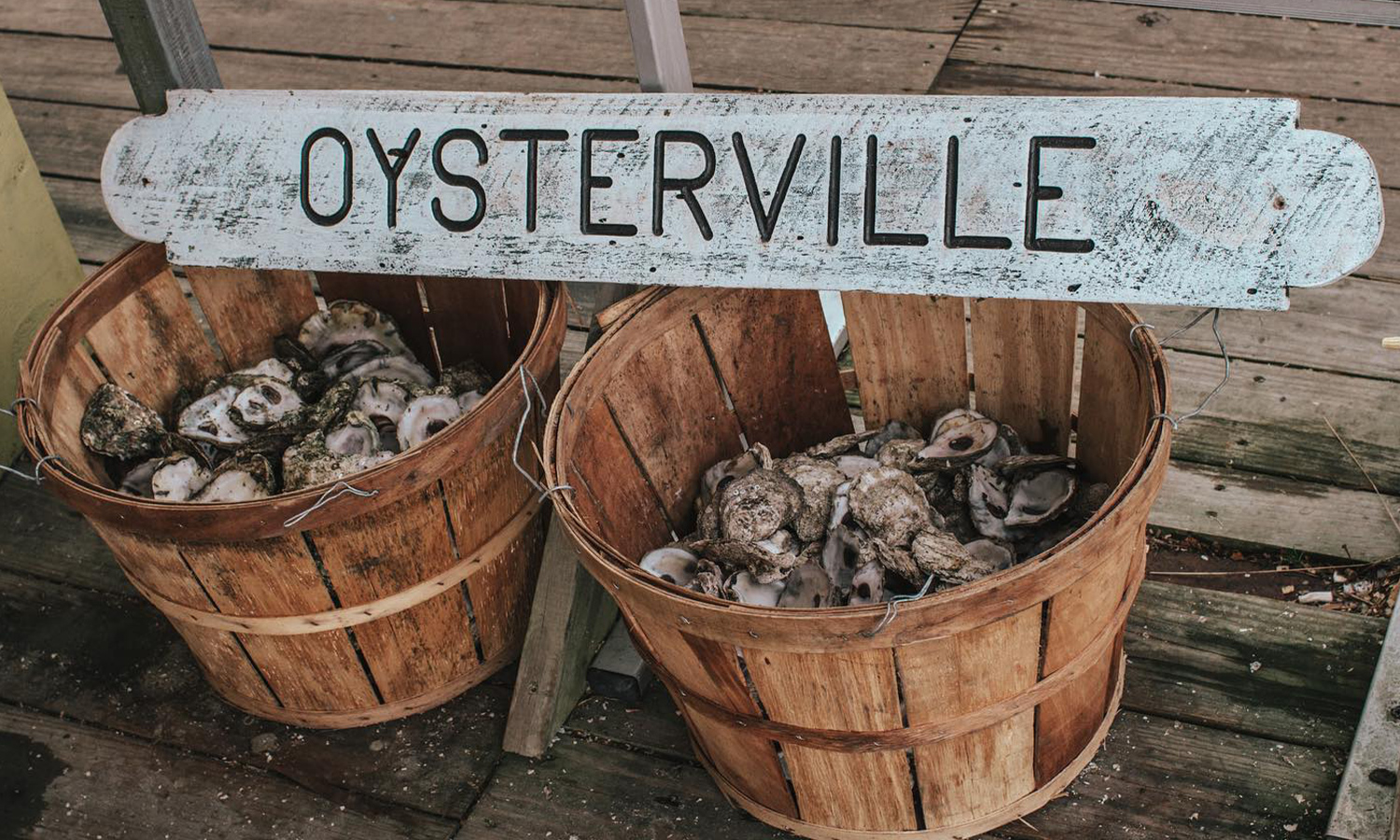 Chesapeake's Bounty, St. Leonard
Chesapeake's Bounty Market sells shucked and unshucked wild oysters purchased directly from the watermen who harvest from the Patuxent, Potomac, and Choptank Rivers, as well as from the Bay near Pt. Lookout. The oysters they sell range in saltiness depending on how close to the Bay they are harvested. 
Thompson's Seafood Corner Market, Mechanicsville
Paul Thompson has run Thompson's Seafood Corner Market for over 40 years and is proud to serve local, wild-caught shucked and unshucked oysters by the bushel, half-bushel, dozen, quart, pint, and gallon. Thompson also sells a range of prepared oyster dishes such as oysters on the half-shell, steamed oysters, and fried oysters, his most popular dish made with a secret recipe that I tried very hard to get him to tell me (he didn't).
The Foxy Fish, Mechanicsville
Debbie Buckley opened The Foxy Fish in 2013 where she provides locally sourced oysters from the Patuxent River or the Bay. They are available steamed or fried in a homemade batter with Old Bay. The fried oysters come in a po'boy or on a platter with hush puppies and two sides (the most popular oyster dish on the menu).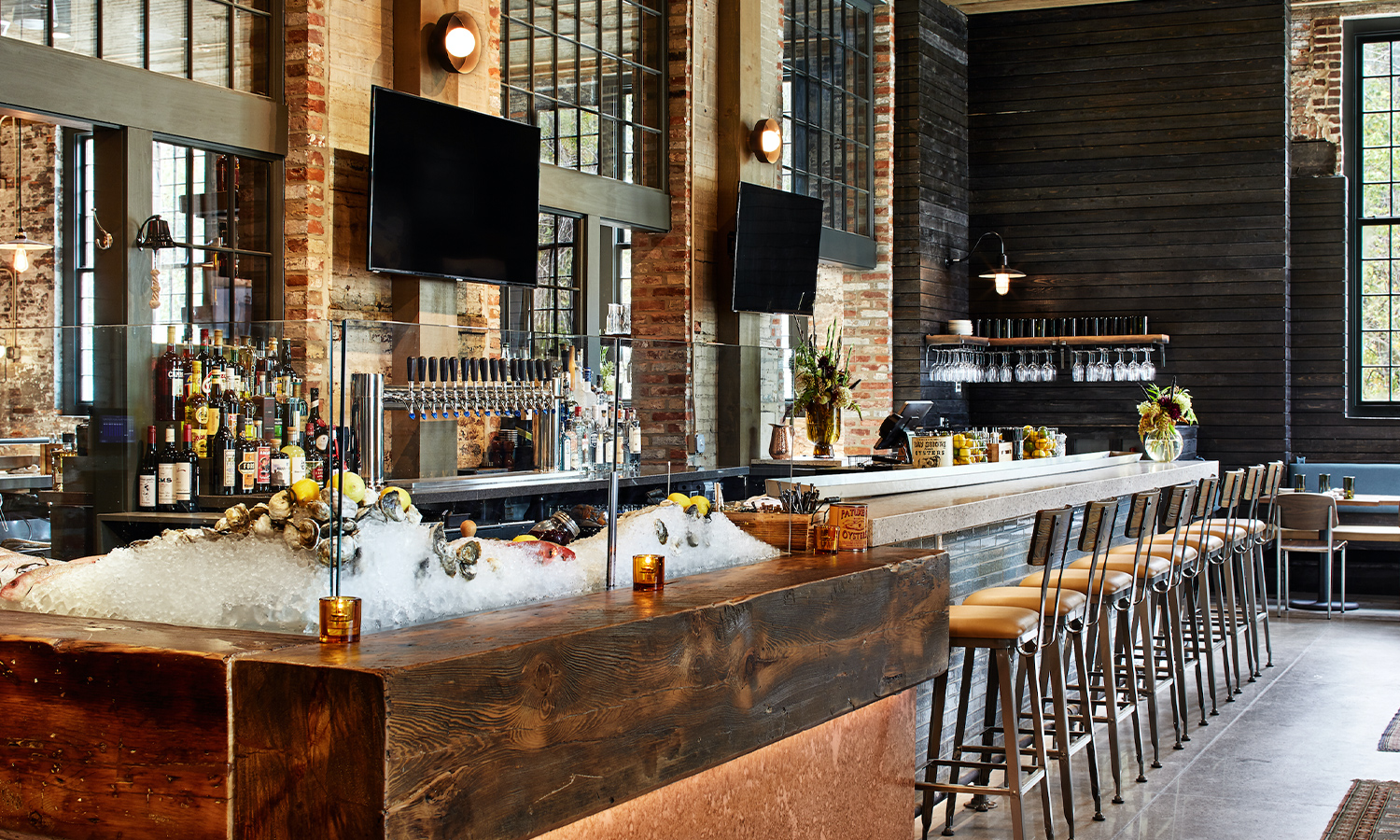 True Chesapeake Oyster Co., Baltimore
The first farm to restaurant oyster company in Maryland, True Chesapeake Oyster Co. breeds and harvests oysters in St. Jerome Creek (an inlet of the Bay in southern MD) and serves them at their restaurant in Whitehall Mill in Baltimore. You can also order their oysters online and pick them up at your local MOM's organic market. 
For a full list of attractions, tours, producers, and restaurants featuring oysters, check out the Southern Maryland Oyster Guide.
This article is dedicated to the late Bill Moody (1941-2021), a.k.a. King Oyster, organizer of the US Oyster Festival Cook-off in St. Mary's County.
---
Lead Photo: True Chesapeake Oyster Co.
Joyce White developed her love for food history while working as a museum educator at various historic house museums and sites in New York, Pennsylvania, and Maryland. She has a B.A. from William Smith College, an M.A. in American Studies from Penn State University, and has studied food history with leaders in the field at various historic sites in England and the US, including training at the Barry Callebaut Chocolate Academy in Chicago. She offers a variety of programs, including "Dining in Colonial Maryland," "Early Maryland Spirited Drinks," and "An Early American Christmas." Learn more at atasteofhistory.net