Try Your Hand at Duckpin Bowling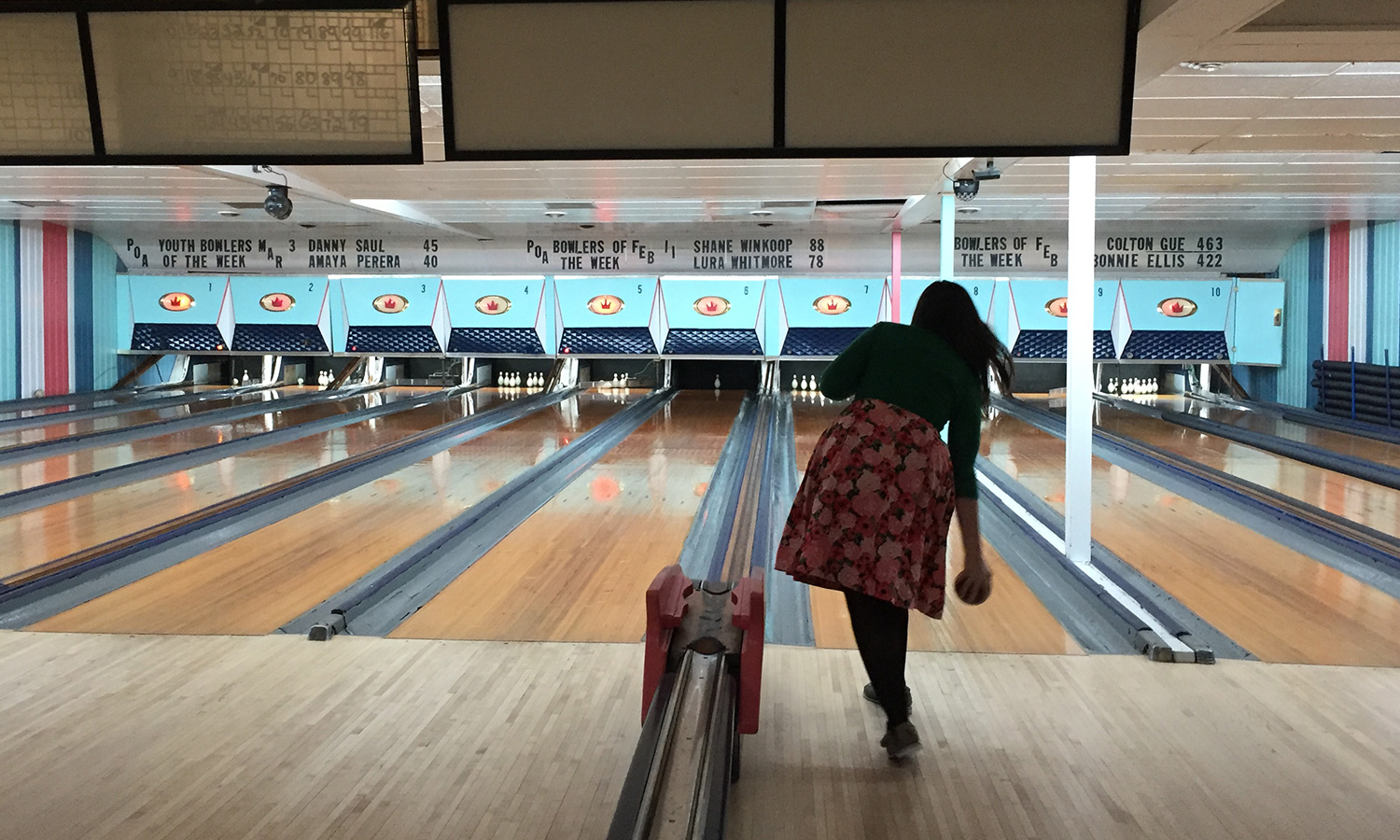 I stepped onto the glistening wood floor and retrieved a ball from the chrome ball return machine installed shortly before Kennedy was president. I tossed the grapefruit-sized ball in my hand as I stared at the squat pins at the end of the lane. It was my first time bowling duckpins, and I naively believed the pastime's smaller balls and pins would make it easier than the more common game of 10-pin bowling. 
As I made my approach, I cocked my arm back and hurled the ball underhand just before the foul line. The ball thumped onto the wood lane and quickly plunged into the gutter. I didn't fare any better in my next two turns and traipsed to the scorer's table, picked up a pencil, and wrote three zeroes next to my name on the score sheet for all to see on the antique overhead projector. My duckpin bowling career was off to a poor start, but I didn't mind because I was partaking in a Maryland tradition in a venerable setting.
Duckpin bowling proved popular with the working class, and lanes popped up in neighborhoods throughout the city. Duckpins entered its golden era in 1953 when submarine designer Ken Sherman invented a complex automatic pinsetter that sped up the game. At its peak in the mid-1960s, duckpin bowling had 100 sanctioned alleys in Maryland, spread from the Eastern Shore to the Appalachians. 
Sherman infamously refused to sell his patent to a major bowling equipment company before his death, and his last pinsetter was made in 1973, stunting duckpin bowling's ability to grow beyond its Eastern Seaboard base. "I wish we had another way to get new machines so we didn't have to buy them from houses that close down," said Greater Washington Duckpin Association President Elizabeth Roth.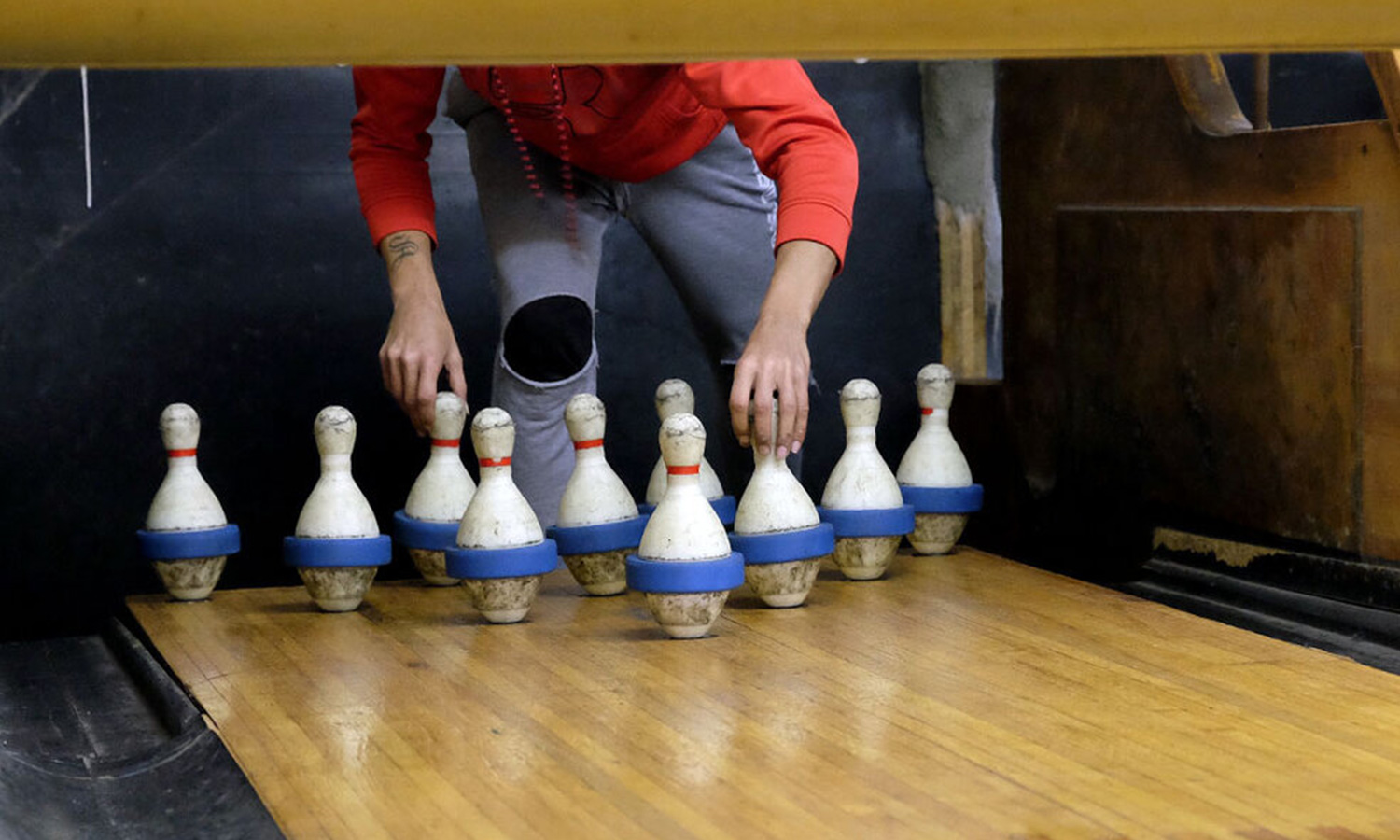 Duckpin bowling has suffered a decades-long decline, but it's faring best in Maryland. Seventy-five percent of the top men and women duckpin bowlers called the Old Line State home in the most recent rankings, and the state boasts 19 publicly accessible alleys, nearly half the number found in the entire nation. 
The game is ingrained in the state's culture and has a devout following. There's a good chance a person who grew up in Maryland blew out birthday candles with the sound of duckpins clattering in the background. A Baltimore-based brewery named a beer after the pursuit, and 30,000 people once signed a petition in a failed effort to make it the official state sport.  
Nearly all the state's remaining duckpin venues offer an authentic experience, but the five described below have especially retained much of their classic character. 
Stoneleigh Lanes, Towson
Finding the entrance to Stoneleigh Lanes the first time is like trying to find the way into a speakeasy. Located in the basement of a row of shops that front York Road, the lanes are accessed via an inconspicuous single door at the end. From there, the colorfully carpeted stairs descend to a vibrant subterranean den awash in purple, blue, and yellow.
Opened in 1946, Stoneleigh's 16 well-maintained lanes haven't changed much since the 1950s. They feature Jetsons-style masking units above the pins, vintage ball return machines, and a retro slide letter bulletin board that commemorates recent high rollers.
Stoneleigh Lanes caters to a broad age range that includes families and seniors, but it most notably attracts a younger crowd who bring their own drinks and frequent its popular karaoke nights and in-house concerts. 
While You're in the Area
The Villagio Cafe, located a block to the north, is a beloved neighborhood eatery that serves Persian food.
Suitland Bowl, Hillcrest Heights
In the 1960s, there were 45 duckpin centers in the Washington, D.C., metro area. Suitland Bowl in Prince George's County is one of only two that survive. "The value of land has just become incredibly expensive, so it's tricky to be able to keep the lanes afloat," said Laura Bowden, executive director of the National Duckpin Bowling Congress.
Tacked on the back of a ragged strip mall, the duckpin house's modest surroundings belie its graceful midcentury interior. A pair of formidable steel doors open to a wood-paneled hallway that leads to the 24 duckpin lanes. Despite its size, the space feels welcoming because of the light-colored walls and ceilings accentuated by the cotton-candy-colored chairs, masking units, and ball return machines, all of which were installed a couple of years after the lanes opened in 1953.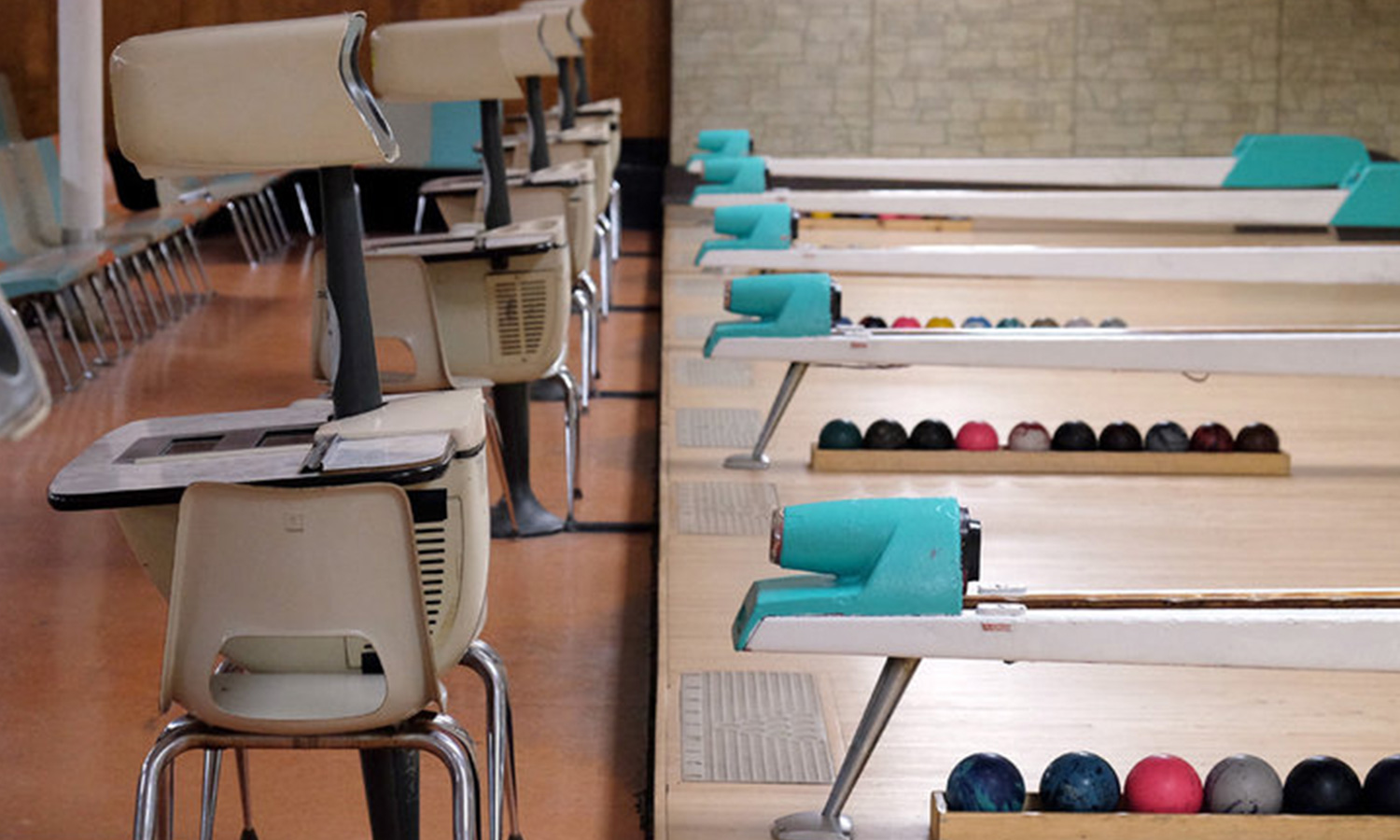 Suitland Bowl has many regulars, some of whom are nostalgic because of the alley's unchanged appearance. "I've got a lot of bowlers that will tell me stories, 'I've been coming here since I was a kid, and I used to sleep on those benches while my parents were bowling,' " said Thomas Osborne, who along with his wife, Megan Adkins, are Suitland Bowl's proprietors. The couple is among a growing number of passionate young duckpin alley owners.
While You're in the Area
National Harbor and its plethora of dining and entertainment options is just a short drive away.
Walkersville Bowling Center, Walkersville
Opened in 1947, Walkersville Bowling Center represents duckpin bowling's spread to Maryland's rural communities after World War II. Walkersville Bowling Center is situated on the edge of its namesake Frederick County town just before the landscape gives way to an expanse of cornfields. 
The building is like an oyster: the exterior is drab, but the 10 lanes inside are like a pristine pearl, a showcase of postwar bowling alley design. The colors found on the whimsical masking units — navy, robin egg, salmon, and white — are repeated with brilliant effect on the paneled walls, columns, and ball returns. Every piece of equipment is seemingly intact, down to the wood gutters. But this quaint alley is no museum piece; it remains in steady use and some days hosts up to three different bowling leagues. 
The center also serves as a community gathering spot, a place where the locals congregate at the snack bar to eat a burger and gossip with their neighbors.
While You're in the Area
Perched at the foot of Catoctin Mountain about 10 minutes north, Springfield Manor's 130-acre spread includes a winery, brewery, distillery, and an elegant stone inn that predates the Revolutionary War.
Diamond Bowling Lanes, Cumberland
This Cumberland alley is the only place in Maryland that offers rubberband duckpin bowling. Rubberducks is a bowling variation so obscure in the United States that only a handful of other lanes exist. It's more common in Quebec, Canada, where it's known as petites quilles. 
The game varies from duckpins in that the belly of the pins are wrapped in a strip of rubber to make them easier to topple, and bowlers receive two turns per frame. "The guys who play duckpins blast the ball because you have to throw it really hard, whereas with the rubber ducks you throw a slow, smooth ball," said Norman May, who owns the lanes with his wife, Cindy. The pins have to be set by hand, further adding to the old-fashioned feel. 
Housed in the same building since 1917, Diamond Bowling Lanes has witnessed the decline of Cumberland's once-prosperous manufacturing and transportation-based economy, but the ritual of beer-swilling bowlers mowing down pins as young men race to reset them still endures more than a century onward. 
This no-frills alley currently has six of its dozen lanes in operation and is available for league play and private rentals. The leagues, however, often welcome visitors, so those interested in trying this rare form of bowling are encouraged to call ahead.
While You're in the Area
Take a ride on the Western Maryland Scenic Railroad and enjoy the spectacular mountain landscapes as the historic train journeys from Cumberland to Frostburg and back.
---
Lead Photo: Walkersville Bowling Center in Walkersville MD. Credit: Chris Berger
Chris Berger works as an urban planner and is fond of Maryland's historic architecture, nature, and sporting traditions. He lives in Montgomery County with his wife, daughter, and dog. You can follow him on Instagram @cjberger1.