Coffee, Crepes, and a Cat Cafe: The Purrfect Road Trip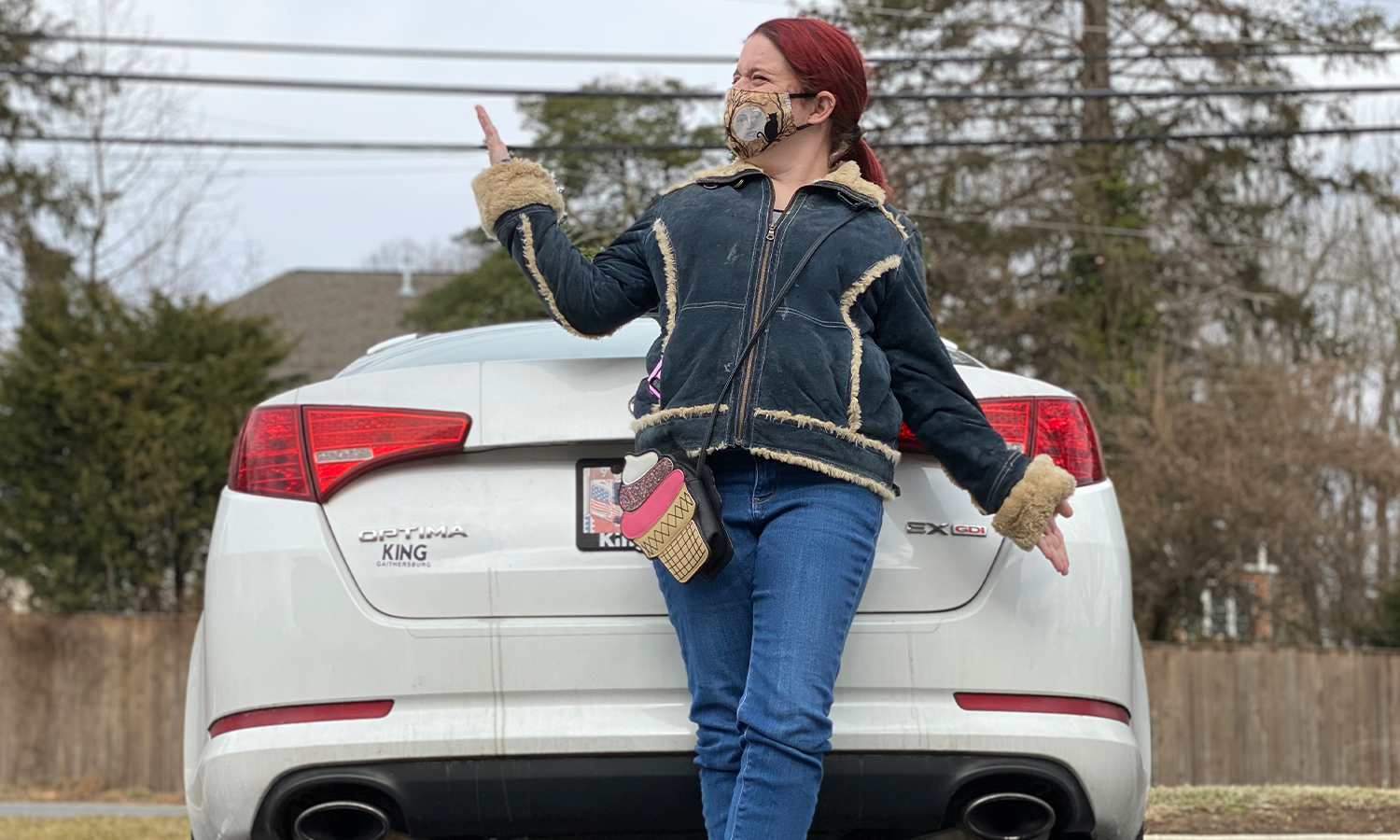 On a cool February morning, I decided to grab my friend Corby (normally on the road with me to a concert) and go for the next best thing: a road trip to a cat cafe.
Why a cat cafe? Well, we're both cat people for one, and in a pandemic, where human contact is even more scarce in the cold winter months, surrounding yourself with little puffballs is a great way to de-stress. Our itinerary: coffee in Cockeysville, followed by crepes in Catonsville, and a day in Annapolis at Kittens in Cups.
A Pennsylvania transplant for the last few years, I was excited to take a dive back into my home state of Maryland for familiar sights and new discoveries.
Our day started around 9:30 a.m. as we tuned up some Jefferson Airplane and Jet to get our blood pumping for a 50-minute pre-coffee drive from McSherrystown, Pennsylvania. The sun was peeking behind the clouds as we took MD-30 S and MD-88 E through lots of scenic farmland.
True to form, our route put us behind a tractor and we saw not one — but two! — hay bale trucks. But we were in no hurry. It was peaceful to pass through, watching cows, bulls, and horses graze in the snow. 
We arrived at John Brown Coffee, a family-owned micro coffee shop at the intersection of Falls and Shawan roads that used to be an old gas station, just a few miles west of Cockeysville.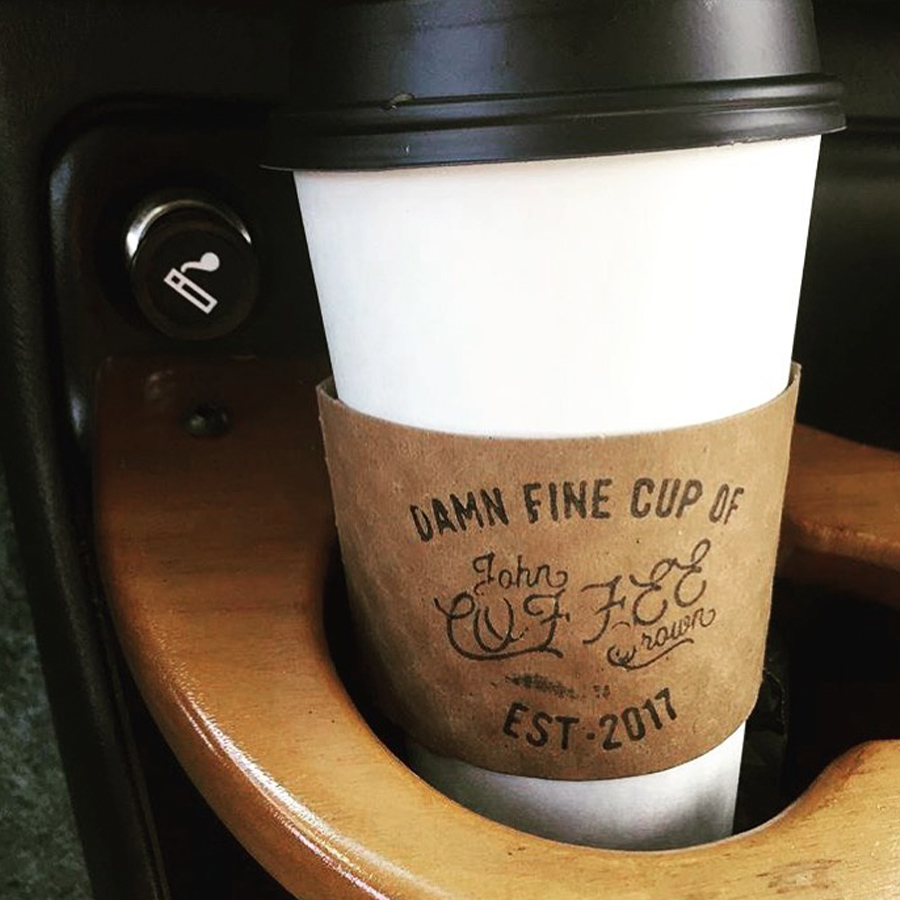 Corby ordered a chocolate cappuccino, and I got a latte with maple. Both had a pleasant sweetness that wasn't too overpowering. The coffee is local from Hyattsville, and from Brooklyn, New York, but the syrups are made in-house. 
We continued on Falls Road to I-83 S, taking the Baltimore National Pike/US-40 W exit into Catonsville, my hometown. 
Tucked away in a shopping center on Rolling Road, The Crepe Escape makes gluten-free Japanese crepes out of rice flour, which are folded into a cone and stuffed with toppings.
Other menu items include boba tea from Taiwan and rolled ice cream from Thailand. I ordered a rich and sweet brown sugar bubble tea to go with my savory crepe.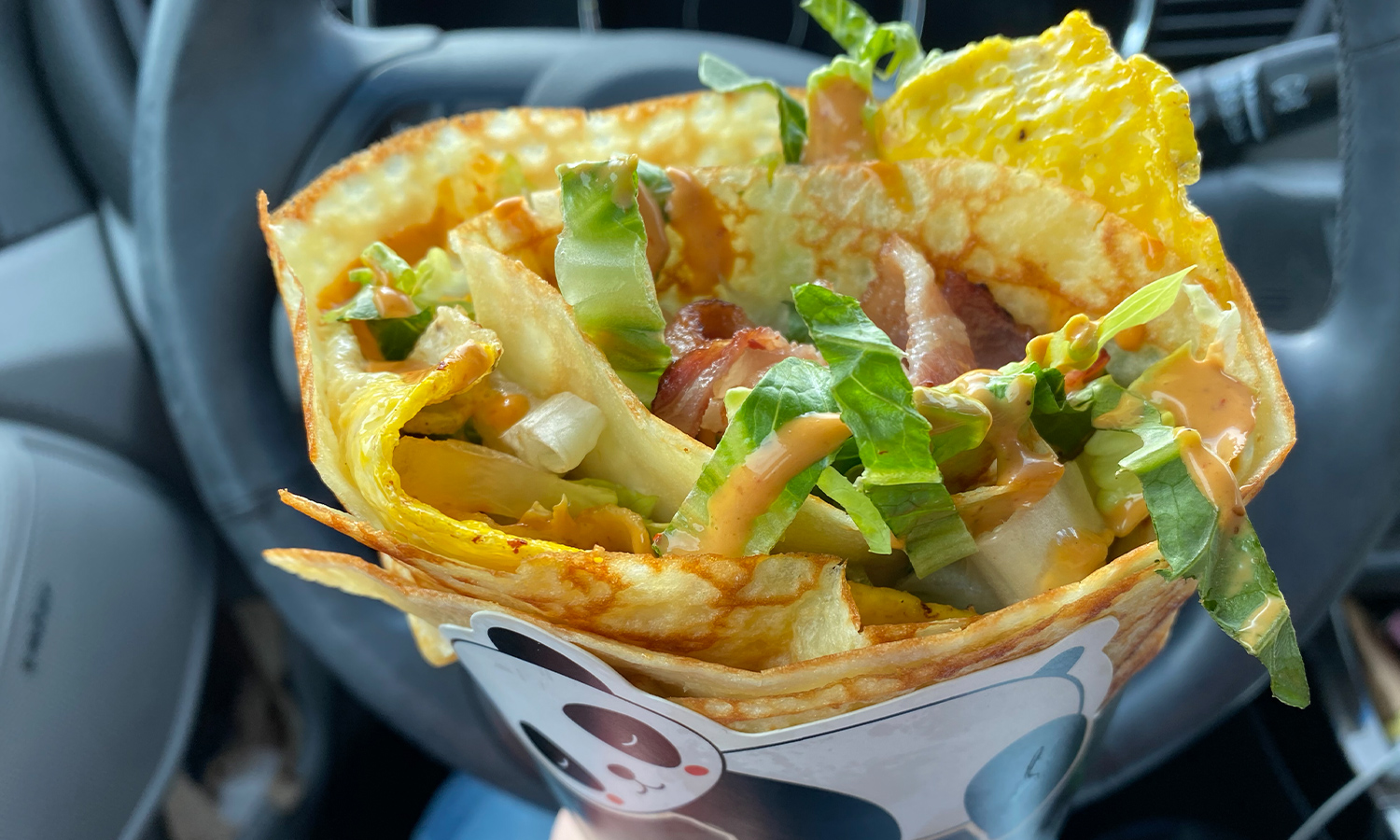 The travel-friendly cones worked out perfectly for us since the dining area is temporarily closed. We retreated to our car and devoured them as "Mr. Brightside" blared loudly next to us.
My "Hearty Morning" breakfast crepe had perfectly-cooked bacon and a chipotle sauce that tasted like the kind they put on Taco Bell's breakfast crunchwrap (a favorite of mine that kicks off all my long trips, so I say this with the highest of compliments).
Corby went for a sweet strawberry banana crepe, which she gave a 10/10. 
I started to get full, but Corby reminded me I'm the best eater she knows. It's true. I have been known to take on challenges in the name of good food. In 2017, I took a trip to Atlanta to share an 8-pound burger called the Grim Reaper (still on the menu at Lucky's Burger & Brew by the way.) I needed to harness some of that energy and power through. 
We made a pit stop for some gas at a corner Shell and took I-695 S to I-97 S with an exit at Crownsville and arrived 20 minutes early for our 1:30 p.m. time slot at Kittens in Cups.
The last time I was here was on another road trip I'd taken in 2017, touring cat cafes in Pennsylvania, Maryland, and Washington, D.C. You'd think that if you've seen one cat cafe you've seen them all, but they each had their own distinct personalities and extras (see: a French-themed cafe with its own magazine written "by cats, for cats").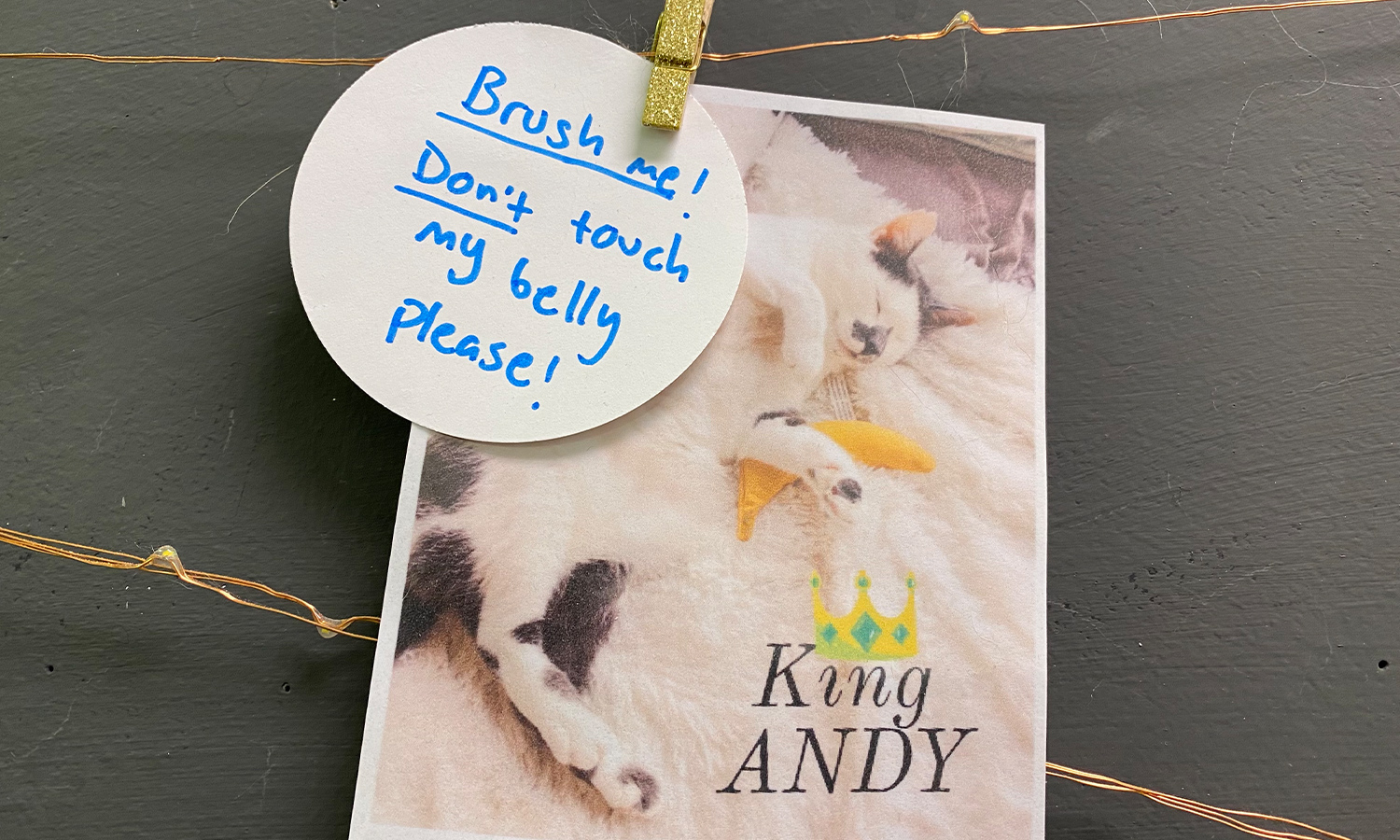 The standout feature at Kittens and Cups is their greeter cat, King Andy, who got along so well with patrons he was adopted as a "house cat." He joins Prince Nori, a stately black cat with the softest fur you can imagine, as one of the two permanent cats at the cafe.
The rest (typically 16 to 18 at a time) are up for adoption from the SPCA of Anne Arundel County. Kittens in Cups had 280 adoptions as of Feb. 6.
Our visit lived up to expectations for a relaxing day as we took advantage of our 30-minute escape into the brightly-decorated adjoining cat rooms by sitting on shaggy rugs and chaise lounges, petting snoozing kitties while others scampered about and playfully hid in cat towers, under pillows, and in tunnels.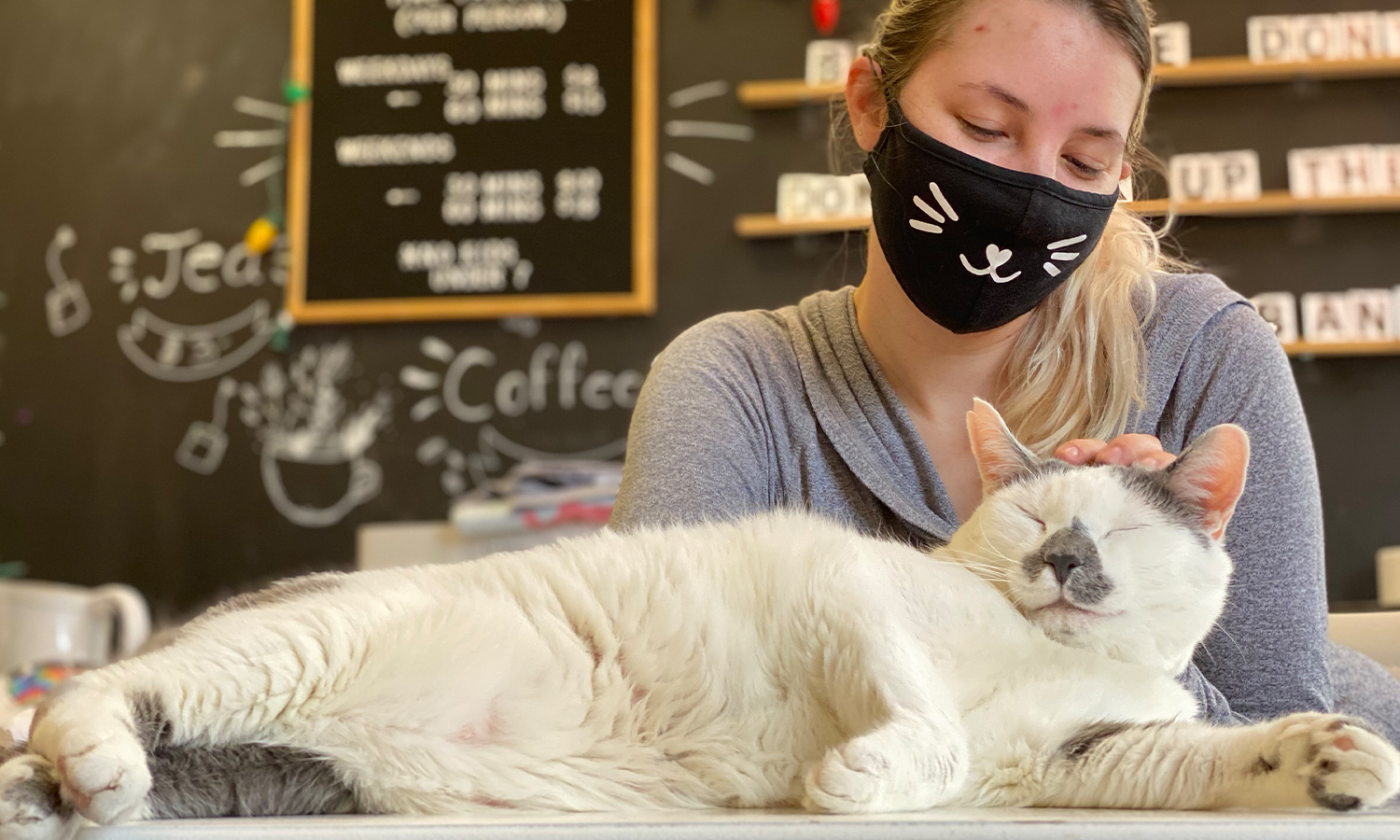 Corby bonded with a black-and-white 6-year old feline, Charlie, who chose her as his couch buddy, curling up against her outstretched arm. Bliss: achieved.
We circled back to Crownsville Road to grab a quick snapshot of the shuttered Crownsville State Hospital campus, a facility for African American psychiatric patients in the 1900s, before arriving in downtown Annapolis to enjoy the remaining sun around 3 p.m. 
The weather had brought out the crowds, so it took about 20 minutes to find parking. But we managed to escape them sitting on a dock in Annapolis Harbor. It was quiet there, with just a few people walking by, enjoying the view and playing ping pong.
I popped into Sofi's Crepes for dessert and ordered a Banana Royale, made with bananas and homemade butterscotch. The traditional French crepe hit the spot as a light nibble. Both varieties were delicious, but the piled-high Japanese crepe made more of a meal for me.
A wall of keys called "Choices" inside paid homage to the first Sofi's Crepes on North Charles Street in Baltimore, where a Maryland Institute College of Art student had created the installation. Now it's in all four locations. Employees said customers sometimes try to take the keys as souvenirs.
Our last stop was Red Red Wine Bar, where we both sat outside for wine flights and people watching. I got the "Paris: We Have You Surrounded" French blend and Corby got the "Bulls on Parade (Big Bold Bad A** Reds) blend with a cup of cream of crab soup.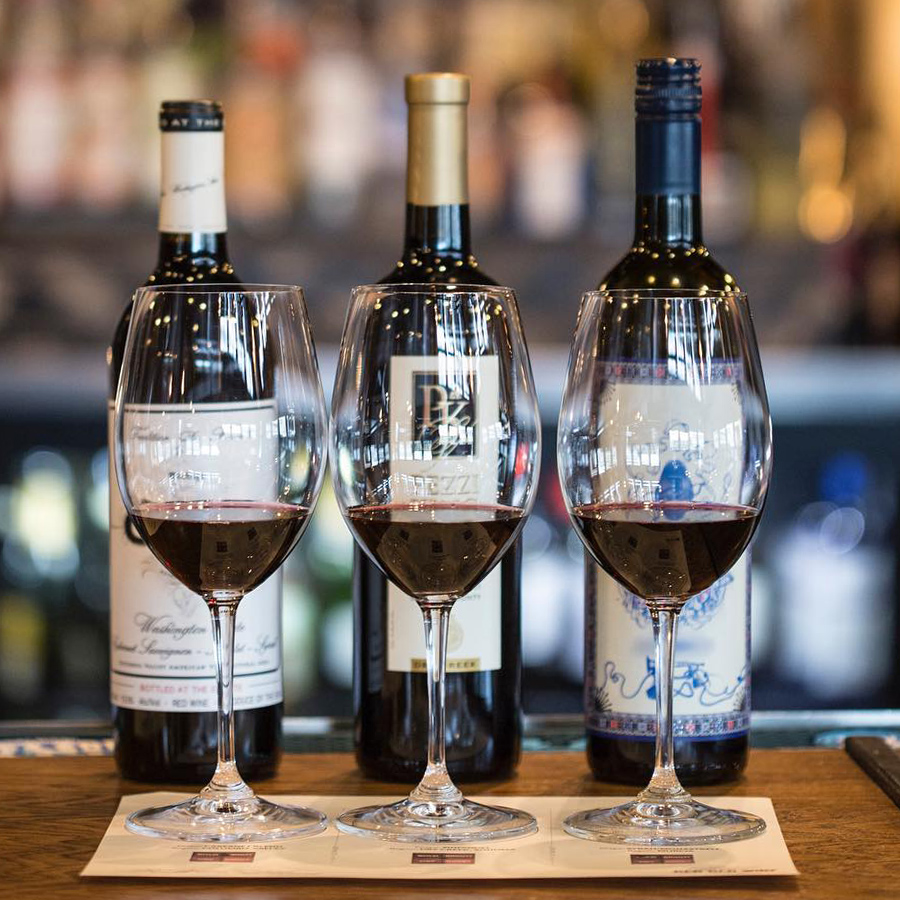 The manager spied my notebook and assumed we were budding wine aficionados, so she came over to tell us about our choices — a nice treat. She also noted that the bar's name (a nod to UB40's version of Neil Diamond's original) points to its connection with music, as both wine and music can transport you to another place. The bar used to host a lot of live music pre-pandemic.
With our bellies full and our whimsy satisfied, Corby and I set off on our hour and a half drive back to McSherrystown. Another trip for the books.
---
Lead Photo: Lindsay VanAsdalan
A Baltimore-bred journalist who takes great pride in her Old Bay, Natty Boh and that one football team, Lindsay C. VanAsdalan has always loved experiencing life through food, music and culture. And road trips have been a big part of that — so much so she made an entire magazine devoted to road trips for her senior project in college. When not writing, you can find her out at a concert (in safer times), trying the best new burger in town or snuggling cats.