Spring Birding in Western Maryland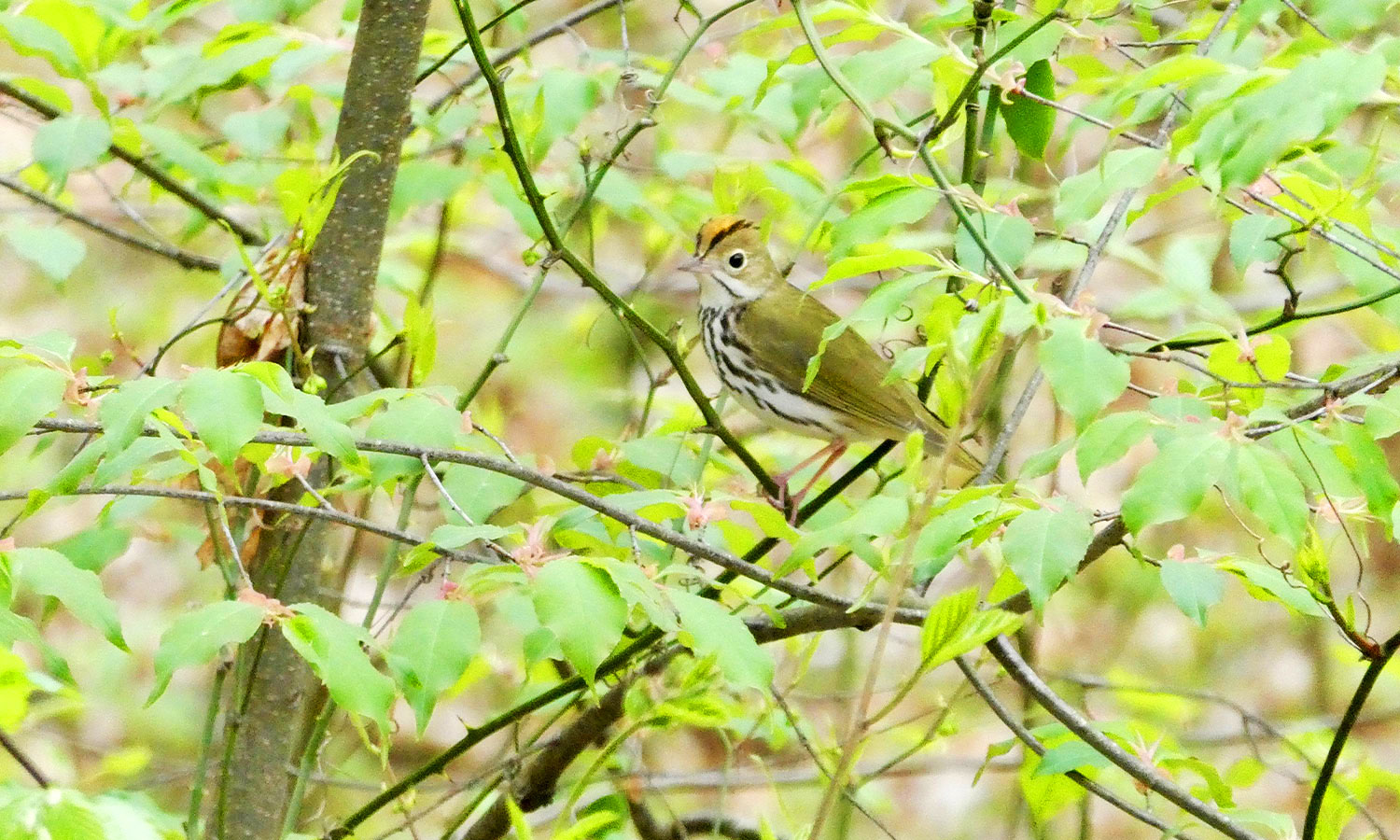 Ask any birder and they'll tell you: a good birdwatching trip is measured by two things — the birds they see and the food they eat. Our trip to Garrett County, Maryland for some early spring birding delivered on both accounts. 
My husband and I knew we were off to a good start in the food category with our first stop in Accident. I kid you not — the town is really named Accident. We came into town on Rt 219, south of Route 68, and "by accident," stumbled into Firefly Creamery. It was early in the morning and we thought we were ahead of their opening hours. But to our surprise the creamery was open. What a delight. We bought three different pieces of their house cheeses, including one that's aged in a cave in Brooklyn, NY of all places! 
Satisfied that we would have a real treat ready for us at the end of the day, we made our first birding stop at Sang Run State Park in McHenry.
We followed the trail across an agricultural field and up to the top of the hill. Along the way we watched Tree Swallows survey the many nest boxes, looking for just the right one. Eastern Meadowlarks were singing, and we spotted several as we walked across the field. An old cemetery sits at the top of the hill and along with the bucolic views we enjoyed Common Yellowthroats, Blue-gray Gnatcatchers, and Black-capped Chickadees, a specialty of this higher elevation locale. A small creek runs along the edge of the park and leads to a boat/kayak launch at the Youghiogheny River, and there we saw Northern Parula Warblers and a Louisiana Waterthrush, absolutely singing his heart out. We could have stayed there all day, but more birds and locales were beckoning. As was the need for lunch.
We drove into McHenry for a quick lunch at Canoe on the Run, where we enjoyed hearty bowls of chili and enjoyed the birdsong of Chipping Sparrows and Blue-headed Vireos before our next stop.
Straddling the Maryland-West Virginia state line, the Cranesville Subarctic Swamp was formed 15,000 years ago during the last Ice Age, when glaciers inched close but never reached Maryland. The bog sits in a mountain valley bowl known as a frost pocket, leaving the bog generally colder than the surrounding area. These colder conditions allow some unique plant species from the glacial era to survive, making it a unique ecological niche. 
Blue-headed Vireos were found here too, playing their hide-and-seek game with us, calling "here I am, where are you" over and over. A Gold-crowned Kinglet made an appearance in a long hanging branch of a conifer tree.
While we could have lingered in the bog, our last stop for the day was beckoning — Swallow Falls State Park. Four waterfalls are easily viewed on a maintained trail in the park, and they are the primary draw for visitors. But we were there for birds, and we were not disappointed. We were barely out of the car when we heard the birdsong of a singing Wood Thrush. We walked through the virgin hemlock and pine forest, searching until I finally got my binoculars on it. "It's a Hermit Thrush," I whispered. Fooled again. Every year we relearn bird songs. Nevertheless, the melodious, somewhat melancholy song is beautiful, and I was more than pleased to hear the song and see the bird. As we walked away from the Hermit Thrush, a buzzing "zee zee zee zo zeet!" attracted our attention — a Black-throated Green Warbler. It didn't take long to find it, calling from the hemlocks that make this park special. The park protects a 37-acre area of virgin hemlock and white pine estimated to be over 300 years old and the last of its kind in Maryland. The forest was buzzing with Ruby and Golden-Crowned Kinglets, our friend the Blue-headed Vireo, and for a treat, a pair of Brown Creepers. A perfect ending to our first day in the mountains.
We had three spots to check out on day two: Potomac State Forest, Mt. Nebo Wildlife Management Area, and Garrett State Forest. In true birding style, we were down with the sun and up before it rose. We chose Thayerville as our base camp, as it was relatively close to all the locations we wanted to bird.
Lost Land Run Road was the morning destination. It goes about 5 miles through the state forest until it reaches the North Branch of the Potomac River. We had the place essentially to ourselves, meeting up with only one other car. Driving slowly and listening carefully we stopped numerous times along the way to get out and explore more carefully. The Ovenbird's call of "Teacher-Teacher-Teacher" stopped us in our tracks numerous times.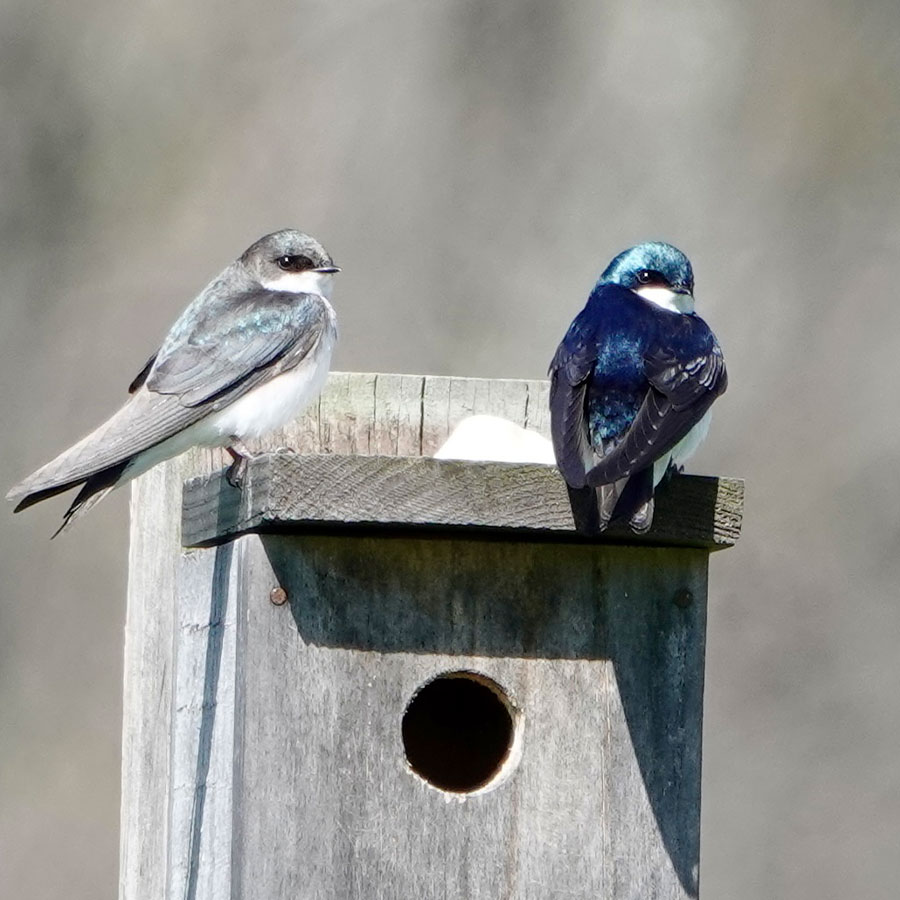 We saw at least three Black-throated Blue Warblers, probably newly arrived overnight on the south winds that made the day unusually warm. By the time we reached the river, we had seven warbler species, along with magnificent wildflowers! Trillium (red and white), Virginia Saxifrage, Jack-in-the-Pulpit, and Large Bellwort (to name a few) were all blooming. 
We stopped for lunch at Schrock's Country Store just outside of Oakland. We enjoyed hearty deli-style sandwiches and a killer chocolate chip cookie ice cream sandwich. 
With our stomachs full, we were glad our next stop offered some walking opportunities. We walked around the Mt. Nebo Wildlife Management Area and saw 16 bird species, including the bird we were starting to refer to as the trip mascot, the Blue-headed Vireo.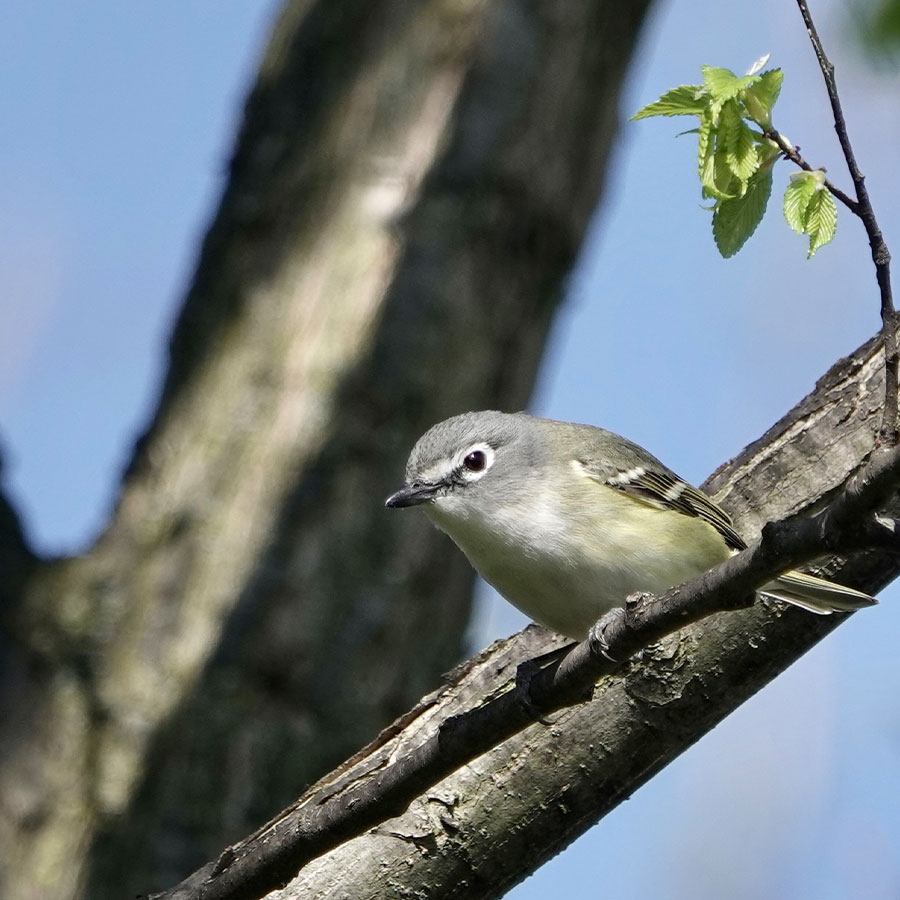 Unfortunately, our mid-day arrival meant we were unlikely to hear Ruffed Grouse drumming, but I'm sure they are there, as the area is most well known as a grouse hunting area. 
Back into Oakland and out Fingerboard Road, we made our way to Snaggy Mountain Road through the Garrett State Forest. We were at first surprised to see an Osprey, but then realized we were very near Herrington Lake, on the back-side of Herrington Manor State Park. It continued to be a good day for raptors, with Broad Winged and Red-Tailed Hawks making an appearance. Chipping Sparrows were abundant, our mascot bird made a showing, and we were most pleased to see a Yellow-bellied Sapsucker and a Hairy Woodpecker. Black-throated Green Warblers were plentiful here too. All in all a very satisfying day.
Having packed and enjoyed a picnic dinner our first night, supplemented with that great Firefly Farms Cheese, we decided to venture out to one of the local restaurants for dinner on our last night. Tip to road trippers: think twice about a  Monday and/or Tuesday night trip. We found many of the restaurants to be closed on Monday and Tuesday. At the recommendation of the clerk at our hotel (the Deep Creek Inn) we had dinner at Ace's Run Restaurant and Pub. There we enjoyed a lakeside view and seared tuna two ways — as a salad topping and tacos.
All good road trips must come to an end, but not before we tucked in two more stops — Mount Zion Road to Jennings Randolph Lake and Dans Mountain State Park. Along Mount Zion Road we pulled over to scan across the agricultural fields. "Whatcha looking for?" said the man in the red pickup truck. "Birds." Our answer surprised him, as he said most people are looking to buy land. We got to talking and learned that the piece of land we had pulled up alongside had been in his family since the 1700s. We talked about the changes over time and before long he said "if you'd like you can climb over the gate and walk around." We graciously accepted his generous offer and made our way over the gate and across his farmland. As we walked across the furrowed field we heard a distinct call, but couldn't quite decide. Then we spotted the bird atop a ridge of dirt. "A Savannah Sparrow?" "No, the face pattern is wrong, I said. "How about a Vesper Sparrow?" Sure enough, that's what it was.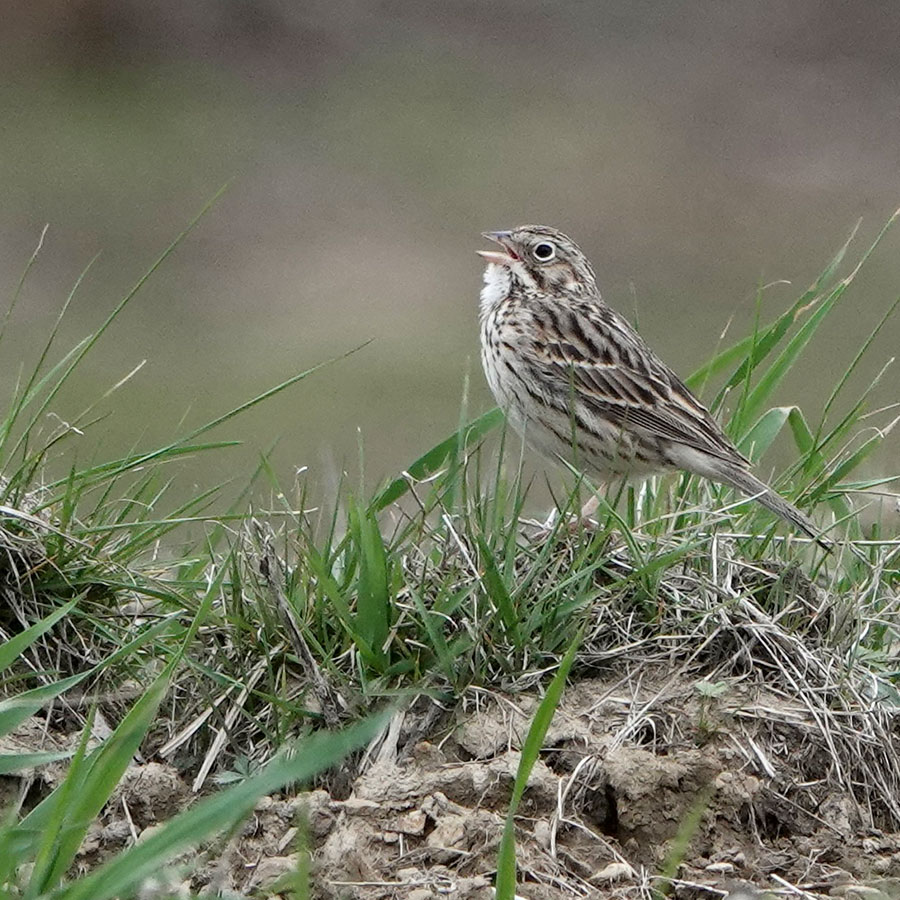 We also heard the buzzing call of a Grasshopper Sparrow. Without the landowner's permission, we would not have seen these birds. It's those random encounters with people along the way that add richness to bird-watching adventures. 
Mount Zion Road ended up being our best stop on the trip, with a total of 43 species, including 9 warbler species, 5 sparrow species, both kinglets, a Blue-gray Gnatcher building a nest, and of course our mascot, the Blue-headed Vireo. 
Dans Mountain State Park was our last stop, and we were getting to feel like lunch would be a good idea. Pickings seemed slim until we spotted B-Rads Pizza. An oasis of freshly made pizza and a darn good cheesesteak sandwich. 
Undoubtedly the big summertime draw at Dans Mountains State Park is the swimming pool. But for us it was the opportunity to observe Ovenbirds defend their territory, be surrounded by the song of Black-throated Green Warblers, and have one last visit with our mascot before we went back east on Route 68 to our home in Frederick, Maryland.
Looking to plan a birding trip of your own? I used eBird to research Garrett County birding hot spots, and the Allegany and Garrett Counties Bird Club for their recommendations. Then I plotted them on the map and set an agenda for covering as many areas as we could in two-and-a-half days. 
There's nothing like an old-fashioned paper map to help plan a road trip like this. Even better is a Delorme Maryland Atlas & Gazetteer, a detailed topographic atlas for the state. Cell phone service can be spotty, and using a map on the phone can never give the breadth of coverage and the detail needed all in one view.
---
Lead Photo: An Ovenbird spotted in Western Maryland. Photo Credit: Helen Belencan
Helen lets birdwatching guide her road trips and travels, leading her and her husband on adventures across the U.S. and around the world. When not on the road, she divides her time between Frederick, MD, and the Eastern Shore.