3 Days of Historic Exploration in Southern Maryland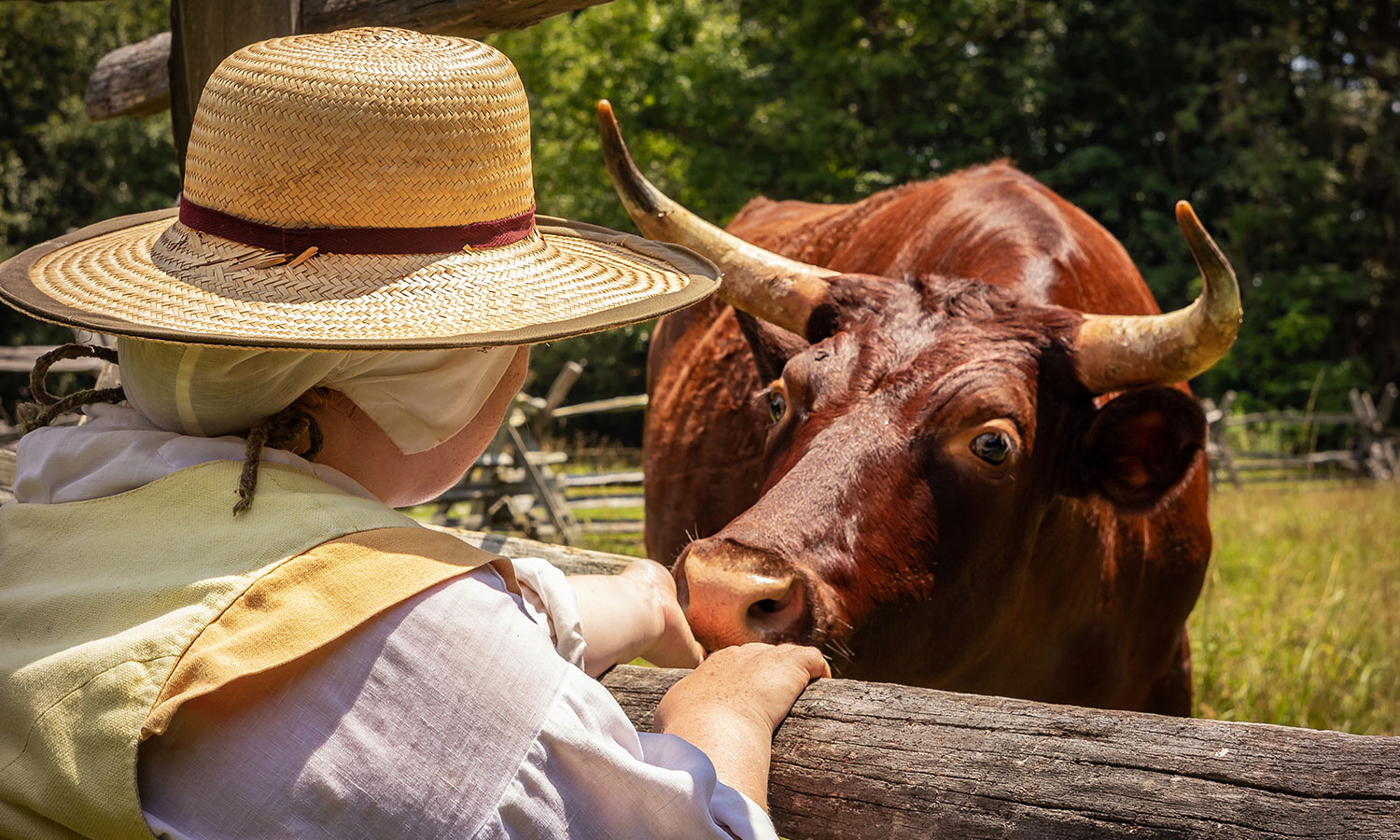 After a long year of work and stress, my husband and I were finally on vacation and ready for a week of relaxation and historic exploration in Southern Maryland. As we arrived at our riverside rental, we soaked in beauty and serenity. A small peninsula nearly surrounded by the Potomac River, the community of Piney Point in St. Mary's County seemed the ideal home base for our trip, which we planned both for the water views and the access to historic sites we had never before visited. With private docks out our front and back doors, Joe spent the early mornings fishing and kayaking, while I read in an Adirondack chair pointed at the watery horizon. It was the perfect way to start each day before setting out for our daily history fixes.
Day 1: Historic Sotterley, Leonardtown, Piney Point
We started out at Sotterley Plantation in Hollywood. A National Historic Landmark and a UNESCO Site of Memory for the Slave Route Project, this site encompasses over 300 years of history. English planter James Bowles built a two-room home on the site by 1703, and subsequent family members expanded the structure. At the plantation's height, its owners controlled 400 acres and nearly 100 enslaved people. Because we visited on a Tuesday, the mansion wasn't open for tours; we found Sotterley's tour on the Clio mobile app a great substitute as we explored the grounds.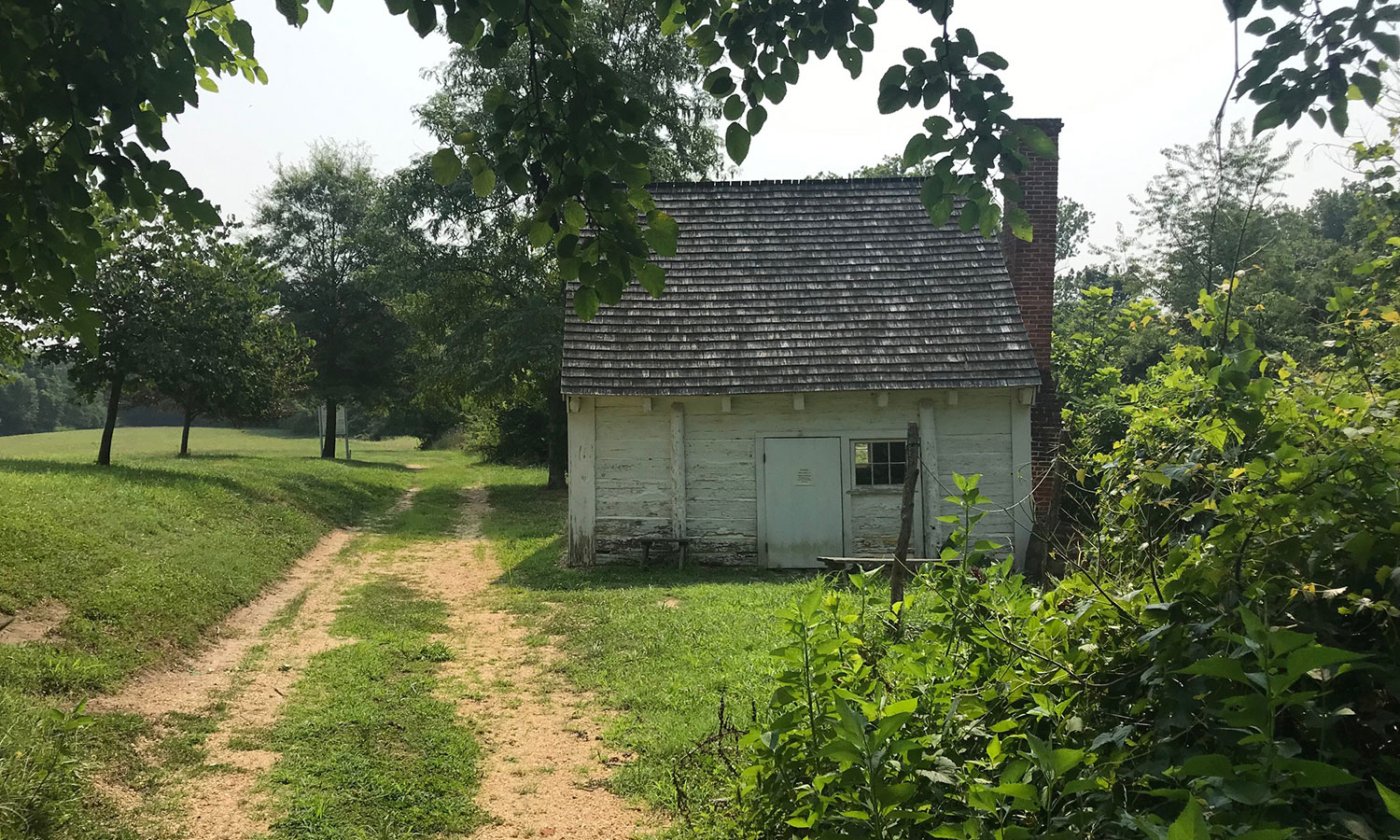 We took turns guessing the purposes of old agricultural tools in the corn crib and wandered the gorgeous flowering gardens. The most meaningful part of the tour was the extant slave quarter. The tiny cabin, which would have slept 9-12 people, is accessed by an incredibly short door. I backed my 6' 2" husband against it for a photo, and the top of the door reached his shoulder. We then turned 180 degrees and took a few steps to our right for a view of the stately mansion, taking in its architectural show of wealth and waterfront view. The comparison was stark. 
Our next stop was  Leonardtown, a historic, waterfront town mixed with modern appeal. After a great seafood lunch at Sweetbay, including tasty cream of crab soup with sherry (just how I like it), we checked out the Old Jail Museum and tempted the fates at alleged witch Moll Dyer's Rock. In what was becoming the theme of our Tuesday, most of the town's shops were closed until the weekend, but the Port of Leonardtown Winery bucked the trend. We learned the winery is run by the Southern Maryland Wine Growers Cooperative, one of only a few wine co-ops in the country. Joe sampled the wine while I sipped a root beer slushie.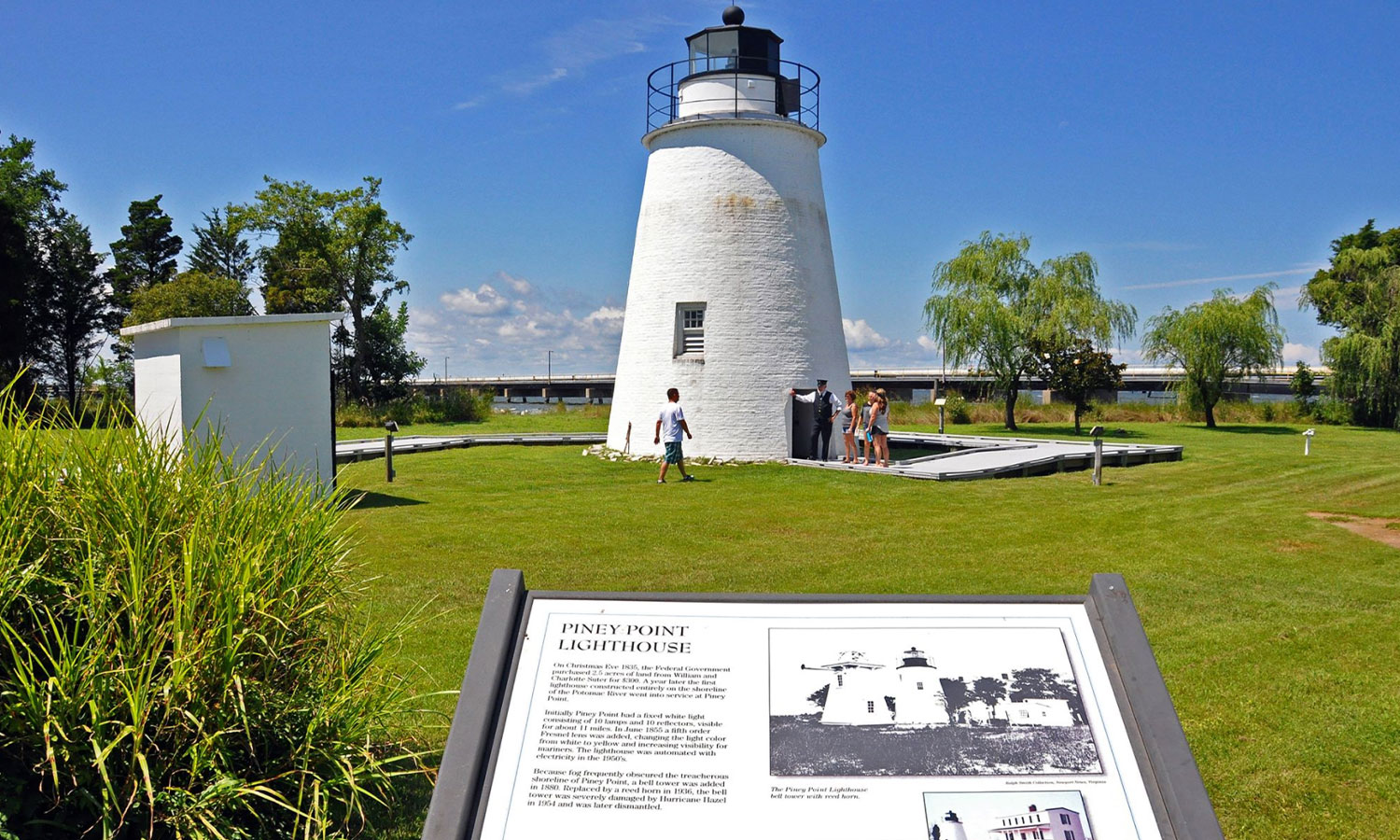 Back in the car, we followed the Religious Freedom Scenic Byway to the Piney Point Lighthouse Museum and Historical Park, the oldest lighthouse on the Potomac River. We were delighted to find the museum still open at 4:00 in the afternoon and enjoyed a guided tour of both the lighthouse and the keeper's cottage.
The indoor exhibits here were diverse, documenting the history of the lighthouse, maritime traditions, and a sunken German U-Boat, now a Historic Shipwreck Preserve. My favorite exhibit by far was about Tolson's Hotel. Once located in Piney Point, it was an early twentieth-century hotspot for Washington D.C. socialites looking to escape the summer heat. On display were woolen bathing costumes, a place setting and menu from the hotel's dining room, and a guest book open to July 8, 1933, where Marlena Dietrich, Jean Harlow, Joan Crawford, Greta Garbo, and Clark Gable had all signed in to Tolson's.
Day 2: Solomons
Wanting to explore two spots I had included in an article on Maryland's watermen, we headed to Solomons, perched on the Patuxent River in Calvert County. First up was Annmarie Sculpture Garden and Arts Center. We wandered the walking path, delighting in the sculptures scattered among the trees and the fairy homes that had sprung up to amuse young visitors.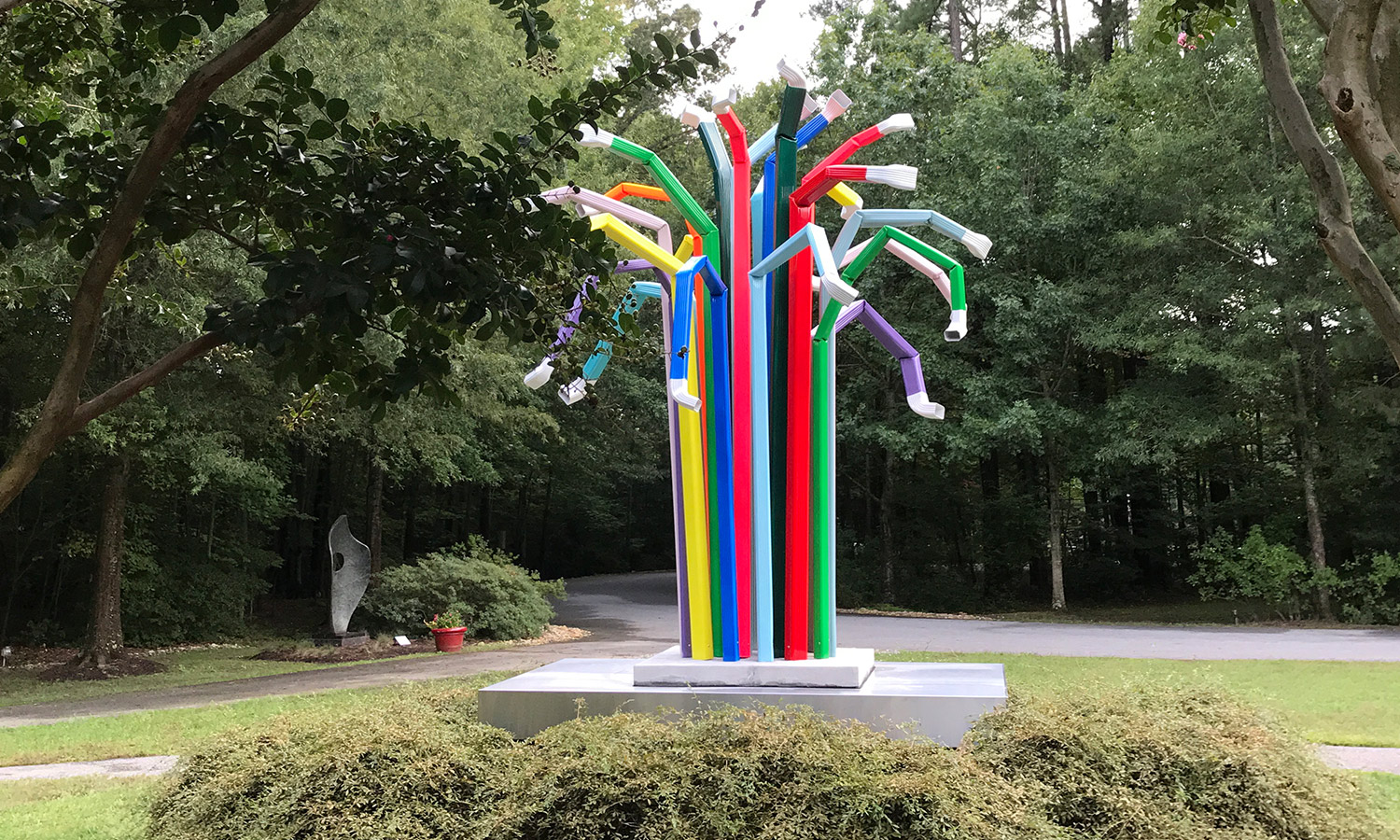 Temporary exhibits are often added to the permanent garden collection; a check of the museum's schedule will give you more details. 
The inside exhibits were just as captivating as the outside; I spent an hour viewing "On Paper: Printmaking, Book Arts & Beyond." Many of the artists, who used techniques like etching, lithography, paper cutting, and collage, incorporated the pandemic in some way. Although this exhibit closed September 26, a new exhibit, "Arts in the New Normal," will also explore the pandemic through artistic means and will be open October 15 – January 23. I hope I can schedule a return visit to view the 50 works by Korean-American artists. 
We grabbed lunch and pints of Helles lager at the Ruddy Duck Brewery & Grill before our next stop. As we arrived at the Calvert Marine Museum, storm clouds were gathering in the distance, so we decided to visit the outdoor exhibits first. The Drum Point Lighthouse is one of only three remaining screw-pile lighthouses from the 45 that used to serve the Chesapeake Bay. This one is restored and furnished as if the lightkeepers have just stepped out for a minute; you can take a virtual tour here.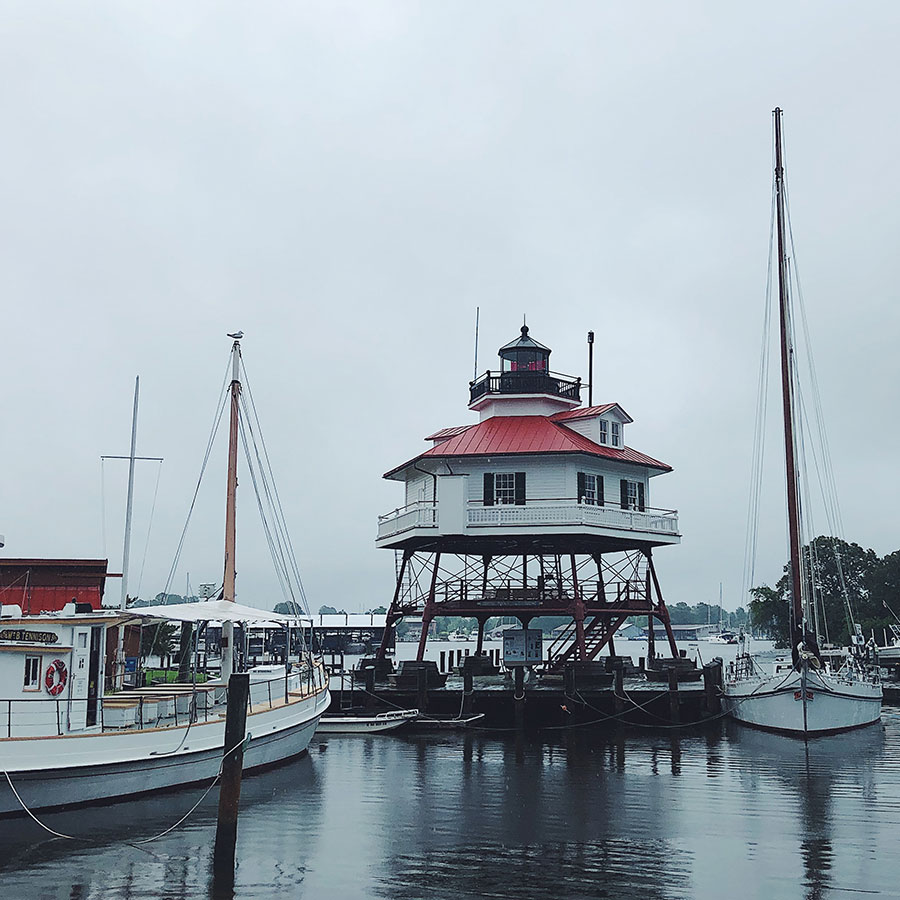 A sail on the skipjack Dee of St. Mary's was out due to the storm now nearly upon us, but the inside exhibits have something for everyone. For history lovers, the "Patuxent: A River and Its People" exhibit was incredibly comprehensive, with artifacts and displays tracing maritime history from the Algonquin people who inhabited the area 12,000 years ago, to John Smith's exploration of the Bay, the War of 1812, shipbuilding, and trade. Representing more recent history were exhibits about the three naval bases in the lower Patuxent during World War II, as well as a fun display on twentieth-century water recreation that included outboard motors, slot machines, water skis, and a restored Whirlwind runabout. 
For the more science-minded, there are banks of aquariums in the Estuarine Biology Gallery with marine life, including sharks, rays, and otters, along with invasive snakeheads and green crabs. The Paleontology Gallery features prehistoric fossils, as well as a spirited volunteer who told us some really disgusting stories about dead sea turtles and maggots. My husband loved it. 
It was time for dinner, and fortunately, Solomons has a row of waterfront restaurants catering to every taste. We selected The Pier for its 270-degree-view of the river and its Smith Island coconut cake; you can't visit southern Maryland without this local treat.
Day 3: Historic St. Mary's City
We arrived at Historic St. Mary's City mid-morning. I had been looking forward to this site the most, as living history museums are a favorite of mine. St. Mary's City was where Maryland got its start, when, in 1634, Leonard Calvert and 140 settlers staked their claim. Of course, they weren't alone on these shores, as the museum reminds us at the Woodlawn Indian Hamlet, where they interpret the Yaocomaco people and neighboring tribes.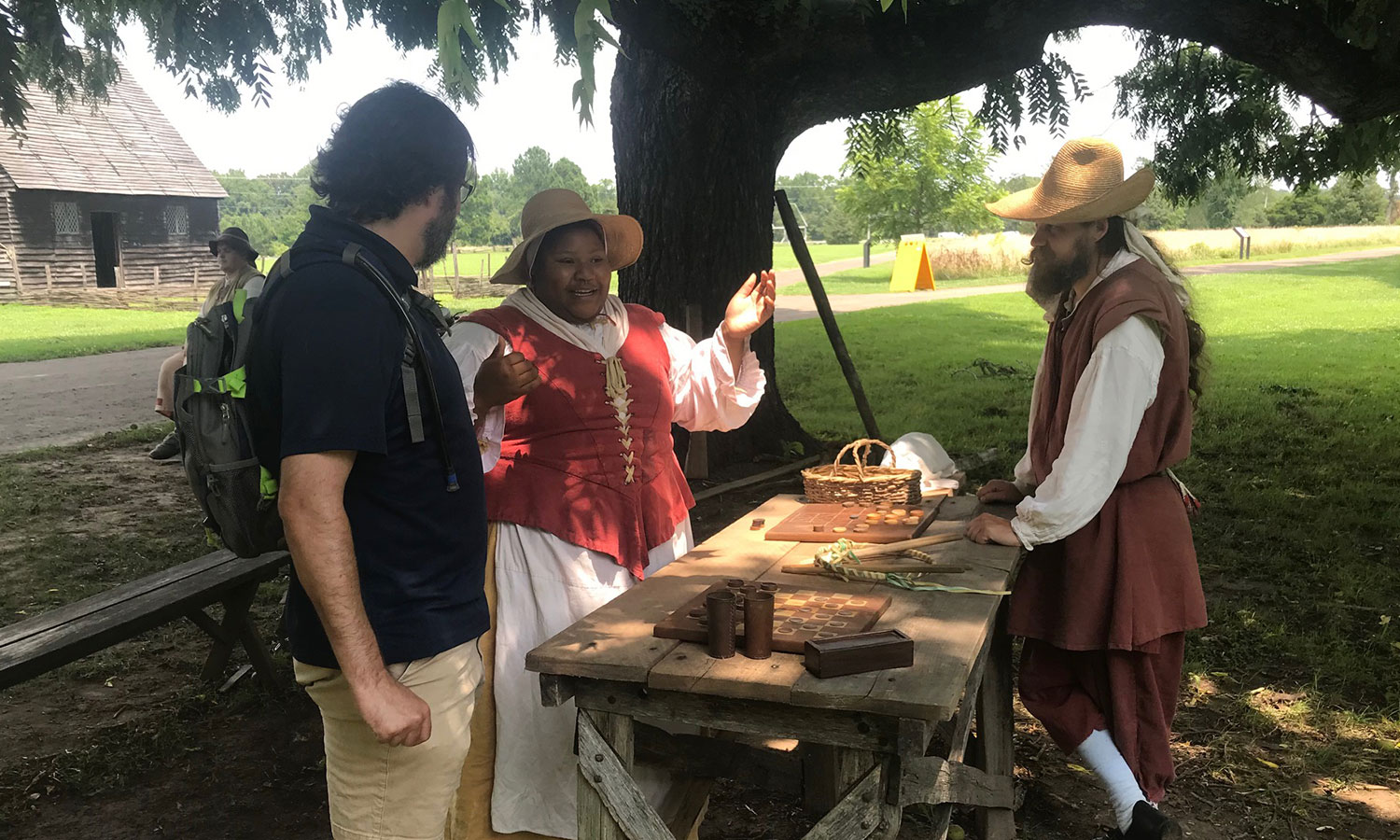 St. Mary's City interpreters dress in costume but converse in the third person, and they were all fabulous. In the Town Center, we encountered three interpreters ready to teach us the games of the day. We learned how to play "Passages," a dice game, and how to make cord on a lucet. We had a far-ranging conversation with them covering the religious freedom that brought the settlers to Maryland initially and the royal governor who eliminated it, the difference between ordinaries and inns, and who was in the three lead coffins found at the Brick Chapel. Rich conversations like these are why I love living history sites.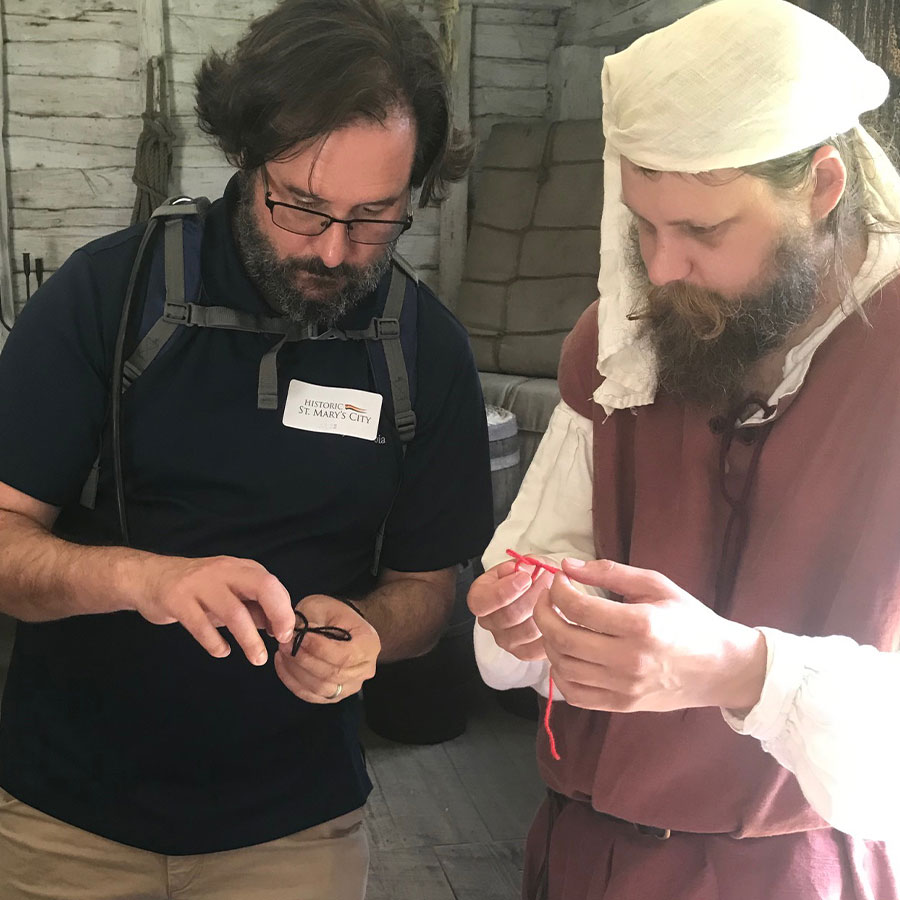 Our visit to the Maryland Dove was just as illuminating. Four sailors showed us a reproduction of the 1634 vessel that accompanied St. Mary's first settlers from England. We went below deck to see the sleeping quarters and received a lesson on how sailors navigated in the seventeenth century with a compass, a sandglass, a sun-dial, and a traverse board. It turns out that the ship is suffering from rot and is not certified by the Coast Guard.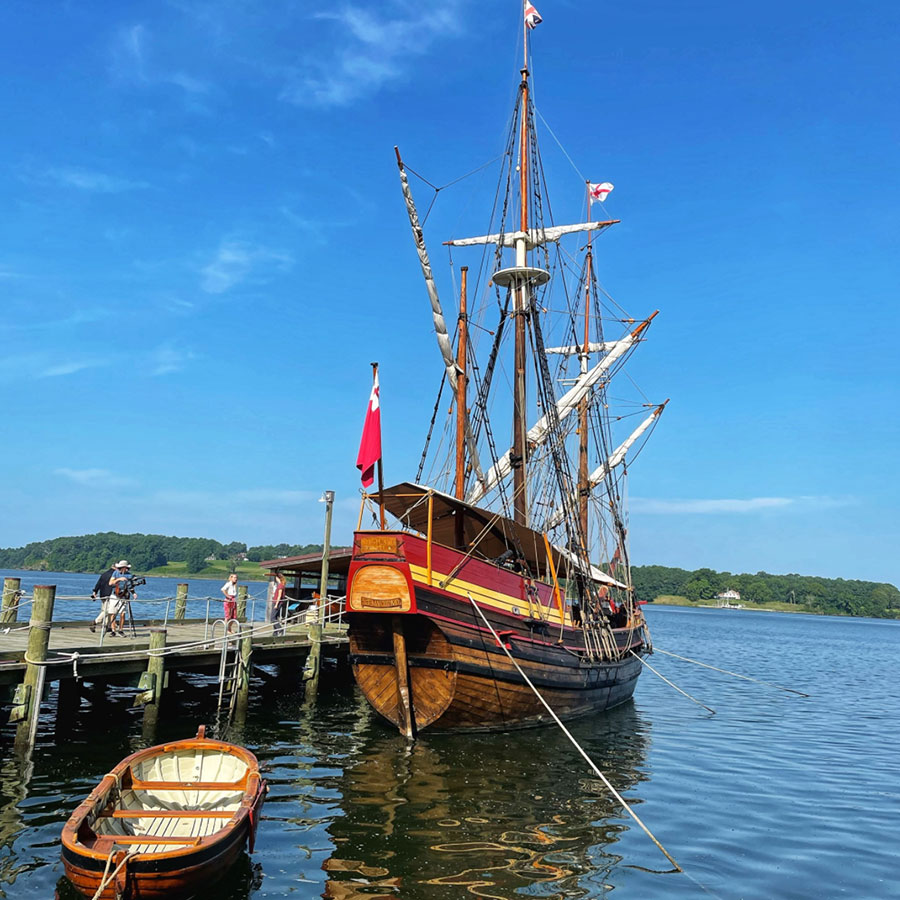 Therefore, the museum is building a new Dove in collaboration with the Chesapeake Bay Maritime Museum. When it launches at the end of 2021, the new vessel will be more historically accurate and will meet current passenger safety standards.
Our final stop of the day was the Godiah Spray Tobacco Plantation, which is a short drive (or long walk) from the main museum grounds. Our guide, barefoot and walking on walnuts and stones like it was nothing – "I'm used to it," she told us – showed us the 1667 plantation, much different from Sotterley Plantation where we had visited two days prior. The home here was a small, four-room dwelling, with fields that would have been worked by indentured servants. They had a kitchen garden full of native herbs, and pigs, cows, and chickens brought the farm to life. Calm and pastoral, it was a perfect spot to wrap up our three days of history in Southern Maryland. 
---
Lead Photo: Interact with heritage breed animals at Godiah Spray Tobacco Plantation at Historic St. Mary's City. Photo Credit: Historic St. Mary's City
Heidi Glatfelter Schlag is a marketer, history lover, and traveler who can often be found exploring museums, parks, small towns, and farms. She founded Culture-Link Communications, where she helps local nonprofits and small businesses build their brands. Heidi lives in Frederick, MD, with her husband and two dogs.