Cheers to Wine Time at Robin Hill Farm and Vineyards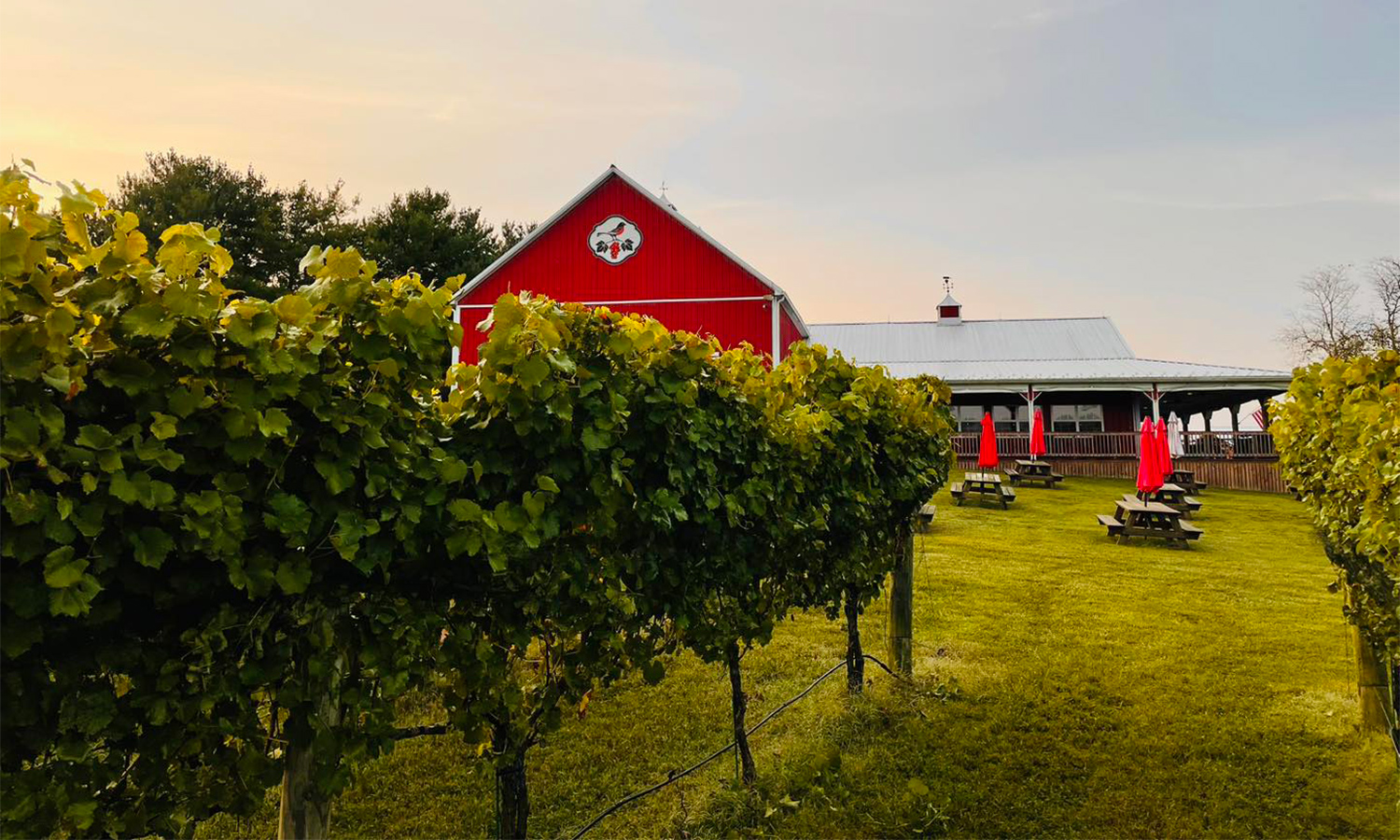 Turn your car onto the grounds of Robin Hill Farm and Vineyards, and you know you've embarked on something special. Take one step out of your car, and you will quickly understand the warmth of this place, with its rolling landscape, picturesque vineyards, red barns and buildings, picnic tables with umbrellas, and a happy and friendly staff that greets you with smiles and welcomes you to the vineyard. 
With my accomplice Jenny by my side, we embarked on an afternoon at Robin Hill Farm and Vineyards in Prince George's County. It was a cloudy and cool Sunday in October, and we could only imagine how glorious the place must be on a sunny, beautiful afternoon. Replete with a covered porch and heaters placed strategically to offer warmth, we said hello to Bradley Turner, the musician who played for those enjoying wine tasting on the porch. Inside the building is the main room, beautifully decorated to capture the essence of the place. Couches, a fireplace, and tables are positioned in the room to add ambiance and make you feel cozy and at home. 
But perhaps the best part of our day began when we approached the entrance to the winery and a woman named Susan greeted us. After telling her we were on a mission to uncover the story of Robin Hill, she introduced herself as the owner, and took us on an hour-long, behind-the-scenes tour, for which we were grateful—and fascinated. "This place is a legacy to our family – to my father and mother who started this farm years ago when we grew tobacco," Susan Watson White began.
With every detail Susan disclosed, we were in awe of her storytelling about the history of the farm, its many iterations from tobacco to hog farming to becoming a nursery, and how it was her vision to turn the land and property into a winery years after her father's death. Her mother, who is in her eighties, still lives on the property—as does the whole family. The story of Robin Hill is the story of a family's love for farming; it's the story of a family who enjoys working together on the land and keeping the farm an intimate place for locals and travelers to enjoy.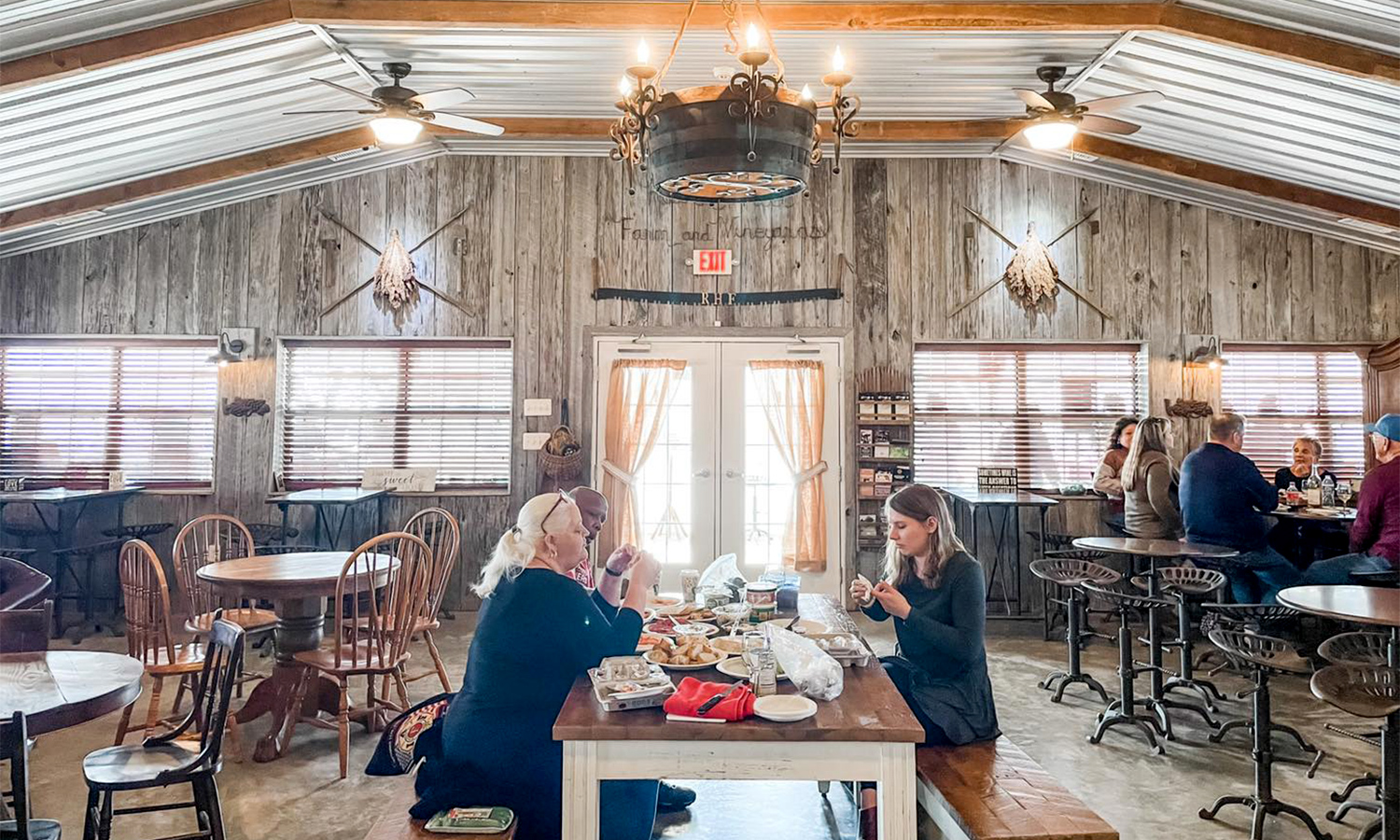 As Susan explained the various processes and equipment needed for wine-making, it was mind-boggling to realize just how much investment of money, time, and passion, along with a love for traditions and farming, goes into this place daily. Sharing her love of the farm and its vineyards and wine keeps Susan and her team motivated day after day, their enthusiasm for what they do at the forefront of every decision, and every detail. And you will notice the details. The place is impeccable.
Additionally, if you're like Jenny and me and you love a good romance story, Susan met Bob White, Partner and Winemaker of Robin Hill, at a wine event and later married. With Susan as the visionary Owner/Operator and Bob as the wine connoisseur and chief winemaker, the fairytale romance has paid off, as they not only get to spend time together each day doing what they love, but they also get to share their passions for farming and winemaking with those of us who look to spend a day at a vineyard—and learn more about wines and winemaking along the way.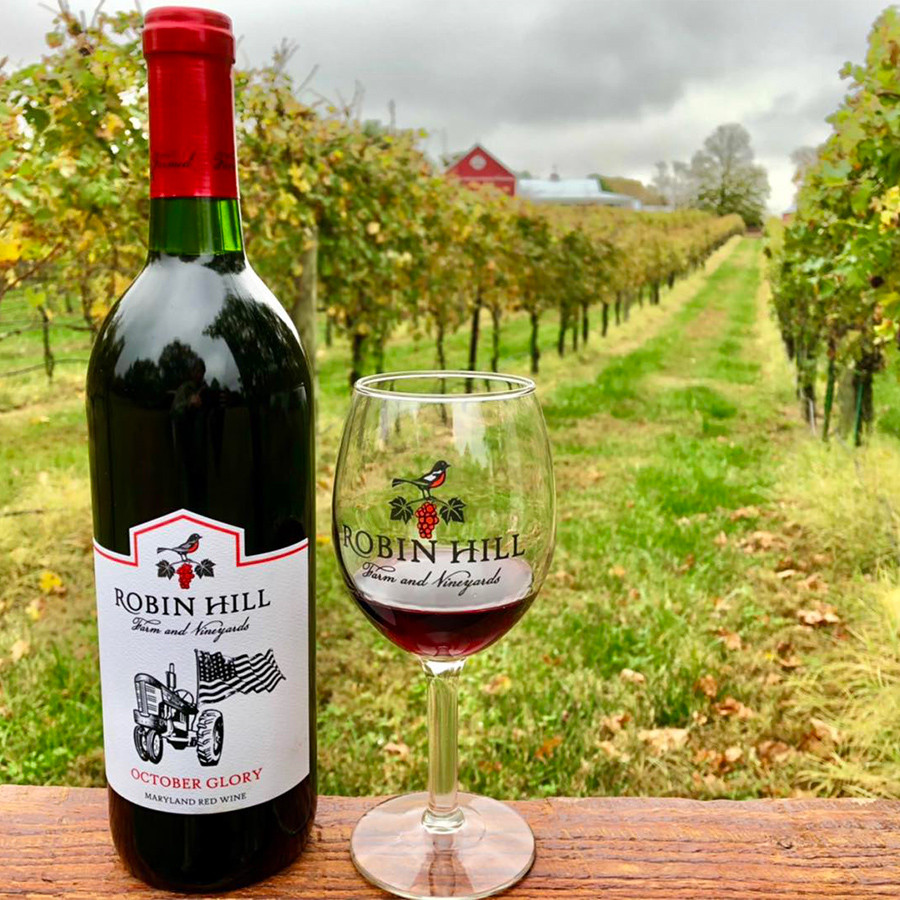 Ah, but it doesn't stop there. Susan is also the wedding coordinator on the property, as there is a full barn and space for weddings on the premises. One side of the property is the winery, and the other side is the barn. As barn weddings are immensely popular these days, Susan knew she had the space for it, and she books weddings on Saturdays from April through November. "I feel like I have a daughter getting married every weekend because I get to know the brides so personally during the planning," she said. And she meant every word of it, as she glowingly told stories of how she helps brides navigate the wedding-planning process and then gets to see their dreams come true.
Later, as Jenny and I were enjoying our wine-tasting kits, Bob sat down with us and answered any questions we had about the different wines. We had purchased a charcuterie board to go with our kit. Since the pandemic, the wine-tasting kit has been neatly and cleverly organized in an egg carton to keep things hygienically safe. Jenny enjoyed the reds, and I was happy with the whites. Robin Hill also makes a sparkling wine that would be perfect for anniversaries and special occasions, and we got to see the process of making sparkling wine on the tour.
You won't want to miss taking a trip to Robin Hill Farm and Vineyards. Susan and Bob will welcome you with open arms, and you will feel like one of the family. We did, for sure. View the winery's event calendar to plan your trip.
---
Lead Photo: Robin Hill Farm and Vineyards
Stephanie Verni and Jennifer Bumgarner have been gallivanting all over Maryland in search of good places to explore ever since their days working together for the Baltimore Orioles. Moms to two kids each, they are often on the hunt for places to hide from them that serve a good, strong cup of coffee.