Glen Echo Park: An Art Deco Oasis of Fun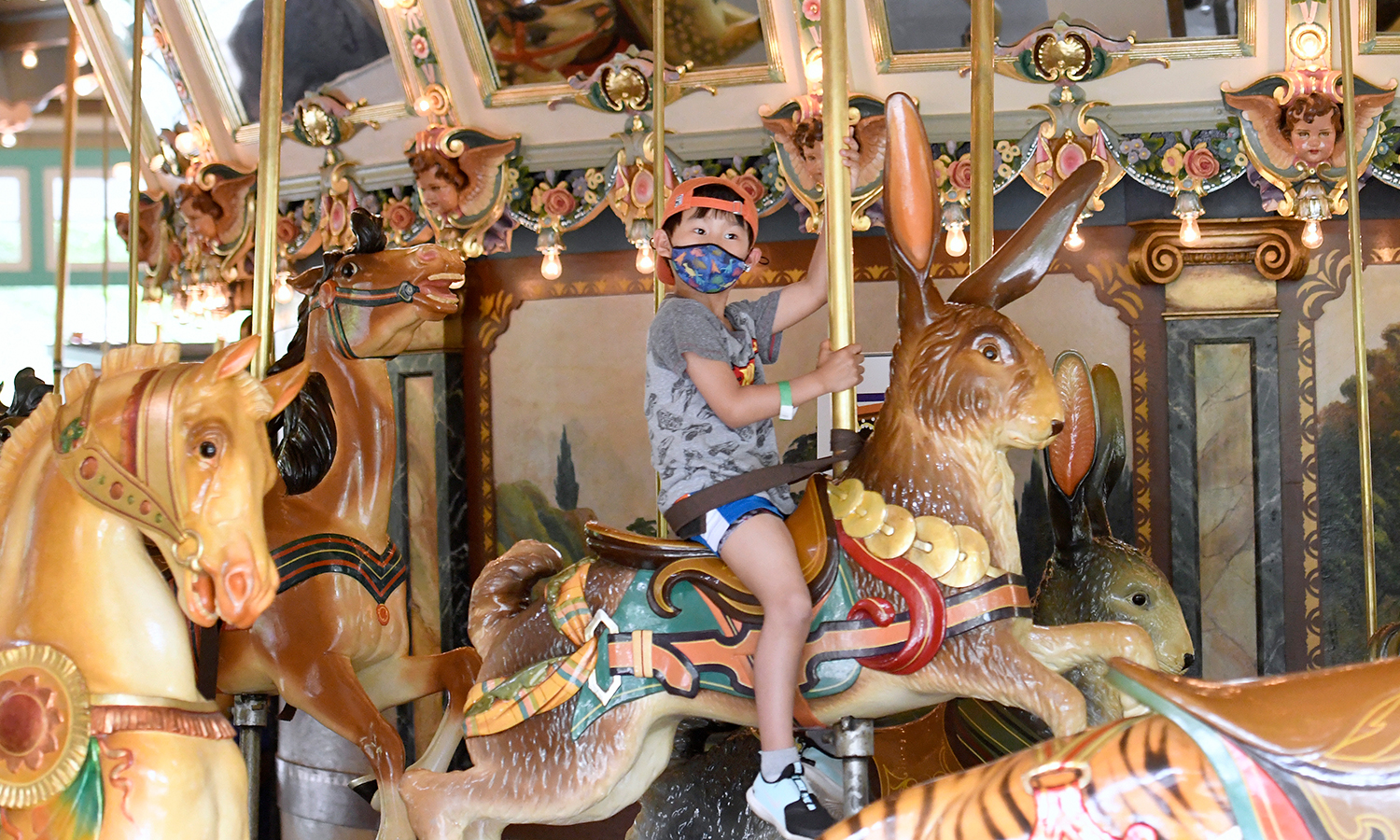 Picture it: You live in the nation's capital in the early twentieth century. It's August, and the  heat and humidity are unbearable. You want to escape to the country for a hike, a swim, or a picnic. You round up the family and hop aboard the No. 20 trolley car. As you exit the city, the trolley picks up speed. The wind in your hair, you luxuriate in the lush, green surroundings, occasionally glimpsing the Potomac River below the tracks. Before long, you reach your destination: Glen Echo Park.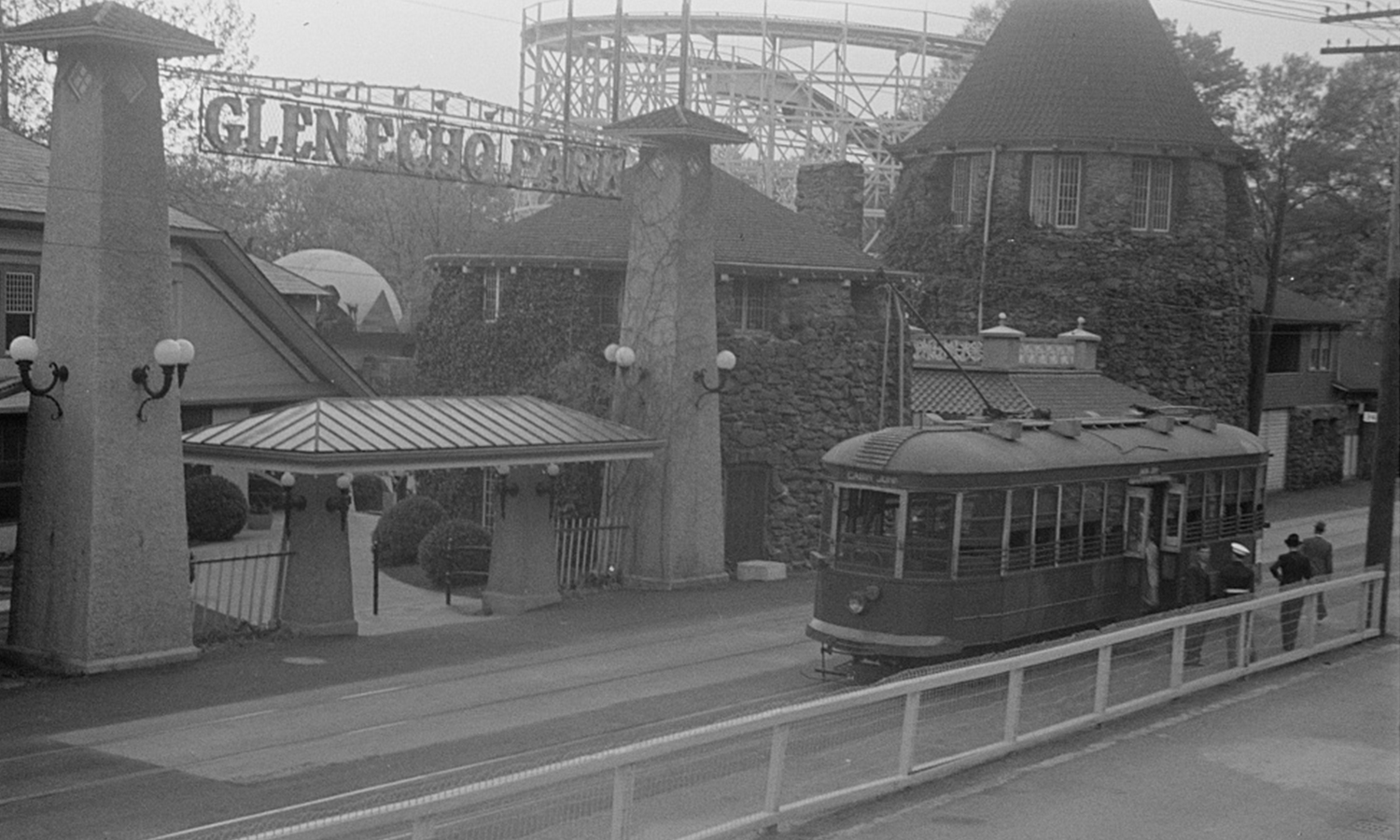 Once the premier amusement park in the capital area, Glen Echo Park's rides are mostly gone, and it now operates as a center for arts and culture. My husband, Joe, and I visited on a hot summer  day as well, although we arrived by car instead of trolley. (How boring!) Once we parked, we followed a wooden bridge over the Minnehaha Creek and stepped back in time. 
The place retains much of its art deco architecture and neon signs. I could almost picture the families promenading through this wonderland all those years ago. Of course, this image was helped along by music emanating from the Dentzel Carousel's 1926 Wurlitzer band organ.
We headed right for the ticket booth, paid $5 each for a ride-all-day bracelet, and hopped aboard. One of only a few antique carousels still in its original position, the Dentzel is celebrating its 100th anniversary this year and was recently rehabilitated in preparation for its big milestone. Called a "menagerie carousel" because it features many different animals, the ride slowed so Joe and I could choose our mounts from the 40 horses, four rabbits, four ostriches, and one giraffe, deer, lion, and tiger. A traditionalist, I climbed on a horse.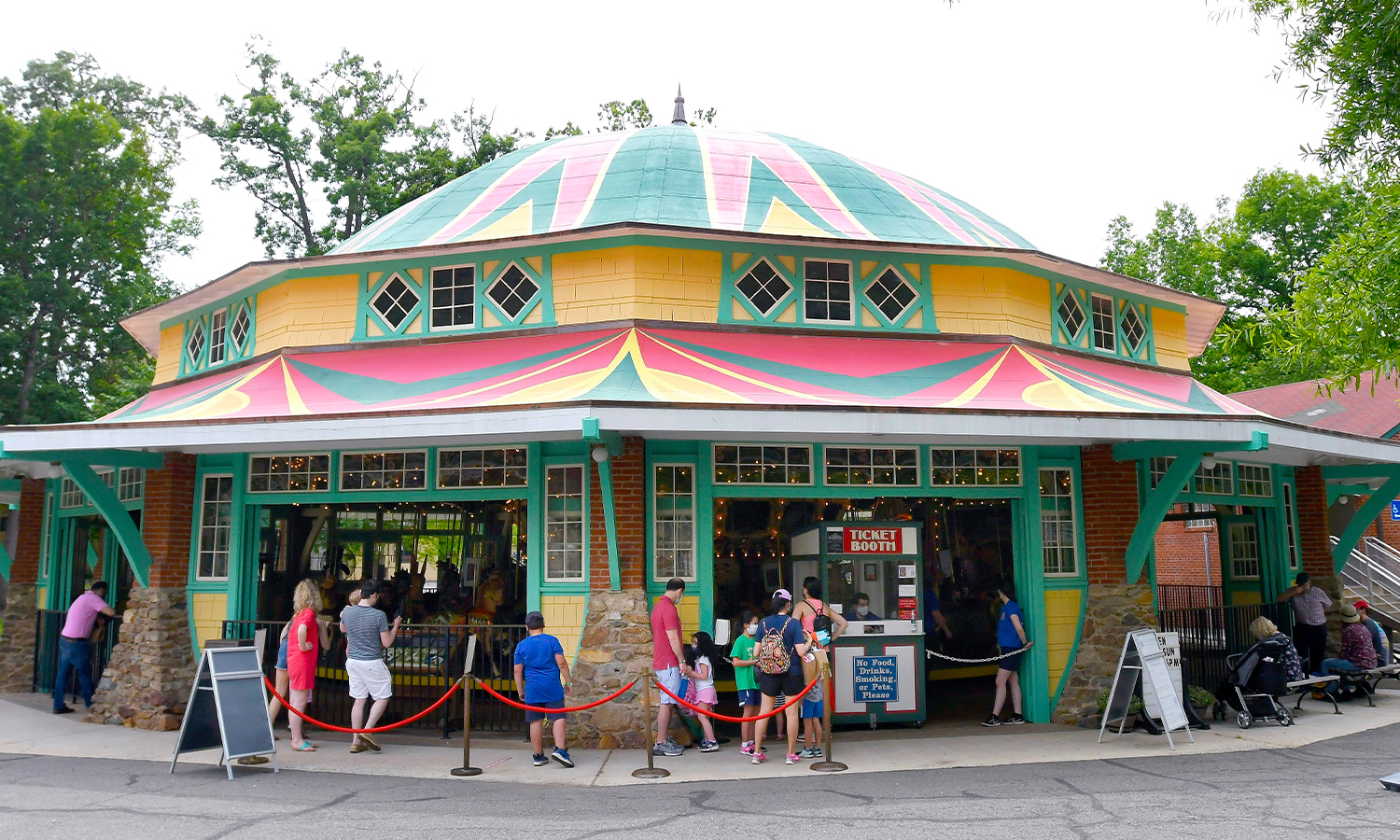 After our ride, we wandered the park, marveling at its charm. The arcade hosts window displays documenting the games and rides that used to delight Glen Echo visitors; they were a great glimpse into the past. Today, the buildings house a variety of arts, theater, and dance groups. We explored artist galleries displaying beautiful masterpieces of glass and clay, paint and sculpture. Pausing in the shade to cool down, we watched a lone Irish step dancer rehearse on the stage of the Cuddle Up. Once the location of the tea cup ride, it is now a small pavilion used for performances.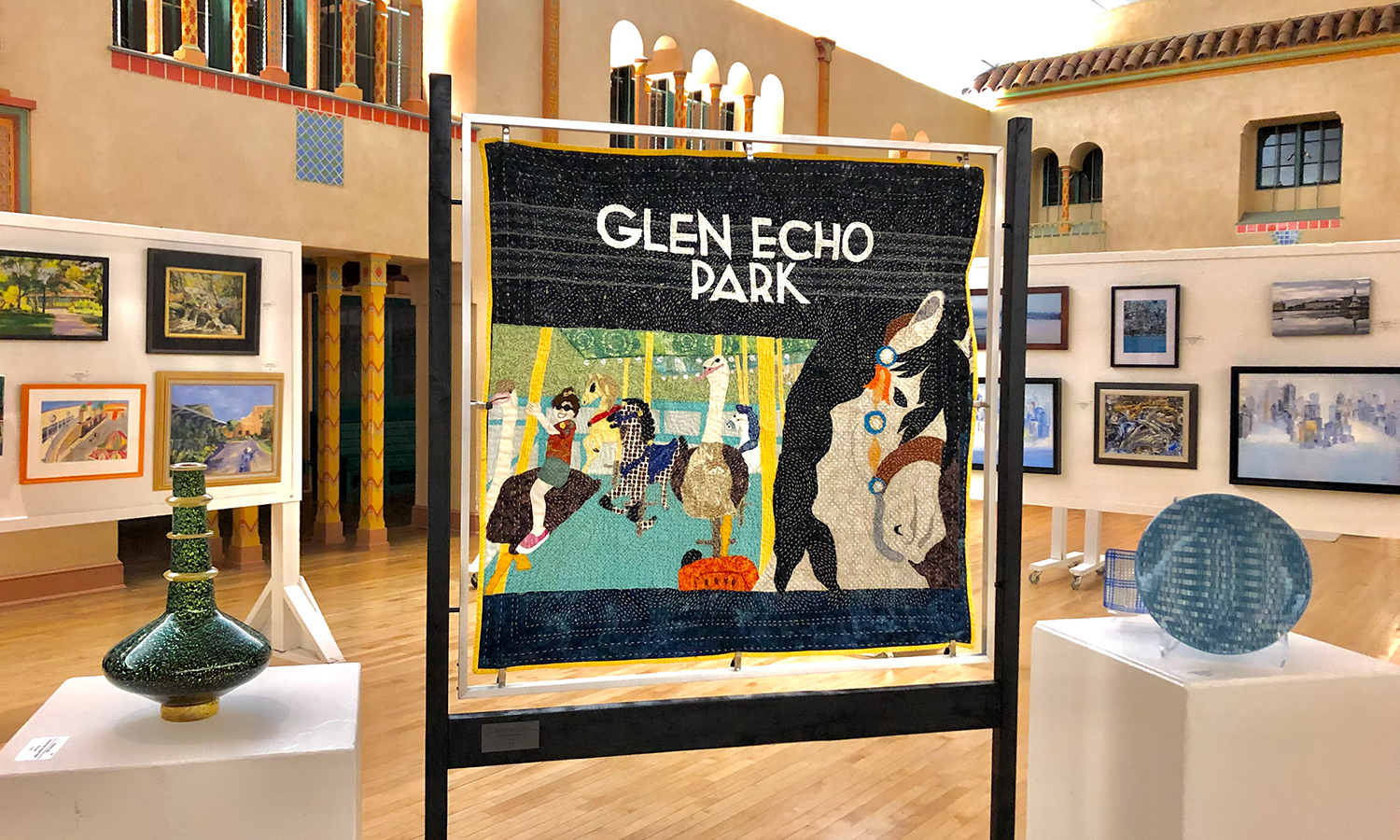 Today's focus on arts and culture is a nod to Glen Echo's origins. Originally purchased in 1888 by twin brothers Edward and Edwin Baltzley, Glen Echo was selected in 1891 as the location for the 53rd Chautauqua Assembly. The Chautauqua movement, which started in New York, featured educational lectures geared for adults on inspirational and religious topics. As the movement grew, topics expanded to include current events, politics, culture, and musical performances. 
While the 1891 gathering was a success, it was the only one hosted at Glen Echo. The stone building at the entrance to the park is the lone remaining structure from that time. We visited several artists whose studios now occupy the three-story tower, which was very castle-like with its winding, circular staircases.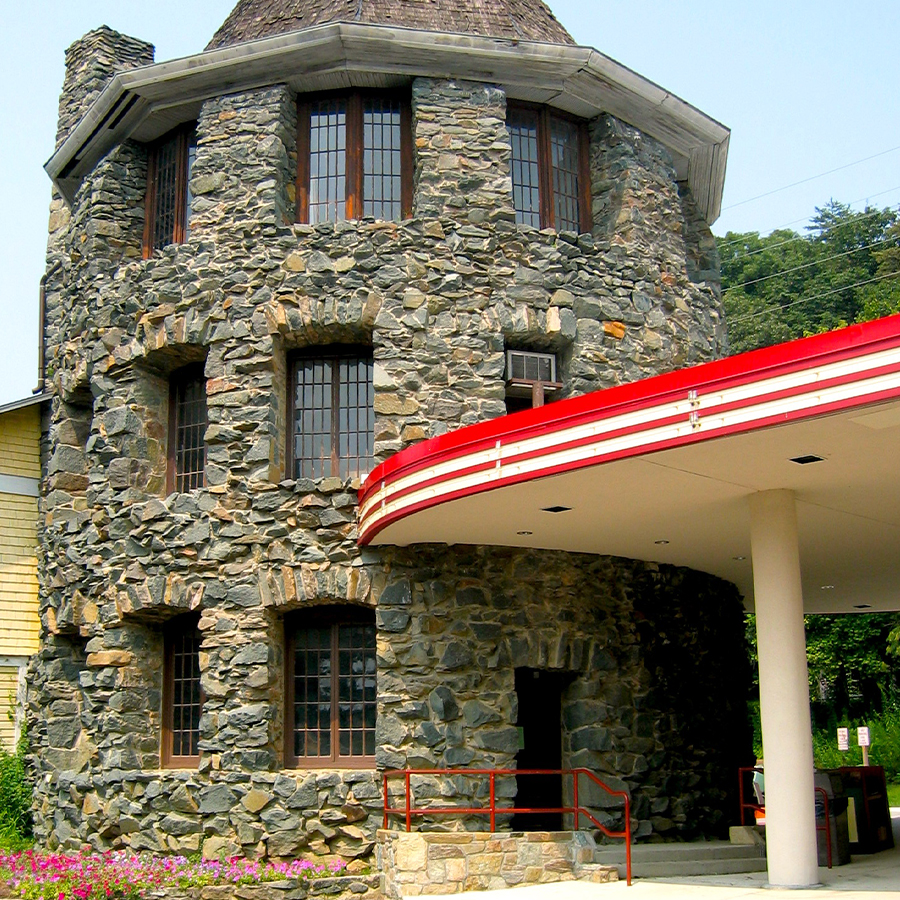 In 1911, the Washington Railway and Electric Company started operating Glen Echo as a "trolley park." Trolley operators built over 1,000 of these parks in the United States as a way to encourage weekend ridership. During this period, a new attraction was added to the park each year, including skeeball alleys, shooting galleries, a penny arcade, and rides like a Ferris Wheel, bumper cars, a Tunnel of Love, and a wooden Coaster Dips roller coaster. Unfortunately, all of this is now gone, although the bumper car pavilion and arcade building remain, along with the carousel, which was spared through dedicated community fundraising.
The Spanish Ballroom arrived in 1933 and is still one of the leading attractions today. This gorgeous yellow Art Deco building, which looks like it was plucked from the Mediterranean, has hosted musical guests ranging from Lawrence Welk to Billy Haley and the Comets. Social dances were held there weekly, and that tradition continues – at least it did until the pandemic halted it. Dances will resume at an undetermined future date, and Joe and I can't wait to boogie once they reopen.
Next to the Ballroom, we saw a playground that seemed very popular with Glen Echo's smallest visitors. It stands on land that was once the Crystal Pool, a swimming "hole" designed to accommodate 3,000 swimmers. It boasted a water slide, high and low diving boards, a fountain with rainbow lighting, islands, and a sandy beach. Only the façade remains today, which has been beautifully restored but still has a ghost-town-esque vibe to it.
Glen Echo Park was the site of civil rights demonstrations in the summer of 1960. At that time, the park was only open to white guests. African American students from Howard University picketed at the gates and were eventually arrested after they tried to ride the carousel. Despite the arrests, picketing continued throughout that summer, with many residents of the nearby Bannockburn community joining in. The park opened its 1961 season desegregated.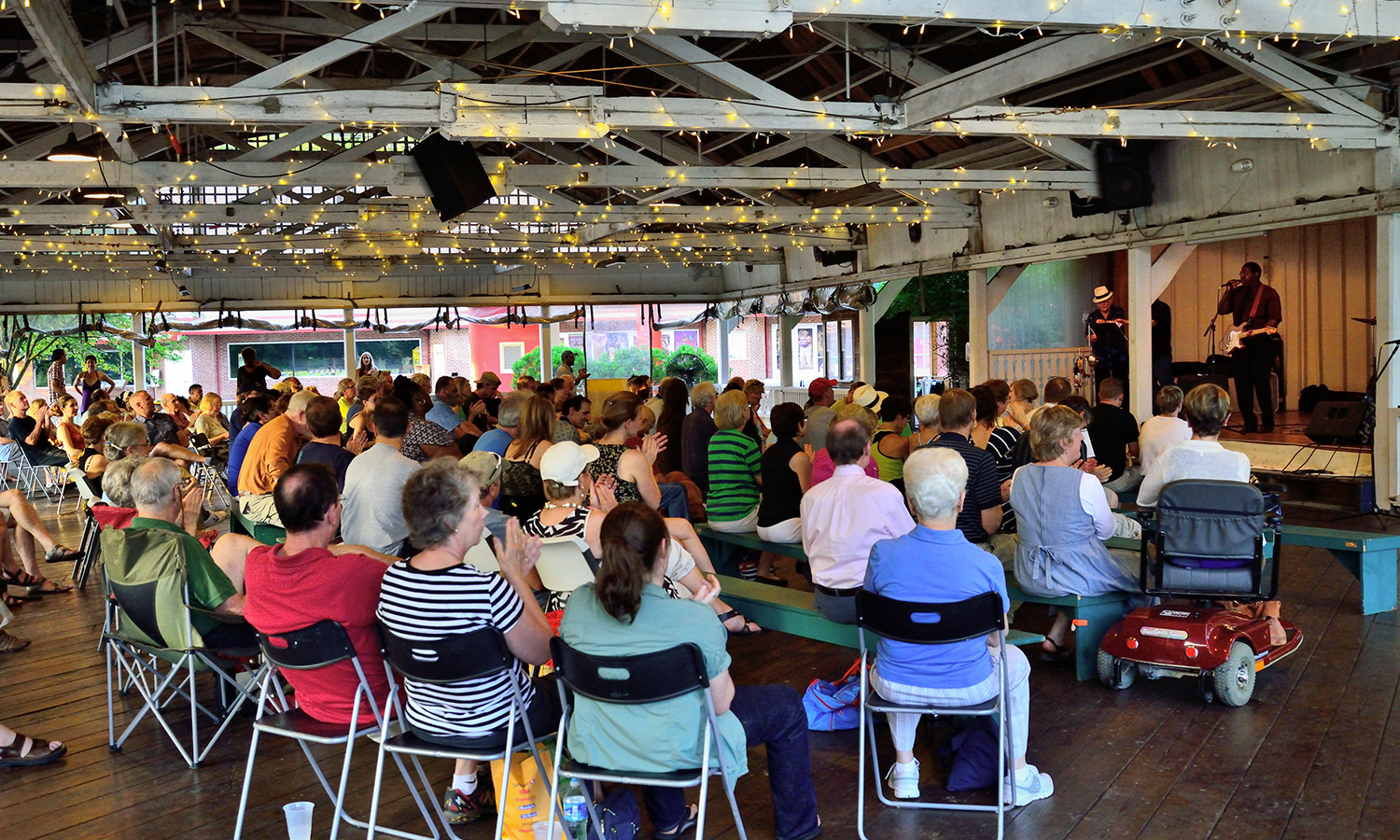 Joe and I visited on a Friday when things were pretty quiet. However, Glen Echo's event calendar offers a wealth of entertainment options. Free summer concerts are held every Thursday evening in the Bumper Car Pavilion, and performances by both the Adventure Theatre MTC and the Puppet Co. introduce children to the magic of theater. There are also art classes for both adults and children to explore everything from dance to glassblowing and photography to stone carving.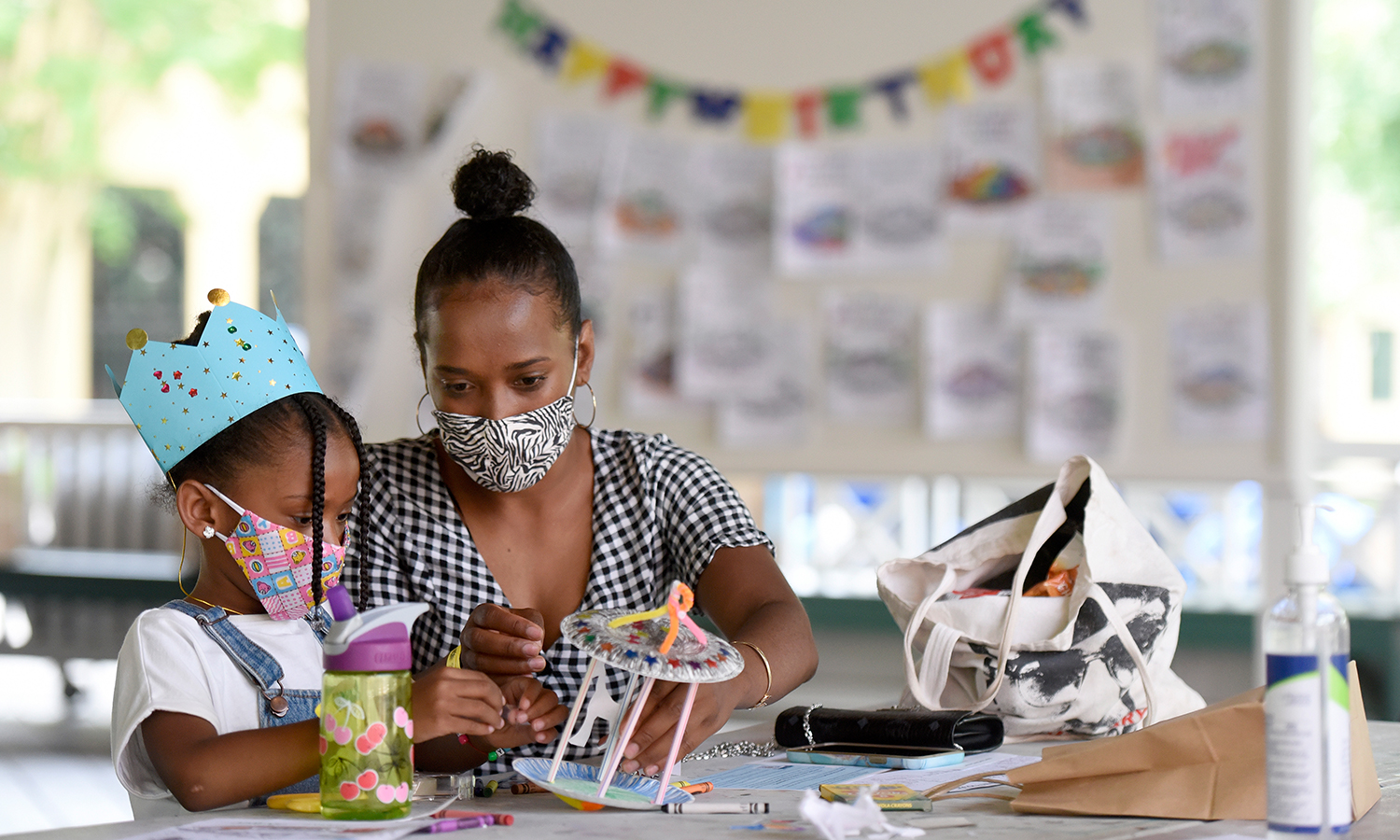 This amusement park of games and thrills has transformed into an oasis for arts and creativity, and both past and present merge together perfectly at this unique site. It is one of the most storied places I have visited in Maryland; we can't wait to go back to experience a dance at the Spanish Ballroom one day soon. 
Pro tip: The parking lot is near the Clara Barton National Historic Site, right next door to the park. Our GPS took us directly to the Glen Echo front gate, and that parking lot is restricted.
Also in the Area:
The Irish Inn at Glen Echo: Located right next door to Glen Echo, Joe and I walked to this cozy establishment for lunch. My crab cake and his salmon were both delicious.
Clara Barton National Historic Site: The founder of the American Red Cross, Clara Barton attended the Glen Echo Chautauqua and moved there shortly thereafter, building a home that also became the headquarters of the Red Cross. She endured a park manager's attempts to force her out: Alonzo Shaw erected a scenic railroad in her front yard and positioned a second ride so guests could peer into her second-story windows. She outlasted him. Today, the Clara Barton House is operated by the National Park Service. Tours are usually available, but the home is currently closed due to both the pandemic and scheduled repairs.
Glen Echo Park Aquarium: Located within the park, the Glen Echo Park Aquarium features a touch tank, a nautical classroom, a wooden ship built in a tree, a treasure-search sand pit, and more. Since we don't have children, we didn't stop here; however, as we walked by, we heard an animated "ship captain" in his tree-ship regaling a bunch of tiny, enthusiastic first mates. He seemed to love his job, making the educational experience a ton of fun for the kids.
National Capital Trolley Museum: If trolleys capture your imagination, a visit to the National Capital Trolley Museum is a must. A half-hour drive from Glen Echo, the site features exhibits, a collection of historic trolleys, and even a trolley ride.
---
Lead Photo: Glen Echo Park
Heidi Glatfelter Schlag is a marketer, history lover, and traveler who can often be found exploring museums, parks, small towns, and farms. She founded Culture-Link Communications, where she helps local nonprofits and small businesses build their brands. Heidi lives in Frederick, MD, with her husband and two dogs.