Artistic Vibes and Main Street Drives in Frederick County, Maryland

I've never organized my travel plans around a checklist—such as summiting the highest point in every state or making it to every national park—but I know many people who love this type of challenge. If you're looking to dip your toes into this style of travel, Frederick County's Art on Main project could be the perfect way to begin. This public art installation makes a great foundation for exploring five historic Main Street communities: New Market, Brunswick, Thurmont, Middletown, and Frederick.
With support from Visit Frederick, these communities commissioned five original sculptures by ceramicist Parran Collery back in 2019 as a way to connect these towns in a manner that highlights their commonalities but also celebrates the unique experiences each has to offer. Collery, a southern Maryland resident who cites nature as a major inspiration for her work, invited locals to submit their own floral designs that she turned into individual clay tiles on the sculptures. The works, which are constructed of styrofoam, fiberglass, and cement,  were installed at outdoor locations in autumn 2020 and will remain on display through this fall.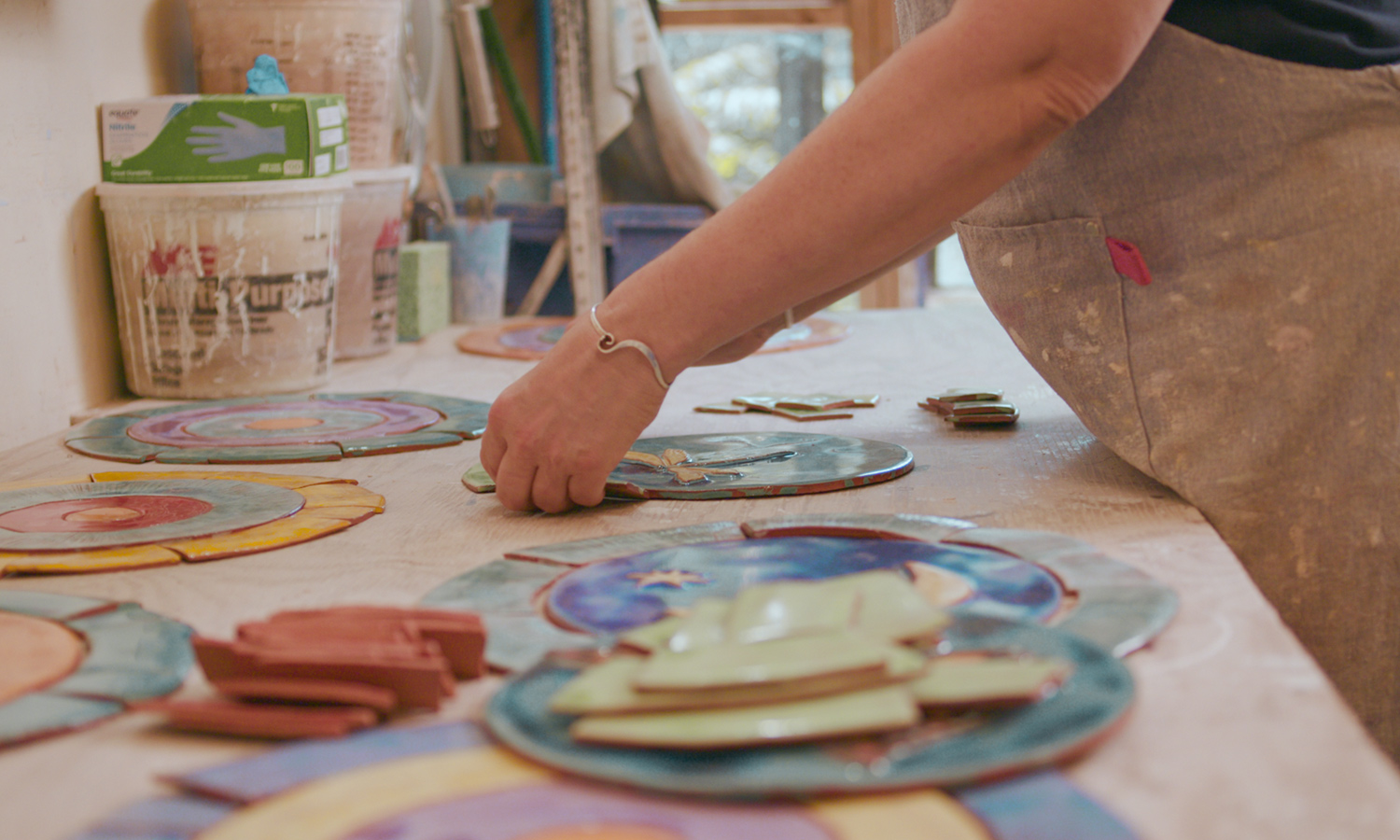 Art on Main offers a glimpse of all that Frederick County has to offer. From the town of New Market, population 650, to the City of Frederick which is roughly 100 times that size, Collery designed the sculptures to reflect the character of each site. You'll see her interpretation of Brunswick's railroading heritage, the sweeping mountain views from Thurmont, and the farmland of the Middletown Valley. By my calculations, you'd be traveling about 60 miles total to visit each of the sculptures. While my family and I love making a day trip from our home in Baltimore to the Frederick area, I would recommend turning this into a weekend getaway if you wish to visit all five towns. 
Town of New Market: Art & Imagination
We loaded up the car on a humid day in August and were in the Town of New Market in less than an hour. This sculpture isn't quite "on main" but rather on the block parallel to it, facing the "new" town hall at 40 South Alley. The motif of this work is butterflies, which represent an "ancient symbol of transformation, hope, and perseverance," though butterflies appear on many of the sculptures.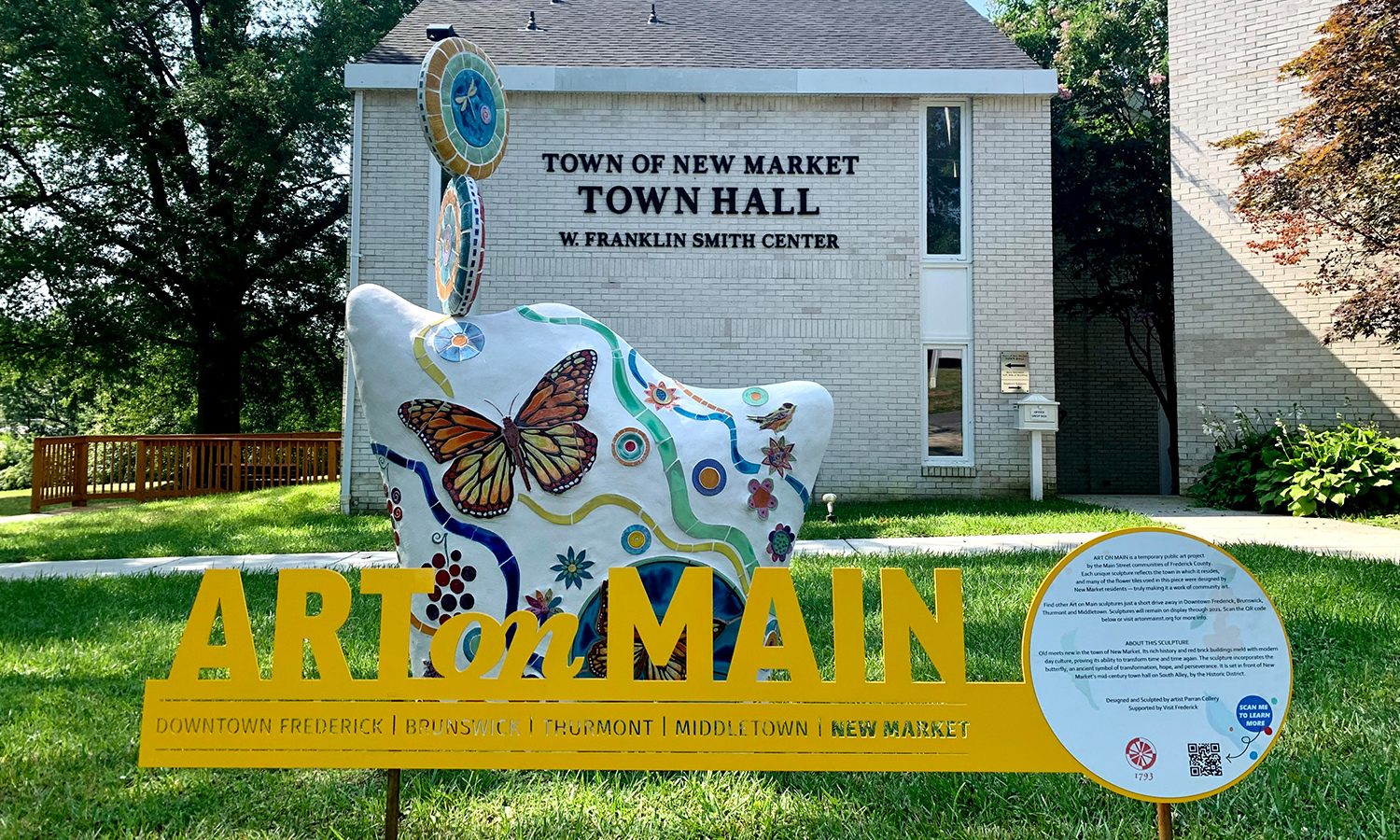 The abundance of antique shops, the well-preserved historic district, and participation along the Heart of the Civil War GeoTrail make New Market an ideal destination for history lovers. The town of New Market describes itself as a "colonial rest stop" along the National Road that flourished until the railroad surpassed travel by foot, wagon, and stagecoach in the mid-1800s. Today, the Historic National Road that runs through New Market is part of the Maryland Scenic Byway. Along this corridor you'll find The Original Playhouse Children's Museum, a sensory playground for children ages 3-8; Stage Line Coffee Roasters; Peridot, a wellness space and store for healing items such as crystals, candles, and essential oils; and The Derby restaurant and its sidekick, The Derby Cone. 
Downtown Frederick: Art & Shopping
Our next stop was Downtown Frederick. We parked in the Carroll Creek garage and walked by the C. Burr Artz Public Library to find Frederick's Art on Main sculpture near the red suspension bridge. Collery built a ledge into this sculpture to provide a place to sit and soak in the view of lily pads, fish, and dragonflies you'll find in nearby Carroll Creek—all of which we spotted within about 10 seconds of our arrival. My son loved the playful circular cut-out in the sculpture, which was just big enough for him to peer through.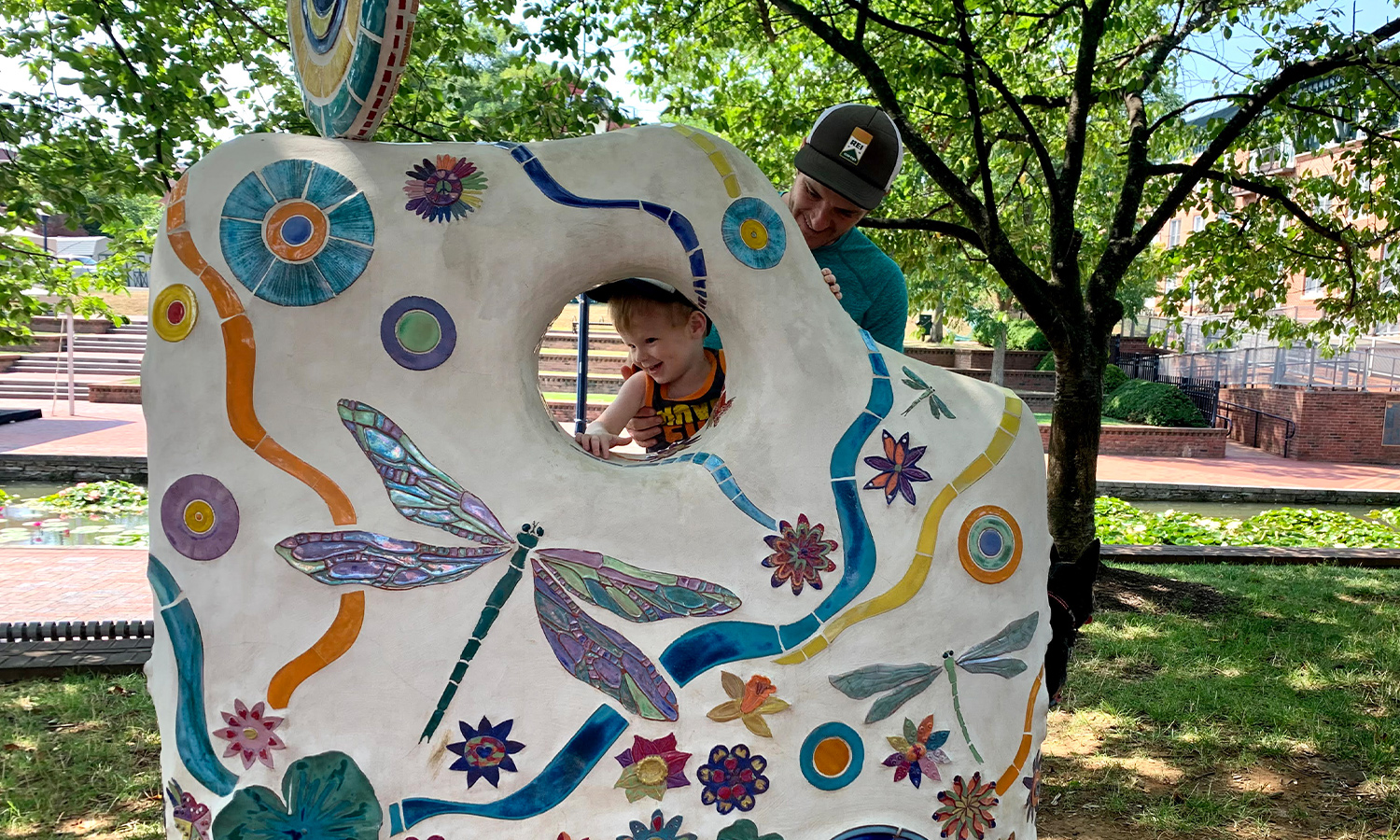 Carroll Creek is at the heart of this sculpture, as it is for downtown Frederick as well. The Carroll Creek Linear Park plays an important role in controlling floods and also makes an inviting gathering place for visitors and locals alike. The creek is lined with shops, restaurants, and amenities such as the 350-seat amphitheater that's home to the Downtown Frederick Partnership's popular Alive @ Five outdoor happy hour concert series each summer. Collery's Art on Main sculpture is in good company with plenty of other public art in this vicinity.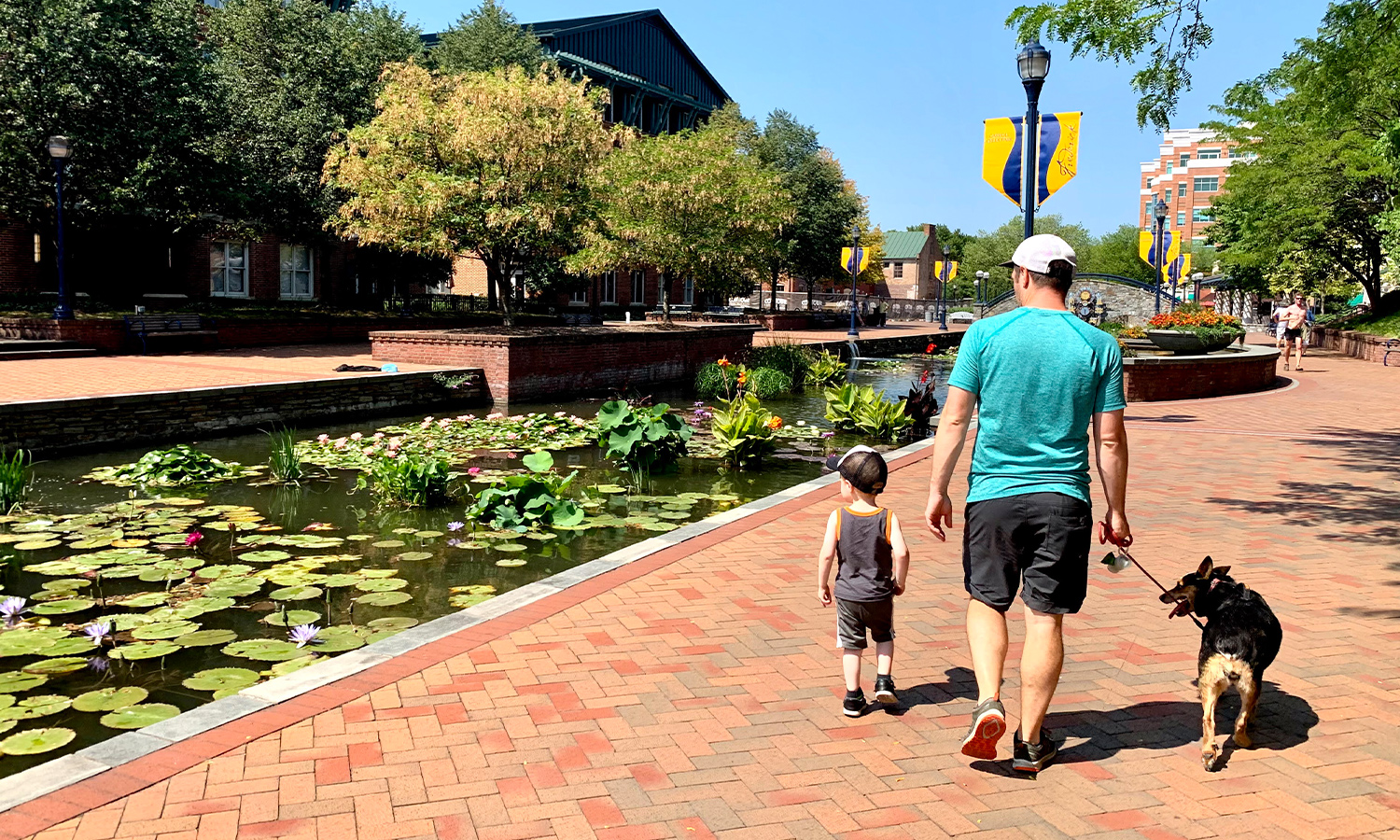 Whether you find a shaded bench or cozy up to the artwork itself—or if your kid won't slow down enough to actually sit down—this new addition to downtown Frederick provides even more whimsy to an already-charming destination. There's no shortage of unique shops in downtown Frederick, but some of my favorites are the Dancing Bear Toy Store on Patrick Street, the North Market Pop Shop, and Bakehouse for fresh pastries (the nectarine brown sugar crumb scone was as delicious as it looked). We also like to head to the East Street corridor for Frederick Coffee Co. & Cafe, McCutcheon's Apple Products, and Attaboy Beer. And, as a museum professional, I would be remiss not to mention the National Museum of Civil War Medicine, which explores the medical innovations that emerged from the conflict (and isn't as gory as you might imagine).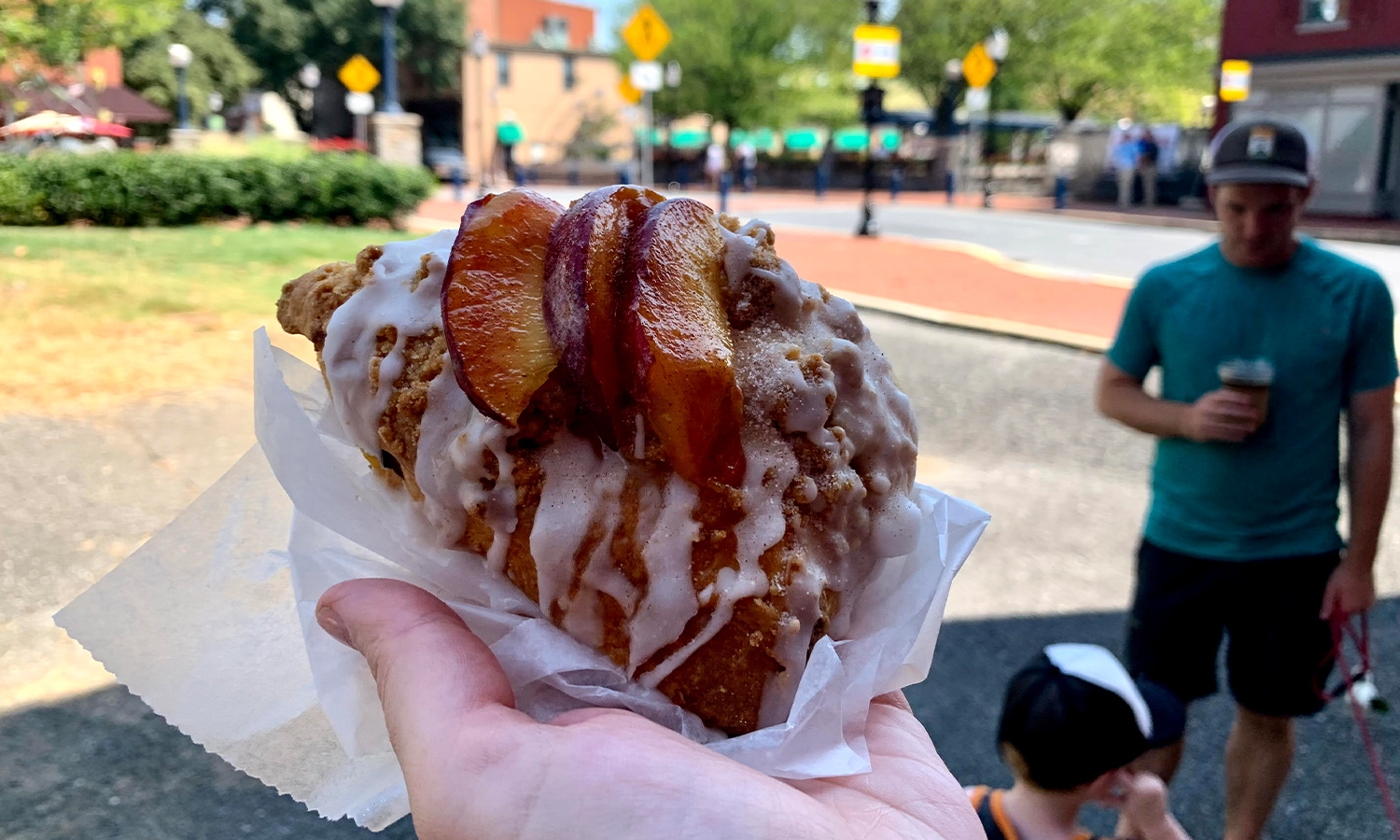 Thurmont Main Street: Art & Nature
Our final Art on Main stop for the day was Thurmont Main Street, about 25 minutes north of Frederick along US-15—a corridor that is part of the Journey Through Hallowed Ground National Heritage Area. The sculpture at 20 East Main Street evokes the landscape surrounding Thurmont, the town known as the "Gateway to the Mountains." The artist describes the colorful ribbons wrapping around this piece as "all about the dramatic mountains and forested area." The sound of church bells ringing provided a lovely backdrop for our visit.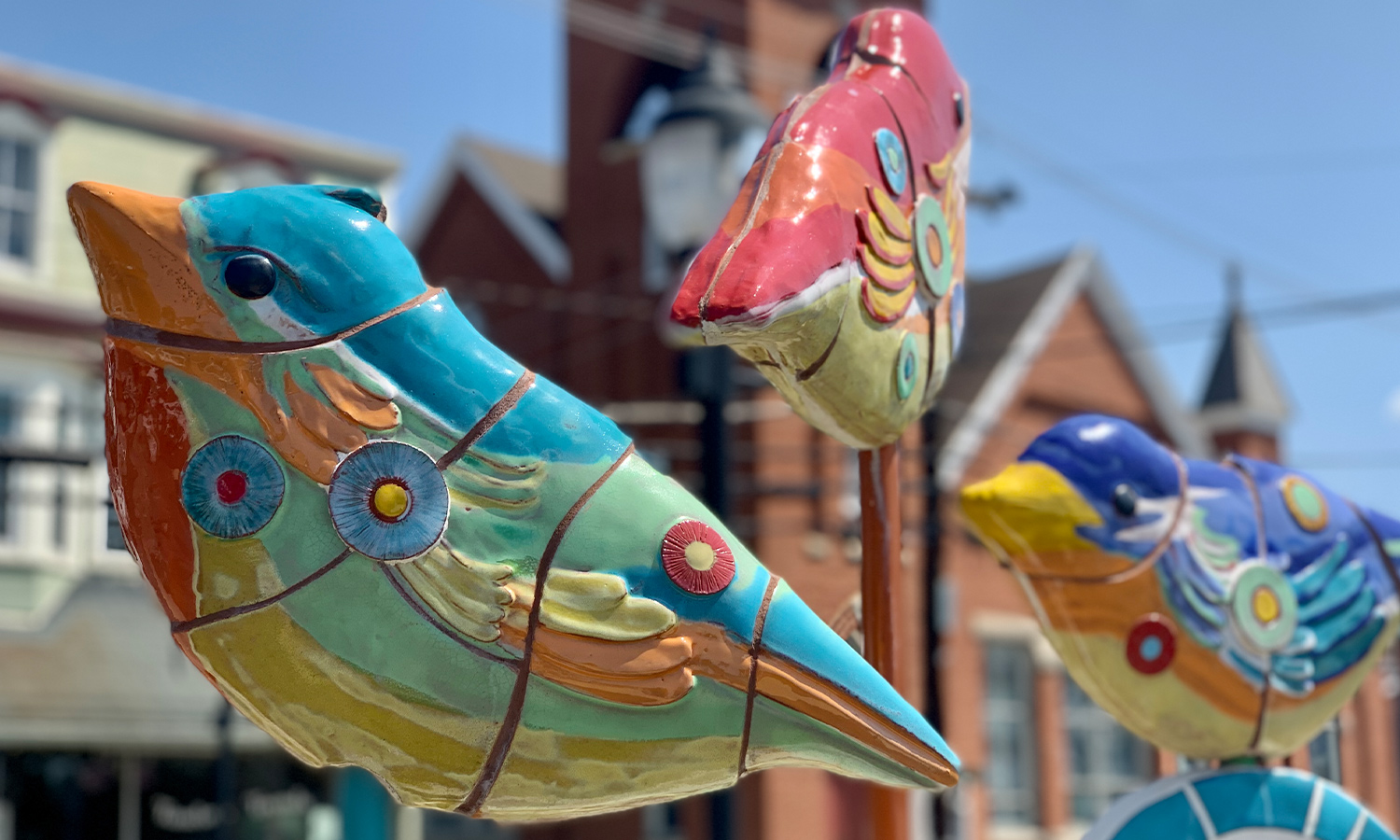 Located a short walk from the sculpture, you'll find the Thurmont Main Street Center at 11 Water Street, which is a great way to orient yourself to what's going on in town. The Thurmont Historical Society's Creeger House is worth a visit for historic house fans. You can also enjoy the Thurmont Trolley Trail, a ¾ mile walking and biking trail built atop the tracks that carried residents between the city of Frederick and the northern part of the county in the 20th century. Keep your eyes out for Murals on Main—created by Frederick artist Yemi Fagbohun—throughout Thurmont as well.
Main Street Middletown: Art & Architecture
We kicked off our second Art on Main day along Main Street Middletown, about 20 minutes west of Frederick. The sculpture is nestled within the courtyard of one of Middletown's busiest destinations, The Main Cup, at 19 West Main Street. The artist summed up this piece succinctly: "This is the bowl that feeds us." The Main Cup makes a perfect lunch stop, with indoor, outdoor and takeout options. This site has a rich history of feeding Middletown Valley residents, as it was home to Main's Ice Cream and Butcher Shop between 1922-1969.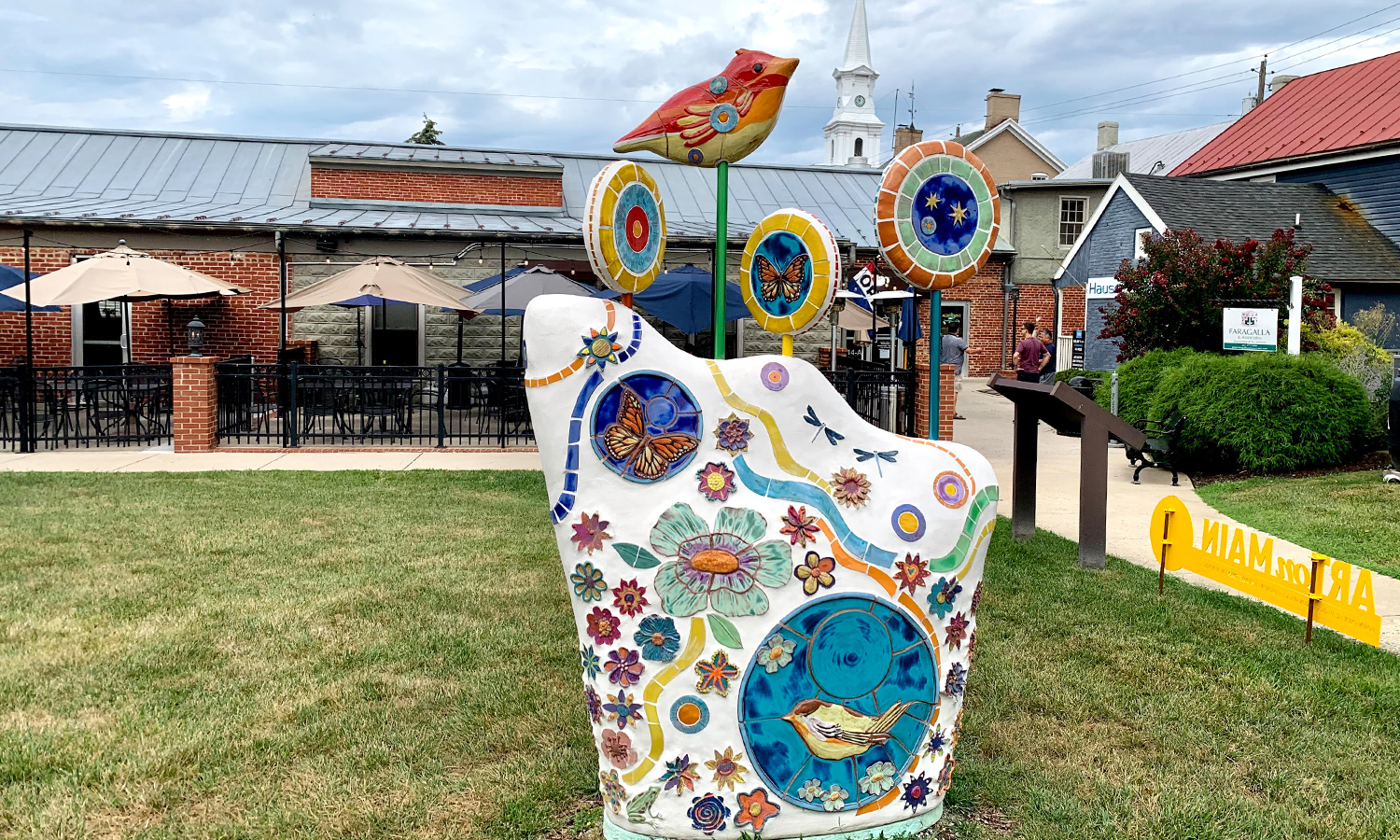 History is in no short supply here. You can browse six self-guided walking tours on the Main Street Middletown website (my favorite is Old East Main Street). I have admired the work of Main Street Middletown since their outstanding Civil War sesquicentennial commemorations almost ten years ago. They developed interpretive signage to help visitors understand the role this community played after the nearby 1862 battles of South Mountain and Antietam. Driving the National Road (Alt-40) between Frederick and Antietam is one of my all-time favorite scenic routes as the road winds around South Mountain, crosses the Appalachian Trail, and takes you through rolling agricultural landscapes that look like they've barely changed since the Civil War. On this occasion, we took the stunning scenic Route 17 south out of town.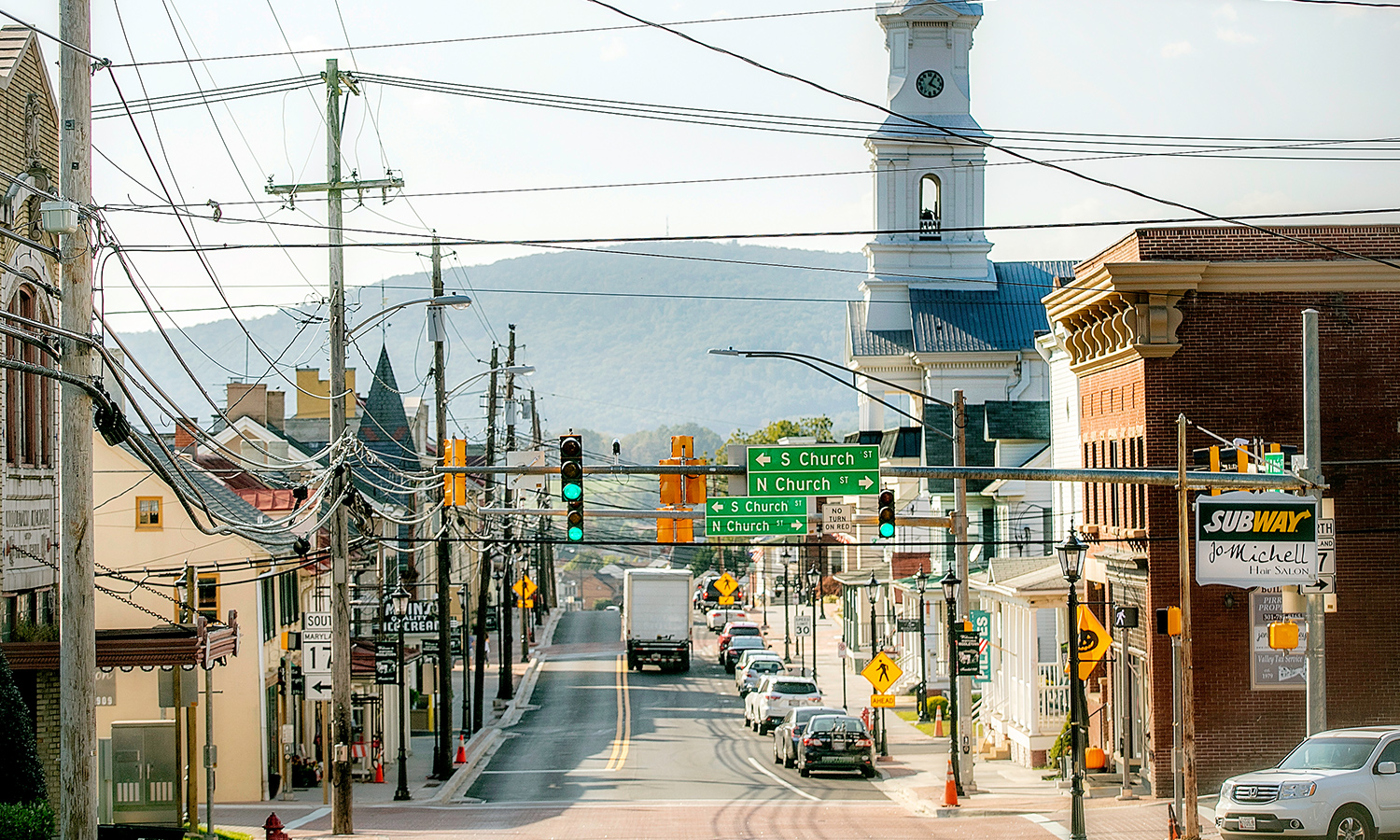 Brunswick Main Street: Art & Recreation
Brunswick Main Street was our final stop, and this Art on Main installation was my favorite. Located on the north side of the train station, this sculpture comes to life with a spinning wheel that's a nod to the motion of trains (that still run through town) as well as bikes along the Chesapeake & Ohio Canal National Historical Park.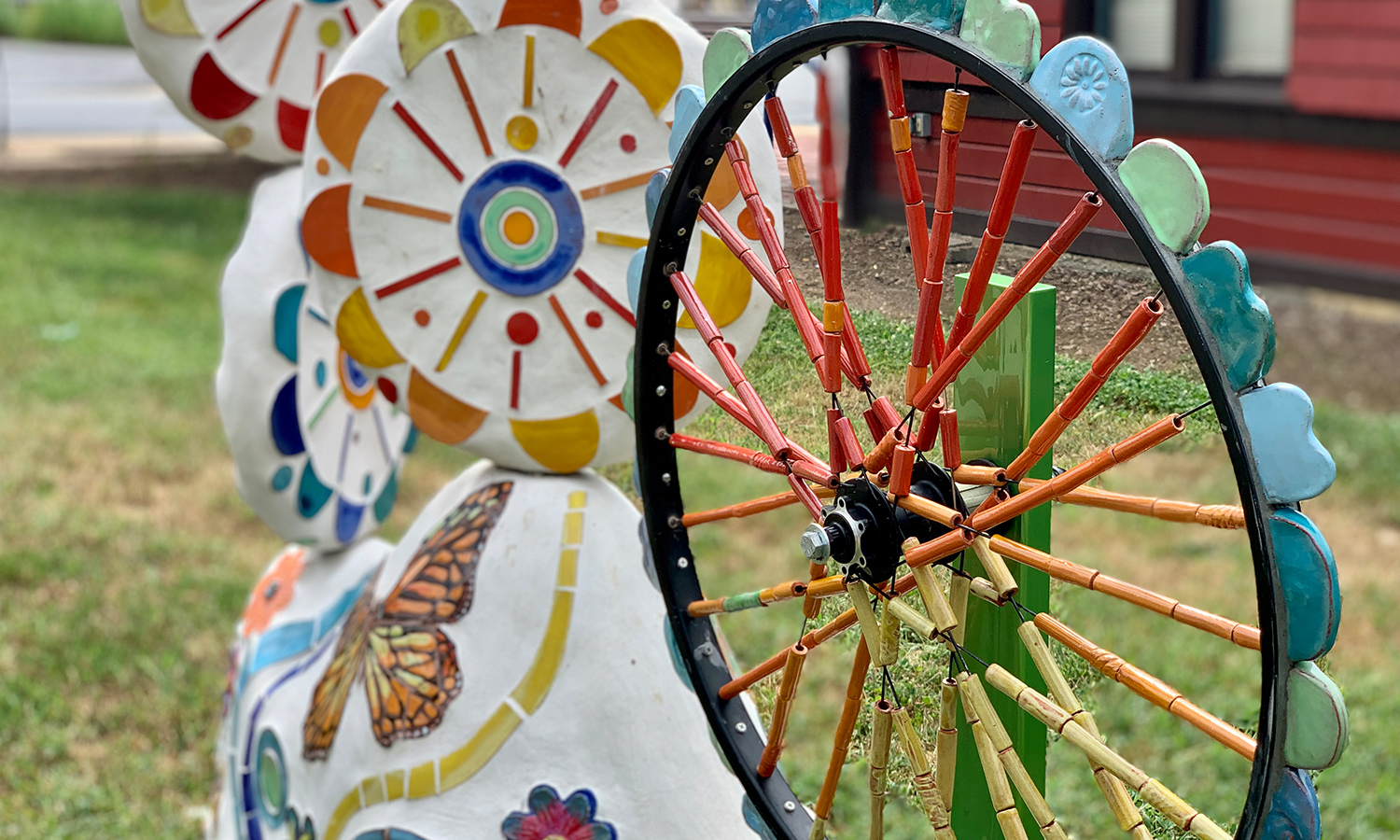 A stop along the C&O Canal is a must in 2021, as the park celebrates its 50th anniversary. If you've brought your bike, you can ride along the canal towpath (where pedestrians are welcome too, of course) or check out the River's Edge Trail network. The national park's Brunswick Visitor Center shares space with the Brunswick Heritage Museum, known for its 1,700-square-foot model railroad. The town's unique dining options include Beans in the Belfry (a cafe housed in a renovated 20th-century church) and Smoketown Brewing Station (a fire station-turned-brewery). We opted for a quick lunch at Boxcar Burgers before hitting the road back to Baltimore. 
In my estimation, there's nothing better than a weekend exploring public art, taking scenic drives, and meandering quaint main streets—and the Art on Main experience delivered on all accounts. 
---
Lead Photo: Downtown Frederick Partnership
Auni Gelles is a public historian, ice cream enthusiast, and mom to an energetic toddler. A Seattle native, she has lived in Baltimore for 10+ years. Follow her at @aunigelles.