Soak in the Fun at These Playgrounds With Water Features in Maryland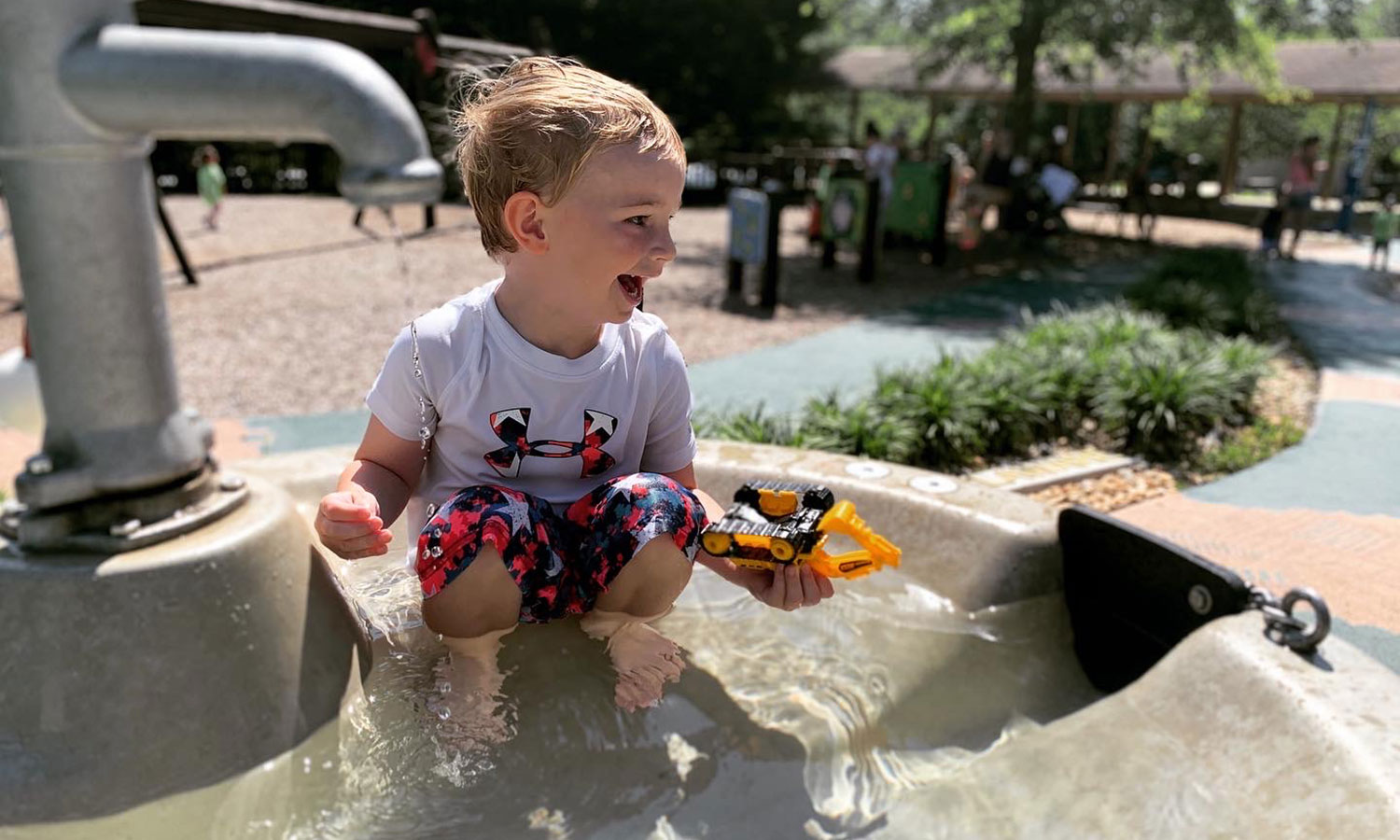 Sometimes the only cure for summer heat is water—but not everyone has the ability to pack up and drive to the beach on a moment's notice. Lucky for us, there are several playgrounds with water features in Maryland! Let the kids wear themselves out on the play equipment before cooling off in fun splash pads or water play areas. I've paired each playground with a spot to eat, creating the perfect recipe for a summer day. Plus, each play area has nearby bathrooms—a must for families on the go!
Emancipation Park—Laurel
Emancipation Park is located adjacent to Laurel Library. This new playground sits on a rubber surface with an accessible swing and web structures with a slide. The splash fountain is surrounded by amphitheater seating—put up your feet while your kids run wild. Take a break from the sun under the pavilion or duck into the library for a bathroom break.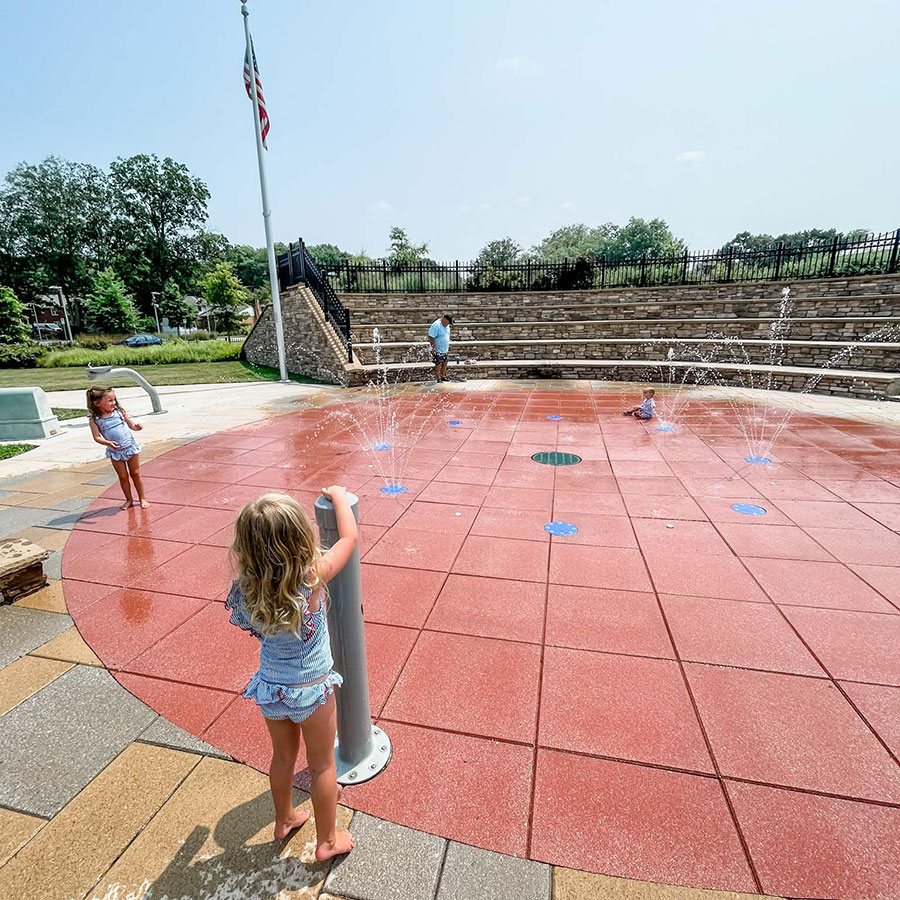 Kids will love activating the fountain by touching the top of the pole! 
Toucan Taco, a small, family owned restaurant serving authentic Mexican cuisine, is just five minutes away.
Splash Fountain Operating Hours: 12-2 pm daily from Memorial Day through Labor Day.
Walker Mill Regional Park—Capitol Heights
One of Prince George's County's Imagination Playgrounds, Walker Mill Regional Park is one of the most impressive parks my family has visited! The woodland-themed playground includes over 8 different play structures, 10 slides, and a musical bridge.
In the summer months, half of this playground transforms into a misting park! Button-activated misters are built into the regular equipment. The misters turn the slides into water slides, mushrooms into sprinklers and allow the perfect opportunity to cool off. Shaded picnic tables surround the misting park so there is plenty of room to change clothes and eat lunch when you're finished. This park also has clean permanent bathrooms open seasonally. 
Swing by Tropical Smoothie Café at Ritchie Station for a cold, refreshing treat! 
Misting Park Operating Hours: Dawn to dusk daily from June 24 through Labor Day
The Station at Riverdale Park—Riverdale
Located just one mile from the University of Maryland campus, The Station at Riverdale Park is a perfect place to spend a summer day. This residential and retail complex offers several dining options, a playground, and a splash fountain! In the back of the shopping center you'll find the fully fenced playground with multiple play structures suitable for all ages. Though the playground here doesn't get much shade, you can walk a short 5 minutes to the front of the shopping center to cool off at the splash fountain!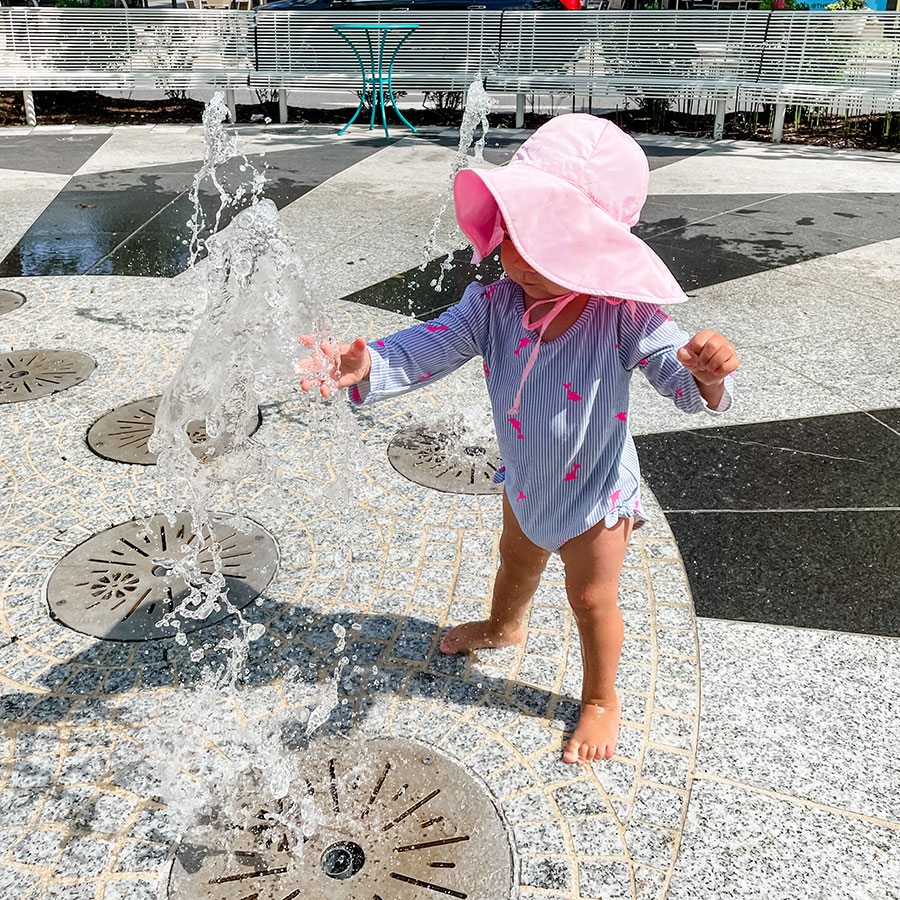 The splash fountain is located directly next to the iconic Big Bear statue—a sparkly blue bear sculpture that is a mascot of sorts for the development. (Photo op!)
District Taco is steps away from the splash fountain. Order ahead and pay online for a quick and easy lunch pick up. 
Splash Fountain Operating Hours: Open 9 am-9 pm daily –from mid-May to late September.
Rockfield Park—Bel Air
Rockfield Park in Bel Air boasts a huge wooden playground with structures suitable for kids of all ages. Check out the Chesapeake Sensory Plaza—a water feature built to model the Chesapeake Bay watershed. This interactive water feature is activated by a kid-controlled pump. The water flows through different channels that can be blocked or diverted with a series of dams throughout. Children can wade and splash in the water while they explore how water flows through the bay. The entire water feature is lined with educational play panels that teach about the water cycle and how to protect our watershed. The park has a covered pavilion and clean permanent bathrooms open year-round. 
Just 10 minutes from Rockfield Park, Broom's Bloom Dairy offers indoor and outdoor seating (with room for kids to run around!) and serves homemade ice cream as well as lunch and dinner featuring dairy products from their dairy farm. Our favorites include their cream of crab soup and their macaroni and cheese!
Water Feature Operating Hours: Dawn to dusk from early June through late September.
Millard Cooper Park—Sykesville
Millard Cooper Park offers a playground and splash pad less than 10 minutes from Downtown Sykesville—voted "the Coolest Small Town in America" in 2016! Parts of the playground here were renovated in 2021 to include a zipline, buddy swings, and a giant spider web structure.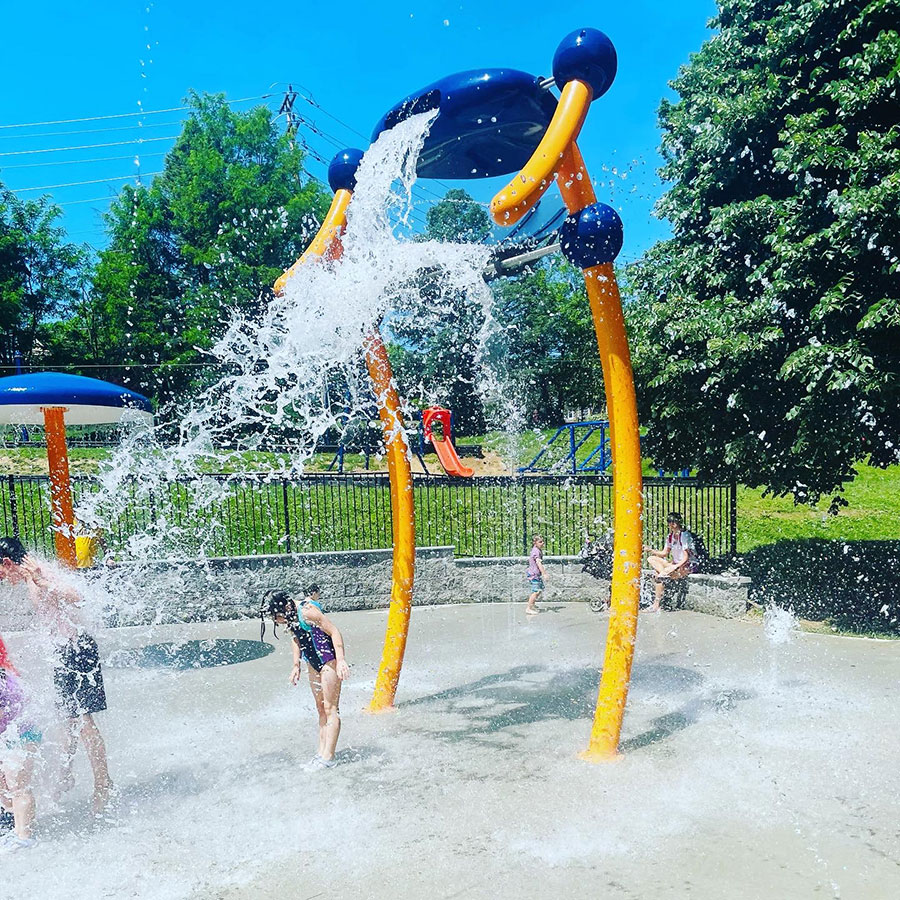 The splash pad is located adjacent to the playground and includes a small water slide, water arch, mushroom fountain and more! There are permanent bathrooms here that are open seasonally. 
After playing, head downtown to get ice cream from Norwood's Ice Cream and Candy Company. Norwood's is a family owned shop that serves their own hand-made small-batch ice cream as well as treats like Baltimore-made Wockenfuss candies. 
Splash Pad Operating Hours: Memorial Day to Labor Day 10 am-7 pm daily.
Don't forget to pack the car with water shoes, a change of clothes, and sunscreen before visiting these playgrounds with water features in Maryland! (Want more travel ideas? Check out these playgrounds off of major roads in Maryland, and a list of favorite swimming holes!)
---
Lead Photo: The Chesapeake Sensory Plaza at Rockfield Park in Bel Air, MD. Credit: Ben Hyrne
Megan McCrea is a lifelong Prince George's County resident. A former teacher turned stay-at-home-mom, she loves exploring the area with her 4 year old twin girls and 2 year old daughter. Megan runs the Instagram account @md.kid.adventures, where she shares playground recommendations, kids activities and local family fun.