Wyldly in Love: A Romantic Getaway to Wylder Hotel on Tilghman Island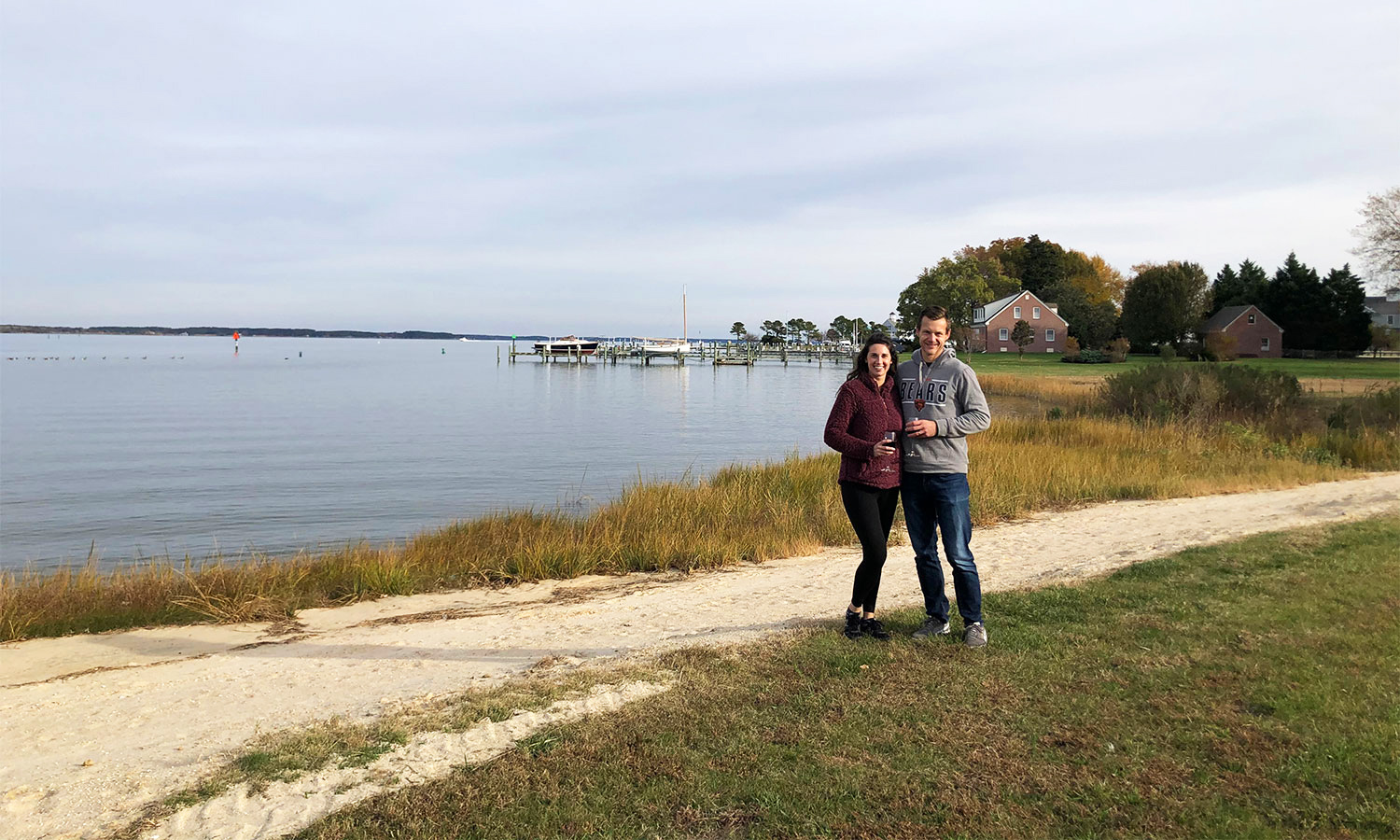 I like to joke that I have a favorite version of my husband. I call him "Vacation Andy." Vacation Andy is up for anything. He's a big spender. His humor, the trait that attracts me the most, is taken up a notch. On top of that, he's extra romantic. Suffice to say, I welcome the chance to spend time with Vacation Andy, so I was thrilled to book a late fall weekend getaway at Wylder Hotel on Tilghman Island.
I knew I wanted to visit Wylder Hotel as soon as their Instagram account popped up in my feed as one I might like to follow. The 1898 waterman's boarding house-turned-destination hotel on Maryland's Eastern Shore looked fresh and inviting in the photographs. The modern nautical accents! The lawn games! The heated saltwater pool!
Each new post made me pause my scrolling to daydream about a vacation. I called my parents to confirm they could keep our dog and daughter before writing "Getaway!" on my calendar across a weekend in November.
As the dates loomed nearer, I posed an essential question to my husband: "What do you want out of this weekend?" Remembering our Chesapeake Bay sailing trip with friends from earlier this year, we both agreed we wanted to recreate the laid-back vibe of a weekend with little on the itinerary. I could hardly wait.
Friday
On the day of our departure, we packed up the car, locked the front door, and looked at one another across the center console with giddy anticipation. "Happy vacation, babe," Andy said with a wink as he turned on the engine. "Happy vacation,"  I smiled back.
After drooling over the Baltimore foods featured on the Netflix show, "Fresh, Fried & Crispy," we were excited to discover that The Food Market has a location in Columbia, an easy stop on our road trip from Frederick to Tilghman Island. Picking where and what we eat is always a top priority when we plan a vacation, and this choice didn't disappoint. The French onion rings were as decadent as we imagined, but the unexpected star of the meal was the heath bar crunch bread pudding.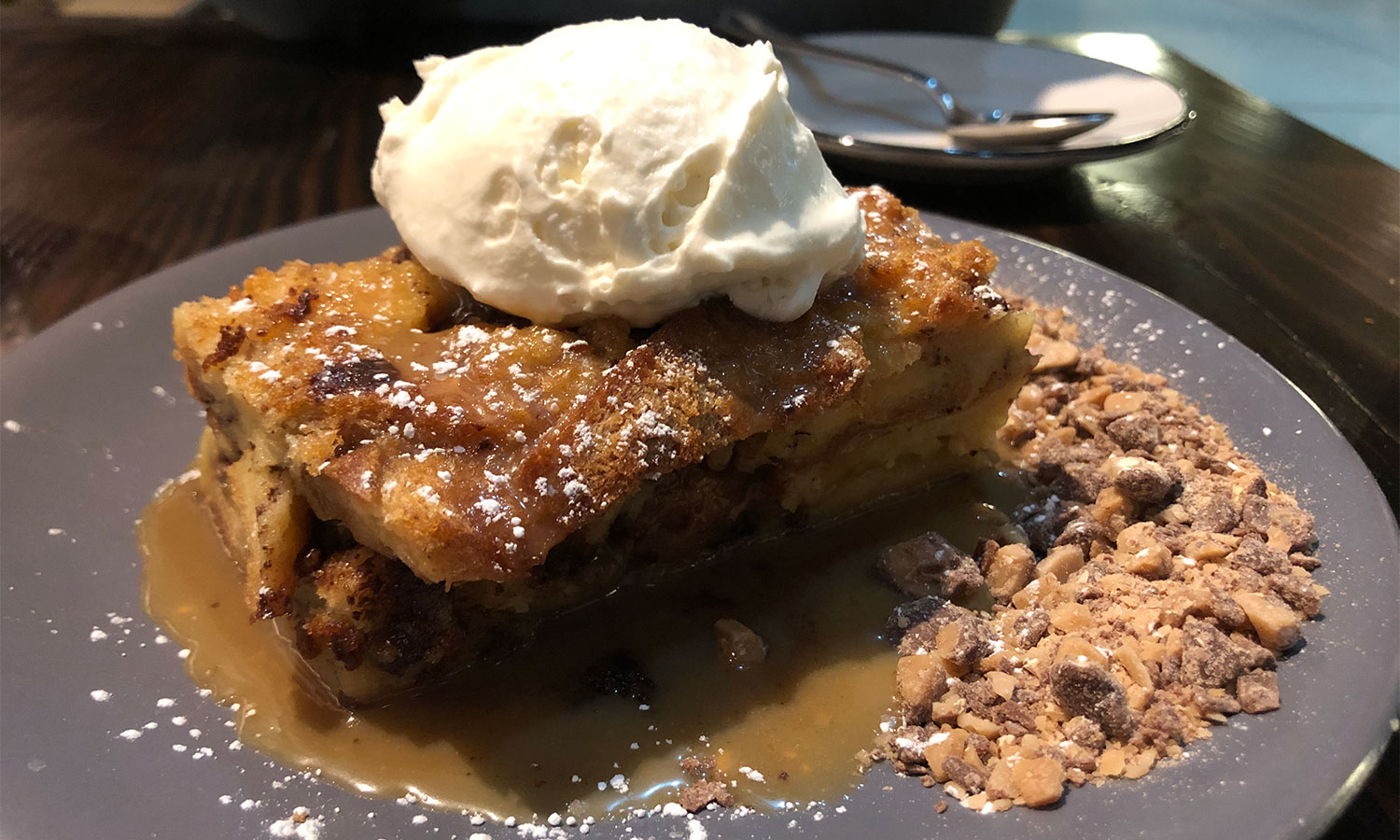 Back in the car, we settled into our relaxed-and-in-love driving arrangement—my left hand on his neck, his right hand on my knee. We sang along to Band of Horses, and I may or may not have gotten misty-eyed as we drove over the Bay Bridge, marveling at the full moon and the beauty of the light reflected on the undulating water below. I wasn't thinking about work emails or the dirty laundry or my parenting struggles; I was thinking about the importance of time away together and how glad I was that we made it happen.
A stop at the Harris Teeter in Easton for coconut pecan cookies from the store bakery was a must before hitting our final stretch of road. We reminisced about our prior visit to St. Michaels as we drove through the town, planning to come back for Ava's legendary meatballs on Sunday. We fell into a comfortable silence as signs of civilization grew fewer and farther between, the magnetism of a quiet shoreside town pulling us closer to our destination. Tilghman Island is a tiny slip of land (only 2.8 square miles) on the Chesapeake Bay and Choptank River and is one of a dwindling number of Bay towns where you can watch Maryland's watermen at work. The island is accessed by a drawbridge, signaling separation from the mainland—and, for visitors, a clear sign that they've arrived.
Soft lights glowed from the hotel and shed just enough light on the property that I could spy bikes, a hammock, a swing, and several groupings of chairs around fire pits. A friendly staff member escorted us to our room at the edge of the property, handed me a charming keychain with a real key attached, and wished us goodnight.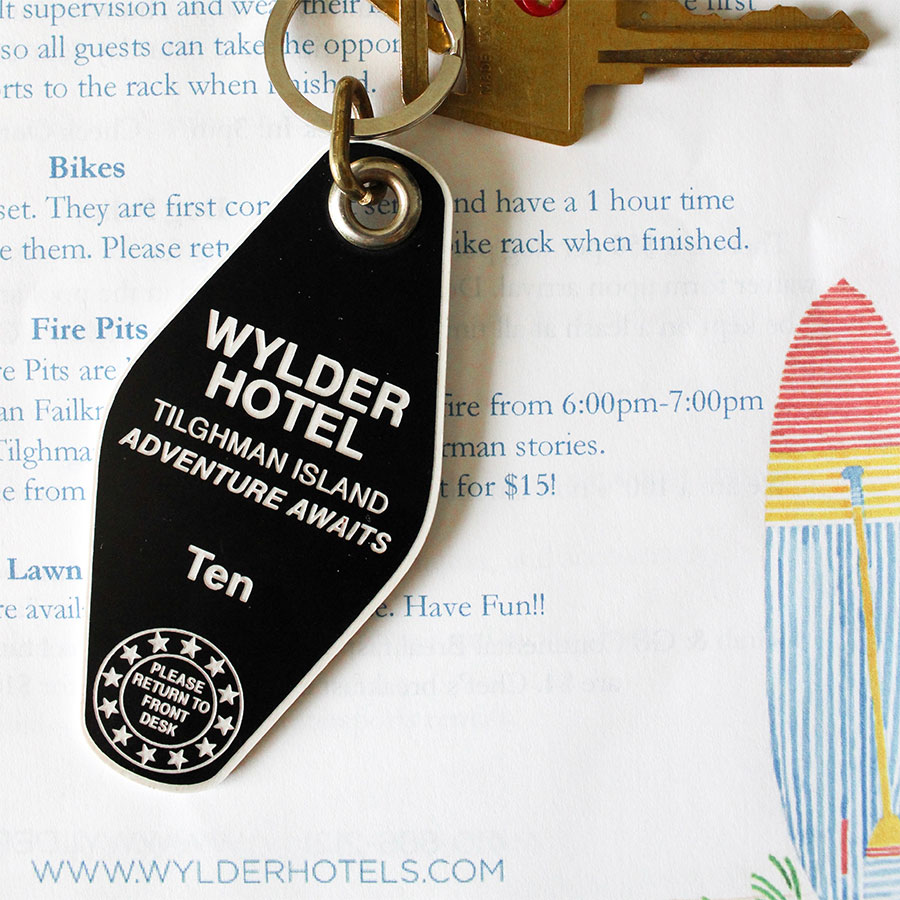 We took notice of the special touches left for us on the bedroom dresser: a bottle of wine, a flannel throw, and everything we'd need to make s'mores. We promptly fell into the King-size bed, relishing the knowledge that no child, dog, or alarm clock would wake us up.
Saturday
I tiptoed out of the room the next morning with a blanket in hand, content to let Andy continue sleeping while I set off to the hotel bar in search of coffee. I filled my coat pockets with pumpkin bars (I found out later that the seasonal melt-in-your-mouth treats are delivered daily from Tilghman Island Baking Company), grabbed a cup of coffee to go, and made my first—and favorite —seating decision of the weekend.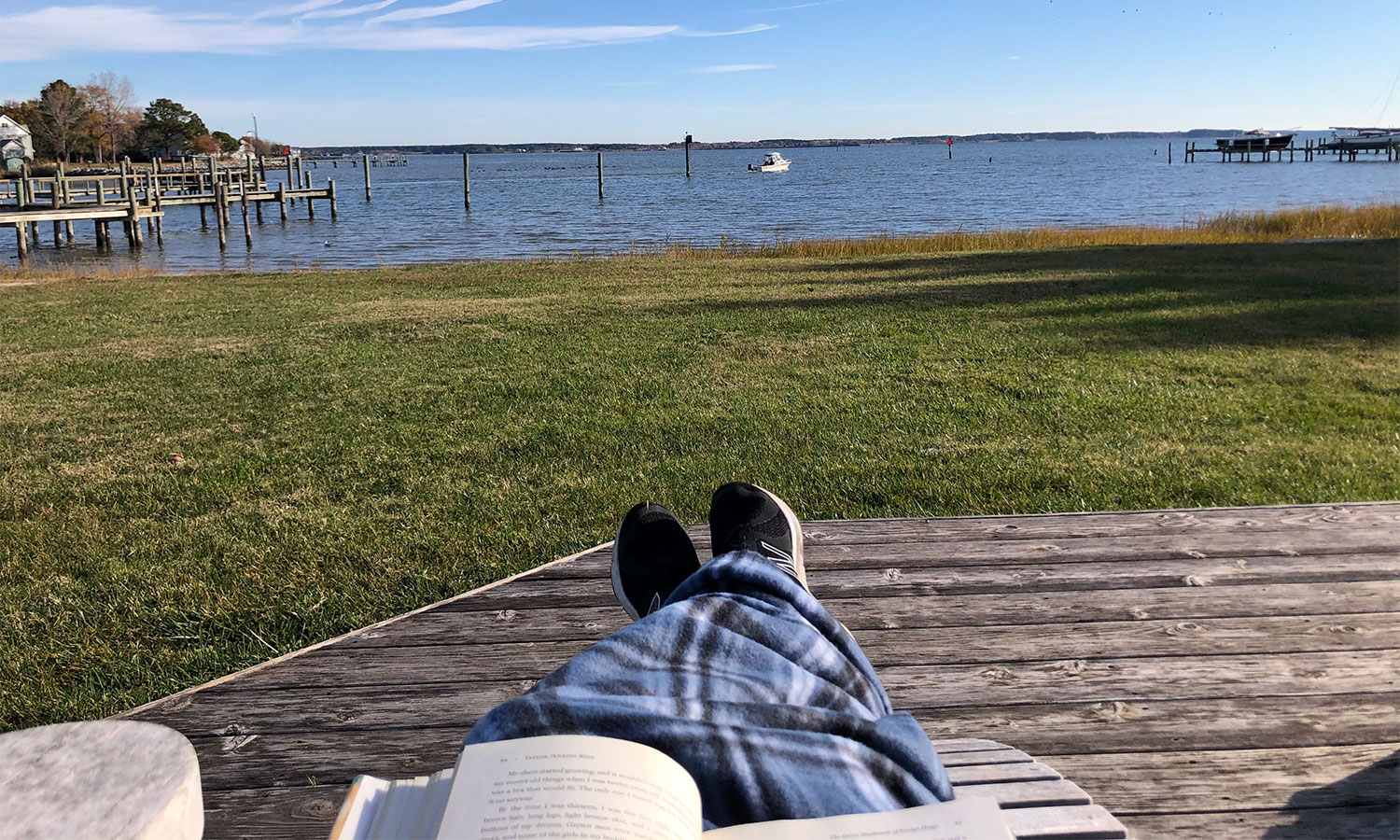 A pair of Adirondack chairs perched on top of a wooden platform offered killer views of the water and boats quietly moving in and out of the marina. Unintimidated by the chilly morning temperature, I slipped on a pair of gloves, nestled into the chair with my breakfast, book, and blanket, and took a mouthful of nature's best medicine—fresh sea air.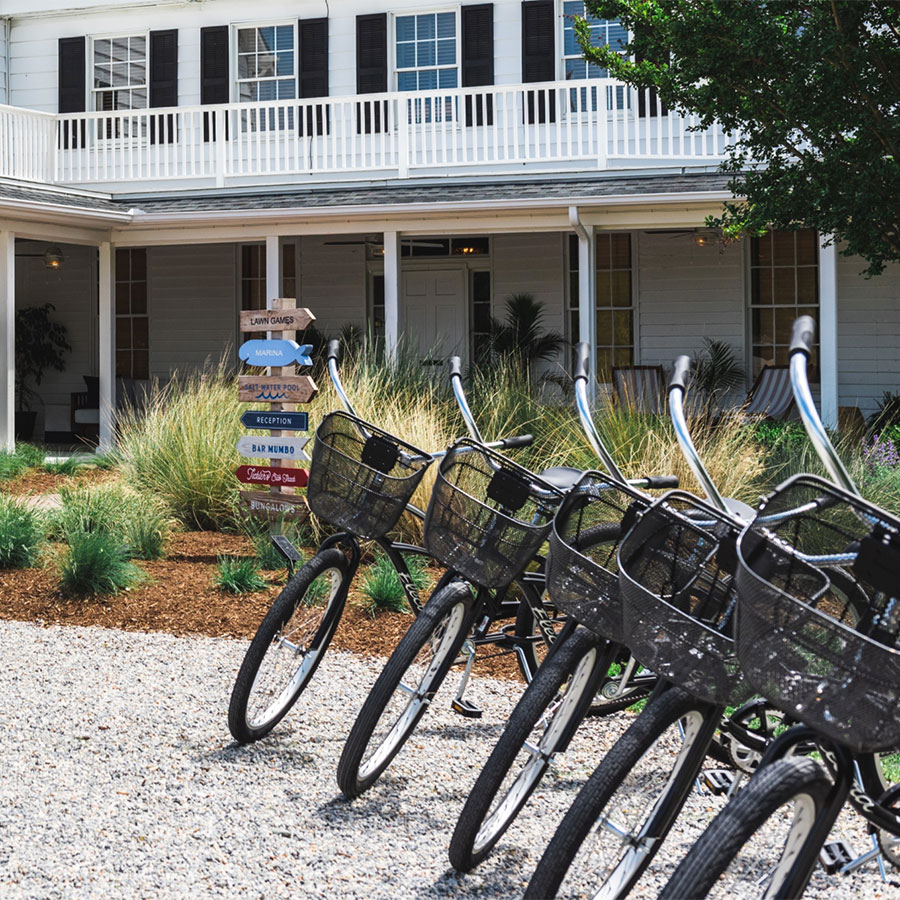 I didn't think life could get any better, but the weekend had only just begun. Once Andy awoke, we took a pair of the hotel's first-come-first-serve bikes and pedaled the short distance to Two If By Sea, where we filled our bellies with biscuits and gravy, "The Tilghman Traffic Jam" skillet and pumpkin waffles.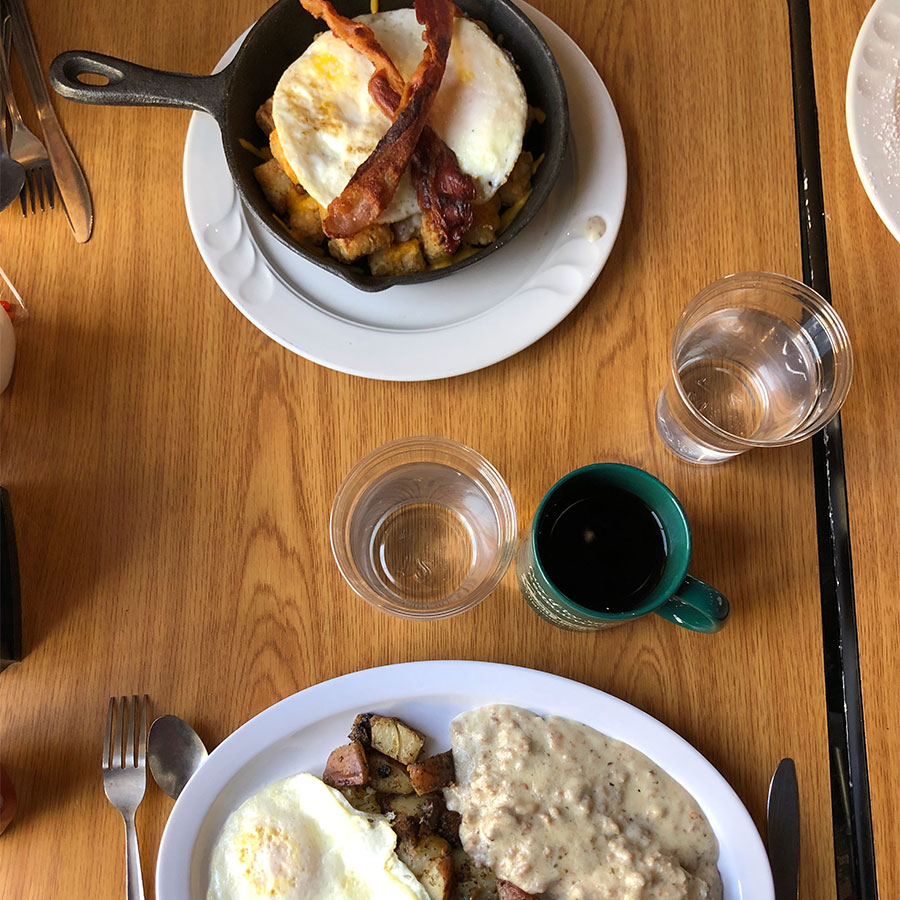 A woman came in, caught my eye, and bellowed, "Hey, neighbors!" After coming closer and seeing our awkward smiles, she exclaimed, "Oh, you're not my neighbors! You look just like them!" I laughed and replied, "This is the type of place where everyone feels like your neighbor." And I meant it. Two If By Sea is well-loved by locals and, if you couldn't tell, is an unexpected delight for out-of-towners. Trust me, the food and ambiance here are well worth the drive from the mainland. Take some time to browse the two businesses next door: 2VintageChics, a women's boutique that also features upcycled furniture, and The Beach Bank, a museum/store combo.
We spent the rest of the day taking advantage of the many outdoor activities offered at Wylder, from playing corn hole with other guests (who brought along an adorable bulldog named Horace) to trash-talking while throwing bocce balls to pretending we were participating in a Survivor challenge while kayaking on the Bay.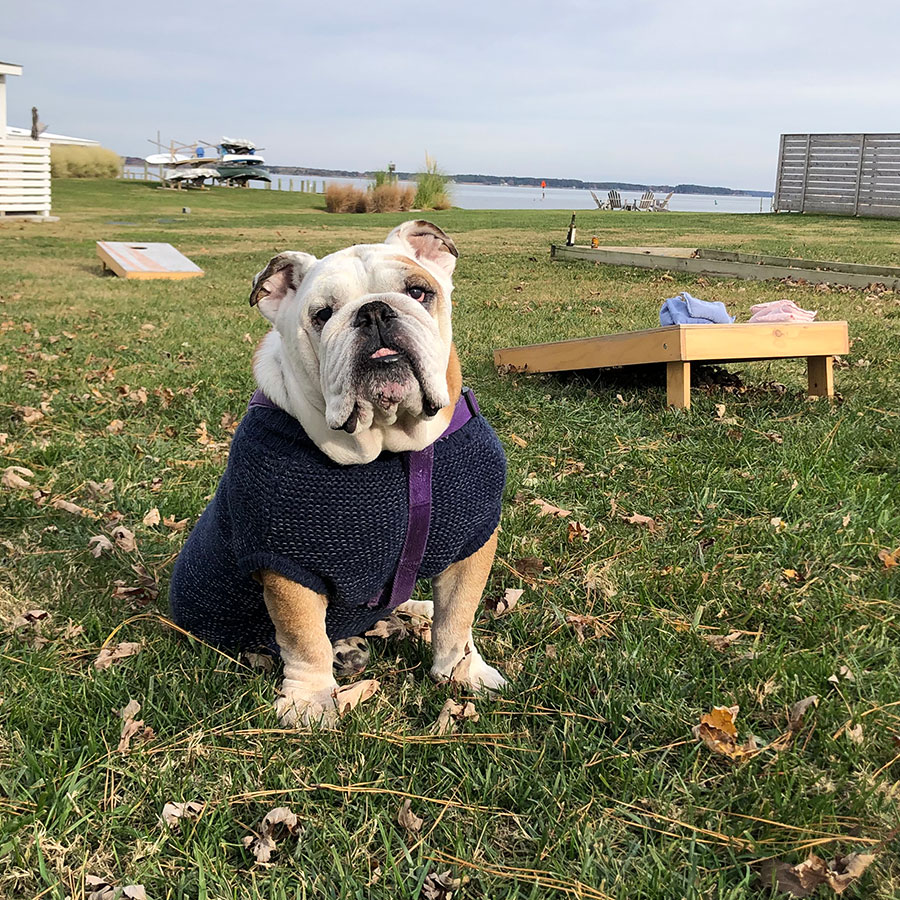 Then, we grabbed our cookies, books, and the bottle of wine from our room to stake a claim at the same pair of Adirondacks I had occupied earlier. (Vacation Andy reads voraciously, which I find very attractive.) After an hour or so, we set off again on the bikes—this time two miles south to Black Walnut Point Fishing Area and Parking, a county-maintained parking area for visitors to Black Walnut Point NRMA. It was the perfect distance to race, bike with no hands, and basically act like goofy teenagers. We spotted a herd of deer, a curious fox, and multiple glimpses of the fading sunlight over the Bay.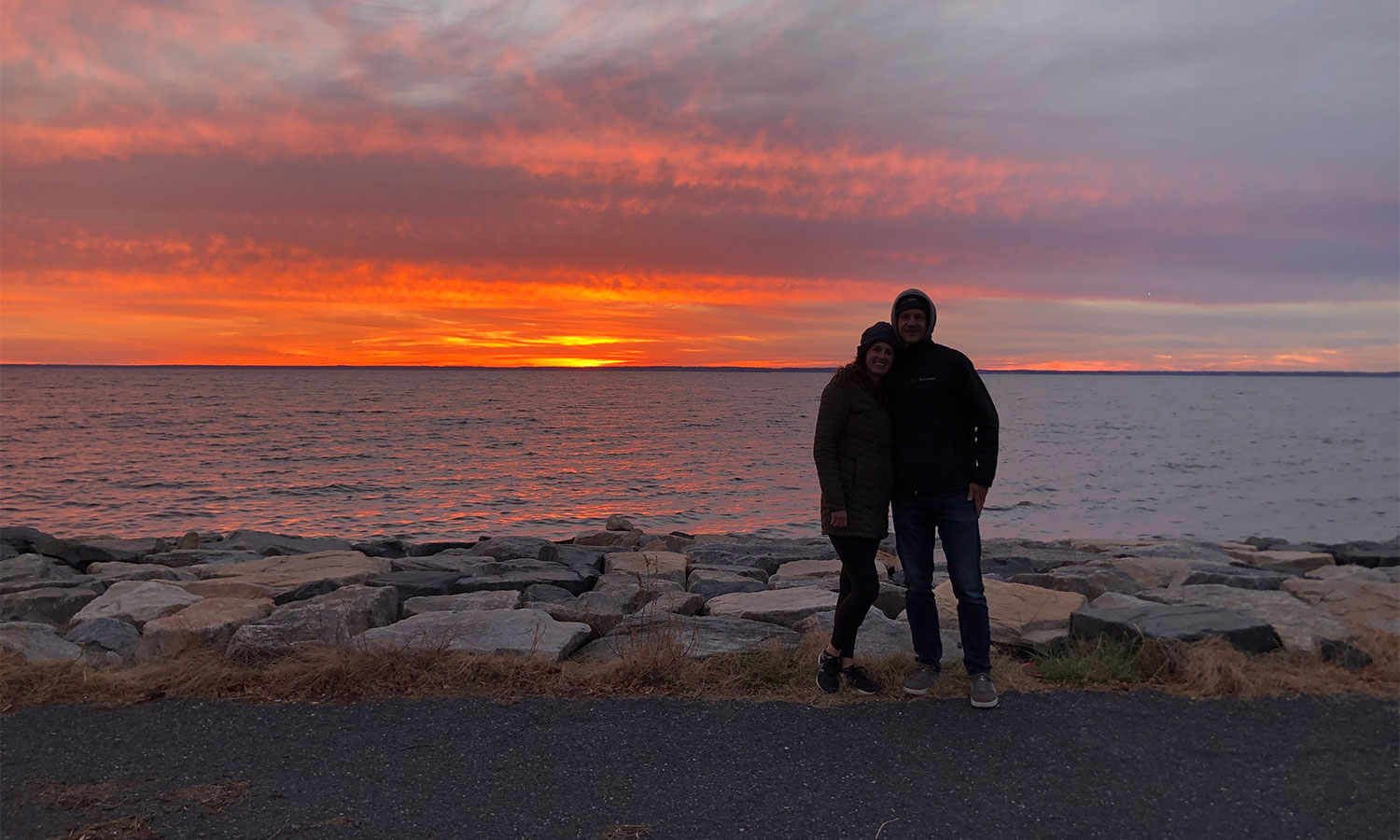 A handful of cars arrived at the parking lot shortly after we did, and I felt a sense of community with the group of strangers as we all took pictures of one another in front of the breathtaking sunset. We rode our bikes back in the dark to make our dinner reservation at Tickler's Crab Shack & Restaurant, Wylder Hotel's dining facility. The outdoor crab shack was closed for the season, but the restaurant still draws in a mix of hotel guests, locals, and day-trippers.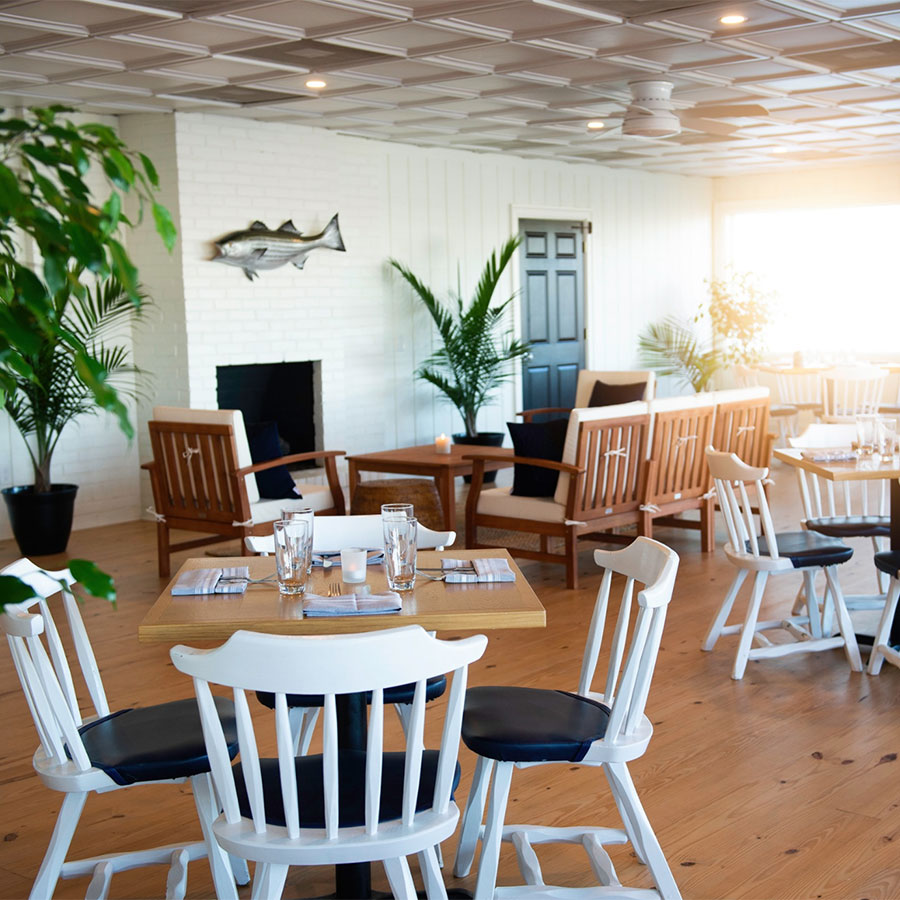 I ordered the Catch-of-the-Day (rockfish) Fish Tacos, which I promptly inhaled. Vacation Andy usually goes for an expensive steak, so I was surprised to hear him order the Caramelized Onion Pie—but he cleaned his plate nearly as fast as I did. We shared a brownie sundae and a slice of berry pie for dessert, both of which I highly recommend if you go. Somehow we still had it in our bellies to keep eating and drinking, so I headed to Bar Mumbo for a cocktail while Andy dashed back to the room for our s'mores kit.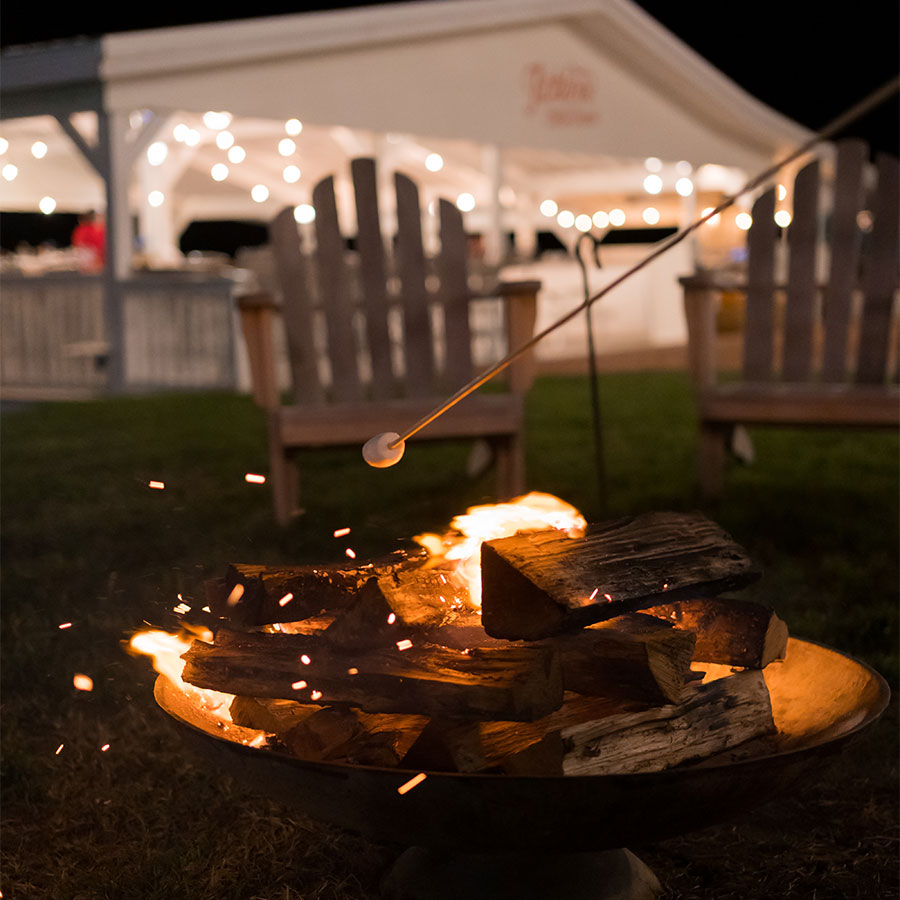 I felt tempted to linger and soak up the unique character of the space and chat with the other people at the bar, but Andy swayed me to follow him out to one of the three lit fire pits dotting the hotel property, where we recapped the events of the day (including my unexpected corn hole victory) before calling it a truly good night.
Sunday
I willed my internal alarm clock to wake me before sunrise and snuck out of our room once again—this time for a solo sunrise paddle. I somehow managed to wrangle a kayak off the rack and dragged it down to the water, dousing my sneakers in bracingly cold water in the process. I didn't care. I made my way out into the water and pulled out my phone to FaceTime my dad. I opened the call with a view of the boat, then panned up to the brilliant sky. It was sweet to share the moment with the person I attribute my sense of adventure to.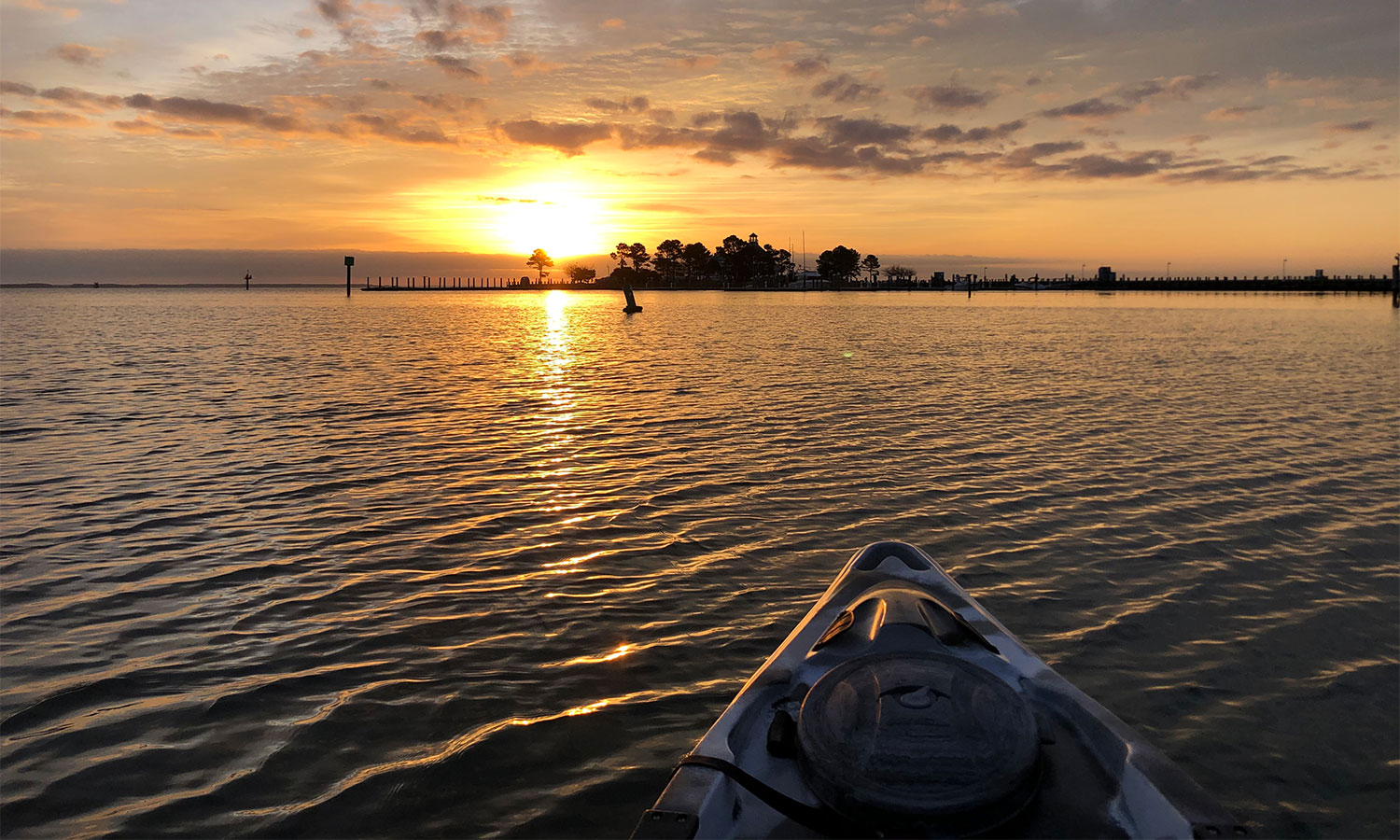 The pumpkin bars at the hotel haunted my memory and called me back to shore. A quick consultation with Andy confirmed that we both wished to change our plan of spending a few hours in St. Michaels in favor of having more time at Wylder. We watched TV in bed (a serious luxury) before playing a few games of corn hole before brunch. Andy ordered a sausage and egg biscuit and I happily went for the exact same meal I had consumed the night before. There was just enough time to squeeze in an hour of reading before we had to leave. I could hardly concentrate on my book, though, because a group of men and small boys came off a boat and set to work breaking down fish on a folding table on the dock. The journalist in me itched to walk over and learn their story, but unfortunately, it was time to go. We made one final stop at The Tilghman Island General Store in search of road trip snacks before crossing the drawbridge and officially ending our Tilghman Island stay.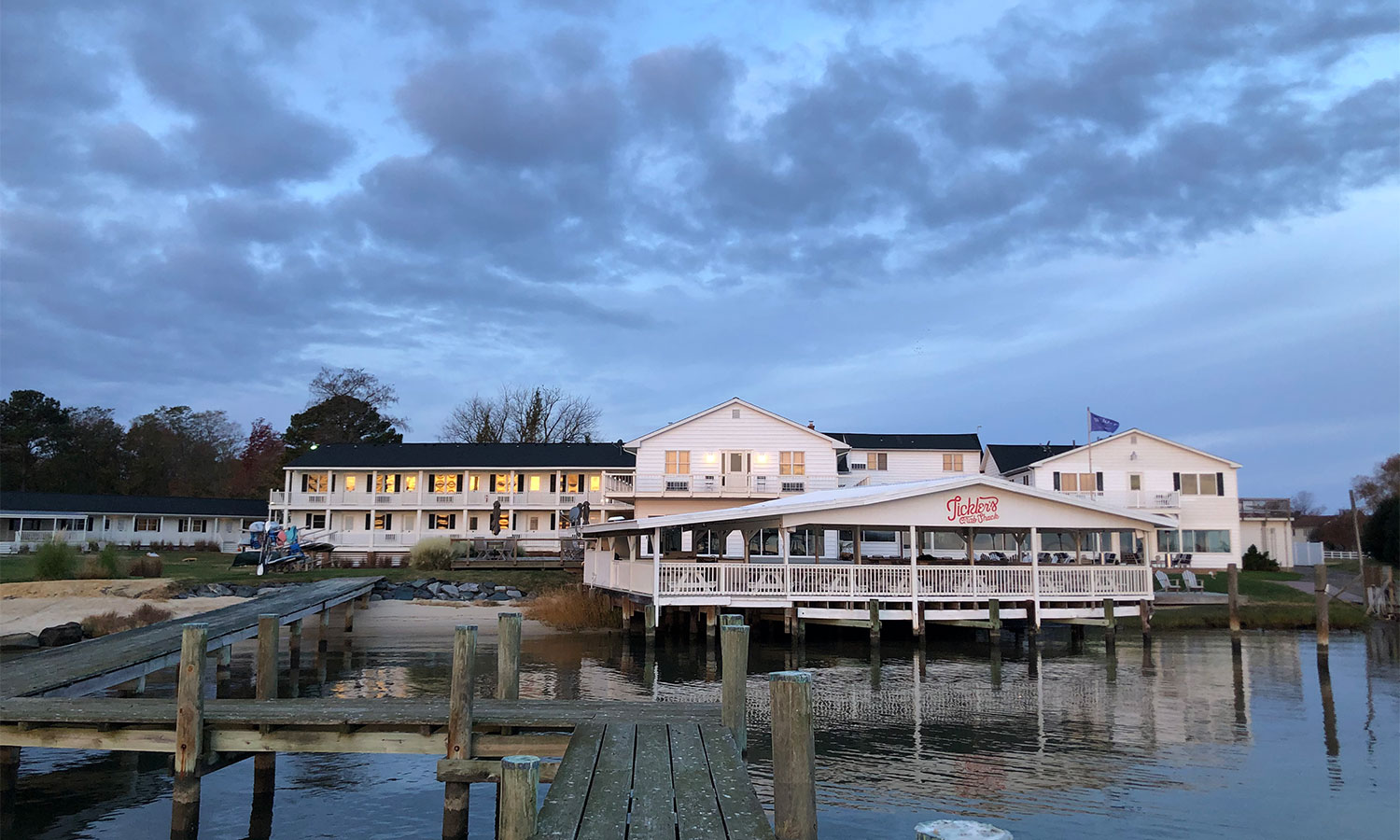 While a great road trip is about more than the destination, it's rather wonderful when the destination more than meets your hopeful expectations. The waterside retreat offered us the rest we were craving, along with the invitation to embrace adventure. I'll be back with Vacation Andy to enjoy the pool, paddleboards, and crab shack—and to reclaim our favorite reading spot, of course. 
Before you go:
Want to mimic our low-key getaway? Here's a Google map showing all of our stops. Check out the "Happenings" page on Wylder's website to catch their winter events (from live music to special menus to wellness activities) and view their special offers before booking.
---
Lead Photo: Girolama Bui
Laura Rennie is the Editorial Manager of Maryland Road Trips and also works as a freelance writer. She loves a good burger and often plans her travels around food. Laura lives in Myersville, MD, with her husband and daughter. She can be reached at laura@marylandroadtrips.com.